Spicy, zesty, and downright addictive, my recipe for Peri-Peri Sauce from scratch means that a plateful of flavor is never far from reach. Made from dry red chili peppers, this delightful, homemade Portuguese condiment is a favorite at our house.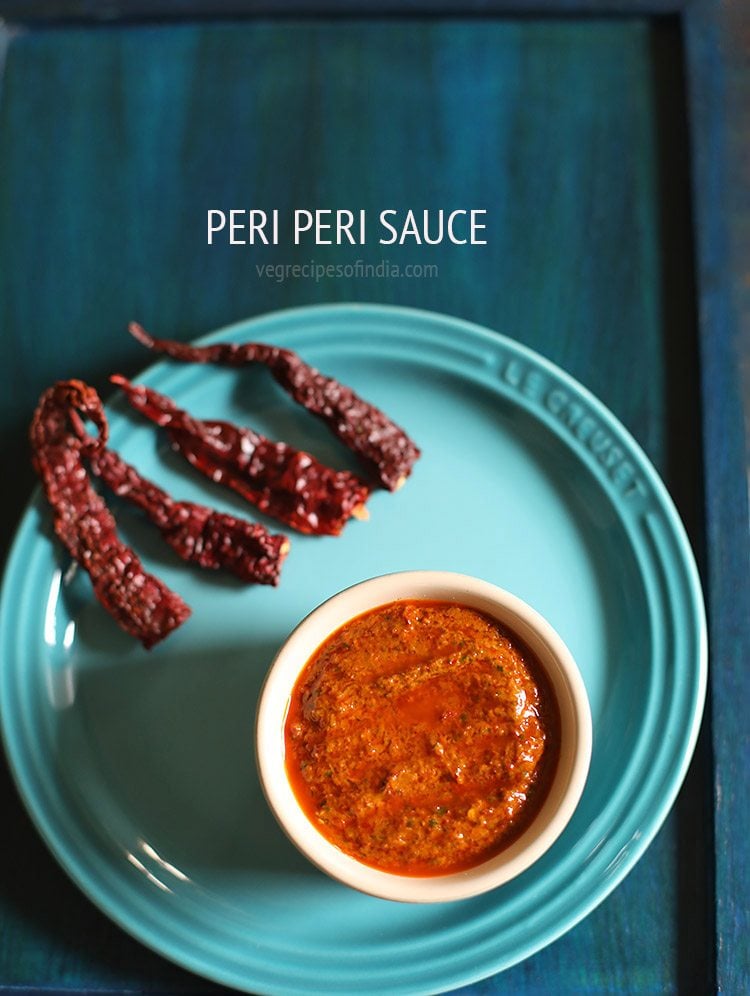 What is Peri Peri?
Peri-Peri (also spelled Piri-Piri) is both the name of a bright red Portuguese sauce, as well as the eponymous African Bird's Eye chili pepper that the condiment is named after.
Legend has it that the Piri-Piri chilies arrived in Portugal via the Portuguese who cultivated them in the colonized South African territories. The Piri-Piri chilies found their way into a sauce developed by the Portuguese which has now become a staple in Portugal.
I honestly do not know the real story… Who developed the sauce and where did the chilis come from? I'm not sure. All I know is that the sauce is REALLY AWESOME and REALLY SPICY.
Peri-Peri chiles are quite spicy, with a typical range of between 50,000-125,000 Scoville Heat Units (SHUs). For reference, jalapeño peppers are about 3,500 SHUs. Like I said, these little chiles are fiery, and the sauce they are used in shares the same spicy characteristics.
About Peri Peri Sauce Recipe
If hot and spicy are two adjectives you like for your food, you are going to love this delicious peri-peri sauce! As an added bonus, the recipe takes just 10 minutes to make, start to finish. You simply can't beat that!
My sister actually introduced me to peri-peri sauce (11 years back) and I couldn't resist coming up with this recipe. When she told me the name peri-peri, I had something of a deja vu.
As it turns out, the South African chain restaurant known as Nando's actually had a few branches in Bangalore then. Mystery solved!
The peri-peri sauce is super delicious, so we have it with everything from vegetables and rice to salads and bread. It brings zest and spice to any dish it touches, which is part of why we love it so.
You can also serve it with snacks like French Fries, Veg Momos, Spring Rolls, Aloo Tikki, or anything else that could use a good dipping sauce.
Typically speaking, piri-piri sauce can also be used to marinate meats or seafood; as vegetarians, we prefer to use it as a marinade for paneer or tofu, or as more of a dipping sauce with other prepared foods.
Ingredients, Substitutions, & Variations
Being a global citizen, I am aware that preferences and ingredient availability will vary by location. As such, I want to make sure that you know which substitutions you can use to customize this peri-peri sauce recipe to your liking. Here are a few ideas:
Use the red chillies that are available to you. But take into account their flavor profile – whether smoky, spicy, pungent or hot. I have made the sauce with a variety of Indian red chili called Kashmiri red chillies. These chillies have a deep red color and are not spicy. But when combined in a sauce, they were hot enough for all of us. The rest of the ingredients are always easily available in the kitchen pantry.
A blend of different red chilies can also be used depending on their hotness. For dry chilies, be sure to soak them in cool water for 2 to 3 hours or 15 to 20 minutes in hot water before blending them.
Instead of lemon juice, one can also use vinegar/cider vinegar or a 50/50 split of lemon juice and vinegar. I did not add vinegar to the sauce. I only used lemon juice.
If you want a thin sauce, the amount of olive oil can be increased.
Also, please note that the more the sauce ages, the better it becomes. This makes it an excellent candidate for your meal prep day.
How to make Peri Peri Sauce
1. Take 11 to 12 dry red Kashmiri chilies, or any fresh or dried red chili variety. Remove the stems and seeds.
To remove the seeds, break the chillies or halve them or you can slit them on one side. Shake them and the seeds will fall. You can also opt to remove the seeds using a small spoon.
You can use any variety of dry red chilies with low to medium SHUs. If using super hot bird's eye chilis, then you can add 4 to 5 of them in combination with the milder dry red chilies.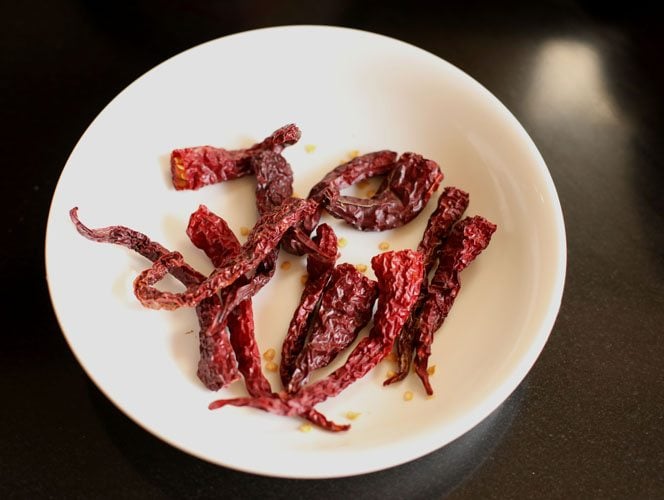 2. Rinse the dry red chilies in water. Soak them in hot water for 10 to 15 minutes before blending them. If you are using fresh red chilies then skip this step.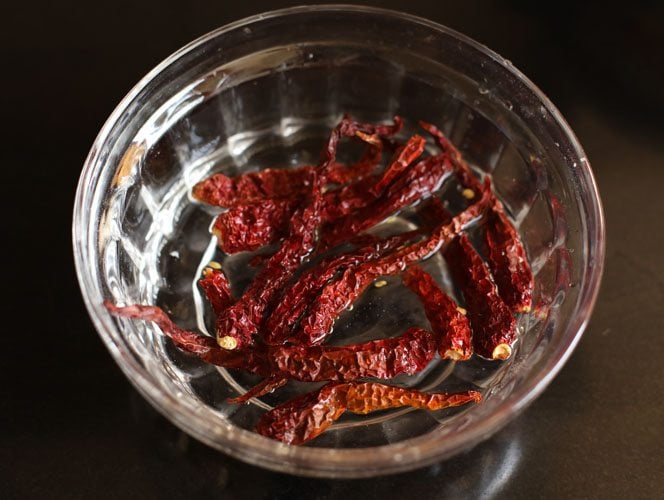 3. Peel and chop 7 to 8 medium-sized garlic cloves. Measure and keep all the ingredients ready for making the peri-peri sauce.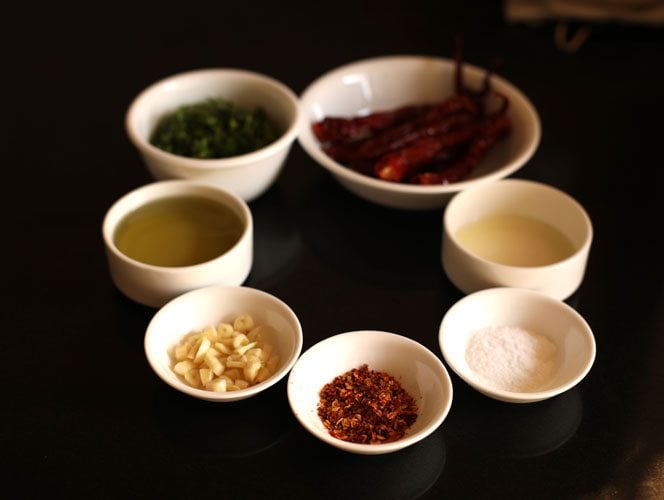 4. In a blender or food processor, add ¼ cup chopped coriander leaves (a.k.a. cilantro leaves, or sub in parsley leaves) and the soaked dry red Kashmiri chilies.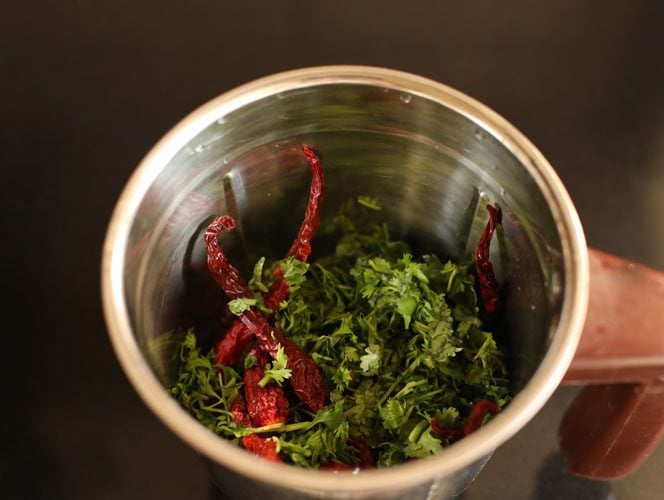 5. Next add 7 to 8 chopped garlic cloves, 1 teaspoon red chili flakes (optional) and salt as required.
You could use ½ teaspoon cayenne pepper or red chilli powder instead of red chilli flakes.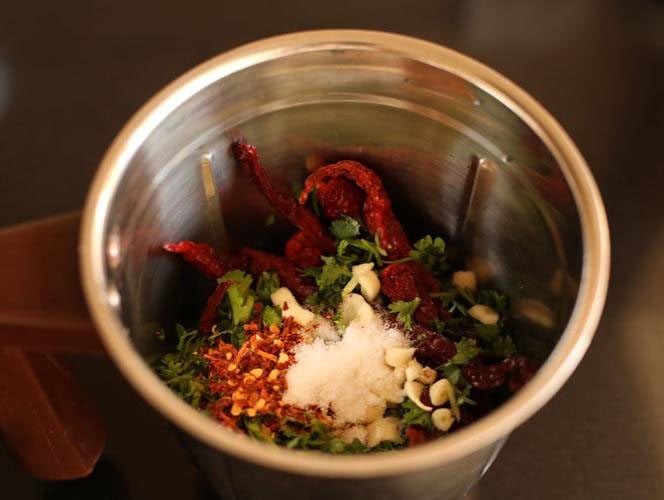 6. Pour ¼ cup olive oil or vegetable oil. The amount of olive oil can be increased if you want a thin sauce with a longer shelf life.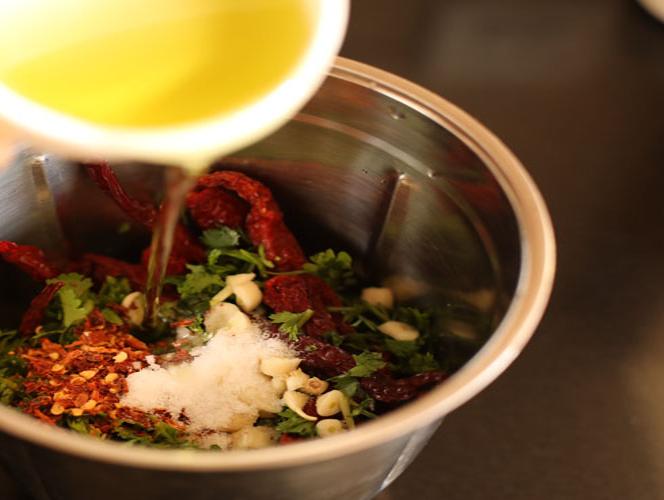 7. Lastly add the juice of 1 medium-sized lemon (or approximately 1 tablespoon lemon juice). You can use ½ tablespoon vinegar instead of lemon juice if you prefer.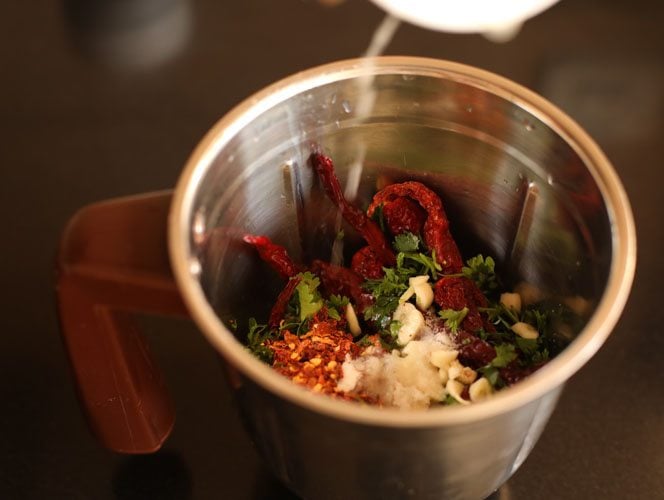 8. Grind in a blender or food processor and blend to a fine and smooth consistency.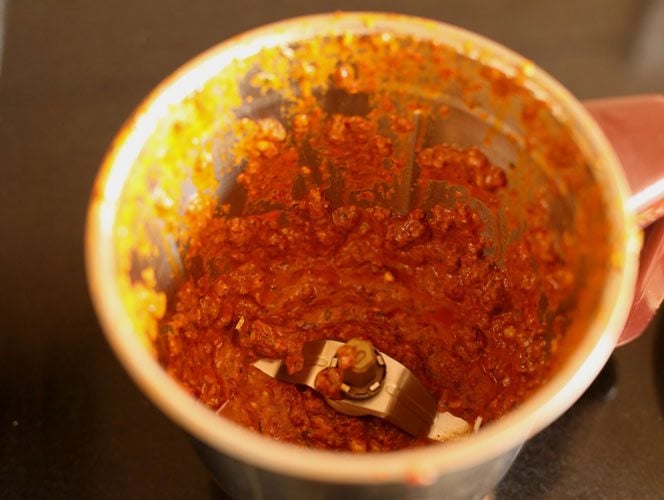 9. Cover and store the Peri Peri sauce in a container in the refrigerator for up to 2 weeks.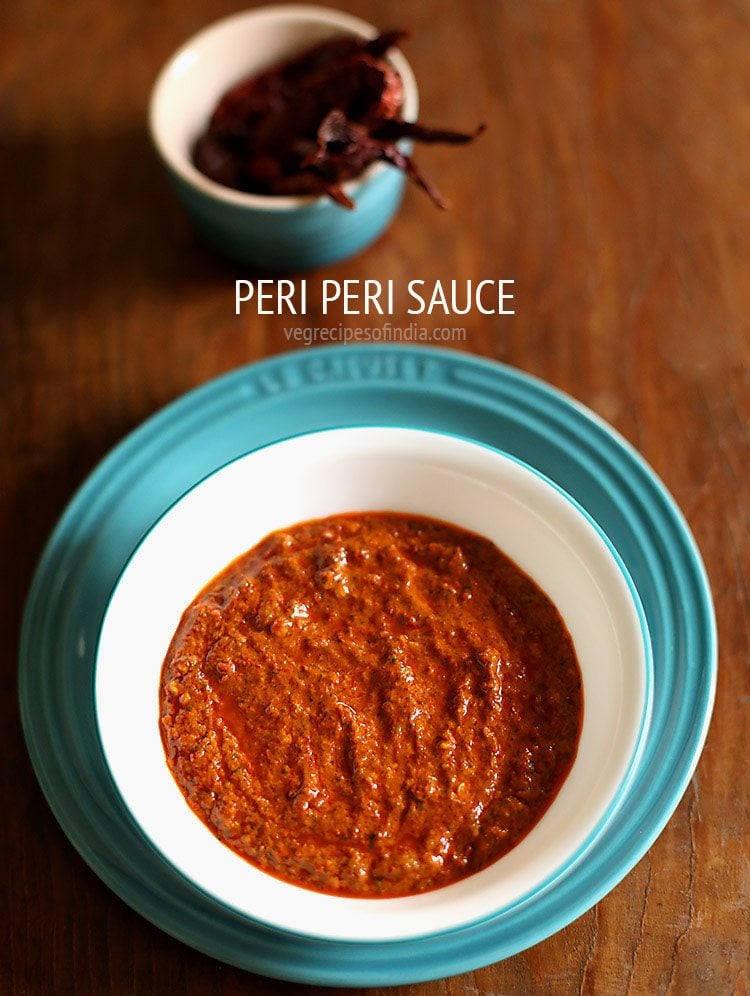 Serving Suggestions
This delicious sauce is a must-try for people who like hot and spicy foods. Here are a few ways to use it:
As a dipping sauce with any snacks like French Fries, Potato Wedges, or Veg Cutlet or vegetable crudités.
As marination for tofu, paneer (Indian cottage cheese), veggies like cauliflower, potatoes, mushrooms, capsicum, aubergines and then grilled, roasted, sautéed or fried.
Added to simple dishes like Fried Rice or Veg Noodles. 1 or 2 teaspoons of the peri-peri sauce will make the rice spicy and flavorful.
As a topping on Pizza, Pita Bread sandwiches, wraps or rolls.
FAQs
Are peri-peri and piri-piri the same?
Yes, they are. The spellings derive from different pronunciations of the chili pepper and sauce, from a variety of different African languages. Pili-pili is yet another spelling for this spicy chilli.
Why isn't my peri-peri sauce as bright red as in your pictures?
I used bright red Kashmiri chilis in my piri-piri sauce; these peppers are known for their saturated red hue. Depending on what type of chilis you use, and even if you use fresh instead of dried, the color of your sauce my vary.
How can I make my homemade piri-piri sauce last longer?
Treat it like Pesto and add a layer of oil on top of the sauce to help protect it from the air. It should last for up to two weeks in the refrigerator. You can also freeze it for up to 6 months if needed.
Please be sure to rate the recipe in the recipe card or leave a comment below if you have made it. For more vegetarian inspirations, Sign Up for my emails or follow me on Instagram, Youtube, Facebook, Pinterest or Twitter.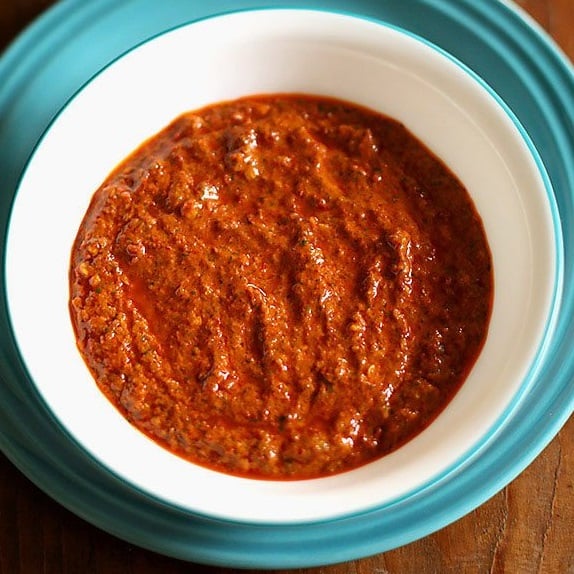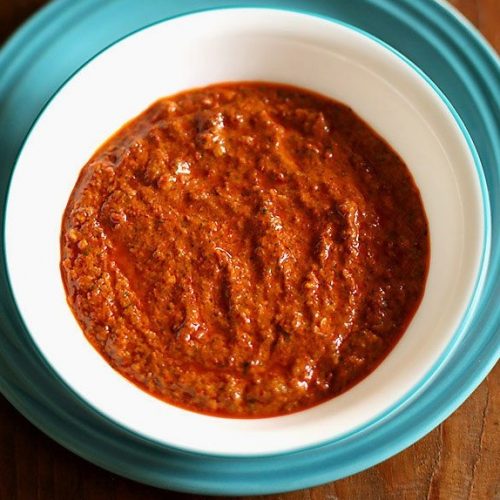 Peri Peri Sauce Recipe | Homemade Piri Piri Sauce
This homemade Peri Peri sauce is a spicy, hot and fiery condiment made with dried red chilies, herbs, spices and olive oil. Zesty, and downright addictive this delightful Portuguese condiment is a favorite at our house.
11 to 12

dry red chilies

– use a lesser hot variety, I have used Kashmiri red chillies.

7 to 8

garlic cloves

(medium-sized)

1

teaspoon

red chili flakes

or ½ teaspoon red chili powder or cayenne pepper (optional, and if you want a more hotter sauce)

¼

cup

chopped cilantro

(coriander leaves) or parsley. a combination of both greens can also be used

1

tablespoon

lemon juice

or juice of 1 medium-sized lemon or ½ tablespoon vinegar

¼

cup

olive oil

or any neutral flavored oil

sea salt

or salt as required
Instructions
Remove the stems from the dry red chilies.

Slit the chillies and shake them to remove the seeds.

Rinse them in water and then soak in hot water for 15 to 20 minutes.

Peel and chop the garlic roughly.

Add all the ingredients in a blender or food processor and blend or process to a smooth and fine consistency.

Store the Peri Peri sauce in an airtight container in the refrigerator.
Notes
Use dried red chillies that are available to you. But consider their pungency, spiciness, smokiness and hotness before using them. You could use a blend of two to three chilli variants.
The peri peri sauce can also be made with fresh red chillies. With fresh chillies, the sauce will have a less shelf life. Do refrigerate and finish the sauce in 2 to 3 days.
Note that the approximate nutrition info is for the entire portion of piri piri sauce made from this recipe.
Nutrition Info (Approximate Values)
Nutrition Facts
Peri Peri Sauce Recipe | Homemade Piri Piri Sauce
Amount Per Serving
Calories 536
Calories from Fat 495
% Daily Value*
Fat 55g85%
Sodium 1207mg52%
Potassium 263mg8%
Carbohydrates 13g4%
Protein 2g4%
Vitamin A 2323IU46%
Vitamin B1 (Thiamine) 0.04mg3%
Vitamin B2 (Riboflavin) 0.1mg6%
Vitamin B3 (Niacin) 1mg5%
Vitamin B6 0.4mg20%
Vitamin C 15mg18%
Vitamin E 9mg60%
Vitamin K 53µg50%
Calcium 52mg5%
Vitamin B9 (Folate) 9µg2%
Iron 1mg6%
Magnesium 15mg4%
Phosphorus 50mg5%
Zinc 0.4mg3%
* Percent Daily Values are based on a 2000 calorie diet.
This Peri Peri Sauce recipe from the archives first published in September 2011 has been republished and updated on November 2022.