Peri peri sauce recipe With step by step photos – Here comes a hot and fiery piri piri sauce from the portuguese cuisine. Its made from piri piri, a type of bird's eye chili from africa.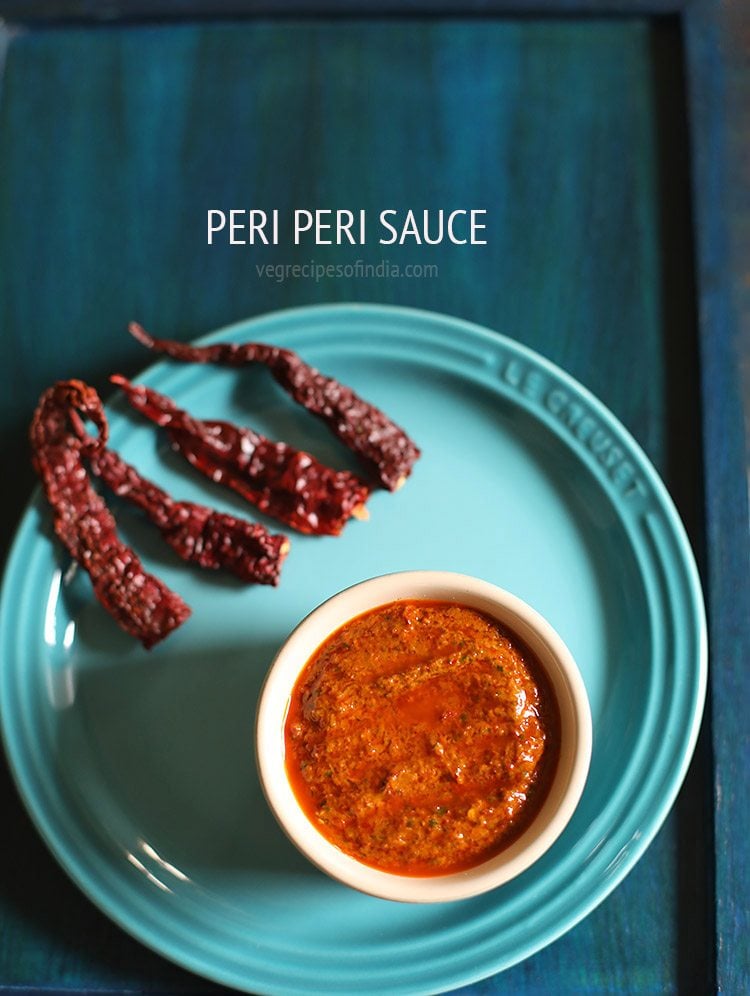 Legend has it that from africa the piri piri chilies went to portugal via the portuguese invaders. The piri piri chilies found their way into a sauce developed by the portuguese and has now become a staple in portugal. I do not know the real story…. Who developed the sauce and who did not? all I know is that the sauce is REALLY AWESOME.
The peri peri sauce is so yum and spicy that we have it with everything like vegetables, rice, salads, bread. It brings some zest and spice to the dish, especially if the dish is bland and not spicy. Simply love it. You can also serve it with snacks like french fries, veg momos, spring roll, aloo tikki etc.
My sis informed me of the peri peri sauce and I couldn't resist making this recipe. When I heard the name peri peri, I had something of a deja vu… Felt as if I have heard this name some where, some time…
I googled for peri peri and came across nando's peri peri sauce. Now the deja vu even became more strong. Hmmmm…. Where I have heard or seen the words "nando's peri peri"…..  just couldn't figure it out.
Finally, again googled and found out that Nandos have one of their restaurants in bangalore, India. Within a flash…. I then remembered seeing their banner and restaurant in bangalore…. So this explains the deja vu 🙂
Anyways, Coming back to the peri peri sauce now…. Usually the sauce is used as marination for meat or seafood that is going to be roasted or grilled or fried. But like I mentioned before, but we have the peri peri sauce with our everyday vegetarian food. It is so good. One recipe I made with the peri peri sauce was Peri peri potato wedges and it was yum.
For making peri peri sauce
You could use even the Indian red chilies. I used Kashmiri red chillies and they were hot enough for all of us. The rest of the ingredients are always easily available in the kitchen pantry.
A blend of different red chilies can also be used depending on their hotness. For dry chilies you can soak them in water for 2 to 3 hours or 15 to 20 minutes in hot water before blending them.
Instead of lemon juice, one can also use vinegar/cider vinegar or half-half quantities of lemon juice and vinegar, each. I did not add vinegar to the sauce. I only used lemon juice.
The amount of olive oil can be increased if you want a thin sauce. the more the sauce ages, the better it becomes.
For vegetarians, the sauce could be used as marination for tofu, paneer (cottage cheese), veggies like cauliflower, potatoes, mushrooms, capsicum, aubergines and then grilled, roasted, sauteed or fried. Even while making simple fried rice, 1 or 2 teaspoons of the peri peri sauce will make the rice spicy and yum. The sauce is a must for people who like spicy and hot food.
How to make peri peri sauce
1. Take 11 to 12 dry red Kashmiri chilies or any fresh red chili. Remove the stems from the red chilies. You can also use any variety of dry red chillies having low to medium heat. If using bird's eye chili then you can add 4 to 5 of them in combination with the dry red chillies.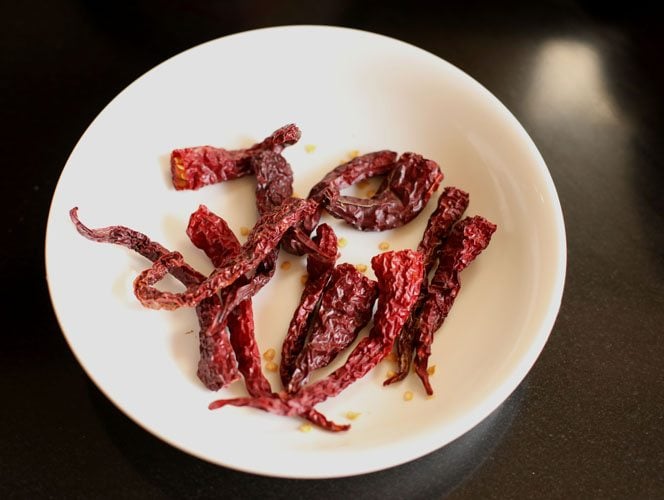 2. Rinse the dry red chilies in water. Soak them in hot water for 10 to 15 minutes before blending them. But if you are using fresh red chilies then skip this step.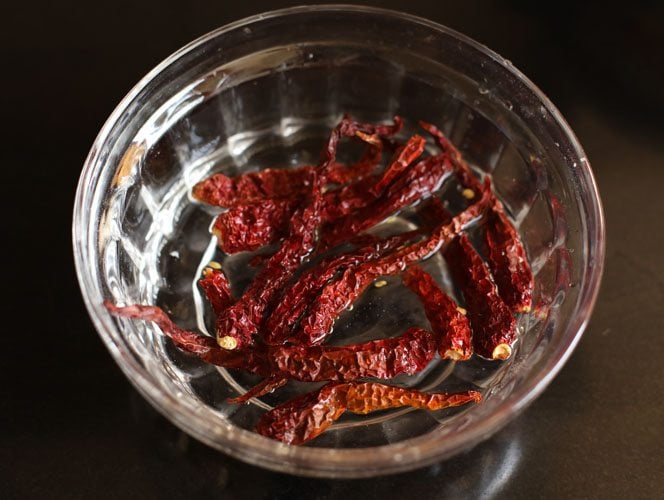 3. Peel and chop 7 to 8 medium sized garlic cloves. Measure and keep all the ingredients ready for making the peri peri sauce.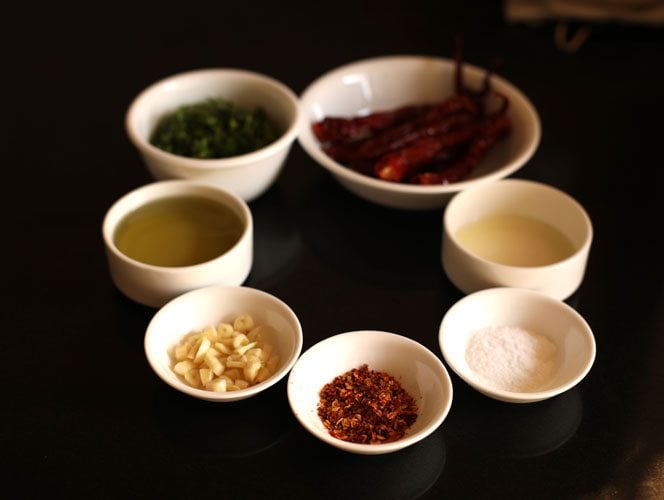 4. In a blender or food processor, add ¼ cup chopped coriander leaves (or cilantro leaves or parsley leaves) and the soaked dry red Kashmiri chilies.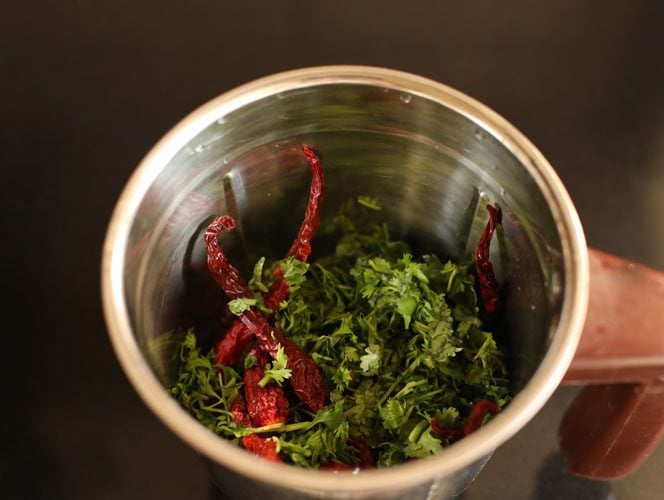 5. Next add 7 to 8 chopped garlic cloves, 1 teaspoon red chili flakes (optional) and salt as required.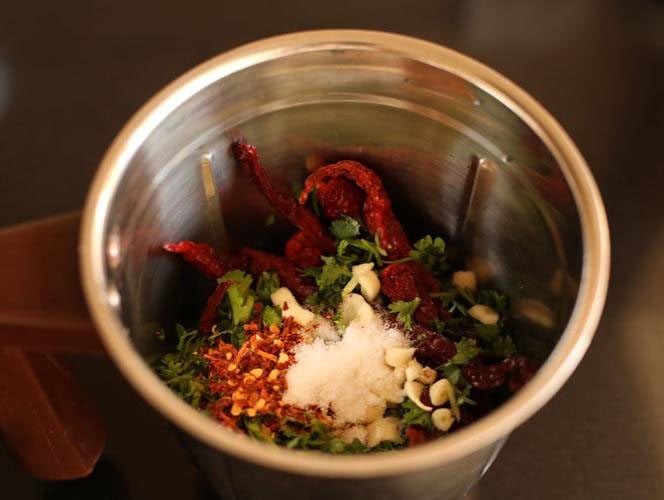 6. Pour ¼ cup olive oil or vegetable oil. The amount of olive oil can be increased if you want a thin sauce and a longer shelf life of the sauce.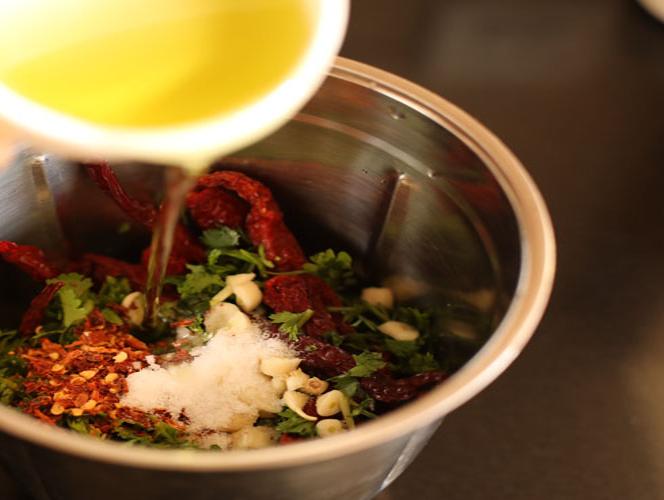 7. Lastly add juice of 1 medium sized lemon or 1 tablespoon lemon juice. You can also use ½ tablespoon vinegar instead of lemon juice.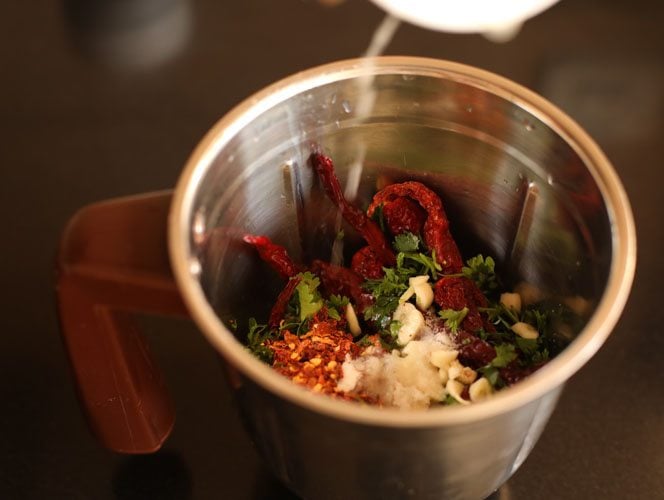 8. Grind in a blender or food processor and blend to a smooth paste.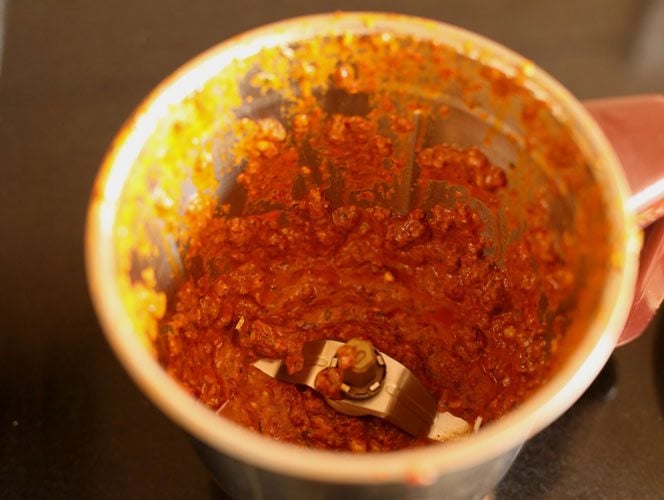 9. Store the Peri peri sauce in a container in the refrigerator. You can serve peri peri sauce as a side condiment with any snacks like french fries or peri peri potato wedges or baked potato wedges or veg cutlet. You can also use this peri peri sauce for marination.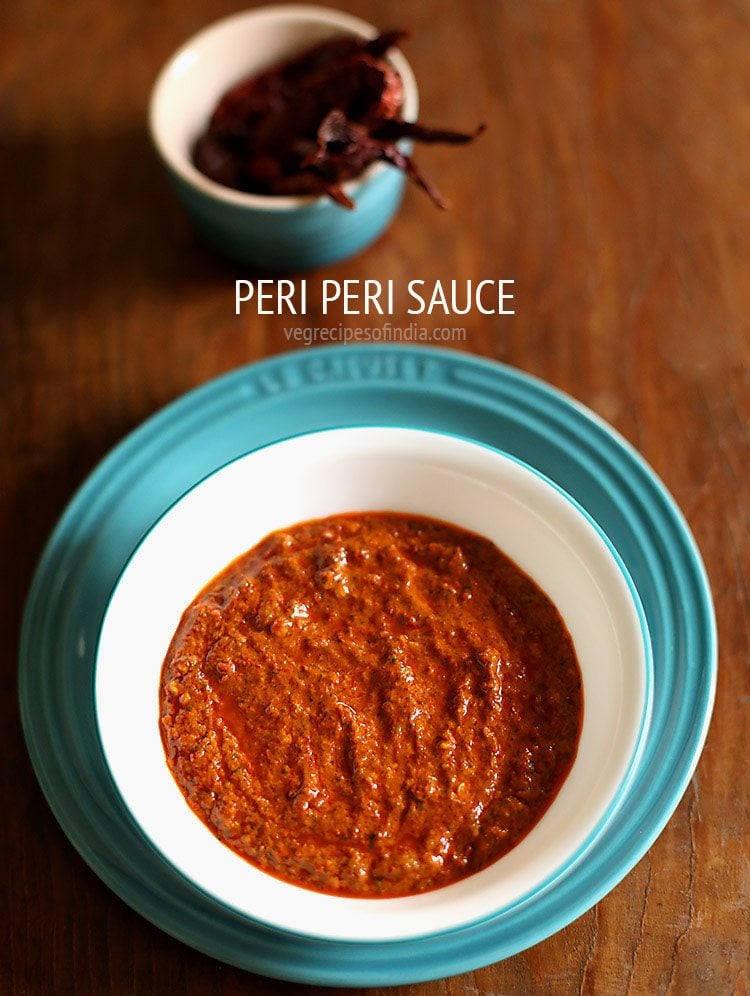 If you are looking similar recipes then do check:
Please be sure to rate this recipe in the recipe card below if you have made it. For more vegetarian inspirations, Sign Up for my emails or follow me on Instagram, Youtube, Facebook, Pinterest or Twitter.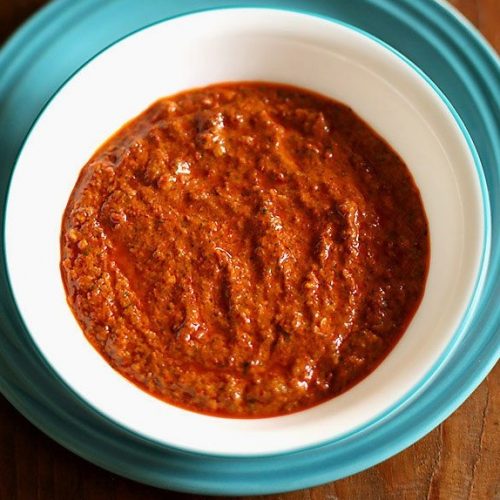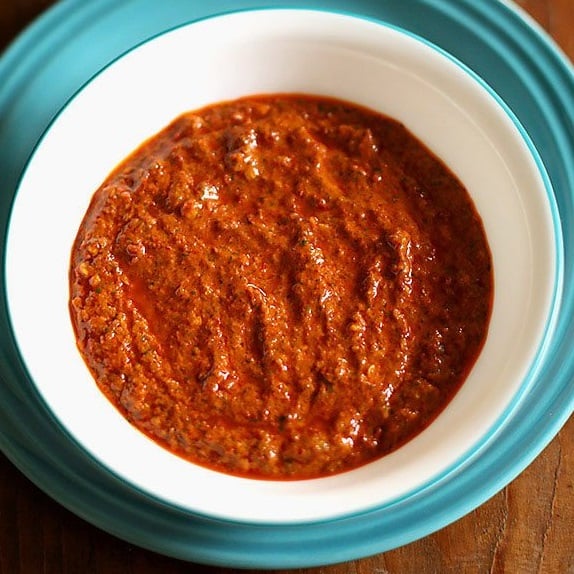 Peri Peri Sauce
This homemade peri peri sauce is a hot and fiery piri piri sauce made with red chilies from the portuguese cuisine
11 to 12

dry red chilies

7 to 8

medium garlic cloves

1

teaspoon

red chili flakes

or red chili powder (optional, and if you want a more hotter sauce)

¼

cup

chopped cilantro

(coriander leaves) or parsley. a combination of both greens can also be used

1

tablespoon

lemon juice or juice of 1 medium sized lemon

or ½ tablespoon vinegar

¼

cup

olive oil

or vegetable oil

sea salt or salt

as required
Instructions
Remove the stems from the dry red chilies.

Rinse them in water and then soak in hot water for 15 to 20 minutes.

Peel and chop the garlic.

Add all the ingredients in a blender or food processor and blend to a smooth paste.

Store the peri peri sauce in a container in the refrigerator.