Find below a list of various dry fruits and nuts names in English and Hindi Languages. Basically, this list is a glossary of different dry fruits names that are commonly included in Indian cuisine.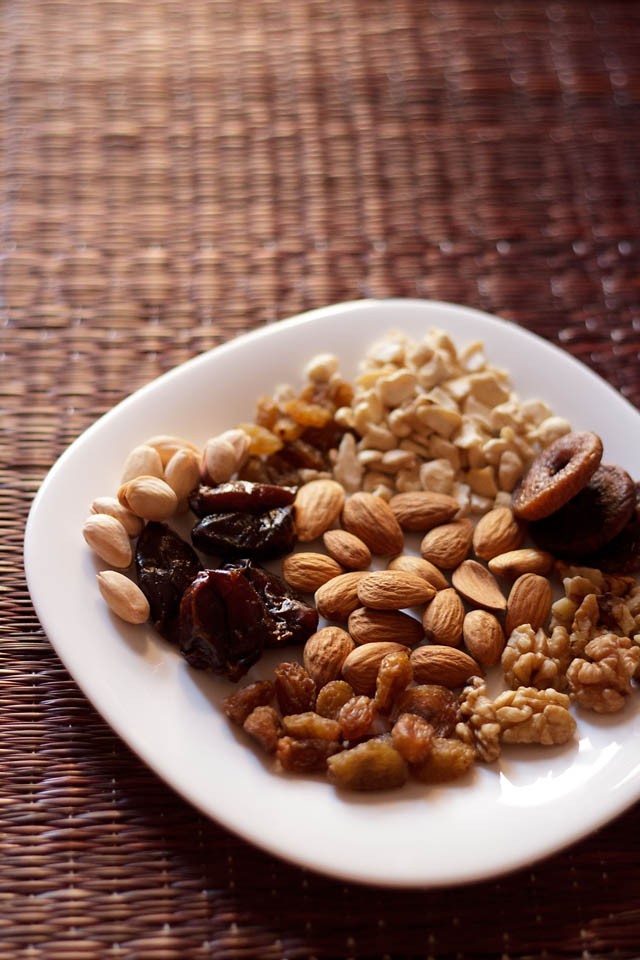 What are Dry Fruits
Dry fruits are basically fruits from which the water has been removed through various techniques of drying. They can be dried using the natural sun drying method or by using dehydrators. With these drying techniques, the fruits can be preserved for a longer time and their shelf life also increases.
Due to the removal of almost all the water from the fruit, the nutrients and sugar gets condensed and concentrated in them. As a result they become a rich source of various nutrients, natural sugar and calories.
Dry fruits can be eaten as a snack or they can be added to various dishes. In the Indian cuisine, there are added to both sweet and savory dishes. They make the food rich and also bring a lot of flavor, aroma and texture to the dish.
While storing them store in a cool dry place so that they don't get infested with insects or mold. Store them in dry jars or containers.
While buying them check the expiry date and preferably buy organic dried fruits and it is better to source them locally to reduce the carbon foot print.
List of Dry fruits names
Below you will the English name is written in bold text followed by the dry fruit name in Hindi. I have also mentioned a few uses of these dry fruits and nuts.
Almond – Badam
Basically used in most of the Indian sweets or goes well with milk as badam milk or sometimes soaked overnight in water and eaten in the morning. Badam halwa is a popular South Indian sweet made from almonds.
Apricot – Khubani
It is used in cakes, sweets. One of the famous Hyderabadi recipes made from Apricot is Khubani Ka Meetha.
Cashewnuts – Kaju
It is used in most of the Indian sweets, special cashewnut based burfi called 'Kaju Katli' and in Goa, cashew fruits are used to make a special liquor called feni. They can be roasted and seasoned with salt, black pepper or other spice mixes and then had as a savory snack.
Dates – Khajoor
It is usually eaten directly or added in cakes or sweets. There is an Indian sweet chutney which is made from dates and tamarinds and usually had with chaat recipes like aloo tikki, sev puri, bhel puri etc.
Dried Dates – Chuara or Kharik
They are added to some Indian sweets and they can also be eaten after soaking them in water.
Dried Figs – Anjeer
It is used to make desserts like Ice cream, cakes, kulfi and drinks like milkshakes, smoothies. If they are too hard or chewy then you can soak them in water for some minutes before adding them to any recipe.
Foxnuts – Makhana
Roasted makhana is healthy to snack on. They are also added to many recipes like khoya matar makhana curry, makhana kheer and to make raita.
Walnuts – Akhrot
It is usually added to cakes and also eaten directly during winters as it is warming.
Peanuts – Moongphali
It usually used in making savory dishes, chutneys, sometimes also added to lentils and also eaten directly or can be eaten as roasted spiced peanuts. Peanut butter is a popular condiment.
Pine Nuts – Chilgoze, Nioze
Eaten as is or added to Indian desserts. It is also used to make the classic Italian Pesto.
Pistachios – Pista
It is added to drinks like falooda, milkshakes, smoothies etc. It is also used as a garnish on various Indian sweets. Sweet treats like cakes, cookies, ice creams, puddings, mousse are also made with pistachios.
Raisins – Kishmish
These come in a few varieties. They can be eaten as is a snack or soaked in water overnight and eaten as first thing in the morning. They are also added to various Indian desserts and sweets.
Saffron – Kesar
One of the most expensive spices grown in Kashmir. It is included for its lovely aroma and color in many recipes. It is majorly used in many Indian sweets and also in rice-based dishes like biryani, pulao and in making Saffron Rice.
Water Melon seeds – Magaz
It is usually used in some sweets and halwa varieties. E.g. in motichoor ladoo. In savory dishes a ground paste of these seeds is made with other ingredients and forms the curry base.
Chironji or Charoli
They are small rounded brownish nuts. Used in puddings, halwas or pulaos. I have not heard any English name for it.
Note to Readers: If you want to update the name of any dry fruits or nuts in this post, then do leave it in the comment section and we will update it in the post. If we have missed any dry fruit name, then also you can let us know. Thanks in advance.
Related Culinary Posts:
This Dry Fruits Names list post is from the blog archives (first published in September 2009) has been updated and republished on 29 June 2021.