Fruits name with a handy glossary table showcasing the names of various fruits in English, Hindi, Tamil and Marathi equivalents and in some other regional Indian languages.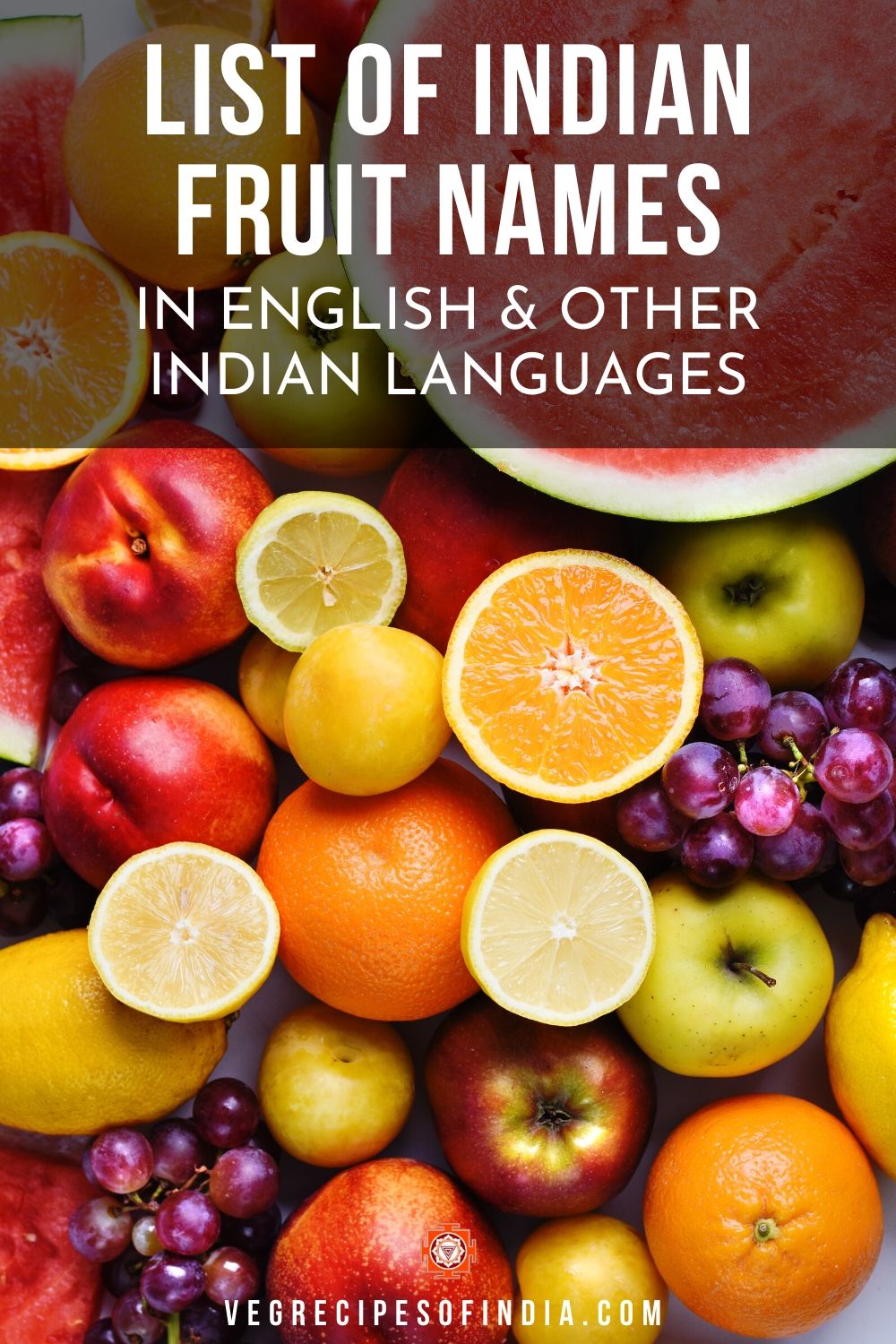 English
Hindi
Tamil
Marathi
Konkani
Other languages
Apple
Seb
Safarchand
Applepazham
Safarchand
Avocado,
Butter Fruit
Makhanphal
Venna pandu (in Telugu)
Banana
Kela
Vazhaipazham
Kela
Lychee
Litchee
Coconut
Nariyal
Naral
Naal
Khopru in Gujarati
Custard apple
Sitaphal
Seethapazham
Dry plums
Aloo bukhara
Figs
Anjeer
Athipazham
Jack fruit
Kathal, katahal
Palapazham
Phanas
Phanas
Chakka in Malayalam
Black plum, java plum
jamun
Jambul
Indian gooseberry
Amla
Nellikai
Avala, awla
Avla
Raj Nellikai
in Kannada
Nelli in Malayalam
Grapes
Angur, angoor
Dratchai
Draksha 
Guava
Amrud
Koiya
Peru
Kiwi fruit
Mango (ripe)
Aam
Mampazham,
Mampalam
Amba
Ambe
Mango (unripe)
Kairi
Ambli
Mulberry
Shahatut
Musk melon
Kharabuja
Mulampazham
Chibud
Orange
Santara, narangi
Naaram
Narangi
Papaya
Papita
Papali pazham
Papai
Pear
Nashpati
Berikkai
Pineapple
Annanas
Annachi
Annanas
Pomegranate
Anar
Madhulam pazham
Dalimb
Sapota
Chikku
Sapota pazham
Chikku
Mulberry
Shahtoot
Sweet lemon
Mausami
Mosambi
Star fruit
Kamarakh in Gujarati
Watermelon
Tarabooj
Kalingad
If you know the name of any fruit in any regional Indian language and want to update it in this post, then do leave it in the comment section and we will update the post.
If we have missed any fruit, then also you can let us know. Thanks in advance.
Related Culinary Posts: