Fruits name with a handy glossary table showcasing the names of various fruits in English, Hindi, Tamil and Marathi equivalents and in some other regional Indian languages.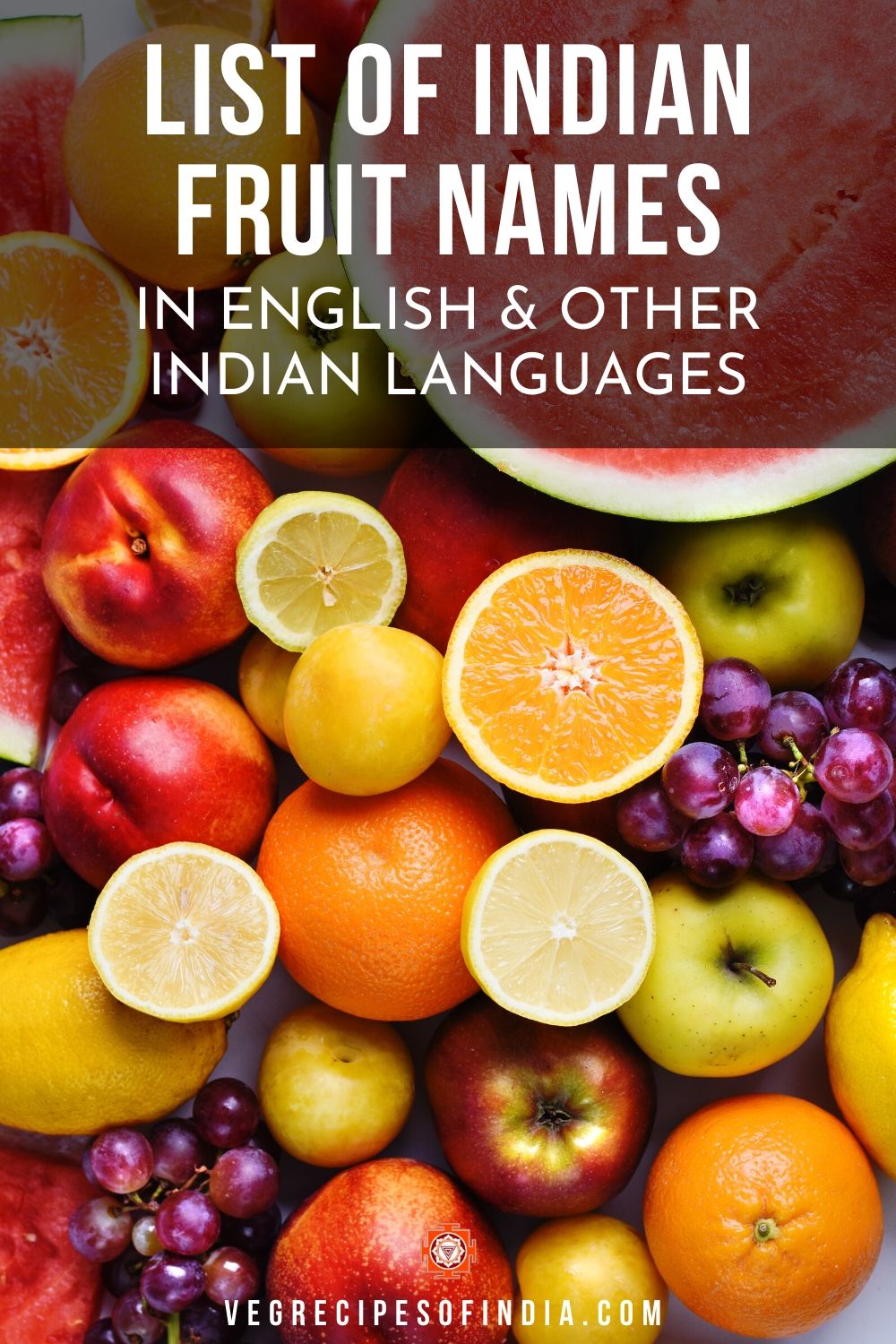 I consider fruits to be nature's candy. There are a bountiful of fruits that mother nature has blessed us with. Each season brings in a variety of fruits that we can savor and enjoy.
Fresh fruits are healthy and some of them have the tag of superfood too like avocado, blueberries, watermelon, strawberries, apples. You can eat them, juice them, make smoothies, make jams and preserves. In fact there are so many cakes and desserts that you can make with fruits.
In India we have fruits changing according to the season. There are some fruits that are perennial like bananas or coconut. And some fruits are strictly seasonal like mangoes, various berries, jackfruit.
It is a good practice to eat fruits when they are in season. Also try to buy them locally to save the carbon foot print. I also recommend to eat the indigenous fruits that are natively grown in your country.
Here in this post, you will the fruits names in Hindi, Tamil, Marathi, Konkani and a few more other languages. I have tried to cover as many fruits as I can. I hope you find this list helpful.
If you know the name of any fruit in any regional Indian language and want to update it in this post, then do leave it in the comment section and we will update the post.
If we have missed any fruit, then also you can let us know. Thanks in advance.
Note that you will have to scroll the below table from left to right when viewing on a mobile phone or tablet.
List of Fruit Names
English
Hindi
Tamil
Marathi
Konkani
Other languages
Apple
Seb,
Safarchand
Apple
Safarchand
Apricot
Khubani
Avocado,
Butter Fruit
Makhanphal
Venna pandu in Telugu
Banana
Kela
Vazhaipazham
Kela
Cape gooseberries
Rasbhari
Cherry
Coconut
Nariyal
Naral
Naal
Khopru in Gujarati
Custard apple
Sitaphal
Seethapazham
Dates
Khajoor
Dry Plums, Plum
Aloo Bukhara
Figs
Anjeer
Athipazham
Grapefruit
Chakotara
Jackfruit
Kathal,
Katahal
Palapazham
Phanas
Phanas
Chakka in Malayalam
Indian Jujubes
Ber
Black plum, Java Plum
Jamun
Jambhul
Jambul
Indian gooseberry
Amla
Nellikai
Avala, Awla
Avla
Raj Nellikai
in Kannada
Nelli in Malayalam
Grapes
Angur,
Angoor
Dratchai
Draksha
Guava
Amrud
Koiya
Peru
Kiwi fruit
Lemon
Nimbu
Limbu
Lychee
Litchi
Mandarin
Kinnu,
Kinnow
Mango (ripe)
Aam
Mampazham,
Mampalam
Amba
Ambe
Mango (unripe)
Kairi
Ambli
Mulberry
Shahatut, Shatoot
Musk melon
Kharabuja
Mulampazham
Chibud
Orange
Santara,
Narangi
Naaram
Narangi
Olive
Jaitun
Palm fruit
Tad phal
Papaya
Papita
Pappali pazham
Papai
Peach
Aadoo
Pear
Nashpati
Berikkai
Pineapple
Annanas
Annachi
Annanas
Pomegranate
Anar
Madhulam pazham
Dalimb
Sapota
Chikku,
Chikoo
Sapota pazham
Chikku
Mulberry
Shahtoot
Sweet lemon
Mausami
Mosambi
Star fruit
Kamrakh
Kamarakh in Gujarati
Tamarind
Imli
Water chestnut
Singhara,
Singhada
Watermelon
Tarabooj
Kalingad
Wood Apple, Bengal Quince
Bel, Bael
Helpful Tips for Fruits
While rinsing fruits soak them for 5 minutes in water to which some vinegar and baking soda or salt have been added. Then rinse them in fresh water for a couple of times thoroughly. This helps in getting rid of any pesticide residue on the fruits. Or if possible buy organic fruits and if you have a garden then grow your own fruits.
Use seasonal fruits that are at the peak of their ripeness and freshness. Each fruit has a different nutrient composition and benefit. Thus consume different types of fruits in any season so that your nutrition needs are met.
The best way to eat fruits is as nature has intended. Just enjoy them as is. This way you get all the nutrition benefits including the fiber from that fruit. Peel the fruit if they have inedible or hard peels. Remove and discard any inedible seeds or stones from the fruit.
While pairing fruits in any dish like smoothie, drinks, salad, desserts etc, don't mix acidic fruits like oranges, lemon with sweet fruits. Also, avoid mixing melons with any fruits.
Don't consume fruits after a meal. If you want to eat fruits then have them at least 2 hours before your meal or 2 to 3 hours after your meal or once your meal is digested.
While buying fruits look for a bright color, good aroma and freshness in the fruits. For some fruits like mangoes, avocado, sapota when you press them lightly the outer skin should yield.
Don't drink water immediately after eating fruits. Always eat fruit fresh as soon as you are done chopping with it. Don't let them rest for some minutes or few hours. Also, don't refrigerate the chopped fruits.
Related Culinary Posts:
This fruit names post from the archives (originally published on December 2014) has been updated and republished on 19 Jun 2021.