Collection of 10 baby corn recipes – baby corn is a versatile veggie and can be included in many recipes, be it salads, soups, fritters, curries, rice, pasta and even stuffings for sandwiches. The crispiness and crunch that baby corn brings add a lot of flavor to the dish. Its one of those veggies, that is liked by most folks including kids.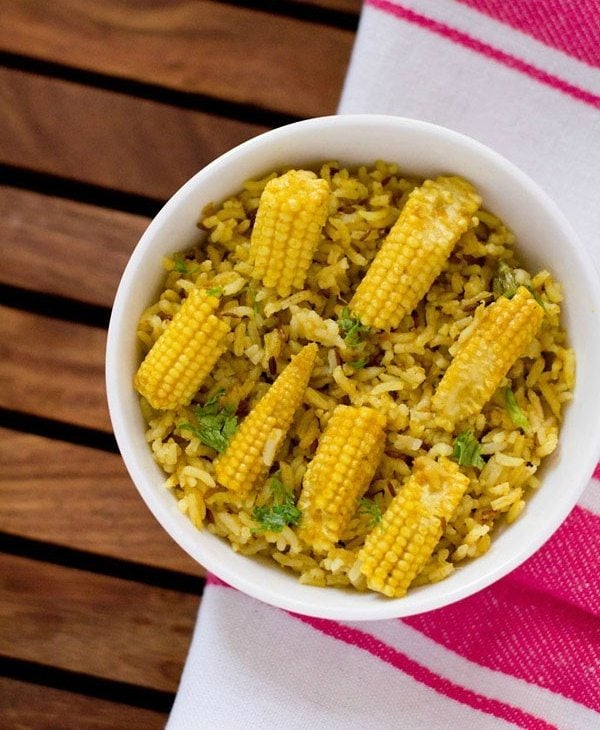 All of us at home, like baby corn. Usually I add them in Indo Chinese recipes or make a simple stir fry or sabzi or a delicious gravy with it.
The baby corn sabzi or dry curry goes very well as a side dish with a main course of dal-rice or sambar-rice or khichdi.
Here, I am sharing a collection of all baby corn recipes posted on the blog. So that it easier for you to find all recipes where baby corn is used in one place. I will keep on updating this post when new baby corn recipes are added on the blog.
10 veg baby corn recipes
1. Baby corn manchurian gravy – a spicy, sweet and sour gravy that tastes great with Veg fried rice or Veg noodles or Veg hakka noodles. this baby corn manchurian can also be served with a rice dish like Burnt garlic fried rice or 5 spice rice or Jeera rice or even plain steamed rice.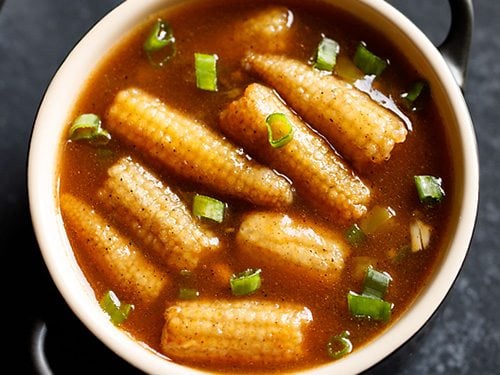 2. Baby corn pulao – this is a slightly spicy baby corn rice recipe with a complex flavor profile. The aromatic garam masala, the spiciness of the green chilies, the slight tang of the tomatoes and the light sweetness of the baby corn – all in one dish.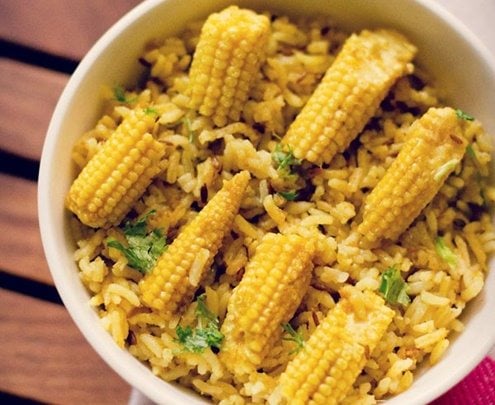 3. Baby corn fry – simple, easy and quick baby corn fry recipe made with 5 ingredients. A simply delicious quick stir fry that is easy to make. Gluten free and vegan as well.
This is one of those recipes I make as a side dish to go along with main course like khichdi, dal-rice or sambar-rice.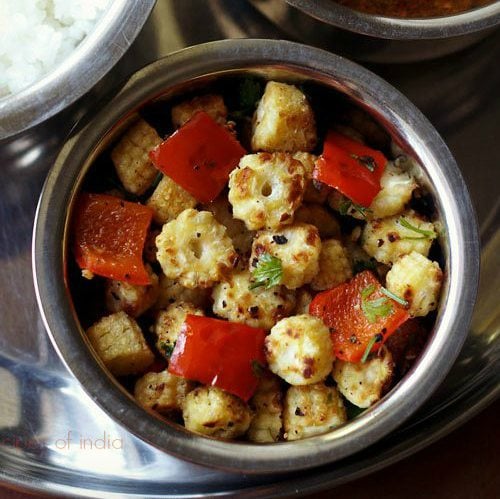 4. Baby corn masala – a creamy baby corn masala made in the classic North Indian style. The creaminess comes from the blended cashews, magaz (melon seeds) and tomatoes.
This baby corn curry goes well with rotis, naan, steamed rice or jeera rice. You can also accompany some fresh vegetable salad by the side.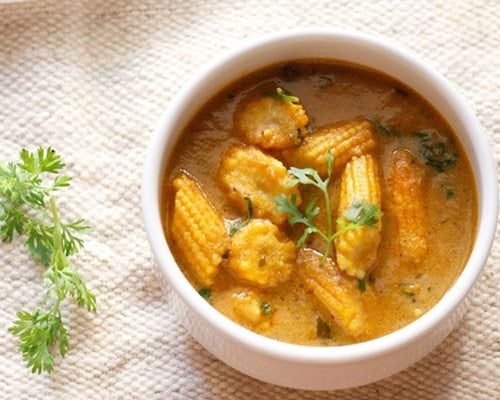 5. Baby corn jalfrezi – a delicious dish made with stir frying the veggies and then slow cooking them tomato puree. You can also add paneer or tofu in this dish. tangy, slightly sweet and spicy in taste.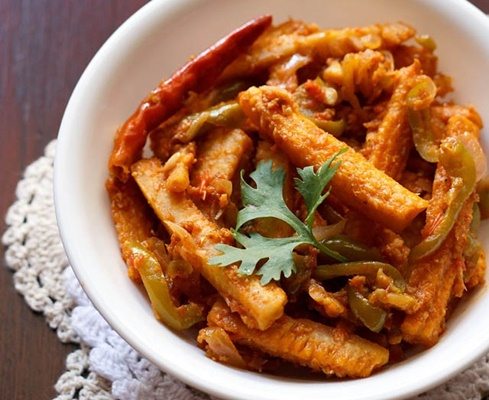 6. Chilli baby corn – crisp and spicy Indo Chinese recipe of chilli baby corn. The baby corn is pan fried for a lighter and healthier version. For extra crispness, you can shallow or deep fry the baby corn.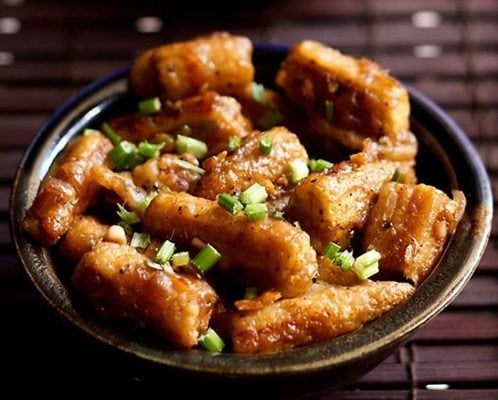 7. Paneer jalfrezi – tangy, mild and semi dry dish of paneer cooked with vegetables. In this recipe, I have added veggies like carrots, baby corn and capsicum (green bell pepper). Feel free to add your choice of veggies or skip the veggies completely.
8. Thai yellow curry – aromatic, lemony and spicy Thai vegetable curry. This is a spicy vegetarian as well as vegan Thai curry made with coconut milk and Thai herbs-spices. In this Thai yellow curry, the vegetables can be of your choice. I added carrots, baby corn, button mushrooms, red bell pepper and Thai brinjals.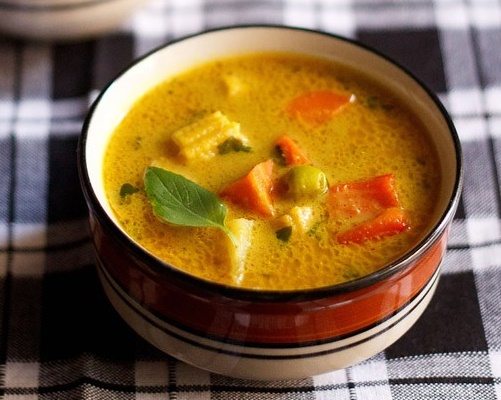 9. Vegetable pasta in white sauce – smooth and creamy dish with pasta and vegetables in white sauce. you can use your choice of veggies in the pasta.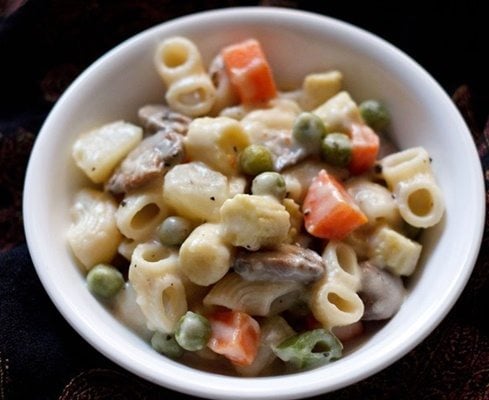 10. Goan vegetable curry – lightly spiced vegetable curry with flavors of coconut and spices, from the land of goa. The curry is not hot nor spicy. though the heat levels can be increased by using more red chilies.
This Baby Corn Recipes collection post from the blog archives first published in June 2016 has been republished and updated on 8 Jun 2022.