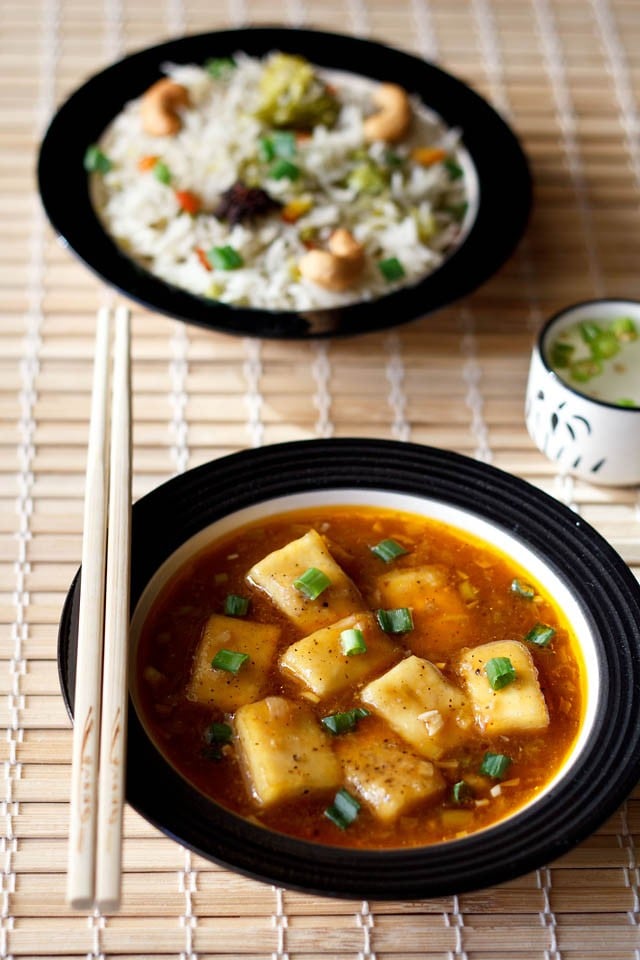 Paneer Manchurian Recipe with step by step Photos – Paneer Manchurian is a delectable Indo Chinese recipe. You will find Paneer Manchurian and Veg Manchurian on many Indian restaurants' Chinese menus. 
Instead of Paneer, you could also use Tofu for this recipe. I love Chinese food, be it the authentic original Chinese food or the Indo Chinese Food. Few more Manchurian Recipes in the blog are Mushroom Manchurian dry, Gobi Manchurian, Veg Manchurian and Baby Corn Manchurian.
This Paneer Manchurian recipe is easy to make. Whenever you make Indo Chinese cuisine at home, please don't forget to add celery. Celery gives so much flavor and makes it really Chinese 🙂 If you don't add celery, then something will be missing in the dish and you can actually taste it.
This recipe is for a Paneer Manchurian curry or gravy. If you like the Dry Paneer Manchurian, then please check the notes section in the recipe details below or check this Dry Paneer Manchurian Recipe.
If you are looking for more Indo Chinese Recipes then do check Veg Chow Mein, Gobi Manchurian, Veg Manchow Soup, Veg Hakka Noodles and Burnt Garlic Fried Rice Recipe.
Paneer Manchurian recipe below:
Paneer Manchurian Recipe
paneer manchurian recipe - sweet, sour, umami indo chinese recipe of paneer manchurian.
Ingredients (1 cup = 250 ml)
main ingredients:
200

grams

cottage cheese

(paneer) or tofu

1

small capsicum

(green bell pepper or shimla mirch) - chopped or thinly sliced, optional

1.5

cups

veg stock

or water

¼ or ½

teaspoon

black pepper powder

(kali mirch powder)

½

cup

chopped spring onion

(scallion whites)

1

green chilli,

finely chopped (hari mirch)

½

inch

ginger,

finely chopped (adrak)

5-6

garlic,

finely chopped (lahsun)

1

teaspoon

celery,

chopped

2

teaspoon

soy sauce

1

teaspoon

sugar

1 or 1.5

tablespoon

tomato sauce

1

teaspoon

apple cider

or white vinegar

salt as required

4 to 5

tablespoons

oil for frying the paneer

a few spring onions for garnishing

(scallion greens)
for the corn flour paste:
2

tablespoon

corn flour

½

cup

water
paneer marinade:
2

tablespoon

corn flour

½

teaspoon

ginger-garlic,

chopped

salt

as required

pepper as required

as required
How to make recipe
Mix all the ingredients for the paneer marinade.

Add paneer to the marinade to the paneer. Toss the mixture well, so that the paneer is well coated with the marinade.

Shallow or deep fry the paneer cubes in hot oil. Drain on paper napkins and keep aside.

Remove the extra oil from the wok or kadai. When the oil becomes hot add the onions.

Stir fry the onions on medium to high heat taking care that they do burn.

Make the corn flour paste with water.

Let the onions become translucent. Add the ginger, garlic, green chili and celery. Stir for some seconds or a minute.

Now add the capsicum if adding them. Stir fry the capsicum also for 2-3 mins.

Now add all the sauces, veg stock or water. Stir and simmer. Add the corn flour paste and let the sauce thicken.

Now add the fried paneer cubes, vinegar, pepper and salt. Stir and simmer for a minute.

Garnish Paneer Manchurian with spring onion green and Serve Paneer Manchurian hot with veg fried rice, asian veg rice or veg noodles.
Recipe Notes
measuring cup used for ingredients is: 1 cup = 250 ml.
For making Dry Paneer Manchurian Recipe:
1. If you want the paneer manchurian recipe to be to be dry, then do not add any water.
2. Just add the sauces, salt, pepper, sugar and vinegar. Stir well. Add the fried paneer pieces.
3. Mix the paneer pieces in the sauce and serve the dry paneer manchurian hot.

Few Tips for Making Paneer Manchurian Recipe:
1. Add the cornflour paste slowly and keep on stirring while adding it so that lumps are not formed.
2. If you like to have more gravy, you will obviously use more water or stock. So in proportion you will have to increase the cornflour paste.
3. The cornflour is added to thicken to the gravy. If the gravy becomes too thick, then you can thin it by adding little water.
4. You can even add the paneer pieces directly instead of frying them.
Lets Start Step by Step Paneer Manchurian recipe:
1: Dice 200 grams paneer/cottage cheese into cubes or squares. mix 2 tbsp corn flour, ½ tsp chopped ginger-garlic, black pepper powder (as required) and salt (as required). mix the whole mixture well.
2: Heat 4-5 tbsp oil in a wok or kadai. shallow fry the flour coated paneer cubes till light golden.
3: Drain on kitchen tissues and keep aside. don't over fry as the paneer cubes might become dense.
4: If there is extra oil in the wok, then remove it in a bowl. add spring onions to the oil and stir fry till the onions become translucent. Add 5-6 finely chopped garlic, ½ inch finely chopped ginger, 1 finely chopped green chilli, 1 tsp chopped celery and stir fry for some seconds.
5:  Now add 2 tsp soy sauce, 1 or 1.5 tbsp tomato sauce and 1.5 cup veg stock or water. Cook till the mixture begins to simmer.
6: Add the corn flour paste (2 tbsp corn flour + ½ cup water). stir so that the no lumps are formed.
7: Simmer and keep on stirring till the sauce begins to thicken. Once the desired consistency of thickness is done, add the fried paneer cubes, (¼ or ½) tsp black pepper powder, 1 tsp sugar, 1 tsp white vinegar and salt as required.
8: Stir and simmer for 1 or 2 minutes. Serve Paneer Manchurian hot garnished with spring onion greens with some veg fried rice or veg noodles. I served paneer manchurian with an asian veg rice.