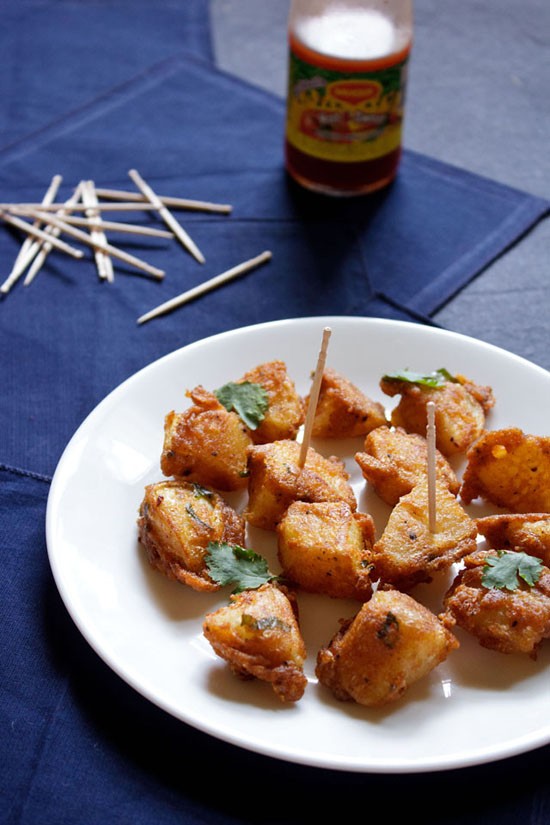 aloo 65 recipe with step by step photos – this recipe of potato 65 has the routine story of a housewife behind it.
there are times we plan to cook a particular dish and do not end up cooking it for myriad number of reasons – some ingredient is missing, we are tired or not feeling good in health or don't have enough time to cook that dish or the maid has not come or we had a fight or argument with a family member/friend and god knows so many things…
i agree women are emotional and i am no exception to this. i always plan my menu but there are ocassions i simply cannot cook what i have planned.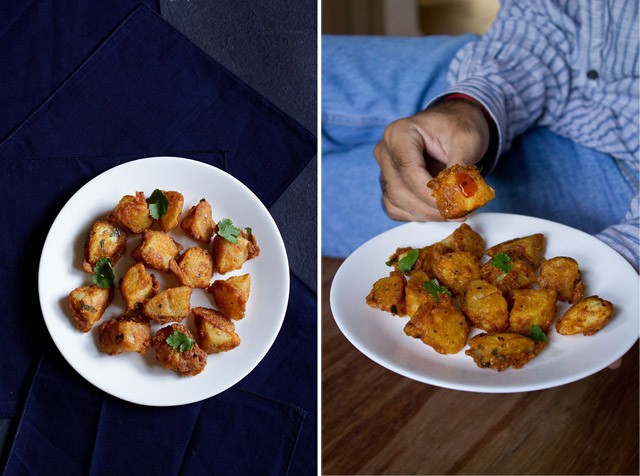 well in the case of aloo 65, the reason was not emotional. i had actually planned to make it with cauliflower. i had heard so much about gobi 65 that i wanted to try it. so when i removed the cauliflower from the fridge, i had to throw it away.
if you live in india, you will know by now why i threw the cauliflower. anything wriggling on any veggie makes me just throw it away… and the cauliflower had many of these wriggly insects 🙁
the name of this recipe is unusual. just like aloo 65 there is chicken 65 too. some say it was named liked this, as this chicken recipe,was on the 65th list on the menu of a restaurant in hyderabad, india and hence the name chicken 65.
now you can substitute chicken with any veggie and call it gobi 65 or paneer 65 or mushroom 65. so many options galore 🙂 few other famous vegetarian recipes from the hyderabadi cuisine are:
the aloo 65 or potato 65 is a good starter snack. best to have them when they are hot. once they become cool, the crispiness is lost.
if you are looking for aloo recipes then i suggest you to check punjabi dum aloo, aloo paratha, aloo tikka, aloo matar and aloo tikki recipe.
aloo 65 or potato 65 recipe below:
aloo 65 recipe | potato 65 recipe
aloo 65 recipe - crisp and spicy potatoes. good starter snack.
ingredients (1 cup = 250 ml)
4-5

medium sized potatoes

(aloo)

3

tablespoon

whole wheat flour (atta)

or you can use all purpose flour (maida)

3

tablespoon

corn flour

7-8

curry leaves, chopped

(kadi patta)

1

teaspoon

red chili powder

(lal mirch powder)

½

teaspoon

coriander powder

(dhania powder)

½

teaspoon

cumin powder (jeera powder),

(optional)

½

teaspoon

black pepper powder

½

teaspoon

garam masala powder

2 to 3

teaspoon

ginger garlic paste

or crushed ginger garlic

1

tablespoon

lemon juice

few coriander or mint leaves for garnish

water as required

salt as required

oil for frying
how to make recipe
parboil the potatoes/aloos in a pressure cooker for 1-2 whistles.

make a thick batter with all the ingredients except for oil and potatoes.

peel and dice the parboiled potatoes.

add the diced boiled potatoes to the batter.

fry the batter coated potatoes in hot oil till golden brown & crisp.

serve aloo 65 hot garnished with coriander or mint leaves or both along with some some

green chutney

or tomato sauce.
recipe notes
tips for making aloo 65 recipe:
i have not used red color as i avoid any artificial colors in the food i make at home. to get a deeper red color i suggest adding kashmiri red chili powder.
don't make a thin batter as we want the potatoes to be coated well with the batter.
don't cook the potatoes. they should just be parboiled. just about 20% cooked so that they peel of easily and when dicing they don't get mashed up or crumble.
step by step potato 65 or aloo 65 recipe:
1. firstly parboil the potatoes in a pressure cooker or pan.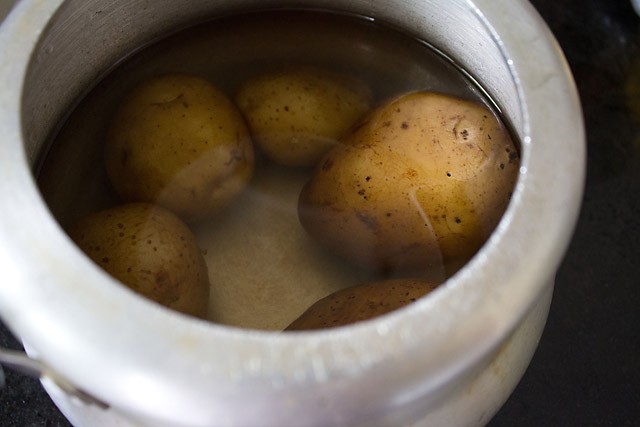 2. now drain the potatoes.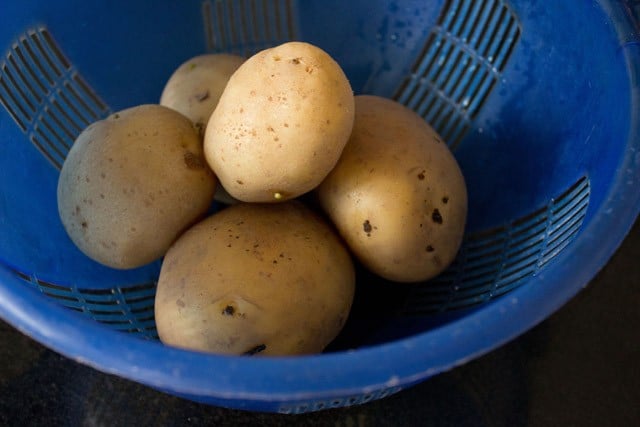 3. peel and dice them.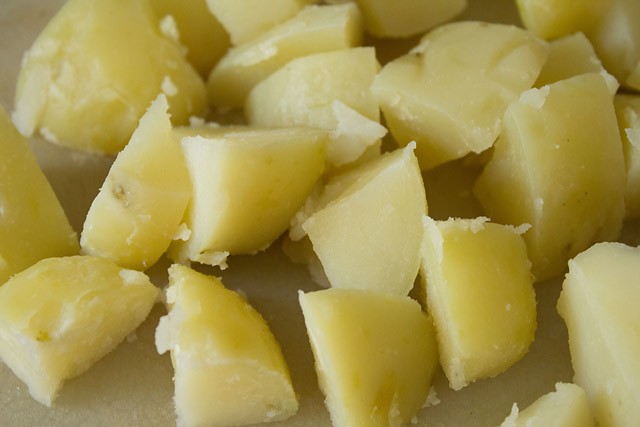 4. take all the ingredients for the aloo 65 except for potatoes and oil in a bowl.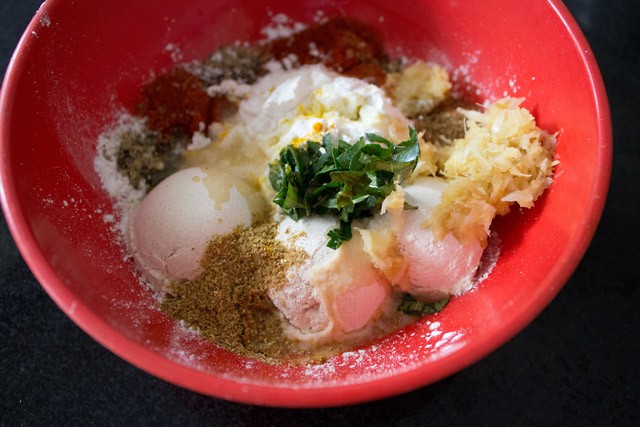 5. now add water and make a smooth and thick batter.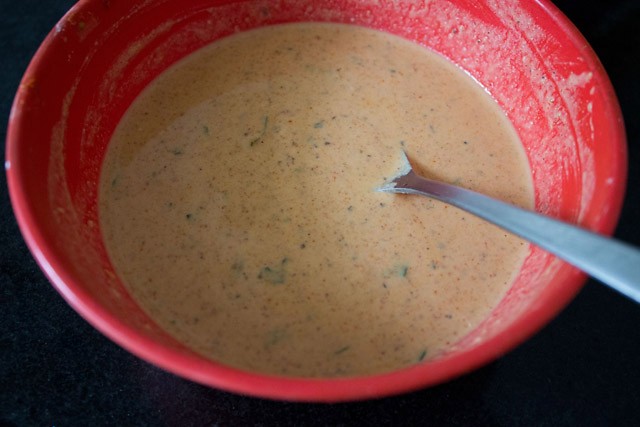 6. now add the diced potatoes to the batter.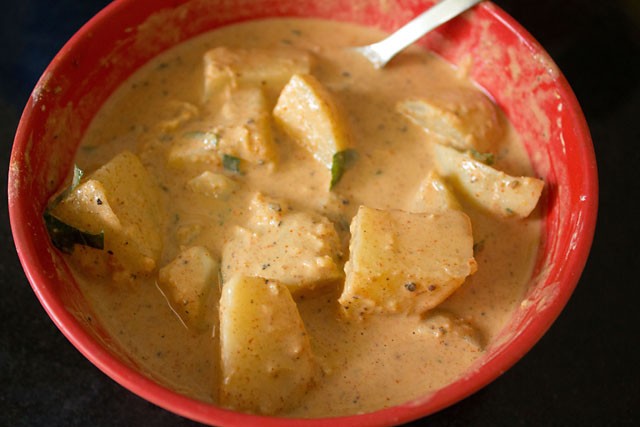 7. take each batter coated potato and shallow fry or deep fry till golden brown and crisp.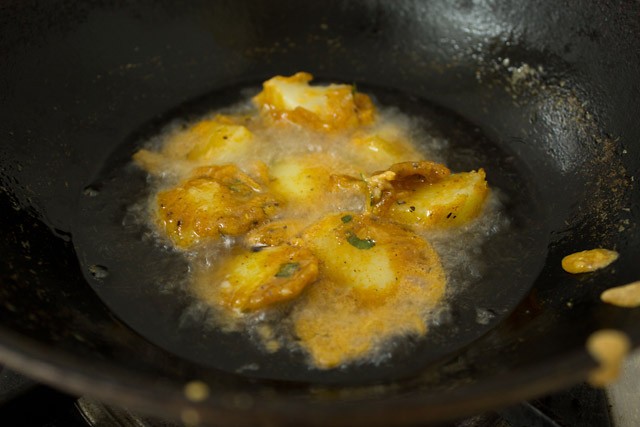 8. drain on kitchen paper napkin.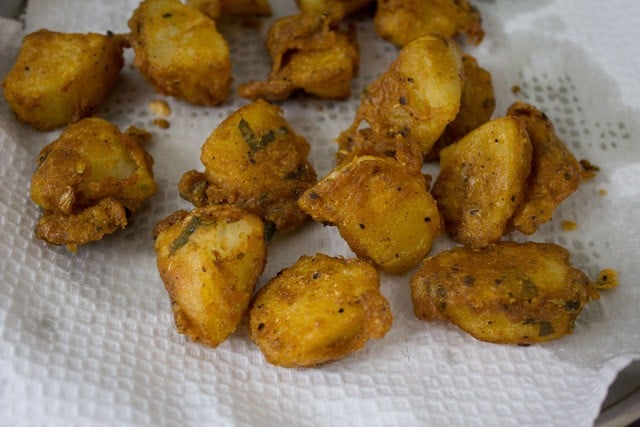 garnish aloo 65 with chopped cilantro or mint and serve aloo 65 hot with some tomato sauce or coriander chutney and enjoy.