Rajgira puri recipe – as the name suggests these pooris are made from Rajgira atta or amaranth flour and mashed boiled potatoes. They make for a filling fasting meal when served with a side of any fasting curry. This recipe also uses all plant-based ingredients and is therefore, vegan too.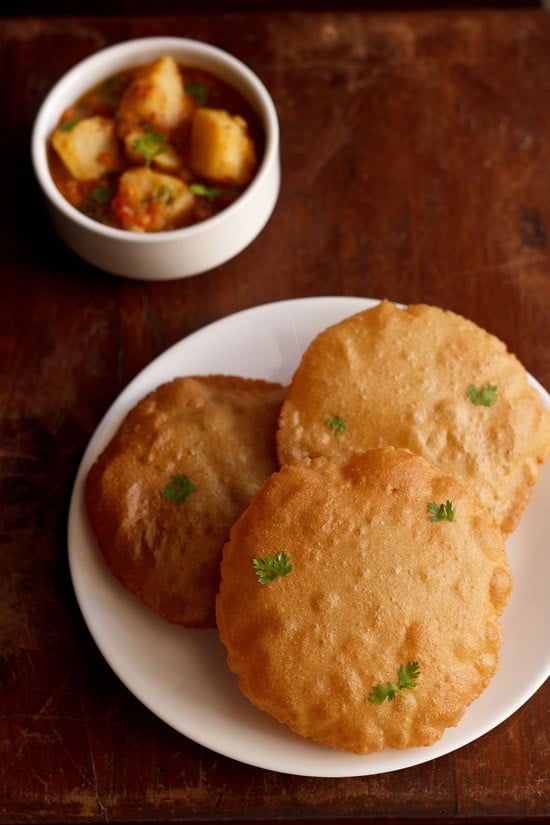 Amaranth flour is one of the ingredients that is used during the Navratri fasting days. Apart from making pooris, it is also used to make rotis, Rajgira paratha, Rajgira kheer, pakoras and even as a binding and thickening agent.
For people who keep Navratri fasting or vrat, I have already shared the compiled List of ingredients for Navratri fasting.
Rajgira ki pooris are simple to make. Since there is no gluten in amaranth flour, boiled mashed potatoes are used as a binding agent. Care needs to be taken while adding water.
As if you add all the water at once, the dough will become very sticky and pasty. So avoid adding all the water at once. Add half or one teaspoon at a time and start kneading the dough. This way keep adding water in parts and knead to a smooth dough.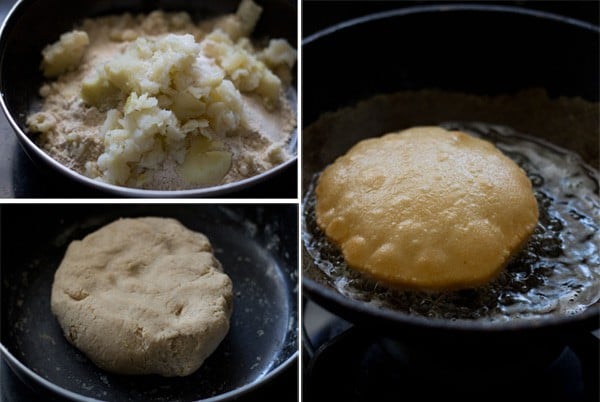 With the same dough, you can even make rotis or parathas. I had made pooris for lunch and they were heavy. So in the night I made rotis from the dough.
Apart from these rajgira pooris, you can consider making Kuttu ka paratha, Kuttu poori, Singhare ke atte ki poori and Vrat ke chawal ka pulao for Navratri fasting. You can also check this compiled collection of Navratri fasting recipes.
These rajgira ki puri absorb quite a good amount of oil unlike regular whole wheat pooris. So when preparing, to reduce the oil absorption, fry the pooris in hot oil.
Make pooris of medium sized thickness – meaning neither thin nor thick. Thickly rolled pooris, just sink from one side and take a lot of time to cook. Thinly rolled pooris break and oil seeps into them. If you cannot manage the pooris, then just make roti or paratha with them.
Serve these rajgira ki pooris hot or warm with Vrat wale aloo, dahi arbi, Kaddu ki sabzi, Vrat ki kadhi or dahi aloo.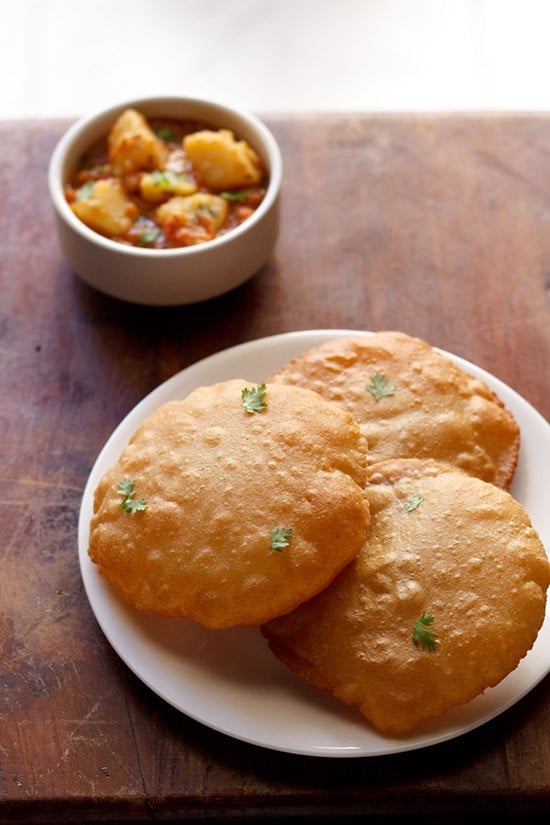 Rajgira or amaranth is an ancient seed and because of its many health benefits, is been considered as a superfood too. It is brimming with nutrients like fibre, proteins and is rich in antioxidants, carbohydrates, iron, calcium and other vitamins and minerals. One of the most important features is that it is organically free of gluten. So, a great alternative to wheat as well.
This Rajgira Puri is one way to include it in your diets, especially during your vrats or fasts.
Please be sure to rate the recipe in the recipe card or leave a comment below if you have made it. For more veetarian inspirations, Sign Up for my emails or follow me on Instagram, Youtube, Facebook, Pinterest or Twitter.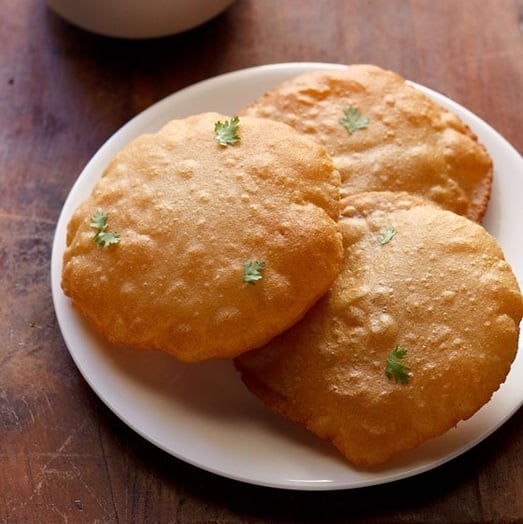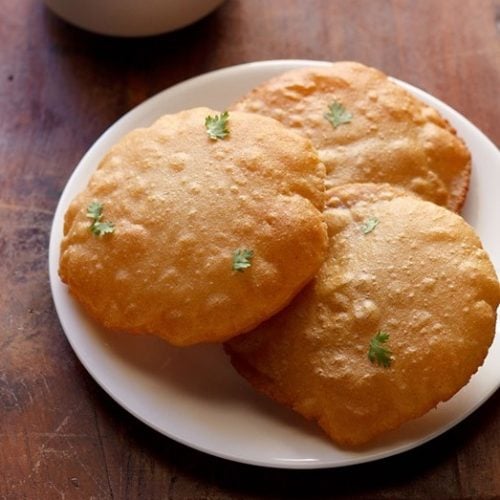 Rajgira Puri
Rajgira poori or amaranth poori is fried puffed breads made from amaranth flour & boiled mashed potatoes.
2

cups

rajgire ka atta

or amaranth flour

1

large potato

rock salt (edible and food grade)

(sendha namak) as required

water as required

some rajgira atta or amaranth flour for dusting

oil for frying
Instructions
Boil the potato. Let it cool completely. Peel and mash it in a bowl.

Add rajgira atta and salt. First mix the whole mixture well.

Then add very little water, just about 1/2 to 1 tsp and begin to knead the dough.

Again add 1/2 to 1 tsp water and knead so that there is no dryness in the dough.

The dough should not be sticky. If the dough feel sticky add some amaranth flour and again knead.

Keep aside covered for 15 minutes.

On a dusted work surface, make medium sized pooris, neither thin nor thick and fry them in hot oil.

Drain them on paper napkins to remove excess oil.

Serve rajgire ke poori hot with any vegetable curry/sabzi or paneer curry.
Notes
You can also use sweet potato instead of potatoes as a binding agent. But it will have the flavors or sweetness of sweet potato in it.
This Rajgira ki Puri post from the blog archives first published in October 2013 has been updated and republished on December 2022.