Get list of flours used in Indian cooking with their english, hindi, tamil, telugu, kannada, malayalam and gujarati names.
The below list contains both the names of flours made from cereals (grains) and seeds (pseudo grains like amaranth, buckwheat, millets etc). Also are listed flours from beans and lentils. I have also mentioned if these flours are gluten free or not.
While I have done the english, hindi, marathi and gujarati translations on my own, for the other languages, the reference is taken from the book, Modern Cookery by Thangam Philip.
List of Indian Flours
Flour
English
Hindi
Marathi
Tamil
Telugu
Kannada
Malayalam
Gujarati
Gluten-free
Whole wheat flour
Atta
Kaneek
Godumai
Maavu
Godhuma
Pindi
Godi hittu
Gothambu
Mavu
Ato
X
All purpose flour, Refined flour
Maida
Maida
Maida maavu
Maida pindi
Maida hittu
Maida mavu
Maida
X
Cream of wheat,
Semolina
Sooji, suji
Rava
Ravai
Rava
Rava
Rava
Rava
X
Rice flour
Chawal
Ka atta
Tandlache
Peeth
Arisi maavu
Biyyappu
Pindi
Akki hittu
Aripodi
Chokha
No lot
X
Maize flour
Makai ka atta
Makyache
Peeth
Makka cholam maavu
Mokkajonna
Pindi
Mekke jola hittu
Cholam mavu
Makai no lot
X
Corn starch
Corn flour
–
–
–
–
–
–
X
Soybean flour,
Soya flour
Bhatma ka atta
–
–
–
–
–
–
√
Roasted bengal gram flour
Sattu ka atta
–
Pottukadalai maavu
–
–
–
–
√
Gram flour, chickpea
Flour
Besan
Daliche peeth
Kadalamaavu
Senaga pindu
Kadale hittu
Kadala mavu
Chana no lot
√
Finger millet flour
Mandua
Ka atta
Nachni che peeth
Kizhvaragu maav
Ragulu pindi
Ragi hittu
Moothari mavu, panjapullu
Mavu
Ragi no lot
√
Sorghum
Flour
Jowar ka atta
Jwari che peeth
Cholam maavu
Jonnalu pindi
Jolada hittu
Cholam mavu
Juwar no lot
√
Pearl millet flour
Bajra ka
Atta
Bajri che peeth
Kambu maavu
Sajjalu pindi


Sajje hittu
Kamboo mavu
Bajri no lot
Recipes made with these Flours
Here I have listed below the recipes made from these flours:
Atta or whole wheat flour used for making roti, chapati, paratha, poori and phulka.
Maida all purpose flour or plain flour used for making naan, bhatura, luchi, kulcha, muffins, cakes. Atta is more healthier than maida.
Besan – gram flour used in making pakoras/fritters, besan ladoos, khandvi, dhokla, methi muthia, missi roti, besan halwa). Gluten free.
Chawal ka atta – rice flour used in making kozhakatai, pooris and rice bhakri/rotis). gluten free.
Makai ka atta (makki ka atta)– maize flour is made from dried corn and is yellow in color and corn flour is made from starch of corn kernels and is white in color. Makki ki roti is very famous in Punjab.
Sooji – cream of wheat (both coarse and fine). Used in making sooji halwa, rava dosa, rava kesari, rava upma.
Ragi or nachni flour – finger millet flour (used in making ragi dosa, roti, upma). gluten free.
Bajra – pearl millet flour (used in making bajra roti or bajra bhakri, thepla). gluten free.
Jowar flour – white millet flour or sorghum flour (used in making bhakris, thepla, thalipeeth). gluten free.
Sattu ka atta – made from mixture of roasted and grounded pulses and cereals or even just roasted gram powder will do. You can make sattu drink, paratha, laddu, chilla.
Soya flour – made from whole soybeans which is roasted and then grounded. It is usually mixed with whole wheat flours to make rotis, parathas or pancakes. gluten free.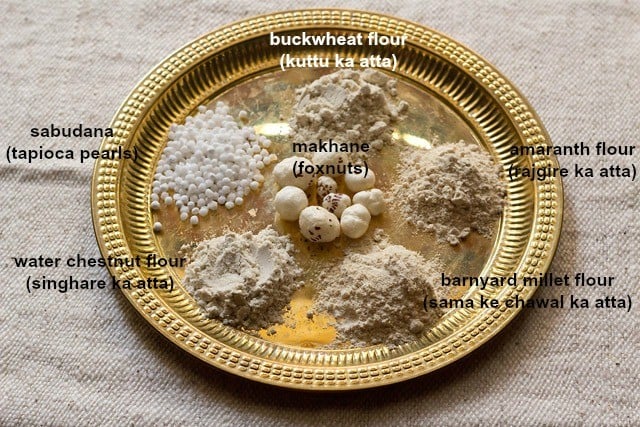 Fasting flours for vrat ka khana
Singhare ka atta (water chestnut flour) – you can make singhare ki poori, paratha, pakoras, halwa. gluten free.
Kuttu ka atta (buckwheat flour) – you can make paratha, pakoras, poori, halwa. gluten free.
Rajgira ka atta (amaranth flour) and rajgira (amaranth) – you can make pooris, vrat ka halwa, paratha, kadhi and thalipeeth. Roasted rajgira can be had mixed with fruits, porridge and even ladoos. gluten free.
Sama ke chawal ka atta (barnyard millet flour) – can be used to make vrat ke uttapam, idli, dosa, pooris. gluten free.
Arrowroot flour or paniphal flour – used as a thickener and binding agent. gluten free.
Sabudana flour or tapioca flour – flour made from tapioca pearls. Can be used to make sabudana dosa and idli.
Note: to know more about fasting food check this Navratri Vrat Rules post.
Related Culinary Posts: