bajra roti or bajra bhakri recipe with step by step photos – bajra roti are flat breads made from millet flour. they are very easy to make and make a good accompaniment to dal or any indian vegetable based curry dish.
bajra is the hindi word for pearl millet. these flat breads are gluten free and an excellent nutritious option for people having gluten intolerance and for everybody else too.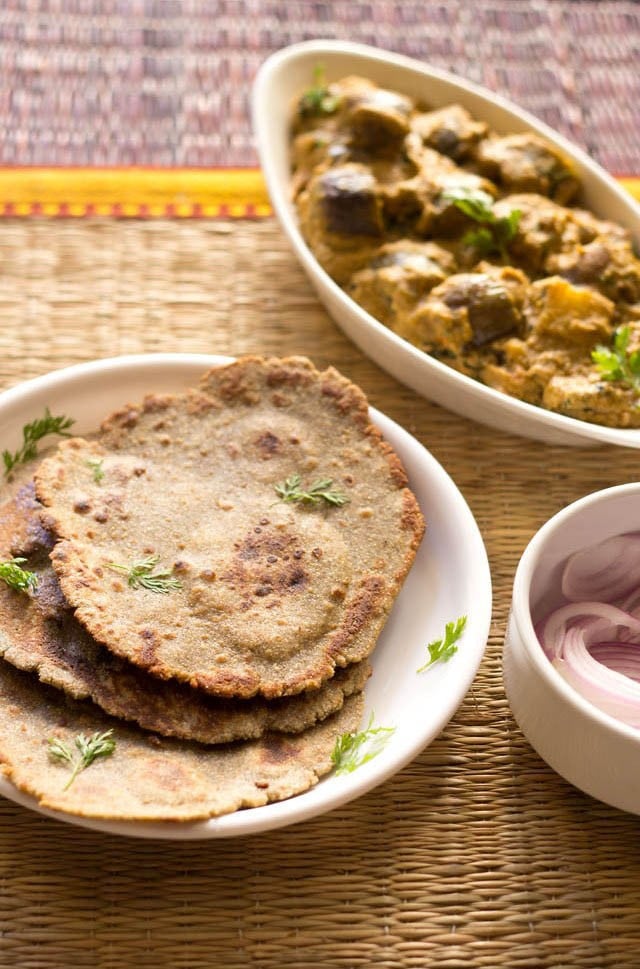 on some days i make jowar rotis (sorghum flour flat bread). somedays it is multigrain flour rotis. sometimes i mix all the flours and make rotis. since rotis are a staple in my house, i make various rotis with various millets .
i even make rotis from ragi (finger millet flour) on some days. millets are healthy grains. so do try to include them in your diet. few more recipes on blog which are made with bajra are: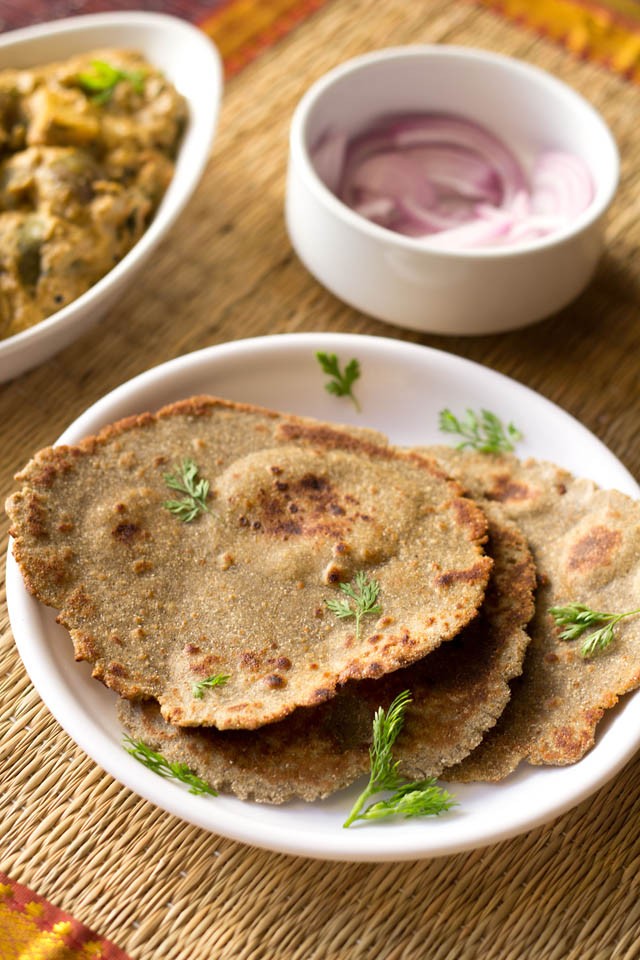 i always knead these bajra rotis in hot water. the dough become pliable and easy to roll when using hot water. the rotis have a soft texture too. you can also knead the dough in warm water.
i had served the bajra rotis with bharli vangi – stuffed aubergines in peanut-coconut-sesame gravy. the combo was really good. you can also serve the bajra rotis with any any dal. they would even taste great with a good north indian, maharashtrian or gujarati vegetable or legumes curry like usal or gutti vankaya kura or mixed sprouts curry recipe or ennegayi recipe.
if you are looking for more roti recipes then do check makki di roti, methi thepla, missi roti, akki roti and jaggery roti recipe.
bajra roti or bajra bhakri recipe below: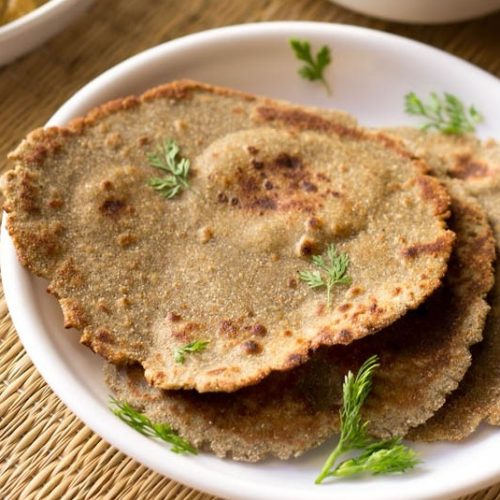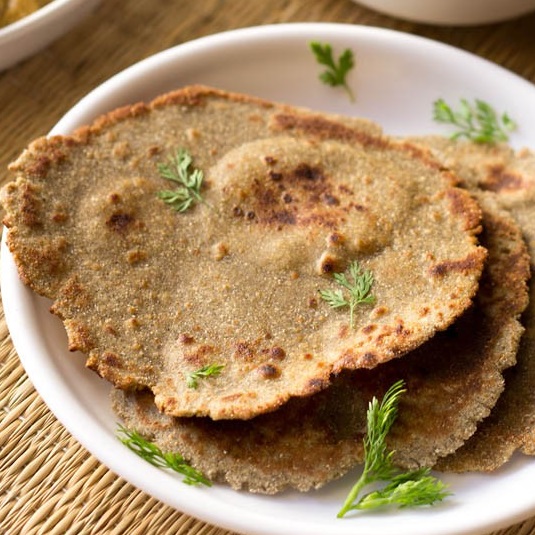 bajra roti recipe | bajra bhakri recipe
bajra roti recipe - gluten free flat bread made from millet flour - bajra flour.
servings
8
to 10 small flat breads
ingredients (1 cup = 250 ml)
2 to 2.5

cups

bajra flour

(millet flour)

1

teaspoon

oil

or ghee

water as required

salt as required

some bajra flour

or whole wheat flour for dusting

sunflower oil

or ghee for applying on the rotis or for frying them
how to make recipe
kneading dough for bajra roti:
heat or warm the water. add salt and oil. stir.

add the bajra flour. stir with a spoon. knead into a smooth dough.

if the dough becomes sticky, then add more flour.

if the dough is dry, then add some water.
making bajra roti:
meanwhile heat a tava or flat fry pan.

make medium sized balls. dust with flour and use a ziplock bag for rolling.

remove gently from the ziplock bag and place bajra roti on the hot tava.

cook till both sides have brown spots and done.

apply oil or ghee on one side.

you can also fry the bajra rotis like parathas with oil or ghee directly in the tava/frying pan.

serve bajra roti hot or warm with a vegetable side dish or curry.
step by step bajra bhakri or bajra roti recipe:
1: first heat the water. the water should be hot. switch off the fire. then add oil plus salt. mix well.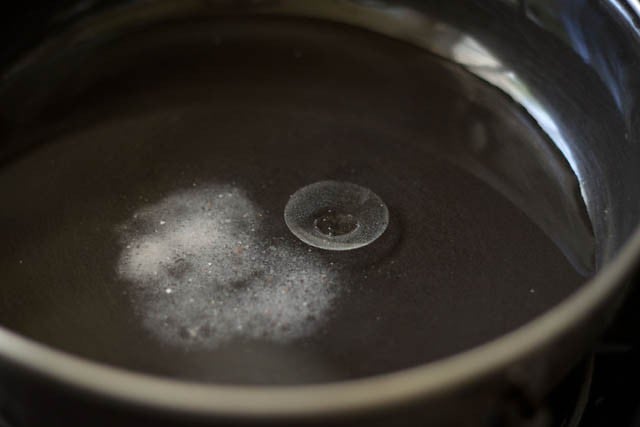 2: add the bajra flour to the water or vice versa.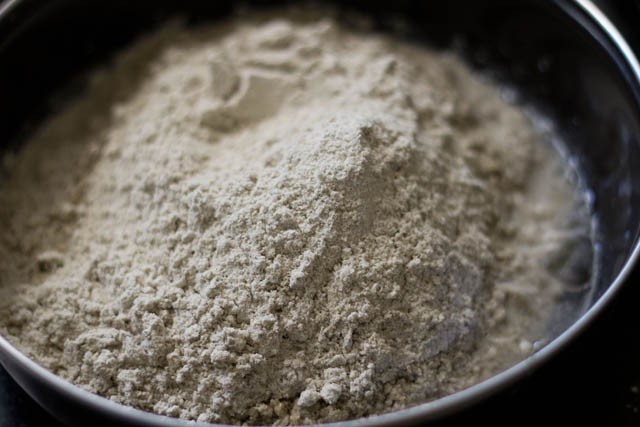 3: mix with a spoon if the water is hot. if you use warm water, then you can just use your hands for mixing.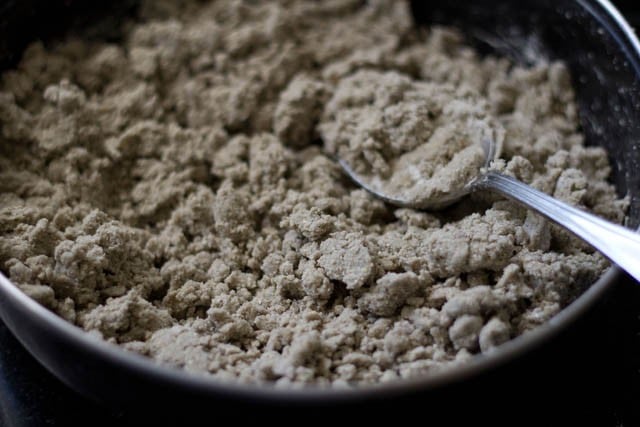 4: gather the mixed dough and knead to a smooth dough.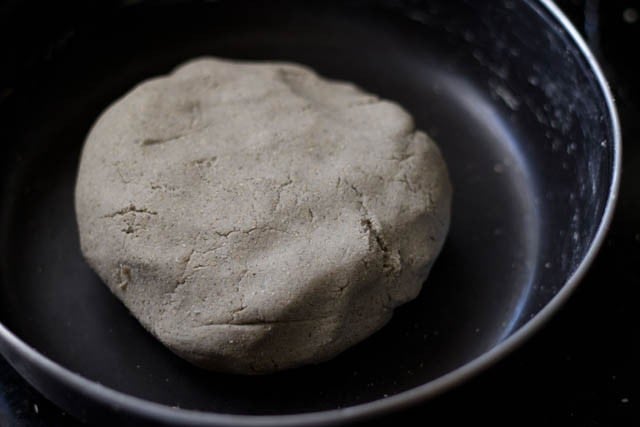 5: pinch a small or medium sized ball, flatten it and dust with some bajra flour.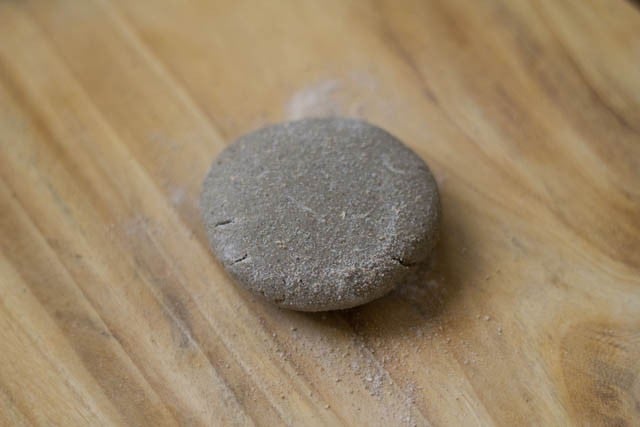 6: with your palms flatten the dough. i am not good in this. so fold a ziplock bag, place the dough ball in between and roll with a rolling pin. dust flour if required.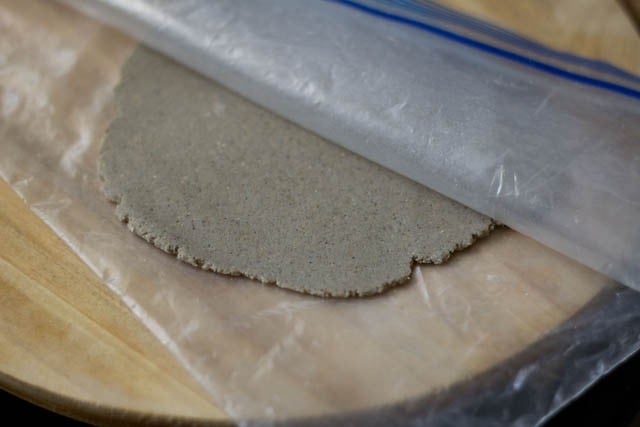 7: gently remove the flat uncooked bread from the ziplock bag and place bajra roti on a hot tava or flat pan.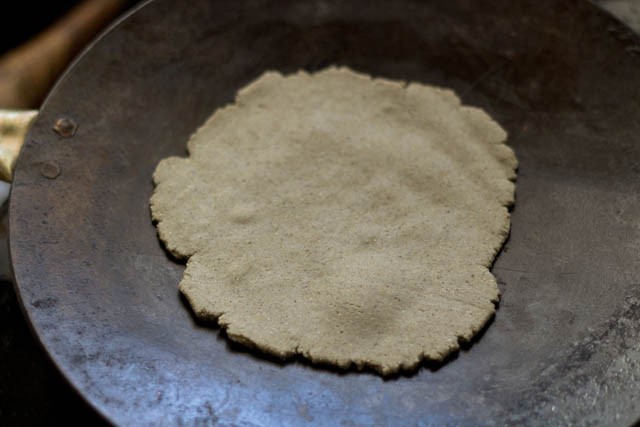 8: cook on side. flip and cook the other side. flip a couple of times and cook til brown spots appear on both sides. apply some oil or ghee on top. stack all the bajra rotis in a roti basket or casserole.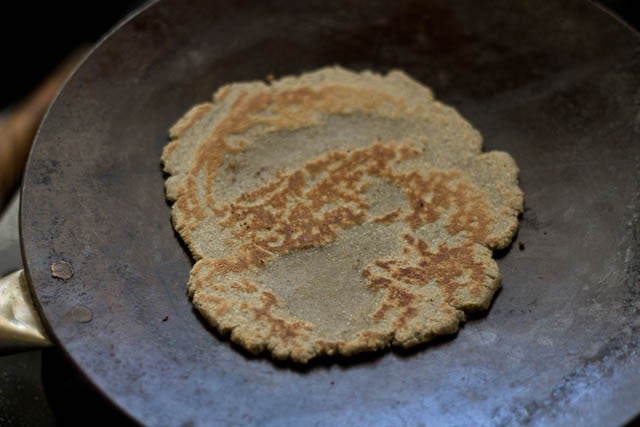 9:  you can serve bajra roti hot or warm with an indian vegetable curry, dal or side veggie dish like bharli vangi or moong sprouts sabzi or baingan chokha or mixed sprouts curry.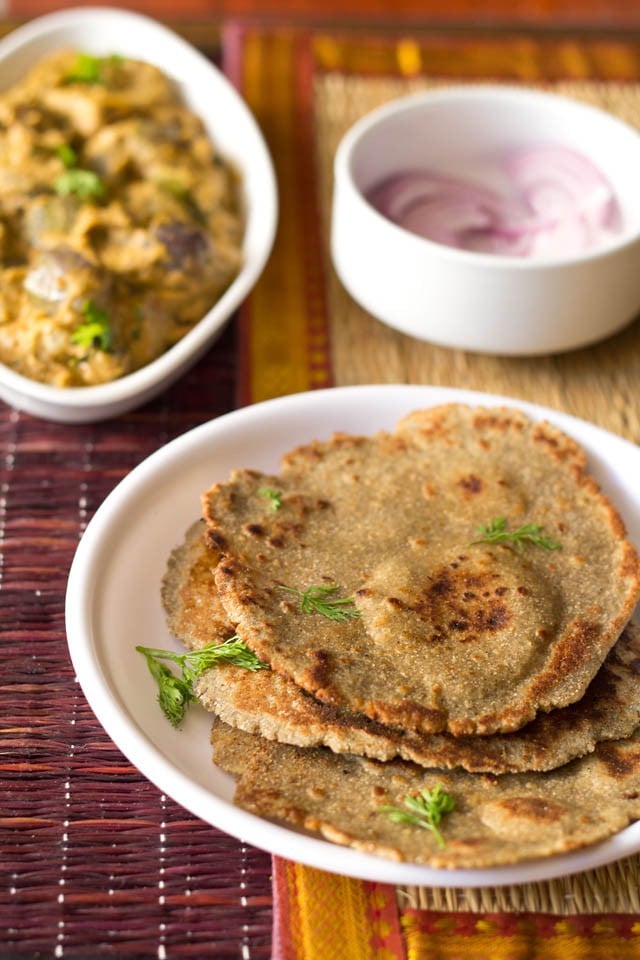 About
i started vegrecipesofindia.com in feb 2009. it is a pure vegetarian blog and shares recipes with step by step photos.

i am passionate about cooking from childhood and learnt cooking from my elders. a home science degree course further enhanced my cooking and baking skills professionally along with an internship in a five star hotel. i am trained both in mainstream indian as well as international cuisines.

all the 1800 recipes posted on blog are tried and tested and made healthy wherever possible. the recipes are detailed and with step by step pictures that will easily help you to make delicious and tasty vegetarian food.