Dukkah recipe is from Egyptian cuisine. It is a simple, quick and delicious recipe made with nuts, seeds and spices. Dukkah is very healthy and nutritious. also known by the name Dukka or duqqa.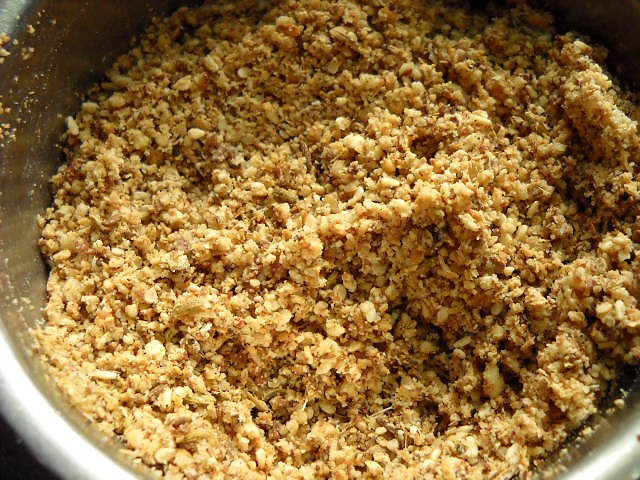 Usually as a snack, crusty bread is dipped in olive oil and then in the dukkah. This is served as a starter also.
The word Dukkah is such a strange word. It reminded me of the Buddhist concept of Dukkha. but the word Duqqa is derived from the Arabic language which means To pound.
So, being an Indian, how did I come to know about Dukkah. courtesy, my Australian friend… And I also came to know that's it is very popular in Australia as well.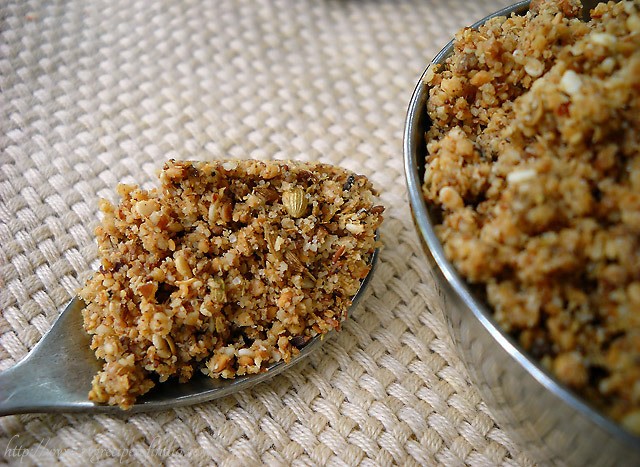 At home, we use the dukkah on toasted wheat bread drizzled with some olive oil and also on salad and rice. It really enhances the flavor of the food and is yummy.
Generally, hazelnuts are used for making dukkah. But other nuts can also be used like almonds, pistachios, pinenuts, walnuts or even a combination of them.
Sesame seeds are added in the dukkah. But along with sesame seeds, you could add seeds like sunflower seeds, melon seeds, pumpkin seeds and even flax seeds or a combo of all these seeds.
But remember if you use flax seeds you have to keep the dukkah in the freezer and use it in a week's time, as later the flax seeds get rancid. I sometimes make another healthy blend using sesame seeds and flax seeds.
How to make dukkah
1. Take almonds and roast them in a pan or in the oven. Keep aside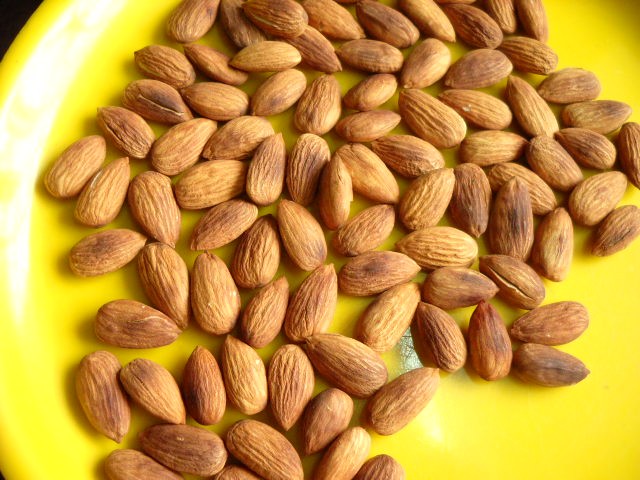 2. Start roasting the sesame seeds in a pan.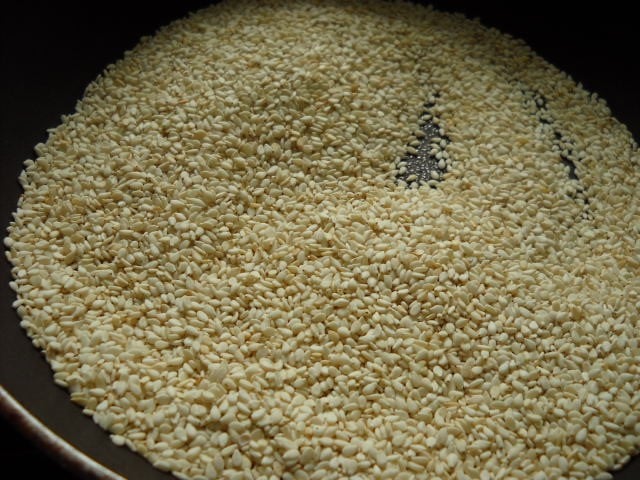 3. And roast the sesame seeds till they become pale brown as shown in the pic below. Remove and keep aside.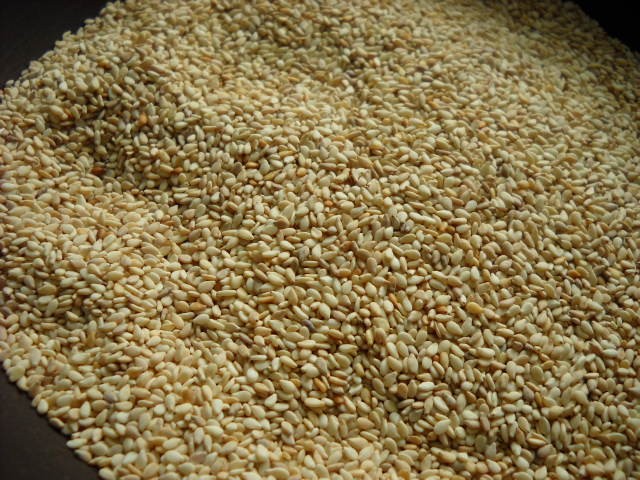 4. In the same pan, now roast the coriander seeds, fennel seeds, cumin seeds and peppercorns till they become fragrant. Keep aside.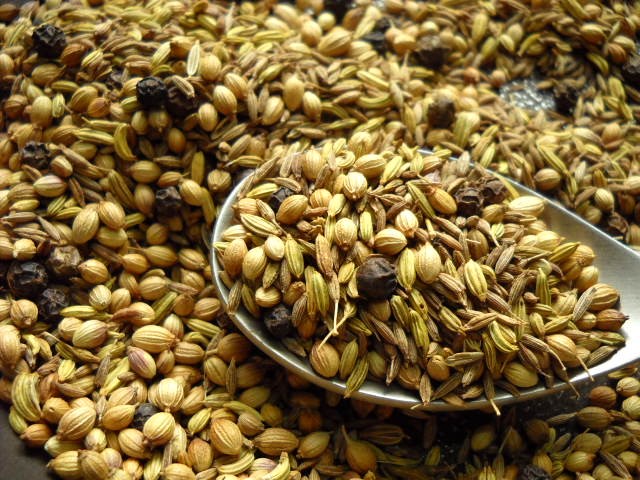 5. I added the almonds first to grind in the grinder, as I wanted them a little fine, then the rest of the ingredients.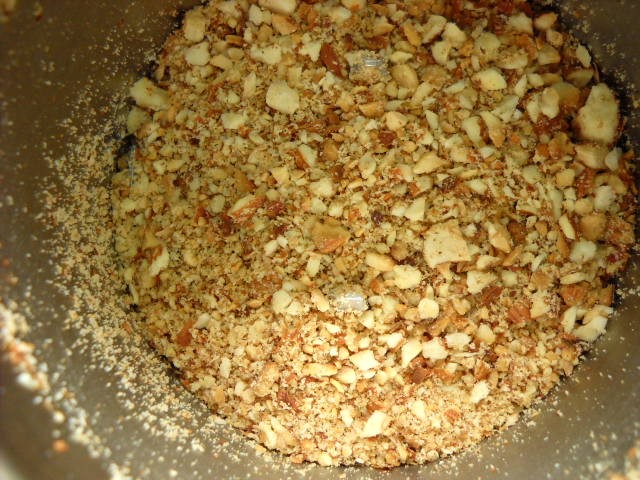 6. After the almond was ground, I added all of the other ingredients to the grinder.
7. And yes even remembered to add salt.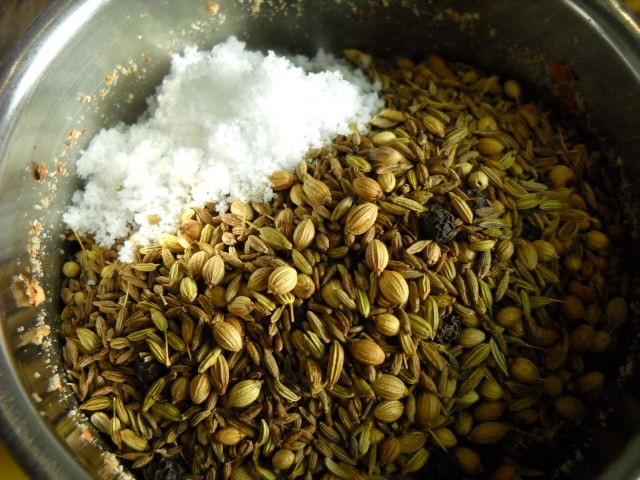 8. Ground the whole mixture till I got a desired level of coarseness and then Store dukkah it in an airtight container.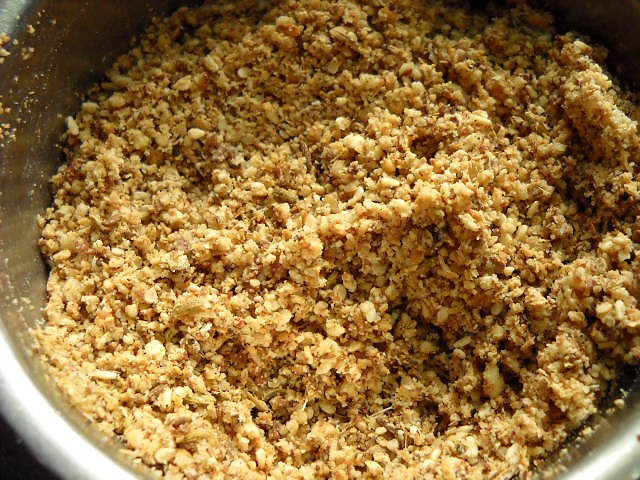 Enjoy the dukkah 🙂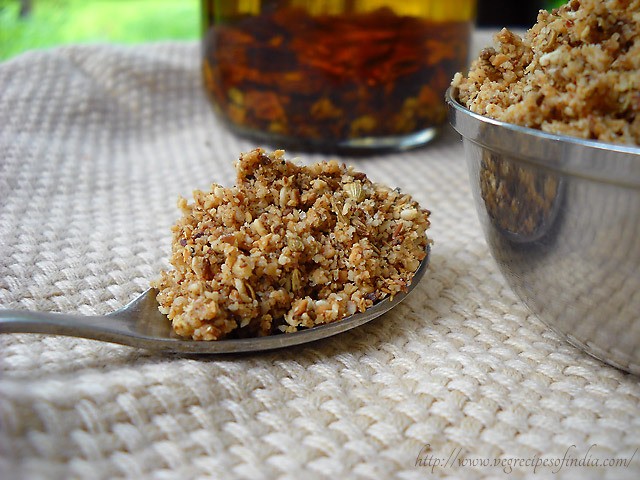 If you are looking for similar recipes then do check:
Please be sure to rate this recipe in the recipe card below if you have made it. For more vegetarian inspirations, Sign Up for my emails or follow me on Instagram, Youtube, Facebook, Pinterest or Twitter.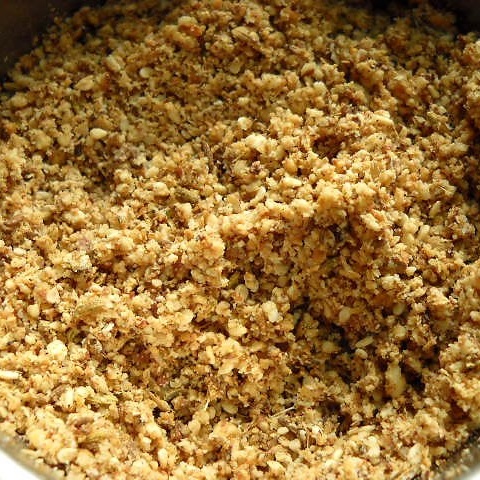 dukkah recipe
Dukkah is a simple, quick and delicious recipe made with nuts, seeds and spices. it is also called as dukka or duqqa.
Servings
1
medium size bottle
Ingredients
1

cup

full almonds

¾

cup

sesame seeds

2

tablespoon

coriander seeds

2

tablespoon

cumin seeds

½

tablespoon

fennel seeds

½

teaspoon

black peppercorns

sea salt

or salt to taste
Instructions
Roast the almonds till they are lightly browned.

Then roast the sesame seeds till they become a pale brown.

Roast the coriander seeds, cumin seeds, fennel seeds, peppercorns till they become fragrant.

Put everything in a grinder and grind till you want the desired level of blend, slightly coarse or fine.

Store dukkah in an air-tight container in the refrigerator.
Notes
To increase the hotness you can add some dry red chilies or even red chili flakes.
Adding dry mint will give a fragrant coolness to the duqqa.
Some dukkah recipes have also marjoram, zatar and chickpeas added in it.
Cool all the ingredients after they have been roasted. If you put them hot or warm in the grinder, then due to moisture they clog to each other and become paste like.
Explore with the seeds, nuts and spices & create the fusions and flavors you like.