There's a very special place for the Aloo Dum/Dum Aloo in the Indian cuisine repertoire. For us Indians as well, it is quite a favored dish. There are many variations too that it has. For instance, this here, is the recipe of Bengali Aloo Dum, traditionally called as Alur Dom. This special regional variation is a lightly spiced, slightly sweet, potato curry with onions, tomatoes and a range of spices. Also, if you aren't using the ghee, you're making the dish completely vegan as well.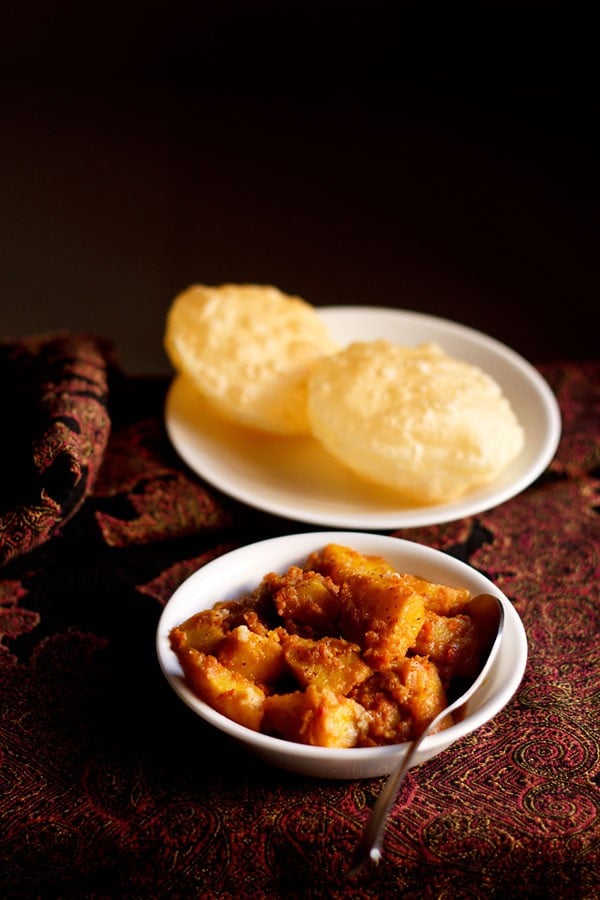 What is Alur Dom
Firstly, don't be confused with the name as it is just another spelling which abides by the phonetics of the Bengali script. So, when translated into English, it is simply the following:
Alur – Alu is potato (-r/-er is a Bengali suffix denoting 'for')
Dom – Or dum is slow cooked
As I mentioned in my opening lines, there are a number of ways in which this dish is prepared in different regions of the Indian subcontinent. Majorly, it is one of the most important dishes in the Kashmiri Pandit cuisine. This post has the Bengali Aloo Dum and there is another version popular in Banaras, Uttar Pradesh.
You're lucky that I have all these varieties ready for you, right here. Just follow these recipes of mine to make them: Dum Aloo (this post has both the quintessential Kashmiri style and a Mughlai restaurant style) and Banarasi Dum Aloo. Plus, the post you're on at present is obviously for the Alur Dom of Bengal.
Since it is an aloo-based gravy dish, it is chiefly categorized under the main course section. In simple words, the potatoes are first fried, then slow cooked or dum cooked in a rich, velvety spiced gravy. This gravy may be made with onions, tomatoes, yogurt/curd, cashew paste, etc. as the dish undergoes specific regional influences.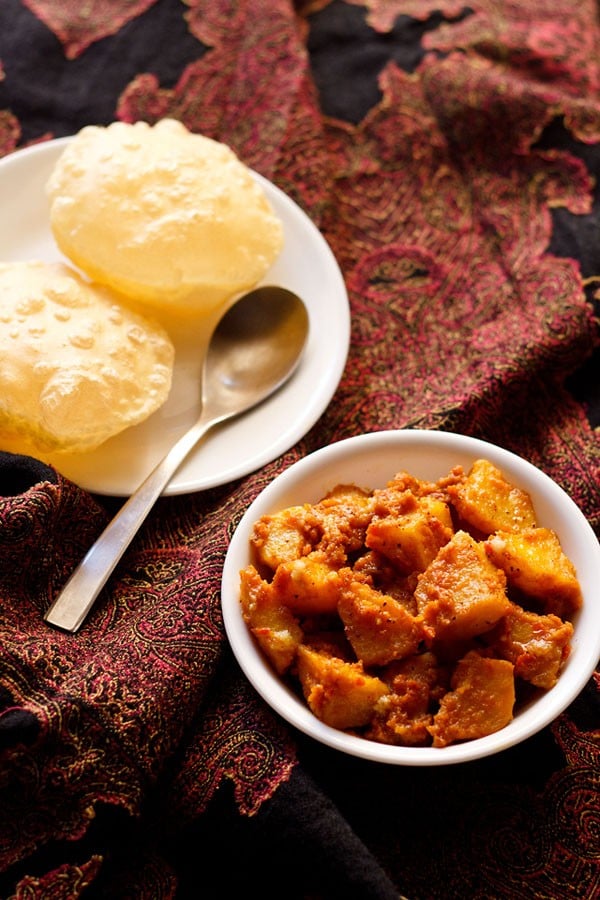 About This Alur Dom
Whenever you're in Bengal, at a Bengali restaurant or are planning to prepare a Bengali meal at home itself, a classic combination that you must try is that of Luchi (poori made with all-purpose flour) and Alur Dom. Since I had the recipe of this famous puffed bread, it was mandatory for me to share the recipe of the Bengali Aloo Dum as well.
This pairing is a preferred one at my home as well and it literally has become a fortnightly breakfast. My homemade version of the Bengali style Alur Dom is in 2 ways. Here, I am sharing the method which has onion-tomato in it, which is also a personal favorite.
This Bengali Aloo Dum recipe has been adapted from one of the cookbooks that came along my Hawkins pressure cooker. I had heard about this dish from quite some time. The moment I saw it in that booklet, I had to give it a try. So, I made this dish with my proportions and it did come out very well.
More On This Recipe
While it is best to use baby potatoes for this Alur Dom recipe, I made it with new potatoes. There wasn't much difference and the dish was just as fab. You can use whichever you get or feel like using. Also, I parboil the potatoes first and then fry in mustard oil.
I puree the onions and tomatoes and the sauté the entire mixture well with spices, again in mustard oil. After adding the fried potatoes, I simmer the curry (basically slow cook) for some minutes till it is ready to be served.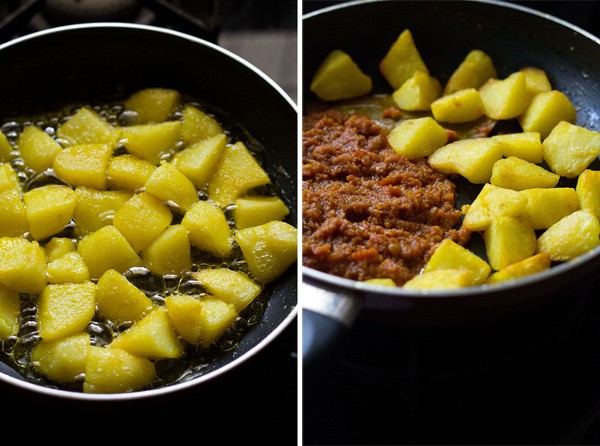 A made for each other match is to have the Bengali Aloo Dum with luchi. But other apt choices can be the Koraishutir Kochuri, Radhaballavi and the regular Poori. Last, but not the least, you can even relish this gorgeous Bengali delicacy with your everyday chapati and roti.
Expert Tips
When using baby potatoes, use a soft brush to remove the mud lodged in the peels after rinsing them. Also, while parboiling these, keep the peel on. Just prick the parboiled potatoes with a fork before frying.
Parboiling of the potatoes can be done in a steamer or pressure cooker or Instant pot adding water as needed.
Preferably use new potatoes or baby potatoes to make this dish.
Grinding of the onion, ginger and garlic needs to be done without water. Also, the paste can be semi-fine or smooth.
Substitute for cinnamon and cloves powder is ¼ teaspoon garam masala powder, added after the dish is cooked.
You can drizzle some ghee on the Alur Dom while serving.
More Potato Recipes To Try!
Please be sure to rate the recipe in the recipe card or leave a comment below if you have made it. For more vegetarian inspirations, Sign Up for my emails or follow me on Instagram, Youtube, Facebook, Pinterest or Twitter.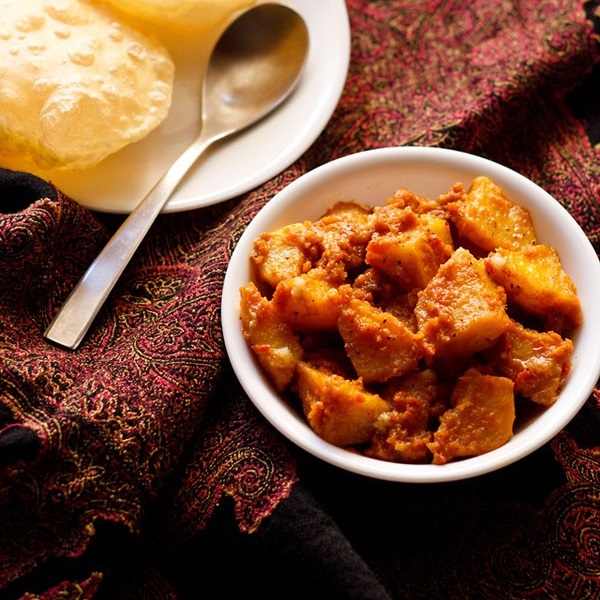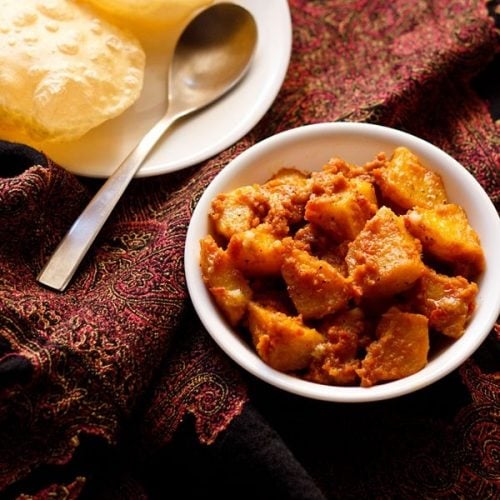 Alur Dom | Bengali Aloo Dum
Bengali Aloo Dum also known as Alur Dom is a lightly spiced, slightly sweet and delish potato curry made with onions, tomatoes, herbs and spices. Best had with luchi, poori or paratha.
Main ingredients
5 to 6

potatoes

– medium-sized or 18 to 20 baby potatoes

3 to 4

tablespoons

mustard oil

1

tej patta

(Indian bay leaf)

½

teaspoon

kashmiri red chili powder

or degi mirch or paprika – adjust as required if using a hotter variety of chili powder or cayenne pepper

½

teaspoon

Coriander Powder

(ground coriander)

½

teaspoon

turmeric powder

– divided, (ground turmeric)

1

teaspoon

cumin powder

(ground cumin)

1

cup

water

or add as required

½

teaspoon

sugar

or as required

salt

as required
To grind to a semi-fine or fine paste
2

onions

– medium-sized or ¾ to 1 cup roughly chopped onions

1

inch

ginger

– peeled

2 to 3

garlic cloves

– small to medium-sized
Make a puree of
1

tomato

large, chopped or add about ½ cup tomato puree instead
To powder
1.5 to 2

inches

cinnamon

3 to 4

cloves
Topping
1

teaspoon

Ghee

– optional
Instructions
Preparation
Rinse the potatoes very well. If using baby potatoes, then remove the mud or dirt lodged in the peels with a soft brush.

Then parboil or par-cook the potatoes in a steamer or pressure cooker. You can also cook the potatoes in the Instant Pot.

To cook potatoes in a stovetop pressure cooker, place the potatoes in a 3 litre cooker. Add water almost covering them. Pressure cook for 1 whistle on medium to medium-high heat.

For baby potatoes, cook on high heat until the cooker comes to a full pressure and you can hear the whistle/vent weight making noise or moving. At this point switch off the heat and let the pressure drop naturally in the cooker.

When the pressure falls naturally in the cooker, then only open the lid.

Remove the par-cooked potatoes carefully with the helps of tongs and set aside to cool on a plate.

Once the potatoes are parboiled/half cooked, let them cool at room temperature. Then remove the peels and dice them.

For baby potatoes you can keep the peels and prick the potatoes with a fork. An optional step.

When the potatoes are cooking, you do the following prep.

Grind the onion, ginger and garlic in a grinder or blender. No need to any water while grinding. Make a semi-fine paste or a smooth paste.

Chop the tomatoes and blend them in a mixer-grinder or blender to get a fine, smooth puree. You can also finely chop the tomato instead.

Grind the cloves and cinnamon sticks in a dry grinder or coffee grinder to a fine powder. You can also choose to crush both these spices finely in a mortar-pestle.

Sprinkle ¼ teaspoon turmeric powder all over on the potatoes and mix gently.
Making alur dum
Heat mustard oil in a pan. Keep heat to medium. Fry the potatoes till light golden turning over as needed.

Remove with a slotted spoon and place them on kitchen paper towels to absorb extra oil.

Lower the heat and in the same oil, fry the tej patta until fragrant for a few seconds.

Add the onion-ginger-garlic paste. Stirring often sauté on medium-low heat till oil starts to leaves the mixture and till the paste becomes a light brown.

Add the tomato puree, the remaining ¼ teaspoon turmeric powder, red chilli powder, cumin powder, coriander powder, salt and sugar.

Mix well and sauté on medium-low to medium heat till the oil begins to leave the sides of the onion-tomato masala paste. The masala would also look glossy and thicken.

Then add the fried potatoes and stir to combine till the masala coats the potatoes evenly.

Add 1 cup water together with the ground cinnamon and cloves powder.

You can also add about ¼ teaspoon of garam masala powder instead of the cinnamon and cloves powder.

If adding garam masala, then add it towards the end once the dish is cooked.

Gently mix taking care that the potatoes do not crumble or break.

Simmer on a low heat till the gravy thickens. The gravy has to coat the potatoes well.

If you prefer a medium consistency gravy, add some more water.

When serving add a teaspoon of ghee on the Aloor Dum. Serve Bengali Alur Dom hot with luchi or poori.
Notes
The recipe can be made with new potatoes or baby potatoes.
You can skip adding sugar if you like, but it does balances the tanginess of the tomatoes and rounds up the flavors. 
Garnish Alur Dom with coriander leaves if you prefer. 
For a gravy consistency, add more water.
The recipe can be scaled to make for larger servings. 
Nutrition Info (Approximate Values)
Nutrition Facts
Alur Dom | Bengali Aloo Dum
Amount Per Serving
Calories 347
Calories from Fat 108
% Daily Value*
Fat 12g18%
Cholesterol 3mg1%
Sodium 320mg14%
Potassium 1321mg38%
Carbohydrates 55g18%
Protein 7g14%
Vitamin A 401IU8%
Vitamin B1 (Thiamine) 1mg67%
Vitamin B2 (Riboflavin) 1mg59%
Vitamin B3 (Niacin) 3mg15%
Vitamin B6 1mg50%
Vitamin C 62mg75%
Vitamin E 1mg7%
Vitamin K 9µg9%
Calcium 64mg6%
Vitamin B9 (Folate) 59µg15%
Iron 3mg17%
Magnesium 75mg19%
Phosphorus 183mg18%
Zinc 1mg7%
* Percent Daily Values are based on a 2000 calorie diet.
This Alur Dom recipe post from the blog archives first published in January 2014 has been republished and updated on 27 July 2022.