A typical Indian style spiced potato curry cooked on dum – I mean it may read very basic and a dish, that might be given a miss if ever come across. But trust me, it isn't. Especially when it's the Dum Aloo Banarasi which is a no onion, no garlic and gluten free vegetarian dish. As obvious by the name, this delicious version is a special from the holy city of Banaras or Varanasi in Uttar Pradesh (UP). An apt choice for Krishna Janmashtami celebrations too.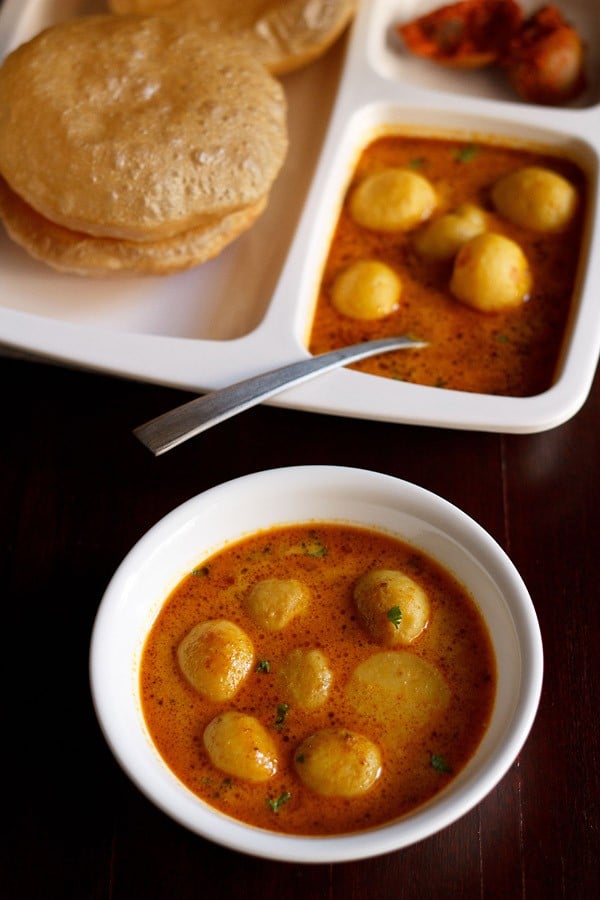 About Dum Aloo Banarasi
India is a land of festivals and many of them involve people keeping fasts or vrats for the deities, and consume satvik food free of onion, garlic, etc. on such days. This was one of the major reasons for me to develop this Dum Aloo Banarasi, which I actually came up with as a Janmashtami special recipe.
I adapted this particular recipe of Dum Aloo Banarasi from the cookbook 'Cooking The U.P. Way' by Niru Gupta. This specific UP style dum aloo recipe has a base of tomato, ginger and some spices. I also add some curd (yogurt) and cream to the preparation to give it a smoother and creamier mouthfeel.
Baby potatoes work the best in this dish. However, if you don't get these tiny ones, go for the regular potatoes and make this Dum Aloo Banarasi with them.
There are many dishes in the Indian food repertoire – like Baingan Bharta, Dal, Kadhi, Chaat etc. – which have various regional variations as you move from one part of the country to another. The same goes for dum aloo as well. I am going to mention about these dum aloo versions later in this post. Don't miss reading on that part as well.
This Dum Aloo Banarasi is no way near to a rich Mughlai version. It is a simple take on this well-known dish, which can be easily made as everyday food at home. The most amazing pairing that you can think of is this dum aloo with some nicely puffed, golden pooris.
Since it is a curry, some people prefer it with steamed rice. There are others who may enjoy it with plain parathas or lachcha parathas. I am leaving this choice on you.
How to make Dum Aloo Banarasi
1. Steam and peel 450 to 500 grams baby potatoes first till they are almost cooked. You can cook the potatoes in a pan, stovetop pressure cooker or the Instant Pot adding water as need.
Drain all the water and set potatoes aside to cool. Peel them. In a pan or frying pan, sauté the baby potatoes in 2 tablespoons ghee till lightly browned.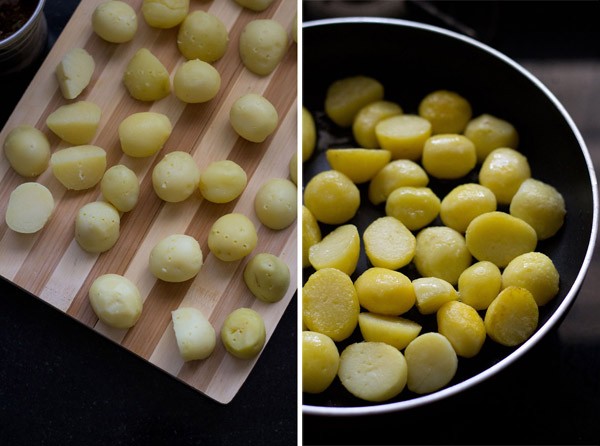 2. In a frying pan, roast the whole spices listed below until fragrant:
2 teaspoons cumin seeds
1.5 teaspoons fennel seeds (saunf)
4 cloves
3 to 4 green cardamoms
½ teaspoon fenugreek seeds
Once the spices cool, powder them coarsely in a mortar-pestle or spice-grinder.
Add the remaining 1 tablespoon ghee in the same pan (in which potatoes were sautéed).
On a low heat sauté 1 large or 2 to 3 small to medium bay leaves (tej patta), 1 inch finely chopped ginger, 1 medium to large, finely chopped tomatoes and the freshly prepared ground spice powder till you see fat releasing from the sides of the pan.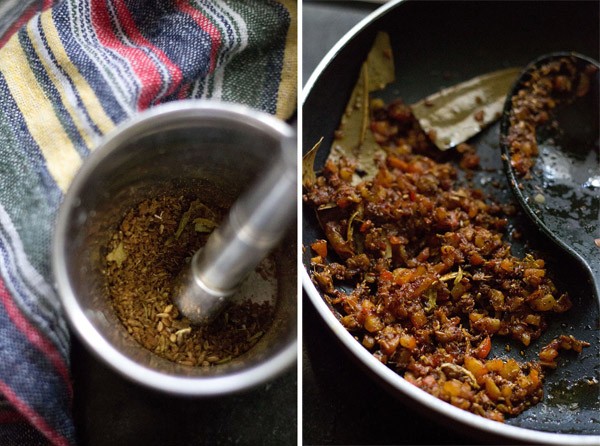 3. Keep heat to a low. Add ½ cup whisked curd (yogurt). Stir quickly and sauté until you see fat releasing at the sides.
Next add 2.5 teaspoons coriander powder, ½ teaspoon Kashmiri red chili powder and ¼ teaspoon turmeric powder. Sauté for a minute.
Then, stir in the lightly browned baby potatoes and 2 to 3 slit green chilies.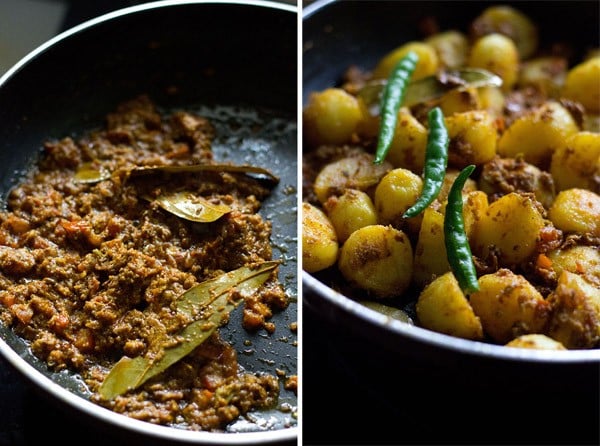 4. Add 2 to 2.5 cups water (or as required) and salt as per taste. Simmer the curry for some minutes.
Lastly, add 2 tablespoons light cream or low-fat cream and then serve. You could omit cream if you prefer.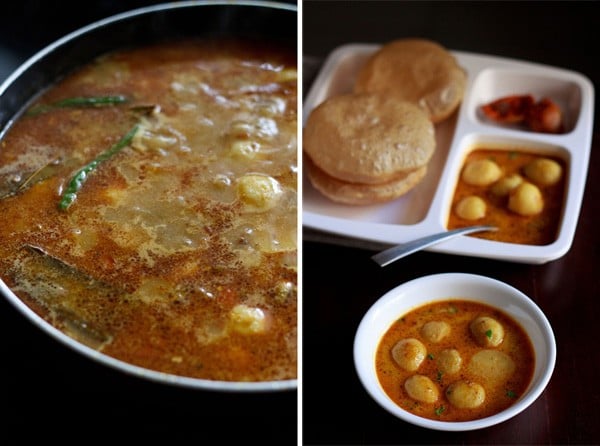 5. Serve Dum Aloo Banarasi with poori and mango pickle or lemon pickle.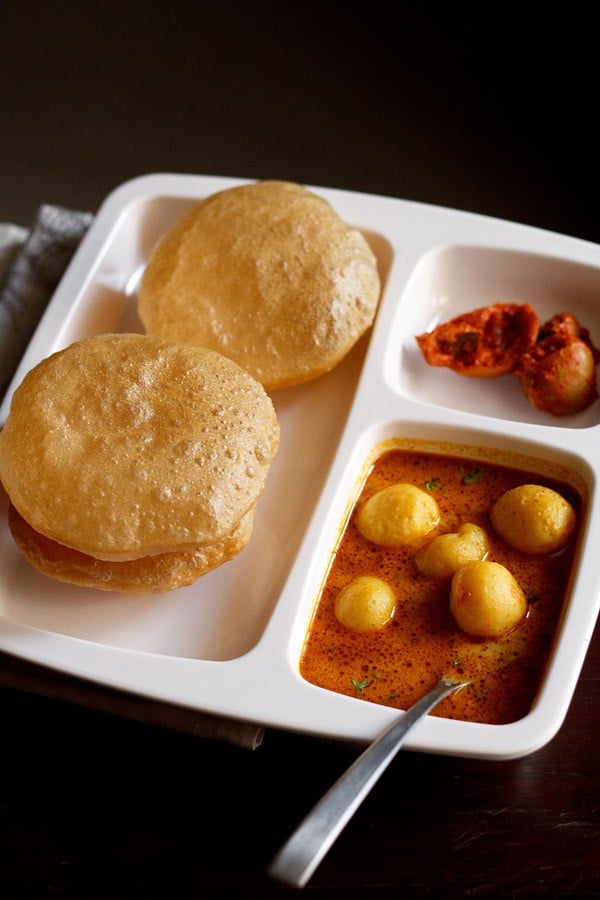 Variations
When in India, you can definitely go on a dum aloo trail in itself, since it is one of those dishes that has many variations to it. Although, the Kashmiri Dum Aloo is considered to be the most popular version, I really feel that whichever regional variant you're feasting on, becomes the classic one. And no doubt, each one is as tasty as the other.
Just like this Dum Aloo Banarasi, which may have some similarities and some differences when compared to its other counterparts, but is still as special and drool-worthy as one can imagine it to be.
I also have a certain affinity towards this dum aloo variation since it is a great choice during the fasting (vrat) time of the Hindu festival Janmashtami.
However, it will be wrong if I don't mention about one more famous variation of this simple yet celebrated dish. The Alur Dom from the versatile Bengali cuisine. Many non-Bengalis, including me, are diehard fans when it comes to the classic pair of a Bengali Dum Aloo and Luchi. Such is the popularity of this version. Not to forget, it is the perfect weekend lunch, followed with a little siesta!
All in all, it can be rightly said that dum aloo is definitely one of those Indian curries that holds true to the meaning of unity in diversity. No matter which regional version you're having, the end result is always a happy tummy and a satisfied soul.
Expert Tips
If you plan to use baby potatoes with the peel, then before boiling or steaming them, rinse and remove the mud lodged in the peels using a soft brush. Prick all over with a fork.
Potatoes can be boiled or steamed in a pressure cooker or steamer or a pan or in the Instant Pot.
While cooking, if the curd/yogurt curdles, don't panic. Continue to cook till all the liquid is evaporated, the mixture comes together and fat is clearly visible on the sides.
Consistency of the curry can be kept thick or thin. Depending on this, add less or more water.
More Potato Recipes To Try!
Please be sure to rate the recipe in the recipe card or leave a comment below if you have made it. For more vegetarian inspirations, Sign Up for my emails or follow me on Instagram, Youtube, Facebook, Pinterest or Twitter.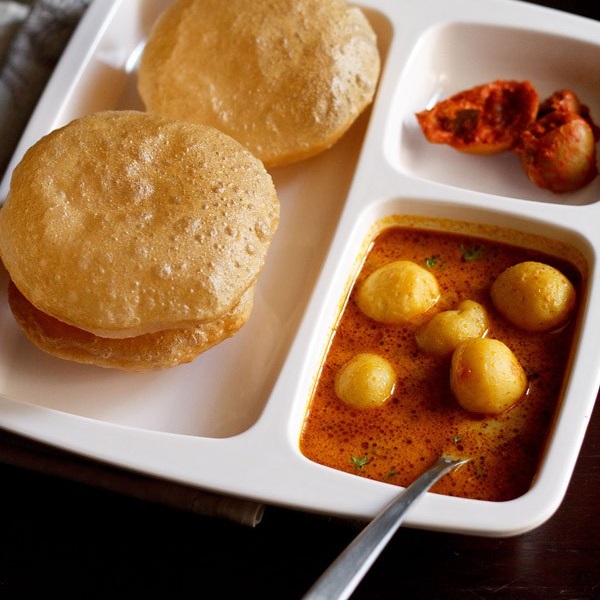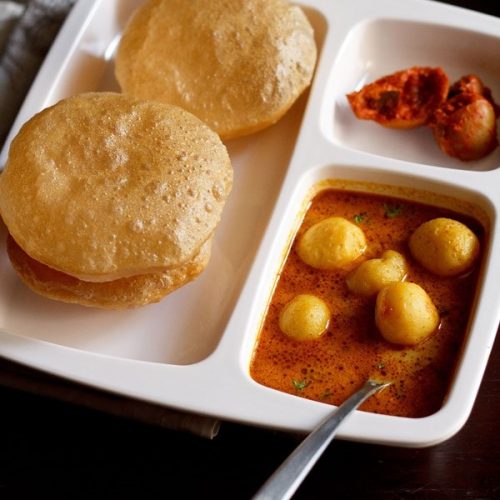 Dum Aloo Banarasi
Dum Aloo Banarasi is a delicacy from the Uttar Pradesh cuisine. It is a delicious, tangy, spiced and robust curry made with baby potatoes, tomatoes, herbs, curd and spices. The recipe is made without onion and garlic.
Main ingredients
450 to 500

grams

baby potatoes

– 28 to 32 baby potatoes

100

grams

tomato

or 1 medium to large tomato – minced, grated or finely chopped

1

inch

ginger

– peeled, minced or finely chopped

2 to 3

green chilies

– slit

½

cup

Curd

(yogurt)

2

tablespoons

light cream

or low fat cream, optional

2 to 2.5

cups

water

or add as required

1

tej patta

– large-sized or 2 to 3 small to medium tej patta (Indian bay leaf)

2.5

teaspoon

Coriander Powder

(ground coriander)

¼

teaspoon

turmeric powder

(ground turmeric)

½

teaspoon

kashmiri red chili powder

or deghi mirch

3

tablespoons

Ghee

salt

as required

1 to 2

tablespoons

coriander leaves

– chopped, for garnish
Spices to be powdered
2

teaspoons

cumin seeds

1.5

teaspoons

fennel seeds

(saunf)

4

cloves

3 to 4

green cardamoms

½

teaspoon

fenugreek seeds

(methi dana)
Instructions
Powdering the spices
In a small skillet or frying pan, roast the whole spices mentioned under the list "spiced to be powdered" until fragrant.

When cooled, powder them coarsely in a mortar and pestle or a coffee-grinder or a mixer-grinder.
Making banarasi dum aloo
Rinse the baby potatoes very well in water.

If you plan to keep the peels, then scrub the mud with a brush and rinse the potatoes very well.

Boil or steam the potatoes, till they are almost cooked. Peel and then prick with a fork on all sides.

Heat 2 tablespoon ghee in a frying pan. Sauté the baby potatoes till lightly browned.

Remove and keep aside. You can also sauté the baby potatoes in batches. Add more ghee if needed.

In the same pan, add 1 tablespoon of ghee. Add the tej pattaand sauté for a few seconds till fragrant.

Then add the ginger and sauté for some seconds till the raw aroma goes away.

Add the tomatoes and the prepared ground spices powder. Stir and sauté till the fat starts to release from the tomato mixture.

Whisk yogurt in a small bowl till smooth. Lower the heat or you can also switch off the heat.

Add the yogurt to the pan and stir briskly and quickly. Sauté on low heat stirring often till the fat releases from the mixture.

If the yogurt curdles, then just continue to sauté till all the liquids are evaporated and the whole mixture comes together and you see the fat clearly from the sides.

Add the coriander powder, red chili powder and turmeric powder and saute for a minute.

Add the potatoes and green chilies and saute for 2 to 3 mins till the masala has coated the potatoes well.

Add water and salt. Stir and let the curry come to a boil.

Lower the heat and simmer till all the flavors of the curry has well blended for about 8 to 10 mins.

If you want a slightly thick curry, then simmer for some more minutes. For a thin curry, you can add some more water.

Lastly add cream and stir again. Switch off the heat and serve Banarasi Dum Aloo hot garnished with coriander leaves.
This Dum Aloo Banarasi recipe from the archives first published in August 2014 has been updated and republished on January 2023.