Dal Pakwan is a filling, satisfying and delicious popular Sindhi breakfast. It is basically chana dal (Bengal gram) curry served with crispy fried Indian flatbread called Pakwan. The Pakwan is basically a fried bread flavored with cumin seeds, carom seeds and crushed pepper. This pair of the Dal curry and Pakwan packs a punch in terms of aroma, flavors as well as textures. It is one of our favorite breakfast dish.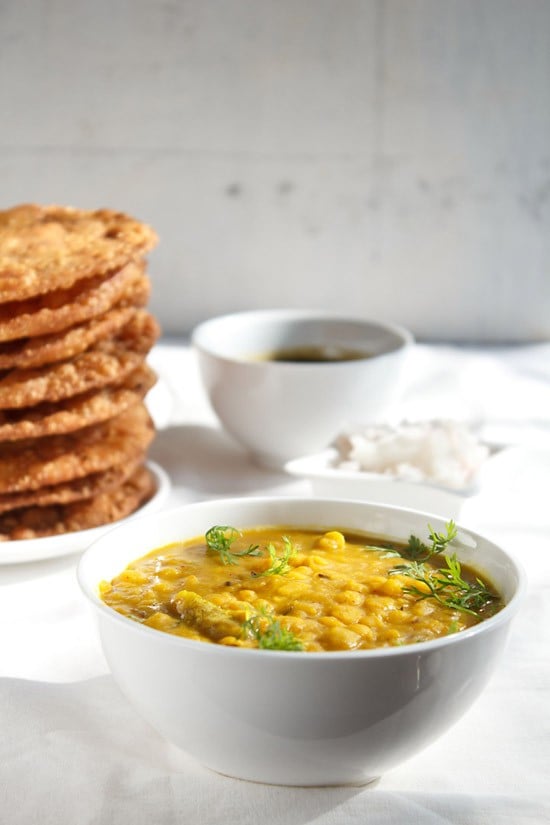 About Dal Pakwan
Dal Pakwan is not just an ultra-tasty combination with a variety of textures in it, but is also a comforting dish that can be had for any meal. Not just breakfast or brunch, but even for lunch or dinner.
In this Dal Pakwan Recipe, I have shared the procedure of preparing the dal and the pakwan. I have pressure cooked the chana dal or Bengal gram in this Dal Pakwan Recipe. But you can also cook the lentils in a pan.
The chana dal should not be too mushy. Each grain should be separate, yet cooked. This dal recipe is also a no onion, no garlic one.
Usually when Dal Pakwan is served, it is always accompanied with a Sweet Chutney, Green Chutney and chopped onions. If you don't want to serve it with the sweet chutney, then you can add a little bit of sugar in the dal.
I have also added some curry leaves in the tempering of the dal. But you can make it without curry leaves. The obvious way to enjoy the dal is with the pakwan. However, you can have it with chapatis, rotis or even rice.
Dal Pakwan Recipe is also prepared during Sindhi weddings, auspicious occasions and festivals like Diwali. Liked by both children and adults.
Other classic ways to serve it is to pair it with buttermilk, lassi or rose sharbat. During summers, sweet mango pieces can also accompany the dish.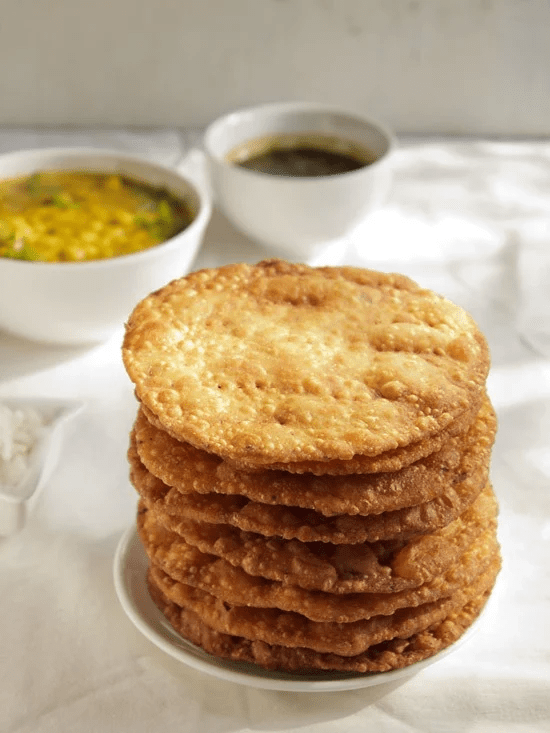 About Pakwan
Pakwan is simply an all purpose flour (maida) bread, which is deep fried till crisp and golden. Spices like carom seeds (ajwain), cumin seeds (jeera) and crushed black pepper add a lovely warm flavor to these breads.
I have used a combination of both maida and atta (whole wheat flour) in my recipe. Feel free to make the pakwan only with all-purpose flour.
The most common way of consuming the Sindhi Pakwan is to have it with this unique dal. This is usually a heavy breakfast, almost a brunch. But at home, we also have it as lunch.
The fried flatbread Pakwan can be relished by itself as a snack too, with some homemade Pudina Chutney or even a Coriander Mint Chutney. Makes for a nice tea time snack to eat.
My memories of the Sindhi Pakwan trail back to my office days when one of my colleagues from Sion, Mumbai used to get the Dal Pakwan from the famous Guru Kripa Hotel there.
She used to get it for the entire team and we used to love having it in our breakfast. We would also have our own Pakwan parties!
I have personally been to this hotel and relished the Sindhi Pakwan with the quintessential dal and also their legendary samosa with chole (chickpea curry).
Their samosas were so good that they were sold in movie theaters across Mumbai. Even I've had them many times while watching movies. The taste still lingers.
However, this Pakwan recipe of mine is adapted from a couple of cookbooks that I have at home. It is really simple.
There's nothing much you got to do except for kneading the ingredients to a semi soft dough, roll them in discs and just fry them till golden brown.
Besides, having it with the special dal, the Sindhi Pakwan makes for an excellent snack with Masala Chai or Ginger Chai.
You can retain the crispness by storing these in air tight containers. Since I also spoke about my love for Samosa, you can try this version of a tangy Samosa Chaat at home.
How to make Dal Pakwan
Cook Dal
1. Rinse a few times in water and soak 1 cup chana dal in sufficient water for almost 2 hours. Drain the water later and keep soaked lentils aside.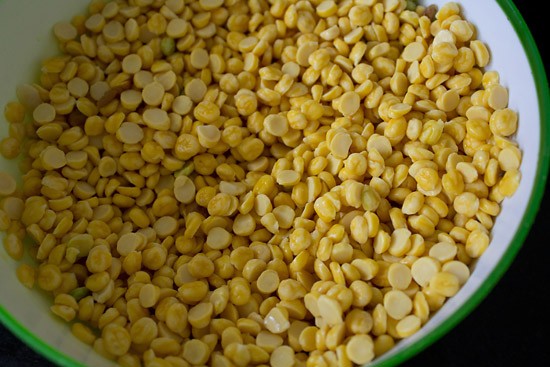 2. In a 3 litre pressure cooker, take the soaked dal and 2 cups water. Pressure cook for 2 to 3 whistles on medium heat. The grains should be cooked, yet separate.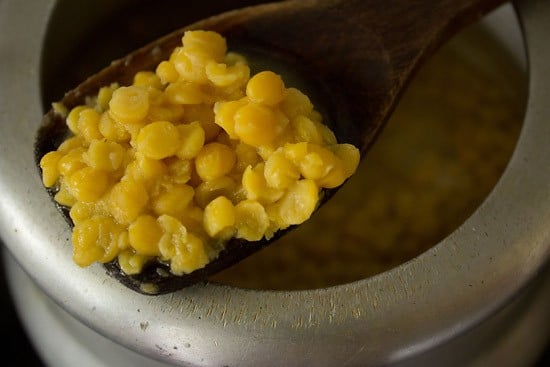 3. Once the pressure settles down naturally, then only open the lid. Check to see if the lentils are tender. Press a few pieces with a spoon and they should mash easily.
Next add all the spice powders listed below to the cooked lentils:
½ teaspoon turmeric powder
½ teaspoon red chili powder
1 teaspoon dried mango powder (amchur powder)
¼ teaspoon garam masala powder
Also, add ½ to 1 teaspoon sugar or as required and salt as required, stir and add water, if required. I added ½ cup water at this stage.
You could add jaggery instead of sugar if you prefer. Add jaggery according to your taste preferences.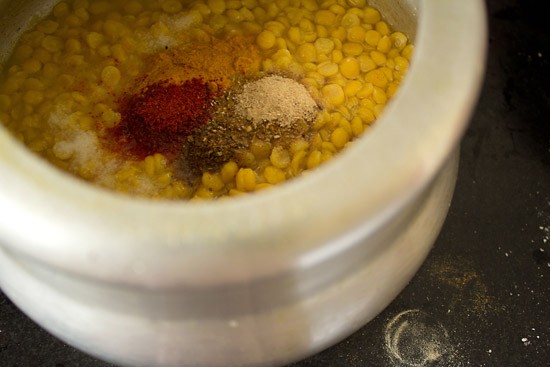 4. Simmer for 7 to 8 minutes or more on low heat till a medium consistency of the dal is reached. Keep the dal aside.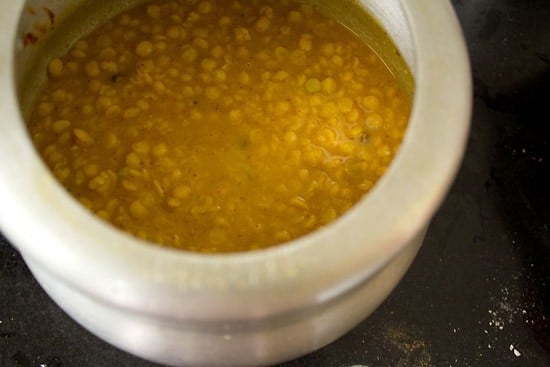 Prepare Tempering
5. In another pan, heat 2 tablespoons oil or ghee. Crackle 1 teaspoon cumin seeds first and then add 2 slit green chilies. Sauté for a minute.
Add 8 to 10 curry leaves and 1 pinch asafoetida (hing) and sauté further for a minute or two on low heat.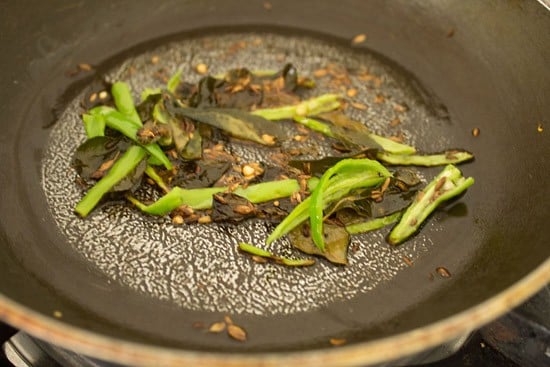 6. Pour this tempering mixture together with the oil in the dal.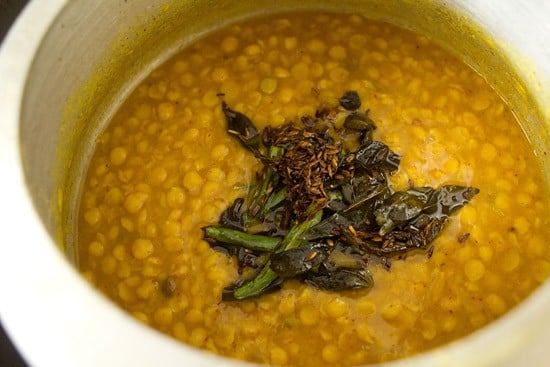 7. Stir and mix well. Set aside.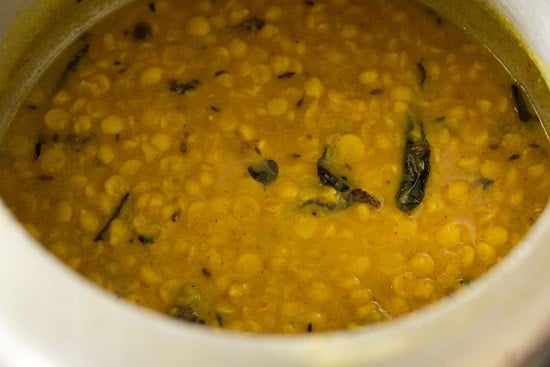 Prepare Dough For Pakwan
8. Take all the dough ingredients in a mixing bowl:
1 cup all purpose flour
1 cup whole wheat flour
1 teaspoon carom seeds
1 teaspoon cumin seeds
1 teaspoon crushed black pepper
1 teaspoon salt
2 teaspoons oil or ghee
¾ cup water or add as required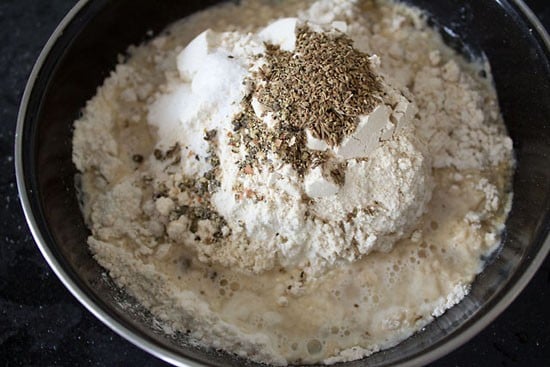 2. Adding water little by little, mix and knead into a semi-soft dough. Make sure not to make a soft dough as this won't give you crispy pakwan but they will have a soft texture.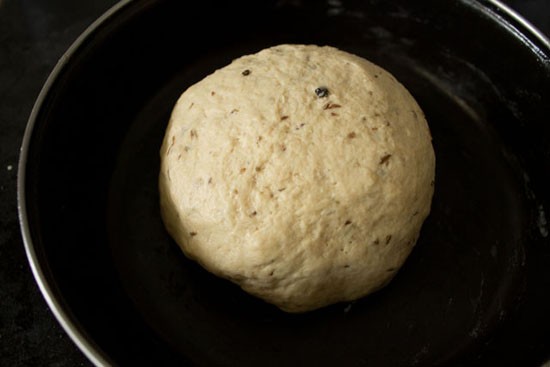 3. Cover the dough and keep aside for 40 to 45 minutes. The below picture is of the dough after 45 minutes.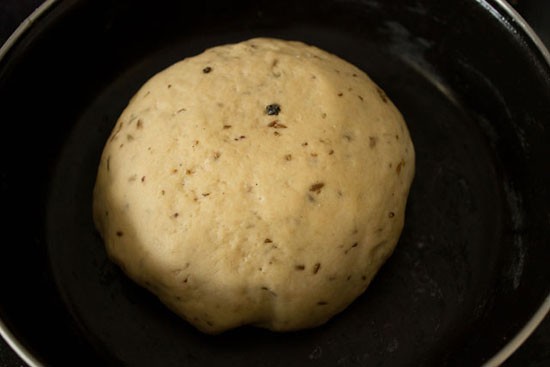 Make Pakwan
4. Make small balls from the dough.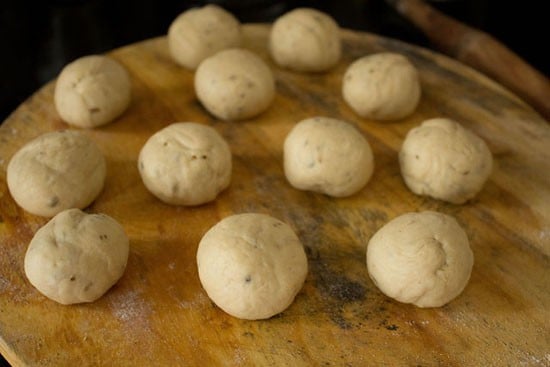 5. With a rolling pin, roll each ball into a 7 to 8 centimeters round poori or disc dusting very lightly with flour. Prick all over with a fork.
You can also make incisions on them with a knife. Doing this ensures that the Pakwan does not puff up while frying.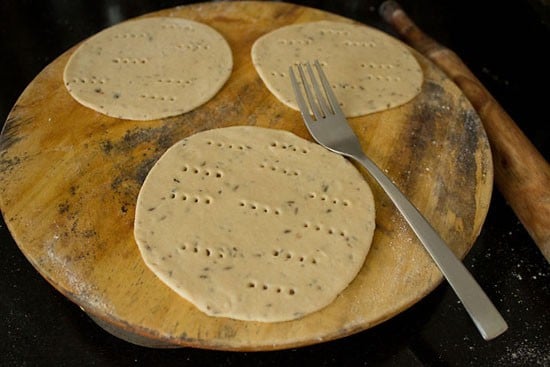 6. Heat sufficient oil in a kadai for deep frying. In a medium-hot oil, fry each Pakwan till its golden and crisp in batches.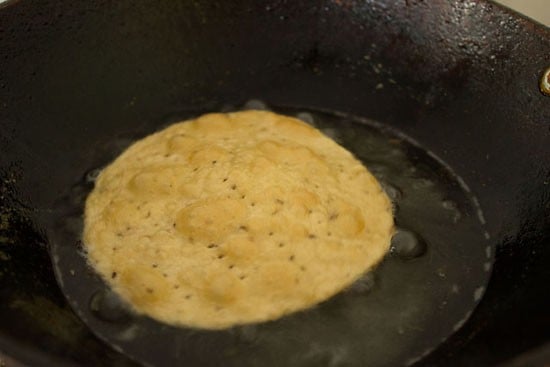 7. Drain the fried Pakwans on paper towels to remove excess oil.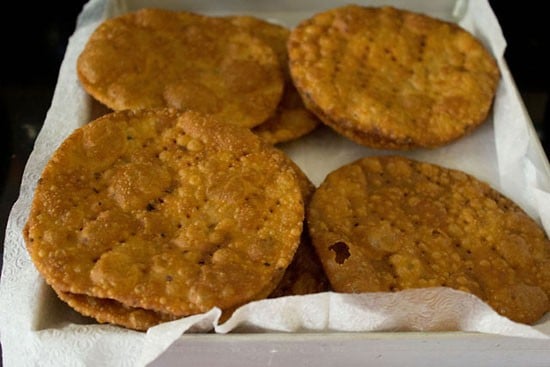 8. Serve warm Pakwans with the prepared Dal. You can also cool them and then store in an airtight container to enjoy later as a tea-time snack.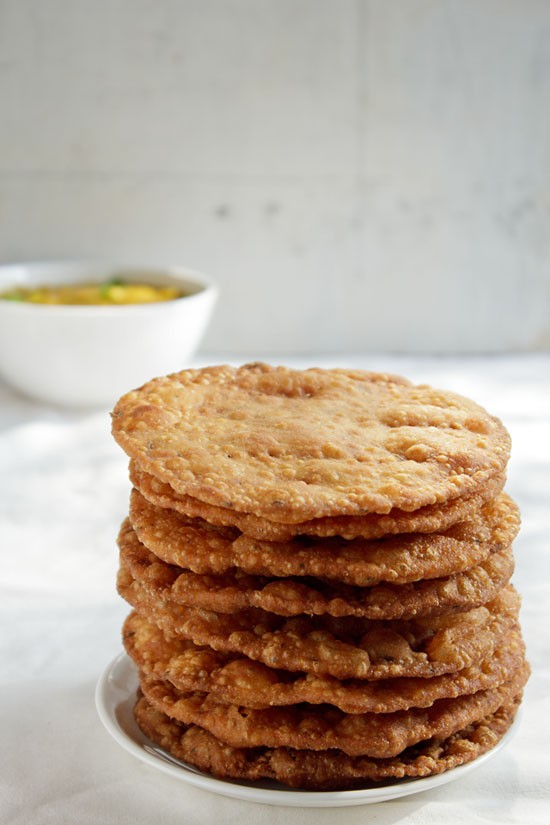 8. Enjoy Dal Pakwan with a side of coriander chutney, tamarind chutney and finely chopped onions. Do garnish the dal with some chopped coriander leaves while serving.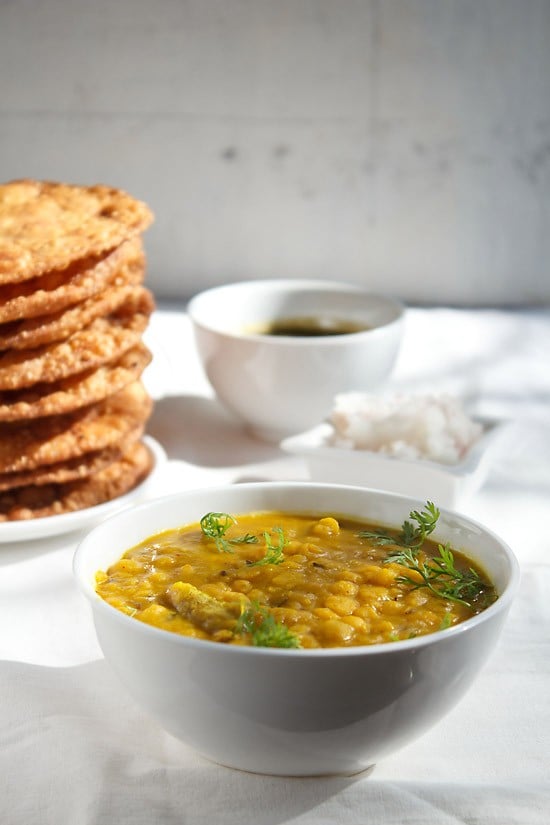 Dal Pakwan – Pride of a Sindhi
The fact that there are many such regional dishes that actually define an entire culture or community in India. For instance, whenever we think of Bengal, we cannot not think of its sweets, especially the rosogolla.
Similar is the case with a Gujarati's liking for their dhoklas, jalebis, fafdas and the likes, a Punjabi never having enough of their choles, rajmas, kali dals and so on.
So, when we talk of the Sindhi community, Dal Pakwan is one such dish that does top their list. They will have it as breakfast, brunch or even dinner, but they will never get bored of it.
And that's quite true as well. Me, being a non-Sindhi can vouch for this because this combination is a fabulous one, for sure.
The Sindhi diaspora is widespread. Although the community does not have a particular state completely to themselves, but you can find Sindhi colonies in and across all major cities in India as well as abroad.
One of the best things about them is that they take pride in their cuisine and culture as a whole. For this reason, they also do every possible bit to preserve their age-old recipes.
One such recipe is the Dal Pakwan Recipe, which may have distinct and signature features as per different Sindhi households. But the essence remains the same.
It is an important dish for this particular community and will always be. So much that there's actually a Dal Pakwan Day which is celebrated in April every year to promote the versatility and beauty of Sindhi cuisine.
Sindhi food
Sindhi cuisine doesn't use fancy ingredients. But the way it uses the most basic, simple ingredients that are common in almost every pantry is what makes the difference. The spectacular style of Sindhi cooking makes their dishes supremely delicious.
Thus, if you visit a traditional Sindhi household on a regular day, you will find the family eating meals that usually have whole wheat flour flatbread like phulka and/or rice.
This is accompanied by a dry and gravy dish, some curd, pickle and papad. Yes, a papad is synonymous with the Sindhi food culture.
Apart from the Sindhi Pakwan, some other popular dishes of this cuisine are Aloo Tuk, Sindhi kadhi, sai bhaji, koki, bhee aloo, dodo, chaap chola, bhuga chawal, mitho lolo, sev barfi, khorak/majoon, kheerni, thadal, Sindhi biryani, etc.
Expert Tips
You have to cook the chana dal properly. That is, the grains should be soft but not mushy. They should be able to hold their shape for the apt texture in the dal.
I will suggest that you make the tempering for the dal in ghee, for the most ultimate flavor. In case you don't want to, you can make it in oil as well.
You can even add some tomatoes to the dal.
For a superior experience, top the dal with some chopped onions and have it with crispy pakwans accompanied with sweet chutney and mint/coriander chutney. You can also drizzle some lemon juice if you like on the dal.
The best way to enjoy this dish is to have it fresh. But if you have pressure cooked more dal, then refrigerate for about 1 day. You can prepare a fresh tempering whenever serving it.
You could make the pakwan with all-purpose flour and omit the whole wheat flour if you prefer.
More Similar Recipes To Try!
Please be sure to rate the recipe in the recipe card or leave a comment below if you have made it. For more vegetarian inspirations, Sign Up for my emails or follow me on Instagram, Youtube, Facebook, Pinterest or Twitter.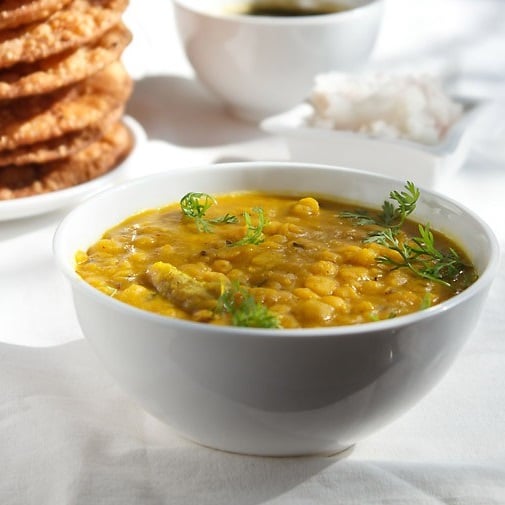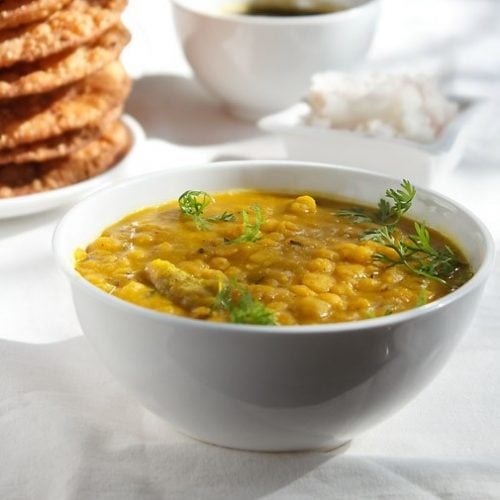 Dal Pakwan Recipe
Dal Pakwan is a popular Sindhi breakfast recipe. This dish is basically a combination or pairing of the Dal served with Pakwan. The Dal is made with chana dal (bengal gram), spices and herbs. The Pakwan is a crispy deep fried bread flavored with a few spices.
Total Time
1

hour
30

minutes
For making dal
1

cup

chana dal

or bengal gram

2 to 2.5

cups

water

or add as required, for pressure cooking

2

green chilies

– slit

8 to 10

curry leaves

– optional

1

teaspoon

cumin seeds

1

pinch

asafoetida

(hing)

½

teaspoon

turmeric powder

½

teaspoon

red chili powder

or cayenne pepper

1

teaspoon

dry mango powder

(amchur powder)

¼

teaspoon

Garam Masala

½ to 1

teaspoon

sugar

or add as required, optional – can swap with jaggery instead

salt

as required

2

tablespoons

oil

or ghee
For making pakwan
1

cup

all-purpose flour

(maida)

1

cup

whole wheat flour

(atta)

1

teaspoon

carom seeds

(ajwain)

1

teaspoon

cumin seeds

1

teaspoon

crushed black pepper

1

teaspoon

salt

or as required

¾

cup

water

or as required

2

teaspoons

oil

or ghee

oil

– for deep frying, as required
Instructions
Soak and Cook Dal
Rinse a few times in water and soak the chana dal in sufficient water for almost 2 hours.

Drain the water and keep the soaked lentils aside.

In a 3 litre pressure cooker, take the soaked lentils and 2 to 2.5 cups water. Pressure cook for 2 to 3 whistles on medium heat.

The grains should be cooked soft and tender yet separate.

Once the pressure settles down on its own in the cooker, then only open the lid.

Add all the ground spice powders, sugar and salt to the cooked dal.

Stir and add water if needed. I added ½ cup water at this step. You can add the amount of water as required.

Simmer for 7 to 8 minutes or more on a low heat till a medium consistency of the dal is reached.
Temper Dal
In another pan, heat oil or ghee.

Crackle the cumin first and then add the green chilies and saute for a minute.

Add curry leaves and asafoetida and saute for a further minute or two on a low heat.

Pour this sauteed mixture along with the oil in the dal.

Stir to mix and set aside.
Make Pakwan Dough
Mix all the ingredients in a mixing bowl or on a wide plate (Parat)

Adding water bit by bit, knead to a semi soft dough. Do not make a soft and smooth dough.

Make small balls of the dough.

Lightly dust with flour and roll them into 7 to 8 centimeters discs or circles. Prick the rolled dics with a fork.

Deep fry in moderately hot oil till the pakwans are crisp and golden.

Drain the pakwans on paper towels to remove excess oil.

Serve hot or warm Dal with the crispy Pakwan accompanied with some finely chopped onions, coriander chutney and sweet tamarind chutney.

Garnish the dal with some coriander leaves while serving.

If not serving with dal, then once cooled, immediately store the pakwans in an air-tight jar to eat later as a tea-time snack.
Notes
If short of time, cook the chana dal lentils straightaway without soaking. You will need to about 3 cups of water while pressure cooking the un-soaked lentils.
You can also cook the lentils in an Instant Pot adding water as needed. If cooking in pan on the stovetop, then do soak the lentils for 2 hours.
The spices and seasonings can be adjusted easily depending on your taste preferences.
For the pakwan dough, remember to make a semi-soft dough. The dough should be slightly tight. If it is soft, it will result in softer or chewy pakwans.
Omit adding curry leaves if you do not have them.
Both the dal and the pakwan recipe can be scaled easily.
Nutrition Info (Approximate Values)
Nutrition Facts
Dal Pakwan Recipe
Amount Per Serving
Calories 503
Calories from Fat 144
% Daily Value*
Fat 16g25%
Sodium 963mg42%
Potassium 180mg5%
Carbohydrates 78g26%
Protein 15g30%
Vitamin A 169IU3%
Vitamin B1 (Thiamine) 0.4mg27%
Vitamin B2 (Riboflavin) 0.2mg12%
Vitamin B3 (Niacin) 26mg130%
Vitamin B6 0.2mg10%
Vitamin C 43mg52%
Vitamin E 6mg40%
Vitamin K 3µg3%
Calcium 123mg12%
Vitamin B9 (Folate) 306µg77%
Iron 5mg28%
Magnesium 56mg14%
Phosphorus 149mg15%
Zinc 1mg7%
* Percent Daily Values are based on a 2000 calorie diet.
This Dal Pakwan recipe from the archives first published in August 2013 has been updated and republished on December 2022.