Brown bread recipe with step by step photos. This is a detailed post of vegan brown bread with gentle tips, hints and lots of pics. I have tried to answer all the queries I get related to yeast proofing and baking bread in this post.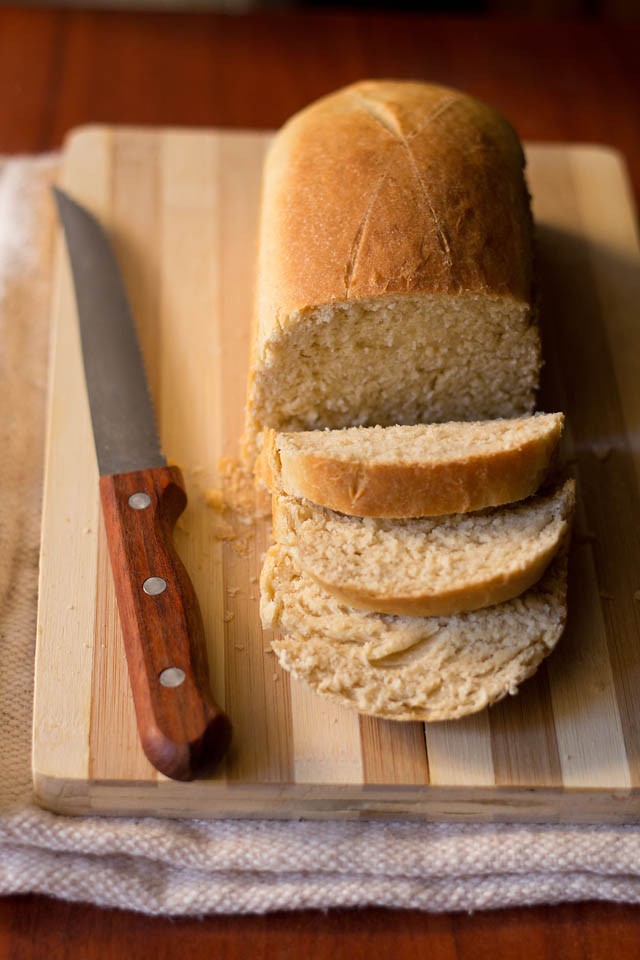 Since by now I bake a lot of bread at home, I have become pretty good at baking bread. The other side is the bread recipes never get to the blog. I just don't get the time to take pics and especially the step by step pics.
I have baked buns, rolls, artisan breads and still enjoying baking breads at home. Yet, I shall see to it that I do add different bread recipes to the blog so that you can also bake beautiful breads in your own kitchen. I have already managed to post recipes of :
This brown bread
Is soft, light & has a great texture. here both whole wheat flour and all purpose flour/Maida is used in 1:3 proportion. you can tweak this proportion to half-half or make it 2:1. i recently also made Garlic bread with 2:1 proportion of whole wheat flour and all purpose flour which was also good.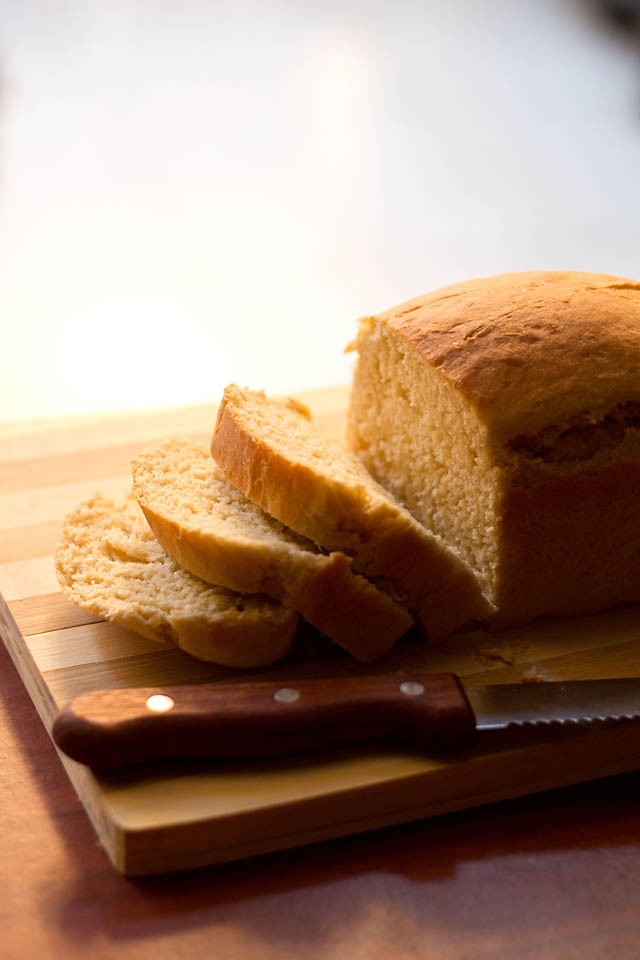 On whole wheat bread
Coming to Whole wheat bread, when baking with 100% whole wheat flour, the bread is dense and nutty. So if you want a lighter texture, then adding all purpose flour is required, especially if you stay in India, where we don't get gluten powder easily. however, I shall also post whole wheat bread in some time.
Kneading the bread
I have used the Kitchenaid artisan mixer to knead the brown bread here. However you can also knead in a food processor or by hand. I have mentioned both the instructions for kneading with hand or KitchenAid mixer in the recipe details below. If using any other stand mixer, food processor or bread machine, then follow the manufacturer's instructions.
Yeast & flours
Just remember to use good quality yeast and flours. here I have used the bluebird brand of dry yeast. The flours are organic stone ground/Chakki ground whole wheat flour/atta and organic all-purpose flour/maida.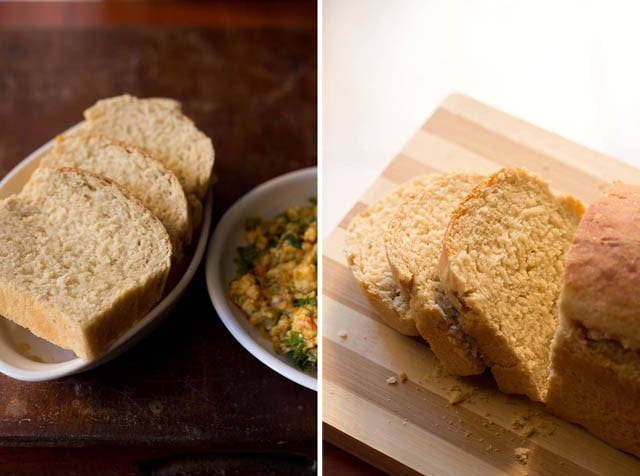 Yeast proofing, bread leavening & temperatures
I have always used dry active yeast for baking. When you use dry active yeast, then first you have to activate these in warm water. The temperature range of warm water for activating dry yeast, should be between 40 to 46 degrees C/105 degrees F to 115 degrees F. A much lower or higher range of temperature won't allow the yeast to activate. You can also use a thermometer to check the temperature of the water.
If the yeast does not proof, then throw away the mixture and start again. If again it does not proof, probably the yeast is out of date. when you use dry active yeast, you have to allow the dough to rise twice, once in a bowl and then in the baking pan. Dry active yeast is easily available in super stores.
The dough needs a warm temperature to leaven. So if you stay in colder regions, then preheat your oven to 49 to 66 degrees C/120 to 150 degrees F for 10-12 minutes. Turn off the oven. Place the bread dough inside till it doubles in size. Remember to remove the bread out before you preheat the oven again for baking.
Satisfaction guaranteed 🙂
Once you start baking bread at home, you will love baking them so much and you will be less prone to buying ready breads. In fact even artisan breads can be easily made at home. Baking is therapeutic and when you see the bread leavening, baking & rising in the oven, it surely is a feel good thing. The whole house is fragrant with the lovely aroma of breads getting baked.
Since bread baking intimidates many of us, this is a step by step post which will help you in someway overcoming your bread baking fears.
How to make brown bread
1: warm water in a pan or microwave. Add sugar. Add yeast and stir. Let this mixture remain undisturbed for 10 mins. after 10 minutes, the whole mixture becomes bubbly and frothy.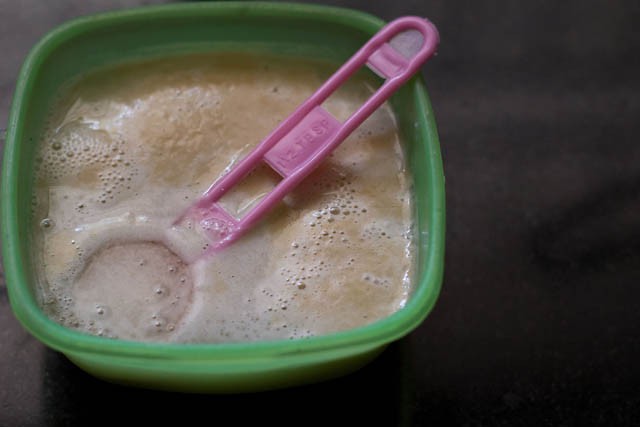 2: on speed 1 of kitchenaid mixer, mix the salt with the flours for some seconds.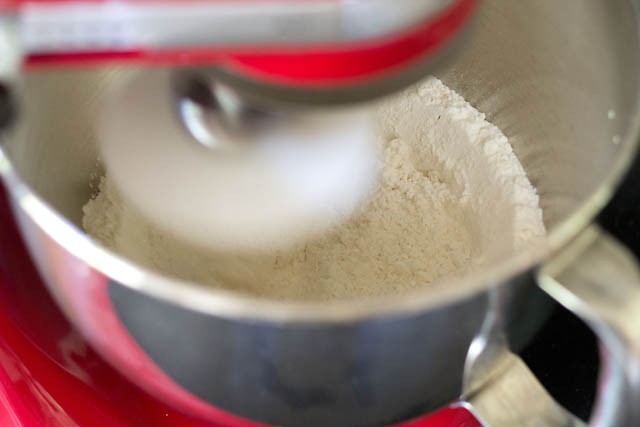 3: now add the yeast mixture, oil, water and on speed 2, mix the dough.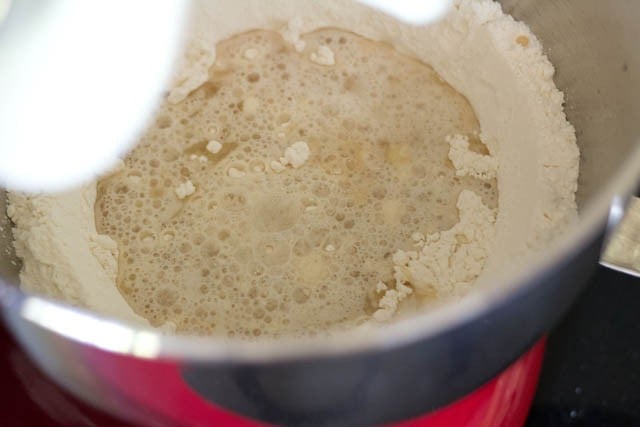 4: continue on speed 2 for a couple of minutes, and the dough will begin to knead.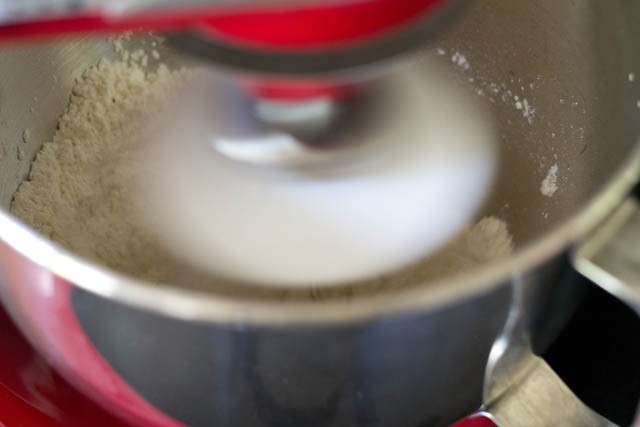 5: after 2 minutes, this is how the dough appears.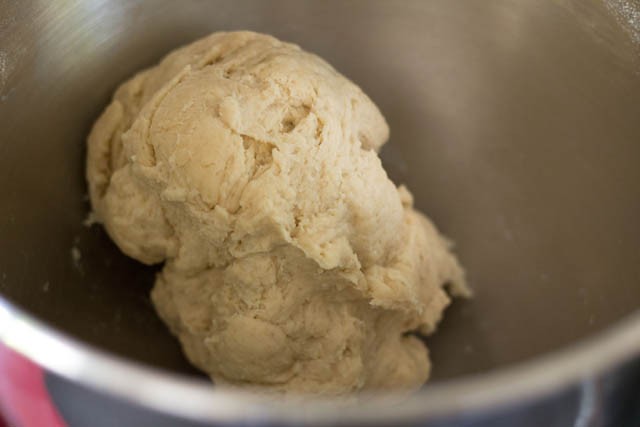 6:  feel the dough and if it looks dry, add some warm water (keep some warm water handy). When the dough is fully kneaded, stop the Kitchenaid. Below pic of the dough after 4 minutes. Stretch a small piece of dough between your fingers into a thin sheet. If it does not tear, it means that the dough is well kneaded.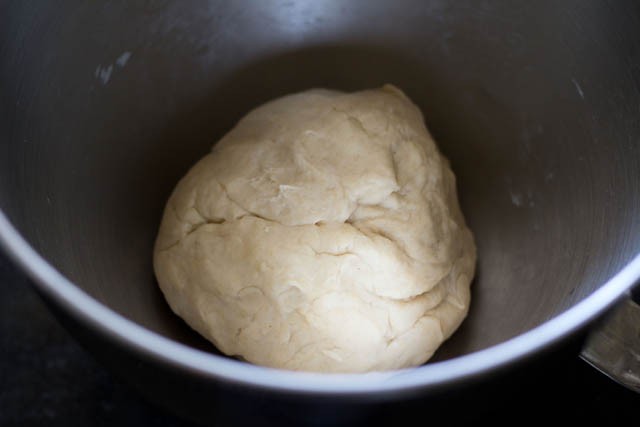 7: rub some oil or water on the whole dough. Keep in a bowl (i used the same KitchenAid bowl). Cover with a kitchen towel and keep in a warm place for the dough to leaven.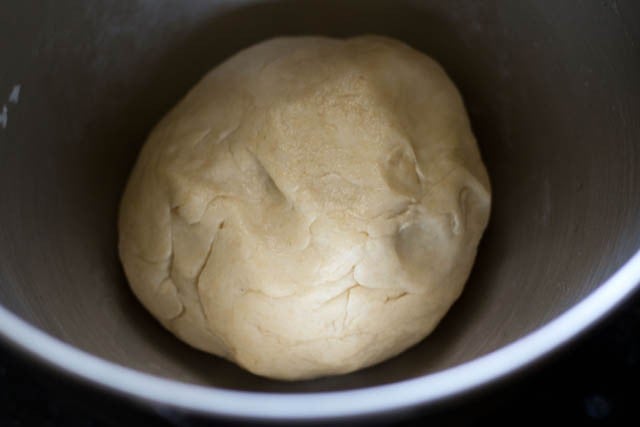 8: after 3 and half hours, the dough has risen. I kept the dough a tad longer due to a cooler temperature here on this day.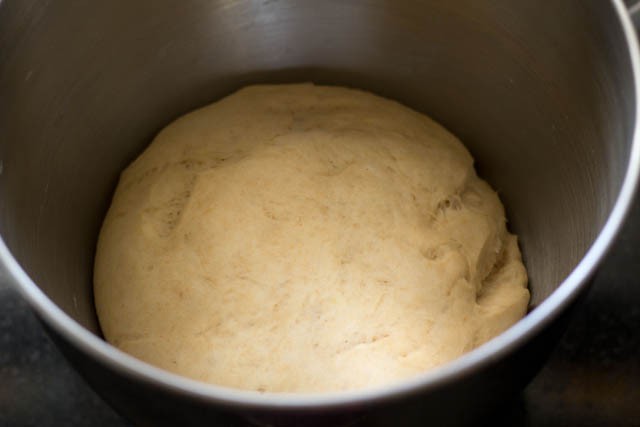 Making brown bread
9: punch the dough lightly and just knead lightly.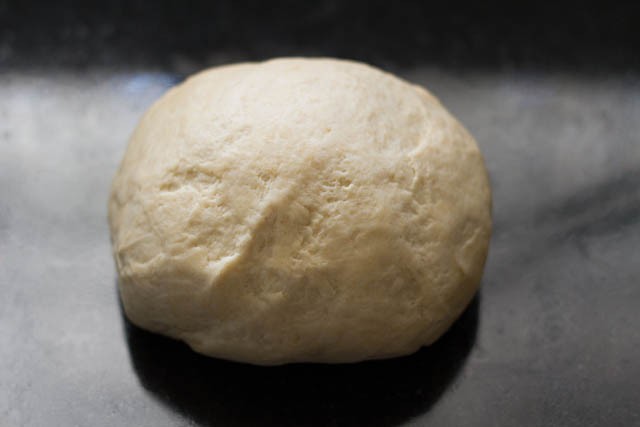 10: roll the dough into a log shape.
11: seal the edges of the dough below on both sides.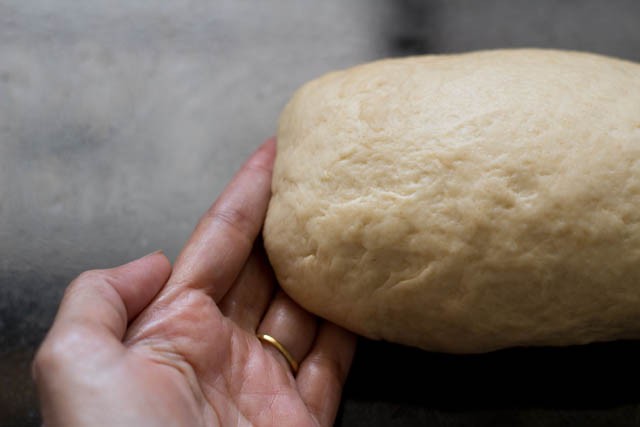 12: place the loaf in a greased or lined loaf pan (9×5 inches) with the sealed edges down.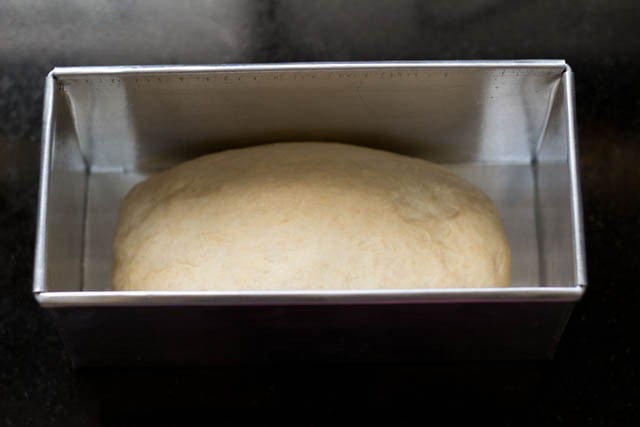 13: keep covered for 35-40 minutes for the loaf to rise. I kept for an hour.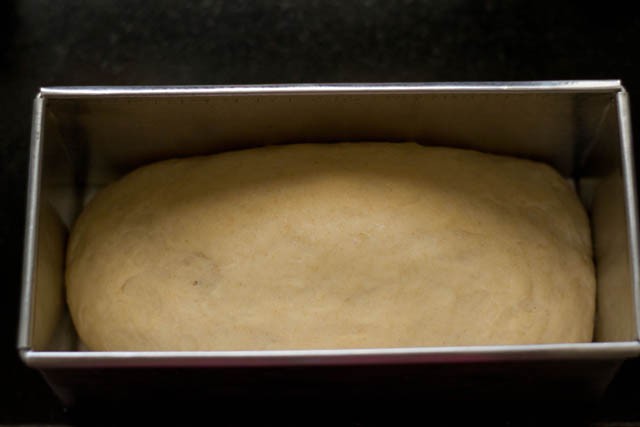 Baking brown bread
14: Before baking, preheat the oven to 180 degrees C/375 degrees F. With a serrated knife, cut a cross on the top of the dough.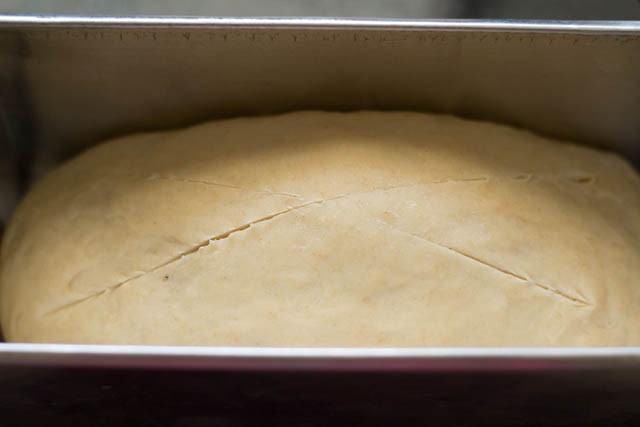 15: You can brush the loaf with some milk or soy milk if you want. Bake in the oven for 45-50 minutes till the bread browns from the top and when you tap on it, it sounds hollow.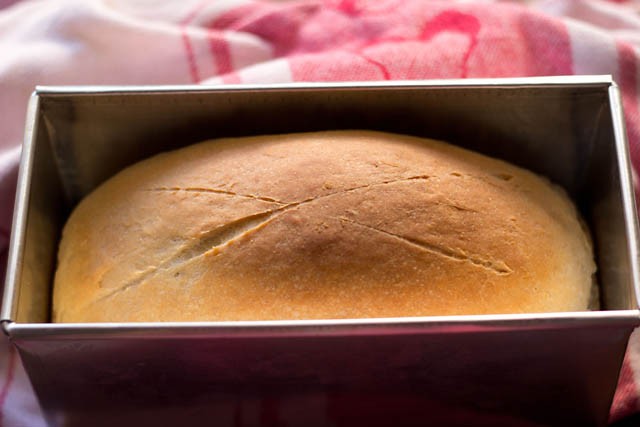 16: Whilst the bread is still hot, remove the bread with the help of oven mittens/gloves from the loaf pan. Allow the brown bread to cool on a wire rack or tray.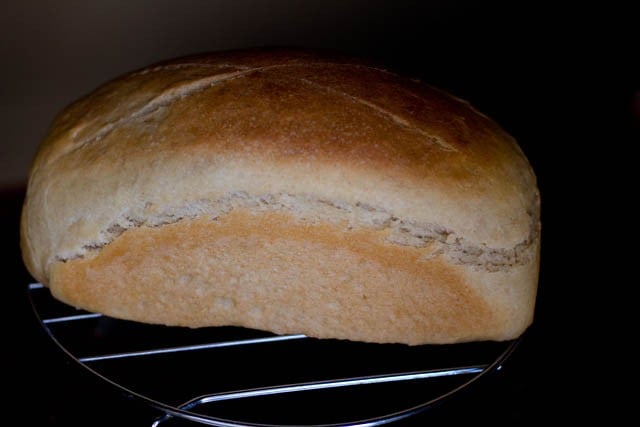 17:  Serve the slices warm or keep the brown bread in a bread box. If kept in the fridge, the brown bread stays good for a longer time, especially in a country like ours when keeping bread outside for a longer time is not advised. You can use the bread to make Bread pakora, veg sandwich and bread roll.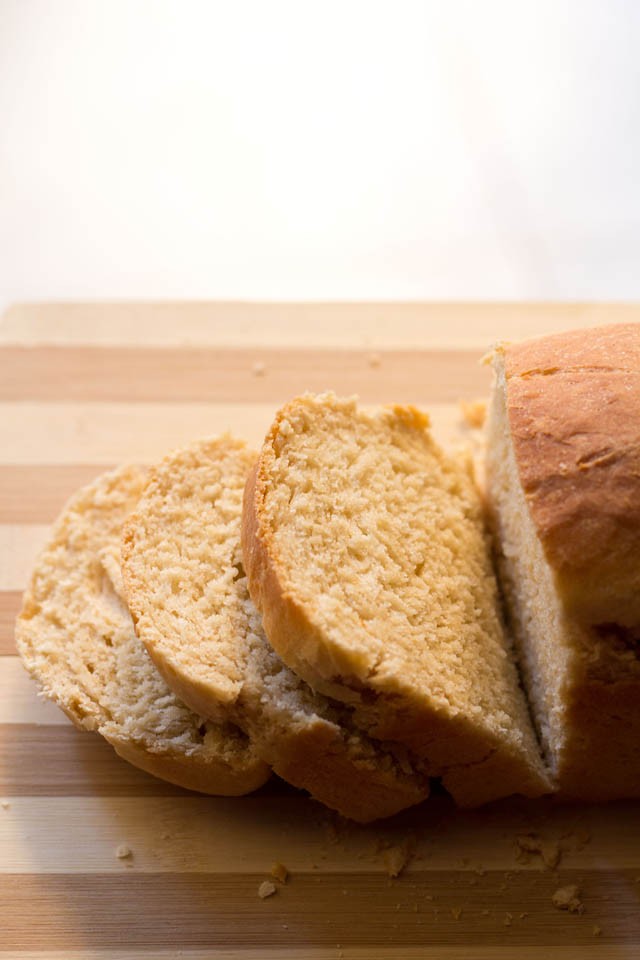 Please be sure to rate the recipe in the recipe card or leave a comment below if you have made it. For more vegetarian inspirations, Sign Up for my emails or follow me on Instagram, Youtube, Facebook, Pinterest or Twitter.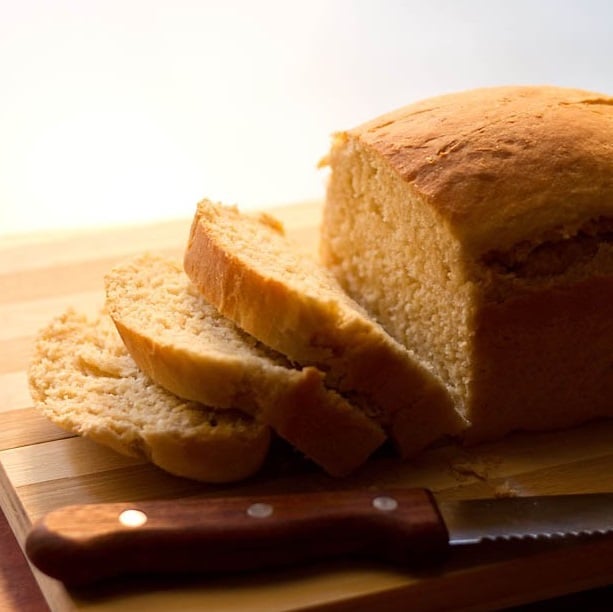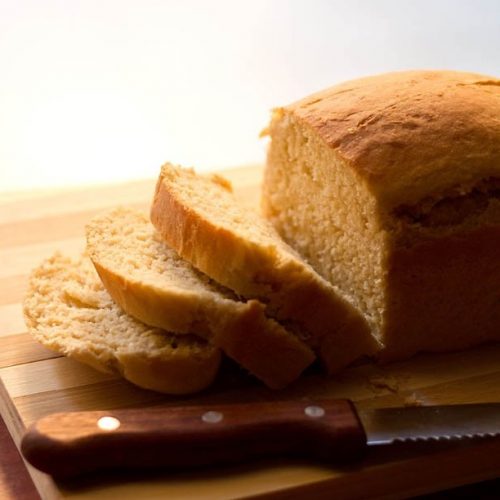 Brown Bread
This is a vegan recipe of Brown Bread with the perfect crust and texture.
Servings
12
bread slices from 1 loaf of bread
Ingredients
2.25

cups

all purpose flour

¾

cup

whole wheat flour

(atta)

1

cup

water

½

tablespoon

dry active yeast

or 1 teaspoon instant yeast

2

tablespoon

organic cold pressed sunflower oil

or melted butter

1

tablespoon

regular sugar

or unrefined organic cane sugar

1

teaspoon

rock salt (edible and food grade)

or regular salt
Instructions
proofing yeast
Add sugar and dry active yeast.

Stir and let the yeast activate.

This usually takes about 10 minutes.
kneading brown bread dough in a bowl
Sieve both the flours with salt in a large wide bowl or a large plate with a rim/parat.

Add the proofed yeast and oil.

Mix all the ingredients.

Then begin to knead the dough.

If the dough feels sticky, add some flour.

If it feels dry, add some water.

Continue to knead, till you get a smooth dough which when stretched doesn't tear.
kneading brown bread dough in a kitchenAid mixer
Add the flour and salt in the bowl.

On speed 1, mix the flour and salt for some seconds.

Add the yeast mixture and oil and on speed 2 knead the dough.

Continue kneading for 2 minutes and check the dough.

If it feels dry, add some warm water.

If it feels sticky, add some flour.

Continue kneading further for 2 to 3 minutes on speed 2 or till you get a smooth and pliable dough.
leavening brown bread dough
Rub oil or water all over the dough and keep in a covered bowl to leaven for 2 to 3 hours.

After 2 to 3 hours, remove the dough. Punch or knock back the dough with light hands and knead lightly.

Roll a single log of the dough.

Tuck the edges down on both sides of the dough log.

Place the dough log in a greased loaf pan (9x5 inches) with the tucked edges facing downwards.

Cover the loaf pan and let the dough leaven for 40 minutes or 1 hour.

Preheat oven to 180 degrees C or 350 degrees F.

Bake the loaf for 35 to 40 minutes or until the bread is well browned on top and sounds hollow when tapped.

Place the bread on a wire rack or tray to cool to room temperature.

Slice and serve the Brown Bread or refrigerate for later use.
Notes
If not baking on the same day, the leavened dough can be refrigerated.
The leftover baked Brown Bread can be wrapped in a foil or cling film and refrigerated.
This Brown Bread recipe can be doubled.
The Brown Bread can also be baked in the convection mode of microwave oven at the same temperature mentioned in the recipe details.
If the surface of the bread starts browning while baking, then cover it with an aluminium foil or butter paper.
Nutrition Info
(Approximate values)
Nutrition Facts
Brown Bread
Amount Per Serving
Calories 135
Calories from Fat 18
% Daily Value*
Fat 2g3%
Sodium 195mg8%
Potassium 52mg1%
Carbohydrates 24g8%
Protein 3g6%
Calcium 6mg1%
Iron 1.4mg8%
* Percent Daily Values are based on a 2000 calorie diet.