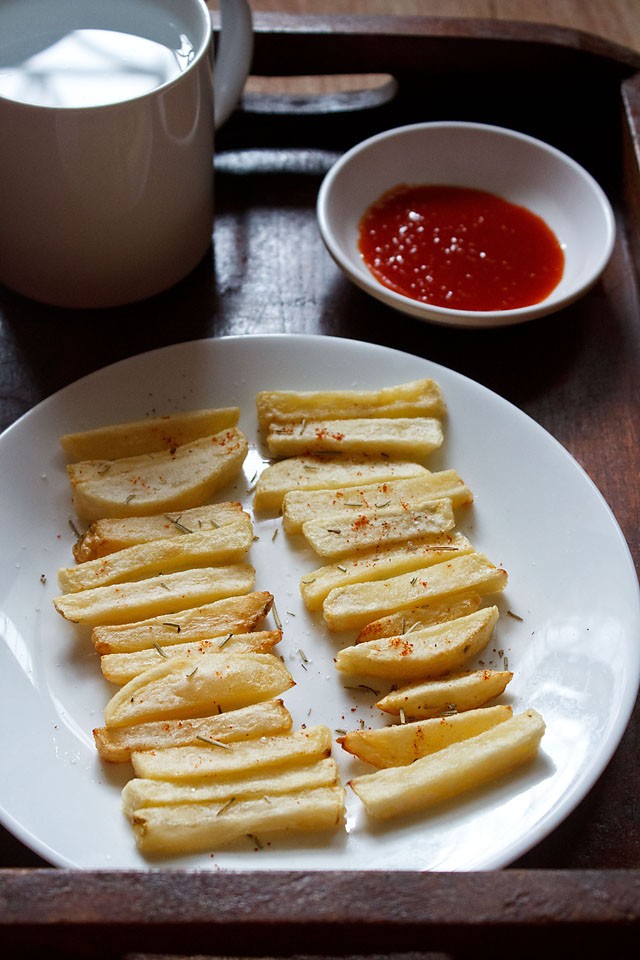 homemade french fries recipe with step by step photos – i love french fries… who doesn't!!! let me tell you first these are not the perfect french fries, but they come very close to the ones we get in mc donalds or any other fast food chains. they are crisp as well as soft from inside and taste too good.
i had got a recipe request for posting french fries. when i make french fries at home, i just chop the potatoes, rub some salt and directly fry them. the potatoes are not perfectly crisp like the mc donald's french fries but for all of us, these home made easy to prepare quick french fries are alright.
when i got the request, i searched a lot of recipes on the web for that perfect french fries. i stumbled upon many and they all tell me to parboil the potatoes first, then fry it not once, but twice at different temperatures.
now being a busy woman, i cannot afford to spend a major chunk of my time cooking the potatoes, then cooling them, then frying them, cooling them and again frying them…. too much for me.
so i gave up the quest for the perfect french fries and even if some recipe comes closest to it, i will be more than happy & satisfied.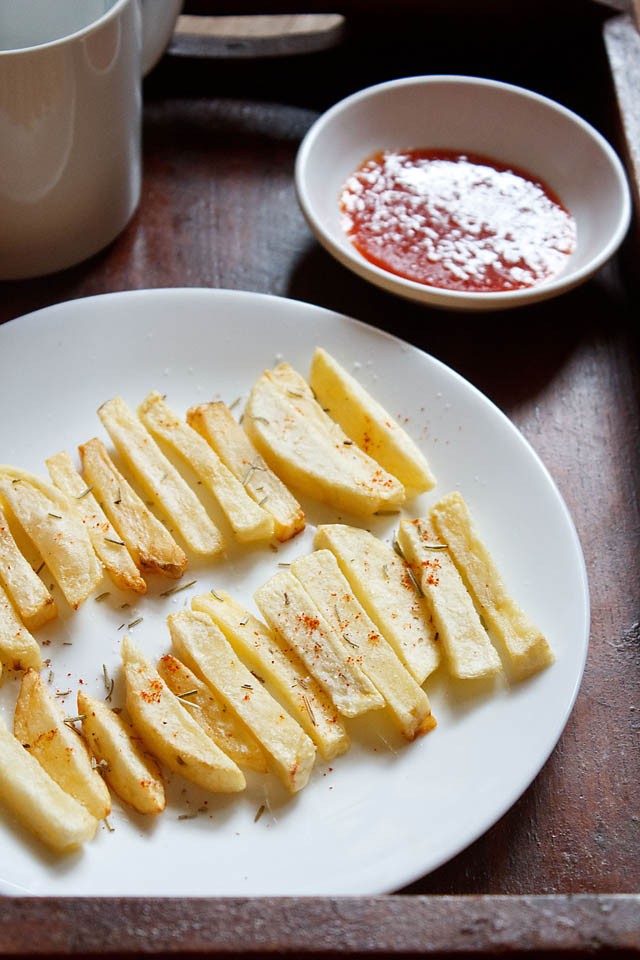 this is my friend anamika recipe. she has kept it simple and easy. in this method, the potatoes are kept in cold water for 1 hour. i actually kept the whole bowl of chopped potatoes with cold water in the fridge. then drained & dried the potatoes with a napkin and later fried.
i have fried the potatoes twice. when i fried them once, i felt they were less crisp and limpy. so i decided to fry them twice…. experimentation while cooking, eh…
the result were french fries which were crisp as well as soft & tender from inside. the way the french fries should be.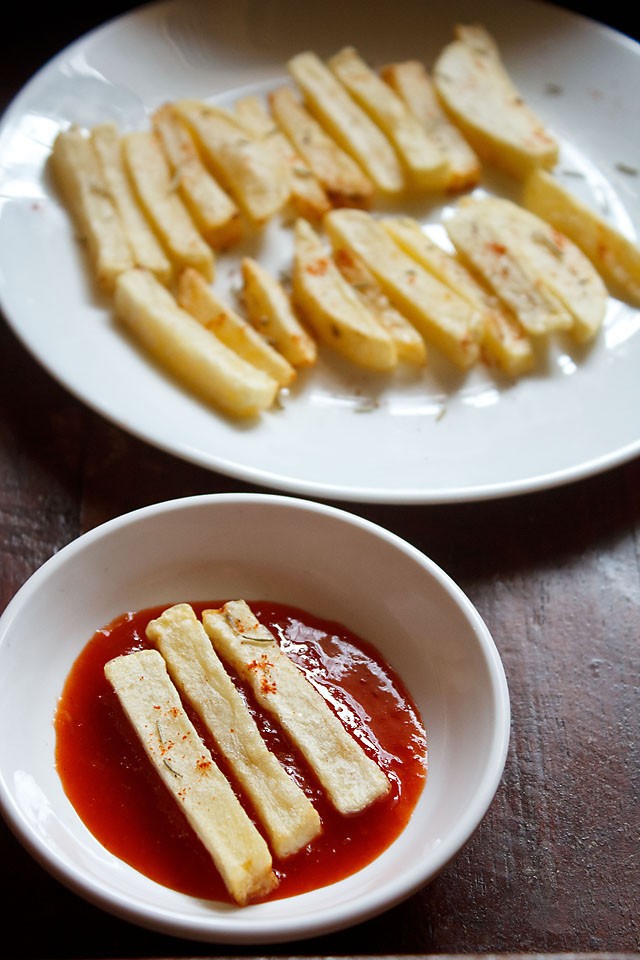 this is also a navratri vrat or fasting recipe by the way, as i have used rock salt here.
if you are looking for similar recipes then do check baked potato wedges, potato chips, baked bread rolls, banana chips, veg burger and veg puffs recipe.
crisp french fries recipe below:
french fries recipe
easy and crisp french fries recipe
ingredients (1 cup = 250 ml)
4 to 5

medium size potatoes

(aloo)

cold water

dry rosemary

or oregano or mixed herbs - as required

red chili powder

or paprika as required

rock salt

or black salt or regular salt as required
how to make recipe
preparation for french fries recipe:
chop the potatoes lengthwise.

rinse them in water a couple of times.

now add them to a bowl of cold water.

keep in the fridge for 1 hour.

the potatoes should be totally immersed in the cold water.

after 1 hour remove the bowl of potatoes.

drain and wipe dry the potatoes.
making french fries:
in a pan heat oil to medium hotness.

fry the potatoes till they cooked and soft.

drain on kitchen tissues and let them cool.

later again heat oil.

this time the oil should be hot.

fry the potatoes till they become crisp and browned.

drain french fries on kitchen tissues again to remove extra oil.

serve the hot french fries with a sprinkling of salt, paprika and rosemary accompanied by tomato sauce.
recipe notes
few tips for making french fries recipe:
soaking the potatoes in cold water help them to get crisp nicely and they get evenly fried.
rinsing the potatoes in water or cold water helps to remove starch, which can cause the potatoes to stick together during the frying process.
alternatively, for crispier french fries you can also soak the potatoes in salt water for several minutes before frying.
lets start step by step french fries recipe:
1: firstly peel the potatoes and then chop them lengthwise to get long rectangular pieces. wash these potato pieces for a couple of times in water to get rid of the starch. in a bowl take cold water and dunk the potatoes in it. keep this bowl outside or in the refrigerator for 1 hour. since it is a tropical & warm climate here, i kept the bowl in the fridge.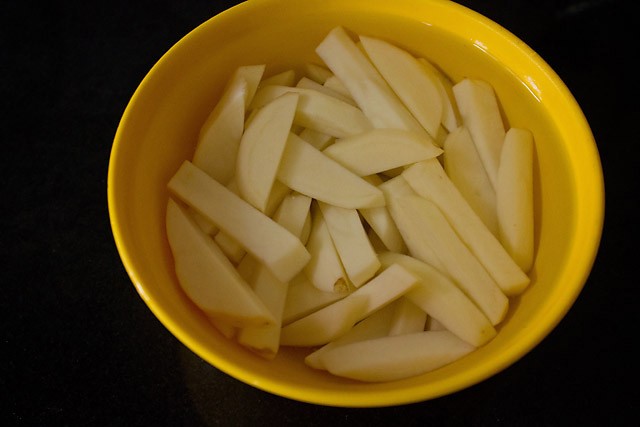 2: after 1 hour, drain the potatoes and dry them with a napkin.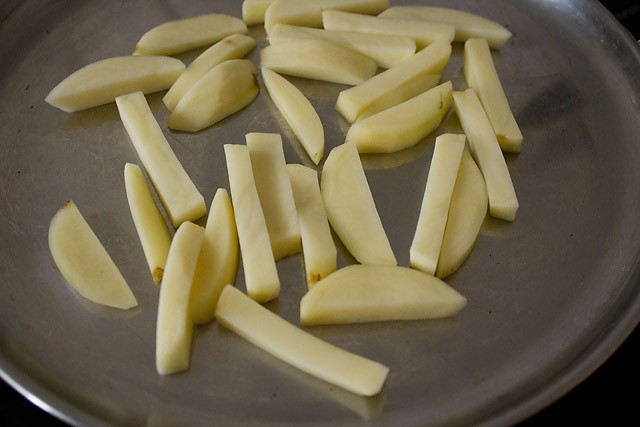 3: heat oil. the oil should be medium hot. now add the potatoes in the oil and fry them. i fried in two batches.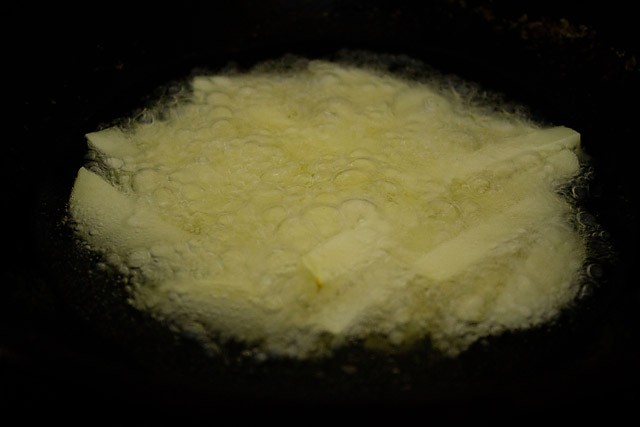 4: fry till the potatoes get cooked, but they should not brown from out. they should just get a crust from out without any color change. drain french fries on paper tissues and let them cool down.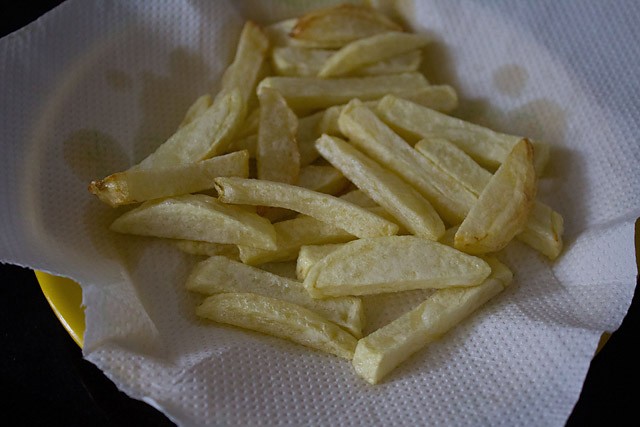 5: again heat up the oil and this time the oil should be hot. add the french fries to the oil and cook till crisp or browned.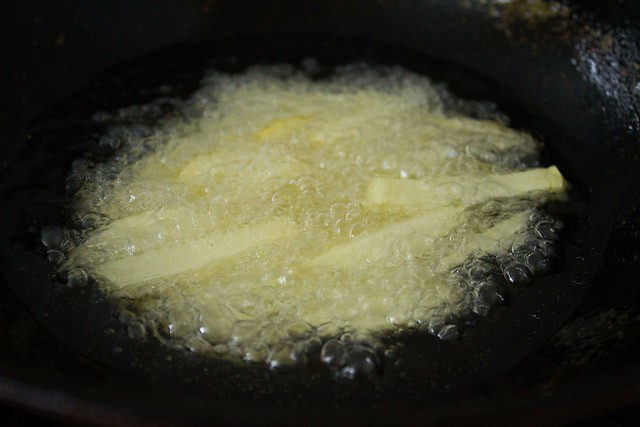 6: drain french fries on paper tissues again to remove the excess oil.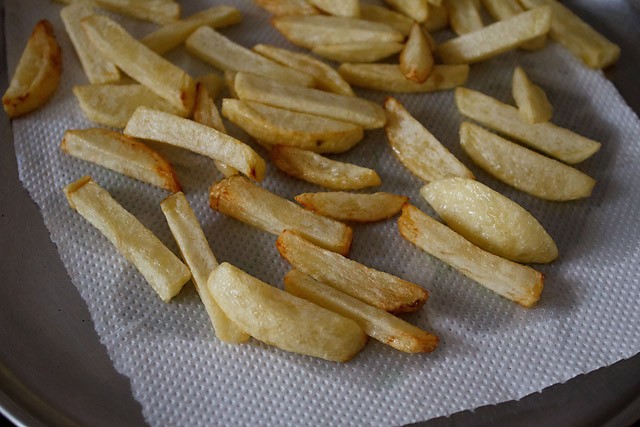 7: sprinkle with some salt, paprika and dry rosemary. serve french fries hot with some tomato sauce.