Val usal or Dalimbi chi usal recipe – a spiced, lightly tangy and slightly sweet coconut based field beans sprouts curry from the Maharashtrian cuisine.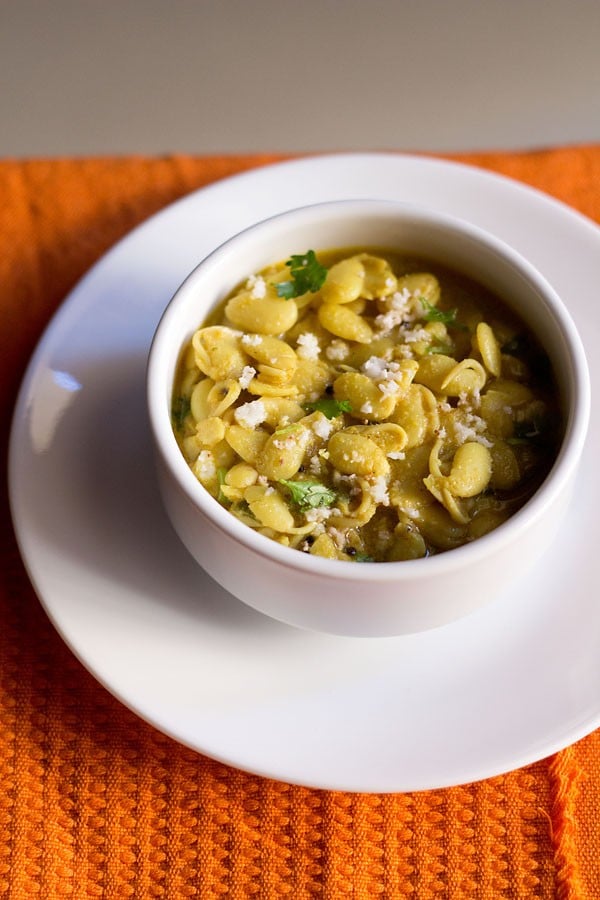 Val or pavta as its known in marathi are known as Field beans or hyacinth beans or lablab in english. in tamil, they are called as mochai and in Gujarati surti papdi. the sprouted beans are called as Dalimbi in marathi.
In India we get a pack of these dried beans labeled Val or surti papdi. these beans are slightly bitter in taste. They are soaked and then sprouted. The outer covering is removed and then these beans are used for cooking.
In the super market, I was able to get a pack of sprouted beans. Surprisingly they did not have dried beans but the sprouted ones. I love these beans in the form of a dry curry or a coconut based curry, both which mom would make often. So I have an acquired taste of these beans… Something which the other members of my family are still not getting used to.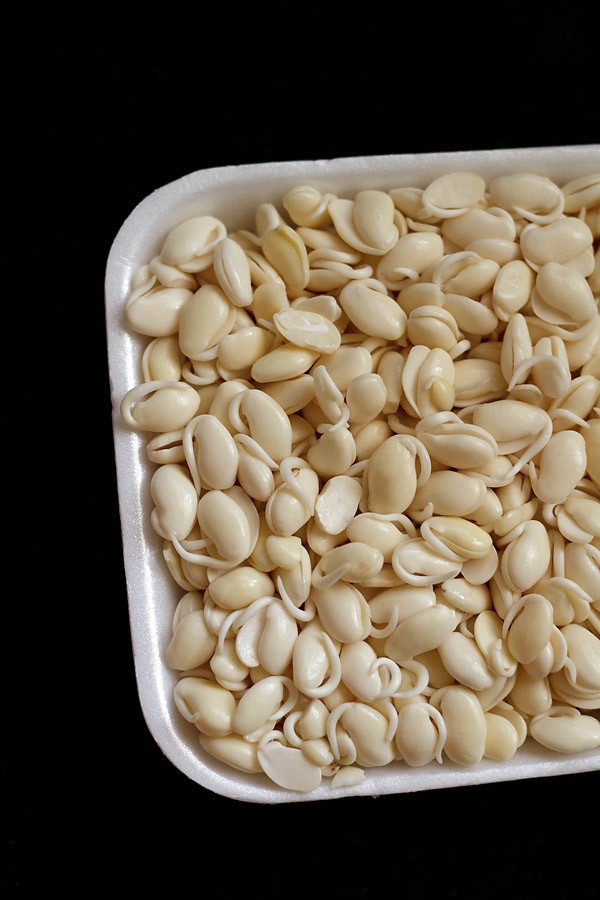 This usal is also called as dalimbi chi usal. the preparation is very simple and easy to make. The vaal usal goes best with chapatis, phulkas or even bread. They can also be served with steamed rice. These sprouted beans are nutritious. So this hyacinth beans curry is overall a healthy and light curry.
Few more tasty recipes for you!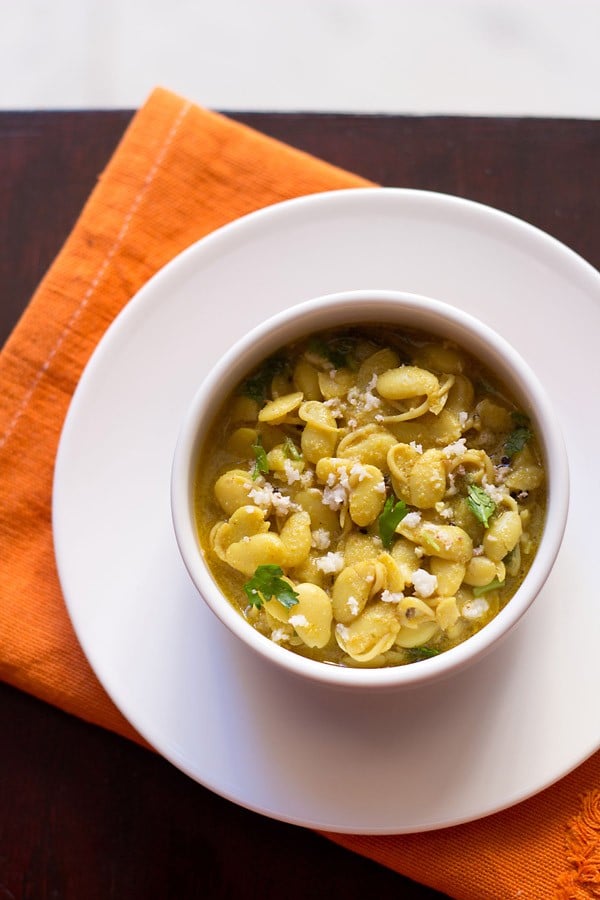 How to use sprout val or dried field beans
Soak about ¾ to 1 cup of the val or dried field beans in warm water for 9 to 12 hours.
They will swell and increase in size. Then drain water and add the soaked beans in a clean cotton or muslin cloth. Wrap the muslin cloth securely over the beans and keep in a bowl for 24 to 36 hours or more at room temperature.
The beans will sprout. Later warm some water. Soak the sprouted beans in the water for 10-15 mins.
The peels come out easily. Discard the peels. Also remove the beans that are discolored. Then you can use the peeled and sprouted beans in the usal or any other recipe.
Please be sure to rate this recipe in the recipe card below if you have made it. For more vegetarian inspirations, Sign Up for my emails or follow me on Instagram, Youtube, Facebook, Pinterest or Twitter.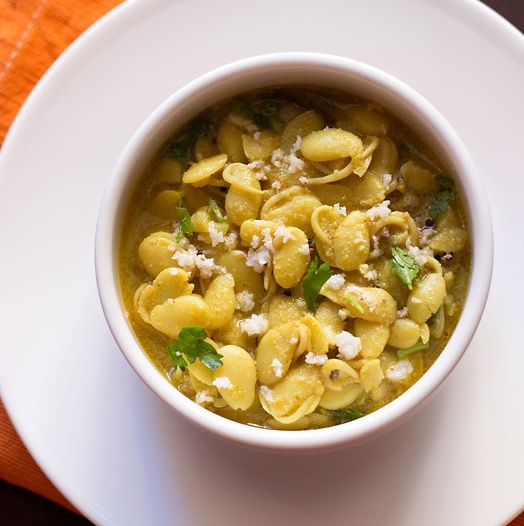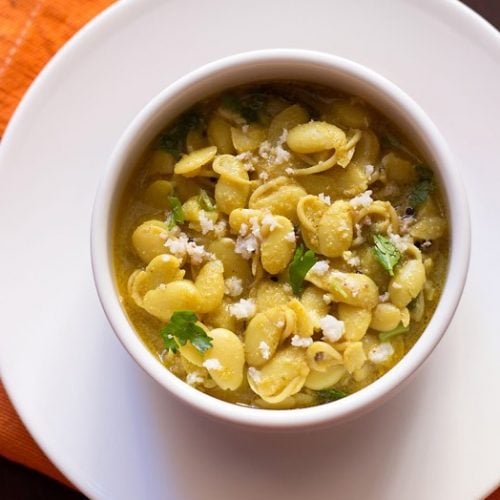 Val Usal
Val usal is a spiced, sweet, tangy coconut based curry made with hyacinth bean sprouts. A delicacy from the Maharashtrian cuisine.
main ingredients for val usal
200

grams

sprouted val

or about 1.5 to 2 cup of sprouted val* check notes on how to sprout the beans at home

1

small onion,

finely chopped

2 to 3

kokums

or 1 medium tomato, chopped

½

teaspoon

mustard seeds

¼

teaspoon

turmeric powder

1

pinch

asafoetida

(hing)

5 to 6

curry leaves

¼

teaspoon

red chili powder

½

teaspoon

goda masala

or garam masala (optional)

½

teaspoon

powdered jaggery

or sugar or as required

2.5 to 3

cups

water or as required

1

tablespoon

chopped coriander leaves for garnish

1

tablespoon

grated coconut for garnish

1 to 1.5

tablespoon

oil

salt as required
for grinding to a paste
2

tablespoon

grated coconut

1

tablespoon

desiccated unsweetened coconut

½

inch

ginger,

chopped

1 to 2

garlic cloves,

chopped

1 or 2

green chilies,

chopped
Instructions
Heat oil in a pan. Crackle the mustard seeds. Add the turmeric and asafoetida.

Stir and then add the onions. Saute the onions till translucent.

Then add the sprouted beans or vaal. Stir and add 2 cups water. Add the kokum.

Cover the pan and cook till the beans are almost cooked.

When the beans are cooking, grind the fresh coconut, dessicated coconut, ginger, garlic and green chilies in a chutney grinder with some water to a smooth paste.

Once the beans are almost cooked, then add the ground coconut paste, red chili powder, goda masala or garam masala powder, jaggery or sugar and salt.

Stir and add 1/2 or 1 cup water. Or add water as required.

Cover and simmer the curry till the beans are cooked completely.

While stirring be gentle as these beans are delicate and they break.

If there is a lot gravy in the dish, you can simmer for some more minutes and cook till the desired consistency.

Garnish val usal with coriander leaves and fresh grated coconut.

Serve val usal hot with chapatis, steamed rice or bread.