bharli vangi recipe with step by step photos – bharli vangi or stuffed brinjal is a regular at my home. this bharli vangi recipe is how my mother makes it. i am not sure whether its a malvani, konkani or goan recipe. i first used to think that its a goan or konkani recipe, but a further research proved that it is not. it looks to me as its a maharashtrian recipe as ground nuts and sesame seeds are used in this recipe of bharli vangi.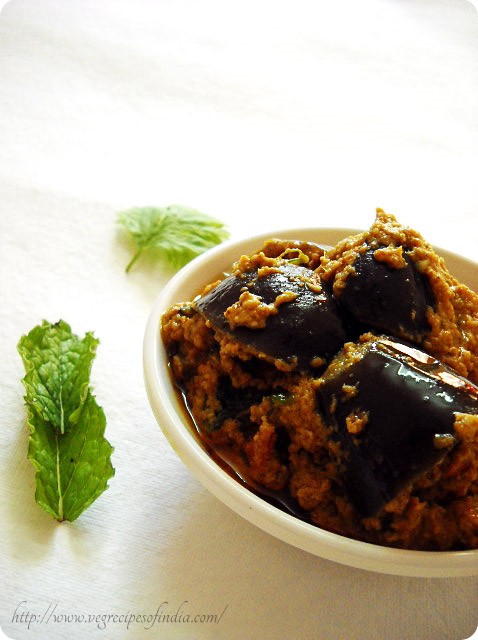 for the bharli vangi recipe we need to use baby eggplants or small eggplants. this type is easily available in india. if you still have to make this recipe and do not have baby eggplants, you then buy the regular eggplants and chop them and make this recipe. even i have chopped the brinjals as i was too lazy to stuff the masala in the brinjals. this is the short cut method for me. either way, the masala gets coated on to the brinjal and the taste is same.
the bharli vangi goes well with chapati, rice and even bread.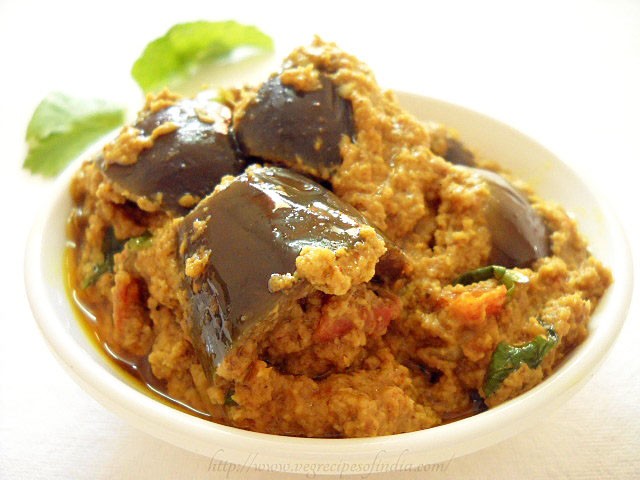 few more baingan recipes on blog are:
stuffed brinjal or bharli vangi recipe below:
how to make stuffed brinjal or bharli vangi recipe:
wash the baingan (brinjal), slit them on 4 sides without breaking them and soak in salted water for 20 mins. you can also chop them and soak in salted water.
dry roast the peanuts first, when they start to become brown, add the sesame seeds followed by dessicated coconut. roast them till all of them are browned and smell fragrant. you can also roast them separately.
when the coconut, peanuts and sesame seeds cool down. add them in a grinder with half of the chopped onions, ginger, garlic.
grind to a smooth paste with some water. make sure not to make it too liquidy.
now add the ground masala to the pan.
fry the masala for 2-3 mins.
add the all the dry spice powders and chopped tomatoes.
mix it well with the rest of the masala paste.
fry for another 2-3 mins.
finally add the chopped brinjal (aubergines).
add 2 cups water, salt and mix the entire curry.
cover and let the baingan cook for 30-35 minutes. keep checking in between and if the stuffed brinjal looks a bit dry, then add some more water. garnish bharli vangi with coriander leaves.
if you have not chopped the brinjals, follow these steps:
to the ground masala, add all the dry spice powders like jeera powder, dhania powder, garam masala powder, red chili powder and turmeric powder. mix the masala paste with the spice powders.
stuff the brinjal with this ground masala.
in pan heat oil, add the onions and fry them till they turn transparent.
add the stuffed brinjals to the pan.
fry for a couple of minutes.
add the tomatoes and fry for 2-3 minutes. keep on stirring continously.
add water, salt and cover and cook for 30-35 minutes.
when the dish is ready, garnish with coriander leaves.