punjabi garam masala powder recipe with step by step photos – an important indian spice blend that is a must in every indian kitchen. the humble dal or sabzi are taken to another level when you add a little of garam masala in these.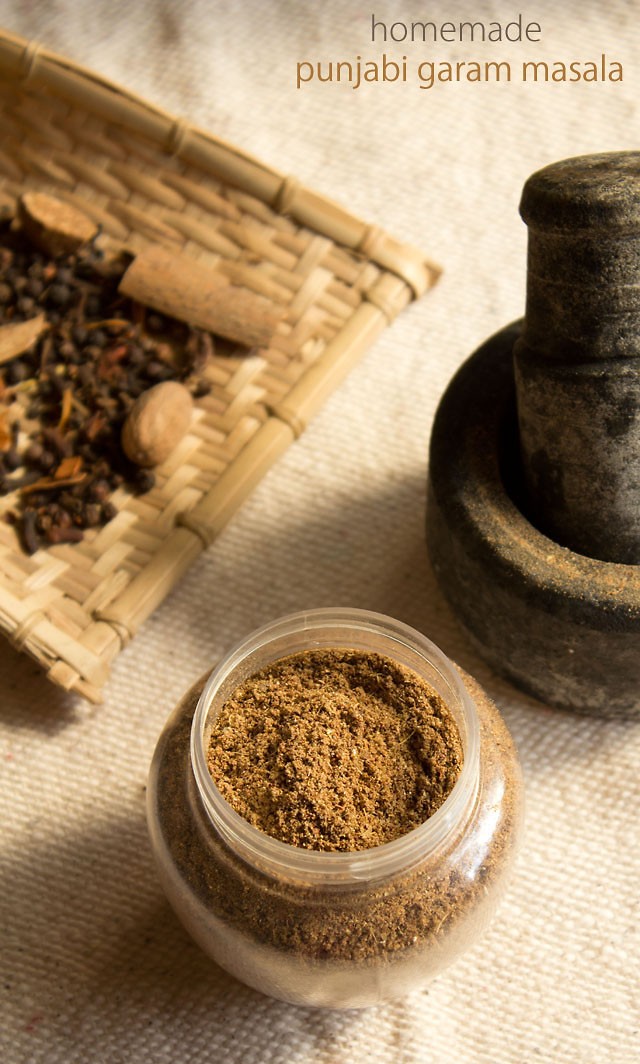 punjabi garam masala powder is a very important spice blend added in most punjabi recipes like chole, paneer butter masala, kadai paneer, palak paneer, rajma, kadhi pakora, malai kofta, dum aloo and so on.
i make one more garam masala recipe which can be added to punjabi, awadhi and many of the north indian dishes. its like an all purpose masala. you can also check this all in one garam masala recipe.
in english garam means warm and masala means a blend of spices…. so the words garam masala translates to a warm spice blend. the coining of these two words is true as the spices that are used in making the garam masala make the body warm. they also have medicinal as well as digestive properties.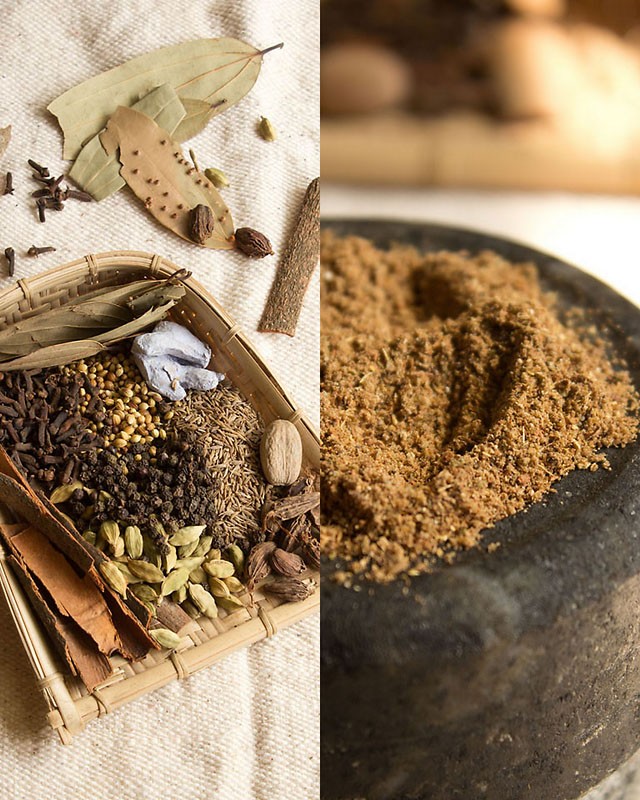 a few weeks back i received a request from a dear reader for punjabi garam masala. even before the request came i was thinking of making the garam masala and post about it too. the garam masala which my mother had made and given to me is on the verge of getting over.
so i had no option but to make a fresh batch of garam masala. this punjabi garam masala  is my mom in law's recipe. every punjabi home have their own garam masala recipe.
when we make the garam masala, we don't roast the spices. we just sun dry them and then powder the spices. roasting the spices, will make your garam masala more aromatic than this one. if you want you can lightly dry roast the spices instead of sun drying them. but don't roast the dry ginger and black cardamoms.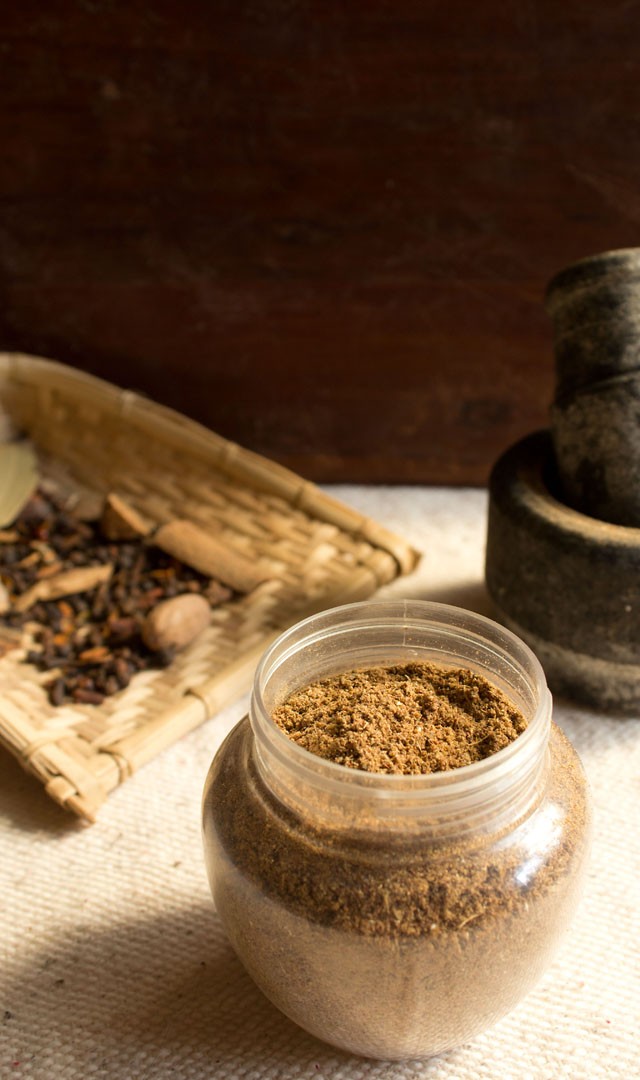 i added a dash of punjabi garam masala to the palak pakoras and the masala rice i had made a few days ago and wow… what pakoras and masala rice were they. thats the power of a homemade garam masala or for that matter any homemade masala or spice blend mix. don't ever ever buy readymade garam masala. they are horrible and adulterated too. more about adulteration on my coriander powder post here.
whatever masala or powder you use in your food, make them at home. be it bisi bele bath masala, amchur powder, sambar powder, rasam powder or even chai masala powder. i usually add ¼ teaspoon garam masala in the dals, sabzis or curries i make for a servings of 2-3. the homemade garam masala powder is so strong that you should not add too much of garam masala in your dishes. it will spoil the taste of the whole food. just a little does the job and balances the aroma, taste and flavors in the food very well.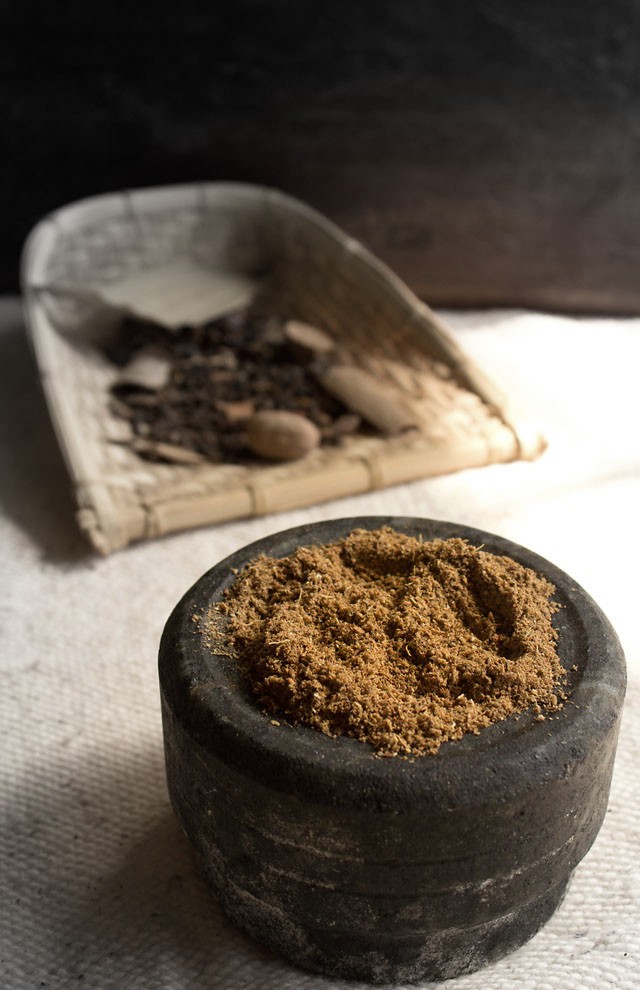 a pic below of the spices used for making the punjabi garam masala.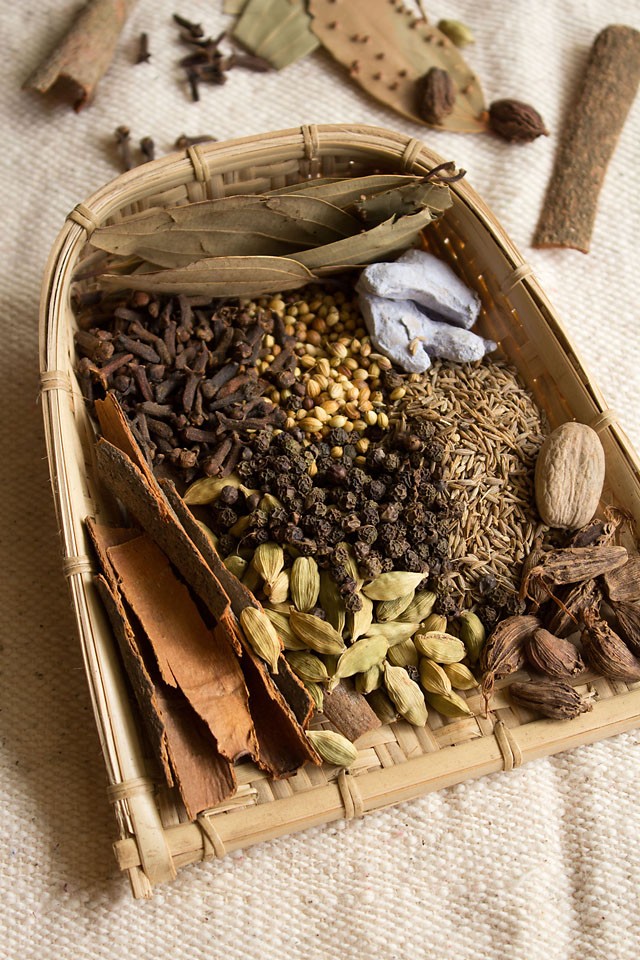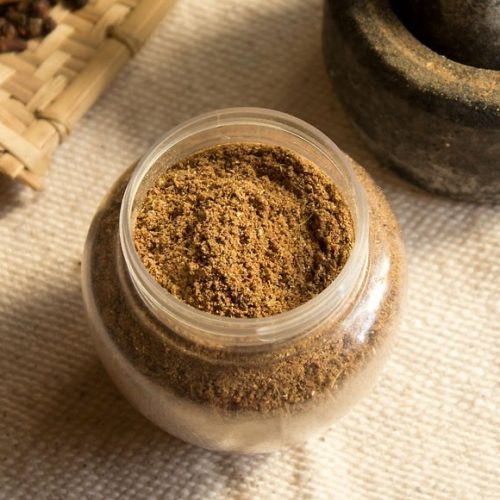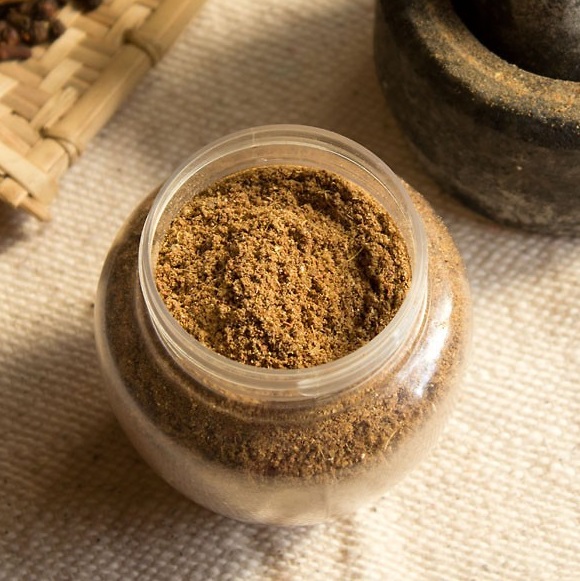 punjabi garam masala powder recipe
punjabi garam masala powder – an important indian spice blend added to dals and curries.
servings
1
medium size bottle
ingredients (1 cup = 250 ml)
½

cup

whole coriander seeds

(sabut dhania)

¼

cup

whole cumin seeds

(sabut jeera)

9

pieces

cinnamon sticks

(dalchini), each having an approx size of about 2.5 to 3 inches

2

tablespoons

cloves

(lavang, laung)

10

tejpatta leaves

10

black cardamoms

(badi elaichi)

2

tablespoons

small cardamoms

(choti elaichi)

1.5

tablespoons

whole black pepper

(sabut kalimirch)

1

piece

whole dry ginger

of 1 inch (saunth)

1

nutmeg

(jaiphal)
how to make recipe
pick the coriander and cumin seeds of stones.

spread the whole spices on a plate or thali.

keep in the sun for 2 to 3 days.

grind the dry ginger first.

then add the broken cinnamon sticks and nutmeg.

grind to a fine powder and keep aside.

now add the rest of the spices and grind to fine powder.

mix both the spice powder batches well.

store garam masala powder in an air-tight container or jar.

you can also refrigerate garam masala powder.
more how to recipes:
1. how to make butter
2. how to make paneer
3. how to make curd or dahi
4. how to make amchur powder
4. how to make moong or mung sprouts at home
5. how to make coriander powder – dhania powder
6. how to make maharashtrian goda masala powder
how to make punjabi garam masala powder
1: pick the cumin/jeera and coriander/dhania for are any stones. spread the spices in a thali/parat or a plate.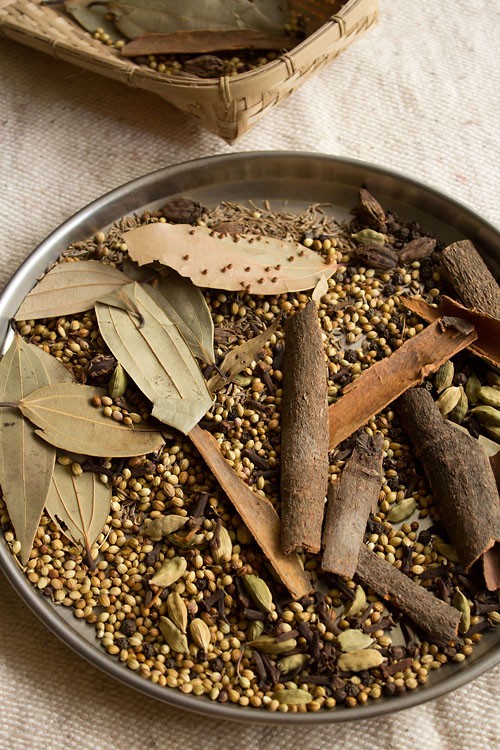 2: keep the plate with the whole spices in sunlight for 2-3 days. turn over the spices sometimes when they are getting the sun light.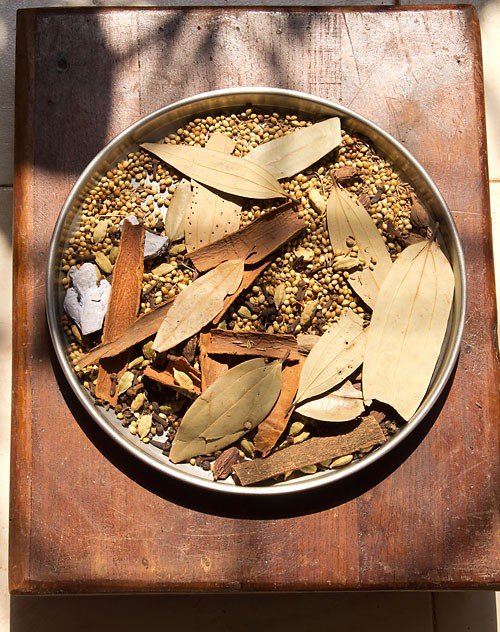 3: in a very good dry grinder or coffee grinder, first grind the dry ginger. dry ginger/saunth is the toughest to grind. so i always grind it first. you can also use ginger powder instead of dry whole ginger. you can still see a small bit of dry ginger still left after grinding.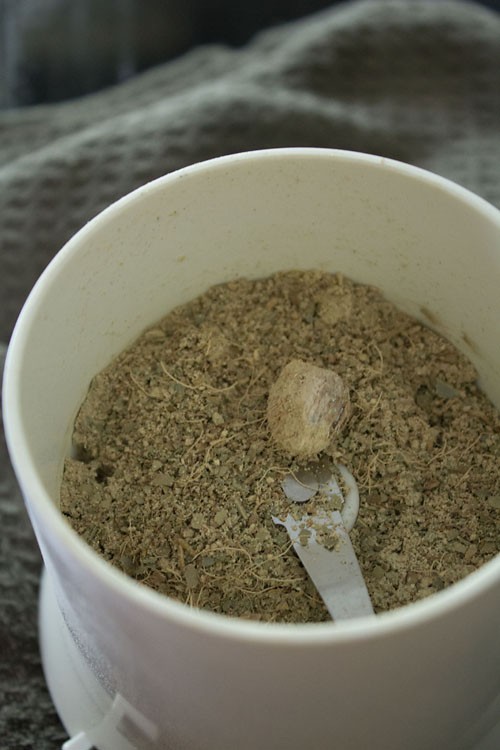 4: the next difficult one to grind is the nutmeg/jaiphal. now in the same jar add the cinnamon sticks and whole nutmeg. the cinnamon sticks/dalchini should be broken and added to the dry grinder. you can grate the nutmeg/jaiphal and also add. your choose what suits you the best.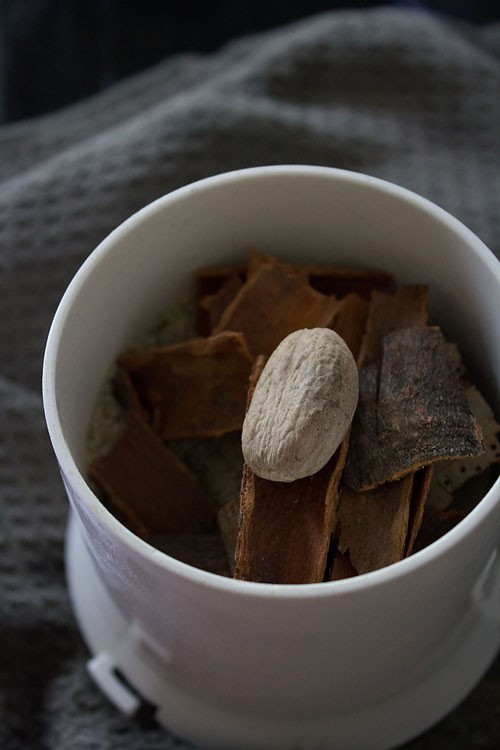 5: grind these spices to a fine powder. remove in a bowl.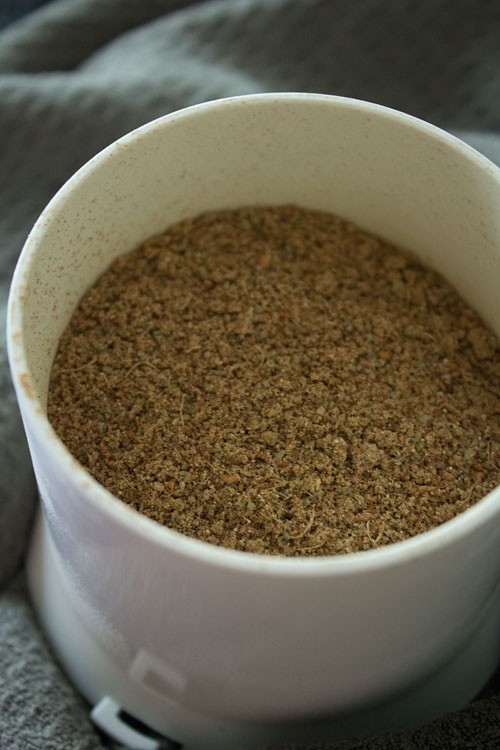 6: now add the rest of the spices to the dry grinder.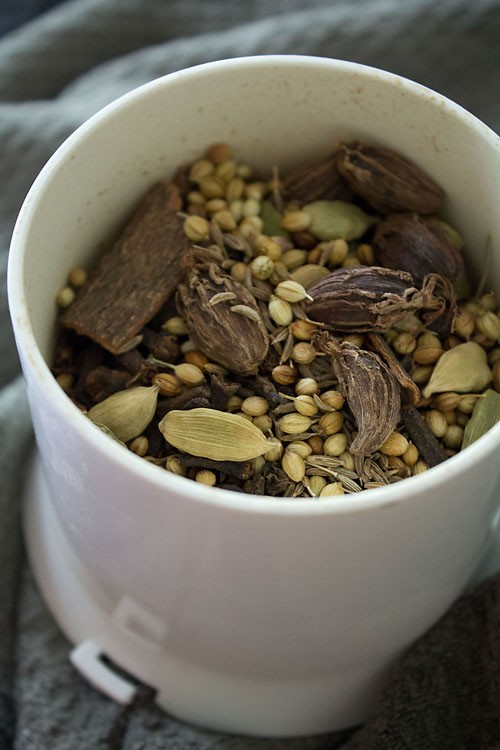 7: grind these too to a fine powder.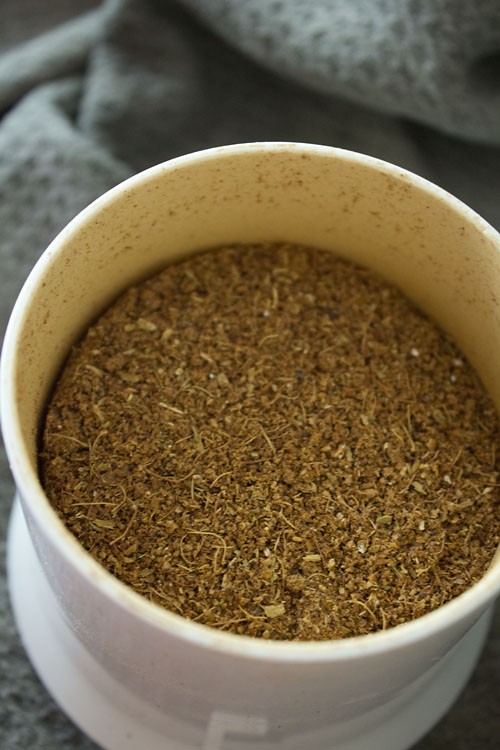 8: add it to the bowl where the previously powdered dry ginger (saunth), nutmeg (jaiphal), indian bay leaves (tejpatta) and cinnamon (dalchini) were kept. mix very well. you have a powerful grinder, then just add all the spices and grind to a fine powder.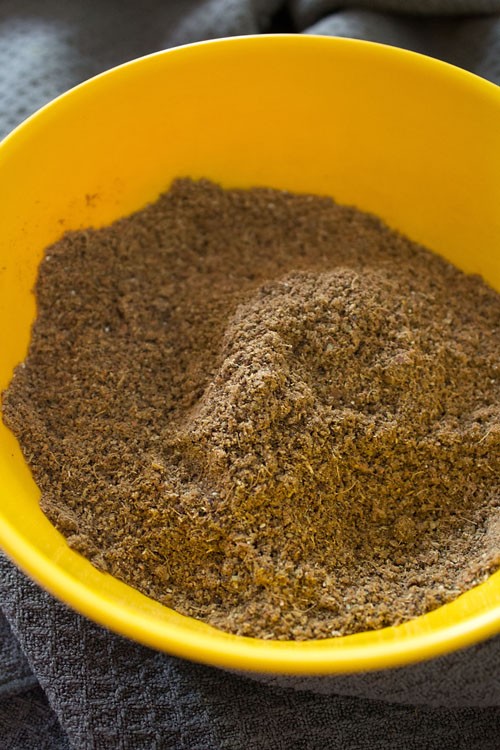 9: store punjabi garam masala powder in an air-tight container. keeps well for a year. you can add the punjabi garam masala to your everyday cooking like making veg sabzi or curries and dals.
this punjabi garam masala powder is added in many popular punjabi recipes like samosa, paneer lababdar, bhindi masala, rajma masala, lauki kofta, paneer tikka masala etc.