Here's a stir fry for you, which is not just vegan and easy to prepare, but will also change your perspective about the not so loved karela (bitter gourd or bitter melon). This Karela Fry recipe is lightly spiced and tangy, which balances the bitter tones of the karela. The Bitter Gourd Fry or Kakarakaya Fry gets done super quickly and has a unique flavor profile.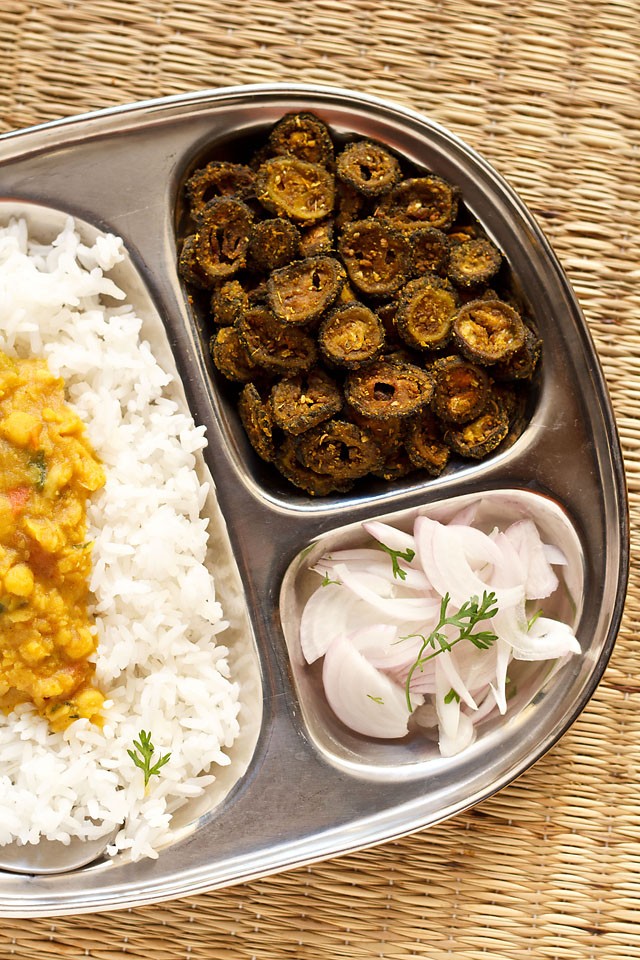 More on This Karela Fry
This Karela Fry or Bitter Gourd Fry is a simple Indian style stir fry as I've used a mix of spice powders and gram flour (besan) that are common ingredients in the Indian cuisine. Karela or bitter gourd/melon is also referred to as kakarakaya in Telugu language and pavakkai in Tamil language. Hence, this dish can also be called as Kakarakaya Fry or Pavakkai Fry.
There are not many people who are fond of this bitter tasting vegetable. But bitter gourd has many health benefits and you must include it in your diet. This recipe that I have created is one of those stir fries which is hassle free and makes the bitter gourd palate-friendly. I also do not use a lot of oil to make this karela fry.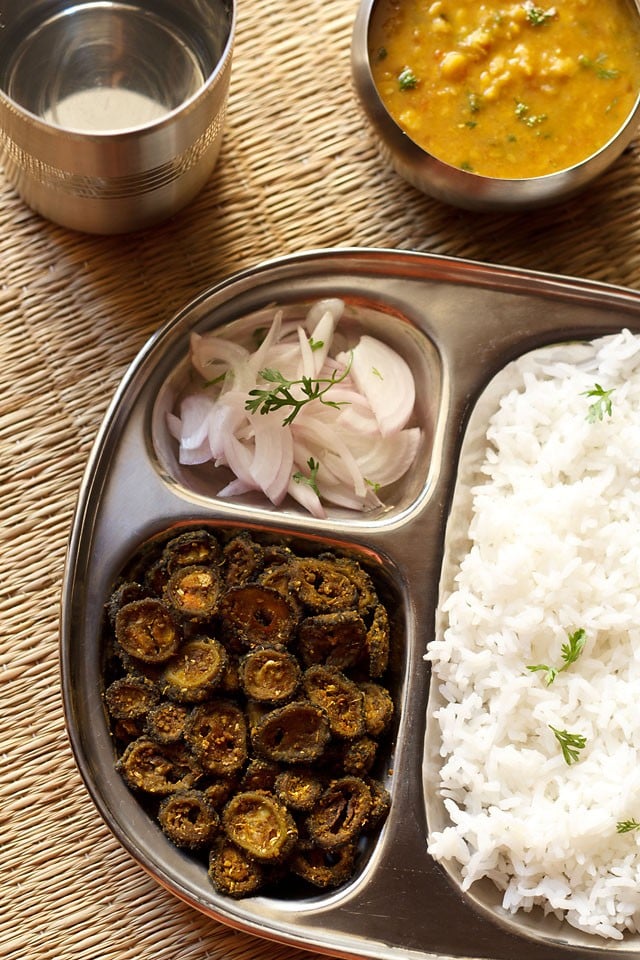 Since the day I started making this Kakarakaya Fry, it has been a hit at my home and now I often prepare this dish. Other than this Bitter Gourd Fry, other preparations with karela that are quite frequent at my home are the Bharwa Karela and the Punjabi style Karela Sabji (Bitter Gourd Curry).
The ground spice powders that go in this Pavakkai Fry are a mix of earthy and tangy. Hence, balance the bitter undertones of the bitter gourd very well. Its almost like you are munching on a yummy packet of chips made by any other regular vegetable.
You can enjoy the Kakarakaya Fry or Bitter Gourd Fry just as it is. However, the most classic way to relish it is to have it as a side with dal-rice, sambar-rice, rasam-rice or even kadhi-rice. This Karela Fry pairs really well with Indian flatbreads like phulkas and chapattis too.
Health Benefits of Karela
When it comes to flavors, the karela has most of the times been at the lowest position for the biggest of foodies. The simple reason is its bitter taste.
But we can't really miss on the health benefits that this vegetable has in store for us. Here's a sneak peak to what your body may miss out on, if you are not consuming the bitter gourd.
Karela or bitter gourd is a storehouse of Vitamin C, B Vitamin and even minerals like calcium, iron and phosphorus.
This vegetable helps in purifying blood.
If you are border line diabetic or even diabetic, you must include karela in your diet right way. It is excellent for you.
Karela helps in tackling the problem of constipation and piles.
It is great for the skin and helps in healing skin issues.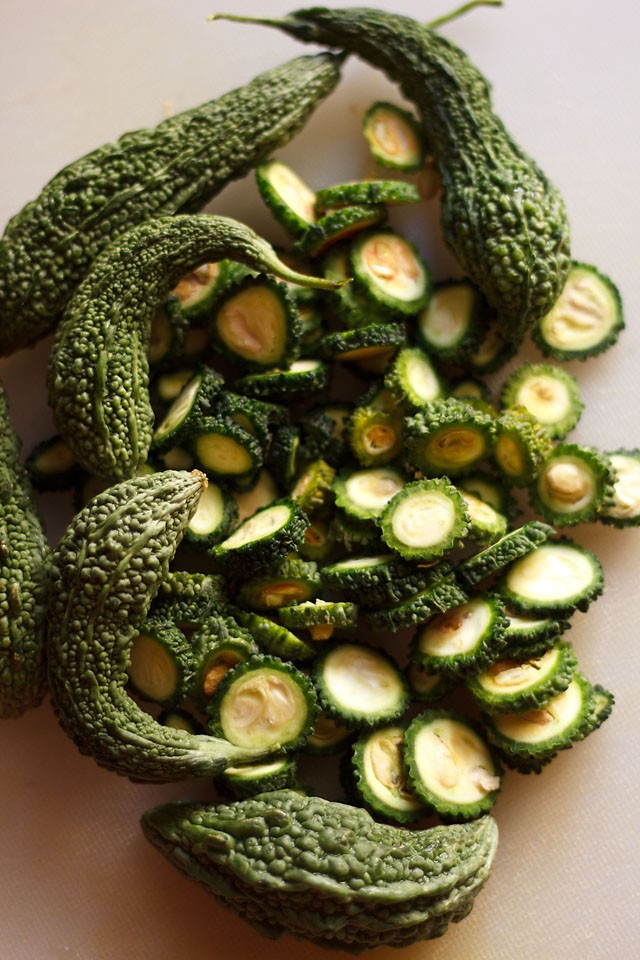 Expert Tips
If you are using karela which is not tender, remove the seeds. The seeds of bitter gourd are considered toxic, so you can remove them before making the recipe.
You can cut down on the bitterness of the karela by keeping the pieces in salted water for about 20 to 30 minutes. Then, rinse them well in fresh water, pat dry with a kitchen towel and use. Alternatively mix some salt with the bitter gourd slices. Let sit for 15 minutes. Later with your fingers or palms, gently squeeze the bitter juices from the slices. Rinse in water and drain all of the water. Pat dry and use in the recipe.
If you want a tangier taste in the Karela Fry recipe, then increase the quantity of dried mango powder accordingly.
Garnishing the Karela Fry with coriander leaves is optional. You can skip it.
Make this recipe gluten-free by skipping the asafoetida (hing).
You can double or triple this recipe.
FAQs
Is it necessary to peel the skin of the bitter gourd?
It is not necessary to peel the skin of the karela or bitter gourd, as it is edible. However, you can scrape some skin or peel it if you wish to. This will reduce the rough outer texture.
How do I get rid of the bitterness from the bitter gourd in this recipe?
You can add the bitter gourd slices in salted water and keep it for about 15 to 20 minutes. Then, rinse the pieces well in fresh water, pat dry and use.

Or choose to mix some salt with the slices and set aside for 15 minutes. Squeeze the bitter juice gently from the slices and rinse them in fresh water. Dry with a clean kitchen napkin before using.
What can serve this Karela Fry with?
You can serve this Karela Fry with dal-rice, sambar-rice, rasam-rice or even kadhi-rice. This is also a great munchie by itself.
Is the Karela Fry recipe vegan and gluten free?
The Karela Fry recipe is vegan. In order to make it gluten free too, don't add the asafoetida (hing).
Should I remove the seeds of the karela in this recipe?
Bitter gourd seeds are considered to be toxic and can be removed if you prefer. I usually remove the seeds if they are mature. If there are small and tender seeds, I keep them. We eat karela once in a while, so I do not remove the tender seeds. If you eat karela often, then do remove the seeds.
Can I substitute the karela with any other vegetable in this pavakkai fry recipe?
Yes, you can use potato, brinjal, lady finger, etc. in place of karela in this recipe.
More Vegetable Recipes To Try!
Please be sure to rate the recipe in the recipe card or leave a comment below if you have made it. For more vegetarian inspirations, Sign Up for my emails or follow me on Instagram, Youtube, Facebook, Pinterest or Twitter.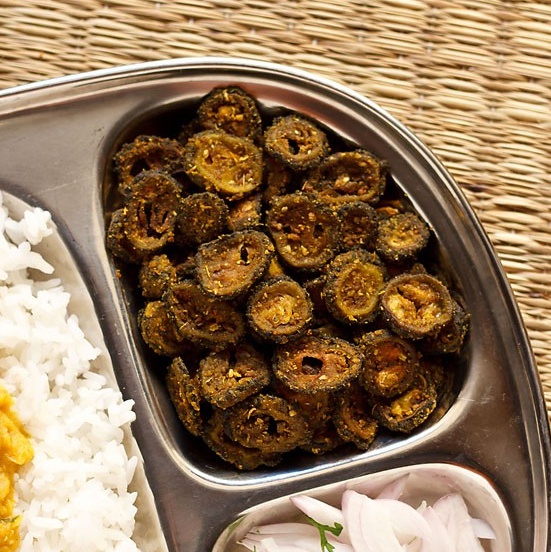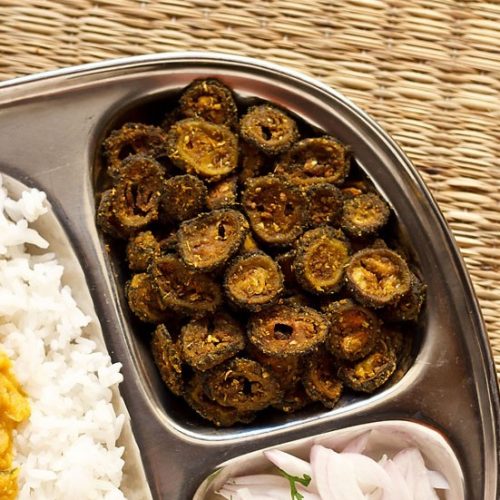 Karela Fry | Bitter Gourd Fry | Kakarakaya Fry
Karela Fry or Bitter Gourd Fry or Kakarakaya Fry is an easy and quick recipe of sauteed and spiced tangy bitter gourd or bitter melon made with ground spices, gram flour and dry mango powder.
250

gram

bitter gourd

(karela or kakarakaya or bitter melon) – tender and fresh

¼

teaspoon

turmeric powder

(ground turmeric)

½

teaspoon

red chili powder

or cayenne pepper

½

teaspoon

cumin powder

(ground cumin)

1

teaspoon

coriander powder

(ground coriander)

1

teaspoon

fennel powder

(ground fennel)

¼

teaspoon

Garam Masala

1

pinch

asafoetida

(hing), optional

½ or 1

teaspoon

dried mango powder

(amchur powder)

1

tablespoon

gram flour

(besan) or chickpea flour

2

tablespoons

oil

salt

as required
Instructions
Preparation
Rinse the bitter gourd for a few times in water first.

Slice the karela into thin round pieces.

You can lightly peel the skin if you want, before you slice them. But if the peels are very thick, then remove them.
Making karela fry
Heat oil in a frying pan or kadai.

Add the karela slices and sauté on low or medium-low heat till the slices are lightly browned. This takes about 8 to minutes, keep stirring in between.

Now, add all the dry ground spice powders and salt.

Stir and sauté for 2 to 3 minutes more on low heat.

Lastly, add the besan (gram flour) and sauté for some minutes or till the rawness of the besan goes away. This takes about 3 to 4 minutes.

Garnish with coriander leaves.

Serve Karela Fry with dal-rice, kadhi-rice or sambar-rice.
Notes
To reduce the bitterness, rub some salt in the bitter gourd slices evenly. Set aside for 10 to 15 minutes and then gently squeeze the slices to extract the bitter juice. Later rinse the slices in fresh water. Drain very well, dry with a kitchen towel and follow the recipe.
Bitter gourds seeds are considered to be toxic, so you can opt to remove them before using in the recipe.
Use fresh, tender, green bitter gourd and not the ones which are wilted or ripened. The ripened ones will be yellow colored inside with red seeds.
The tang from the dry mango powder helps in balancing the bitter taste. If you do not have mango powder, drizzle some lemon juice once the bitter gourd slices are cooked.
Adjust the ground spices and seasonings depending on your taste preferences.

This recipe can be halved or doubled or tripled easily.
Nutrition Info (Approximate Values)
Nutrition Facts
Karela Fry | Bitter Gourd Fry | Kakarakaya Fry
Amount Per Serving
Calories 121
Calories from Fat 90
% Daily Value*
Fat 10g15%
Sodium 13mg1%
Potassium 299mg9%
Carbohydrates 8g3%
Protein 2g4%
Vitamin A 500IU10%
Vitamin B1 (Thiamine) 1mg67%
Vitamin B2 (Riboflavin) 1mg59%
Vitamin B3 (Niacin) 1mg5%
Vitamin B6 1mg50%
Vitamin C 70mg85%
Vitamin E 4mg27%
Vitamin K 2µg2%
Calcium 32mg3%
Vitamin B9 (Folate) 71µg18%
Iron 1mg6%
Magnesium 24mg6%
Phosphorus 41mg4%
Zinc 1mg7%
* Percent Daily Values are based on a 2000 calorie diet.
This Bitter Gourd Fry post from the archives first published in June 2013 has been republished and updated on 30 April 2022.