carrot sambharo recipe – a simple gujarati carrot salad recipe.
so apart from the simplicity of this dish what is the difference between this and other carrot salads? more so when there umpteen carrot salad recipes……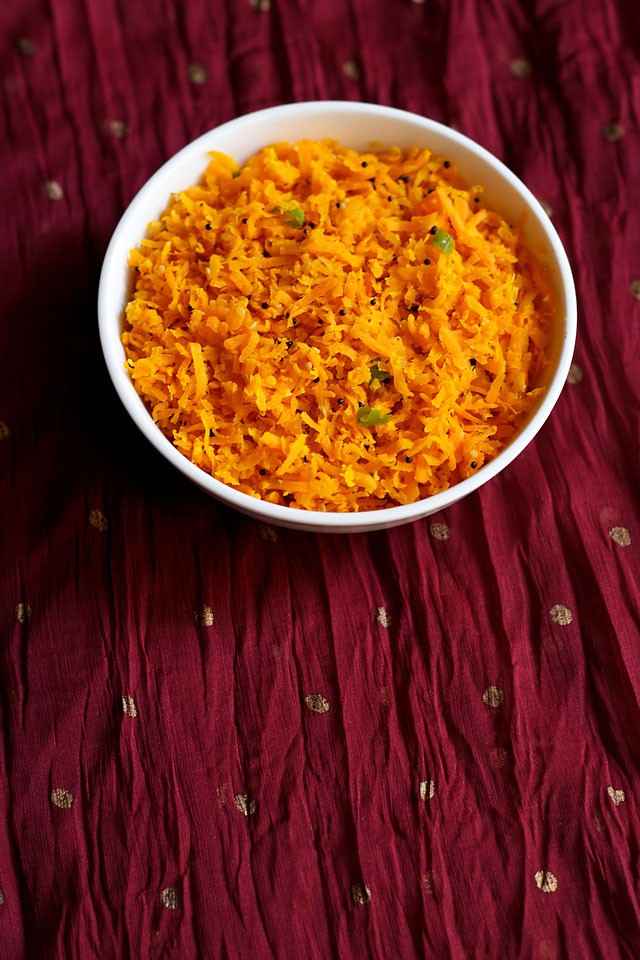 the difference is in the way, the salad is made and its taste and flavors. this is a stir fried salad where the carrots are sauted with mustard and green chilies. green chilies add some heat and spice to the salad. the flavors of fried mustard seeds also enhances the taste.
the plus point of this recipe is the crunchiness of the carrots. they are cooked but not completely. and this is what gives a lot of texture and bite in the dish.
this is a warm carrot salad that is often served as an accompaniment with main meals and even with snacks like dhokla, fafda and besan papdi (my international readers, please excuse. apart from dhokla, i don't know how to translate fafda and besan papdi). i make this salad with cabbage as well. also can be made with raw papaya.
remembering the times when a gujarati mithai shop a few kms from our home in mumbai, would serve fafdas and papaya sambharo. so in the mornings when we would go for walks, most of the times i would pick up the fafdas and piping hot jalebis for morning breakfast.
now after burning calories walking so much, i need some energy to burn the calories for the next day ;-). munching the fafdas with the papaya sambharo was always a treat for me. then having jalebi and some ginger chai… wah wah. i miss those days.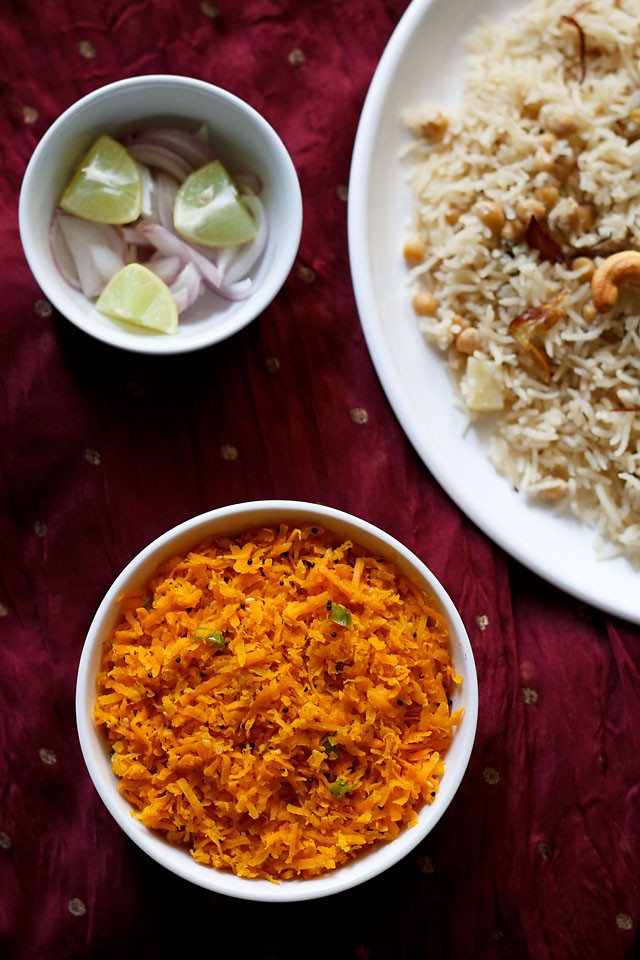 sambharo can also be had as an accompaniment with dhokla too. usually i make sambharo and serve with rice-dal or sometimes pulao. you can also make sambharo with both cabbage and carrots. even green bell pepper can be added if you prefer. i avoid adding green bell pepper as i have picky eaters at home.
when making the sambharo with carrots or cabbage, i usually grate the carrots and shred the cabbage finely. it takes less time to cook them. we like prefer this way. however, you can finely chop the carrots or cabbage.
we all know carrots are rich in vitamin A. so this recipe is a good way to include carrots in your diet apart from the various excellent recipes we make with them. a few of them on the blog are carrot halwa, carrot barfi and carrot rice. yes… less carrot recipes, since i always add them to pulaos, salads or juice them.
if you are looking for more salad recipes then do check veggie salad with nuts, moong sprouts salad, moong dal kosambari and sweet corn salad.
gujarati carrot salad recipe below: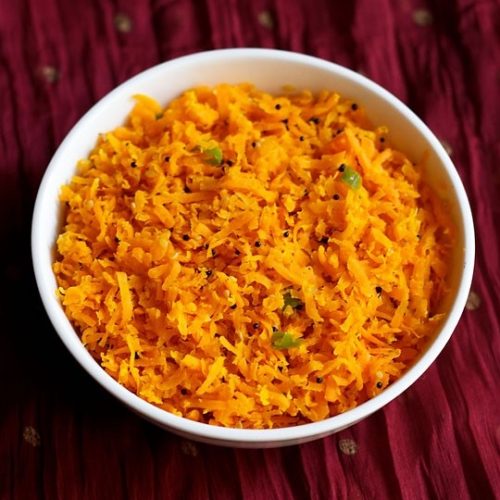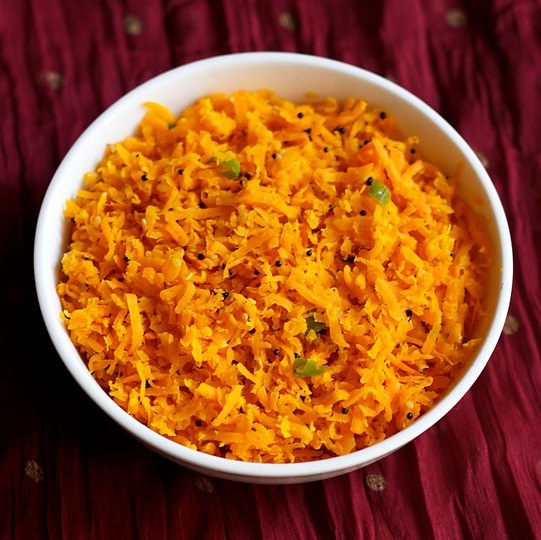 carrot salad recipe - gujarati style
carrot sambharo recipe - spiced carrot salad with green chilies from gujarat.
ingredients (1 cup = 250 ml)
4

medium sized carrots

(gajar) - rinsed, peeled and grated

¾ or 1

teaspoon

mustard seeds

(rai)

1

teaspoon

sesame seeds

(til) - optional

2 to 3

teaspoon

oil

1

green chili

(hari mirch), chopped

1 to 2

pinch

turmeric powder

(haldi)

1

pinch

asafoetida

(hing)

few drops of lemon juice

or as required

salt as required
how to make recipe
heat oil. splutter the mustard.

add the sesame seeds and fry for some seconds.

add the chopped green chili and fry for few seconds.

spinkle the turmeric powder & asafoetida and stir.

now add the grated carrots. season with salt.

stir and saute for 3-4 minutes on a low flame.

the carrots should have crunch and crispiness in them and not be cooked completely.
recipe notes
if making for children then don't add chilies.
About
i started vegrecipesofindia.com in feb 2009. it is a pure vegetarian blog and shares recipes with step by step photos.

i am passionate about cooking from childhood and learnt cooking from my elders. a home science degree course further enhanced my cooking and baking skills professionally along with an internship in a five star hotel. i am trained both in mainstream indian as well as international cuisines.

all the 1800 recipes posted on blog are tried and tested and made healthy wherever possible. the recipes are detailed and with step by step pictures that will easily help you to make delicious and tasty vegetarian food.