If you're on the hunt for a delicious, homemade vegetarian burger, look no further. My Aloo Tikki Burger recipe is a home run! Crisp golden potato patties are sandwiched between burger buns and then topped with veggies and slathered with two chutneys for a handheld meal that is a fan favorite.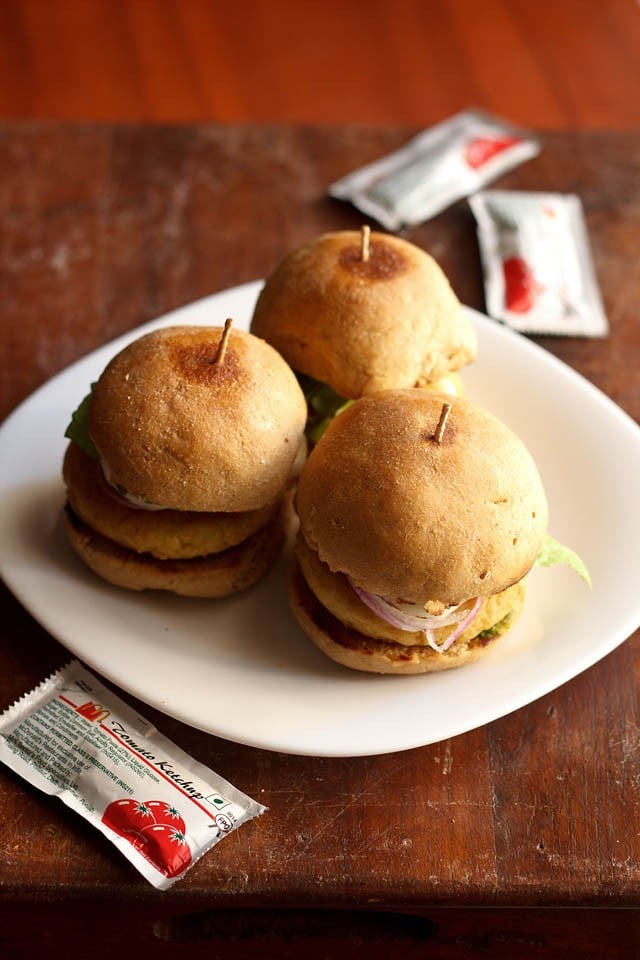 About Aloo Tikki Burger
For my readers here in India, I'm sure you're already aware of the well-known McDonald's McAloo Tikki Burger. I'm here to tell you, this is not what I'm trying to replicate!
Instead, this recipe is a nod to the popular and traditional North Indian street food that is often sold on the streets of Delhi and Gurgaon.
We used to love gorging on these Aloo Tikki Burgers so much that we would visit the street vendor near our home in Delhi several times a week.
Having warm aloo tikki sandwiched between squishy-soft buttered buns topped with multiple chutneys and sliced veggies and served alongside Dahi Papdi Chaat was a perfect weeknight.
Nowadays, we try to visit the street vendors only on rare occasions. When street food snacks are made at home, we can make them healthy for our family while keeping them extra delicious!
I made a few tweaks to make this Aloo Tikki Burger a bit healthier than the ones from our night adventures.
First, I opted to use homemade whole wheat buns for a nice dose of fiber. I also add lettuce and cucumber to mine, because we can all use more fresh vegetables in our life, right? Finally, I pan fry the potato patties with just a hint of oil rather than deep frying them.
So, this recipe for Aloo Tikki Burgers comes very close to the ones served by street food vendors, but without all the extra guilt.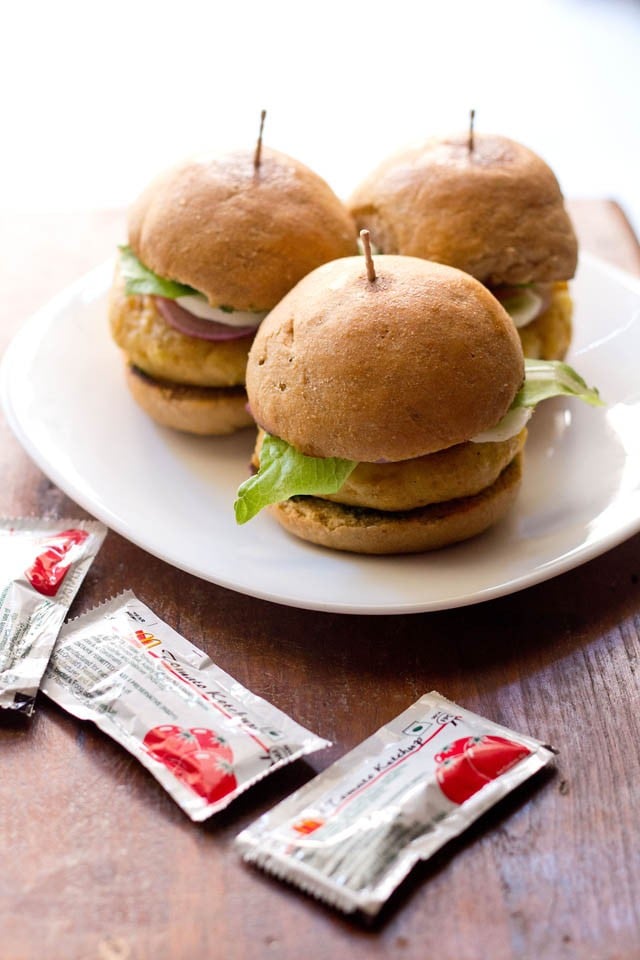 To make these burgers easier to attain on a weeknight, you can make the chutneys ahead of time and store them in the fridge. While you can opt to make your own whole wheat burgers, there is no shame in getting them ready-made from the store.
The buns I made for this photo shoot ended up a bit dense, so I won't post the recipe until I can perfect it.
If lettuce leaves are not available, feel free to add blanched cabbage leaves instead. You can also add grated carrots and/or beetroot as a topping on the patties, or really any veggie that you like. Tomatoes, sliced onions, and lettuce are just the beginning!
It is best to use both the sweet Tamarind Chutney and savory Coriander Chutney to get a wide range of flavors, but simply using one kind of chutney will also do.
I did not have the sweet chaat chutney, hence I just made the coriander chutney this time around. I can tell you that it did not disappoint.
If you want, you can even make some French Fries to serve with the burgers. After all, burgers and fries are a match for the ages. For a healthier option, you can bake, air-fry, or roast the french fries.
If you don't have onions, then avoid adding them as burger toppings. This potato patties recipe is a slightly different version than the Aloo Tikki recipe I have previously posted. You can use this recipe or the other one posted before. Both are equally good.
How to Make Aloo Tikki Burger
Making the popular North Indian street food known as Aloo Tikki Burgers is easier than you might think. Here's how it's done:
Make Tikki (Potato Patties)
1: Peel and mash 2 medium-sized boiled potatoes with a potato masher or with the back of a wooden spoon or a fork.
Do this when the potatoes are still warm, as it is easier to mash them when they are hot. Let the mashed potatoes cool and then proceed to the next step.
The potatoes can be cooked in a stovetop pressure cooker, steamer pot or the Instant Pot adding water as needed.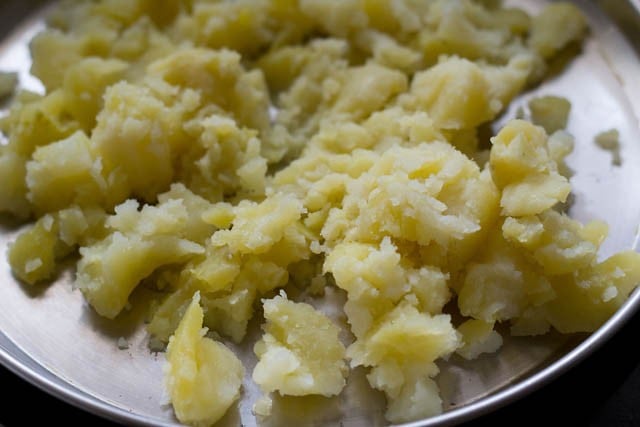 2: Add all the ground spice powders and seasonings listed below:
¼ teaspoon red chili powder
½ teaspoon coriander powder (ground coriander)
½ teaspoon cumin powder
1 teaspoon chaat masala
salt as required
Mix the ground spices and seasonings thoroughly with the mashed potatoes.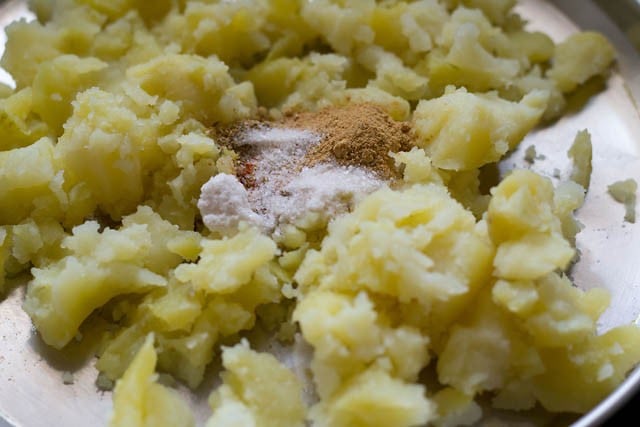 3: Add 2 tablespoons of rice flour or cornstarch as a binder. I used rice flour.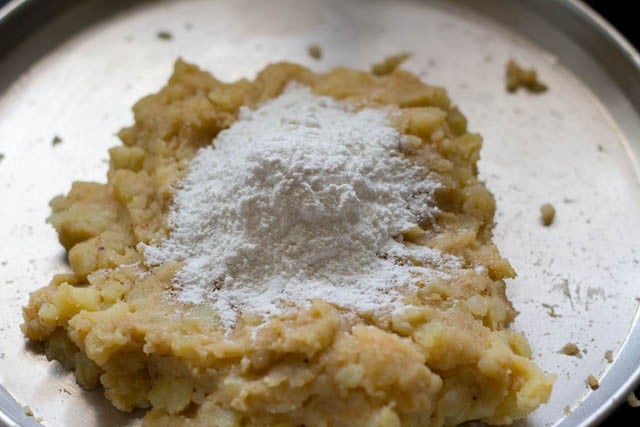 4: Mix very well.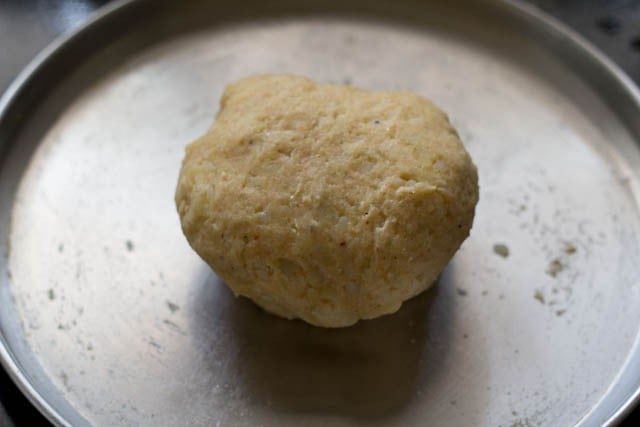 5: Shape into flat, round patties.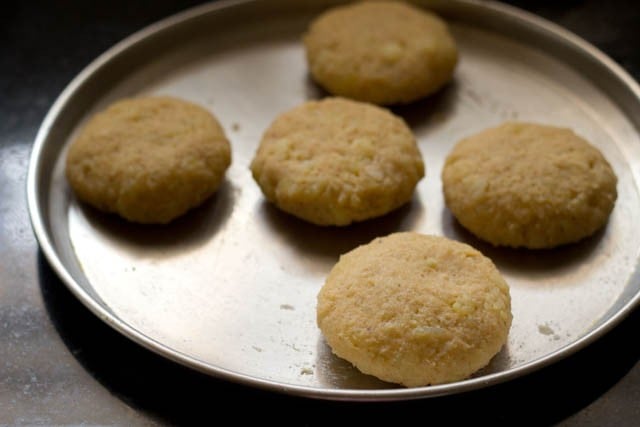 6: Heat about a tablespoon of oil on a flat tava or frying pan or skillet. Place the potato tikki on the pan.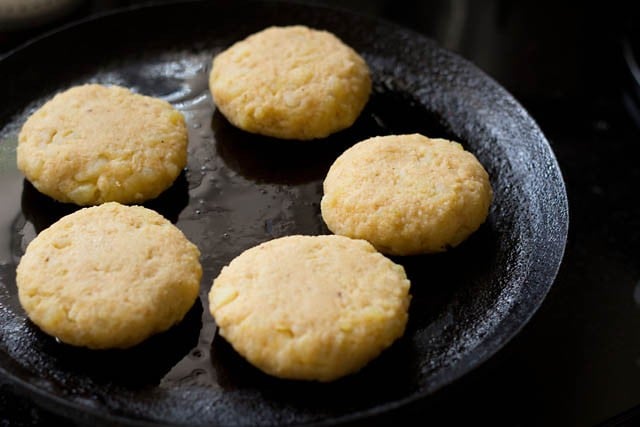 7: Whilst the patties are being pan-fried, slice 1 small onion, 1 small tomato and 1 small cucumber.
Also make sure to thoroughly 4 to 5 lettuce. Let them dry naturally or you can opt to pat dry with a clean kitchen towel or use a salad spinner.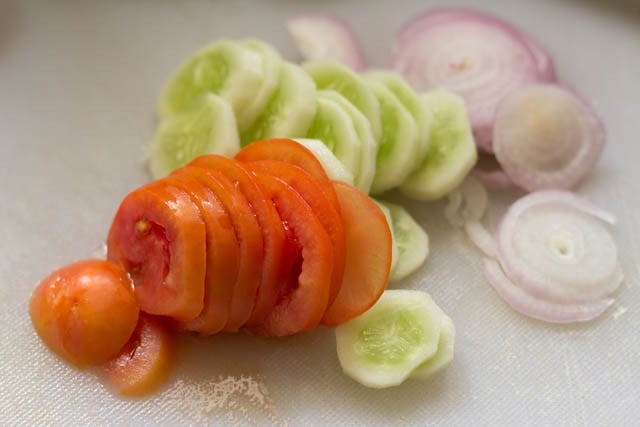 8: When one side golden and crisp, turn over with a spatula and fry the second side until crispy and golden. Here are the tikkis after they were browned on both sides.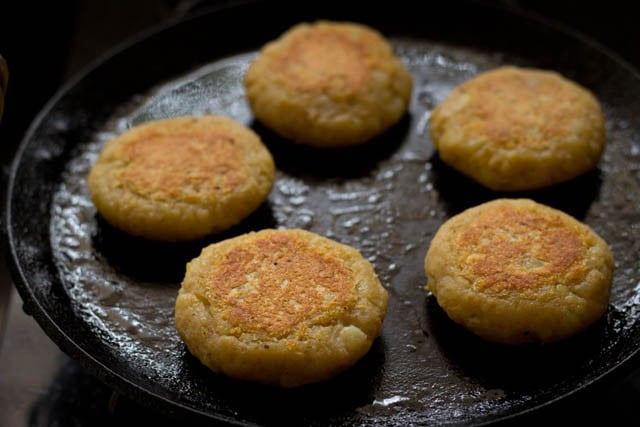 Assemble Aloo Tikki Burger
9: Move the tikkis towards the edge of the pan so that they stay warm while you toast your buns. Smear a bit of oil or butter in the center and lightly roast the sliced bread buns.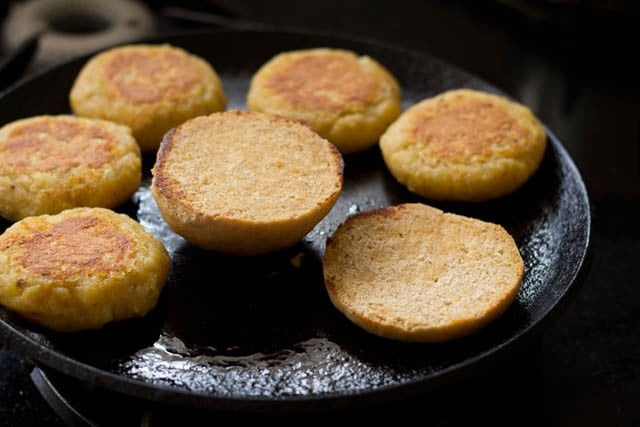 10: Apply the Cilantro Mint Chutney or Coriander Chutney on one half of the bun, and the sweet tamarind chutney on the other.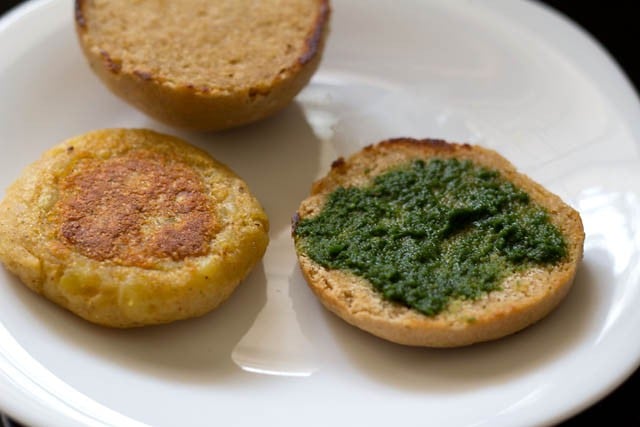 11: Place the potato tikki on one halve of the bun.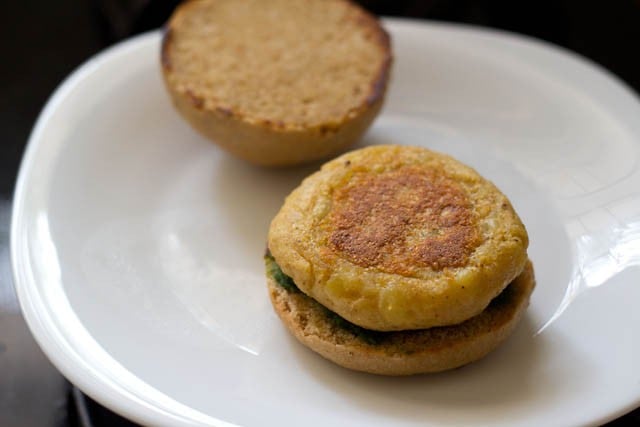 12: Top with the sliced onions, tomatoes, and cucumber.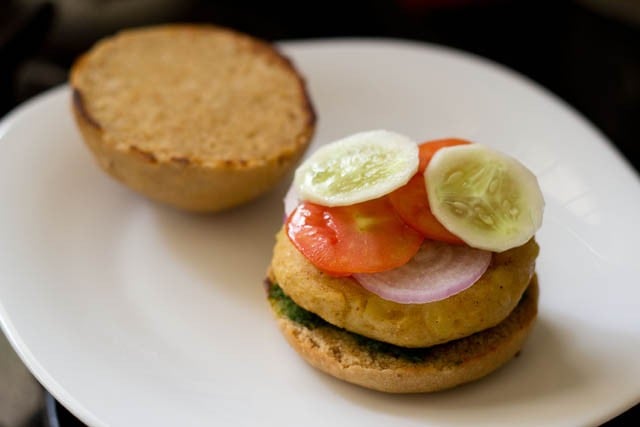 13: Sprinkle with some chaat masala.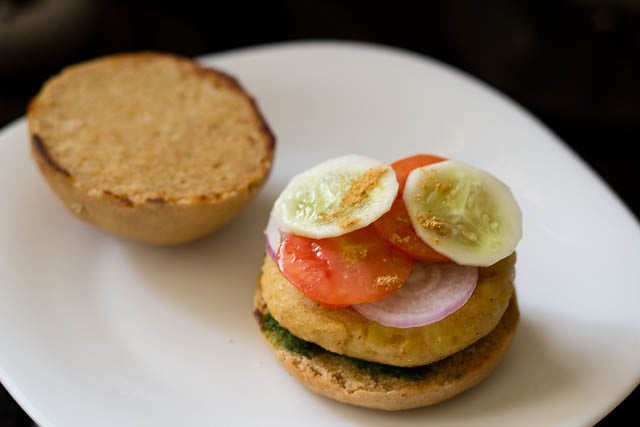 14: Place the lettuce on top.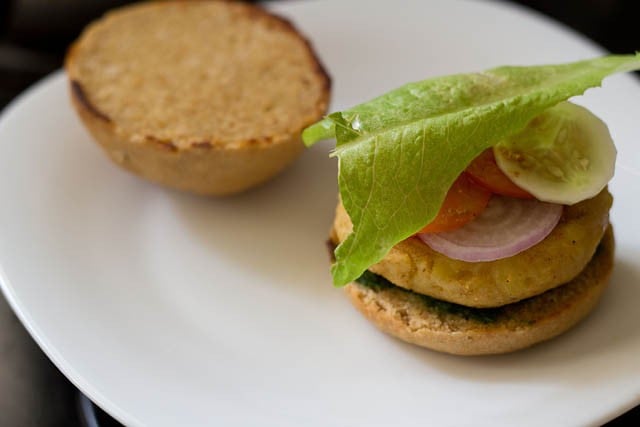 15: If you haven't already, apply the coriander chutney on the other slice. If you have sweet chaat chutney or tamarind chutney, you can apply this chutney on the other slice.
Another variation is to apply both the chutneys on both the slices along with some butter or Mayonnaise.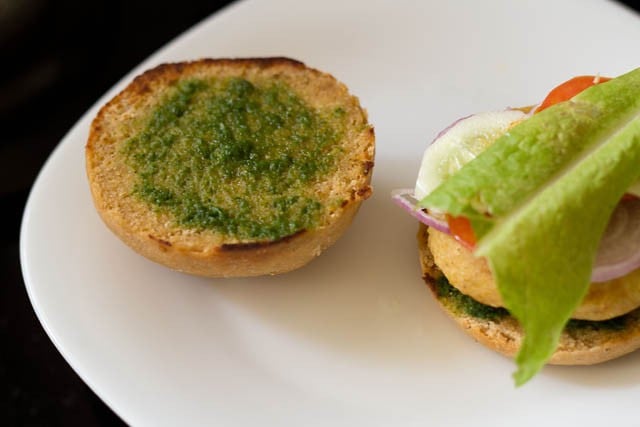 16: Place the top bun atop the lettuce to make a delicious burger. Insert a toothpick in the center of the burger to hold it steady.
You can also place a glazed cherry inserted in the toothpick in the center if you prefer.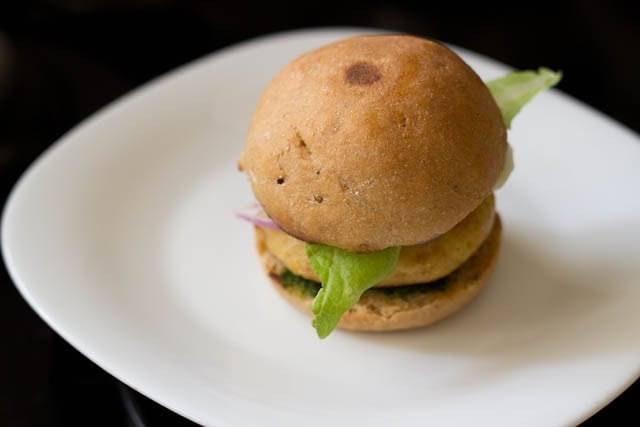 17: Repeat, making all Aloo Tikki Burgers this way. Serve Aloo Tikki Burger with tomato sauce or Ketchup and some coriander chutney or sweet chaat chutney by the side. This is your burger, so serve it just the way you like!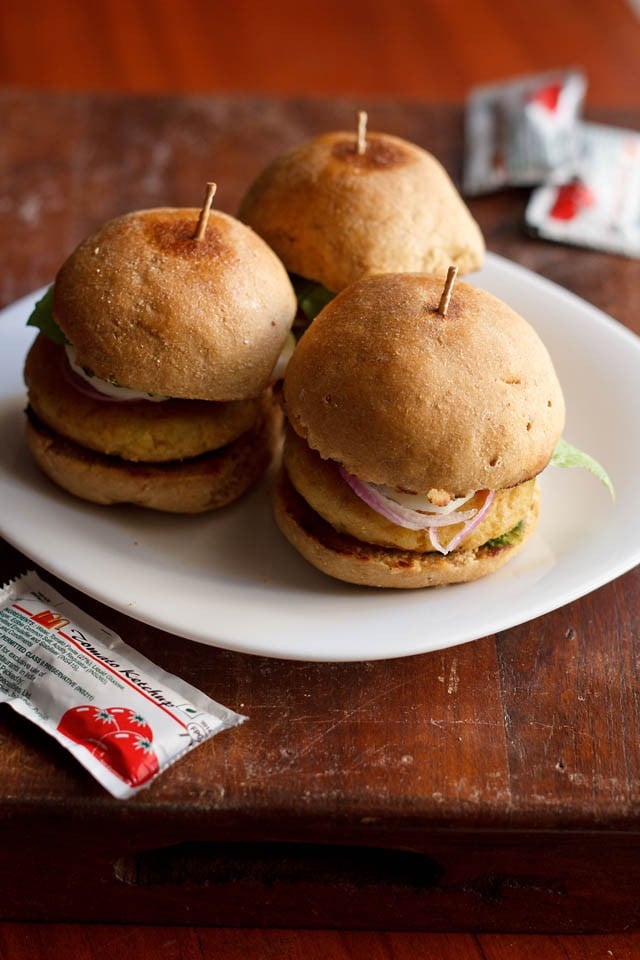 FAQs
Why do my aloo tikki patties have a taste of cornflour?
Ooops, sounds like you might've tried cooking them too quickly. Make sure to set your tawa or frying pan on medium-low heat, then cook until the patties are deeply browned on both sides. By this point, the internal temperature should be perfect and will cook away the raw flour flavor.
How do I get my potato patties to have a more crispy exterior?
To get that crispy outer coating, you need to crumb coat the tikki by first dipping it in a all-purpose flour paste or a gram flour & rice flour paste and then coating with bread crumbs.

To get even more crispness, this method of crumb coating is done twice. You can check this Veg Cutlet Recipe, where the patties are crisper, to get more inspiration.
Can I turn these into cheeseburgers?
Sure! Potatoes and cheese pair very well together. Feel free to add any melty cheese of your choice – havarti, muenster, pepper jack, mozzarella, cheddar, or even American cheese would all go well.
Please be sure to rate the recipe in the recipe card or leave a comment below if you have made it. For more vegetarian inspirations, Sign Up for my emails or follow me on Instagram, Youtube, Facebook, Pinterest or Twitter.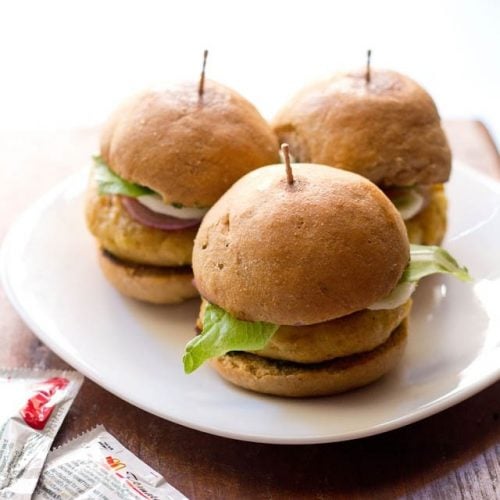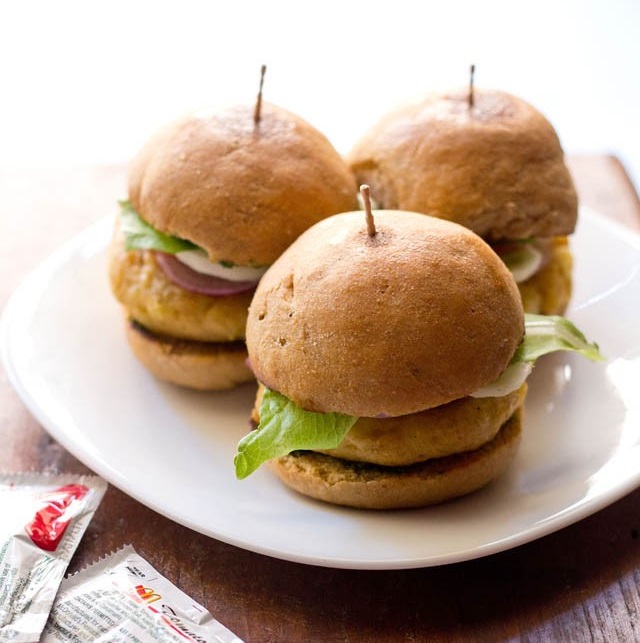 Aloo Tikki Burger (Potato Burger)
Aloo tikki burger recipe where crisp golden potato patties are sandwiched in burger buns and then topped with fresh raw veggies and spiced with chutneys. Good to look at and good to eat too.
Servings
6
Aloo Tikki Burger
Ingredients
For potato tikki
2

potatoes

– medium-sized

¼

teaspoon

red chilli powder

or cayenne pepper

½

teaspoon

Coriander Powder

(ground coriander)

½

teaspoon

cumin powder

(ground cumin)

1

teaspoon

chaat masala

1.5

tablespoon

Rice Flour

or cornflour (cornstarch)

1 or 2

tablespoons

oil

or as needed, for pan-frying the potato patties

black salt

or rock salt (sendha namak) as required
Buns & toppings
6

burger buns

1

tomato

(small-sized), thinly sliced

1

onion

(small-sized), thinly sliced

1

cucumber

(small-sized), thinly sliced

4 to 5

lettuce leaves

chopped if large – or kept whole if small

1

teaspoon

chaat masala

or as required

Coriander Chutney

as required

Tamarind Chutney

as required

oil

or butter for toasting the buns, as needed
Instructions
Making potato patties
Boil the potatoes in a stovetop pressure cooker or steamer or Instant Pot till they become soft and are completely cooked.

Peel and mash them when they are warm. Let the potatoes cool at room temperature.

When the potatoes are cooled, add all the ground spice powders and salt and mix well.

Add the rice flour or cornstarch and again mix well.

Shape into round patties and pan fry the tikkis till they are crisp and golden from both sides.
Making aloo tikki burger
Slice the burger buns horizontally into two equal halves. Pan fry in a bit of oil or butter till lightly crisp. Don't toast them.

Apply the green chutney or both the green chutney and sweet tamarind chutney on the bun halves.

You can even spread some butter first before applying the chutney.

Place the aloo tikki on one halve of the bun.

Top with the sliced vegetables and lettuce. Sprinkle some chaat masala on the veggies.

Cover with the other halve of the bun. Insert a toothpick on the burger.

Make all the burgers this way.

Serve Aloo Tikki Burger immediately accompanied with french fries, coriander chutney or tomato ketchup.
Notes
Pan fry the potato patties on a medium-low to medium heat, so that they are evenly golden and crisp and well-cooked. If the patties remain undercooked, the raw taste of rice flour or corn starch will be felt.
You can pan-fry the patties in ghee if you prefer.
Adjust the seasonings according to your taste preferences. You can also add herbs like coriander leaves or mint leaves to the patties.
Instead of coriander chutney, you could also spread eggless mayonnaise (plain or flavored) on the buns.
Nutrition Info (Approximate Values)
Nutrition Facts
Aloo Tikki Burger (Potato Burger)
Amount Per Serving
Calories 299
Calories from Fat 99
% Daily Value*
Fat 11g17%
Sodium 228mg10%
Potassium 567mg16%
Carbohydrates 43g14%
Protein 7g14%
Vitamin A 1467IU29%
Vitamin B1 (Thiamine) 0.4mg27%
Vitamin B2 (Riboflavin) 0.2mg12%
Vitamin B3 (Niacin) 3mg15%
Vitamin B6 0.3mg15%
Vitamin B12 0.1µg2%
Vitamin C 24mg29%
Vitamin E 4mg27%
Vitamin K 12µg11%
Calcium 96mg10%
Vitamin B9 (Folate) 73µg18%
Iron 3mg17%
Magnesium 45mg11%
Phosphorus 118mg12%
Zinc 1mg7%
* Percent Daily Values are based on a 2000 calorie diet.
This Aloo Tikki Burger recipe from the archives first published on March 2013 has been republished and updated on November 2022.