medu vada recipe with step by step photos – medu vada is one of my favorite snack. medu vada is one snack i loved as a kid and still do. i especially like it dunked in hot sambar with coconut chutney by the side.
whenever we would go to any udipi or kerala restaurants in mumbai, i would order either vada sambar or masala dosa. these two were always on my top list of south indian snacks.
i love all south indian snacks and back with mom and dad, i am having a good time to have my favorite south indian breakfast tiffin snacks like plain dosa, rava dosa, appams and of course my top favorite medu vada.
mom made this for brunch and i happily captured the pics. we had medu vada with the kerala sambar and coconut chutney.
medu vada is one of the easiest snack to make. if you have left over sambar and don't know what to do… just make the medu vadas… dip into the sambar and enjoy…
if there is no sambar, then too you can have the medu vadas with coconut chutney or even with mint coriander chutney or tomato sauce. you could use any dip of your choice… may be even a tahini dip or any cheesy dip will be great…
if you are looking for more south indian snacks then do check urad dal vada, mysore bonda, sweet paniyaram, soft idlis, appam recipe without yeast and upma recipe.
medu vada recipe below: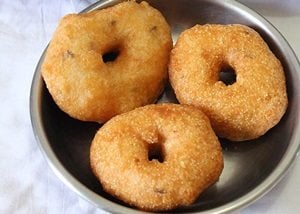 medu vada recipe
medu vada - crisp and fried dough nuts made from black grams.
Course:
Breakfast, snacks
Ingredients (1 cup = 250 ml)
2

cups

urad dal

(husked & split black gram)

1

teaspoon

cumin seeds

1

teaspoon

black peppercorns,

whole or crushed (optional)

1 or 2

sprig

curry leaves,

chopped

1

medium onion,

finely chopped (optional)

1 or 2

green chilies,

chopped

1

tablespoon

finely chopped ginger

⅓

cup

chopped coconut pieces,

optional

few sprigs of coriander leaves,

chopped (optional)

salt to taste

oil for deep frying

some water if needed to grind the batter
How to make recipe
soak the urad dal for 4 hours or overnight.

grind the soaked dal to a smooth batter with little water if required.

if the batter becomes watery, then the instant relief would be to add some semolina or urad dal flour to it. otherwise also you could add some semolina to the batter.

add the spices, herbs, onions and salt.

heat oil.

make the vadas as described in the method explained below in the step by step pics.

gently slid the vadas in to the oil.

the oil should be not very hot, but mediumly hot.

you want the vadas to be cooked from inside.

very hot oil will quickly brown the vadas from outside but they will remain uncooked from inside.

fry all the medu vadas this way till they become evenly browned and crisp.

drain medu vadas on kitchen tissue to remove excess oil.

serve the medu vadas, hot or warm with sambar and coconut chutney.
Recipe Notes
when making medu vada for fasting, then don't add onions.
lets begin step by step medu vada recipe:
1. soak the urad dal /skinned black gram for 4 -5 hours. you could also soak these overnight. drain and grind the urad dal to a smooth batter. avoid adding any water while grinding. in the food processor its easy to grind without water, but in the grinder jar, you will have to add some water. then add very little water. the batter should be fluffy, thick and not liquidy. a quick tip is to add a few drops of batter in a bowl of water. the batter drops should float. if they float and do not get dissolved, then thats the right consistency.
add these herbs and spices to the batter – cumin seeds, black peppercorns, chopped curry leaves, chopped coriander leaves, chopped coconut pieces, chopped green chili, chopped ginger and chopped onions. you can add all of these or a combination of these spices and herbs. add salt to the batter. mix the batter with the herbs, spices and salt. you do not have to ferment the batter. you can use it right away. my mom kept it simple and just added cumin seeds.
2. mom added some semolina to half of the batter and that you can easily make out from the final medu vada pics.
heat oil for deep frying the medu vadas. take a bowl of water. apply some water from the bowl on both your hands. take some batter in your right hand from the bowl. give it a round shape. with your thumb make a hole in the center. you can also use banana leaves or zip loc bags to give the vada its shape.
3. slid the vada into the hot oil. make vadas like these and slid into the oil. as i have mentioned above, you can also use banana leaf to make the vadas. but not everyone has access to a banana leaf or banana plant growing in their garden. so you can use the above technique. if you really do not care about appearance of the donut shape of the medu vada, then just drop spoonfuls of the batter directly in the oil.
4. fry the medu vadas till crisp and golden browned.
5. remove with a slotted spoon and drain medu vadas on kitchen tissues to remove excess oil.
6. fry all the medu vadas this way.  serve medu vada hot or warm with sambar and coconut chutney. enjoy.