One of the most favorite ways of having brinjal, for us Indian, is in the mashed form, which is locally known as bharta. This bharta or mashed version usually has a roasted eggplant/aubergine (done on open fire), which may or may not be further cooked with spices, etc. Mashed brinjal recipes also vary from region to region in India. One such popular and delicious version is the Maharashtrian style Vangyache Bharit – a dish, in which the vangi or brinjal is fire roasted and then cooked with onions, tomatoes, garlic and green chili. This is a vegan and gluten-free recipe too.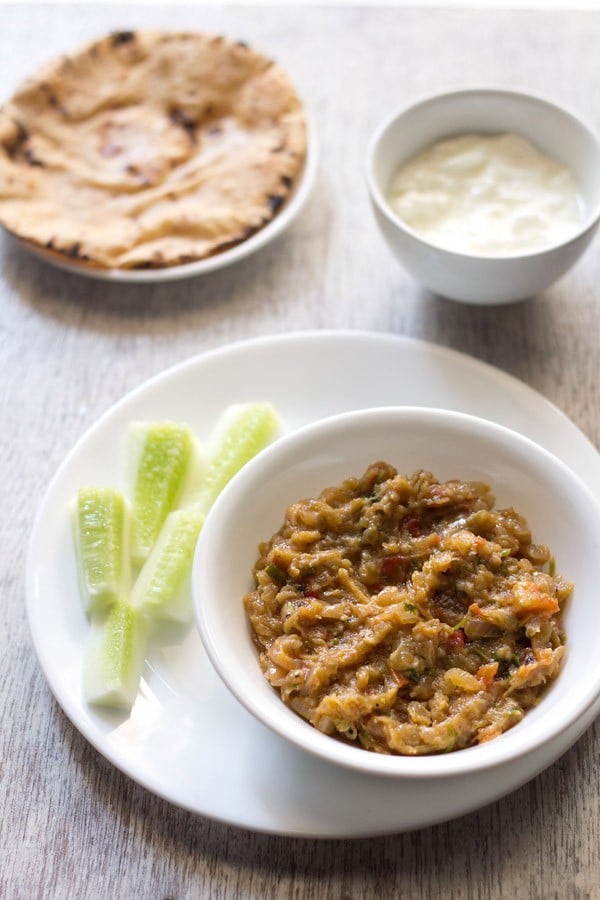 About Vangyache Bharit
Like I mentioned in the beginning, one of the classic Indian recipes with baingan or brinjal (eggplant or aubergine) is the Baingan Bharta. While this link will lead you to a traditional Punjabi style brinjal bharta, there are many other variations in different regional cuisines in India. This Vangyache Bharit is a popular way of making a bharta with aubergines in Maharashtra.
Since 'vangya (plural) or vangi (singular)' is the Marathi term for 'brinjal, eggplant or aubergine,' the dish is rightly named so. In fact, I guess this Maharashtrian baingan specialty is also one of the simplest ways to delightful smoky mashed eggplant dish with the most basic ingredients.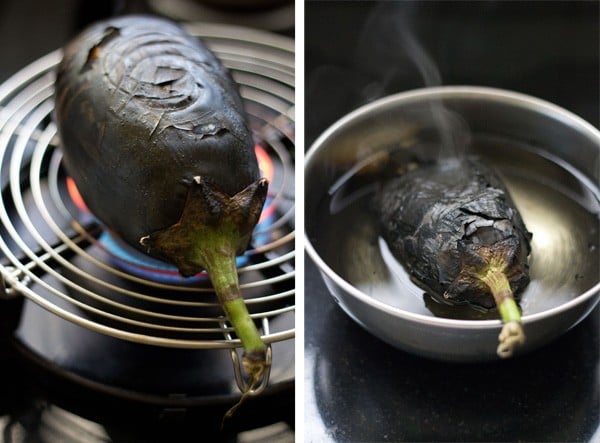 In addition to this Vangyache Bharit from Maharashtrian cuisine, the Bihari style Baingan Chokha is another way of making this mashed preparation.
However, this Bihari style of making the dish just involves roasting the eggplant on open fire. Then, peeling and chopping it, and mixing it with a generous quantity of mustard oil and other aromatics. It is not further cooked.
In addition to the eggplant or brinjal, other ingredients that go in this Vangyache Bharit are tomato, onion, crushed garlic and green chili, and some coriander leaves. You can cook this dish in any neutral flavored oil.
Since litti chokha is a delicacy of Bihari cuisine, I would say, try this Vangyache Bharit once with the littis next time. It would make for a delicious Indian style fusionized dish, full of flavors and textures.
On regular days, you can serve this Maharashtrian style bharit with soft roti, chapati or phulka. It also tastes fantastic with earthy Jowar Roti or Bajra Roti.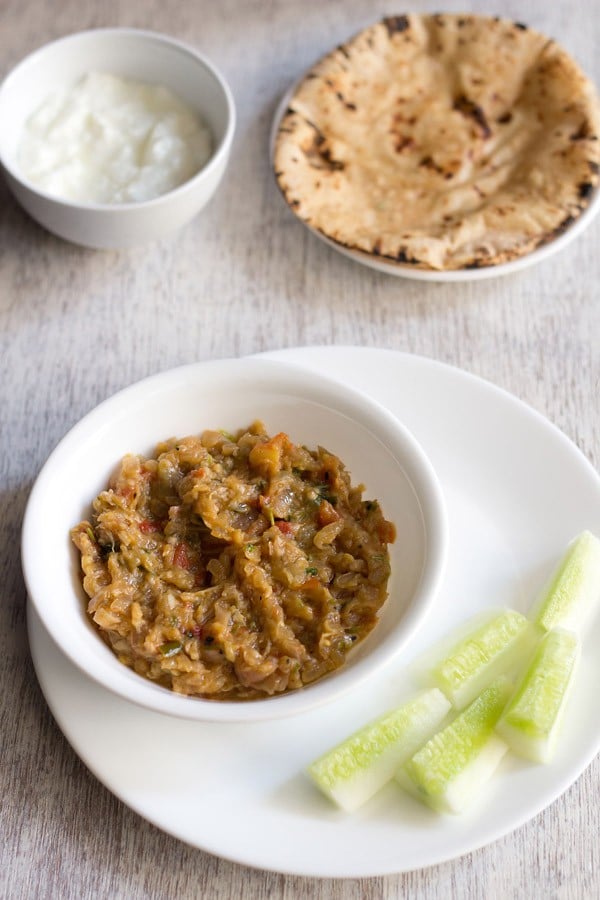 More on Vangi Bharit
Like the North Indian style version, this Vangyache Bharit also calls for roasting the eggplant on fire. It is this fire roasted eggplant that gives a smoky flavor to the dish.
Nowadays, we roast the baingan on stovetop. But during the good old days, the baingan was roasted in a charcoal fire. This really imparted an authentic smoky charcoal flavor to the preparation.
The Vangyache Bharit is also referred to as Vangi Bharit. This particular recipe was shared with me by a Maharashtrian friend of mine. Since then, I have always prepared the dish, this way. As I said earlier, this is a simple and quick recipe with basic ingredients like onions, tomatoes, garlic, green chilies and coriander leaves.
That's really it. No spice powders. So, an easy to make dish as these ingredients are usually stocked in almost all Indian home kitchens. This recipe is made with large aubergines or eggplants (baingan).
Expert Tips
Make sure to use large variety of brinjals or baingan (eggplant/aubergine) for this recipe of Vangyache Bharit.
While roasting the eggplant or baingan, keep rotating it on the stovetop flame, so that it cooks evenly from all sides. If possible, use a heat proof/flame proof metal rack with a handle that you can place on the stovetop and place the eggplant on this rack.
To check the doneness of the roasted brinjal, insert a fork or knife in the center of the vegetable. It should be soft, mushy and cooked from within. If not, then continue roasting.
Reduce the quantity of green chili for a less hot and spicy version of the Vangi Bharit.
You can omit adding the coriander leaves in the dish. However, I would recommend adding it as it only enhances the taste of the Vangyache Bharit.
More Brinjal Recipes To Try!
Please be sure to rate the recipe in the recipe card or leave a comment below if you have made it. For more veetarian inspirations, Sign Up for my emails or follow me on Instagram, Youtube, Facebook, Pinterest or Twitter.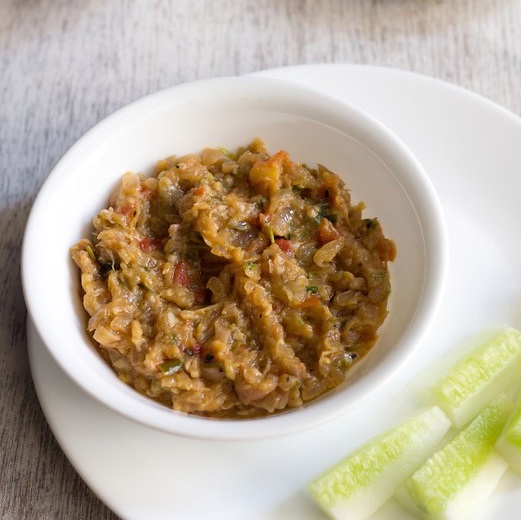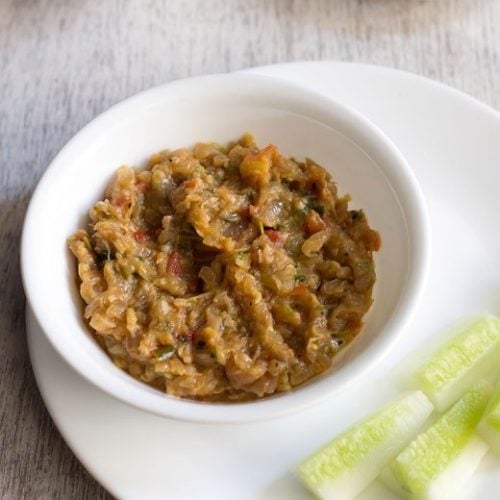 Vangyache Bharit | Vangi Bharit
This Maharashtrian Vangyache Bharit is a smoky flavored preparation of fire-roasted eggplant, mashed and later cooked with onions, tomatoes, garlic and green chilies. Best served with some roti, chapati, paratha or naan.
1

eggplant

– large sized, (vangi or baingan or aubergine or brinjal)

1

tomato

– small to medium-sized, finely chopped

1

onion

– medium to large, finely chopped

4 to 5

garlic cloves

– small to medium-sized + 1 green chilli, crushed coarsely in a mortar-pestle

2

tablespoons

oil

2 to 3

teaspoons

coriander leaves

– chopped

salt

as required
Instructions
Roasting Brinjal
First rinse the brinjal in water first a couple of time. Drain the water.

Give a cut on four sides to the brinjal starting from the bottom and ending up-to an inch away before the stem. Take care not to cut the brinjal completely.

Gently pull apart the cut sides to check for worms or black spots inside the brinjal. If the brinjal is clean, then move further. Or else trash it.

On an open stovetop flame or on top of a grill, roast the eggplant till the skin gets completely charred and the eggplant shrinks a bit in size.

Preferably use a flame proof metal rack with handle and place it on the stovetop burner. Keep the brinjal on top of this metal rack to roast.

Keep on rotating the eggplant with the help of tongs so that it gets cooked evenly and from all sides.

Insert a fork or a knife in the center of the eggplant and check if its turned soft and mushy. If not, then continue with the roasting.

The eggplant should be completely cooked and softened from within.

Remove and immerse the roasted eggplant in a bowl or pan of water.

Let it cool. Then peel the charred skin and discard it. Finely chop the eggplant. It will be mushy.
Making vangyache bharit
Heat oil in a frying pan or a wok (kadai). Add the onions and sauté till translucent on medium-low to medium heat.

Add the crushed garlic and green chilies. Sauté for a few seconds till the raw aroma of garlic goes away.

Add the tomatoes and saute on medium-low to medium heat till the tomatoes become soft and pulpy and the oil starts to leave the side of the mixture.

Add the chopped mashed eggplant. Stir in salt and sauté for 4 to 5 minutes on a low heat.

Lastly add in chopped coriander leaves and stir to mix.

Serve the Vangyache Bharit hot or warm with some chapati or phulka. Also tastes good with bajra or jowar bhakri (flatbreads).
Notes
Remember to use the large variety of dark purple colored eggplant to make this dish. Buy eggplant which feel lighter when you hold it. This means that it has less seeds. 
After roasting, if you find many seeds in the eggplant, you can remove them. 
Reduce the chili for a less hot and spicy version of the vangi bharit.
Scale this recipe to make for more servings.
Nutrition Info (Approximate Values)
Nutrition Facts
Vangyache Bharit | Vangi Bharit
Amount Per Serving
Calories 149
Calories from Fat 90
% Daily Value*
Fat 10g15%
Sodium 395mg17%
Potassium 517mg15%
Carbohydrates 15g5%
Protein 3g6%
Vitamin A 382IU8%
Vitamin B1 (Thiamine) 0.1mg7%
Vitamin B2 (Riboflavin) 0.1mg6%
Vitamin B3 (Niacin) 1mg5%
Vitamin B6 0.3mg15%
Vitamin C 13mg16%
Vitamin E 5mg33%
Vitamin K 10µg10%
Calcium 34mg3%
Vitamin B9 (Folate) 47µg12%
Iron 1mg6%
Magnesium 31mg8%
Phosphorus 63mg6%
Zinc 0.4mg3%
* Percent Daily Values are based on a 2000 calorie diet.
This Vangyache Bharit recipe from the blog archives, first published in January 2014 has been republished and updated on December 2022.