Here's one of the not so popular Shakarkandi or Sweet Potato, which I quite like because it is one of those vegetables that can be naturally turned into many sweet dishes. Just like this Sweet Potato Halwa. It is an easy and quick dessert that you can make for any occasion as well. This Shakarkandi ka Halwa recipe is gluten free and vegan (when not using ghee), and is perfect during vrats/fasts, any other festive celebrations or even when you want to have something sweet as well as nutritious.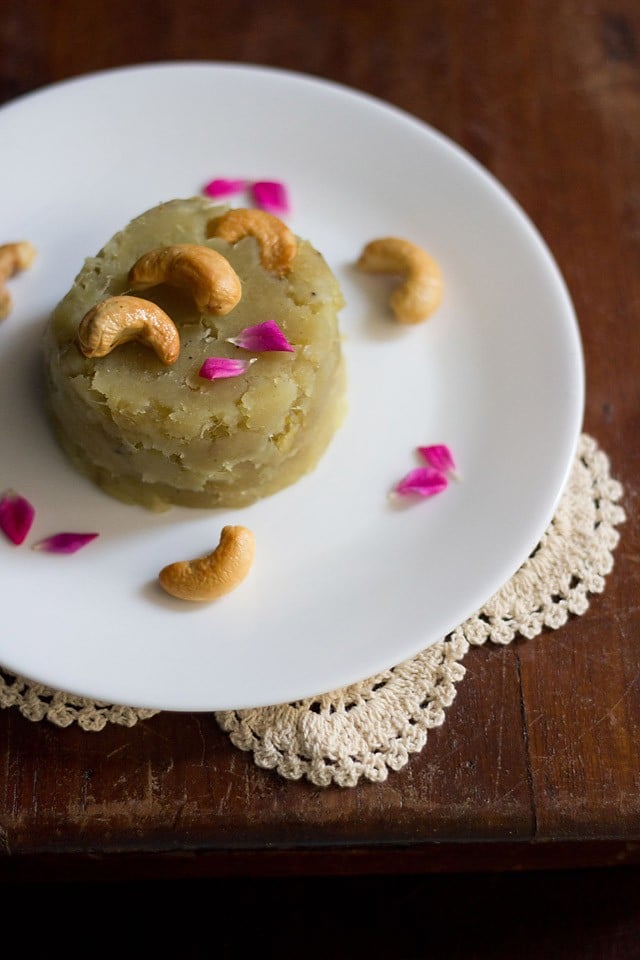 About Sweet Potato Halwa
As it is, Halwa are that category of Indian desserts that are really a fuss-free way of relishing something sweet anytime of the day. Also, be it religious fasting or any other special occasion, the versatile halwa is a good option as it can be made with a lot of different ingredients. For instance, this one here is the Shakarkandi ka Halwa made with sweet potatoes.
Usually, in the Indian cuisine, sweet potatoes is used in making chaats or are popular during the Hindu fasting days. At home, I too always add boiled sweet potatoes in the Fruit Chaat as it gives a nice sweet taste to the chaat. This easy Sweet Potato Chaat is also a famous preparation served as a popular street food outside schools and colleges in North India.
Other than sweet potatoes, all you need to make this halwa are just the usual ingredients from your kitchen like sugar, ghee and some flavorings. Minimal ingredients, simple recipe yet high on flavors and filling too – the Sweet Potato Halwa is quite a win!
More on Shakarkandi Halwa
This Shakarkandi ka Halwa can be prepared in 2 ways; either by grating the raw sweet potatoes or by boiling them first and then mashing. Personally, I will choose the boiled and mashed version. As it is faster than the grating version.
Since I wanted to make this Sweet Potato Halwa a vegan friendly recipe, I used oil in cooking the halwa. But just as in any other sweet dish, especially Indian, ghee works like a wonder in this dessert recipe too. However, using ghee would also mean a richer dish.
This is quite a simple recipe and apart from stirring the halwa, there is not much effort required in the making. This halwa is another way you can consume this lovely, nutrient-rich root veggie. Have it hot, warm or cold, this is your choice.
In addition to this Shakarkandi Halwa recipe and the chaat, there are many dishes that are possible with this amazing vegetable. The famous Bengali sweet 'rangalur puli pithe' is sweet potato dumplings stuffed with a coconut mixture, fried and soaked in a sweet syrup. It is a special during the Makar Sankranti festival.
How about trying the Sweet Potato Gulab Jamun and the Sweet Potato Cutlet, while I work on many other delectable preparations with sweet potatoes. You can even take the shakarkandi cutlets, jazz them up with your favorite chutneys, toppings and turn into a sweet potato cutlet chaat.
How to make Sweet Potato Halwa
Preparation
1. Boil 2 medium to large sweet potatoes (shakarkandi) first. Drain all the water. When they become warm, peel and mash them with a potato masher.
You can cook sweet potatoes in a pressure cooker, in a pan or in the Instant Pot adding water as required. Cook them till they are tender and softened.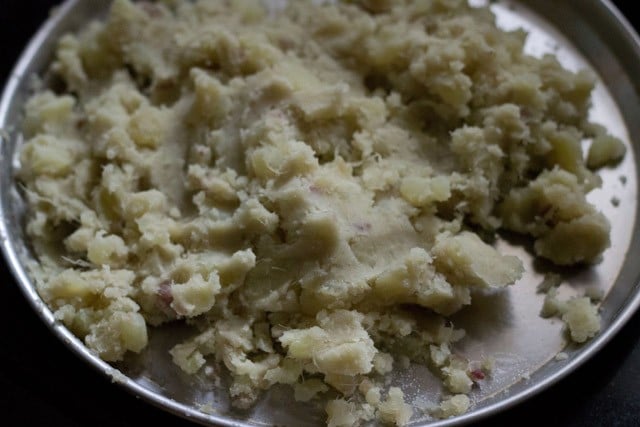 2. Heat 7 to 8 tablespoons oil (any neutral oil) or ghee in a heavy wok (kadai) or pan. First, fry 10 to 12 cashews till golden. Remove on a plate and set aside.
You could also add your preferred nuts instead of cashews.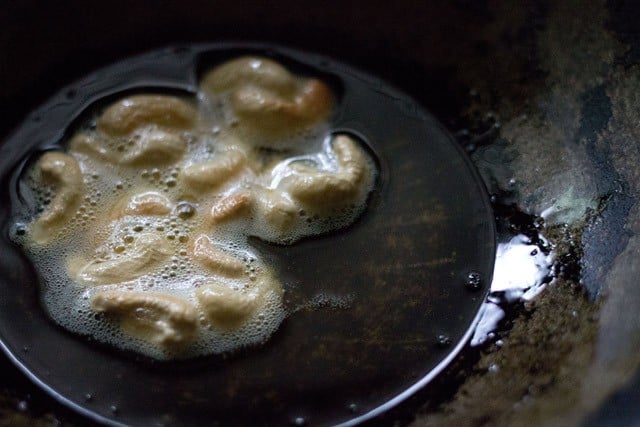 Make Sweet Potato Halwa
3. In the same oil, add the mashed sweet potatoes. Stir well and sauté for 3 to 4 mins on medium-low to medium heat.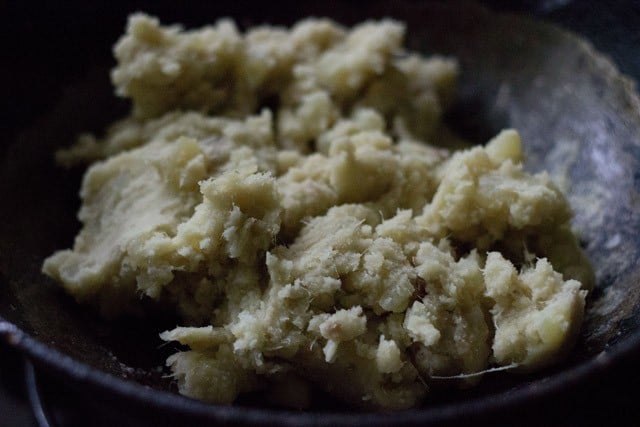 4. Add 4 tablespoons sugar or as required (depends on the sweetness of the sweet potatoes). Mix well and sauté for 4 to 5 minutes on medium-low to medium heat stirring often.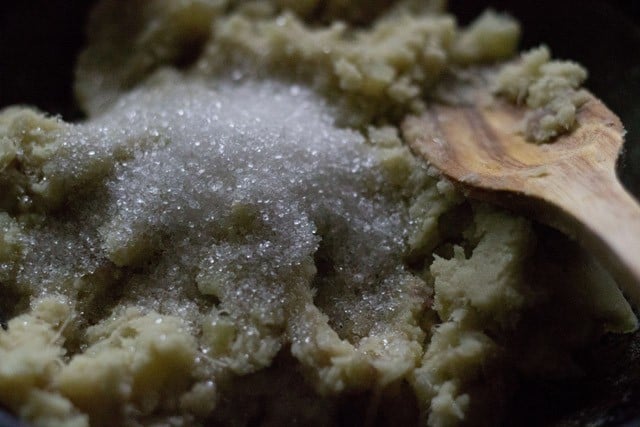 5. After 4 to 5 minutes, add ½ teaspoon cardamom powder (or about 3 to 4 green cardamoms powdered in a mortar-pestle). Stir to mix.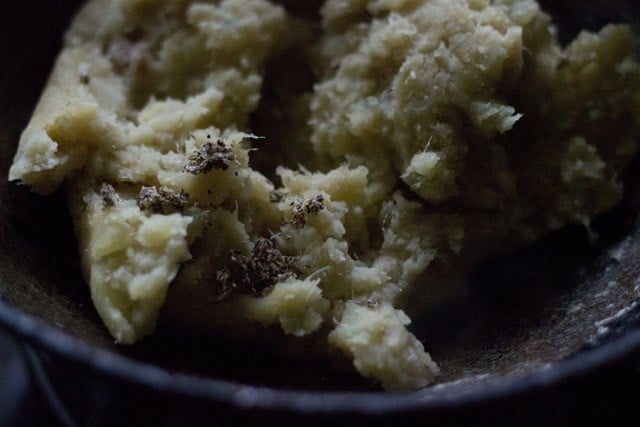 6. Add 12 to 15 strands of saffron and stir. Adding saffron strands are optional.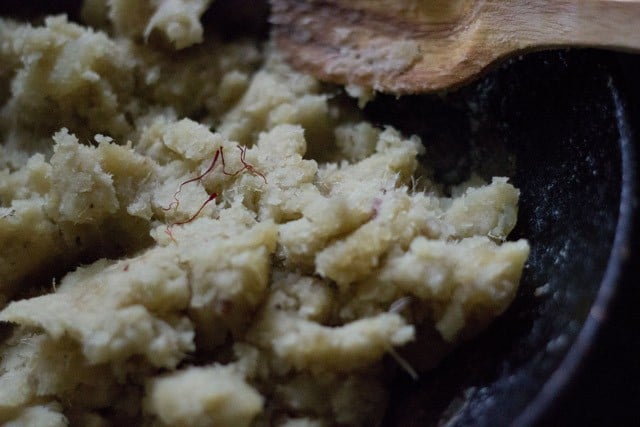 7. Keep stirring and cooking the halwa till the oil or ghee starts to leave the sides of the pan. This will take approximately 10 to 12 minutes.
The mixture would sort of come together and clump. The color of the halwa will also change.
Lastly, add the fried cashews and stir to mix. The texture of the halwa would resemble sooji (semolina) halwa, but the taste will be different.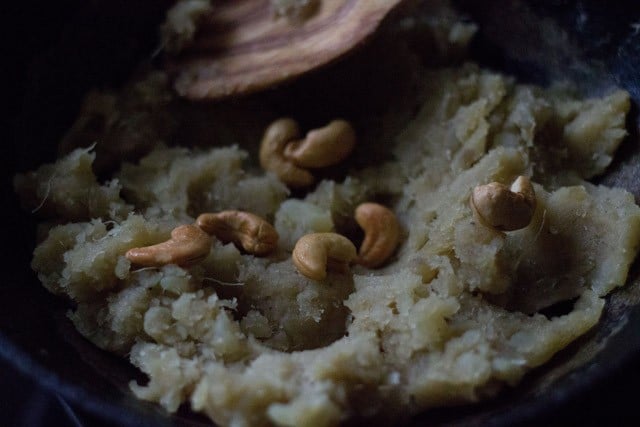 8. Serve Sweet Potato Halwa hot, warm or cold. Keep any leftovers in the fridge. This halwa keeps well for 1 to 2 days in the refrigerator.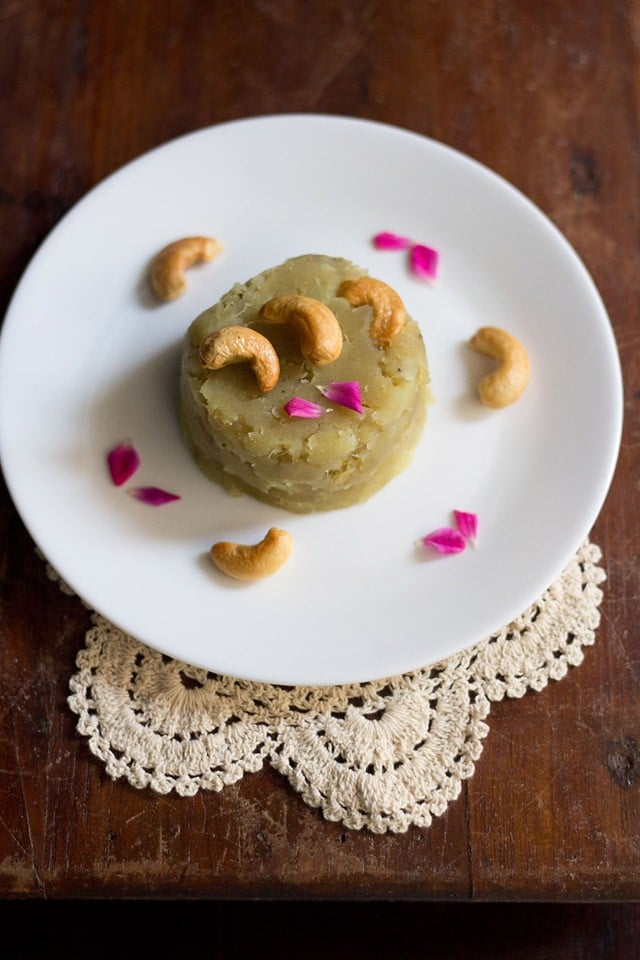 More Halwa Recipes To Try!
Please be sure to rate the recipe in the recipe card or leave a comment below if you have made it. For more vegetarian inspirations, Sign Up for my emails or follow me on Instagram, Youtube, Facebook, Pinterest or Twitter.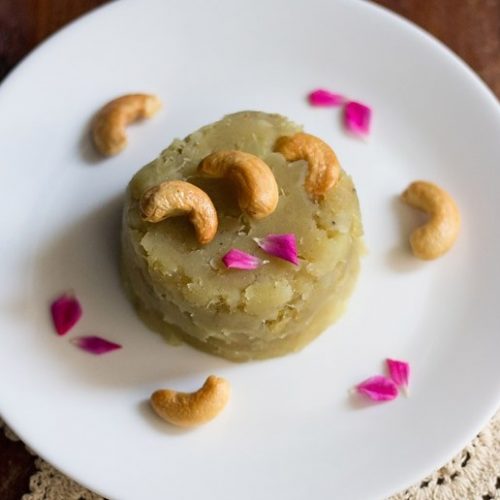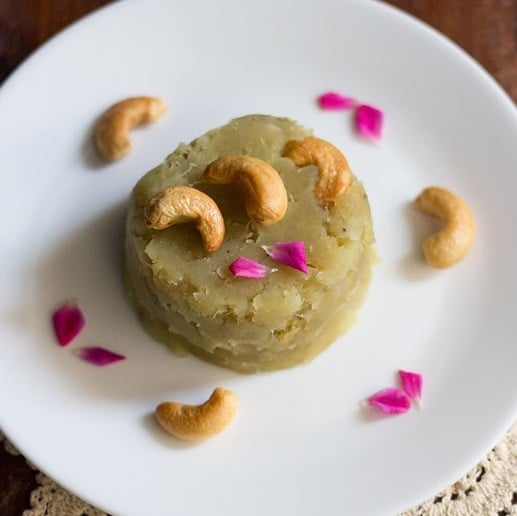 Sweet Potato Halwa (Shakarkandi ka Halwa)
Sweet Potato Halwa also called Shakarkandi ka Halwa in Hindi is a delicious Indian sweet made with boiled and mashed sweet potatoes and scented with cardamom, saffron.
2

sweet potatoes

(shakarkandi), medium to large

4

tablespoons

sugar

or as required, depends on the sweetness of the sweet potatoes

7 to 8

tablespoon

oil

(any neutral oil), can add ghee instead

3 to 4

green cardamoms

crushed or powdered or ½ teaspoon green cardamom powder

12 to 15

strands of

saffron

– optional

10 to 12

cashews
Instructions
Boil the sweet potatoes first adding water as needed in a pot on the stovetop or in a pressure cooker or the Instant Pot.

Drain the water and set aside the cooked sweet potatoes to become warm. The sweet potatoes should be fork tender and softened well after cooking.

When the sweet potatoes become warm, peel and mash them with a potato masher.

Heat oil or ghee in a heavy kadai (wok) or pan.

Remove when they become golden and keep aside.

In the same oil, add the mashed sweet potatoes.

Stir well and sauté for 3 to 4 mins on medium-low to medium heat.

Add sugar. Mix and sauté for 4 to 5 mins on medium-low to medium heat.

Now add cardamom powder and stir to mix.

Add saffron and mix again.

Keep on stirring and cooking the halwa till the oil or ghee starts to leave the sides of halwa. This will take approx. 10 to 12 minutes on a medium-low to medium heat.

Lastly add the fried cashew nuts and stir again.

Serve sweet potato halwa hot, warm or cold.
Notes
I have used oil in making the halwa, however you can use ghee too.
Scale the recipe to make for a smaller serving or more servings.
Nutrition Info (Approximate Values)
Nutrition Facts
Sweet Potato Halwa (Shakarkandi ka Halwa)
Amount Per Serving
Calories 528
Calories from Fat 315
% Daily Value*
Fat 35g54%
Sodium 90mg4%
Potassium 637mg18%
Carbohydrates 52g17%
Protein 4g8%
Vitamin A 21396IU428%
Vitamin B1 (Thiamine) 0.1mg7%
Vitamin B2 (Riboflavin) 0.1mg6%
Vitamin B3 (Niacin) 1mg5%
Vitamin B6 0.4mg20%
Vitamin C 7mg8%
Vitamin E 14mg93%
Vitamin K 6µg6%
Calcium 61mg6%
Vitamin B9 (Folate) 22µg6%
Iron 2mg11%
Magnesium 68mg17%
Phosphorus 114mg11%
Zinc 1mg7%
* Percent Daily Values are based on a 2000 calorie diet.
This Sweet Potato Halwa recipe post from the blog archives first published in August 2013 has been republished and updated on 2 August 2022.