Collection of 12 easy and healthy fruit smoothie recipes – I often make smoothies for breakfast, brunch or between meals. Making smoothies from fruits are not only easy and quick but healthy as well. Unlike extracted juices where the fibre is discarded, smoothies have fibre in them and thus good for the gut too.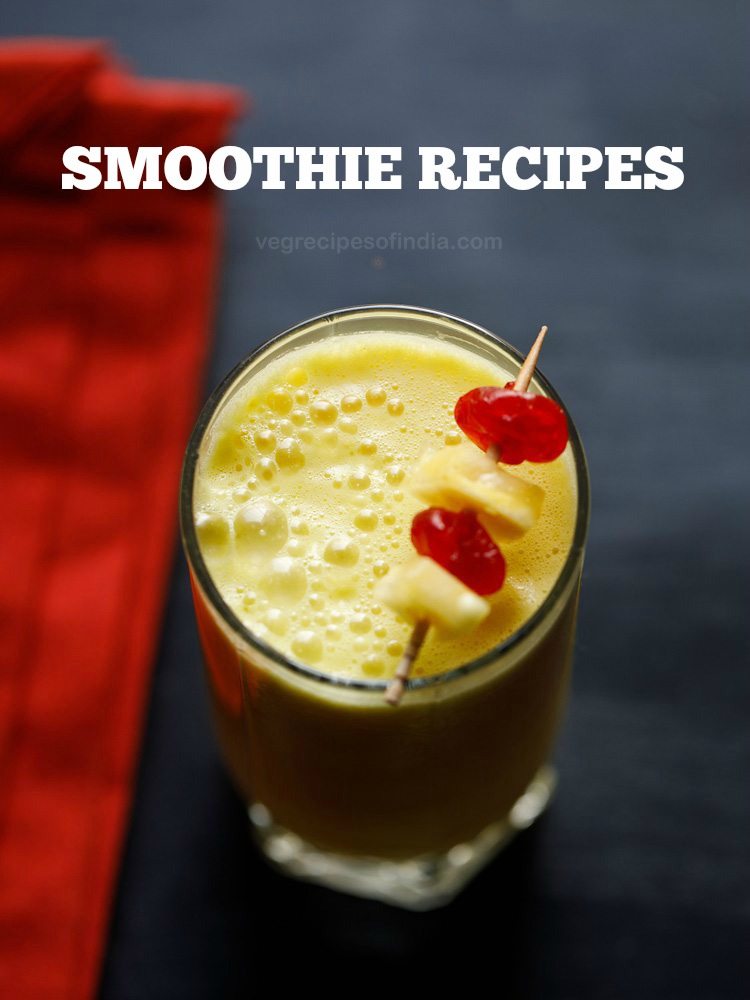 Smoothies and Shakes are power packed with nutrients like vitamins and minerals. they also act as detox for the system. Many health-conscious people prefer to start their day with fruits. Its a healthy practice to include fruits in your diet in some way. You can have them directly or as a smoothie or as a juice.
To keep the smoothie on healthier side, you can keep the sugar quantity low Or try to use the fruit which is on sweeter side. i avoid adding any sweetener in smoothies. However you can add sweeteners which are more healthy than white sugar like organic unrefined cane sugar, coconut sugar, honey, maple syrup, jaggery or palm jaggery.
For most fruit based smoothie, I use almond milk or coconut milk. Dairy milk and some fruits are an incompatible combination according to ayurveda and cause bloating, gas and digestion problems. My personal experience is that milkshakes or smoothies made with coconut milk are easier to digest than made with dairy milk. if I do not have coconut milk or almond milk in the fridge, then I just blanch almonds and blend them with the fruit.
I would suggest to serve the smoothie as soon as they are made.
In this collection I have shared all the fruit smoothie recipes posted on the blog. I will update this post as I add more smoothie varieties on the blog.
Collection of 12 healthy fruit smoothie recipes
1. Apple smoothie recipe – delicious and healthy smoothie made with apples, coconut milk and cinnamon. a dash of cinnamon adds a nice aroma and flavor to the smoothie.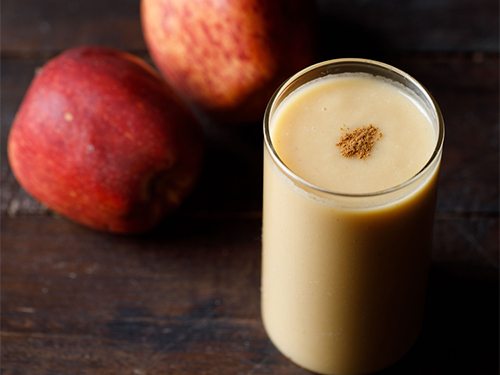 2. Oats smoothie recipe – quick and tasty smoothie made with mix fruits, milk and quick cooking oats. i have used fruits like mango, bananas and sapota (chikoo). You can also use fruits like berries, papaya, apple, figs. Avoid using citrus fruits and melons as they don't go well with milk.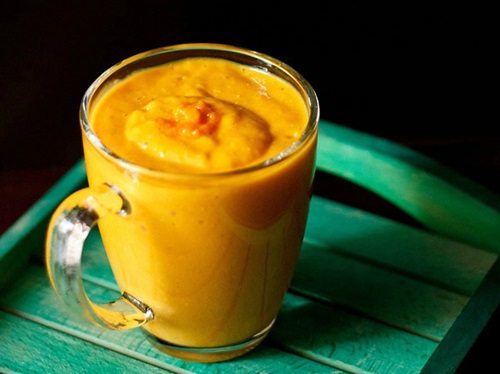 3. Figs smoothie recipe – this delicious and healthy figs smoothie is made with fresh figs, banana and coconut milk. In this recipe, you can also add strawberries instead of banana.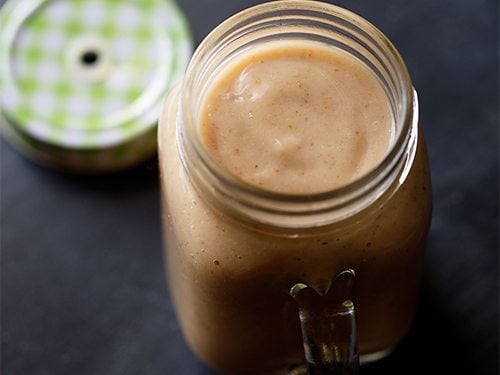 4. Blueberry smoothie recipe – healthy smoothie made with fresh blueberries, coconut milk, wheat grass and vanilla extract. this blueberry smoothie is rich in antioxidants. Blueberries are rich in anthocyanin which is a powerful antioxidant. If you don't have wheat grass then skip adding it.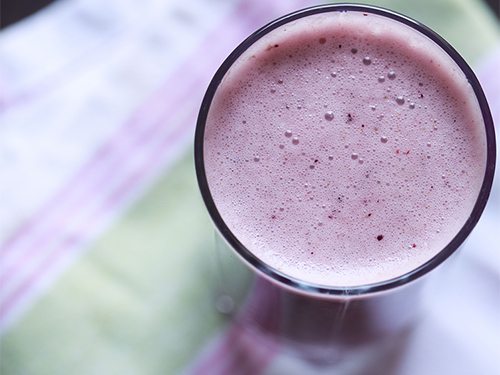 5. Mango smoothie recipe – quick and healthy smoothie made with mango and yogurt. mango smoothie is similar to Mango lassi in taste. use mangoes which are sweet and non-fibrous.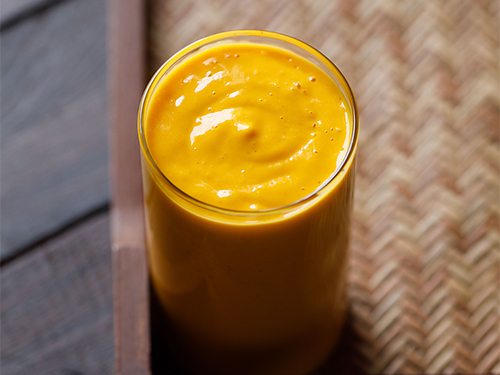 6. Pineapple smoothie recipe – a refreshing and yum vegan smoothie made with some fresh pineapple, coconut milk and cinnamon. Use the pineapple which is sweet.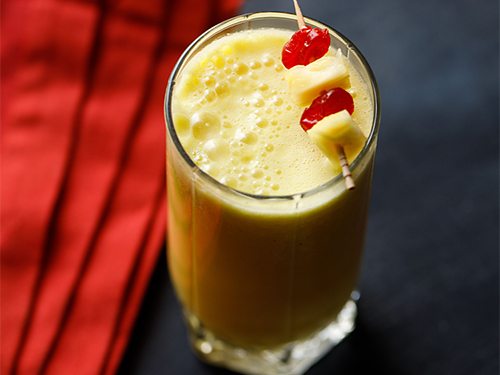 7. Mango banana figs smoothie recipe – sweet and crunchy vegan smoothie with flavors of figs, mangoes and bananas. this is a heavy and filling smoothie.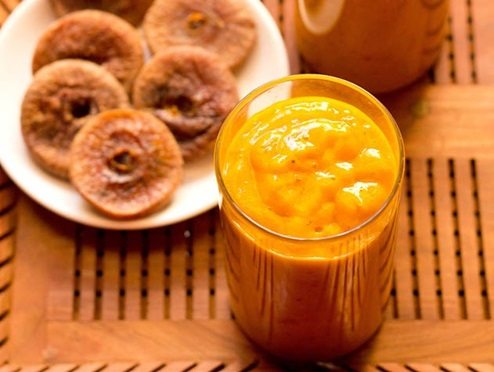 8. Strawberry smoothie recipe – a creamy delicious smoothie full on with the flavors and taste of strawberries. to thicken the smoothie I have added one banana. However you can skip adding the banana.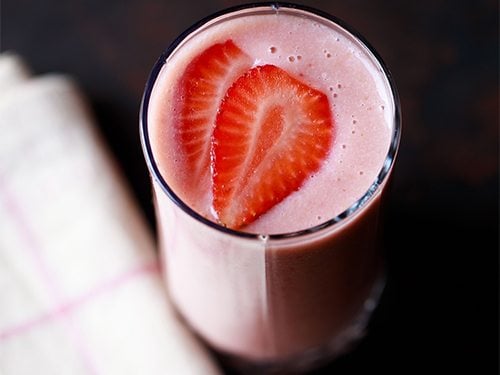 9. Overnight oats mango smoothie recipe – this is a 3 ingredient smoothie made with oats, mangoes and water. I soaked the oats overnight to make the smoothie.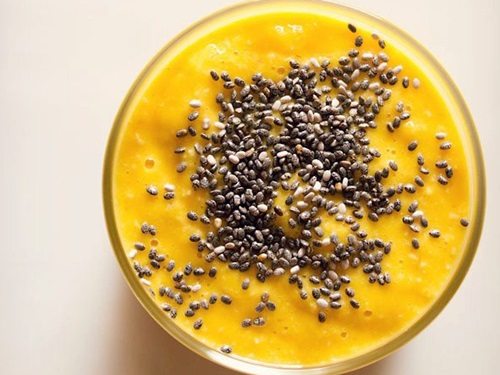 10. Mango almond smoothie recipe – an easy, delicious and healthy recipe of a smoothie made with mangoes and almonds.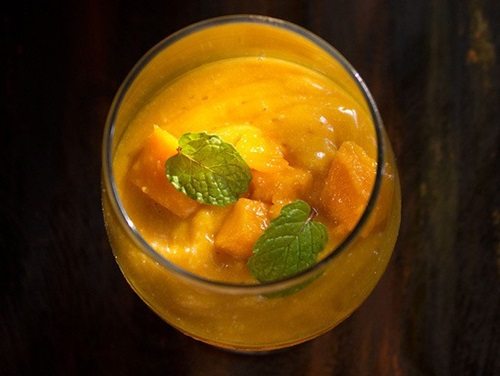 11. Mango banana papaya smoothie recipe – a tasty and easy smoothie recipe with the goodness of all three favorite tropical fruits in a glass. there is no need to add sugar or any other sweetener while making this smoothie.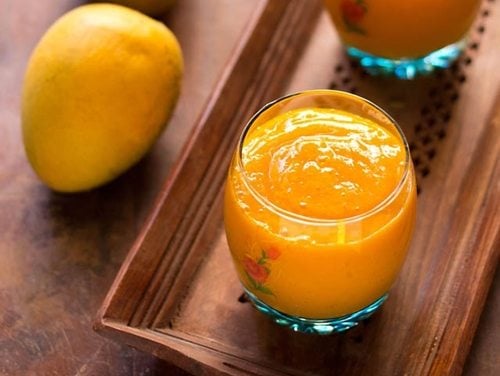 12. Chocolate banana smoothie recipe – healthy and delicious vegan smoothie made with bananas, drinking chocolate, soy milk and basil leaves.