If you're a fan of sweet, frozen fruit smoothies, you're going to flip for this healthy Oats Smoothie. Bolstering your slurp-able breakfast beverage with whole grains adds a ton of fiber and nutrients without any extra fuss. Try this delicious oatmeal smoothie recipe with any of your favorite fruits for a quick and easy breakfast or snack on the go.
About This Oatmeal Smoothie
When it comes to personality types, I must confess — I'm more of a night owl than a morning lark. So, when it comes to breakfast, I either need a leisurely weekend to give me the time to cook, or something entirely groggy-proof.
This quick, healthy, and tasty oats smoothie is perfect for hurried mornings when I'm still feeling a bit bleary-eyed. All you need to make it is your choice of fresh or frozen fruits, your choice of milk, and a hefty handful of whole-grain instant oats.
From there, you just toss everything in a high-powered blender, whizz it until everything is smooth and creamy, and you're ready to sip!
In addition to being super convenient and quite delicious, this easy smoothie recipe is also entirely customizable. Make it vegan by swapping in non-dairy milk or another liquid like juice or even coffee.
You can also use whatever fruits are in your fridge or freezer, making this perfect for any time of the year.
And, if you're not much of a morning person either, you can save some extra prep time by making little smoothie packs in advance. Store them in the fridge or freezer, then dump one into your blender and add liquid when you need a snack. So easy!
Ingredients and Substitutions
You don't need much to make a healthy and satisfying breakfast smoothie. Here's what I like to use:
Mangoes – When they're in season, I prefer to add mangoes to my oat smoothies. Not only are they deliciously tropical, they also pair well with milk. If you are a practitioner of Ayurveda, you know that some fruits shouldn't be combined with each other or with dairy. Feel free to swap in the fruits that are compatible with milk.
Bananas – Bananas are a mainstay in my smoothies. They're easy to find, easy to freeze, sweet and starchy, and loaded with nutrients like potassium. You certainly don't have to add them if you don't want, but I find that they give this oats smoothie a particularly creamy consistency. You can also try swapping in figs or berries if you prefer.
Sapota or Chikoo – This tasty fruit is widely available in India, and can also be found in many Latin American markets in the US. The flavor of sapota is unique, but the consistency is like that of soft fruit.
Quick-Cooking or Instant Oats – Quick-cooking oats will absorb liquid more readily than old-fashioned rolled oats, so I prefer them for this recipe. In a pinch, you can always use regular oats; just be sure to blitz them in the blender until they are small and fine before adding other ingredients.
Milk – Any dairy or non-dairy milk will work here. You can also decide to use yogurt, kefir, juice, or even coffee if you want a little caffeine!
Sugar, Honey, Maple Syrup or Jaggery – Depending on how sweet you like your smoothies with oatmeal, this is an optional add-on. I generally don't use any sweetener because fruits are usually sweet enough for my liking.
Ice Cubes – If you like your smoothies to have a bit of frozen bite, add the optional ice cubes. You can also use frozen chunks of fruit for a similar effect.
How To Make Oats Smoothie
1. Peel and chop the fruits. I used a mix of mangoes, bananas, and sapota (chikoo). Feel free to use other fruits like apples, berries, figs, etc.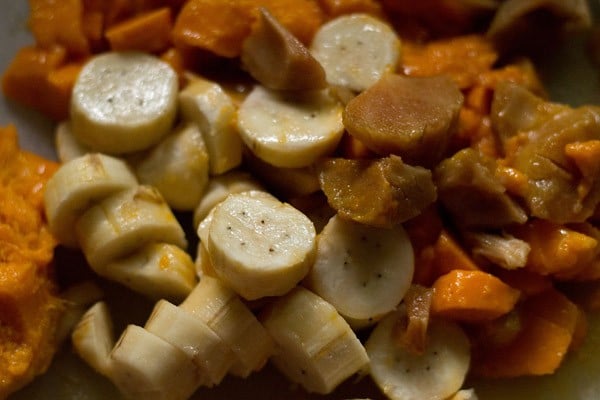 2. Place the chopped fruits in a blender jar. Add ½ to ⅔ cup milk (depending on how thick you like your smoothies) and ¼ cup quick-cooking oats. I did not add any sugar, but if you want you can sweeten the smoothie with sugar, jaggery, or honey.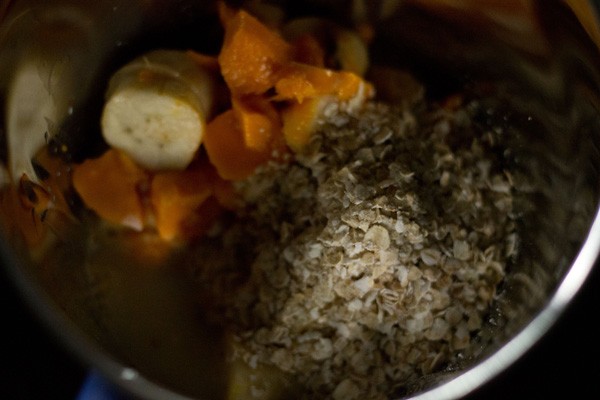 3. Blend till smooth. While blending, you can add some ice cubes if you want.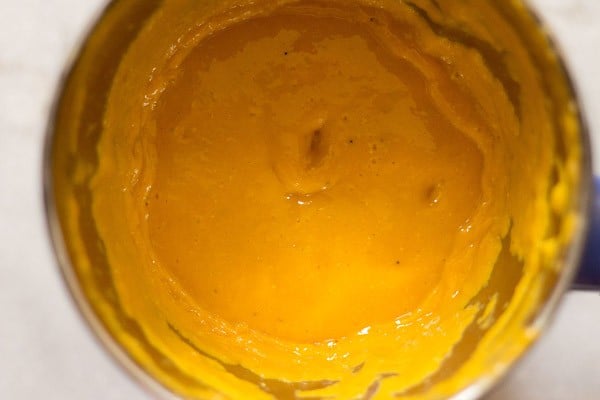 4. Pour the smoothie in glasses or mugs. Serve this oats smoothie immediately. Enjoy!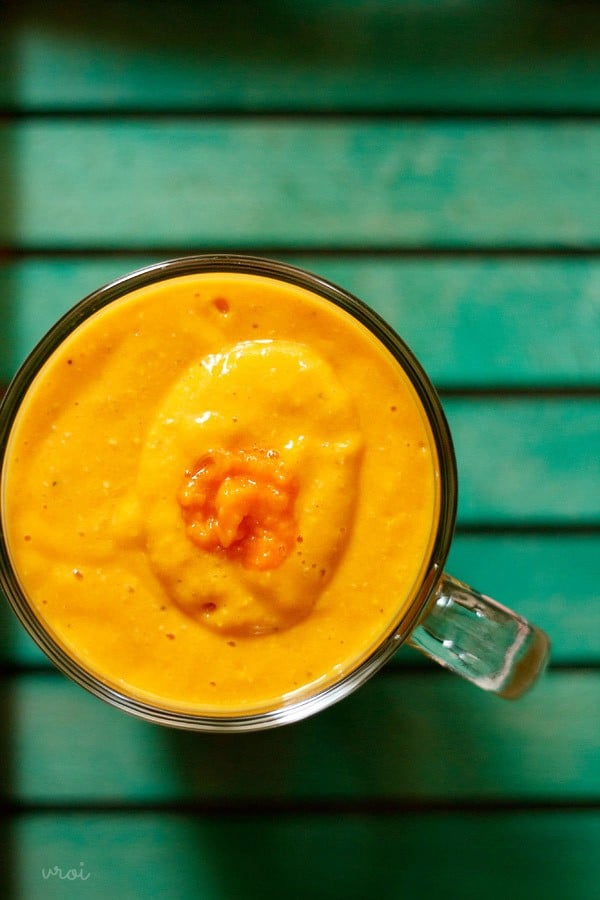 FAQs
What fruits should I avoid putting in my oatmeal smoothie?
In this oats smoothie, I have used fruits like mango, bananas, and sapota (chickoo). You can also use fruits like berries, papaya, apple, figs. Avoid using citrus fruits and melons as they don't go well with milk, or be sure to reach for a non-dairy substitute.
Can I make smoothies ahead of time?
This oatmeal smoothie has a relatively short shelf-life once blended, but you can easily make your mornings less stressful by creating smoothie packs. Simply grab some zip-top bags or prep bowls with lids and add your chopped fruit and oats. Store them in the fridge for up to 1 to 2 days, or in the freezer for up to a month. When it's time for a smoothie, dump the contents of the smoothie pack into your blender, add the liquid of your choice, and blend!
Can I turn this recipe into a smoothie bowl?
Absolutely! A smoothie bowl is just a thick smoothie that is topped with items like chopped nuts, fresh, frozen, or dried fruits, or granola. To turn this oatmeal smoothie into a smoothie bowl, add less liquid. You want to add just enough for the blender to do it's job, but keep the mixture thick like soft-serve ice cream. Pour into a bowl, top with whatever you like, and dig in!
More Oats Recipes To Try!
Please be sure to rate the recipe in the recipe card or leave a comment below if you have made it. For more vegetarian inspirations, Sign Up for my emails or follow me on Instagram, Youtube, Facebook, Pinterest or Twitter.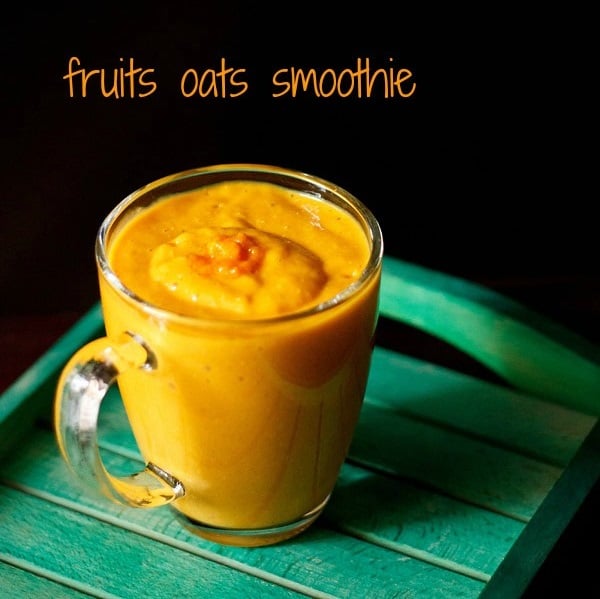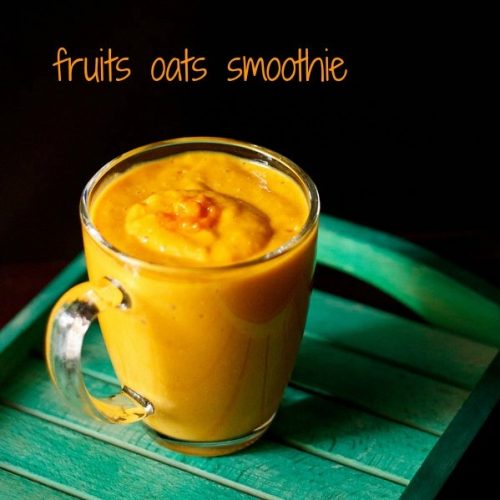 Oats Smoothie | Oatmeal Smoothie
This oats smoothie (oatmeal smoothie) is a quick, tasty and healthy smoothie made with mix fruits, milk and quick-cooking oats.
1

mango

– large, or 1 cup peeled & chopped mangoes

1

banana

– large or 2 medium or 3 small bananas – peeled and chopped

2

sapota or chickoo

– medium sized, peeled and chopped

¼

cup

quick cooking oats

or instant oats

½ to ⅔

cup

milk

(vegan or dairy), cold

1 or 2

tablespoons

sugar

or honey or jaggery or maple syrup – optional

4 to 6

ice cubes

– optional
Instructions
Peel and chop the fruits. I used a mix of mangoes, bananas and sapota (chikoo). You can use other fruits like apple, berries, figs etc.

Add the chopped fruits in a blender jar. Add milk and quick cooking oats. I did not add any sugar. But if you want you can sweeten the smoothie with sugar, jaggery or honey.

Blend till smooth. You can add some ice cubes if you want while blending.

Pour the smoothie in glasses or mugs.

Serve oats smoothie immediately.
Nutrition Info (Approximate Values)
Nutrition Facts
Oats Smoothie | Oatmeal Smoothie
Amount Per Serving
Calories 260
Calories from Fat 27
% Daily Value*
Fat 3g5%
Cholesterol 7mg2%
Sodium 27mg1%
Potassium 518mg15%
Carbohydrates 57g19%
Protein 5g10%
Vitamin A 1256IU25%
Vitamin B1 (Thiamine) 1mg67%
Vitamin B2 (Riboflavin) 1mg59%
Vitamin B3 (Niacin) 1mg5%
Vitamin B6 1mg50%
Vitamin B12 1µg17%
Vitamin C 43mg52%
Vitamin D 1µg7%
Vitamin E 1mg7%
Vitamin K 5µg5%
Calcium 97mg10%
Vitamin B9 (Folate) 60µg15%
Iron 1mg6%
Magnesium 61mg15%
Phosphorus 135mg14%
Zinc 1mg7%
* Percent Daily Values are based on a 2000 calorie diet.
This oats smoothie post from the blog archives first published in October 2015 has been republished and updated on 14 April 2022.