Sweet and delicious, Sandesh (called Shondesh in Bengali language) is a popular sweet from Bengal and prepared during festivals like Durga Puja. Being a milk-based sweet it is made with chenna or paneer and needs a handful of ingredients. Don't forget to get creative and add your favorite flavors or make exquisite designs using a wooden press, toothpick or fork when making sandesh recipe!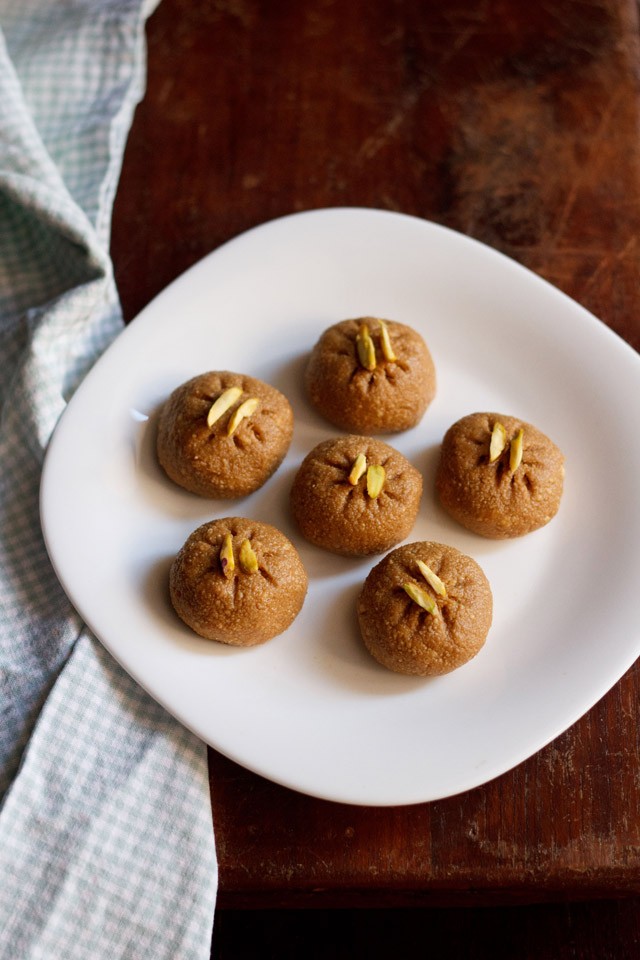 What is Sandesh
Sandesh is a Bengali sweet made with chenna or paneer which is also known as Indian cottage cheese. It is sweet and moist in taste making it the perfect tasty sweet to serve as a dessert or snack.
Once you try this bengali sandesh recipe you'll be hooked! Sandesh is a lot easier to make than you think, compared to Gulab Jamun or Rasgulla.
Start by preparing fresh paneer or cottage cheese by curdling milk with lemon juice and gather the curdled milk solids in a cheesecloth or muslin. Set aside for some minutes for the whey to drain.
Later mash and cook the chenna with either sugar or jaggery keeping a close eye on the mixture as it cooks.
Overcooking the chenna mixture can result in a dense and rubbery texture. Here I show you how to make sandesh having a perfect texture and consistency.
Bengali sandesh is a versatile sweet as there are many variations made for different festive occasions. For example, kaju sandesh, pista sandesh, bhapa sandesh (steamed), dates sandesh, ice cream sandesh, and chocolate sandesh.
How to Make Sandesh
Make Chenna
1. First begin by preparing the paneer or Chenna. Bring 1 litre whole milk to a boil. Lower the heat and then add 1 to 1.5 tablespoon of lemon juice to curdle it.
Stir after adding the lemon juice so as to curdle the milk. Pour the curdled milk into a deep bowl lined with a muslin or thin cotton napkin or cheesecloth.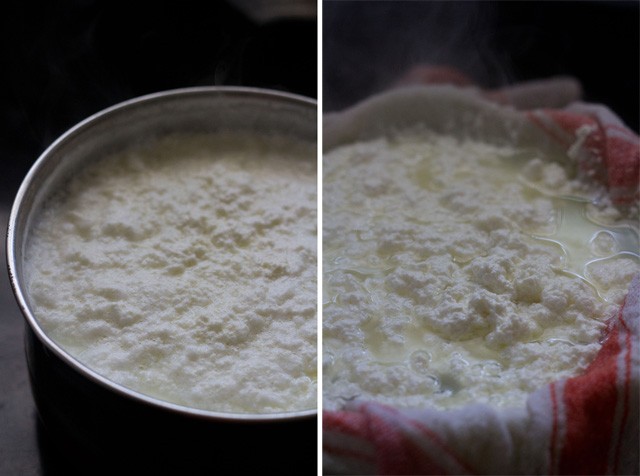 2. Take the four corners of the muslin in your hands and gather all the curdled paneer together in the muslin. Squeeze out the whey. Then rinse the chenna with the muslin and run the water very lightly.
This process helps to remove the sourness of the lemon juice or vinegar from the paneer. Place a heavy bowl or a stone pestle on the muslin for about 30 minutes while the chenna or paneer sets.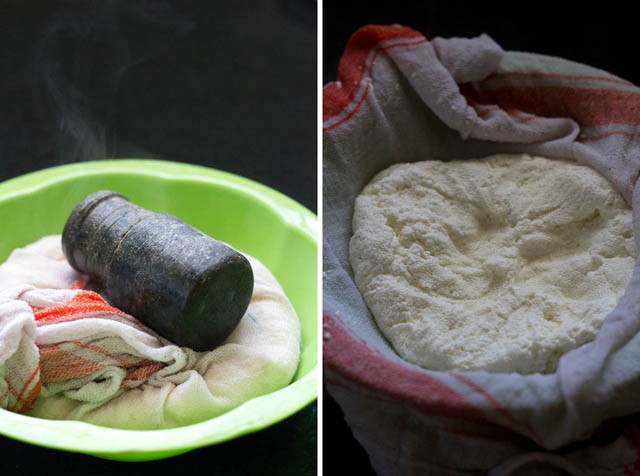 Mix and Knead Chenna
3. Add the chenna to a plate or a tray then knead and mash it using your knuckles. Gather the whole mixture at intervals and continue to knead it until the mixture becomes smooth, soft and less granular.
Then add 2 tablespoons palm jaggery and 3 tablespoons sugar and knead for another 2 to 3 minutes. The jaggery and sugar will melt and release moisture into the mixture.
TIP 1: Alternatively, you can pulse the chenna, palm jaggery and sugar in a mixer-grinder or blender.
TIP 2: If you do not have palm jaggery, simply add 5 tablespoons of raw sugar or white sugar or add according to taste.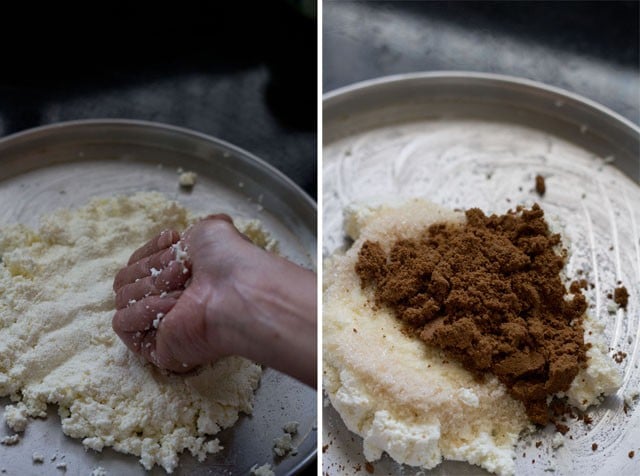 Cook Chenna Mixture
4. Add the mixture to a non-stick pan with a thick base or a well seasoned pan. Stir the mixture continuously and cook on low heat for a total of 8 to 9 minutes.
You will see that within 2 to 3 minutes after you keep the pan on the stovetop, the mixture will become smooth having a molten consistency.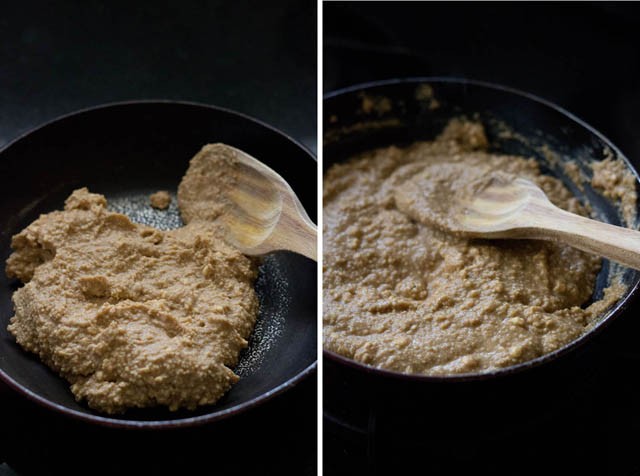 5. As it cooks further, the moisture will begin to dry up but we don't want it to be too dry. The chenna should have some moisture and should not be dense or rubbery.
When the mixture looks soft but not runny or liquid, has thickened a bit and starts coming together, it is time to switch off the heat.
Also, make sure no oil or fat is released from the sandesh mixture. The image below shows the desired consistency of the paneer mix for sandesh after cooking on low heat for 8 to 9 minutes.
Do note that this cooking time will vary with the size, make of the pan and intensity of heat.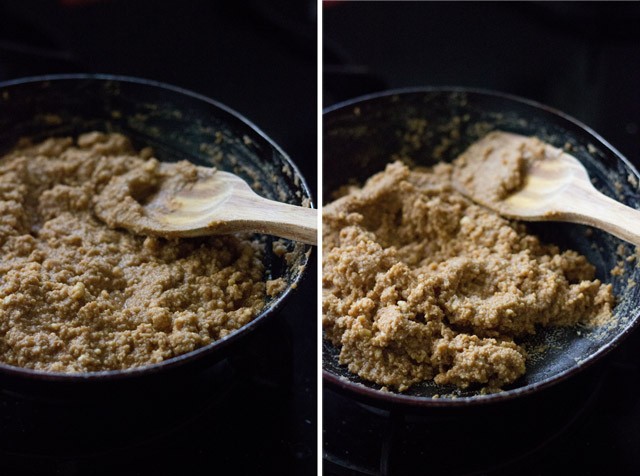 Make Bengali Sandesh
6. Leave the sandesh mixture to cool at room temperature. Then knead the mixture again using your knuckles.
Take small portions of the paneer mixture and shape them into round flattened balls or a Peda. Then use a toothpick or fork to make designs on the sandesh. Press some pistachios, almond slices or raisins into the center of the sweets.
TIP: You can also use the traditional shondesh molds made from wood to shape them.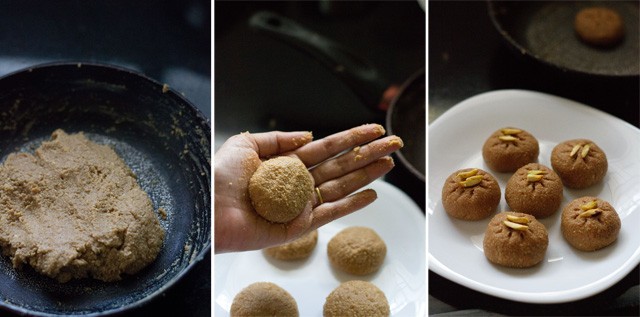 7. Serve sandesh immediately as a delightful sweet snack. If you are not serving sandesh straight away then refrigerate them for 2 to 3 days. Do not leave them at room temperature as they may get spoiled.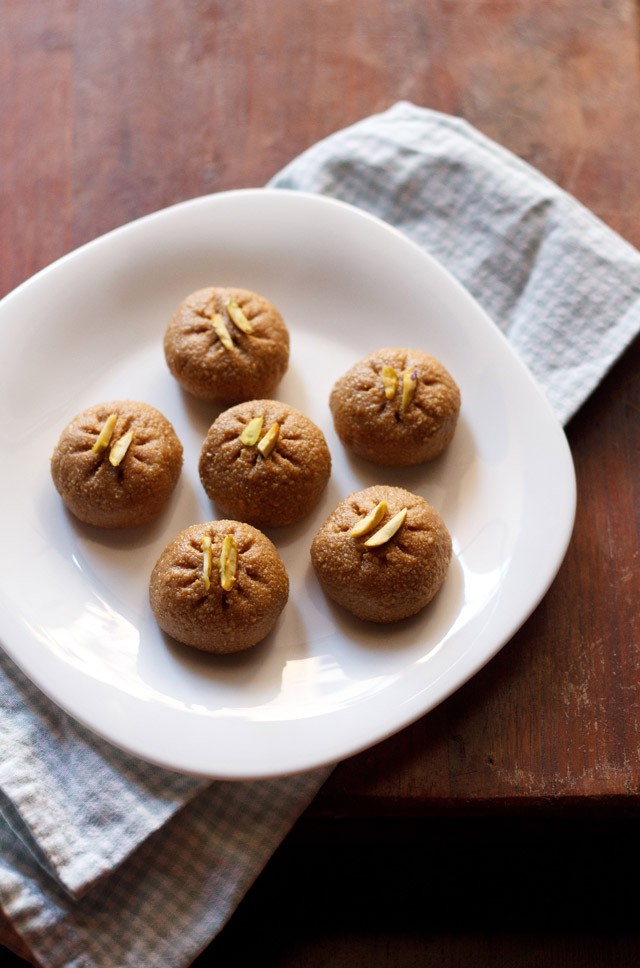 Helpful Tips
Jaggery:

I had palm jaggery to hand so I decided to use it in this sandesh recipe. Palm jaggery gives sandesh a nice rustic flavor however, you can skip the palm jaggery and only use sugar if you don't have any to hand. This will result in the sandesh having a cream color rather than brown.

Paneer: For the best results use freshly made paneer or cottage cheese in this recipe. Using fresh paneer makes it easier to achieve the desired consistency. In addition, you must make sure that the consistency of the paneer mixture is perfect after mixing it with jaggery and sugar. It should be smooth and fine.
Toppings: Sandesh is typically topped with pistachios, almond slices or raisins. These ingredients add extra flavor to the sweets. If you like make a sandesh with all of the toppings for a variety of flavors.
Batch: The sandesh recipe can be halved, doubled or tripled depending on how many people you need to feed.
FAQs
How do you preserve Sandesh?
Sandesh should not be left out at room temperature as it will spoil. To preserve sandesh. refrigerate it for up to 2 to 3 days in an air-tight container and serve once you are ready to eat them.

Can I use low fat milk, cow milk or full cream milk?
When making bengali sandesh use full cream milk or whole milk to get the best results. Avoid using low-fat, skimmed or toned milk.

When I knead the chenna, the fat is released too quickly. What can I do to prevent this?
You may be using too much pressure and weight while kneading the chenna. Make sure you knead it with light pressure to prevent the fat from being released.
More Popular Bengali Sweets
Please be sure to rate the recipe in the recipe card or leave a comment below if you have made it. For more veetarian inspirations, Sign Up for my emails or follow me on Instagram, Youtube, Facebook, Pinterest or Twitter.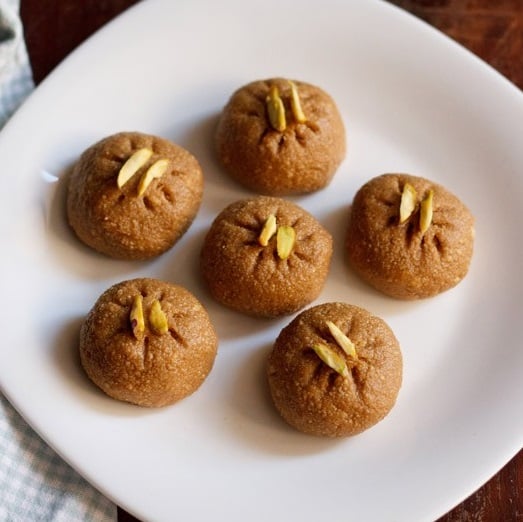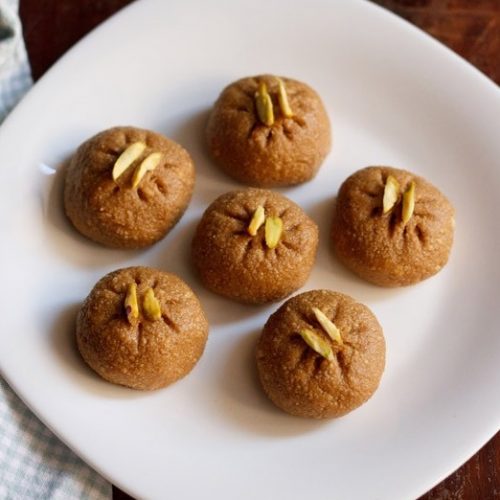 Sandesh Recipe
Sandesh (called Shondesh in Bengali language) is a popular milk based sweet from Bengal. It is made with chenna or paneer, sugar or jaggery, nuts and flavorings.
1

litre

whole milk

1 to 1.5

tablespoon

lemon juice

or vinegar or add as required

2

tablespoons

palm jaggery

or substitute with 2 tablespoons sugar

3

tablespoons

sugar

or as required

4 to 5

pistachios

or 4 to 5 almonds, sliced or 10 to 12 golden raisins
Instructions
Making chenna
Keep the milk to boil.

Line a deep bowl or pan with a muslin or thin cotton napkin.

When the milk beguns boiling, lower the heat. Add lemon juice and stir. when all the milk curdles, switch off the heat.

Pour the entire content in the lined muslin. Take the four corners of the muslin in your hands and join together.

The chenna or paneer would be in the muslin. So gather all the curdled paneer together in the muslin and squeeze the whey.

Rinse the chenna with the muslin in running water very lightly. This is to remove the sourness of the lemon juice or vinegar from the paneer.

Place a weight like a stone bowl or a stone pestle on the muslin for 25 to 30 minutes.
Making sandesh recipe
Take the chenna in a plate or a tray. Knead with the knuckles of your palms.

Gather the whole mixture at intervals and then again continue to knead till the mixture becomes smooth and less granular.

Add jaggery and sugar and knead for 2 to 3 minutes again. Instead of kneading, you can also blend this mixture in a small blender or mixer-grinder.

The jaggery and sugar both will melt and release moisture in the mixture.

Add this mixture to a thick bottomed nonstick pan.

With continuous stirring cook on a low heat for a total time of 8 to 9 minutes.

First the sandesh mixture will have a smooth and molten consistency.

Slowly slowly the moisture would begin to dry up and the sandesh mixture would start coming together.

We do not want a dry sandesh mixture.

The paneer should have some moistness and must not have a dense rubbery texture.

Remember the sandesh mixture should have some moistness and not be dry.

Also no oil or fat should be released from the mixture.

Let the sandesh mixture warm or cool and then knead the mixture again to get a smooth consistency.

Shape into round flattened balls or a peda. with a toothpick or fork you can even make designs on the sandesh.

Press some pistachio or almond slices or raisins in the center.

Serve the sandesh immediately or refrigerate and then serve them. This sweet keeps well for 2 to 3 days in the refrigerator.

If not serving immediately then refrigerate the sandesh as they get spoiled if you keep them out at room temperature.
Notes
Use freshly made chenna or paneer to make sandesh. Frozen or packaged paneer may not give you a moist and smooth texture.
Remember not to undercook or overcook the chenna mixture. It should not be runny or flowing. It should also not look dense, sticky or chewy. There should be some moisture in the mixture.
You can serve sandesh as it or top it with some slivered nuts like almonds, pistachios, cashews or place raisins.
Palm jaggery gives a nice rustic flavor and taste. But feel free to skip it and add a total of about 5 tablespoons sugar in this recipe. You can adjust the sugar amount as required.
This sandesh recipe can be doubled or tripled to make a big batch.
Nutrition Info (Approximate Values)
Nutrition Facts
Sandesh Recipe
Amount Per Serving
Calories 126
Calories from Fat 9
% Daily Value*
Fat 1g2%
Cholesterol 1mg0%
Sodium 25mg1%
Potassium 34mg1%
Carbohydrates 30g10%
Protein 1g2%
Vitamin A 6IU0%
Vitamin B1 (Thiamine) 1mg67%
Vitamin B2 (Riboflavin) 1mg59%
Vitamin B3 (Niacin) 1mg5%
Vitamin B6 1mg50%
Vitamin C 3mg4%
Vitamin D 1µg7%
Vitamin E 1mg7%
Vitamin K 1µg1%
Calcium 5mg1%
Vitamin B9 (Folate) 3µg1%
Iron 1mg6%
Magnesium 3mg1%
Phosphorus 11mg1%
Zinc 1mg7%
* Percent Daily Values are based on a 2000 calorie diet.
This sandesh recipe from the archives (October 2013) has been updated and republished on 1 November 2021.