Arisi Upma is a traditional breakfast dish from the South Indian states. It is basically Rice Rava Upma, also referred to as the Akki Tari Uppittu in Karnataka. This Rice Upma is an authentic, easy and delicious preparation resembling the regular semolina Upma, yet distinct in its own way. This preparation is also a gluten free and vegan one.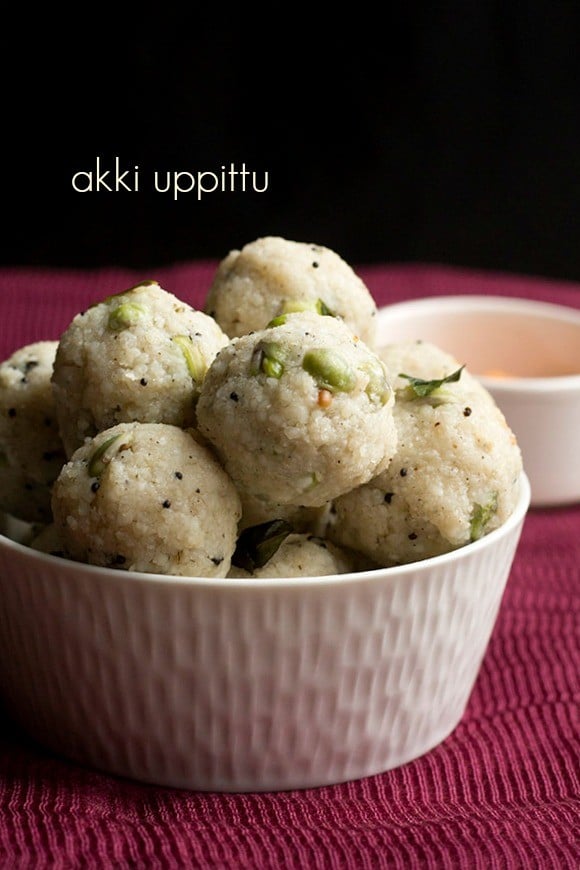 About Arisi Upma
In the name Arisi Upma, 'arisi' basically means rice in Tamil. While for Akki Tari Uppittu, 'akki tari' means broken rice in Kannada. There are many ways this dish is made across South India. It is also called Uppudu Pindi and Biyyam Rava Upma in Andhra Pradesh and Telangana.
I've have been able to enjoy this dish since my growing up years. It was one of those many dishes which was a complete favorite at home. The house would be engulfed with the wonderful aroma of the rice rava and spices cooking with each other.
We used to literally wait anxiously and keep a check on the time, for it to fully get ready. So that we could just gorge it up within minutes.
The most special part would be nibbling onto the crushed bits stuck to the pan! All of this does add to my fond memories of this particular Arisi Upma.
I really find it amazing that how simple ingredients can be brought together into a dish, which is delicious and heart-warming at all levels. This Rice Upma is one of those many preparations.
More On This Recipe
In this Rice Rava Upma, I have also added some lilva beans or 'avarekalu' as they are termed in Kannada. These protein rich, light green flat beans are known as hyacinth beans in English and in Hindi, they are called as 'surti papdi' or 'vaal'. These beans do enhance the overall flavor of this Arisi Upma by bringing in an element of earthiness.
I quite like lilva beans and make it a point to buy the frozen ones in off season. Then, store and use them as and when I need to. When in season, of course, these are available in abundance and can be used in various dishes like this Uppittu and other South Indian preparations such as Akki Roti, avarekalu sambar and so on.
You can even make this Arisi Upma with idli rava as well. But remember, while doing so, add less water as idli rava may not be able to hold the quantity of water which is mentioned in this said recipe.
This no onion, no garlic Arisi Upma is a perfect breakfast pick, and also a perfect tiffin, evening snack or even a single pot lunch box idea.
How to make Arisi Upma
Preparation
1. Take 1 cup (200 grams) raw rice in an electric blender or food processor.
You can also first rinse the rice grains in water. Spread them on a kitchen napkin or tray to dry naturally or under the fan.
When the rice grains are completely dry, add them to a mixer-grinder or food processor or an electric blender.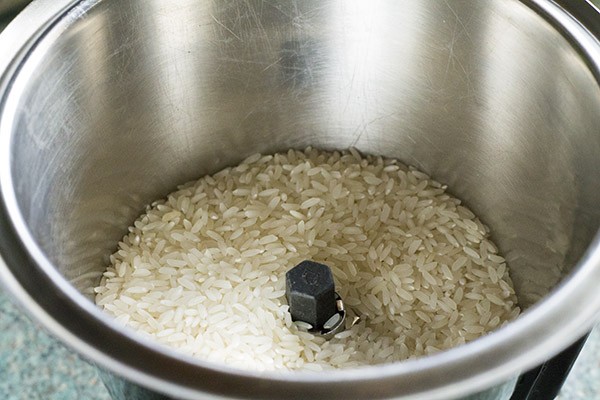 2. Running the electric blender at low speed at short bursts or pulsing intermittently, coarsely powder the raw rice. It should resemble rava or sooji.
Remove and keep aside. Don't grind too fine, as then too many lumps are formed while making upma and they are difficult to break.
You could also sift or sieve these ground rice grains to separate the flour if any. As the flour can make the upma sticky.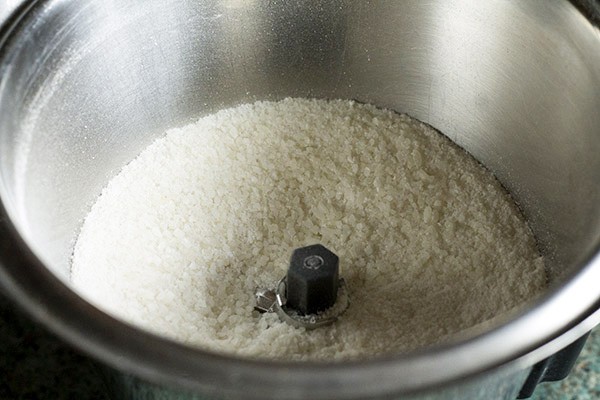 3. In the same grinder, also powder 2 teaspoons whole peppercorns coarsely.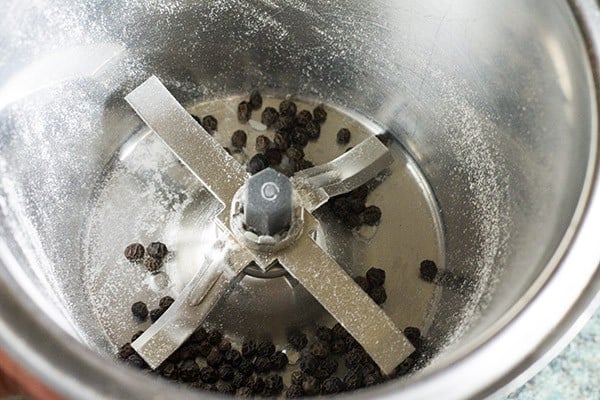 4. The mixture of coarsely ground rice and black peppers should look something like this. Showing you a portion of the same.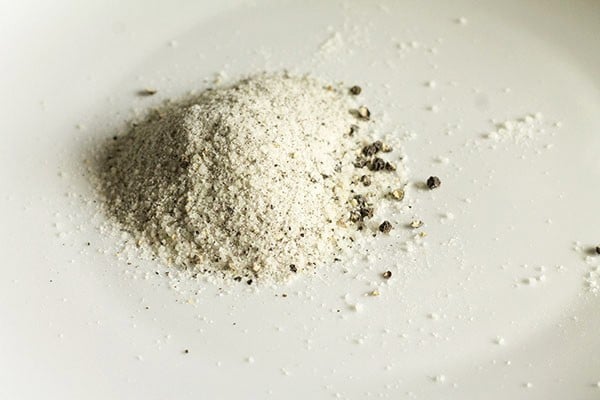 Make Arisi Upma
5. In a separate thick bottomed pan, heat 1 tablespoon oil. To this, add the following ingredients:
1 teaspoon mustard seeds
1 teaspoon chana dal
1 teaspoon urad dal
2 tablespoons curry leaves
1 finely chopped green chili
1 halved dried red chili with seeds removed
On a low to medium-low heat stir this until the chana dal turns golden brown.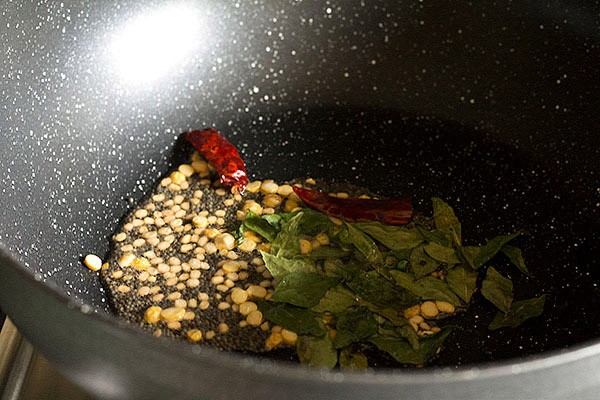 6. Now, add ¾ cup skinned lilva beans (hyacinth beans). Stir to mix these with the tempering.
Instead of hyacinth beans, you can also use tuvar lilva, fresh pigeon peas or green peas.
You can even skip the hyacinth beans. But adding the beans adds a wonderful touch to the dish.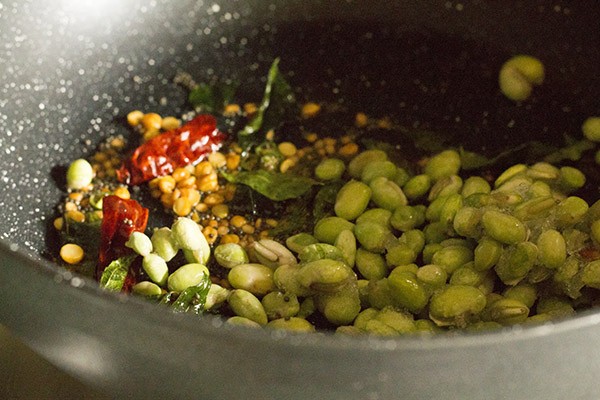 7. Pour 2½ cups water.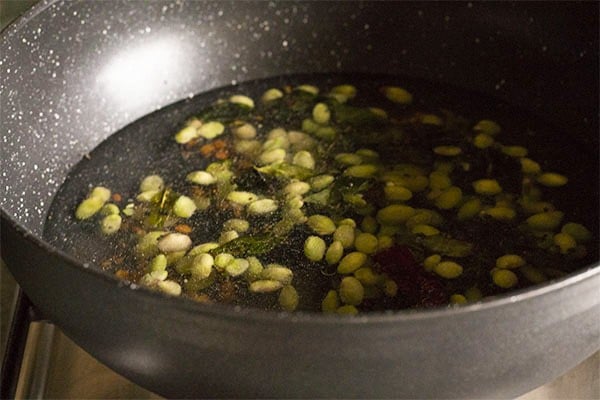 8. Add salt to taste. Stir and bring this to a boil. Simmer and cook until the beans are cooked through.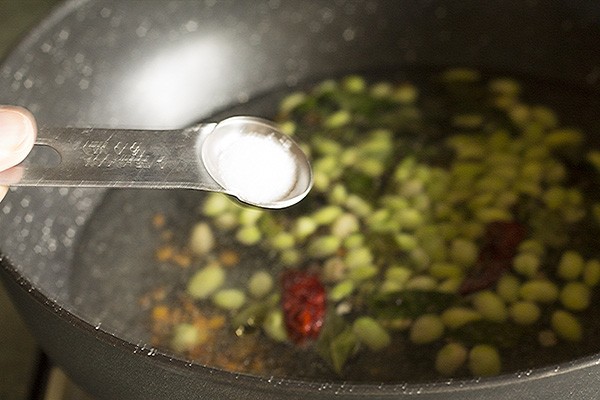 9. Now, add the prepared ground rice-pepper mixture.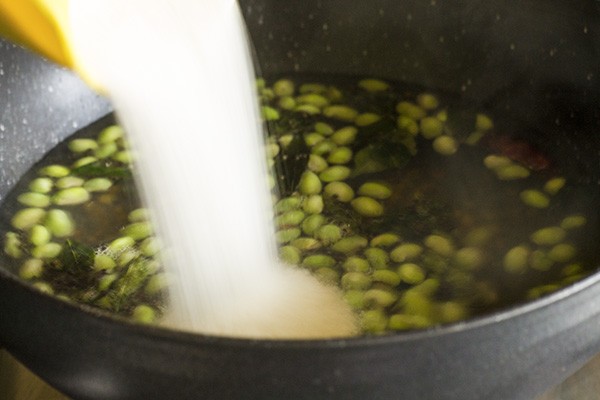 10. Stir to mix well and cook at medium to low-medium heat.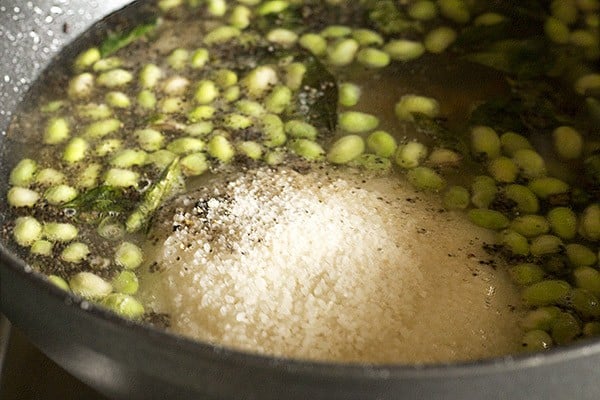 11. Stir again to break any lumps and continue to cook.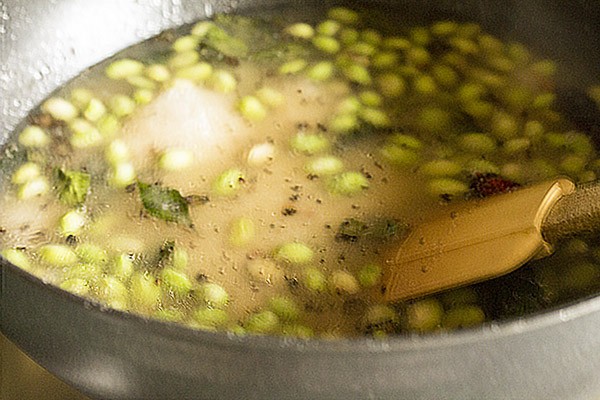 12. Cook until all the water is well absorbed by the rice and the rice grains are well cooked. Break any lumps, if any. This can take about 7 to 9 minutes on low-medium to medium heat.
If you test out a tiny portion of the cooked upma by pressing between your finger tips, the grains should get mashed well, suggesting that the coarsely ground rice grains are cooked through.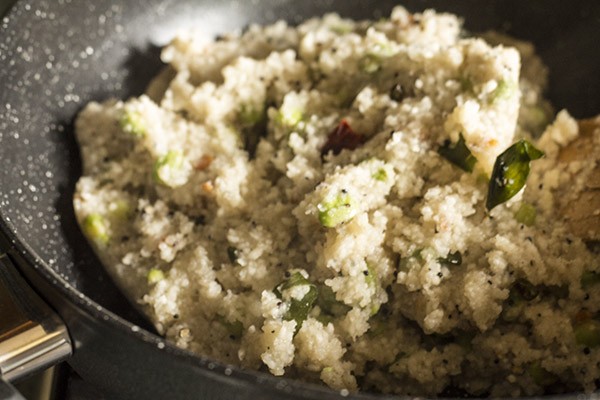 13. Turn off the heat and cover for 2 minutes.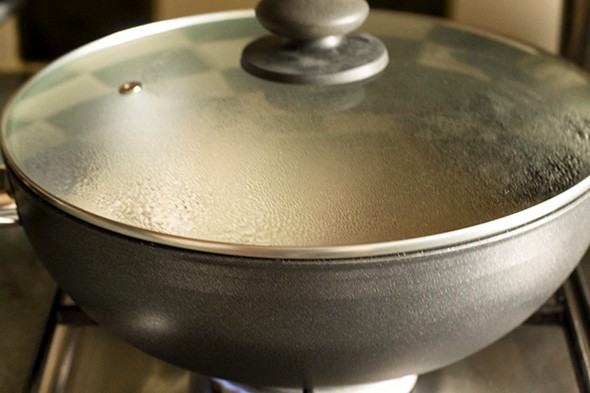 14. Serve Rice Rava Upma hot adding a teaspoon of ghee (optional) with curd, chutney powder or pickle of your choice.
You can also garnish with some coriander leaves if you like. You can serve this Uppittu straightaway or roll it when slightly hot or warm, in balls and then serve.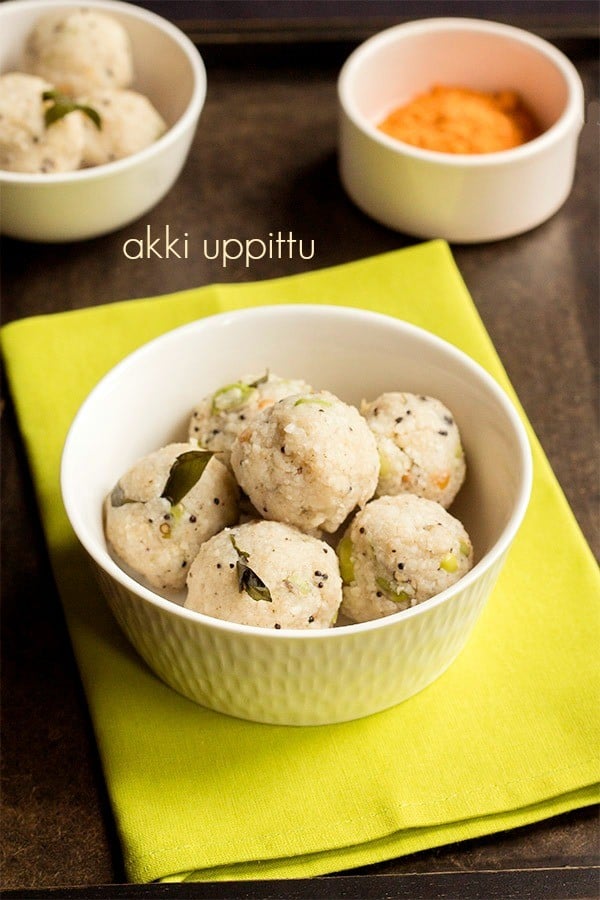 Expert Tips
As an alternate addition, you can add 1 tablespoon tur dal (split pigeon peas) while grinding the rice and peppercorns. Follow the rest of the recipe as mentioned.
If you wish, add about 1 to 2 tablespoons of grated fresh coconut. Add it when the water comes to a boil.
Add a nice flavor to the dish by adding about a teaspoon of ghee while serving. This is however optional.
In case you want to make this arisi upma spicier, add more green chilies.
You can make this dish with idli rava or packaged rice rava. But then add water as needed. For idli rava, add less water as the amount of water mentioned in the recipe may become too much for it.
More Upma Variants To Try!
Please be sure to rate the recipe in the recipe card or leave a comment below if you have made it. For more vegetarian inspirations, Sign Up for my emails or follow me on Instagram, Youtube, Facebook, Pinterest or Twitter.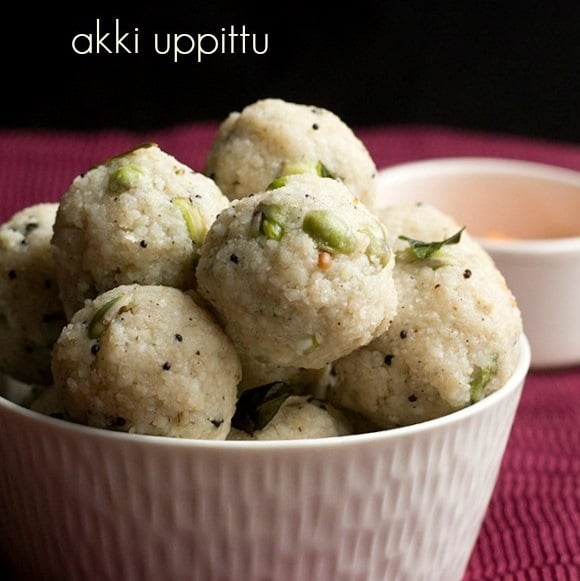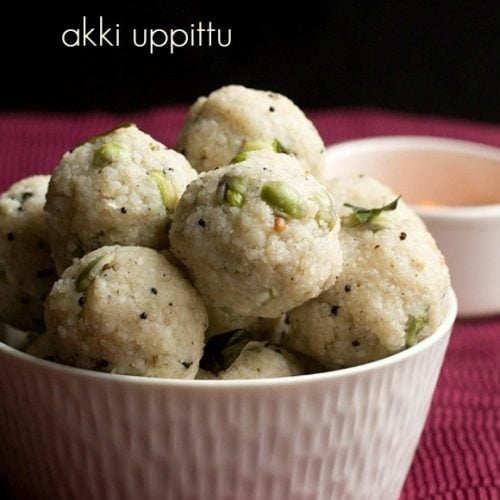 Arisi Upma | Rice Upma
Arisi Upma or Rice Upma is an easy, delicious, authentic, traditional breakfast recipe from the South Indian states, made with broken raw rice, lentils, herbs and spices.
1

cup

rice

– 200 grams, 1 cup rice yields about 1 cup + ½ tablespoon of broken rice

2

teaspoon

black peppercorns

¾

cup

lilva beans

– (avrekaalu or hyacinth beans), skinned – you can use frozen or fresh ones. I used frozen beans

1

tablespoon

oil

1

teaspoon

mustard seeds

1

teaspoon

chana dal

(husked and split bengal gram)

1

teaspoon

urad dal

(husked and split black gram)

1

green chili

– finely chopped or 1 teaspoon, chopped

1

dry red chili

halved and seeds removed

2

tablespoons

curry leaves

salt

as required

2.5

cups

water
Instructions
Prepping rice
Firstly, powder 1 cup of raw rice using an electric blender or food processor, running it briefly at first speed only. Do not make a fine powder.

The grains need to resemble rava or suji or semolina. You can also pulse the rice a few times instead.

Coarsely powder the whole peppercorns next. You can even powder both the rice and peppercorns together.

You can also first rinse the rice. Then spread the rinsed rice grains on a tray or over a kitchen napkin to dry. Dry the rice grains thoroughly before grinding them.
Making Arisi Upma
In a deep, thick bottomed pan, heat 1 tablespoon of oil.

Add mustard seeds, split chana dal, urad dal, stir them for a few seconds.

Add finely chopped green chili, curry leaves and stir until the chana dal turns golden brown. Keep the heat to a low so that the lentils and spices do not burn.

Then add hyacinth beans. Stir so that they get mixed in with the tempering.

Following this, pour in 2 and ½ cups of water. Add salt to taste. Bring this to a boil.

Then simmer until the hyacinth beans cook through.

Then add the powdered rice and peppercorns, give it a mix using a spatula.

Cook stirring now and again very well. Break lumps if any. Continue to cook until all the water gets absorbed and the broken rice cooks through.

This should take around 7 to 9 minutes at low-medium to medium heat. Once the grains are cooked through, turn off the heat. Cover with a lid for another 2 minutes.

Serve Arisi Upma with curd or chutney powder or pickle of your choice.

Adding a teaspoon of ghee while serving enhances the flavor. But this is optional.
Notes
As an optional addition, you can add 1 tablespoon of tuvar dal/split pigeon peas while grinding the rice and peppercorns and follow the rest of the recipe as mentioned.
You can also add 1 to 2 tablespoon of grated fresh coconut to the dish. If you wish to add, add the same when the water comes to a boil.
Adding a teaspoon of ghee while serving, adds a nice flavor. This is however optional.
Nutrition Info (Approximate Values)
Nutrition Facts
Arisi Upma | Rice Upma
Amount Per Serving
Calories 269
Calories from Fat 36
% Daily Value*
Fat 4g6%
Sodium 339mg15%
Potassium 269mg8%
Carbohydrates 50g17%
Protein 7g14%
Vitamin A 604IU12%
Vitamin B1 (Thiamine) 0.1mg7%
Vitamin B2 (Riboflavin) 0.1mg6%
Vitamin B3 (Niacin) 171mg855%
Vitamin B6 0.1mg5%
Vitamin C 297mg360%
Vitamin E 2mg13%
Vitamin K 5µg5%
Calcium 100mg10%
Vitamin B9 (Folate) 1772µg443%
Iron 2mg11%
Magnesium 38mg10%
Phosphorus 106mg11%
Zinc 1mg7%
* Percent Daily Values are based on a 2000 calorie diet.
This Arisi Upma recipe post from the blog archives first published in November 2015 has been republished and updated on 22 August 2022.