Most Indians are used to following the tradition of beginning their day with a cup of chai (tea) in the morning. These days, our morning teas are usually spiked with many herbs in order to make it healthier. Following this trend, here's an easy-peasy Herbal Tea recipe that I usually make at home. This Herbal Tea or Herbal Chai can definitely become your cup of goodness to begin a day with.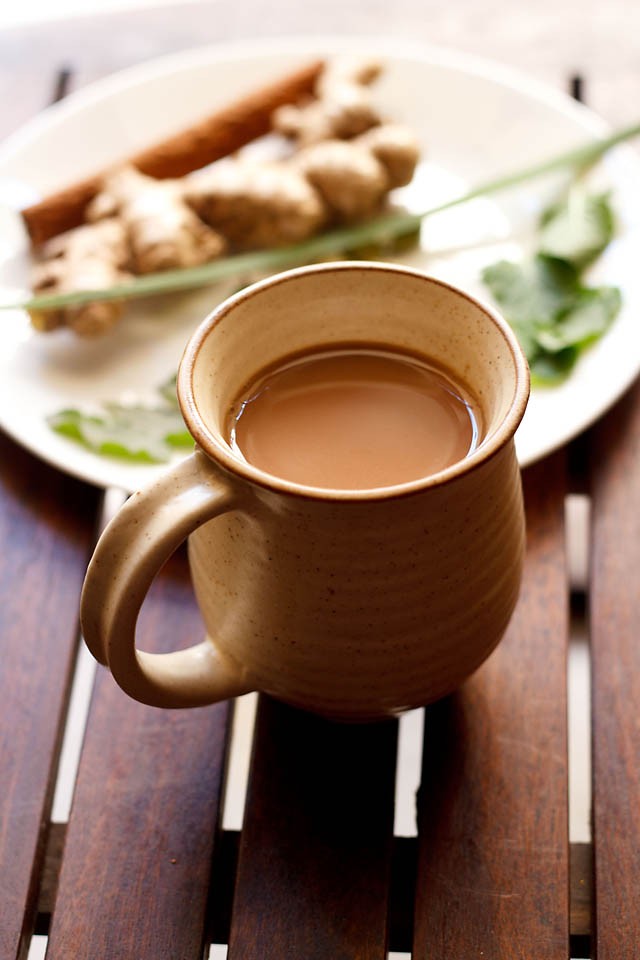 Why Herbal Tea
Since we live in times where we eat, drink and breathe toxins into our bodies at a constant pace, it is very important that we get into a habit of consuming Herbal Tea. Not just this, we should also include herbs in our day-to-day food as these help in detoxifying our system.
The best way to source these herbs is to grow your own herb garden at home. As most of these greens require low maintenance and grow easily even in balconies or terraces. This way you will always have an access to fresh, organic produce that is not chemically treated.
Some herbs that I have planted in my house are holy basil (tulsi), mint, basil, coriander, lemongrass, curry leaves, parsley and celery. The joy of plucking your own herbs right from your garden and using it to make a wholesome cup of Herbal Tea is really unmatched.
Herbs used to make Herbal Tea
In most Indian houses, following are the combination of herbs that may be used in the Herbal Tea recipe:
Ginger + cardamom
Ginger + cardamom + cloves
Mint + holy basil (tulsi)
Ginger + mint
Only lemongrass
Only ginger
However, my homemade version of Herbal Chai includes:
Ginger
Green cardamom
Lemongrass
Fresh mint leaves
Fresh holy basil leaves (tulsi)
Cinnamon powder (occasionally)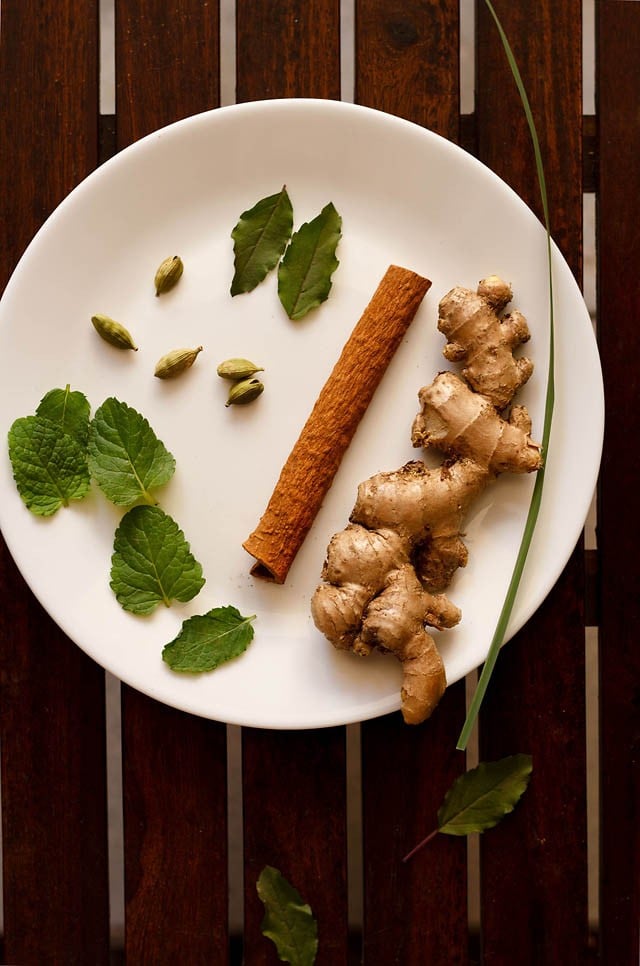 In addition to the above, sometimes I also add ground cinnamon, fennel, nutmeg and cloves to my Herbal Tea. Once in a blue moon, I may add vanilla bean powder too.
It is a good practice to keep on experimenting and rotating the ingredients once a while. This way there's always going to be variety and you will not be bored of sipping on the same flavors in your Herbal Chai every time.
Herbal Tea Variations
There are many variations of the Herbal Tea recipe. Every individual may use different herbs as per their liking and taste. But the most common herbs which are used worldwide are mentioned in the above section.
Apart from these, one can definitely go for lemongrass, galangal, pepper, cinnamon, vanilla, fennel seeds, ashwagandha leaf (an Ayurvedic herb), rose petals, nutmeg and honey as their Herbal Tea concoction.
One very important point is to crush or powder the herbs-spices in the mortar and pestle otherwise you won't get their flavor in the tea.
The choice of herbs to be added in your Herbal Tea should depend on their medicinal value, availability as well as the climatic condition of your city. While ginger and cloves are heaty; mint, tulsi and rose petals are cooling.
Moroever choose to make your herbal tea sans any tea leaves (or tea powder) and milk. Simply boil the herbs and teas in water to make a herbal tisane. Strain in cups and serve. Optionally you can add any sweetener of your choice.
More on Herbal Chai
I love the Galangal Tea as well, but since I hardly get galangal in my city, I avoid using it in the Herbal Tea. Fennel seeds are a common in the Herbal Tea that I make at home. Though I may never have used Ashwagandha leaves in my tea, I would recommend you to use it as it is good for dealing with stress, strengthening the nervous system and improving memory.
What most home chefs do, is grind the herbs in a dry/coffee grinder and store the mixture in an air tight jar for daily use. A teaspoon of this mixture can be used to prepare your everyday cup of Herbal Tea with ease.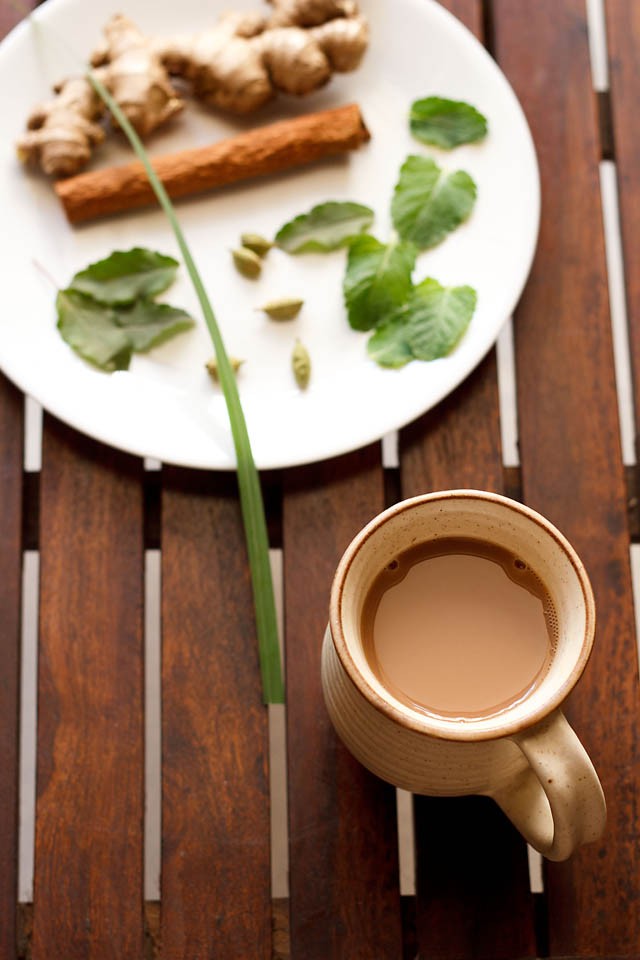 You can have hot tea if you are in a cold climate or during winters. On a hot day or during summers, you can make your Herbal Tea without milk and refrigerate it before serving. You can also add ice cubes to your tea. This tea pairs really well with cookies, biscuits, cakes and wafers too.
If you are interested in making your own tea blend, then this Masala Chai Powder will be of great help to you. Other than the Herbal Tea, I also love drinking this Masala Chai and Mumbai style Cutting Chai.
Expert Tips
Milk: The quantity of milk added will vary from person to person. So, it can be added as per personal preference. You can opt to skip the milk completely and make a herbal tisane.
Spices: You may adjust the quantity of spices as required. I would suggest reducing the quantity of spices in summers as they increase body heat and sweating. Increasing the quantity of spice may help to keep the body warm during winters or when you have cold.
Making tea: While the classic way of making tea is to steep the tea leaves in hot water, the Indian way is boiling tea powder for some minutes. I usually add milk later. Some families boil tea leaves, milk and water together.
You can grind your herbs and spices in a grinder and store the mixture in an air-tight container for everyday use. Use a teaspoon of this blend to brew your own tea whenever you want.
FAQs
What are the herbs that can be used to make Herbal Tea?
The most common herbs that are used to make Herbal Tea are tulsi (holy basil), mint leaves along with ginger, lemongrass and spices that can be added as per your choice.
Can I sweeten this tea with honey instead of sugar?
Yes, you can use honey instead of sugar to sweeten this tea. But make sure that the tea is lukewarm when you mix in the honey. According to Ayurveda honey becomes toxic when heated.
Can I replace ginger with galangal in this Herbal Tea recipe?
The taste of ginger and galangal are different from each other. Hence, I would say that you can use galangal if you don't have ginger but it is not necessarily a replacement for ginger. I always prefer my Herbal Tea with ginger instead of galangal.
What does Herbal Chai taste like?
The overall taste of Herbal Chai is determined by the kind and quantity of herbs and spices added. It has a fragrant, spiced and sharp flavor profile.
Can I drink Herbal Tea without milk?
Yes, you can drink Herbal Tea without milk as it will just another taste.
Do I have to add the whole pod of the green cardamom or just the seeds?
Either option works. Usually, I crush the pods, then add the crushed seeds as well as the green husks. The cardamom husks also have a lot of flavors.
Please be sure to rate the recipe in the recipe card or leave a comment below if you have made it. For more vegetarian inspirations, Sign Up for my emails or follow me on Instagram, Youtube, Facebook, Pinterest or Twitter.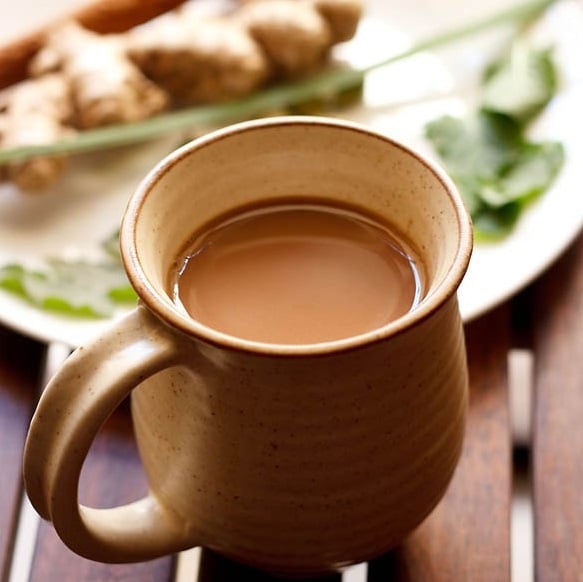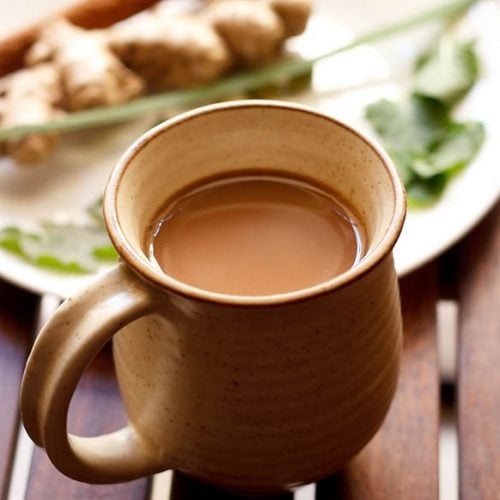 Herbal Tea | Herbal Chai
Indian Herbal Tea is made from herbs, ginger, cardamom and lemongrass. This Herbal Chai can definitely become your cup of goodness to begin a day with.
4

cups

water

3 to 4

teaspoons

black tea powder

(tea dust) or 3 to 4 black tea bags, optional – for using tea leaves, check notes no 2

1

inch

ginger

for a milder taste and 2 inch ginger for a stronger flavor. it should be peeled, washed and either crushed or grated.

2 to 3

green cardamoms

– crushed or powdered in a mortar-pestle (optional)

1

lemongrass stalk

3 to 4

mint leaves

3 to 4

holy basil leaves

(tulsi) – optional

½ to ¾

cup

milk

or soy milk, cashew milk or almond milk – add more or less as per your taste, optional

8

teaspoons

raw sugar

or regular sugar or any sweetener of choice, add more for more sweetness
Instructions
In a kettle pan or saucepan, add the water. Peel the ginger and then crush the ginger and cardamom in the mortar-pestle. This is important otherwise you won't get the flavor of ginger and cardamom in the tea.

Add the crushed ginger and cardamoms to the water.

Add the lemongrass in the water. I usually cut it into many pieces. So chop them and add to the water.

Also, add the mint leaves and holy basil leaves to the tea.

Boil this water and herb mixture for 7 to 8 minutes or till the color of the water changes to a mild yellowish hue. This change of color of the water will be due to the ginger releasing its juices and flavors in the water.

Add sugar or your preferred sweetener and simmer for 1 to 2 minutes more. You can choose to omit the sugar if you prefer.

Now, add the tea powder or tea bags and simmer for 2 to 3 minutes or till the water gets a deep hue of red. Tea powder or tea bags can be omitted to make a herbal tisane.

Add milk. Simmer the tea for 2 to 3 minutes if you are using regular milk or soy milk. Skip the milk if you prefer.

Strain the Herbal Tea through a strainer right into the cups.

Serve the Herbal Chai hot as is or pair with snacks.
Notes
Opt to skip tea leaves or tea powder and milk to make a herbal tisane.
If using tea leaves, steep 3 to 4 teaspoons of the tea leaves for 2 to 3 minutes in the hot water instead of simmering. For steeping, add the tea leaves and switch off heat. Stir and cover the pan with lid. Steep the leaves for 2 to 3 minutes. Strain and serve as is or add preferred milk (hot) and sweetener of choice.
Choose to add your preferred sweetener or skip it altogether.
Nutrition Info (Approximate Values)
Nutrition Facts
Herbal Tea | Herbal Chai
Amount Per Serving
Calories 57
Calories from Fat 9
% Daily Value*
Fat 1g2%
Cholesterol 4mg1%
Sodium 24mg1%
Potassium 81mg2%
Carbohydrates 11g4%
Protein 1g2%
Vitamin A 97IU2%
Vitamin B1 (Thiamine) 1mg67%
Vitamin B2 (Riboflavin) 1mg59%
Vitamin B3 (Niacin) 1mg5%
Vitamin B6 1mg50%
Vitamin B12 1µg17%
Vitamin C 1mg1%
Vitamin D 1µg7%
Vitamin E 1mg7%
Vitamin K 1µg1%
Calcium 53mg5%
Vitamin B9 (Folate) 2µg1%
Iron 1mg6%
Magnesium 11mg3%
Phosphorus 35mg4%
Zinc 1mg7%
* Percent Daily Values are based on a 2000 calorie diet.
This Herbal Tea post from the archives first published in August 2013 has been republished and updated on 3 May 2022.