Indian style herbal tea or chai – I start my day with herbal tea and if I don't drink a cup of tea then I will surely have a headache and this is the case I have observed with many people. I wonder is it because something is wrong with my head or my body is used to drinking tea everyday for so many years. I can bet that most Indians have tea in the morning and most of us use herbs in tea to make it more healthy.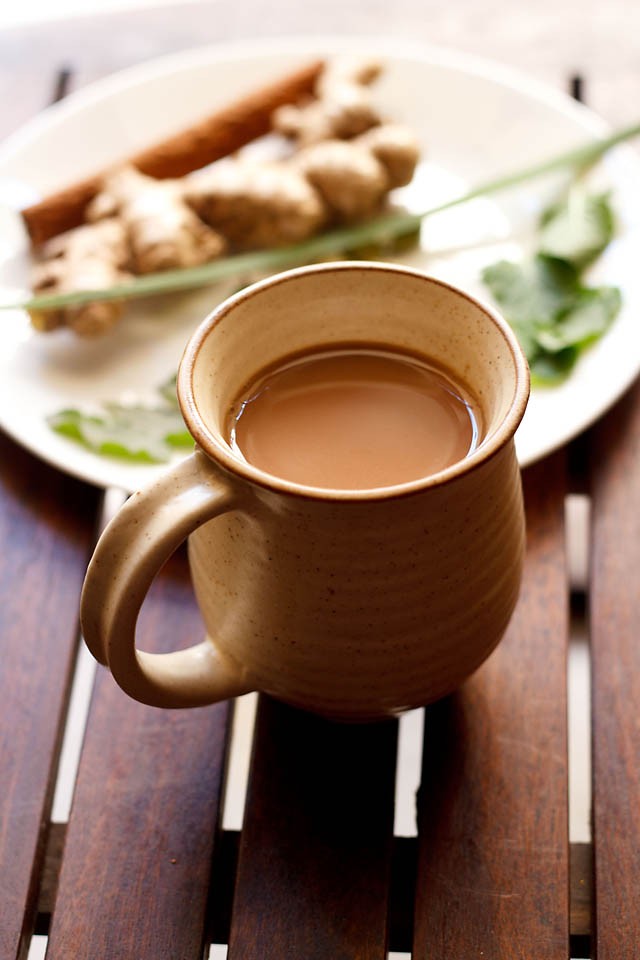 Since we live in the time where we eat, drink and breathe toxics in our body, It is very important that we drink herbal tea and use herbs in our food which detoxify our system. now an important question which can be asked is what is the guarantee that these herbs are not chemically treated???
There is no guarantee and that's why my suggestion in this post is to plant a few organic herbs in your house balcony or backyard which will help to keep your family healthy. few herbs which I have planted in my house are mint, holy basil (tulsi), basil, lemon grass, coriander, parsley and celery. I suggest is to try making herbal tea as it is good for your health.
There are many ways and variations of making herbal tea. Every person uses different herbs as per their liking and taste. But the most common herbs which goes in making herbal tea are ginger, cardamom, cloves, mint and holy basil. Apart from them one can add lemon grass, galangal, pepper, cinnamon, vanilla, fennel seeds, ashwagandha leaf (withania somnifera), rose petals, nutmeg and honey.
The kind of herbs one can add in a herbal tea depends upon their medicinal value as well as the climatic condition in your city. As some of the herbs like ginger, cloves will produce a lot of heat in the body whereas some herbs like mint, tulsi (holy basil), rose petals are cooling. On a cold climate you can have the tea hot. But on a hot day, make the tea without milk and refrigerate it and have it cold or add ice cubes.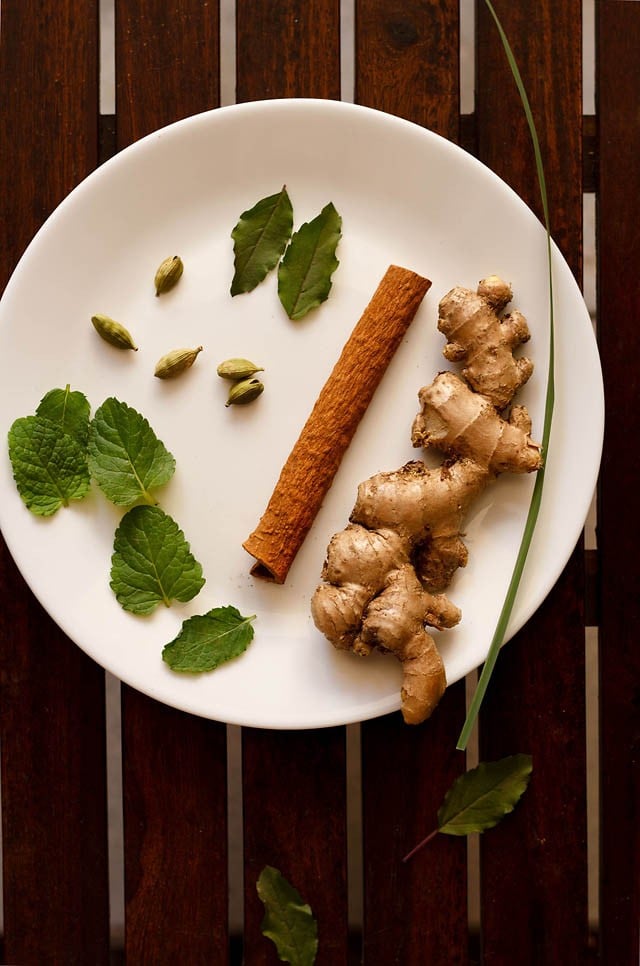 In most Indian houses, you will be served tea with these combinations of herbs:
1. Ginger + cardamom
2. Ginger + cardamom + cloves (will be more heaty)
3. Mint + tulsi (cooling)
4. Ginger + mint
5. Only lemongrass
6. Only ginger
The herbs which I use for my herbal tea (serves 4):
1. Ginger
2. Two or three cardamom
3. One strand of lemon grass
4. 3-4 mint or tulsi leaves (often but not always)
5: cinnamon powder sometimes
Sometimes I replace one ingredient with tulsi or mint leaves in the tea. You can add 4-5 tulsi (holy basil) leaves or mint leaves instead of cardamom or ginger. On other occasions, I add ground cinnamon, fennel, nutmeg & cloves to my tea. Once in blue moon, I add vanilla bean powder to my tea.
The reason I replace these ingredients is that although these herbs are good for body but too much of anything is bad. So one must rotate the herbs once in a while.
I like Galangal tea also but since I don't get galangal in my city so I can't use it. fennel seeds are sometimes added in my herbal tea. I have never used ashwagandha leaf in tea, although it is very good for dealing with stress, strengthening the nervous system and improving memory.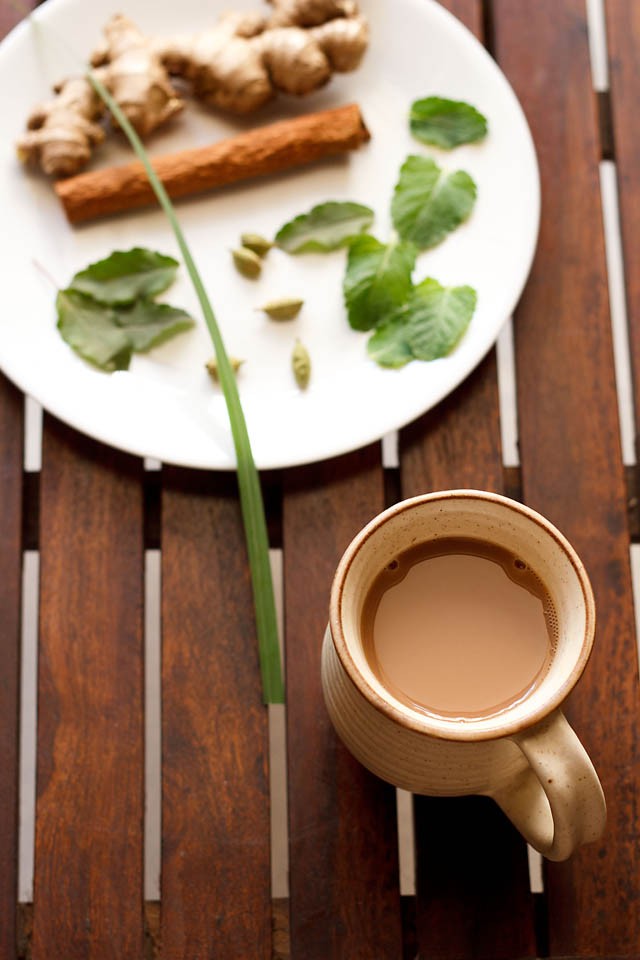 What most home chefs do, is grind the herbs in a dry grinder/coffee grinder which they want to use everyday and store them in an air tight jar. Then add a teaspoon of the ground chai masala everyday in preparing herbal tea. If you are interested in making your own chai masala then do check my post on Masala chai powder. you can also check this Masala chai And Mumbai Cutting chai recipe.
One very important point is to crush or powder the herbs-spices in the mortar and pestle otherwise you won't get their flavor and this is specially true for ginger, cardamom, cinnamon, cloves and nutmeg. Nutmeg can be grated too and then added to the tea.
You can serve the herbal tea with cookies, biscuits, chips or cakes.
Few more similar recipes for you!
If you made this recipe, please be sure to rate it in the recipe card below. Sign Up for my email newsletter or you can follow me on Instagram, Facebook, Youtube, Pinterest or Twitter for more vegetarian inspirations.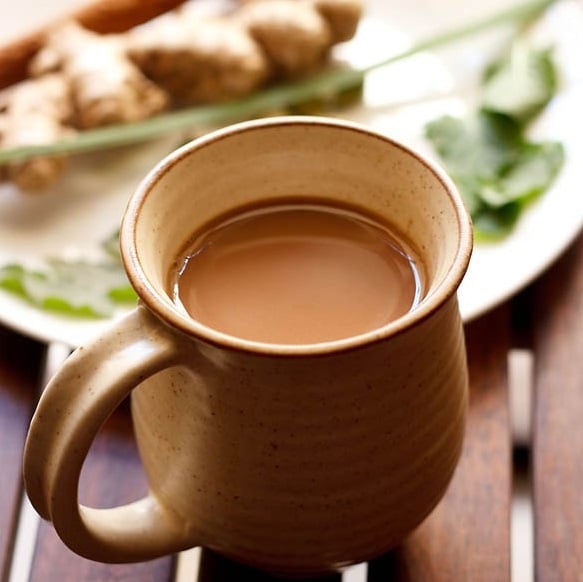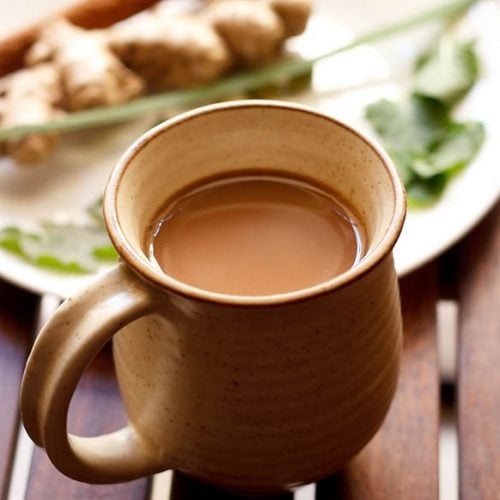 Herbal Tea
Indian herbal tea made from herbs ginger, cardamom and lemon grass.
4

cups

of water

3 to 4

teaspoon

black tea leaves

or 3-4 black tea bags

1

inch

ginger for a milder taste and 2 inch ginger for a strong taste. it should be peeled

washed & then either crush it or grate it.

2 to 3

green cardamom

- crushed or powdered in a mortar-pestle(optional)

one strand of lemon grass

3 to 4

mint leaves

3 to 4

holy basil leaves

(tulsi)

½ to ¾

cup

regular milk

or soy milk or cashew milk – add more or less as per your taste.

8

teaspoon

unrefined organic cane sugar

or regular sugar or add more for more sweetness
Instructions
In a kettle, add the water, peel the ginger and then crush the ginger and cardamom in the mortar-pestle. This is important otherwise you won't get the flavor of ginger and cardamom in the tea.

Add the lemon grass strand into the tea. I usually cut it into many parts.

Also add the mint leaves and holy basil leaves to the tea.

Boil this water and herb mixture for a good 7-8 minutes, till the color of the water changes to a mild yellowish hue. This is because the ginger releases its juices & flavors in the water and thus the color of the water changes.

Add sugar and simmer for a more of 1-2 minutes.

Now add the tea leaves or tea bags and simmer for 2-3 minutes till the water gets a deep hue of red.

Add milk. Simmer the tea for 2-3 minutes if you are using regular milk or soy milk.

Strain the herbal tea through a strainer right into the cups.

Serve the hot herbal tea with indian snacks like bread pakoras or samosas. You could also serve it with cookies, biscuits, chips or cake.