Make authentic and homemade Indian Chai Spice with this easy Masala Tea Powder recipe. Prepared with whole spices, this delightful Chai Masala Powder is far more fragrant and potent than any ready-made spice blend, and far more delicious than the syrupy, overly sweetened chai concentrates they sell at the store.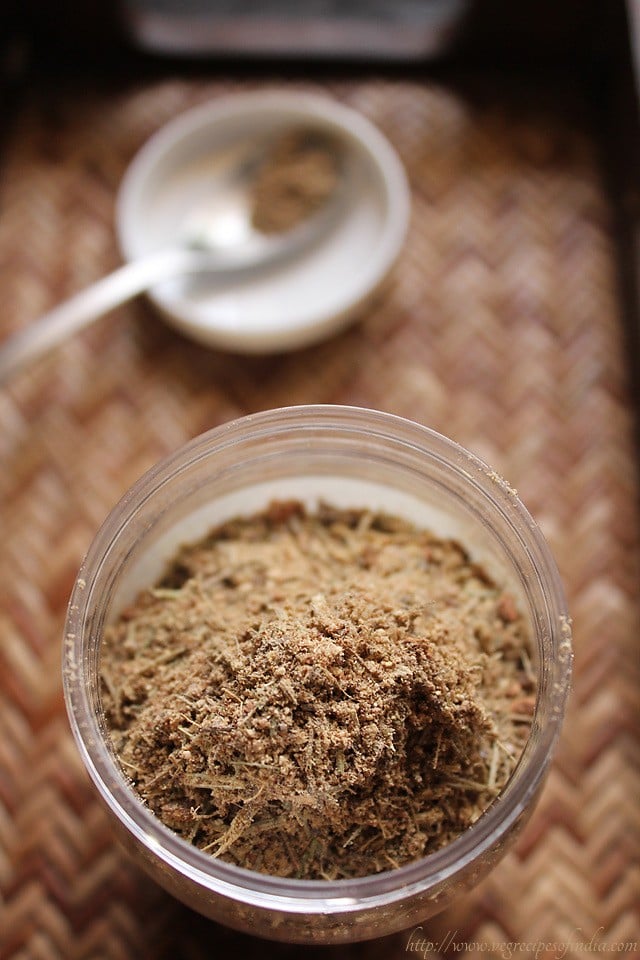 About Masala Tea Powder
Contrary to the American belief that chai is a specific flavor of sweetened tea latte, the word actually means "tea" in Hindi. The beverage that has become renowned at hip coffee shops is actually technically a masala chai, or "spiced tea," and its history far predates the advent of Starbucks.
This delicious beverage has evolved over time, with the first records of it dating back nearly 9000 years to a royal court. The original masala chai actually contained no tea leaves at all, and was a caffeine free Ayurvedic remedy used for cleansing and energizing the body.
The modern day version of masala chai – made with black tea, spices, milk and sweetener – started to become popular in the early 1900s, as a way to increase the local consumption of tea among Indians. Its popularity has only spread since then, with major international retailers selling it with the fervency of Indian chai wallahs (tea vendors).
As with most recipes on this blog, nearly every Indian family has their own recipe for masala tea powder for making their daily chai – there's no one "right way" to do it!
More On The Recipes
Making your own masala tea powder means you can adjust the spices and herbs to your palate, or even for a particular health benefit (e.g. lemongrass for detoxification or rose petals as a natural coolant).
The spices added to the Masala chai have many health benefits, and masala chai is a lovely Ayurvedic drink you can have during the day.
To make an authentic Indian masala chai, you'll need your favorite type of tea – while strong Assam tea is popular in tea shops around the globe, I personally love to make mine with a blend of ginger-mint tea or cardamom-ginger tea.
There's also no rule that you have to use black tea to make masala chai; I often make mine with herbal teas (tisanes) instead.
In this post, I will share with you both the basic tea masala (in the notes section of the recipe card and in the post below), as well as a lemongrass version (with step-by-step photos) I made after getting a big haul of it from the market recently. It is an amazing addition to masala tea powder, in case you were wondering!
Please note that I did not have dry holy basil (tulsi) and dry rose petals when I made this recipe; if you can manage to get them, then do add them to the masala chai powder.
If you would like to make your everyday chai simply by crushing a few spices in the mortar-pestle, then check my easy Masala Chai Recipe.
How To Make Chai Spice
1. You will need dried lemon grass. Cut the lemongrass into small or medium sized pieces using kitchen scissors.
Measure the chopped lemon grass and you will need about ¾ cup of these.
If you do not have lemongrass, you could skip it or opt to make the Chai Spice following the second recipe listed below.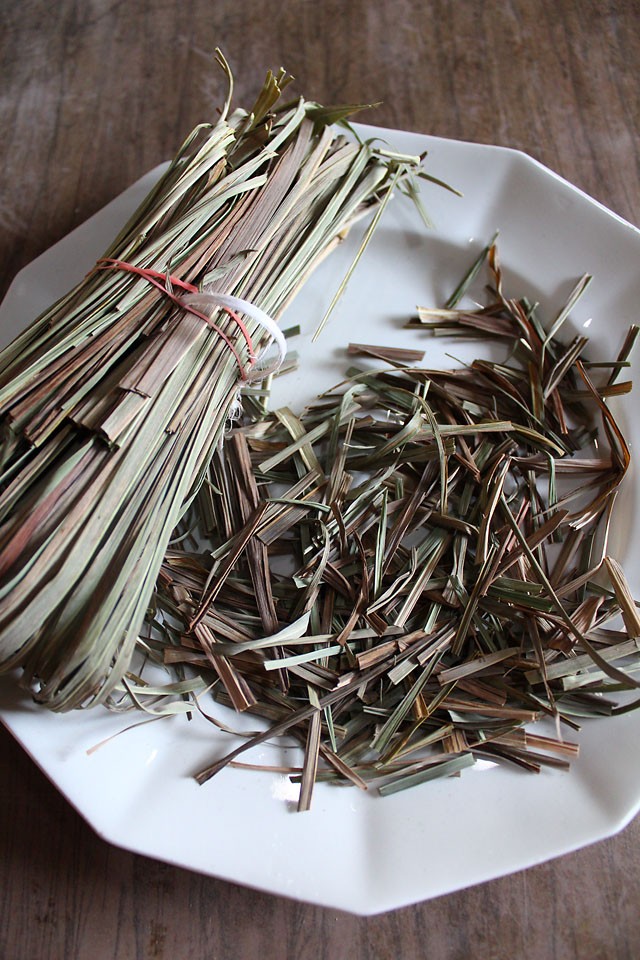 2. Measure and set aside the spices you will need.
4 pieces of 1.5 inches dried ginger root or about ¼ cup of dry ginger powder
2 tablespoons green cardamoms – 10 grams
7 to 8 cinnamon sticks – about 2 to 3 inches sticks
1 to 1.25 tablespoons cloves – 5 grams
3 tablespoons fennel seeds
1 and ½ nutmeg
Below you can see all the spices you will need, with the exception of one. Can you guess what it is?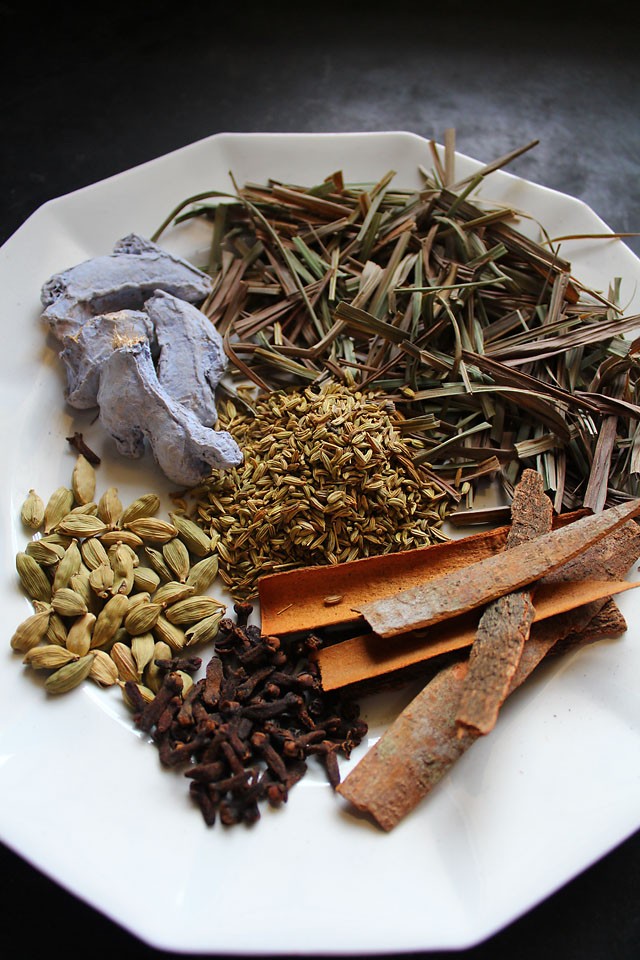 3. Grind the dry ginger first.
Please note that dry ginger is very hard, so you do need a strong dry grinder or a coffee grinder, or use dry ginger powder if you don't want to go to the trouble of grinding it.
If using dry ginger powder, simply mix it with the ground spices later.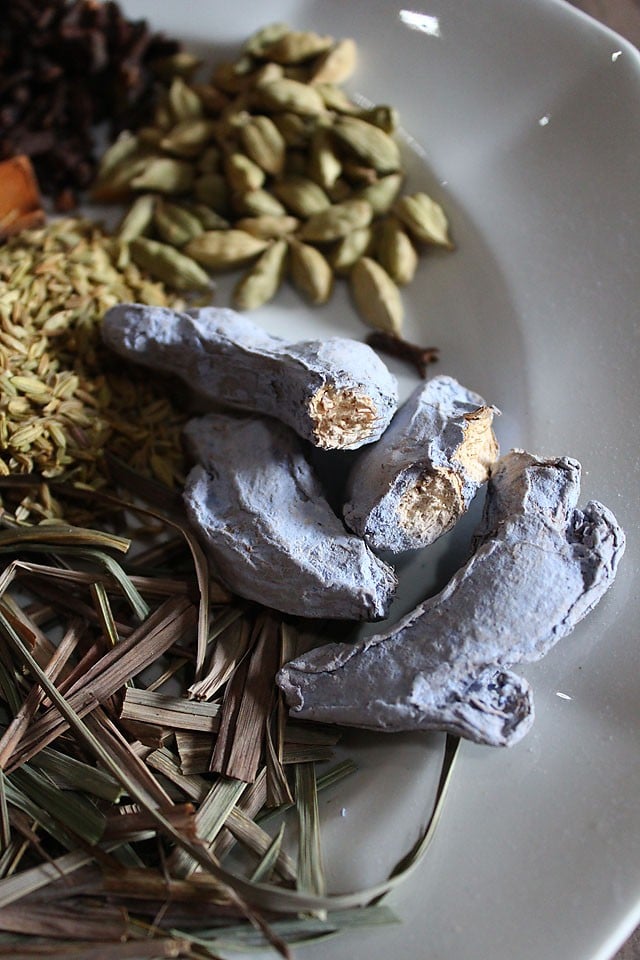 4. Did you guess what was missing from the spices? Its an important spice used in chai masala and it is… nutmeg!
Whole nutmeg can also be ground alongside the ground ginger powder.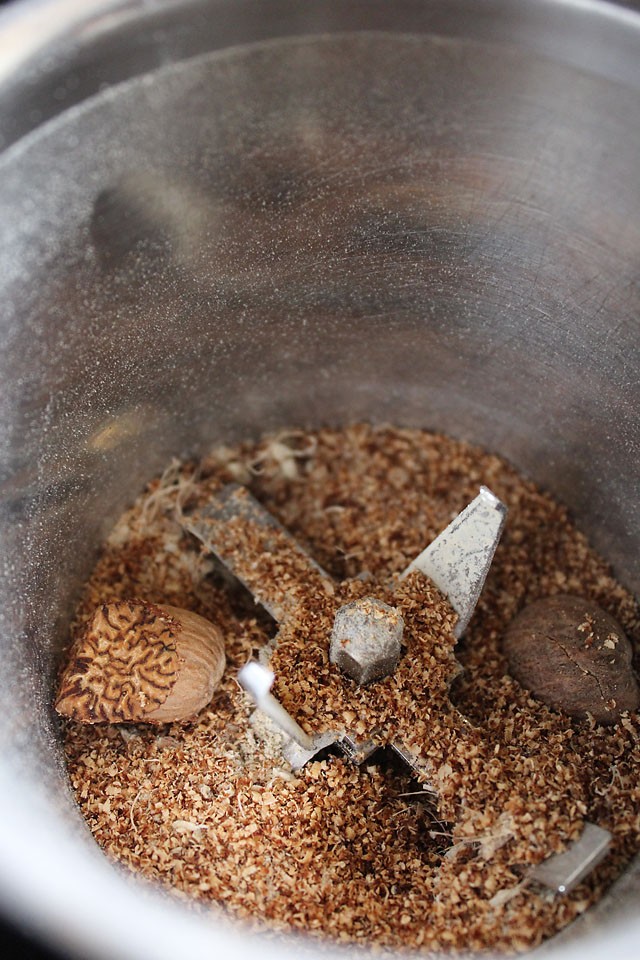 5. After the dry ginger and nutmeg are well ground, add the other softer spices and lemongrass to the grinder.
6. Grind all of them to a powder. You don't have to get a very fine powder; a little coarseness will do just fine.
When you open the lid, take a deep whiff – you will get a strong fragrance of the Indian tea spice blend that is heavenly.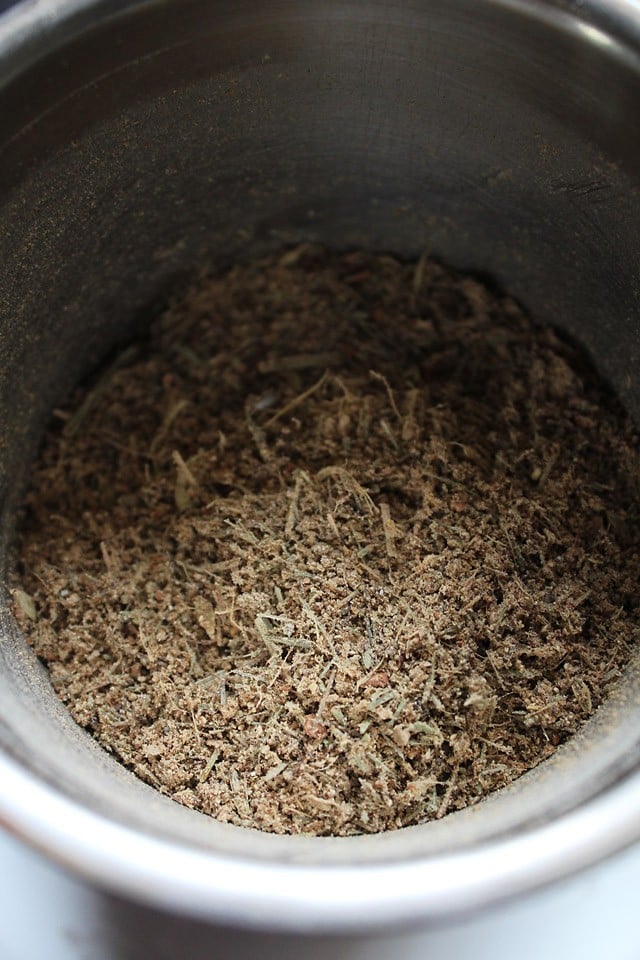 8. Store the dry Chai Spice powder in an airtight container for up to 3 months at room temperature. You can also store it in the refrigerator to extend the shelf life.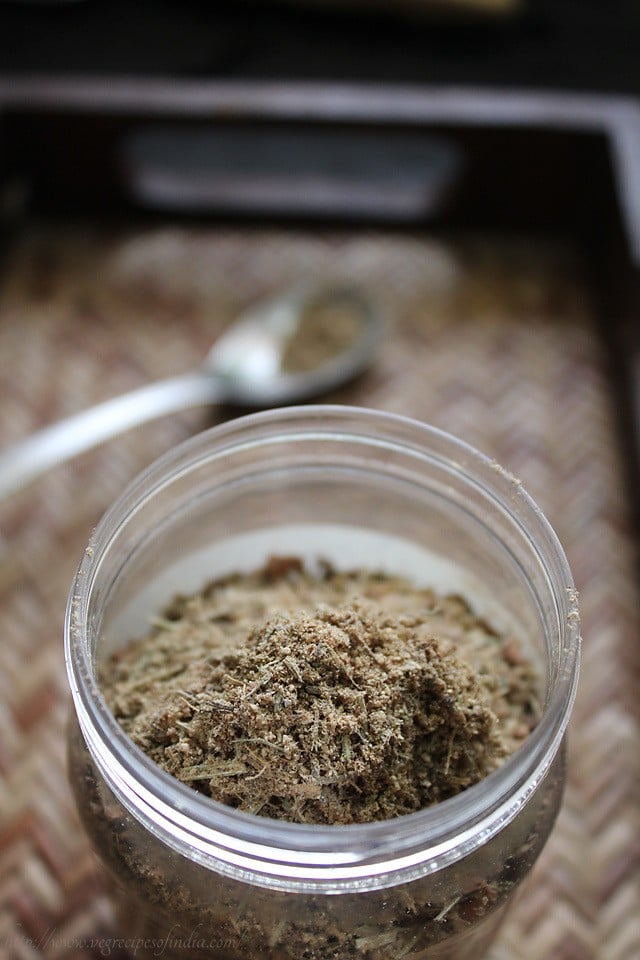 To Make A Masala Chai Latte
While making the Indian chai, add around ¼ teaspoon of the chai spice mix blend to make roughly 2 cups of tea, adding milk and sweetener to taste. I have mentioned a detailed recipe below.
Ingredients
2 cups water
¼ teaspoon of the chai spice mix (made from this recipe)
4 teaspoons raw sugar or as needed
2 teaspoons black tea granules or black tea dust/powder
¼ cup whole milk or as needed

Method
First heat about 2 cups water or as needed to make 2 cups of chai. Add ¼ teaspoon of this chai spice mix and give the water a boil on medium to medium-high heat. For a more fragrant, spiced and robust chai, you can add about ½ teaspoon or more of this chai spice blend.
Add your preferred sweetener. We mostly use raw sugar to sweeten our tea.
Add in 2 teaspoons of black tea granules or as required. Boil for a minute after adding the tea granules.
Add ¼ cup milk or more if you like. After adding milk, continue to cook for 2 to 3 minutes.
Switch off heat and strain tea into cups using a tea strainer. Enjoy!
Note: If using tea leaves instead of tea , add 2 teaspoons of it to the boiling water and switch off heat. Stir to mix. Cover with lid and let the tea leaves steep in the water for about 2 to 3 minutes or more according to your preferences. If you like, add hot milk and strain the tea.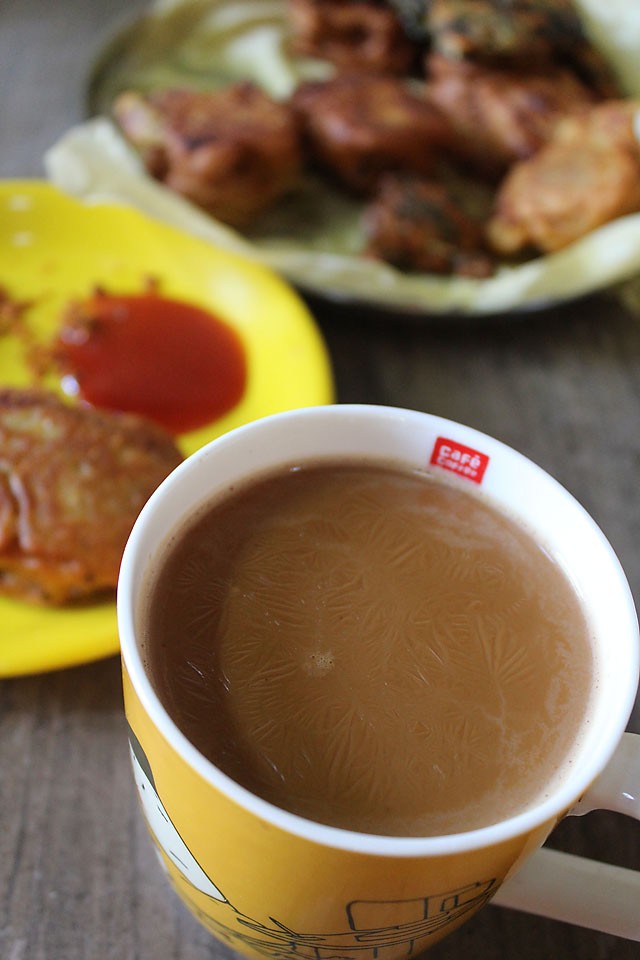 Basic Chai Spice Recipe
To make the simplest and basic Chai Spice recipe, first set aside the following ingredients:
2 tablespoons dry ginger powder
1 nutmeg
¼ cup green green cardamoms – 20 grams
In a spice-grinder or coffee-grinder or a mixer-grinder, grind the nutmeg and green cardamom.
Take the finely ground spices in a bowl. Add the ground dry ginger powder. Mix very well. Store the simple and basic masala tea powder in an air-tight container in a cool dry place.
FAQs
How can I turn this into an instant masala tea mix like Nescafe?
Along with the ground masala tea powder, you will need to add milk powder, powdered sugar and tea powder in the premix; check the labels of some brands that sell premix powder and you will get an idea. Hope this helps!
Should I use whole green cardamom pods, or just the black seeds?
I use the whole thing! The husks add a lot of flavor too. 🙂
Can I make masala chai without dairy?
Absolutely! Simply steep the tea in boiling water with about ⅛ teaspoon of the masala mixture, then sweeten it to taste.

You can either feel free to add the non-dairy milk of your choice, or omit it entirely. Masala chai just means "spiced tea," so milk doesn't have to be a part of it if you don't want!
Do I need to roast the whole spices before I grind them?
No, you do not – just grind them directly.
More Indian Tea Drinks To Try!
Please be sure to rate the recipe in the recipe card or leave a comment below if you have made it. For more vegetarian inspirations, Sign Up for my emails or follow me on Instagram, Youtube, Facebook, Pinterest or Twitter.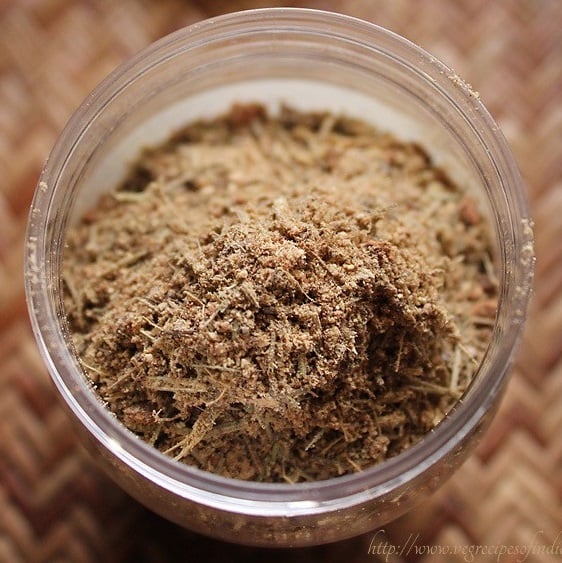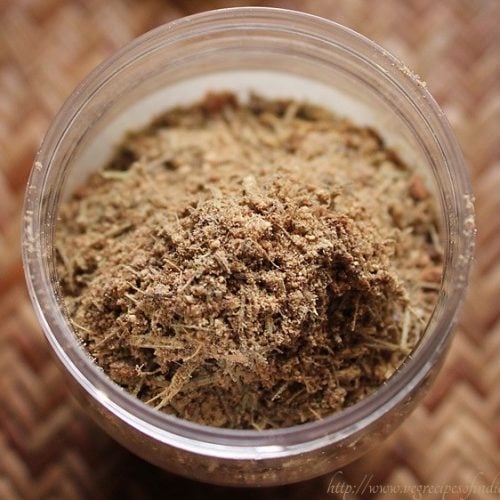 Chai Spice Recipe | Masala Tea Powder
Indian Masala Tea Powder or Chai Spice is a homemade fragrant and potent chai spice mix made with whole spices and herbs. Make an authentic cup of Indian Chai which this blend.
Servings
1
medium-sized bottle
Ingredients
4

pieces

dry ginger root

about 1.5 inches or ¼ cup dry ginger powder (ground ginger)

1.5

nutmeg

(jaiphal)

2

tablespoons

green cardamom

– 10 grams

7 to 8

cinnamon sticks

– about 2 to 3 inches sticks

1 to 1.25

tablespoons

cloves

– 5 grams

3

tablespoons

fennel seeds

(saunf)

¾

cup

chopped dried lemon grass

1

teaspoon

black peppercorns

– optional

¼

cup

dry rose petals

– optional

½

cup

dry holy basil

(dry tulsi leaves) – optional
Instructions
First grind the dry ginger pieces in a spice-grinder, coffee grinder or in a sturdy mixer-grinder.

Next grind the nutmeg together with the ground ginger powder.

If using pre-made ginger powder (ground ginger) then simply mix it with the rest of the ground spices.

Finally add the cloves, green cardamoms, cinnamon sticks, lemon grass leaves, fennel seeds to the already ground ginger and nutmeg.

Grind again to a fine or semi-fine powder.

Transfer to a glass bottle or a BPA free plastic bottle. Cover tightly and store in a dry cool place in the kitchen or keep the air-tight jar in the refrigerator.

Use the Masala Tea Powder as needed, whenever you make an Indian chai.

Around ¼ teaspoon chai masala is perfect for 2 cups of Indian masala chai. Though you can add ½ teaspoon for a more fragrant and spiced chai.
Notes
The approximate nutrition info is for the entire Masala Tea Powder made with this recipe and excludes black peppercorns, rose petals and holy basil leaves.
How to make Basic Masala Tea Powder:
Ingredients:
2 tablespoons dry ginger powder
1 nutmeg
¼ cup green cardamoms, 20 grams
Instructions:
First grind the nutmeg and cardamom in a spice-grinder, coffee grinder or a mixer-grinder.
Take the finely ground spices in a bowl. Add the ground dry ginger powder. Mix thoroughly to get an even mixture.
Store the simple and basic chai masala tea powder in an air-tight container.
Nutrition Info (Approximate Values)
Nutrition Facts
Chai Spice Recipe | Masala Tea Powder
Amount Per Serving
Calories 237
Calories from Fat 54
% Daily Value*
Fat 6g9%
Sodium 33mg1%
Potassium 966mg28%
Carbohydrates 54g18%
Protein 6g12%
Vitamin A 107IU2%
Vitamin B1 (Thiamine) 0.1mg7%
Vitamin B2 (Riboflavin) 0.2mg12%
Vitamin B3 (Niacin) 2mg10%
Vitamin B6 0.2mg10%
Vitamin C 9mg11%
Vitamin E 1mg7%
Vitamin K 12µg11%
Calcium 565mg57%
Vitamin B9 (Folate) 43µg11%
Iron 12mg67%
Magnesium 157mg39%
Phosphorus 186mg19%
Zinc 3mg20%
* Percent Daily Values are based on a 2000 calorie diet.
This Chai Spice Recipe post from the blog archives first published in December 2011 has been republished and updated on 10 August 2022.