Method to make Masala tea powder Or Indian chai masala powder. Indian chai or tea is a common beverage for us. We start our day with a blend of ginger-mint tea or cardamom ginger tea. Sometimes to make the chai more spiced, I do add cinnamon, cloves and fennel seeds. I love herbal tea and the Indian masala chai is an all time loved beverage.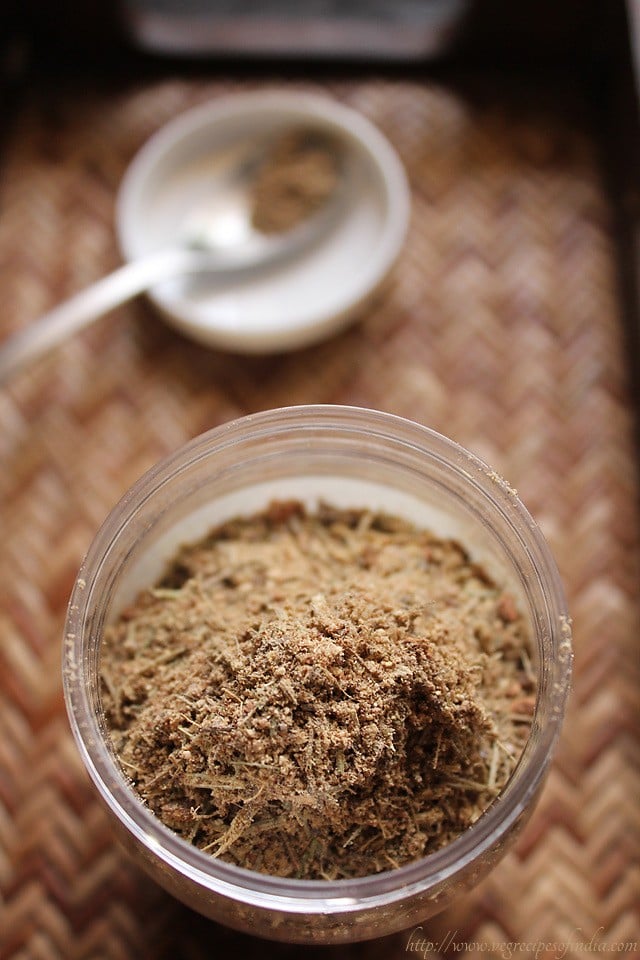 If you make the masala tea powder, then you don't have to add any spices to the tea while making it, unless you want a strong hint and taste of a particular spice. Its best to make your own Chai masala. you can add the ingredients you want. Also the chai masala or for that matter any masala you make at home is much more fragrant and strong than the ready made masala powders.
We got a good measure of dry lemon grass at the market recently. I love lemon grass tea. Knowing the health benefits of lemongrass, I decided to add it to the masala chai powder.
I will share with you both the basic tea masala (in the notes section of the recipe card below) and this lemon grass version which I made. There is no perfect masala chai recipe. in India the masala chai varies from home to home. Also the spices and herbs you add can be your favorites or you can add it for a particular health benefit…. Eg lemon grass helps in detoxification or rose petals are a natural coolant. Depending on your health conditions and what benefit you want to derive, you can add the desired herbs or spices.
The spices added to the Masala chai have a lot of health benefits and the Masala chai is one ayurvedic drink you can have during the day.
I did not have dry tulsi/holy basil and dry rose petals. If you can manage to get these, then do add do the masala chai powder. Also if you can get lemon grass, then nothing like it.
You will also need dry ginger/saunth or dry ginger powder. This is easily available in India, but not sure about other countries. The rest of the spices are easily available everywhere.
More how to recipes –
Please be sure to rate this recipe in the recipe card below if you have made it. For more vegetarian inspirations, Sign Up for my emails or follow me on Instagram, Youtube, Facebook, Pinterest or Twitter.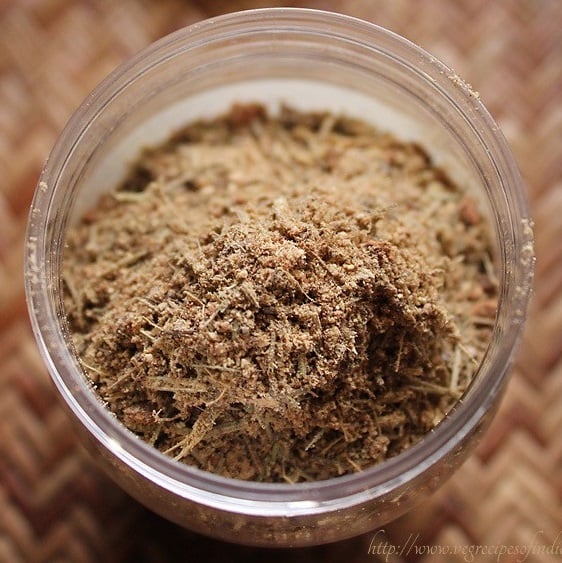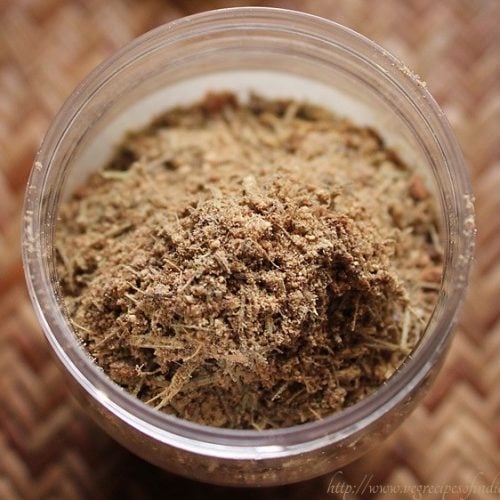 masala tea powder
Indian chai masala powder recipe - homemade aromatic chai masala made with spices and lemon grass.
Servings
1
medium small bottle
Ingredients
4 to 5

pieces

of dry ginger

(saunth) or ½ cup dry ginger powder

1.5

whole nutmeg

(jaiphal)

10

grams

small cardamom

(green cardamoms) or 2 tablespoons green cardamoms

7 to 8

long cinnamon sticks

5

grams

cloves

or about 1 to 1.25 tablespoons

3

tablespoons

fennel seeds

(saunf)

1

teaspoon

whole black pepper,

optional

¾

cup

chopped lemon grass,

optional

½

cup

dry rose petals,

optional

½

cup

dry holy basil

(dry tulsi leaves), optional
Instructions
First grind the dry ginger.

Finally grind all the rest of the spices and herbs with the already ground ginger and nutmeg.

Store in an air-tight jar.

Use the chai masala, whenever you make an indian chai.

Around ¼ teaspoon chai masala is perfect for 2 cups of indian masala chai. Though you can add ½ teaspoon for a more spiced chai.
Notes
How to make basic chai masala:
Ingredients:
¼ cup dry ginger powder 
1 whole nutmeg (jaiphal)
20 grams green cardamoms (choti elaichi)
Instructions:
First grind the nutmeg and cardamom. Take the finely ground spices in a bowl. Add the ground dry ginger powder. Mix very well.
Store the simple and basic chai masala in an air-tight container. 
How to make masala tea powder
1. Cut the lemon grass with the kitchen scissor to small or medium sized pieces.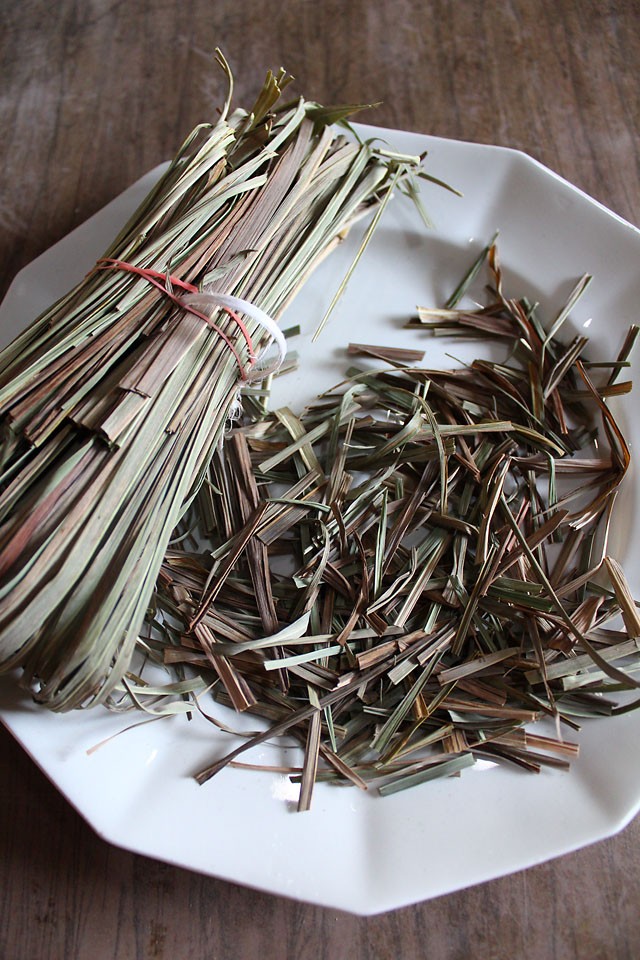 2. Below you can see all the spices you will need… Are you sure, its all the spices or one important spice is missing?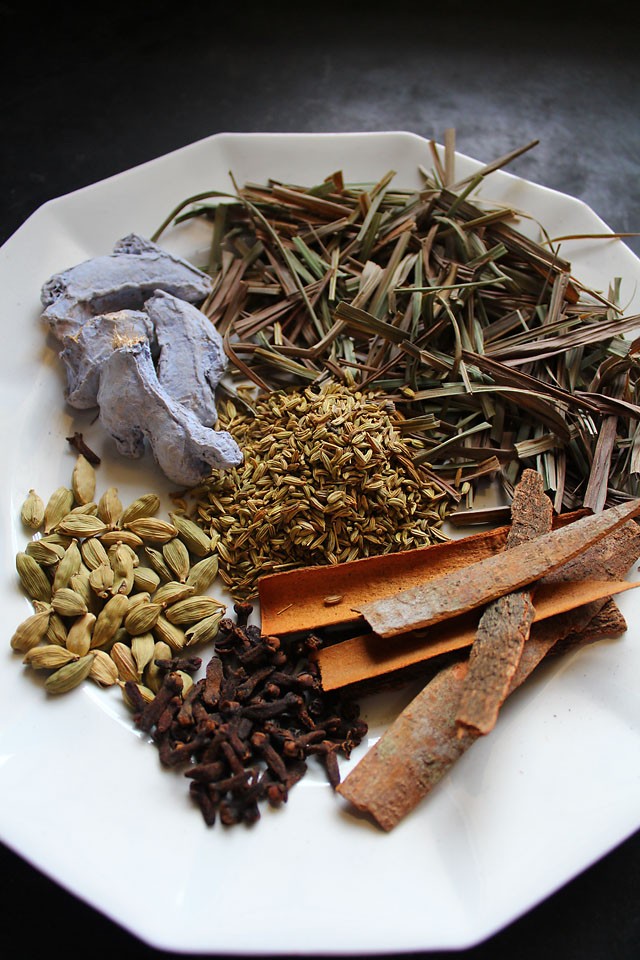 3. Dry ginger is very hard. So you do need a strong dry grinder or a coffee grinder to grind the dry ginger. Grind the dry ginger first. Or else use dry ginger powder, if you don't want to take the trouble of grinding it.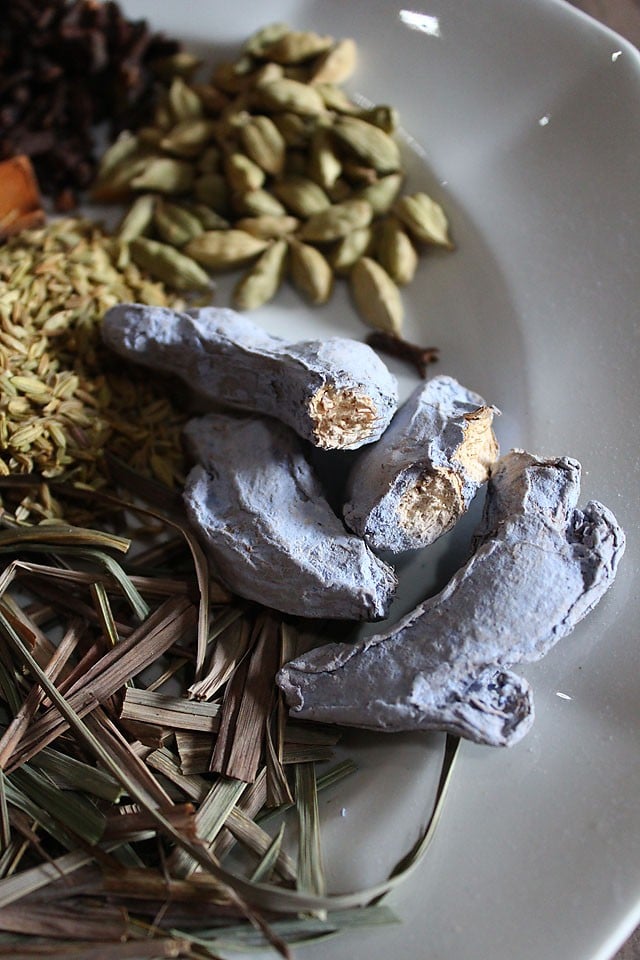 4. So whats missing from the spices…. Can you guess it? … Its an important spice essentially used in chai masala and it is……….  Nutmeg. grate the nutmeg directly into the powdered ginger… Ain't I stupid? why I am grating the nutmeg?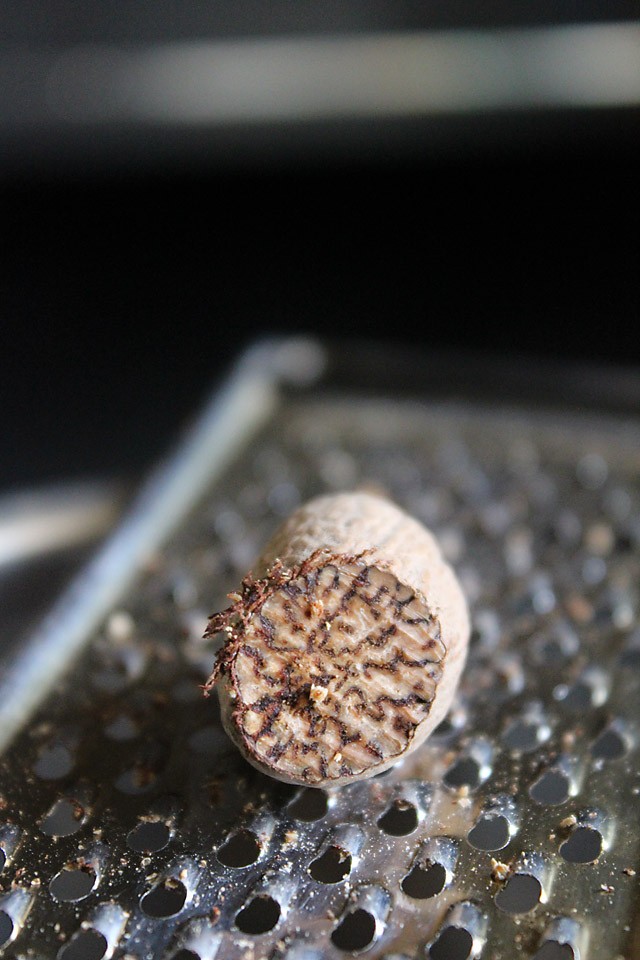 5. Why don't I add it to the ginger powder and grind it. If the strong and hard dry ginger can be ground, than the not so strong nutmeg can also be ground.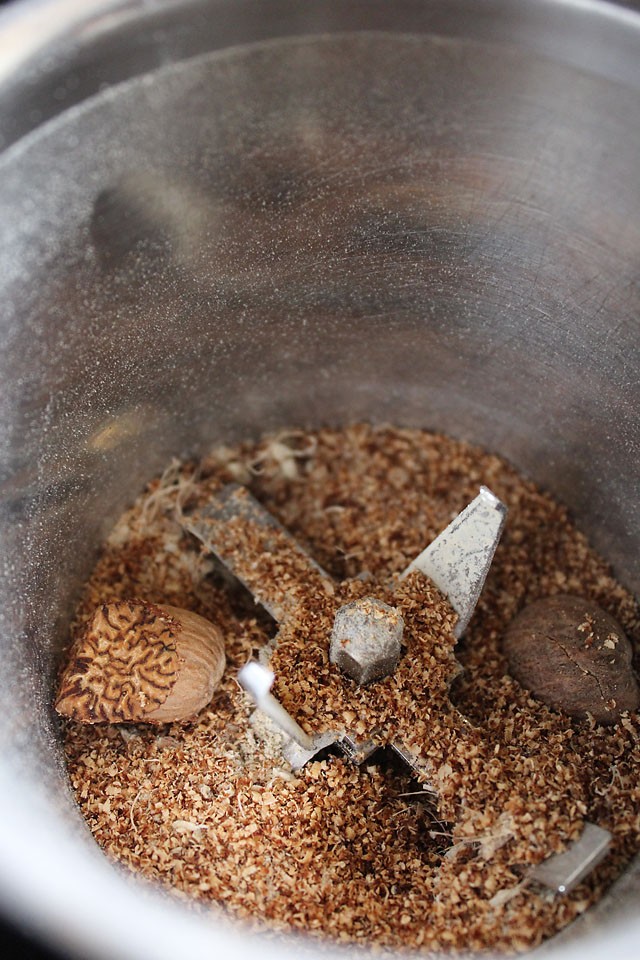 6. These two, that is the dry ginger and nutmeg should be ground first. Later add the other spices including the lemon grass to the already ground nutmeg and ginger.
7. Grind all of them to a powder. A little coarseness will do. You don't have to get a very fine powder. When you open the lid, you will get such a strong fragrance of the Indian tea spice blend… Enjoy it…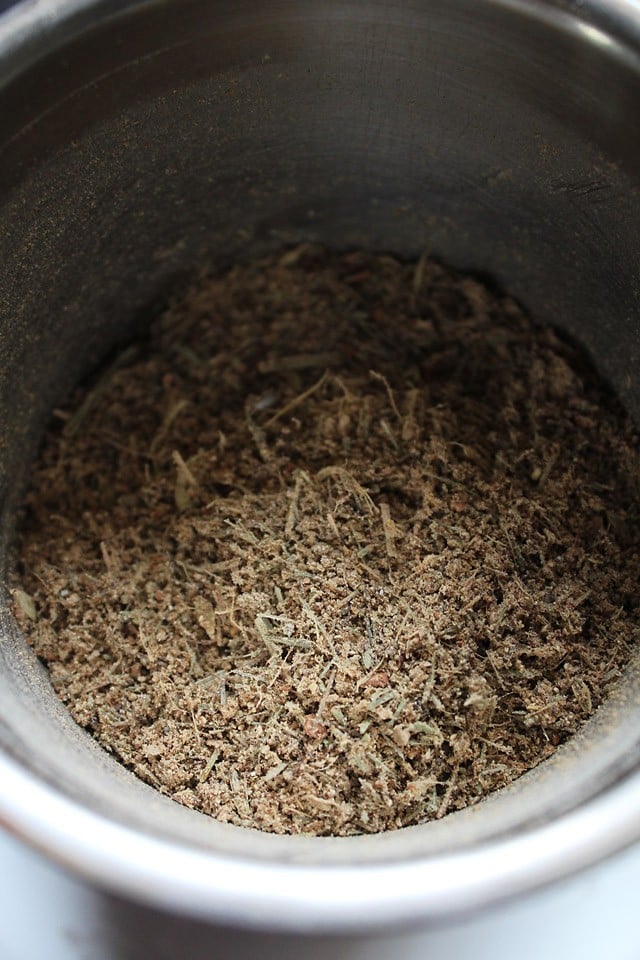 8. Store the dry chai masala powder in an airtight container.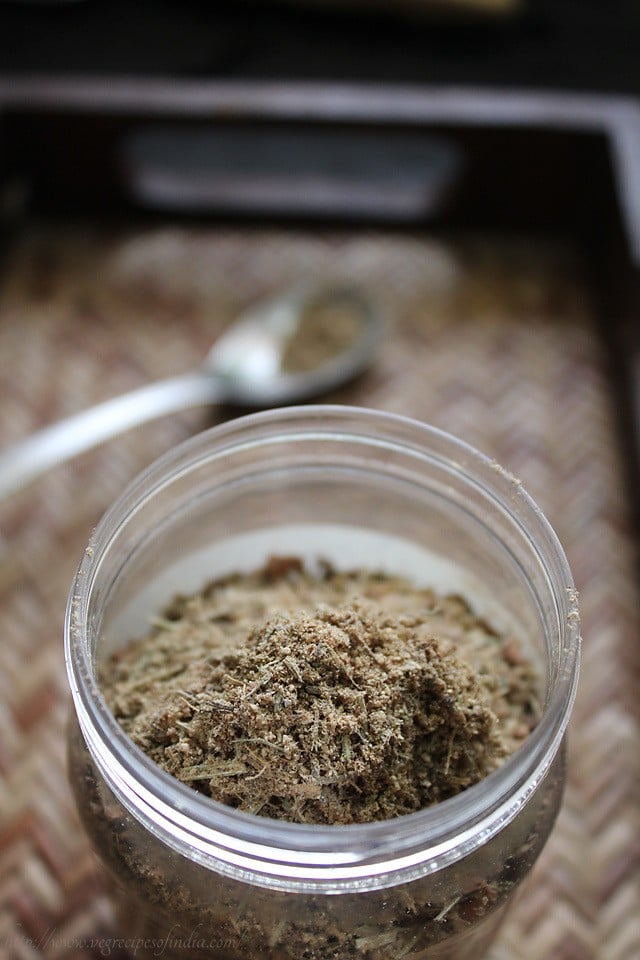 9. While making the Indian chai, add around ¼ tsp of the chai spice mix blend to black tea with milk for 2 cups of tea.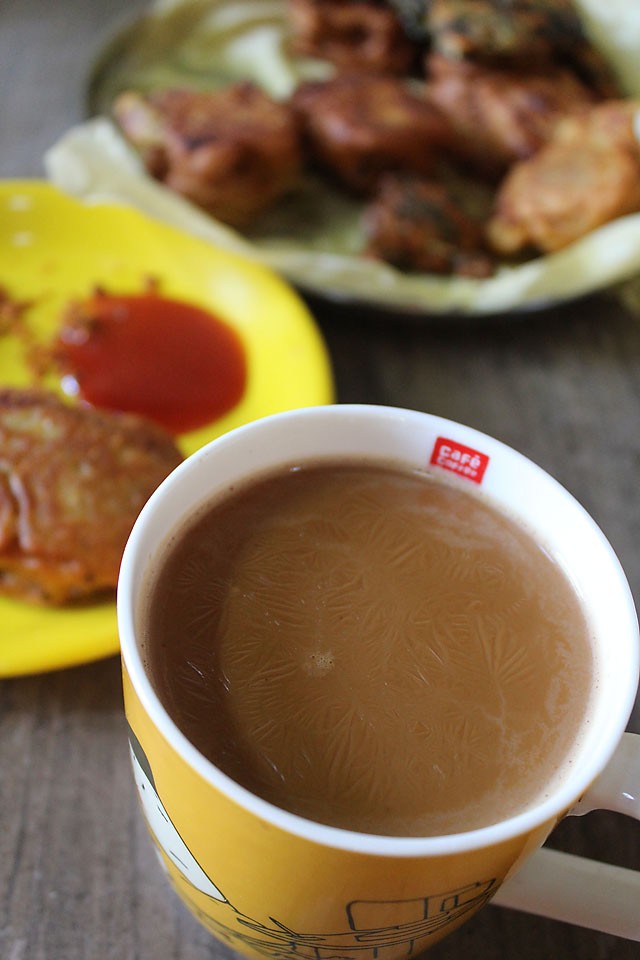 Have a healthy start to your days.