Indian summers are as much about the Kokum Juice or Kokum Sharbat, as they are about Shikanji, Mint Juice, Aam Panna and other classic beverages. This Kokum Juice recipe is a popular in Goan and Konkan households. Kokum Sharbat is also common at every store in Goa. A super coolant, try this easy Kokum Sharbat recipe for all things refreshing and rejuvenating for the body. I share the methods for making Kokum Juice syrup as well as Kokum Sharbat.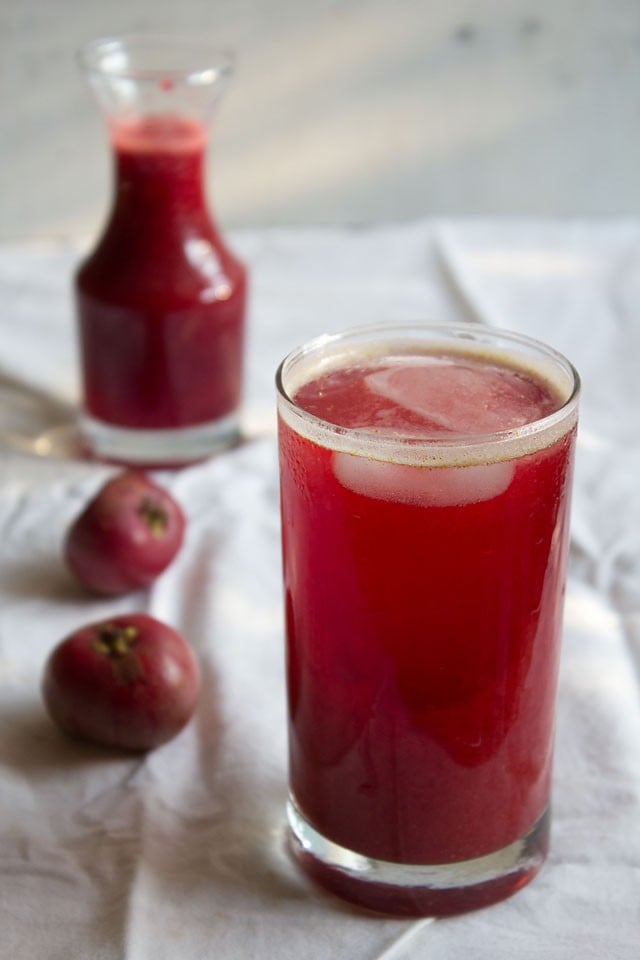 What is Kokum
Kokum or Garcinia Indica belongs to the mangosteen family. Flourishing in the Western Ghats of India and the Andaman and Nicobar Islands, it is also known as 'Vrikshamla' in Ayurveda. It is considered as one of the most cooling fruits rich in antioxidants, flavonoids and other nutrients.
The kokum plant is a fast-growing tree bearing small and red color fruits, which are similar in size to that of cherry tomatoes or plums. The fruit can be consumed in its fresh form, minus the seeds or even dried and used in flavoring and adding a natural pink color to various Indian dishes.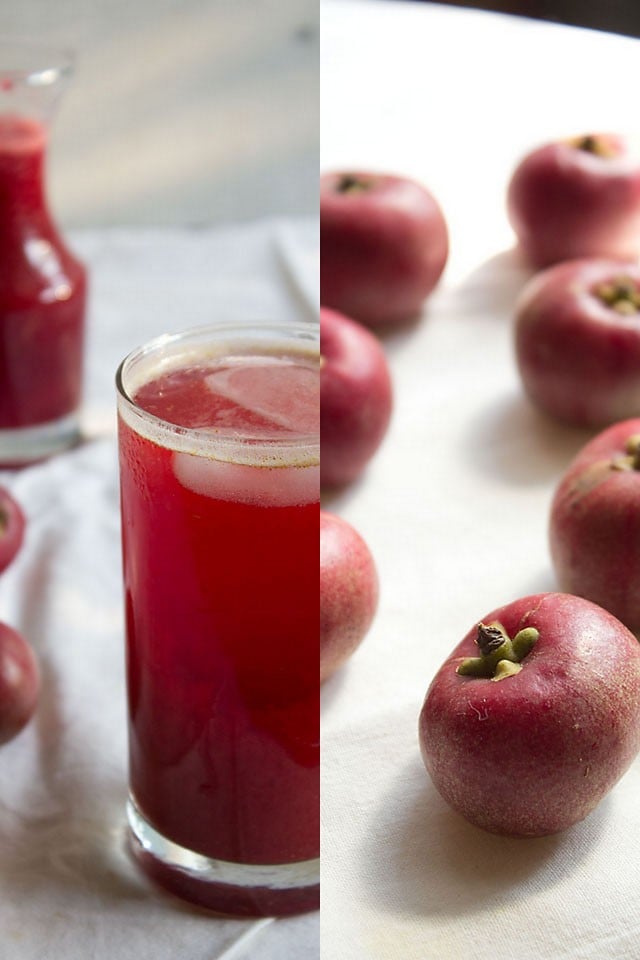 The outer cover of the fruit is dried in the sun to get what we call as dried kokum or amsol. After drying, the blackish purple yield has a sour taste and a sweetish aroma.
This dried kokum is used as a souring agent in curries, dals and other vegetable dishes in Maharashtrian, Gujarati, Konkani, Kerala and Goan cuisines. It is also a primary ingredient to sour fish and prawn curries in Malvani and Goan cuisines.
The cooling kokum curry or Solkadhi is a quintessential summer accompaniment. Apart from this, I also use kokum to prepare the Kokum Sharbat recipe, Khatti Meethi Dal and Sorak Curry at home.
More On This Kokum Juice
I usually avoid buying the readymade Kokum Juice as I find it overly sweet. It also has white sugar added in huge quantities that I like to avoid. Thus, I've been relying on my homemade Kokum Juice recipe since a long time.
Usually, I make the Kokum Sharbat from dried kokum. However, this Kokum Juice recipe is made from fresh kokum. If you have semi dry or dried kokum too, this recipe is as good enough.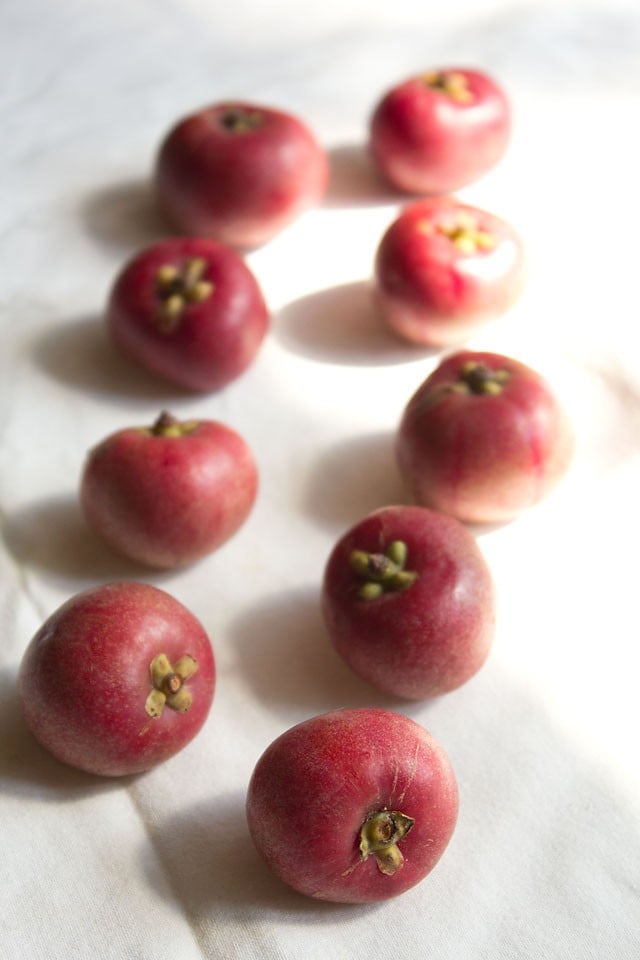 When you slice the kokum into two, there'll be the outer cover and the soft pulp inside with the seeds. The outer shell has a very sour and mild sweet taste and the inner pulp is extremely sour.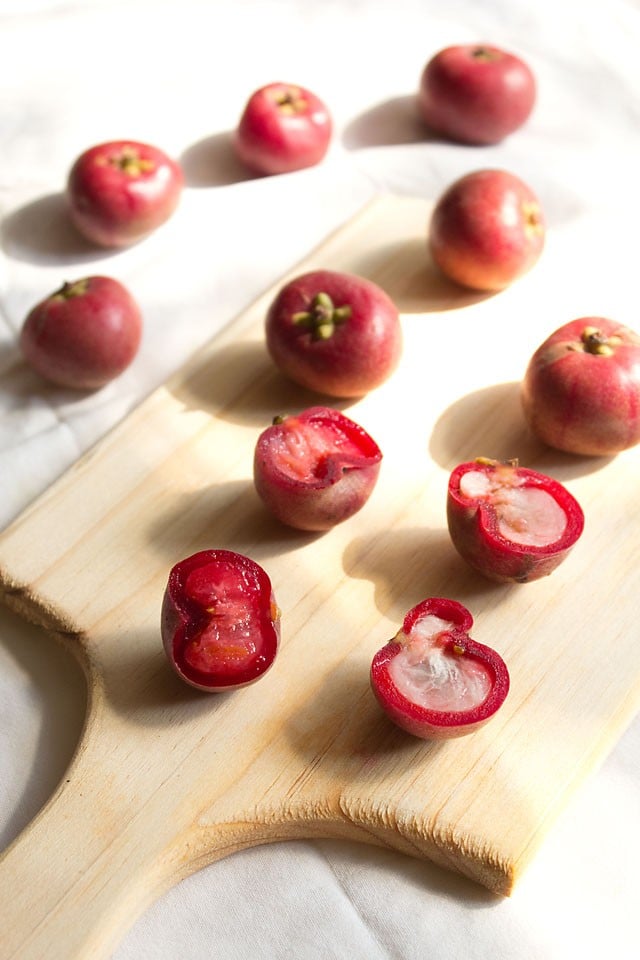 Make sure to discard the seeds, then blend the pulp and chopped outer cover and strain the mixture. Cool and add it to a thick sugar syrup.
Whether to spice this Kokum Sharbat recipe or no with some cumin and cardamom, is entirely your choice. I like it this way, so I usually add them.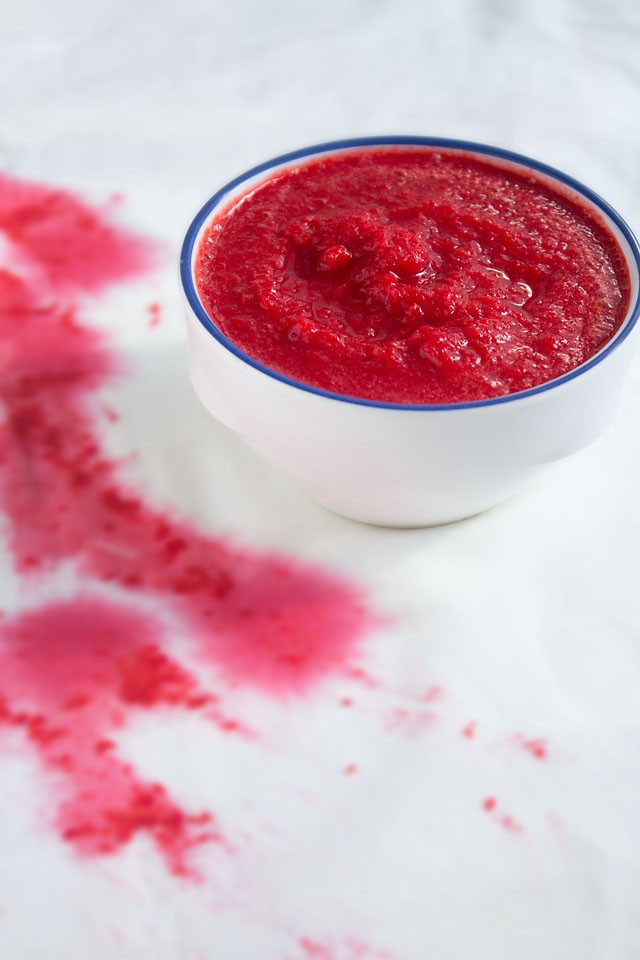 The best way to store this Kokum Juice is to refrigerate the mixture in airtight jar or bottles. While serving, mix about 1 to 2 tablespoons of the kokum mixture in one glass of water. Top with ice cubes and sip on to beat the summer heat!
Health Benefits of Kokum
The very native to India fruit kokum, is not just a powerhouse of vitamins, minerals and antioxidants, but is also low in fats and calories. This Kokum Juice or Kokum Sharbat is one of the best ways you can consume this nutritious fruit.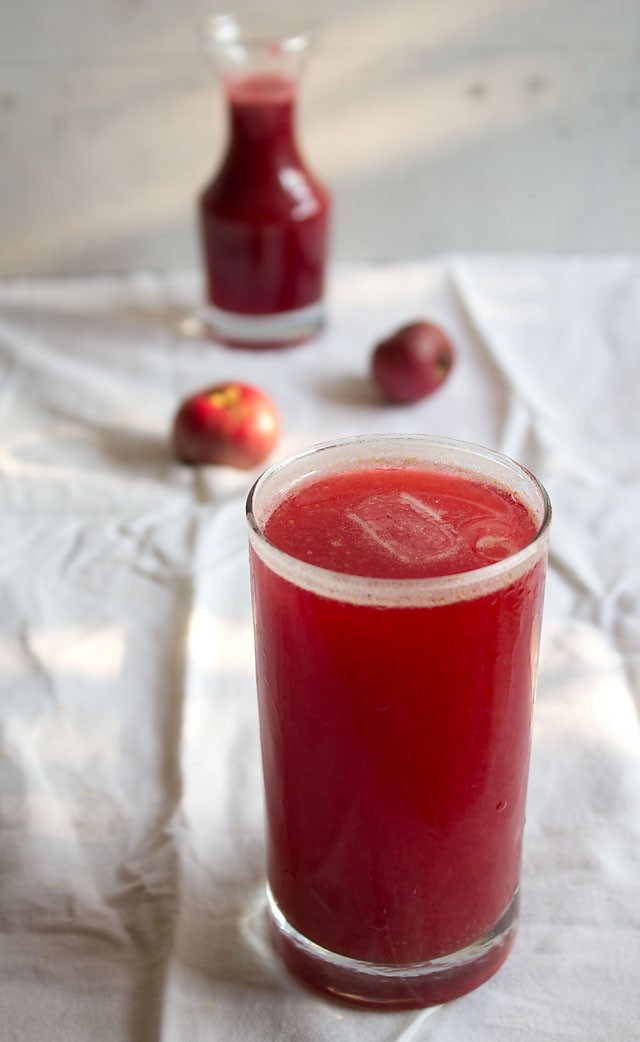 Below are some of the many health benefits of kokum.
It is one of the best natural coolants for the body and elevates the mood instantly.
This fruit has digestive properties and helps improving the appetite. Thus, Kokum Curry and Kokum Juice are great accompaniments during or after a meal.
As per Ayurveda, kokum is excellent in reducing the 'pitta dosha' in the human body.
Consumption of kokum safeguards us from the risk of cancer, helps in reducing depression and anxiety.
Kokum is great for people with diabetes and highly effective for the heart and skin too.
Kokum is also used to treat heat rash and cracked heels. On a side note, I remember my mom rubbing kokum on the heat rashes which we would get as kids.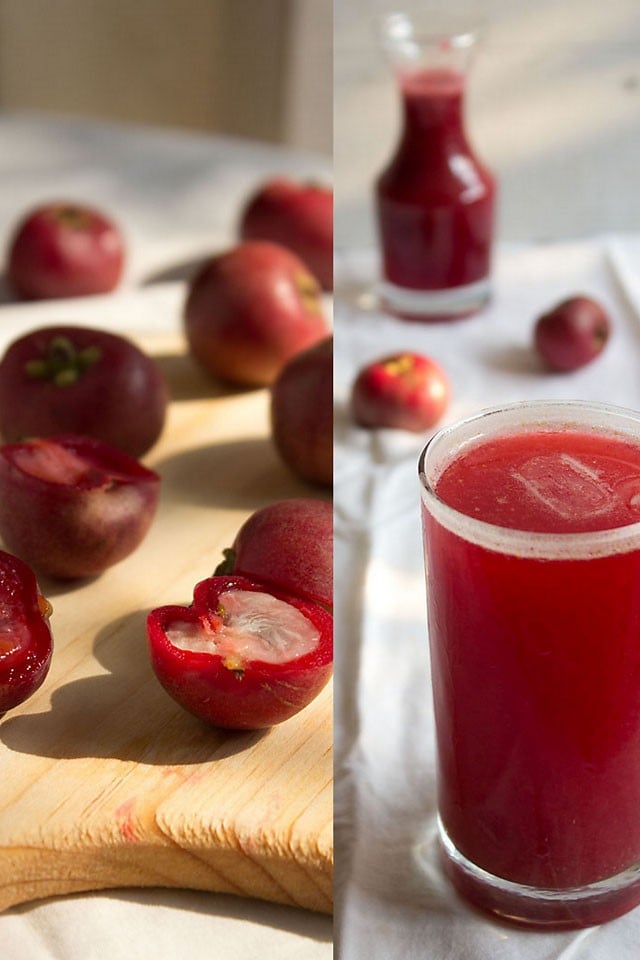 Expert Tips
Don't overcook the sugar syrup as this may result in a charred flavor in the juice. Also, adjust the quantity of sugar according to the sourness of the kokum fruit.
You have to discard the seeds of the kokum fruit before grinding the pulp.
You can make this Kokum Juice recipe with dried kokum too. However, it might lead to a difference in taste as compared to the one made with fresh kokum.
Make sure to cool the sugar syrup before adding the strained kokum mixture to it.
You can use jaggery instead of sugar to make this Kokum Sharbat recipe healthier.
Depending on your taste preferences, you can skip the cumin powder and the cardamom powder.
The Kokum Sharbat stays good for about 6 months to one year as it is made with sugar syrup. Make sure to store it in a clean jar or bottle.
The best way to serve Kokum Juice is chilled with ice cubes. In case you don't want to do so, you can use chilled water to dissolve the kokum syrup and consume it immediately.
You can freeze the Kokum Sharbat into ice cubes or popsicles for cooling, refreshing treats.
FAQs
I am getting a charred taste in the juice. What could be the reason?
The charred taste in the Kokum Juice can be due to overcooking of the sugar syrup. Dried kokum will not result in a charred taste.
What is the difference between making sugar syrup and adding sugar directly?
Sugar syrup-based beverages can be stored for a long time as the concentrated sugar syrup acts as a preservative. If only sugar is added, then the shelf life decreases considerably.
How long can I store this Kokum Sharbat?
You can store this Kokum Sharbat for about 6 months to one year in the refrigerator since it uses sugar syrup and not just sugar.
What is the shelf life of semi dried kokum?
Semi dried kokum can be stored for about a year. However, completely dried kokum stays good for a couple of years.
Is kudampuli or Malabar tamarind same as kokum?
Kudampuli or Malabar tamarind is not same as kokum. Though, both are used as souring agents.
If I am using dry kokum to make this juice, should I refrigerate the syrup?
Unlike commercially produced syrups or squashes, preservatives are not added in homemade ones. So, it is best to refrigerate the syrup.
Please be sure to rate the recipe in the recipe card or leave a comment below if you have made it. For more vegetarian inspirations, Sign Up for my emails or follow me on Instagram, Youtube, Facebook, Pinterest or Twitter.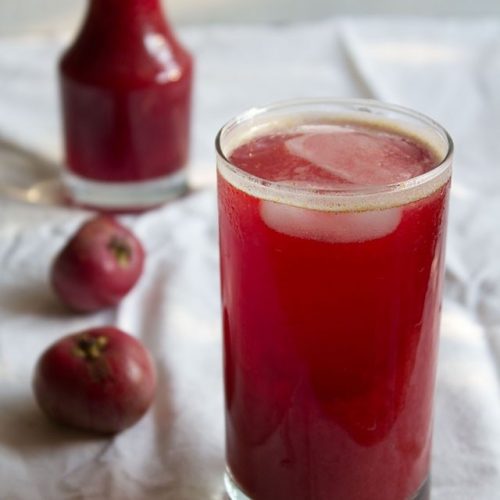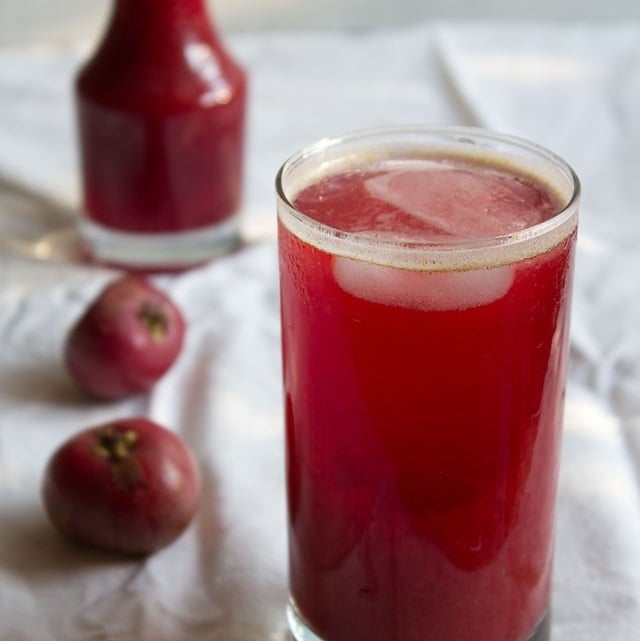 Kokum Juice Recipe | Kokum Sharbat
Kokum Juice is a refreshing and rejuvenating summer beverage. The Kokum Sharbat drink popular in Goan and Konkan households. Kokum Juice is also common at every store in Goa.
Servings
1
medium size bowl
Ingredients
1

cup

kokum fruit

chopped, or 1 cup dried kokum

2

cups

water

2

cups

sugar

5 to 6

green cardamoms

– powdered or crushed

1

teaspoon

roasted cumin powder

1 to 2

pinches

black salt

or salt, optional
Instructions
Rinse the kokum fruits in water. (See notes below on making the sharbat from dried kokum).

Chop the kokum fruits and remove the seeds.

Keep the pulp and the outer cover.

Grind or blend the fruit and pulp with little water in a mixer-grinder or blender to a fine consistency.

Strain the kokum mixture.

Boil the sugar and water until the syrup becomes a little thick and sticky. It can be ½ string consistency.

Cool the sugar syrup and then add the strained kokum mixture to it.

Add the roasted cumin powder and powdered cardamom.

Mix well. Store Kokum Juice in a clean jar or bottle and refrigerate.

When serving, dissolve 1 or 2 tablespoons Kokum Juice in one glass of water.

Add ice cubes and serve chilled.
Notes
How to make Kokum Juice from dried kokum
Rinse the dried kokum in water.
Soak them in 2 cups of water for 3 to 4 hours.
Collect the kokum in a blender and reserve the water. Keep this soaked water aside.
Grind or blend them with some of the reserved water to a smooth mixture in a mixer-grinder or blender. Strain and set aside.
Boil sugar with the remaining reserved water till the syrup looks little thick and sticky.
Cool the sugar syrup and add the strained kokum paste to it.
Add the powdered cardamom and cumin powder.
Mix well and store in an airtight bottle or jar in the refrigerator. If you do not want to make sugar syrup, then just dissolve the sugar in the kokum extract. In this case, you don't need 2 cups of water. Just 1 cup water can be used to soak the dried kokum and then grind them to a smooth paste. Also, you will need 1 cup sugar or add as needed. But with this method, the shelf life will be considerably reduced.
This Kokum Juice Recipe from the archives first published in May 2012 has been republished and updated on November 2022.