How to make coriander powder or dhania powder at home. i make all the spice powders that are largely used in Indian cooking like cumin powder, Amchur powder, Garam masala powder at home.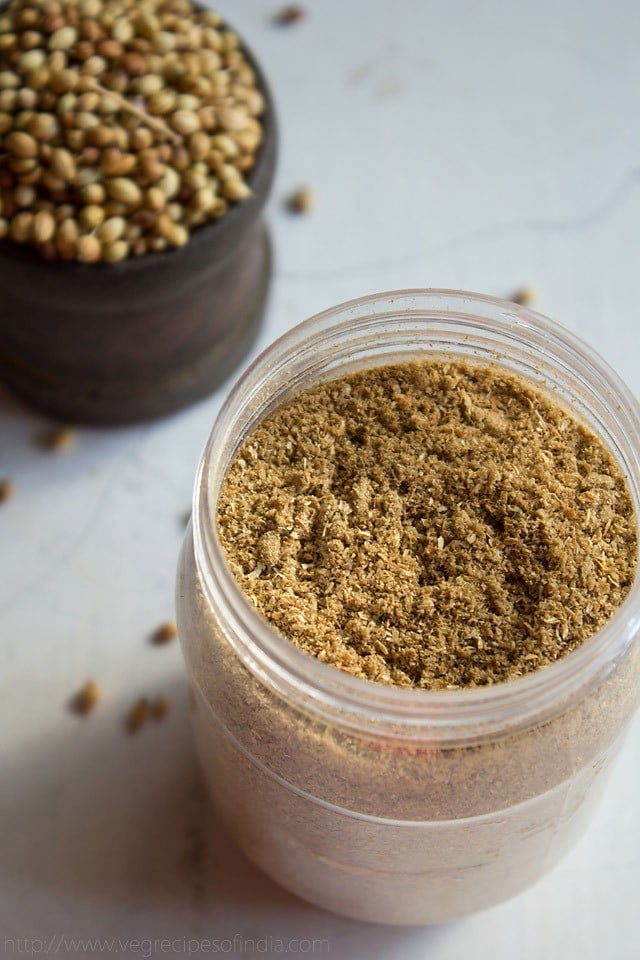 I have a fetish for making all things from scratch and that includes homemade masalas too. On readers request, I have also posted the method of making Pav bhaji masala, Sambar powder, Biryani masala and Bisi bele bath masala powder at home.
Home made spice powders Have a longer shelf life and also remain fresh. There is no additive or preservative added and they really bring out the flavors & aroma in the food.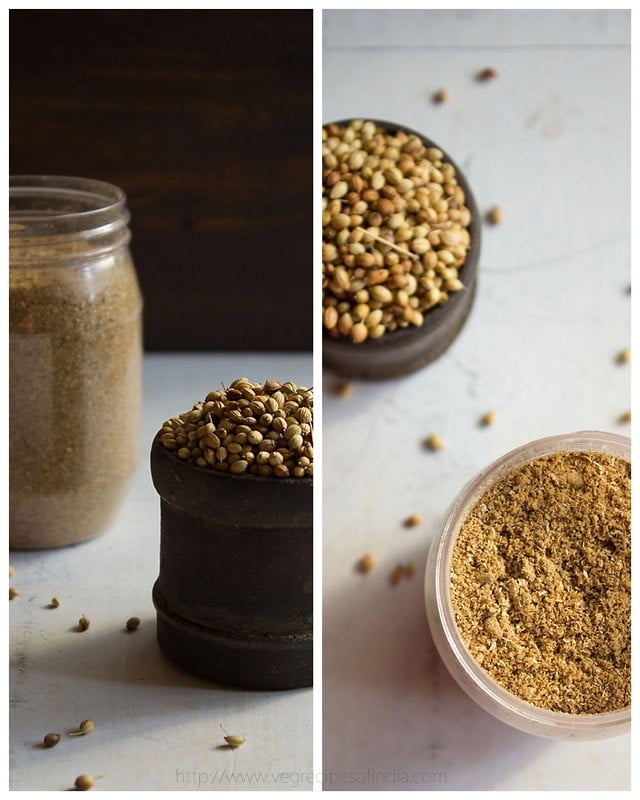 When I was a kid, my mom would tell me that readymade coriander powder is adulterated with horse-dung. And this was so many years ago… Just imagine now what it would be. As a result my mother would make all the Indian spice powders at home from scratch.
I guess I have picked up this habit from her, to make everything from scratch… Natural and homemade… Like this Coriander powder… Made from freshly roasted coriander seeds.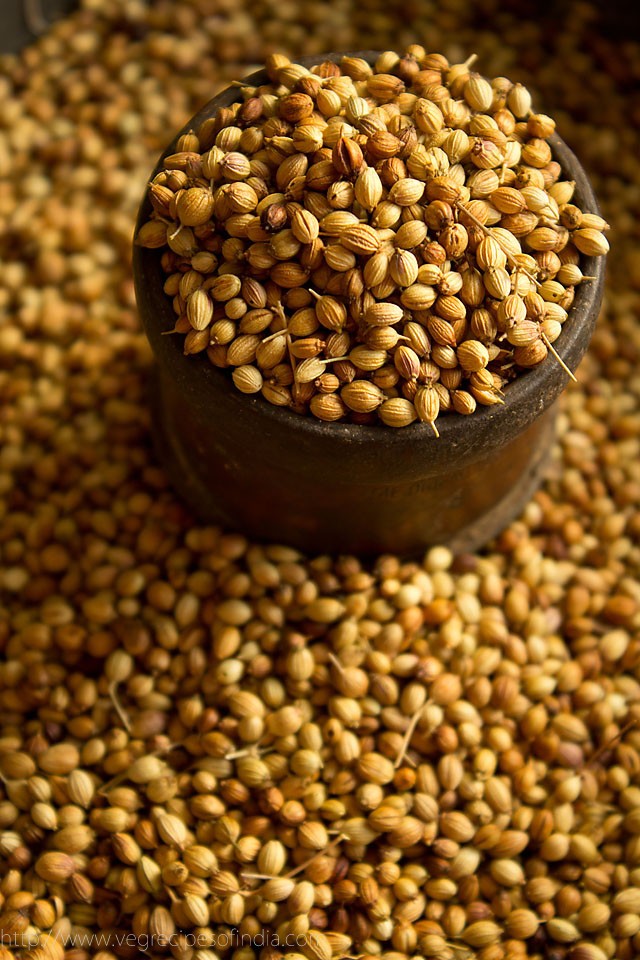 I looked up online for Adulteration in coriander powder and was shocked to read that they add Saw dust, horse dung and even cow dung. it is not only coriander powder that is adulterated, but also red chili powder, turmeric, garam masala etc.
So did not your great grandmother and grandmother tell you that you better make your own spice blends, spreads, sauces, jams than buy them readymade????? 😉
Before you make any spice powder or a spice blend always buy good quality spices. For making the coriander powder, buy good quality and fresh coriander seeds. I don't know about other countries, but in India one can actually whiff the spices before buying. So you take a handful of coriander seeds in your hands and sniff sniff….  if they do give a fresh coriandery aroma… Then they are good.
Store the coriander powder in an airtight container in a cool and dry place. It stays fresh for about 6 months. I have been using the one I made in october last year till now. It is just one the verge of getting over any time. So I had to make a fresh batch.
If you made this recipe, please be sure to rate it in the recipe card below. Sign Up for my email newsletter or you can follow me on Instagram, Facebook, Youtube, Pinterest or Twitter for more vegetarian inspirations.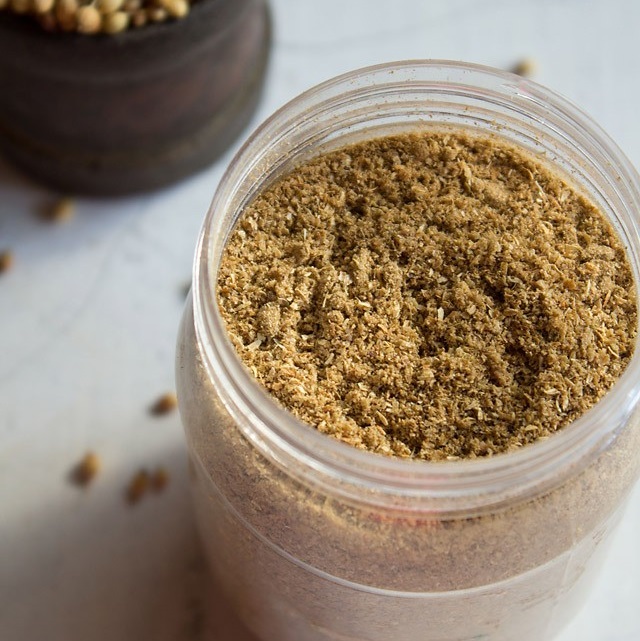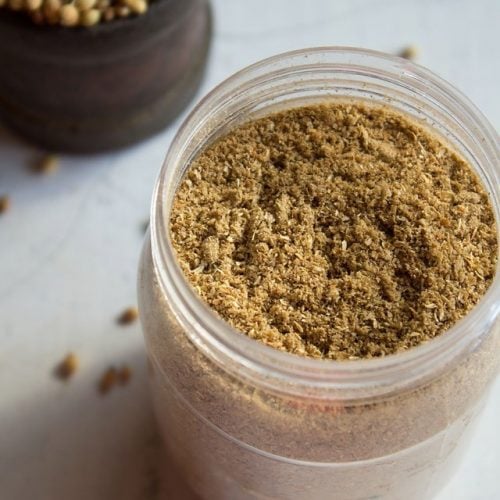 Coriander Powder
Method to make coriander powder or dhania powder at home.
Servings
1
medium size bottle
Ingredients
2

cups

coriander seeds

(sabut dhania) or you can take any amount you want
Instructions
Pick the dhania to get rid of stones etc.

Spread on a thali and dry in the sun for 1-2 days.

The other method is roast the coriander in a pan till they become fragrant, crisp and browned.

Do not burn them. Cool these.

In a dry grinder, make a fine powder of the coriander seeds.

Store coriander powder in an airtight container in a dry and cool place.
2 ways to make coriander powder or dhaniya powder
1: either keep the whole coriander in the sun for 1 or 2 days    OR
2: roast the coriander in a pan till they light brown and crisp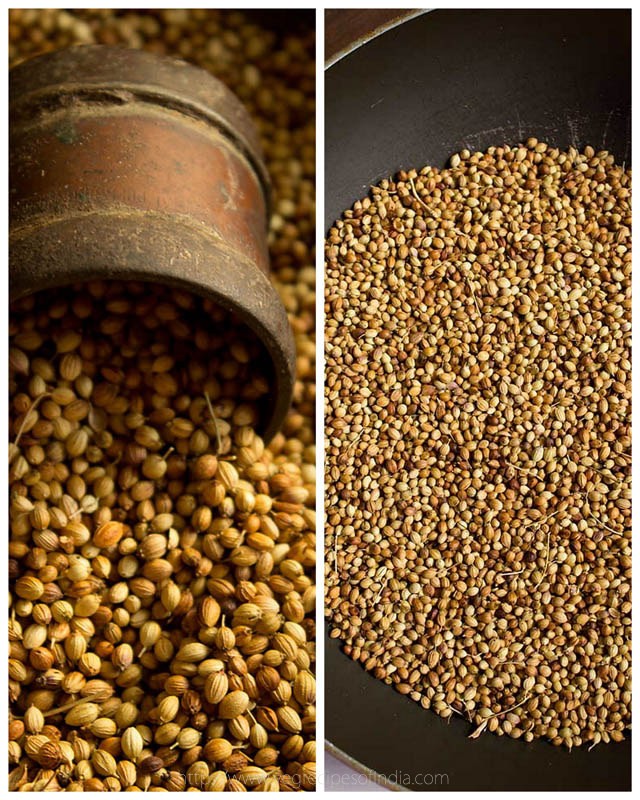 3: for the ones kept in sunlight, you don't need to cool them. But for the roasted ones, you have to cool them completely before grinding them. In a dry grinder or coffee grinder, grind the coriander to a smooth powder.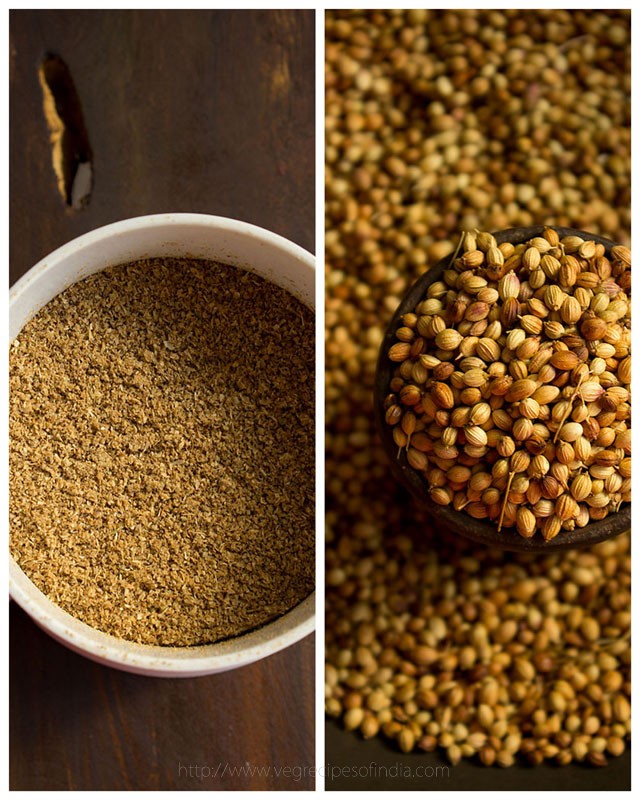 4: Store the freshly homemade aromatic ground coriander in an air-tight jar.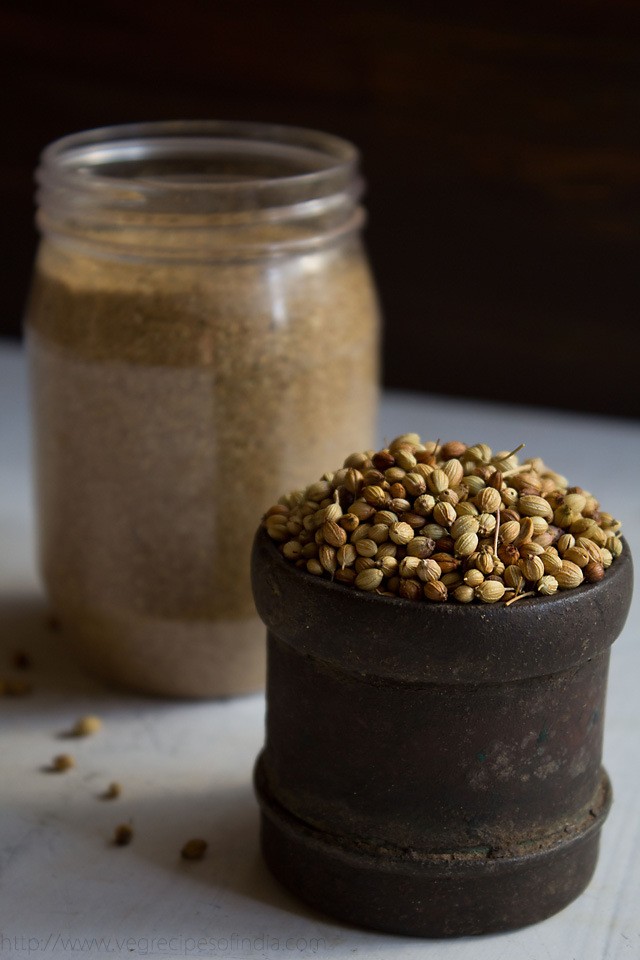 Thats it…. You have your own, Natural and flavorful coriander powder at home ready to be used in your Indian cooking.