i usually grow my own alfalfa sprouts at home. they are easy to sprout and not at all difficult.
this post is a request on how to make alfalfa sprouts at home. the post was in the drafts from atleast three months as i had not worked on the pics…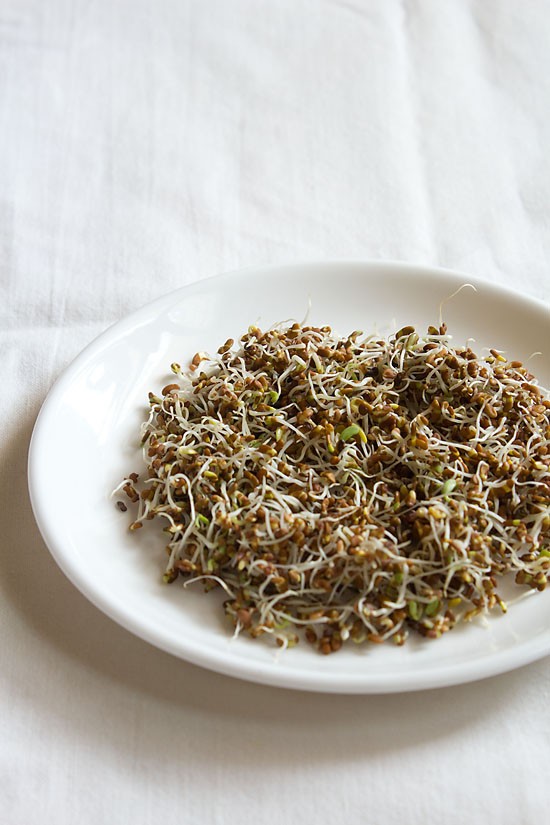 my friend soma showed me the method of sprouting alfalfa seeds at home and i am thankful to her for this.
i get organic alfalfa seeds from the fabindia store here or buy the organic seeds from conscious food brand from the superstores. in hindi, these seeds are called as 'rajko'.
the alfalfa seeds are really tiny…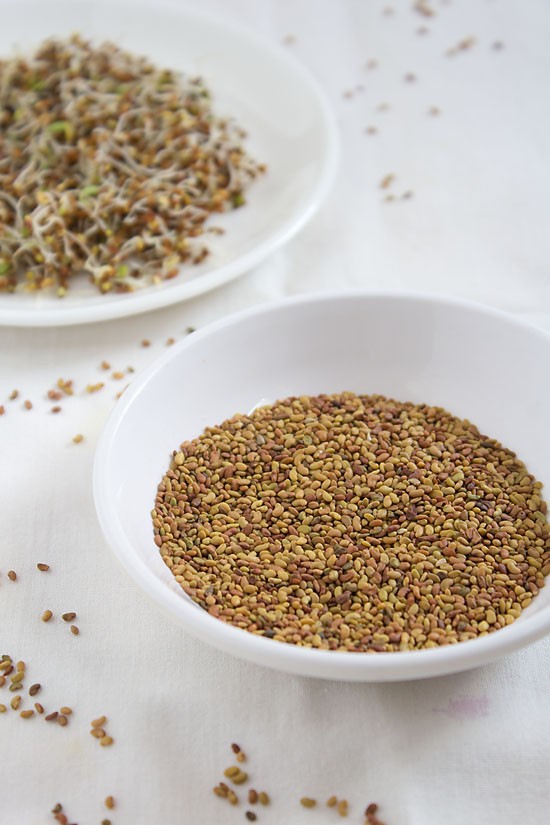 and once you sprout these tiny seeds… they become magical… like other sprouts 🙂
they are crunchy and taste good. they can be used in numerous ways… add it to your salads or your burgers, sandwiches or even veggie or dal dishes. . excellent way of including essential nutrients in your and your family's diet.
i sprouted the seeds for 3 days. these pics were taken in the hot hot month of may in india and i did not want the sprouts to get spoilt due to extreme heat. for colder temperatures, you can easily sprout for 5 days. you will get beautifully green sprouts which are a delight to look at. in the colder months i sprout these for 5 days.
once sprouted, keep these in a zip lock bag or an air tight box in the fridge. stays good for 4-5 days.
usually i add these little beauties to my morning toast with tea and in the simple salads i make at home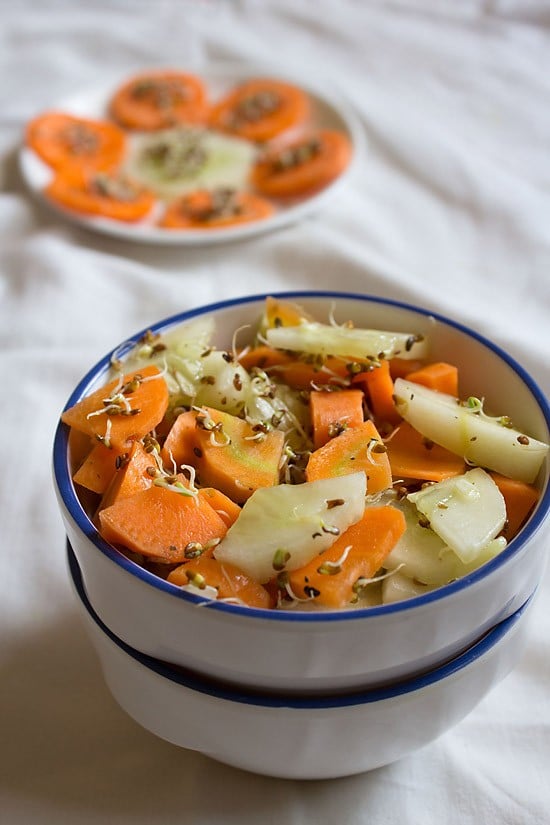 alfalfa sprouts have a lot of health benefits. below i have mentioned a few nutritional benefits:
rich in antioxidants
an excellent source of protein, especially for folks who are vegans as well into raw food.
they contain valuable minerals and vitamins like calcium, iron, magnesiums, phosphorus…. plus the B Complex vitamins, Vitamins A, C, E and K.
more how to recipes:
1. how to make curd at home
2. how to make idli dosa batter
3. pav bhaji masala powder recipe
4. homemade sambar powder recipe
5. how to make paneer or cottage cheese
6. how to make pulao biryani masala powder
method for making alfalfa sprouts below: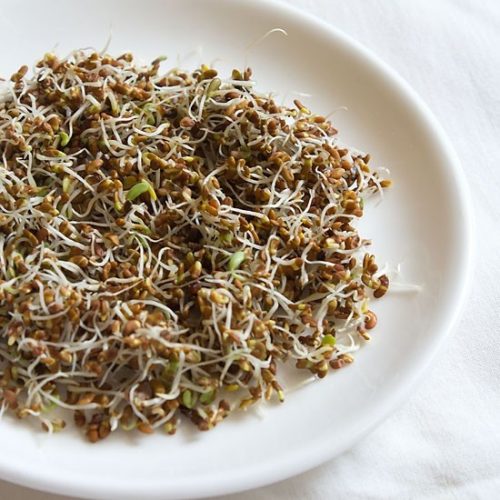 how to make alfalfa sprouts
diy method to make alfalfa sprouts at home.
total time
3
days
6
hours
servings
1
medium size bowl of alfalfa sprouts
ingredients (1 cup = 250 ml)
materials required:
a clean cheese cloth or muslin cloth

1

small jar

a string or rubber band
ingredients required:
¼

cup

alfalfa seeds

1

cup

water
how to make recipe
pick the seeds if there are stones or damaged seeds.

take a clean jar.

add the alfalfa seeds in the jar

rinse the seeds a couple of times with water taking care the seeds don't spill out.

cover the jar lightly and soak the seeds in the water for 5-6 hours.

secure a muslin cloth on the mouth of the jar with a string or rubber band.

drain all the water.

keep the jar inverted for some time till the extra water also drains out.

store the jar in a cool and dry place for 3-5 days till you get the sprouts.

rinse the seeds and the jar everyday with water and then drain the water completely.

when the sprouts are done, then remove the alfalfa sprouts with a spoon in another jar/box/zip lock bag and store airtight in the fridge.

alfalfa sprouts stays good for 4-5 days.

add the alfalfa sprouts to your food whenever you want them.
step by step tutorial to make alfalfa sprouts follows:
1: take a clean jar. if possible sterilize the jar by rinsing it with hot water. pick the alfalfa seeds for stones or damaged seeds. take about ¼ cup of alfalfa seeds in the jar.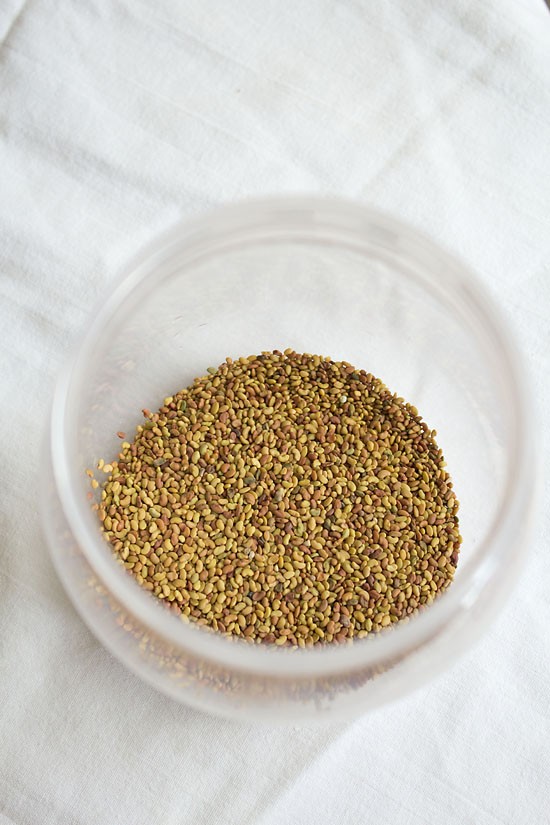 2: rinse the seeds a couple of times in the jar. throw the water taking care the seeds do not spill. now add enough water to the same jar and let the seeds soak in water for 5-6 hours or overnight. cover the jar.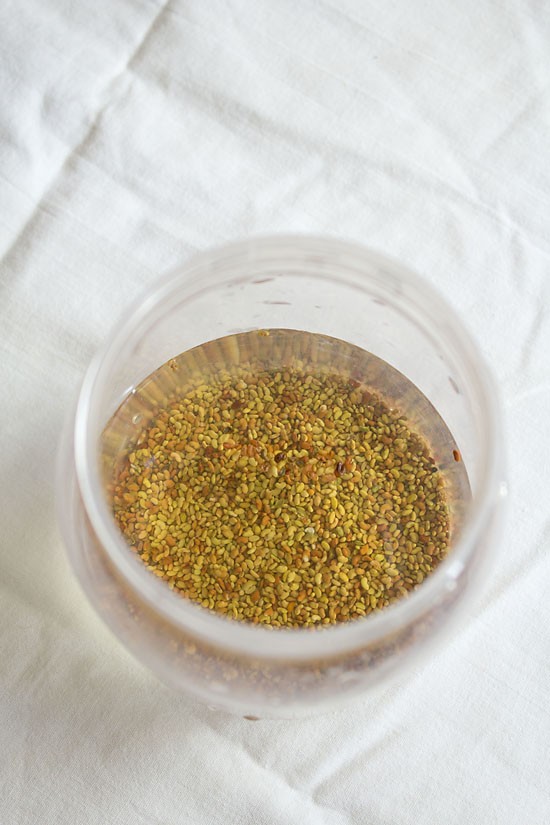 3: now take a muslin cloth or cheese cloth or a thin cotton kitchen napkin and cover the top of the jar.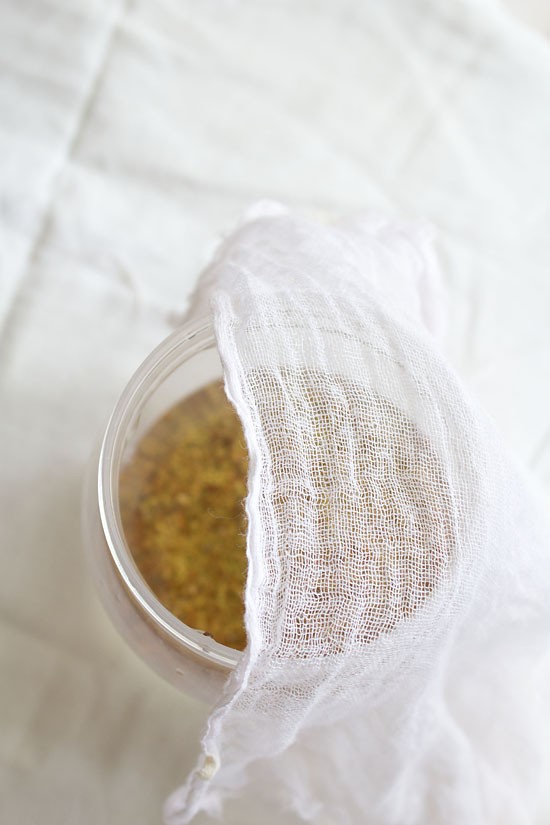 4:  fix the muslin to the mouth of the jar with a rubber band or a string.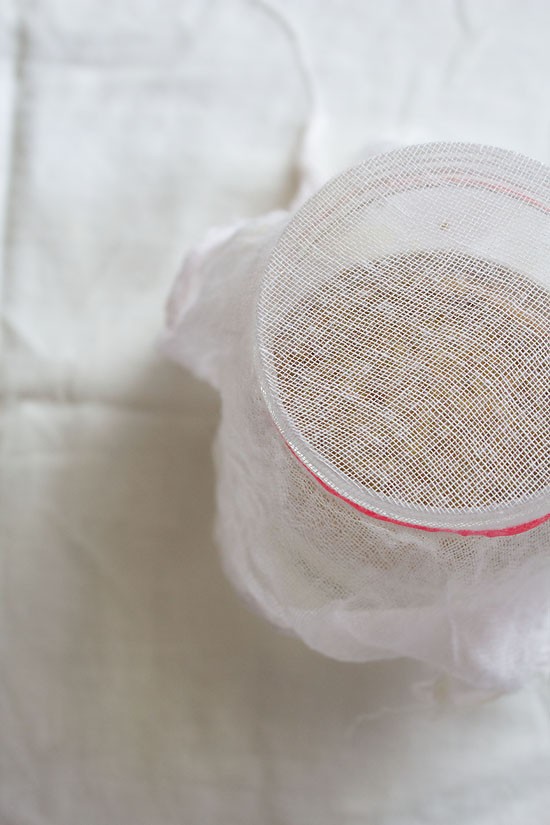 5: drain the water from the jar as shown in the pic below.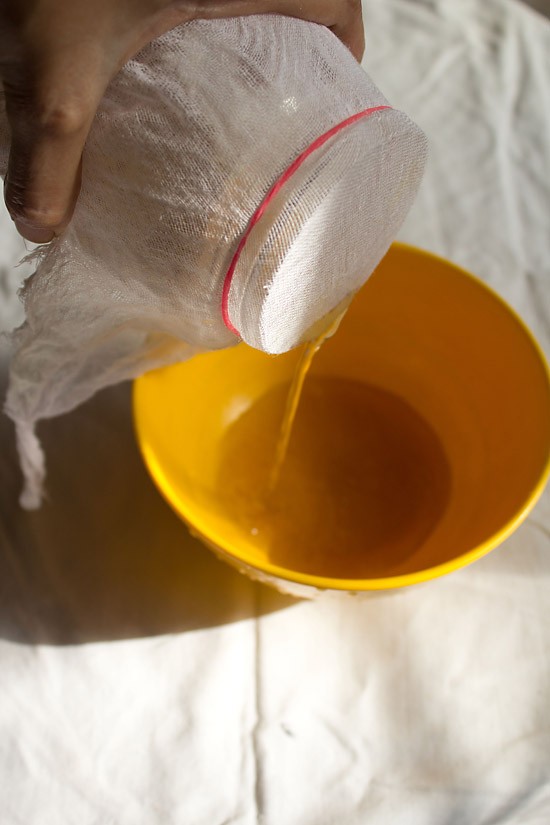 6: below you can see the pic of soaked alfalfa seeds. let the seeds be in the jar. don't remove them. i opened the muslin cover just to show the pic of the soaked seeds.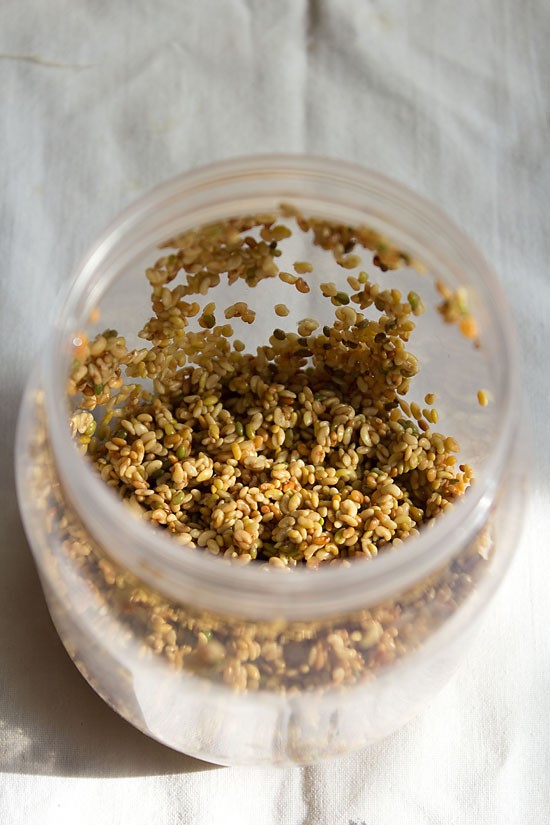 7: keep the bottle inverted in a bowl so that no extra water stays in the jar. if there is water left, it will rot the seeds. turn the jar so that seeds are all over including the sides.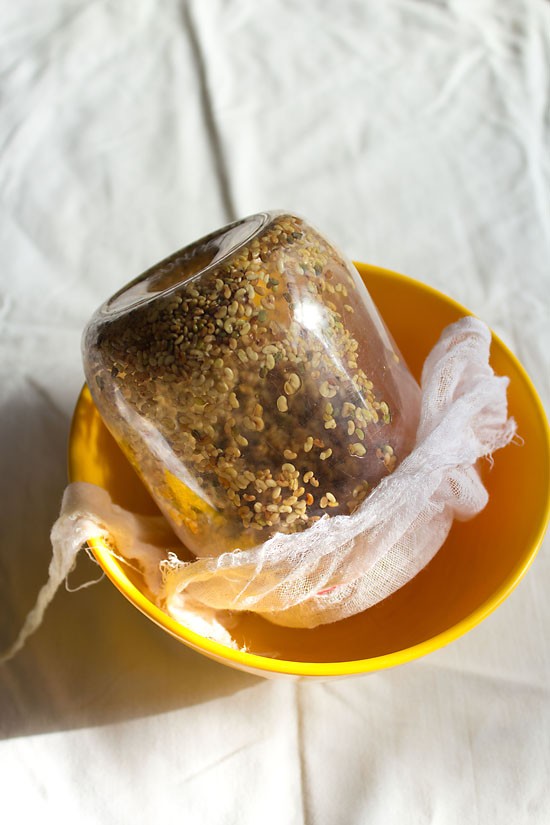 8: rinse the seeds with clean filtered water every day. in hot temperatures you may have to rinse a couple of times.  the rinsing removes any toxic substances or harmful micro organisms that may grow in the jar. after one day, as you can see below, tiny sprouts have started to come on the seeds.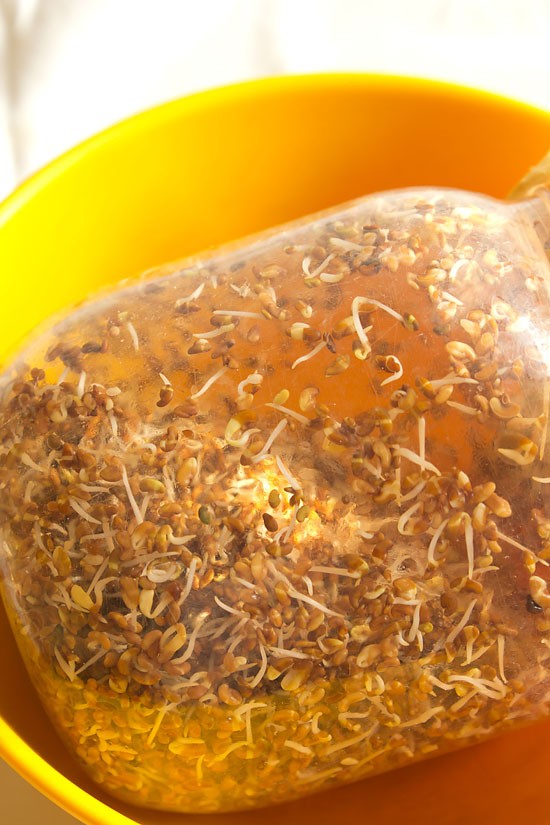 9: after second day, i can see some greens as well on the sprouts. remember to rinse everyday. after rinsing the water should be drained completely. rinsing also helps the seeds to have some moisture, otherwise they dry out.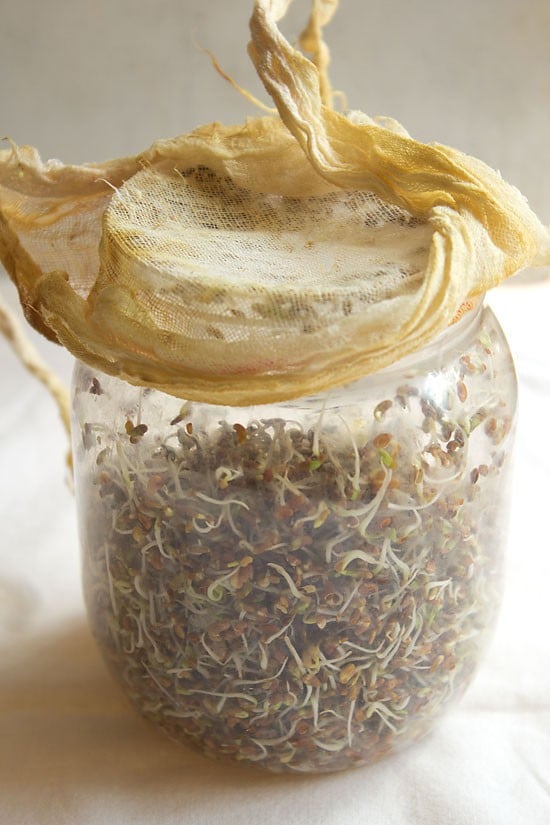 10: on the third day, this is how the sprouts appear. i stopped the sprouting after 3 days, here due to very hot summers in may. hence the sprouts are small as compared to what i get when i sprout them in colder temperatures.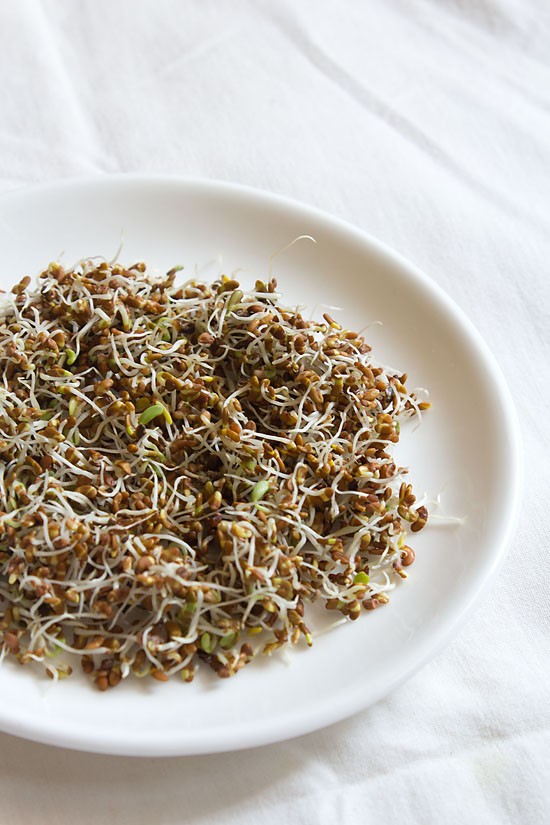 11: add these sprouts to your salads, rice, curries, sandwiches, burgers… anything… have a healthy bite.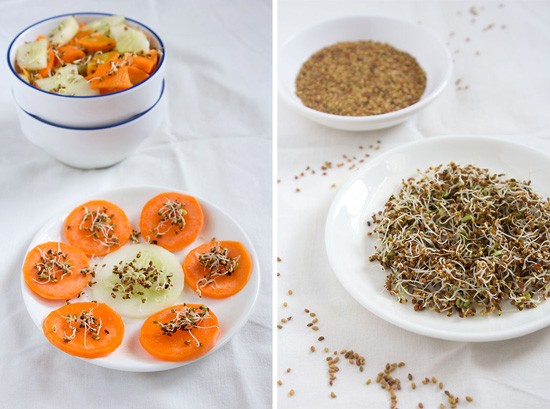 About
i started vegrecipesofindia.com in feb 2009. it is a pure vegetarian blog and shares recipes with step by step photos.

i am passionate about cooking from childhood and learnt cooking from my elders. a home science degree course further enhanced my cooking and baking skills professionally along with an internship in a five star hotel. i am trained both in mainstream indian as well as international cuisines.

all the 1800 recipes posted on blog are tried and tested and made healthy wherever possible. the recipes are detailed and with step by step pictures that will easily help you to make delicious and tasty vegetarian food.