Lava cake recipe with video and step by step pics. This is an Easy recipe for preparing delicious egg free chocolate lava cake. Chocolate lava cake is also known as choco lava cake and molten chocolate cake the recipe is very simple and has whole wheat flour and cocoa powder. Serve as a dessert by itself or with vanilla ice cream, chocolate ice cream, or mango ice cream.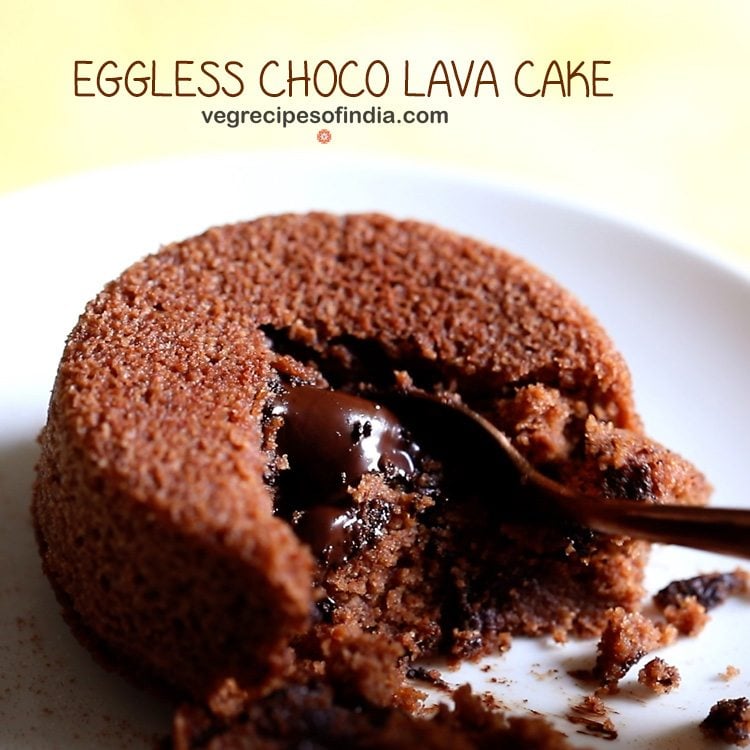 I had got many requests for a molten lava cake recipe that can be made without eggs. Sharing a baking recipe after a long time. The recipe is adapted from my Eggless chocolate cake recipe that I had posted some years back.
To make this lava cake, you only need cocoa powder, baking soda and chocolate. The rest of the ingredients are easily available in an Indian kitchen.
I have used bitter sweet chocolate to get the molten lava. You can use sweet or semi sweet chocolate too. Just make sure to use both good quality chocolate and cocoa powder. If possible do use couverture chocolate that has cocoa butter in it.
I used mason & co cocoa powder and cocoacraft bitter sweet chocolate – 70% cocoa. The whole wheat flour is chakki ground organic whole wheat flour. If you prefer then you can replace the whole wheat flour with all purpose flour or use half half of both.
For chocolate lovers some easy Chocolate recipes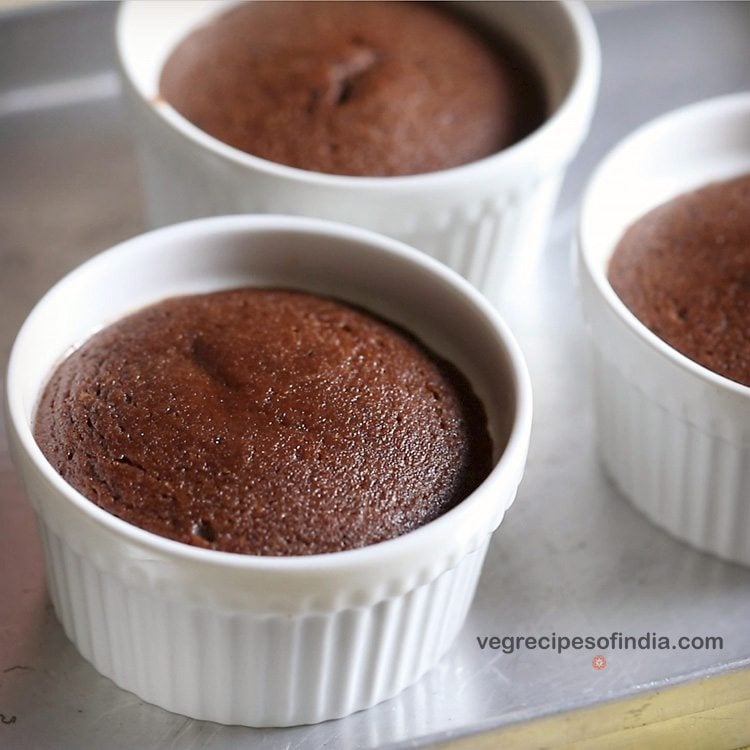 For the oil, you can use sunflower or olive oil. I have used both these oils on different occasions while preparing this choco lava cake.
It is really important to bake the cakes as soon as you pour the batter and add the chocolate chunks to the ramekin. Leaving the cake batter out for too long will affect how the cake bakes and rises and can result in a sunken cake!
You can make the recipe in ramekins or aluminium foil cups. You can also use muffin liners or a muffin tray. If using muffin liners or muffin tray, then you won't be able to remove the lava cake from it.
This recipe can be easily doubled and makes for 3 medium sized molten lava cakes which are almost like large muffins. Thus making for 3 portions or 3 servings. One cake is enough for 1 person. If you have more family members, then you can double the recipe.
How to make Lava Cake
Preparation and sifting dry ingredients
1. First grease 3 medium ramekins with oil very well. Keep aside. Meanwhile preheat oven to 200 degrees celsius/395 degrees fahrenheit for 15 to 20 minutes.
Heat only the bottom element of the oven. In microwave oven, use the convection mode and preheat for 15 minutes at 180 degree celsius.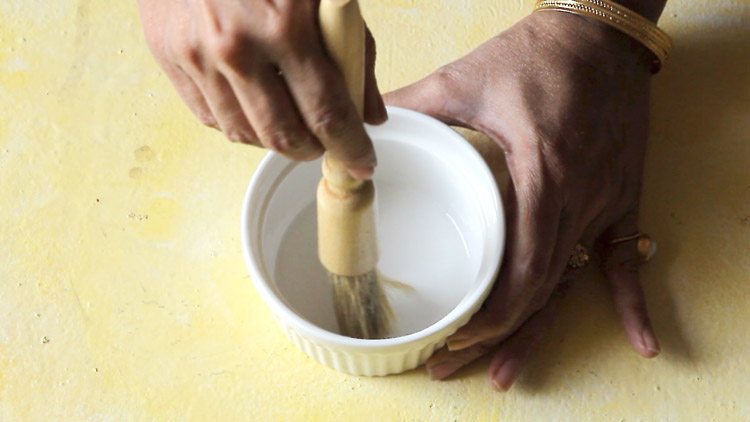 2. Take a bowl and place a sieve on it. Add ½ cup whole wheat flour (60 grams).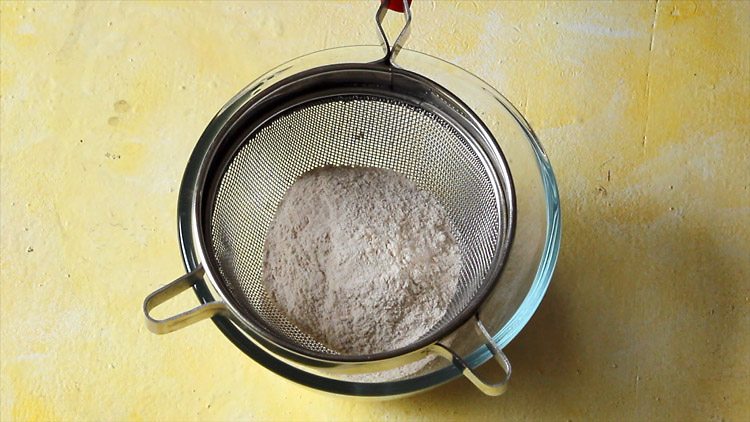 3. Then add 3 tablespoons cocoa powder and a pinch of salt.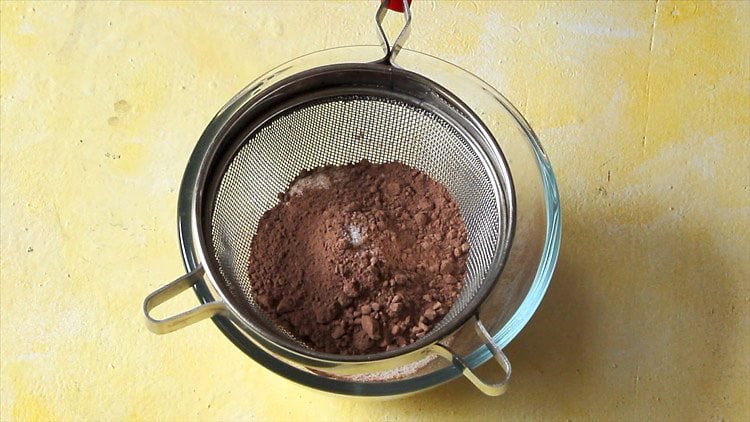 4. Next add ¼ teaspoon baking soda. Since baking soda is the only leavening ingredient used in the recipe, do make sure that its fresh and active.
To check the freshness of baking soda, dissolve a bit of baking soda in a solution of vinegar+water. It should fizz and bubble immediately. If not, then the baking soda is not fresh and active.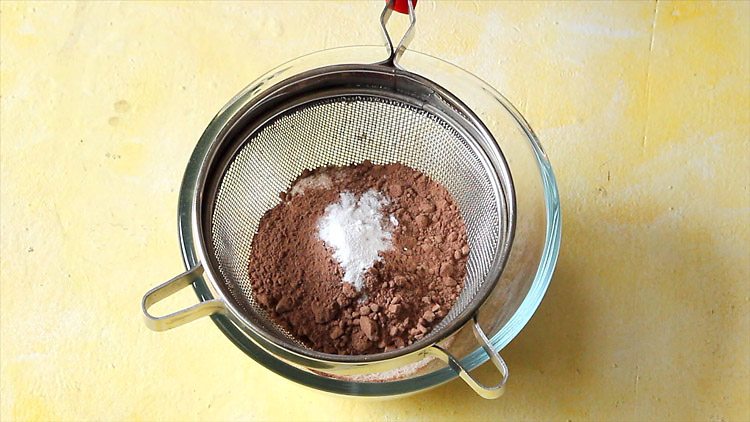 5. Sift the dry ingredients directly in the bowl.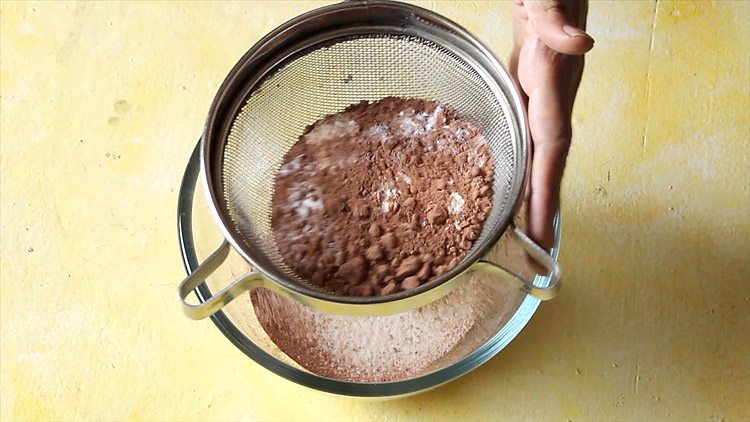 6. Keep the sifted dry ingredients aside.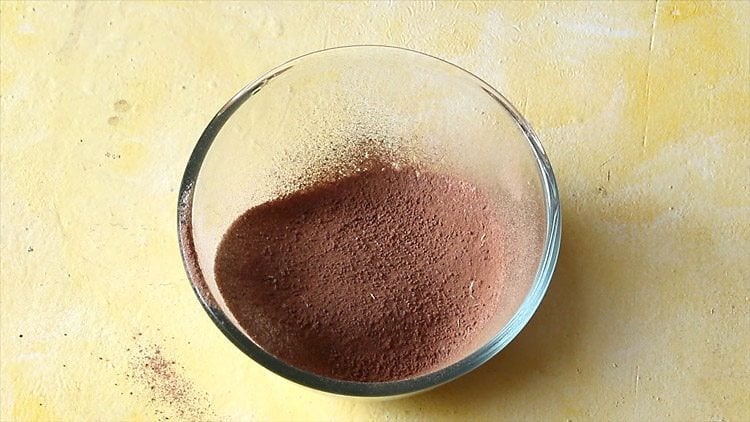 Preparing wet ingredients solution for lava cake
7. In another bowl, take ⅓ cup sugar.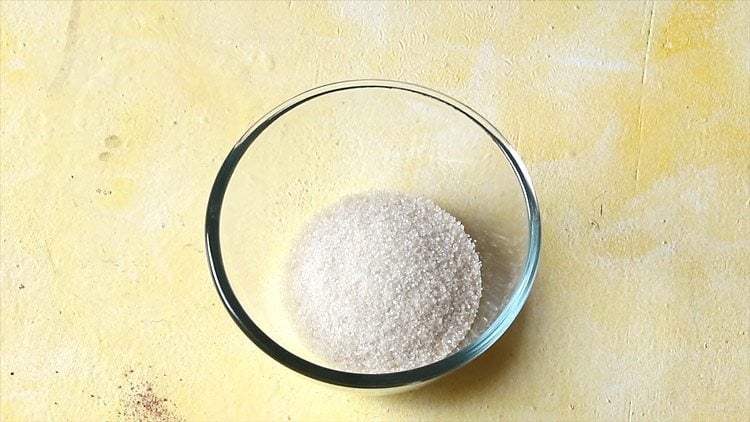 8. Add ½ cup cold water. Do use cold water only as it gives the best texture in the cake.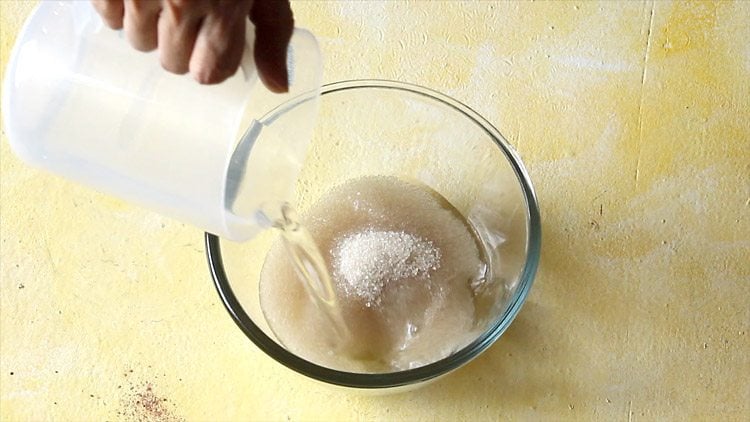 9. Using a spoon or a wired whisk mix very well till all the sugar is dissolved.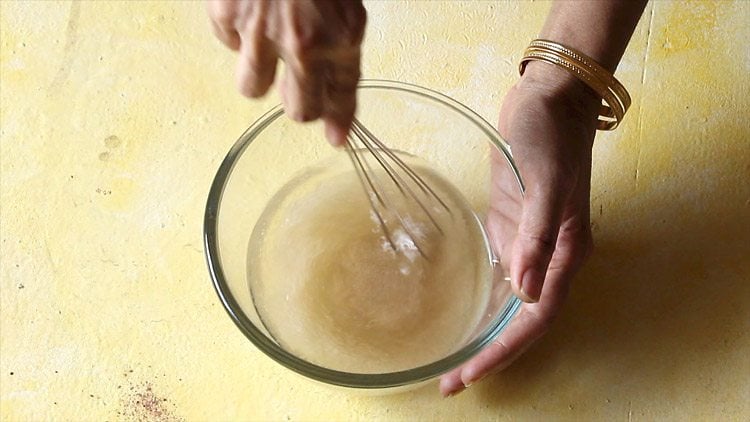 10. Now add 2 tablespoons oil. You can use sunflower oil or olive oil.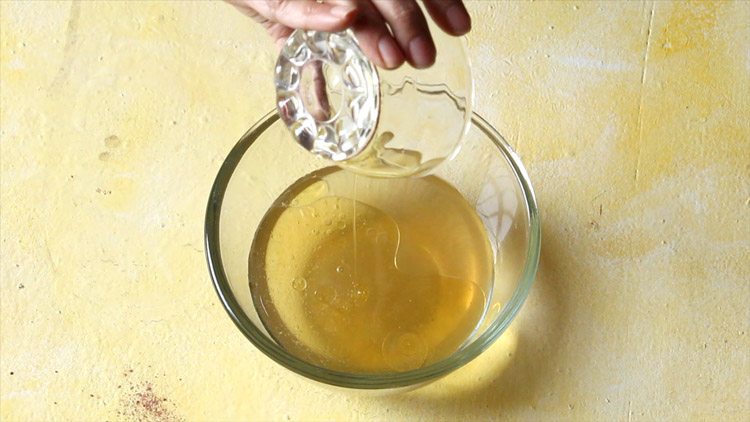 11. Using a wired whisk mix the oil very well with the sugar+water solution.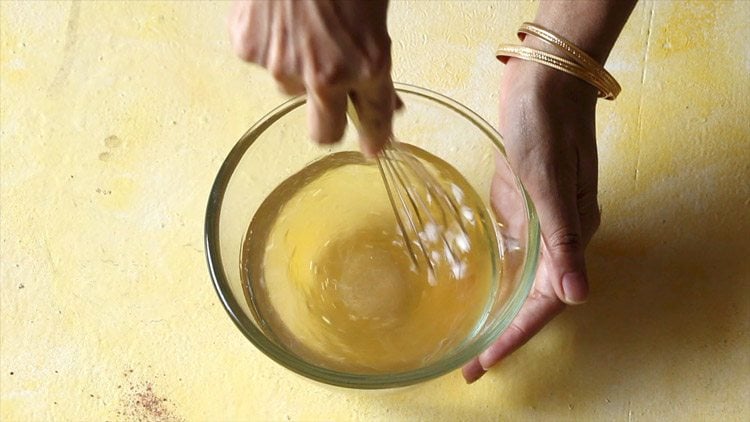 12. Now add ½ teaspoon vanilla extract . If using vanilla essence, then add ¼ teaspoon of it.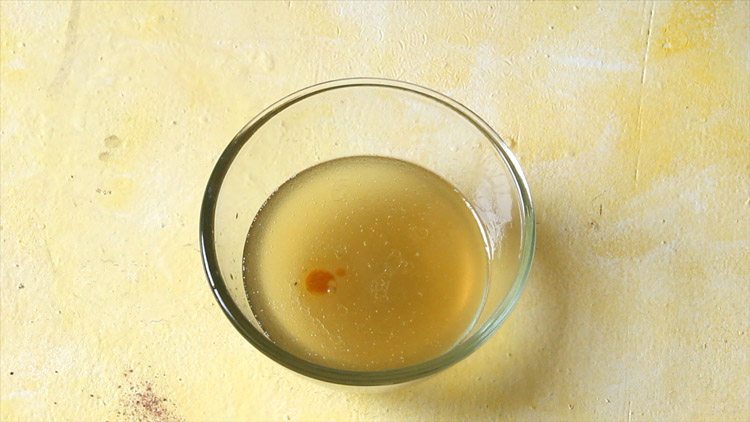 13. Add ½ tbsp lemon juice. Instead of lemon juice, you can also use white vinegar or apple cider vinegar.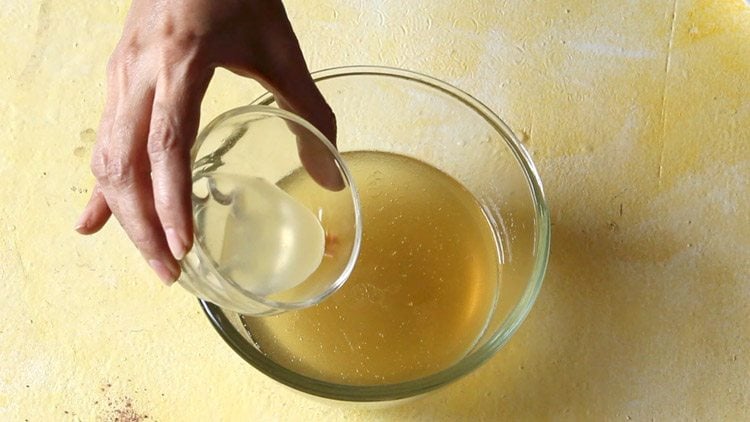 14. Again mix very well.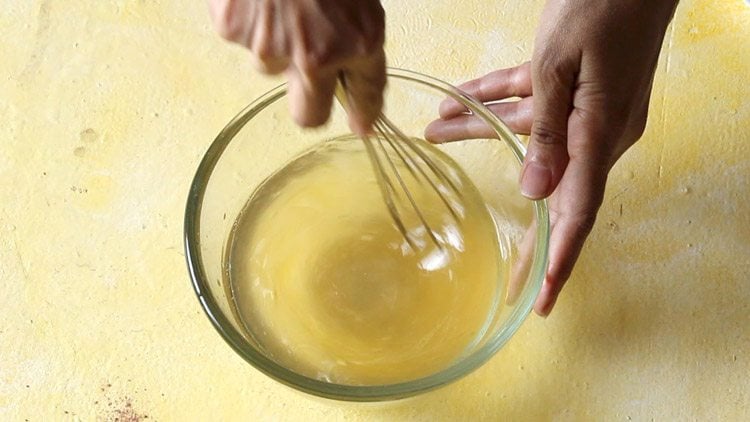 Making chocolate lava cake batter
15. Now add the wet ingredients to the sifted dry ingredients.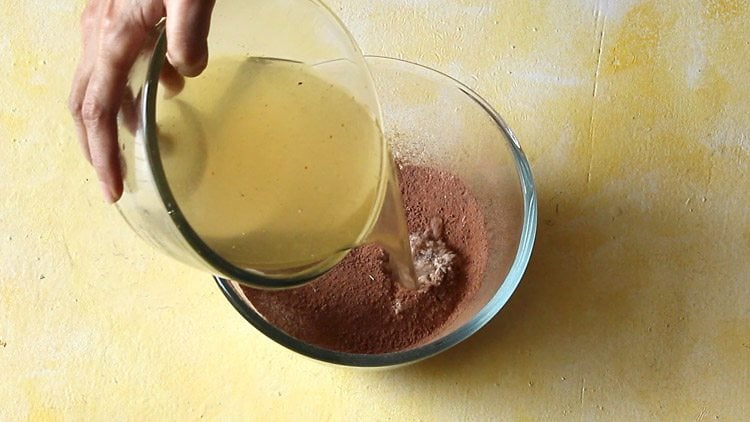 16. With a wired whisk, stir and mix well. Do not over do the mixing.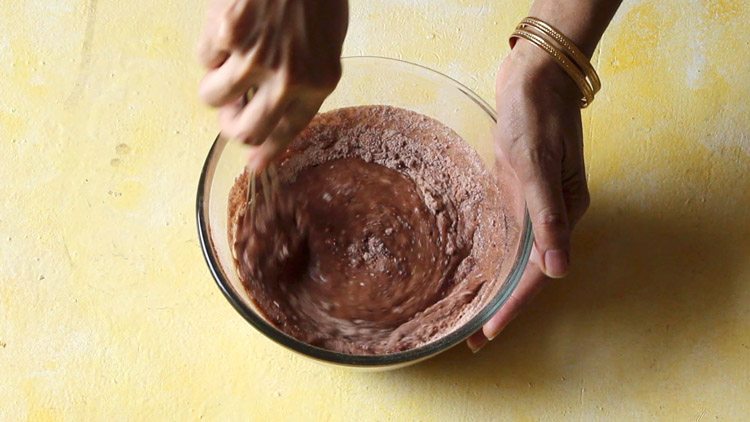 17. Prepare a smooth batter. The batter for this lava cake recipe has medium-thin consistency.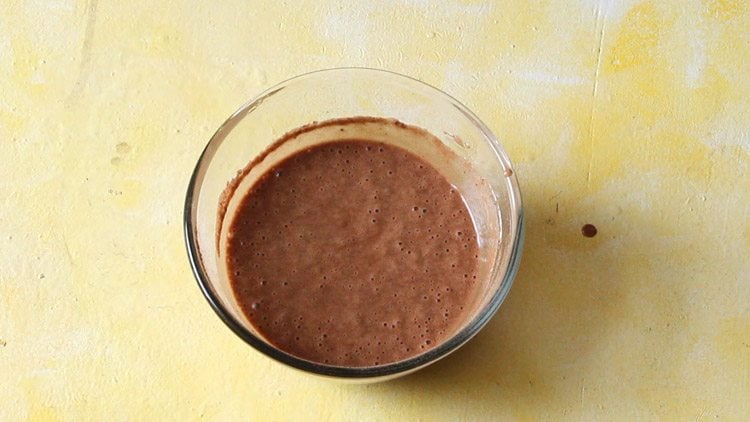 18. Pour the lava cake batter in the greased ramekins till ⅔ of their volume.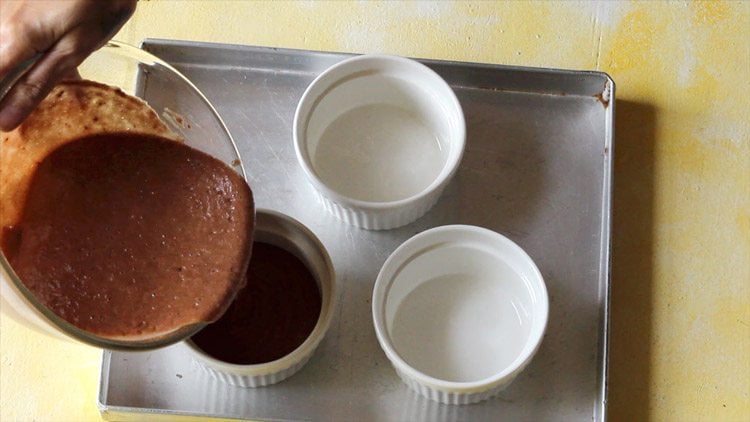 19. Place chocolate squares in the batter. I have used 70% cocoa bitter sweet chocolate. Please use good quality couverture or compound chocolate which are meant for baking to get the lava effect.
Use chocolates which are firm and hard. Avoid using chocolate which are soft, semi-soft or fluid. Please do not use ready to eat chocolate like dairy milk etc.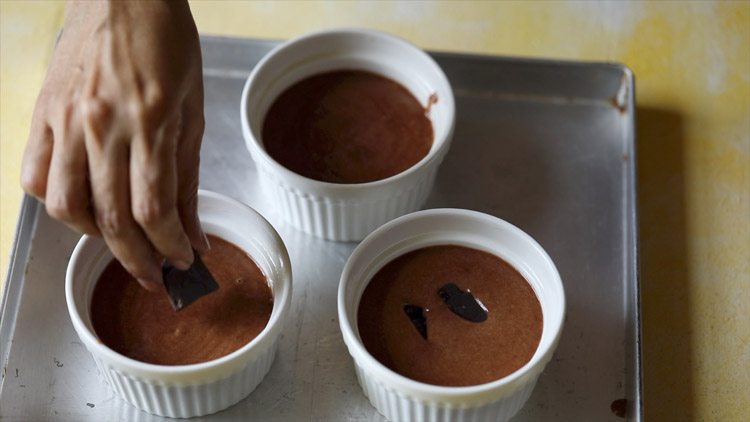 20. With a spoon or wired whisk lightly press them so that they get immersed in the batter. If you have a chocolate slab, then chop the chocolate before you prepare the batter. The batter should immediately go in the oven as soon as possible.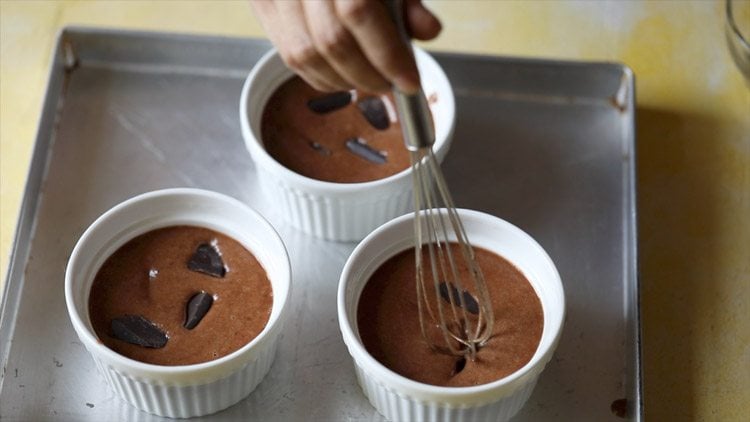 Baking chocolate lava cake
21. Place the ramekins in the center rack of the oven. Bake at 200 degrees celsius for 30 to 40 minutes. In my oven the baking took about 35 minutes.
During the last 10 minutes do keep a check. Also open the oven door only after ¾th of the cakes are baked. If you open early or open many times, the lava cakes can fall flat. I generally bakes lava cakes well as I do not want my folks to eat any uncooked batter.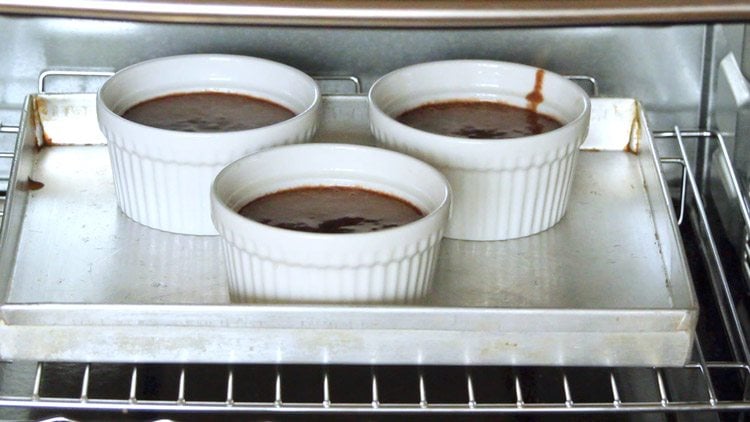 22. Baking time varies with various oven makes and models, so it can take less than 30 mins or more than 35 minutes. Check with a toothpick on the sides of the cake and it should come out clean.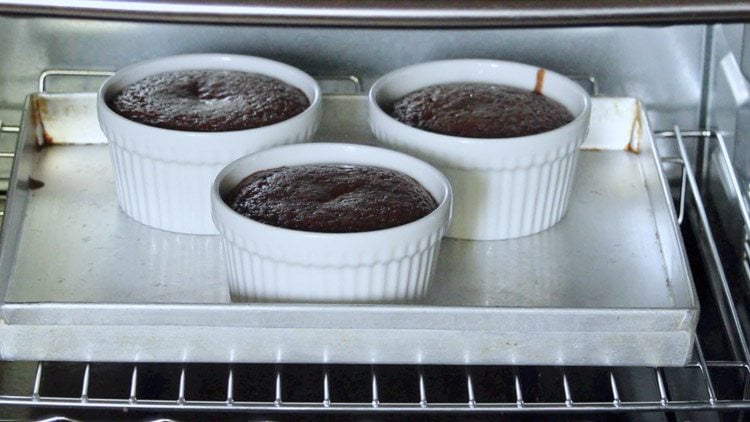 23. Let the chocolate lava cakes cool for two to three minutes. Then with a butter knife gently loosen the edges from the top. The cake is so light and soft, you do not need to use the butter knife way to the base of the ramekins.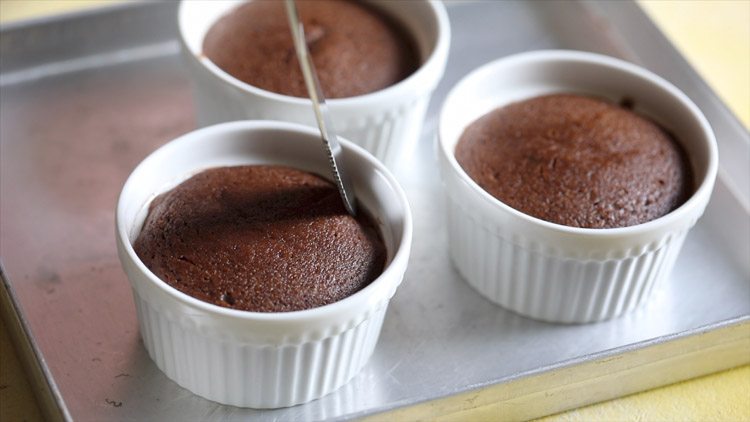 24. Invert the ramekin on a serving plate. Gently tap the bottom of the ramekin. The ramekins will be hot, so be careful when picking and tapping them.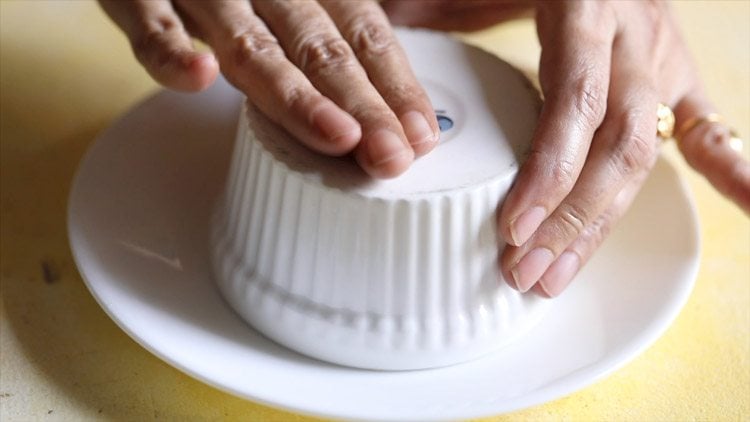 25. Remove the ramekin gently and the cake gets unmolded easily. Sift some cocoa powder or powdered sugar on top through a sieve.
You can also serve molten lava cake with ice cream like vanila ice cream or chocolate ice cream or mango ice cream or some berries or fruits by the side.
Choco lava cakes have to be served hot or warm. Once they cool, the molten chocolate solidifies. But even at room temperature these lava cakes taste good.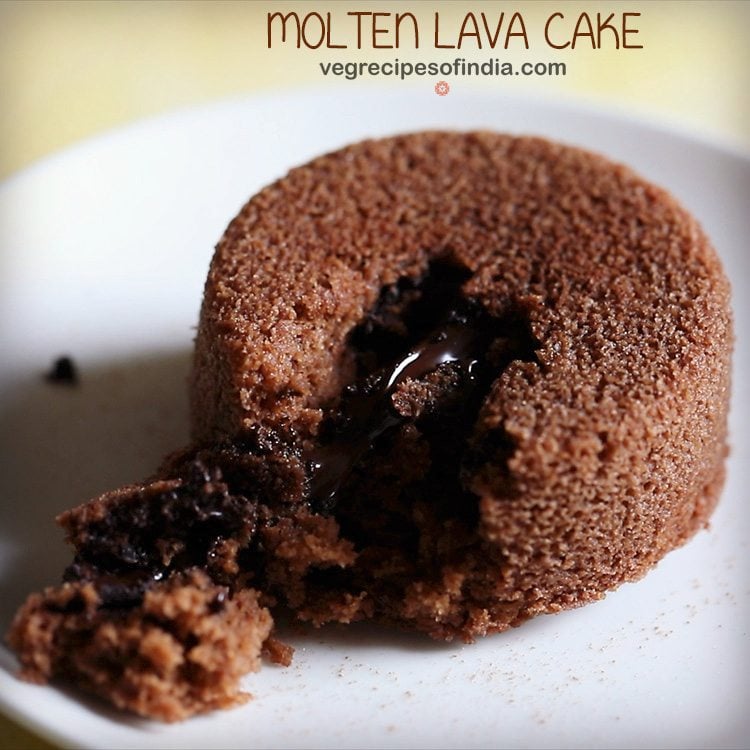 More delicious Egg free cakes
Please be sure to rate the recipe in the recipe card or leave a comment below if you have made it. For more vegetarian inspirations, Sign Up for my emails or follow me on Instagram, Youtube, Facebook, Pinterest or Twitter.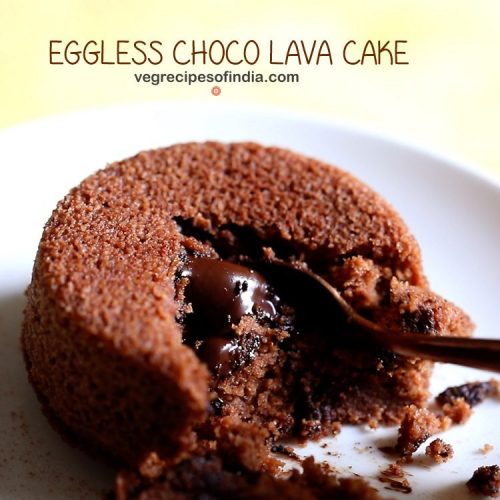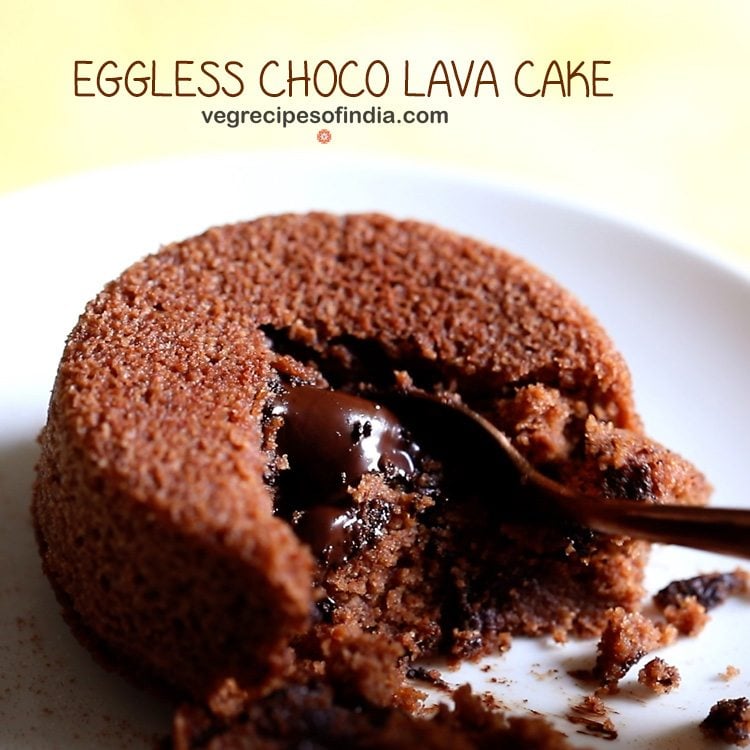 Lava Cake | Eggless Chocolate Lava Cake
This is a simple and easy recipe of molten lava cake or chocolate lava cake made without eggs. 
dry ingredients
½

cup

whole wheat flour (atta),

60 to 65 grams

3

tablespoons

cocoa powder

1

pinch

salt

¼

teaspoon

baking soda
wet ingredients
⅓

cup

sugar,

75 grams, about 5 to 5.5 tablespoons sugar

½

cup

cold water

2

tablespoons

oil,

sunflower or olive oil

½

tablespoon

lemon juice

or vinegar

½

teaspoon

vanilla extract

or ¼ teaspoon vanilla essence
to be added later
90 to 100

grams

semi sweet, bitter sweet or sweet chocolate
Instructions
sifting dry ingredients for cake
Take a bowl and place a sieve on it. Add whole wheat flour, salt, cocoa powder and baking soda.

Sift directly in the bowl. Keep aside.
preparing wet ingredients solution
In another bowl take sugar and cold water.

Stir till all the sugar is dissolved.

Then add oil and stir very well.

Next add vanilla extract and lemon juice. Again mix.
making chocolate lava cake batter
Now add the wet ingredients in the dry ingredients.

Mix very well with a wired whisk. However, do not over do the mixing.

Pour the batter in greased ramekins or muffin cups.

Then place chocolate squares in the batter. Gently press the chocolate squares, so that they get immersed in the batter.
baking choco lava cake
Place the ramekins in a preheated oven and bake for 200 degrees celsius for 30 to 35 minutes. Preheat oven for 15 to 20 minutes at 200 degrees celsius before you start baking.

Once done, remove the ramekins from the oven. Let the cake cool for 2 to 3 minutes. 

Then gently invert the ramekins on a serving plate or tray. Be careful as the ramekins will be hot.

Tap the base of the ramekins and let the lava cake slid through and fall on the plate.

Using a small sieve, dust some cocoa powder or powdered sugar on the choco lava cakes.

Serve choco lava cake immediately.
Notes
The recipe can be doubled.
Instead of ramekins, muffin cups or liners can be used. Aluminium foil based muffin cups also can be used.
Depending on the size of muffin cups, you will get less or more number of choco lava cakes.
For the chocolate, you can use sweet, semi sweet, bitter sweet or milk chocolate.
Do use couverture chocolate instead of compound chocolate.
Also use a good quality cocoa powder.
Oven temperature varies, so do keep a check on baking especially during the last 10 minutes.
Instead of whole wheat flour (atta) you can also use all purpose flour (maida).
You can use vanilla essence instead of vanilla extract. In that case, just add ¼th teaspoon of vanilla essence.
Nutrition Info (Approximate Values)
Nutrition Facts
Lava Cake | Eggless Chocolate Lava Cake
Amount Per Serving
Calories 400
Calories from Fat 234
% Daily Value*
Fat 26g40%
Sodium 115mg5%
Potassium 397mg11%
Carbohydrates 48g16%
Protein 7g14%
Vitamin C 1mg1%
Calcium 44mg4%
Iron 6.6mg37%
* Percent Daily Values are based on a 2000 calorie diet.
This Lava Cake post from the archives, originally published in April 2017 has been updated and republished on February 2023.