Quick, easy, healthy, AND delicious, this Baked Cauliflower recipe has it all! With just 15 minutes of prep time and a handful of ingredients, you can have a delightfully nutty and perfectly al dente vegan side ready to devour. That's what I call a weeknight hero!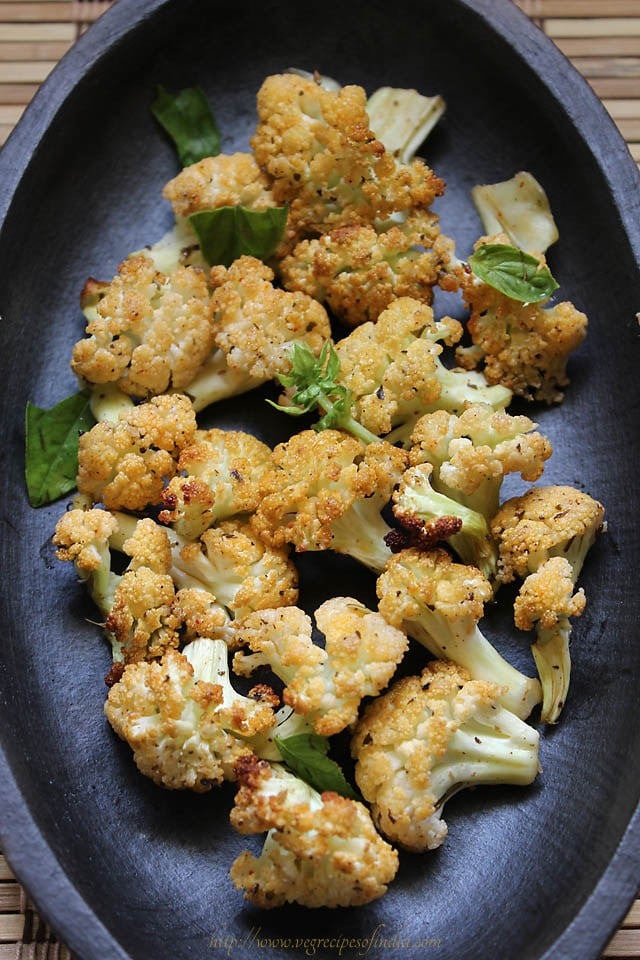 More on Baked Cauliflower
Cauliflower has long been one of my favorite vegetables. It is high in fiber, low in calories, and absolutely brimming with delicious flavor. This quick and easy recipe for baked cauliflower is a great one to keep in mind when you're short on time and long on hunger.
Aside from being a snap to assemble, this baked cauliflower recipe is super versatile. Feel free to adjust the seasonings depending on what you have in your spice cabinet. Once it's cooked, then a whole world of possibility will open.
Eat it plain as a healthy side, or turn it into a simple meal by serving it with your favorite dip. I'm partial to Hummus or any kind of cheesy dip to pair with the naturally nutty flavor of cauliflower, but it also pairs beautifully with Chutneys or yogurt-based sauces like Raita or tzatziki.
You can also use the baked cauliflower as the focal feature of any sandwich or wrap. Simply tuck some inside a warm flatbread with a swoosh of your favorite sauce or dip, some Pickled Red Onions, and a handful of greens for a fast and healthy meal on the go.
As if that weren't enough, you can also quickly turn this baked cauliflower recipe into a full meal by adding it to any curry gravy that you like. How's that for variety?? And, as an added bonus, this baked cauliflower has a nice bit of bite to it, unlike the soft texture that can result from some Indian Cauliflower Sabzis.
Oh, and feel free to add more veggies to the mix – so long as the pieces are roughly the same size and have also been blanched (or otherwise par-cooked), the addition of broccoli, brussels sprouts, cabbage, or carrots would all add some extra color and nutrition to your dish.
Ingredients and Substitutions
For this simple baked cauliflower recipe, you'll just need a handful of ingredients. Here are a few notes to keep in mind:
Cauliflower – This recipe will work equally well with either fresh or frozen cauliflower. If using frozen, cut back on the blanching time by 3 to 4 minutes, as most veggies are pre-blanched before being frozen.
Olive Oil – I prefer using extra virgin olive oil here, but feel free to use any heart healthy oil you like.
Black Pepper – Freshly cracked black pepper has more of the potent essential oils in tact, so the flavor is more pronounced. If you don't have any, swap in black pepper powder.
Paprika or Red Chili Powder – Paprika can come in hot, sweet, or smoked varieties. Feel free to use any that suits your palate!
Herbes de Provence – This French spice blend is usually made with a mixture of dried thyme, rosemary, marjoram, summer savory, oregano, and lavender. If you don't have this blend on hand, feel free to swap in any dried spices you like!
Salt or Black Salt – Add as required to bring out the full flavor of your yummy cruciferous veg.
How To Make Baked Cauliflower
Prep
1. Chop or break 1 medium-sized cauliflower into small to medium-sized florets. Rinse them in running water a few times and then blanch them in hot water for 5 to 7 minutes.
2. In a bowl or on your baking tray, drizzle 2 to 3 tablespoons olive oil. Add 2 teaspoons herbes de provence, ½ teaspoon crushed black pepper, ½ teaspoon paprika (or red chilli powder) and salt or black salt as required.
If herbes de provence is not available, you can add your own choice of dry herbs. Feel free to adjust the spices and herbs according to your taste buds.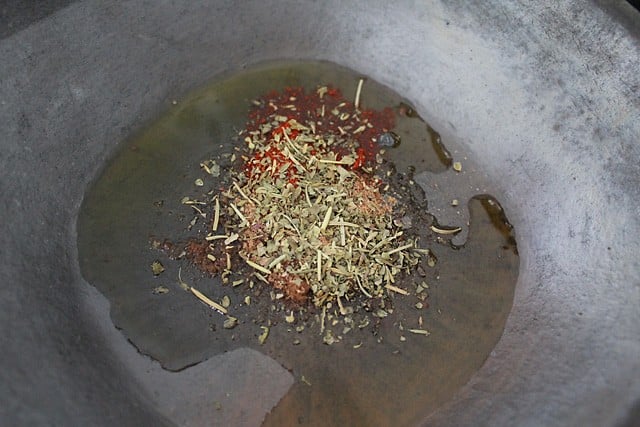 3. Mix the herbs, spices and salt with a spoon.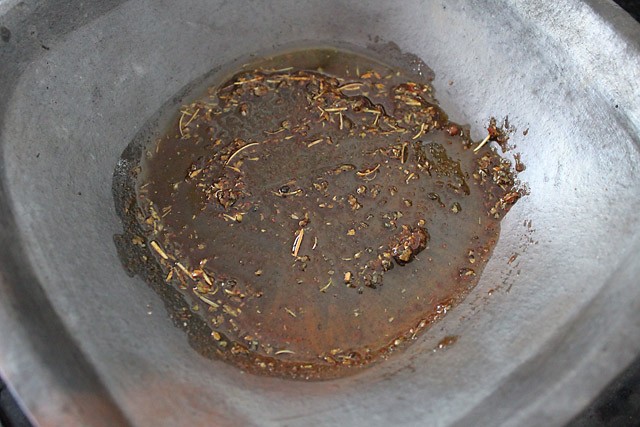 4. Add the blanched cauliflower to this mixture.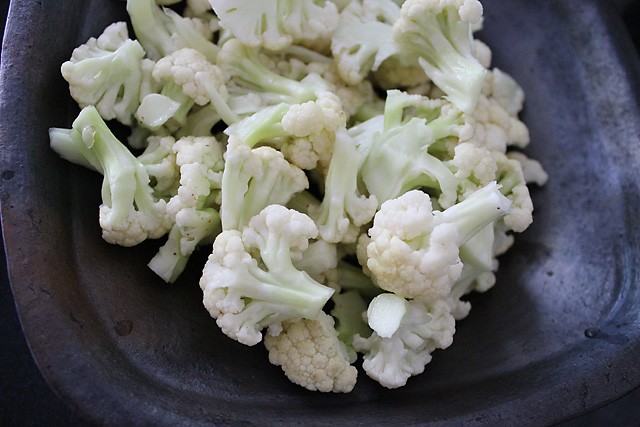 5. Gently toss and mix so that the olive oil, herb, and spice mixture coats the florets evenly.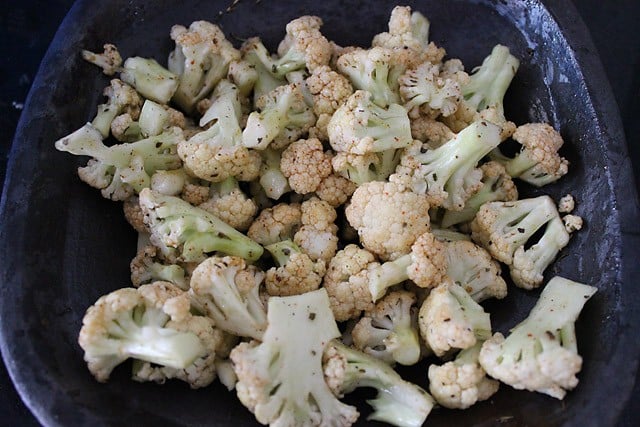 Bake Cauliflower
6. Bake for 30 to 35 minutes at 180 to 190 degrees celsius. When you see some dark brown spots on the cauliflower florets, it means the cauliflower is done.
Baking times will vary with the type of oven you have, so keep that in mind. It can take less or more time for the cauliflower to bake perfectly.
You can also turn over the cauliflower florets once or twice halfway through the baking.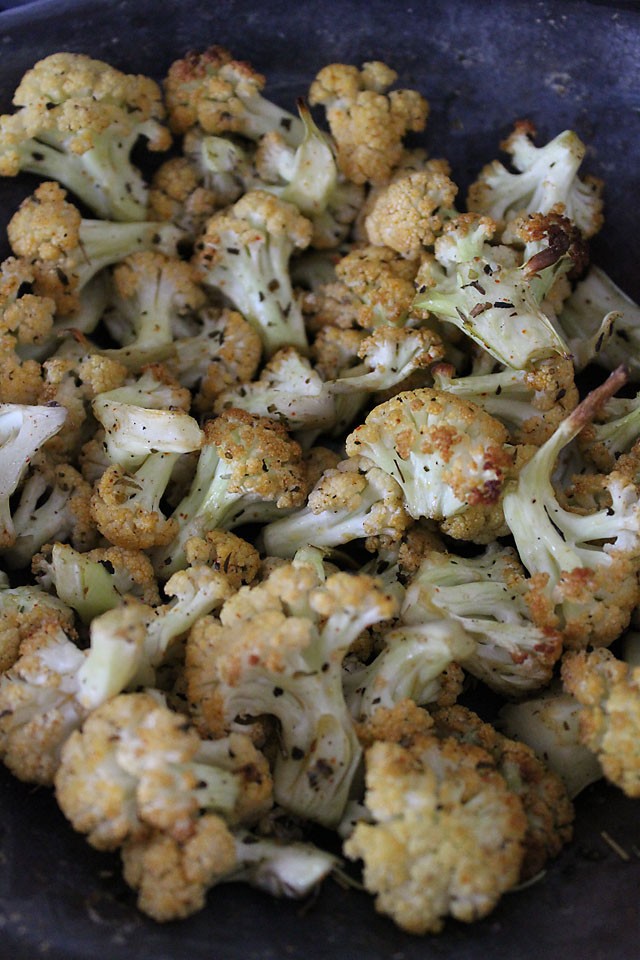 7. Garnish with some chopped basil or any fresh herb you like.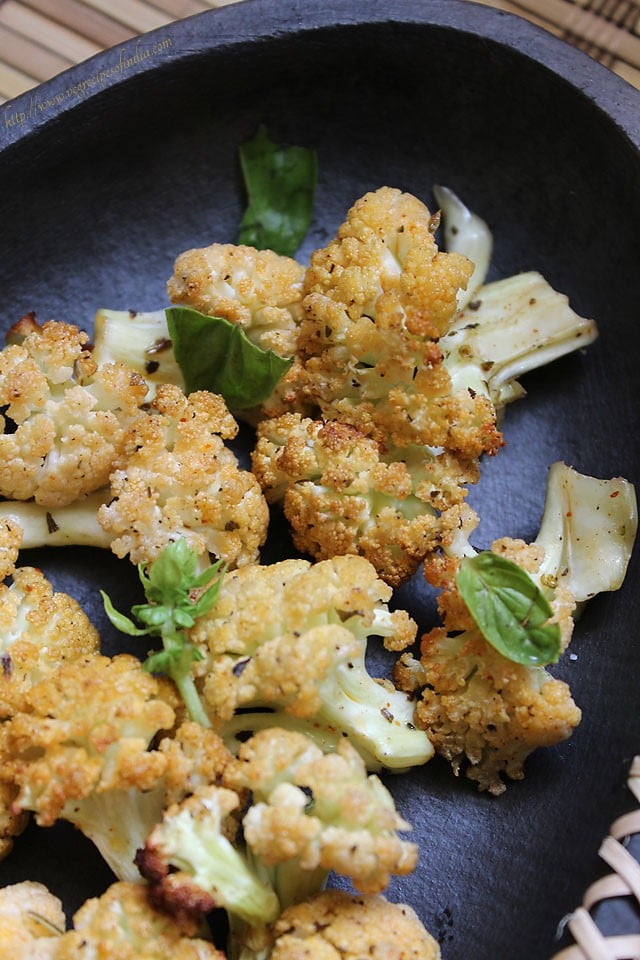 8. Serve baked cauliflower with any dip you like. In these photos, I served it with hummus and Pesto. Big surprise: the baked cauliflower was great with both of them.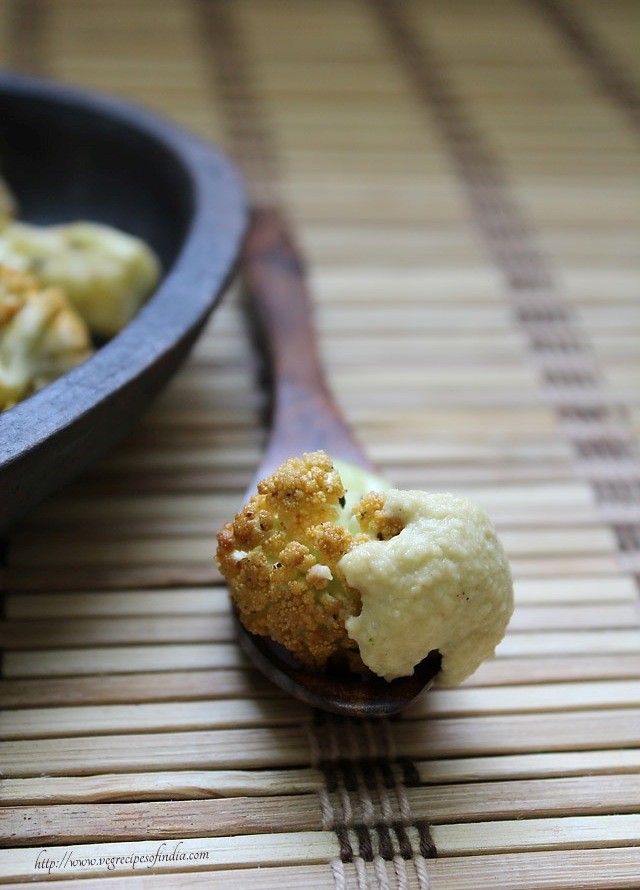 FAQs
What is the purpose of blanching the cauliflower before baking?
Blanching – which is the process of par-cooking vegetables in boiling water – ensures that the cauliflower is fully cooked by the time the florets are gorgeously golden and ready for eating. While you can certainly roast the veggies at a lower temp instead, you won't get that yummy crispy exterior that the high heat of the oven gives. Blanching also helps to get rid of any insects or worms in the cauliflower.
Can I make baked cauliflower without an oven?
While you won't get the same crispiness in a microwave oven, the cauliflower will get cooked, but there will not be any browning. If the florets become or look dry while getting cooked, brush some olive oil on them.

You can also grill the cauliflower florets using an electric grill or a grill pan which can be used on a gas stove.
Can I make baked cauliflower ahead of time?
While I prefer my baked cauliflower straight from the oven for the best, crispiest texture, any leftovers can easily be refrigerated for 1 to 2 days. Please note, however, that you definitely want to store your cauliflower in an airtight container – the sulfurous smell can leech into other food items in the fridge if you don't!
Palak Recipes (Spinach Recipes)
Please be sure to rate the recipe in the recipe card or leave a comment below if you have made it. For more vegetarian inspirations, Sign Up for my emails or follow me on Instagram, Youtube, Facebook, Pinterest or Twitter.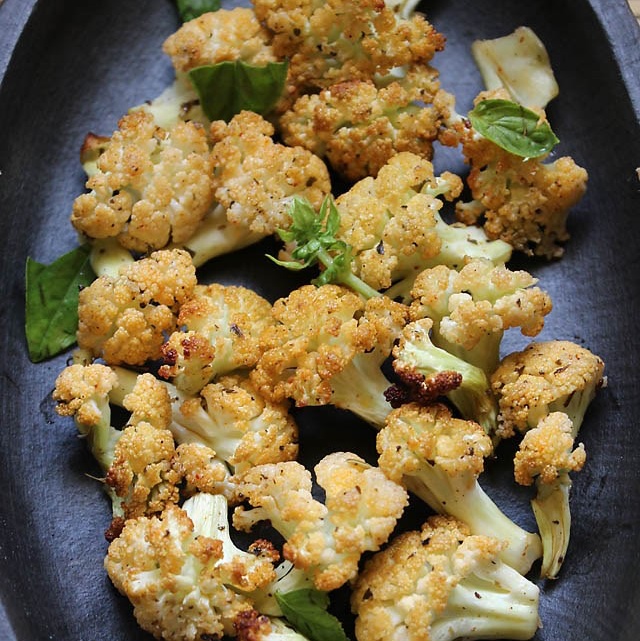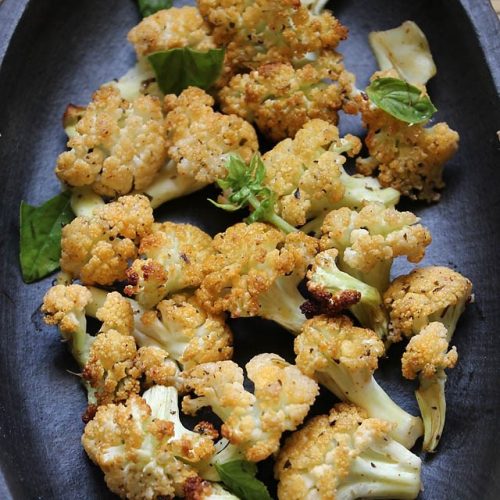 Baked Cauliflower Recipe
A quick and easy recipe of baked cauliflower. Serve as a brunch or a light snack to go with any herby or cheesy dip or as a side with your favorite vegan or vegetarian main course.
1

cauliflower

medium-sized, chopped into small to medium florets

2 to 3

tablespoons

olive oil

½

teaspoon

crushed black pepper

or ground black pepper

½

teaspoon

paprika

or red chili powder

2

teaspoons

herbes de provence

salt

or black salt as required
Instructions
First rinse and chop the cauliflower in small to medium florets. Blanch the cauliflower florets for 5 to 7 minutes in hot water.

For blanching, first heat enough water in a pan. Turn off the heat and add the florets and let them be covered completely in water. Blanch in hot water for 5 to 7 minutes.

Later drain all the water and set the florets aside.

Mix the olive oil, herbs, all the ground spices and salt together in a mixing bowl or tray.

Add the blanched cauliflower florets to this mixture and gently mix and toss so that the mixture evenly coats all the cauliflower florets.

Bake in the oven for 30 to 35 minutes for 180 or 190 degree Celsius (356 to 374 degrees Fahreneheit). The florets will have dark brown spots on them after they have been baked.

Each oven bakes at a different temperature. So keep that in mind. It may take less or more time for the cauliflower florets to bake in your oven.

Garnish with basil leaves or any fresh herb of your choice. Serve hot or warm with a vegetable salad or cheesy dip or hummus. You can also serve baked cauliflower with any Indian chutney or just plain yogurt or raita.
Nutrition Info (Approximate Values)
Nutrition Facts
Baked Cauliflower Recipe
Amount Per Serving
Calories 133
Calories from Fat 90
% Daily Value*
Fat 10g15%
Sodium 58mg3%
Potassium 585mg17%
Carbohydrates 10g3%
Protein 4g8%
Vitamin A 53IU1%
Vitamin B1 (Thiamine) 1mg67%
Vitamin B2 (Riboflavin) 1mg59%
Vitamin B3 (Niacin) 1mg5%
Vitamin B6 1mg50%
Vitamin C 94mg114%
Vitamin E 2mg13%
Vitamin K 47µg45%
Calcium 56mg6%
Vitamin B9 (Folate) 112µg28%
Iron 2mg11%
Magnesium 31mg8%
Phosphorus 86mg9%
Zinc 1mg7%
* Percent Daily Values are based on a 2000 calorie diet.
This Baked Cauliflower recipe post from the blog archives first published in Jan 2012 has been republished and updated on 26 April 2022.