Chutneys, pickles and other condiments hold great importance in Indian cuisine. So much that we can literally use any ingredient and make a chutney out of it – from fruits, vegetables, curd to lentils, legumes, even nuts and more. A chutney is omnipresent in our meals. This vegan and gluten free Chana Dal Chutney is one such recipe that acts as a quick fix for all your South Indian snacks. More so, when a change is needed from your regular chutney options.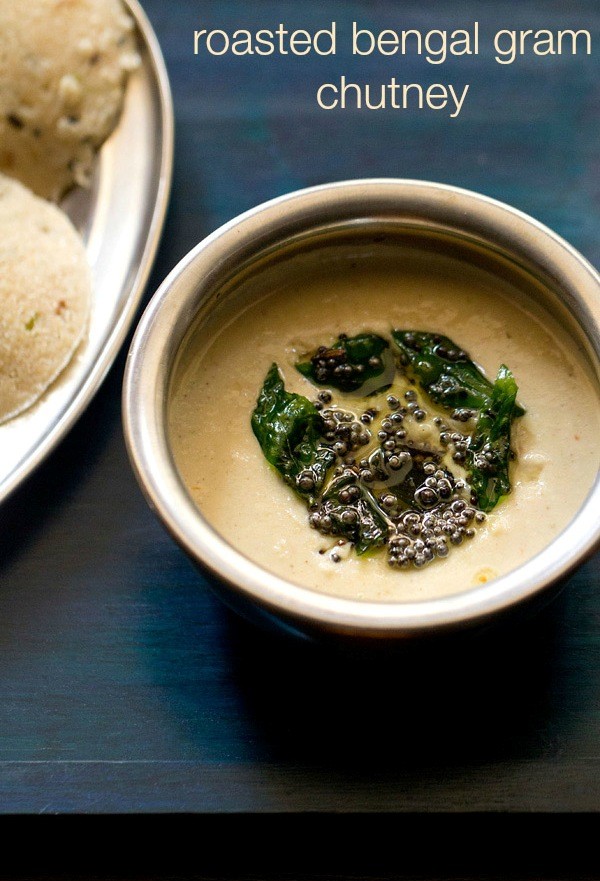 The Chutney Camaraderie
Yes, we can easily call our relationship with chutneys as that of a great friendship, almost like a companionship! The class of chutneys are simply types of relishes, spreads, dipping sauces or any other condiment that may be used as an accompaniment with Indian meals.
As mentioned earlier, there's no dearth of ingredients that can be used to make a chutney. The list is almost unending! Just like this Chana Dal Chutney that is made of roasted Bengal gram, this list of Chutney Recipes will take you in the world of chutneys that can be easily made at home.
It is only right to say that although a chutney maybe humble, yet is a celebrated side dish. It not only adds extra flavor and texture, but also helps to balance a meal consisting of a variety of dishes. Sometimes, highlights individual flavor profiles too.
The food culture of India proudly boasts of a plethora of spicy, sweet, tangy, sour, salty and even bitter chutneys. Hence, this category of dish most aptly brings in the essence of 'umaminess' also in our food.
About Chana Dal Chutney
Chana dal are small black or brown chickpea chickpea lentils that are hulled. They can be whole or split. Usually in the Indian cuisine to make lentils based dishes, the hulled and split chana dal is used. Chana dal is also called as Bengal Gram in English.
My recipe is made with roasted chana dal and this saves you the time of frying or roasting chana dal separately in oil. Other names of roasted chana dal or roasted Bengal gram are 'daria dal,' 'daalia' or 'bhuna chana dal.' However, you should not confuse it with 'dalia' which is broken wheat.
So, this roasted lentil is the main ingredient in this Dal Chutney recipe. Along with this, there are just about 3 more ingredients – some coconut, ginger and green chilies. These ingredients are ground and are finally tempered with mustard leaves and curry leaves.
As mentioned earlier I do add some fresh coconut for that traditional mouth feel and taste. No fresh coconut at home? Use desiccated coconut instead. Though I like to add the tempering to make the chutney more earthy, you can completely skip it.
This recipe of the Dal Chutney is a very, very easy and quick one. If you have grated fresh coconut handy, it can be done within 15 minutes flat. While you're at this, try this recipe of the Tamil Nadu special Red Chilli Chutney as well.
Idli, medu vada, dosas and uttapam – all pair fabulously with this Dal Chutney. You can pack it with these snacks in your tiffin as well.
Roasted chana dal is easily available in most Indian stores and also on online stores.
How to make Chana Dal Chutney
Grind Chutney Ingredients
1. In a chutney grinder jar or a small blender, take the following ingredients:
5 tablespoons roasted chana dal (roasted Bengal gram)
2 tablespoons grated fresh coconut or desiccated coconut
½ inch chopped ginger
1 to 1.5 teaspoons chopped green chilies (You can add less or more green chilies as needed.)
salt as required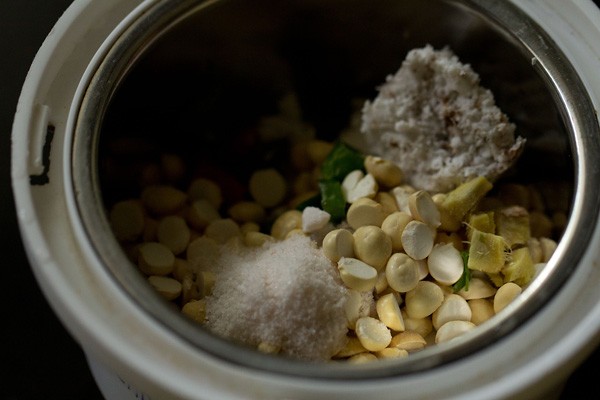 2. Add 4 to 5 tablespoons water and grind to a fine and smooth chutney.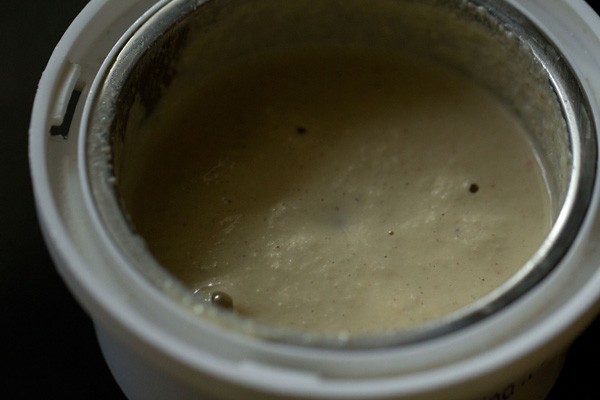 3. Remove the dal chutney in a small pan or bowl.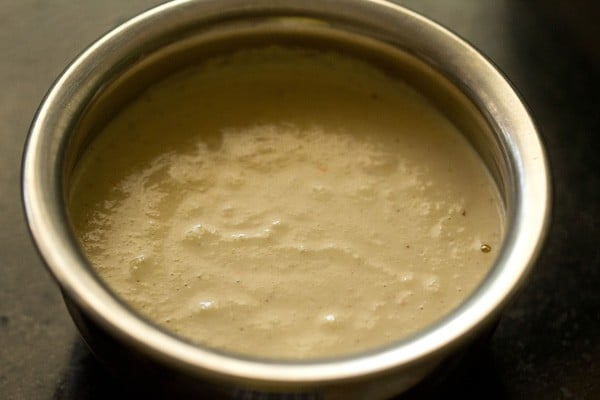 Temper Dal Chutney
4. In another small pan or tadka pan, heat ½ tablespoon oil. Add ½ teaspoon mustard seeds and allow them to crackle on low to medium-low heat
Use sesame oil (gingelly oil) or any neutral tasting oil like sunflower oil. You can also use peanut oil.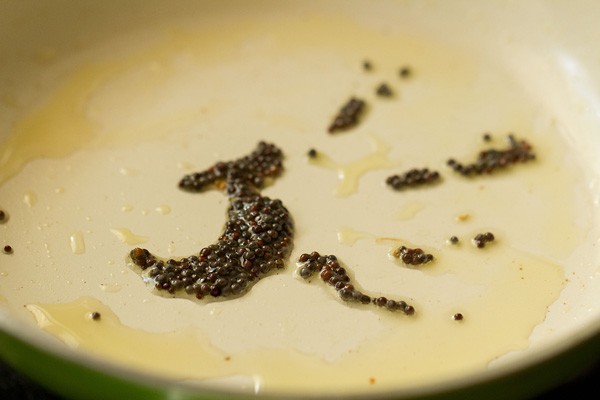 5. Then, add 5 to 6 curry leaves.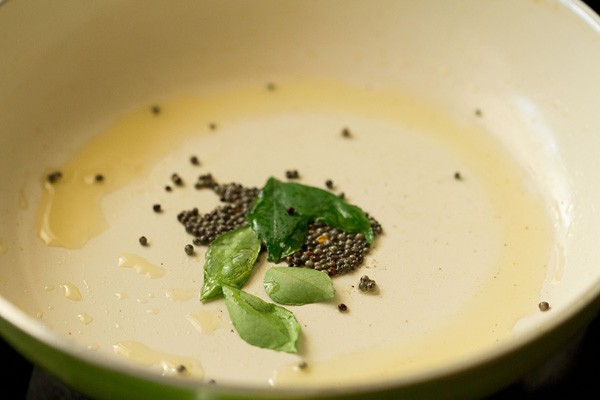 6. Sauté on low heat till the curry leaves turn crisp.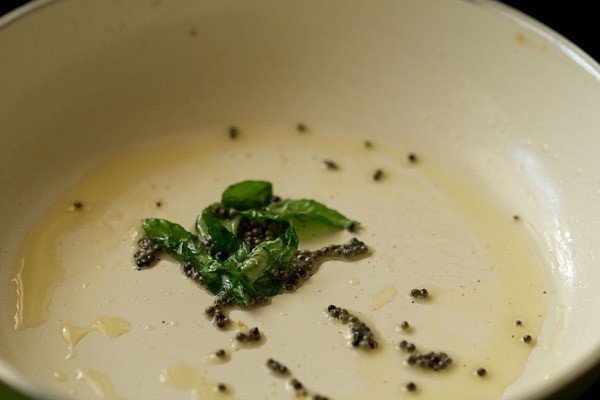 7. Pour the tempering ingredients together with the hot oil in the dal chutney. Stir to mix very well.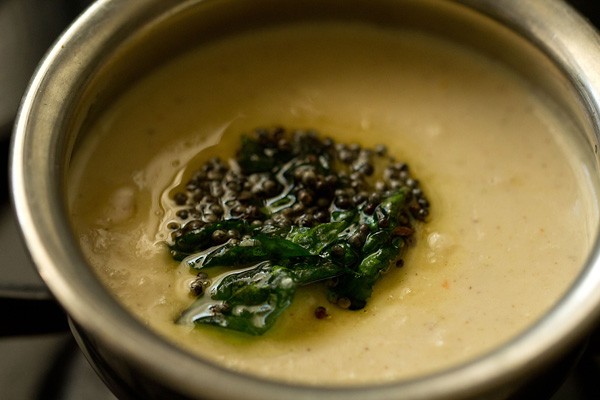 8. Serve Roasted Chana Dal Chutney with rava idli, rava dosa, masala dosa, medu vada, Mysore bajji or any South Indian tiffin breakfast.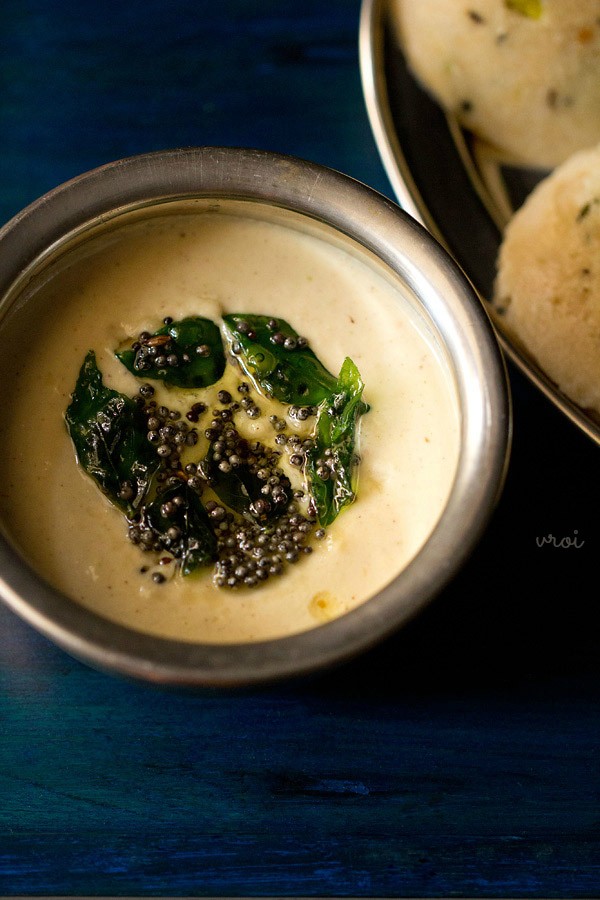 Expert Tips
Do not worry if you do not have roasted chana dal. Take the same proportion of chana dal lentils as mentioned in the recipe. Add 2 to 3 teaspoons of oil in a small frying pan or skillet. Roast the lentils stirring often on low heat until golden. Let them cool and add to the other ingredients while grinding.
For an orange colored dal chutney, add 1 or 2 dry kashmiri red chillies. You can also add dry red chillies when making the tempering.
To make a more healthier chutney, opt to add some sesame seeds or roasted peanuts.
This recipe can be scaled up to make for more servings.
More Chutney Recipes To Try!
Please be sure to rate the recipe in the recipe card or leave a comment below if you have made it. For more vegetarian inspirations, Sign Up for my emails or follow me on Instagram, Youtube, Facebook, Pinterest or Twitter.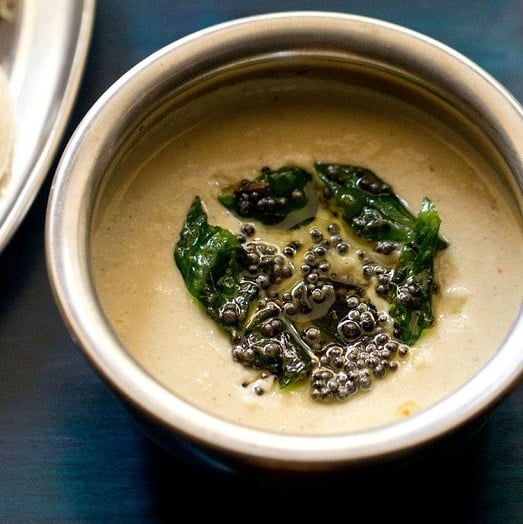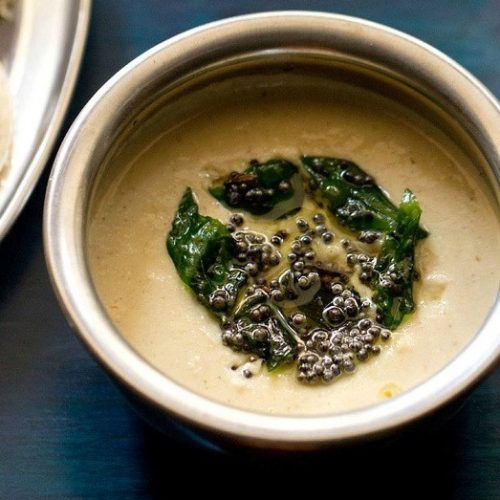 Dal Chutney | Chana Dal Chutney
Chana Dal Chutney is quick chutney that is made with roasted bengal gram, coconut, herbs and spices. The Dal Chutney recipe is vegan, gluten-free and pairs well with most South Indian breakfast dishes like Idli, Dosa, Medu Vada and Uttapam.
To be ground
5

tablespoons

roasted chana dal

(roasted hulled bengal gram or daria dal or bhuna chana dal)

2

tablespoons

fresh grated coconut

or desiccated coconut

½

inch

ginger

– chopped, optional

2 to 3

green chilies

or 1 to 1.5 teaspoon chopped green chilies – add chillies as needed

4 to 5

tablespoons

water

salt

as required
For tempering
½

tablespoon

oil

– sesame oil, sunflower oil, peanut oil or any neutral flavored oil

½

teaspoon

mustard seeds

5 to 6

curry leaves
Instructions
Take chana dal, grated coconut or desiccated coconut, green chilies, ginger and salt as required in a chutney grinder jar or a small blender.

Add 4 to 5 tablespoons water and grind to a smooth and fine consistency.

Remove the chutney in a small pan or bowl.

In another small pan or tadka pan, heat oil. Keep heat to a low.

Add mustard and allow them to crackle.

Then add the curry leaves.

Sauté on low heat till the curry leaves become crisp.

Pour the entire tempering ingredients together with the hot oil into the dal chutney.

Stir to mix very well. Serve roasted chana dal chutney with idli, medu vadai or dosa or any South Indian tiffin breakfast.
Notes
Do not use rancid roasted chana dal and make sure they are within their expiry date.
Add less or more green chillies depending on the spice and heat levels you prefer.
You could swap green chillies with dry kashmiri red chillies. Remove the seeds from the red chillies before grinding them with the rest of the ingredients.
The recipe can be easily scaled to make for more servings.
Nutrition Info (Approximate Values)
Nutrition Facts
Dal Chutney | Chana Dal Chutney
Amount Per Serving
Calories 199
Calories from Fat 63
% Daily Value*
Fat 7g11%
Sodium 443mg19%
Potassium 31mg1%
Carbohydrates 29g10%
Protein 7g14%
Vitamin A 95IU2%
Vitamin B1 (Thiamine) 0.01mg1%
Vitamin B2 (Riboflavin) 0.01mg1%
Vitamin B3 (Niacin) 29mg145%
Vitamin B6 0.01mg1%
Vitamin C 56mg68%
Vitamin E 1mg7%
Vitamin K 0.2µg0%
Calcium 85mg9%
Vitamin B9 (Folate) 296µg74%
Iron 2mg11%
Magnesium 6mg2%
Phosphorus 13mg1%
Zinc 0.1mg1%
* Percent Daily Values are based on a 2000 calorie diet.
This Chana Dal Chutney recipe post from the blog archives first published in March 2015 has been republished and updated on 15 July 2022.