As I had previously mentioned in my Sun dried potato chips post that the Punjabi wadi or wadiyan as we call them…. These travelled all the way from Delhi to coimbatore and then to goa.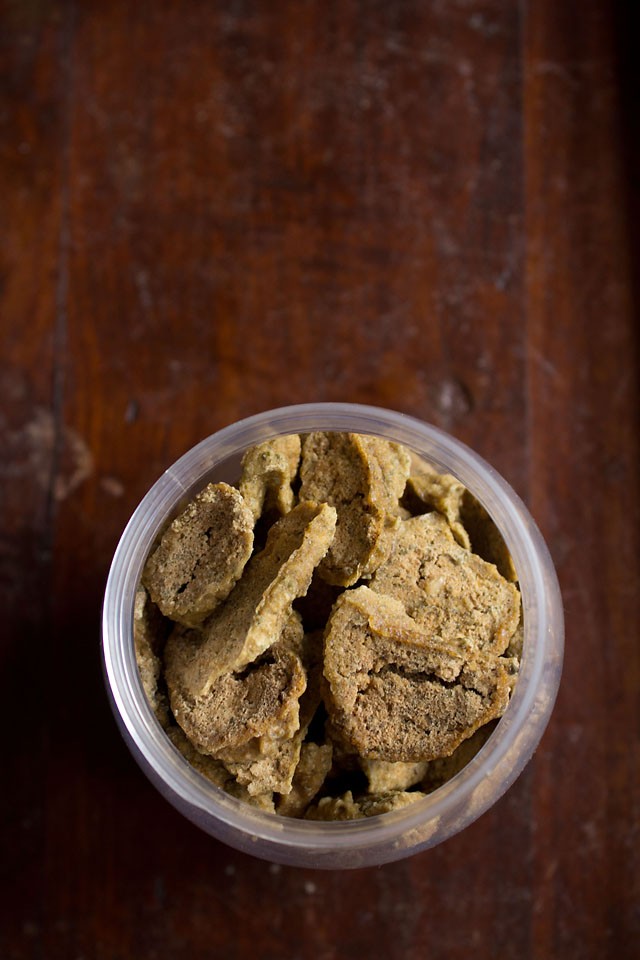 My sweet mil had made these Wadis back home and brought them especially for me since I love these so much. So whenever my in-laws come to meet us, they always get Homemade or readymade Punjabi wadis for us.
For those who do not know, basically wadis are spiced & sun dried dumplings made from ground lentils.
They are meaty in texture as well as in taste…. Though not exactly tasting like meat… But a little close… These dumplings are also a great substitute for meat and even the not so healthy soy chunks that we get in India.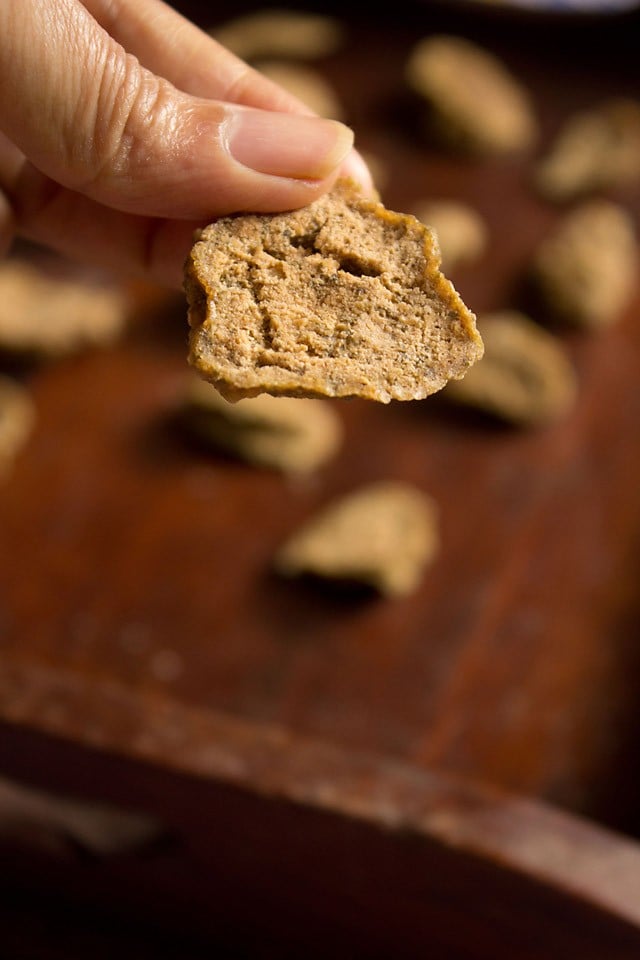 Plus they are Vegan as well as gluten free. you can add them to veggies, rice… Even soups, pasta or noodles. They can also be fried and served as a side dish. They soak up the sauce or gravy in which they are cooked and yet retain their texture, flavor & taste.
I believe it is still sunshine in north India and thats the reason I am posting this recipe. Generally these Wadis are made in the winters when fresh green chickpeas also called as CHolia in Punjabi hits the market.
We make the wadis with fresh green chickpeas/hara chana, moong dal or urad dal. Either use moong dal/skinned mung beans or urad dal/skinned black gram when making the wadis in combination with the green chickpeas.
July is not the season for fresh cHoliya. so now if you have to make the vadis, just make them with Dried green chickpeas. or you can just skip adding the green chana. Just make the vadis with moong or urad dal.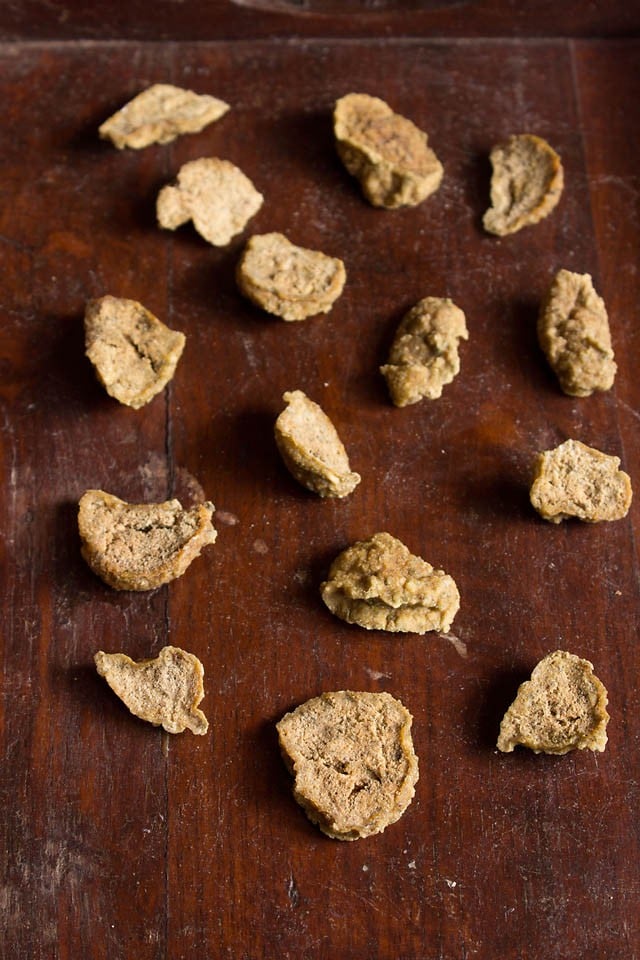 I have seen how my mil would spend so much time peeling the green chickpea pods still attached to the fresh green bunch, and then making the wadis. In fact I used to help her in making the wadi mixture and then sun drying the vadis.
Oh yes and I do have memories of peeling the chickpea pods with my family back home. We would sit together and remove the chickpeas. later mom would just boil the fresh chickpeas and have these sprinkled with some salt and chili powder. A warm & comforting snack in the Mumbai winters.
These Wadis are spiced but not very heavily spiced like the Amritsari wadis.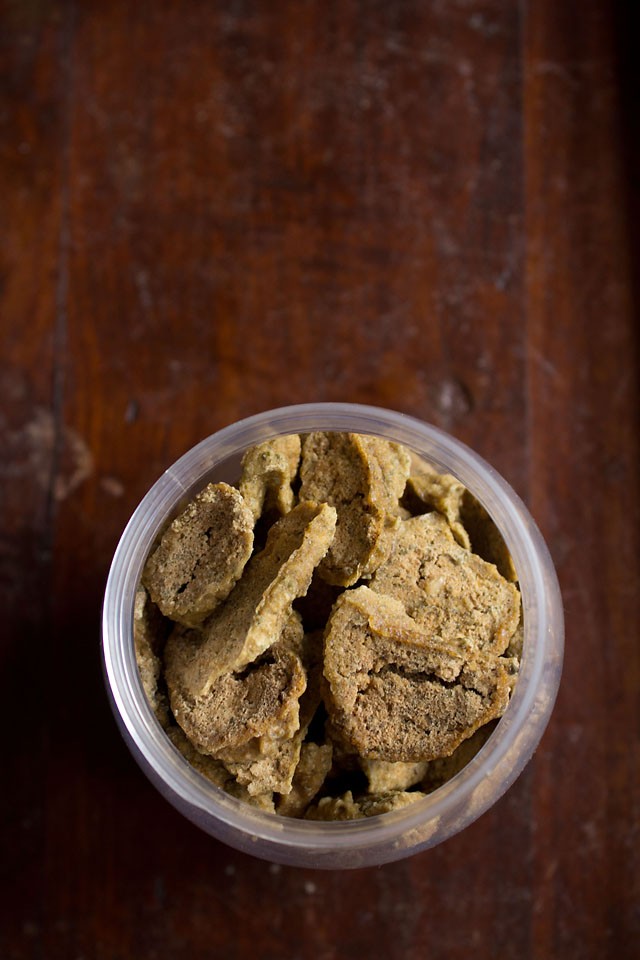 Once you have a whole jar of wadis, you can easily add them to veggies or rice.
We make the Punjabi wadi chawal or rice. the vadis are also added to potatoes to make the Aloo wadi sabzi.
At home I generally add the wadis to lauki/bottle gourd and make the famous Punjabi dish of Lauki wadiyan and the Mooli wadi sabzi (radish & wadi sauted together).
In the lauki wadi sabzi, the spiced Wadiyan balances the bland Lauki and it seems that this combo is made for each other. Below is the pic of this dish – a recipe which I have already posted.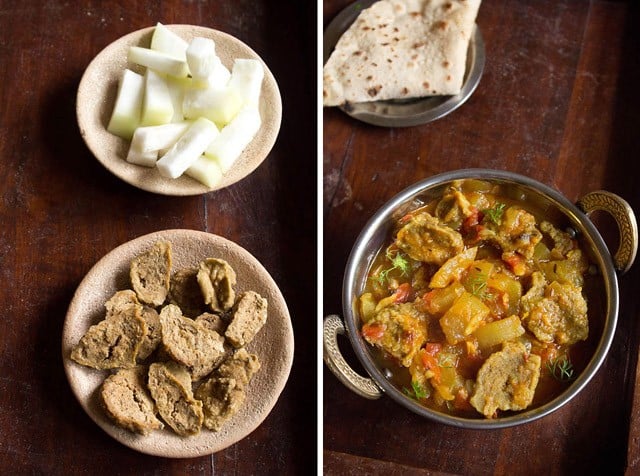 Another point – since this is a Homemade recipe – mil adds whole cloves to the Wadiyan mixture. So when you are eating the wadi and not careful, you will bite into the cloves and get a not so good strong astringent taste of the cloves in your mouth. So to avoid this, I suggest you to add clove powder to the Wadiyan.
If you live in a place where you don't get enough sun, then too you can make the wadis by oven drying them. Please check the notes section below on how to make oven dried Punjabi wadis.
More how to recipes:
Please be sure to rate this recipe in the recipe card below if you have made it. For more vegetarian inspirations, Sign Up for my emails or follow me on Instagram, Youtube, Facebook, Pinterest or Twitter.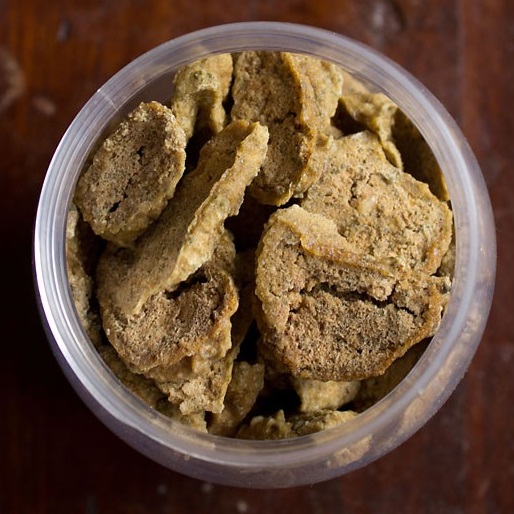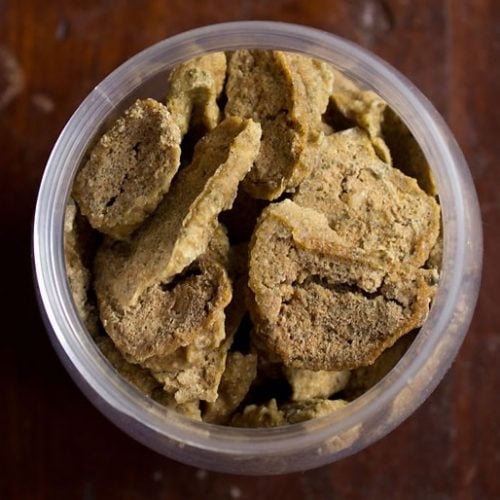 punjabi wadi recipe
Punjabi wadi recipe – sun dried lentil dumplings
1

cup

fresh green chickpeas

- in the absence of chickpeas, just make the vadis with 2 cups of mung dal (skinned mung beans) or urad dal (skinned black gram) or ½ cup dried green chickpeas soaked overnight.

1

cup

mung dal

or urad dal

3-4

teaspoon

cumin seeds

(jeera)

½

teaspoon

asafoetida

(hing) - the light variety

2

teaspoon

some whole cloves

or powdered whole cloves

2

teaspoon

black peppercorns

or ground black pepper

salt as required
Instructions
preparing the punjabi wadis
Soak the fresh chickpeas in water for 2-3 hours.

Also soak the mung dal or urad dal for 2-3 hours.

Drain the chickpeas and grind it with very little water or no water to a smooth paste.

Also grind the mung dal or urad dal with very little water or no water to a smooth paste.

In a large bowl mix together both the chickpea paste and the mung dal or urad dal paste.

Add all the spices and salt and mix well

Take a large thali or food safe plastic sheet.

Keep the thali on a mat in the sun.

Drop spoonful of the the wadi mixture on the thali or plastic.

You can shape them in small circles with the back of the spoon.

Dry them in the sun for 2-3 days till they become hard.

When one side is dried, then turn the wadis and dry the other side.

You will have to turn these wadis a couple of times to ensure even drying.

When done, store all the punjabi wadis in an air tight container.
adding the vadis to any dish:
Rinse the vadis in water.

Then add them to any veggie or rice based dish.

Let them cook for 4-5 minutes.

The vadis will become soft when cooked.
Notes
A) to make the wadis more spicy, you can add red chili powder to the ground lentil mixture.
B) to make the wadis in the oven:
1: grease an over proof tray with oil or you can line the tray with butter paper.
2: grease the butter paper with some oil.
3: with the help of a spoon drop the wadi mixture in to the tray and shape them.
4: keep some distance between the wadis.
5: now bake the wadis at lower oven temperatures say between 50 to 100 degrees c for 3 to 5 hours till they get totally dried up and change their color.
6: you will have to keep on checking in between.
7: the time and temperature will vary from oven to oven.