There are so many recipes that can be made with Pumpkin – a veggie from the squash family. Just like this Pumpkin Erissery, which is a lovely dish from the cuisine of Kerala. Also known as Mathanga Erissery, it is a mildly tempered curry with slight sweet tones from the pumpkin and coconut. It is also gluten-free and vegan as all the ingredients in this recipe are plant-based.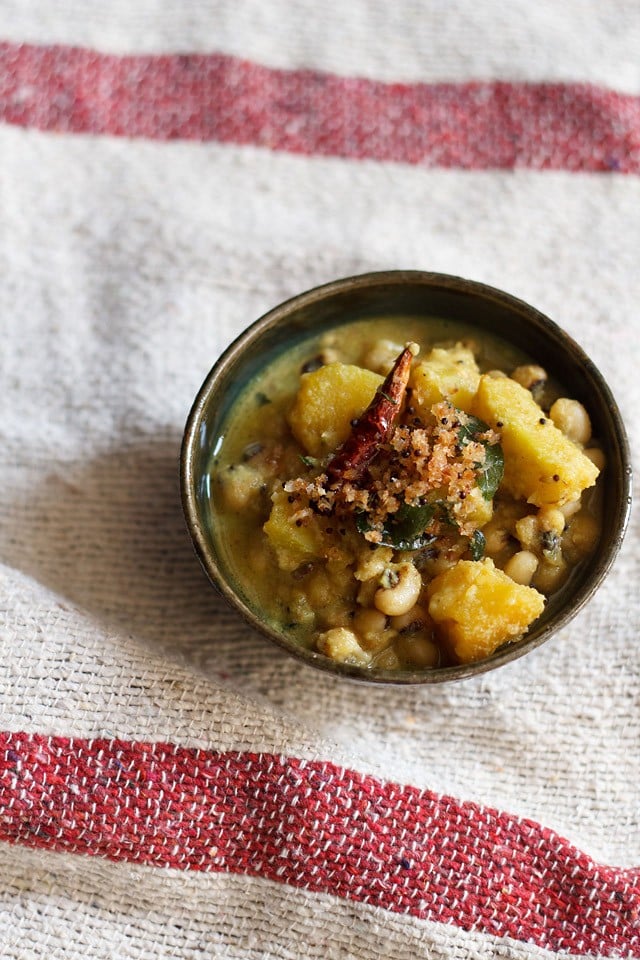 About Mathanga Erissery
The Malayalam word 'mathanga' means 'yellow pumpkin' in English. 'Erissery' is a Kerala style curry of vegetable or legume, coconut paste and tempering of basic South Indian ingredients.
Also known as 'elisseri' or 'ellisherri,' it is one of the main dishes that is served in the traditional vegetarian feast 'sadya' during Onam festival.
In this post, I am sharing one of the most common variations of this dish, which is a no onion, no garlic Mathanga Erissery.
This was actually made at home, when I had purchased the pumpkin or kaddu to make a sweet halwa and instead ended up making this delicious and comforting erissery.
In addition to the mathanga in this Pumpkin Erissery, other ingredients and elements include cowpeas or black eyed beans, ground spices, a coconut paste and a tempering made of curry leaves, mustard seeds, dried red chilies and fresh coconut.
Since this is a classic recipe from Kerala, a South Indian state, the tempering is done in coconut oil. I have used black-eyed cowpeas, but you can also use red cowpeas. Other than this, sometimes pigeon peas (arhar dal) may be added in this preparation.
There are different versions of an erissery that can be made with unripe plantains/banana, yam, etc.
About This Pumpkin Erissery Recipe
For this Pumpkin Erissery recipe, I referred to two sources on Kerala cuisine – the first one being Nag's blog Edible Garden and the second one, a cookbook on the food of Kerala that I have.
The recipes in both these places were almost the same, especially the apt technique and method. I have adapted the Pumpkin Erissery recipe from both these sources and have tried my best to stay true to the authenticity.
Since this dish is one essential feature on the Onam sadya menu, you really can't be doing much experimentation with it. So, this recipe of Mathanga Erissery is quite simple and straightforward.
Both the pumpkin and cowpeas are cooked, then the coconut paste is added and simmered. This is later tempered with the usual South Indian ingredients in coconut oil.
The coconut oil imparts a classic taste to the dish. But if you wish, you can make it in any other vegetable oil as well.
This Pumpkin Erissery tastes best with steamed rice, and you actually don't require anything else to go with it. But if you want, you can have a side of Sambar too with the rice and the erissery.
Also, if you are looking for more authentic Onam recipes, do check out the collection of Kerala Onam Recipes.
Expert Tips
Onions and garlic: Since this dish is primarily served in the religious Onam sadya feast, it does not have any onion or garlic. But, if you are making it at home on a regular day, you can even add some sambar onions in the tempering.
Coconut paste: You have to grind the coconut paste smoothly and to a fine consistency. It can be thick to medium consistency, but not very watery.
Few ingredients swaps: This erissery can be made with yam, raw banana, etc. Instead of the cowpeas, you can also add pigeon peas.
Type of coconut: For both the paste and the tempering, you can either use fresh or frozen coconut. You could also use unsweetened dry desiccated coconut. But make a note that the desiccated coconut will give a different taste to the curry.
Spicy curry: If you want to make a spicy erissery recipe, then you can increase the number of green chilies in the coconut paste.
Fats: Coconut oil is preferred to make the tempering. In case you have an aversion towards this particular oil, then you can use any other vegetable oil in this dish.
More Kerala Curry Recipes To Try!
Please be sure to rate the recipe in the recipe card or leave a comment below if you have made it. For more vegetarian inspirations, Sign Up for my emails or follow me on Instagram, Youtube, Facebook, Pinterest or Twitter.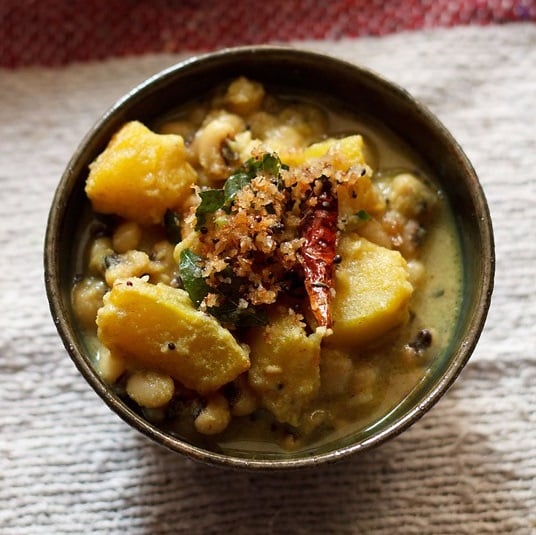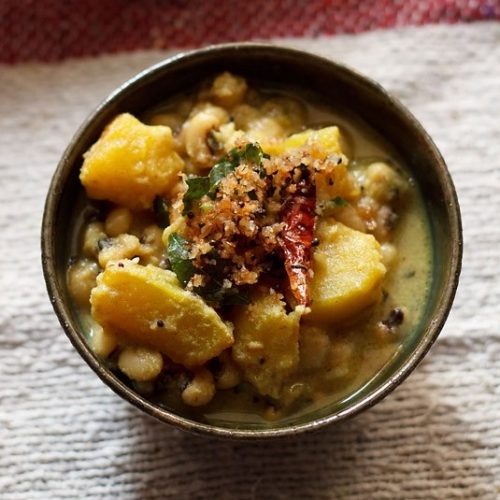 Mathanga Erissery | Pumpkin Erissery Recipe
Pumpkin Erissery is a mild and tempered curry with light sweet tones made with pumpkin, cowpeas and coconut. A Kerala traditional dish served during onam sadya.
For cooking pumpkin
200 to 250

grams

pumpkin

(kaddu) – approximate 1.5 to 2 cups peeled and chopped pumpkin cubes

¼

teaspoon

turmeric powder

¼

teaspoon

red chili powder

– optional

salt

as required

1

cup

water

or as needed
For cooking black eyed peas
½

cup

black eyed peas

– (white cowpeas) or red cowpeas

2 to 2.5

cups

water

or as needed
For the coconut paste
¾

cup

fresh grated coconut

– fresh or frozen

½

teaspoon

cumin seeds

1

green chili

or 1 teaspoon, chopped

½

cup

water

or as required
For tempering
1 or 1.5

tablespoon

coconut oil

or any vegetable oil

½

teaspoon

mustard seeds

12 to 15

curry leaves

1 to 2

dry red chilies

– kept whole or broken and deseeded

2 to 3

tablespoons

fresh grated coconut

– fresh or frozen
Instructions
Preparation
Rinse the cowpeas or black eyed beans very well in water a few times.

Pressure cook them with 2 or 2.5 cups water with a bit of salt on medium heat for 7 to 9 whistles or more until they are cooked completely and softened. Drain and keep aside.

For a quick cooking of the black eyed peas, soak them in water for one to two hours.

Let the pressure drop on its own in the cooker and then only open the lid. Drain all the water using a strainer and keep the cooked black eyed peas aside.

Rinse the pumpkin, peel and chop into bite sized cubes.
Making mathanga erissery
Take the pumpkin cubes and 1 cup water in a saucepan or medium-sized pot.

Add turmeric powder, red chili powder and salt.

Cover the pan and cook the pumpkin for 12 to 15 minutes or more on a low heat till they are softened.

Check the pumpkin a few times when they are cooking, to see if the water has not dried up.

If the water dries up, then add some more water and continue to cook.

Switch off the heat once the pumpkins are tender.

While the pumpkins are cooking, take the grated coconut, green chilli and cumin in a grinder jar.

Add ½ cup water and grind to a smooth and fine paste.

Add this coconut paste to the cooked pumpkins in the pan. Also add the cooked black eyed peas.

Add ½ cup water or more if the consistency looks very thick. The consistency is thick to slightly thick.

Stir well and place the pan on the stovetop and simmer for 10 to 12 minutes or more till the flavors are well blended.

If the curry becomes very thick, add some more water.

The consistency of the curry is thick to slightly thick, so adjust the amount of water according to your preferences.

When done cover with a lid and keep aside.
Making tempering
In a small pan, heat coconut oil. crackle the mustard seeds first.

Then add the curry leaves and the red chilies.

Fry till the curry leaves start to become crisp and the color of the red chilies change.

Add the grated coconut and sauté till the coconut becomes golden.

The fresh coconut gratings absorb all the oil.

So keep on stirring and sauté on a low heat, so that the coconut does not get burnt and there is even browning.

Pour this whole tempering mixture into the Mathanga Erissery.

Stir and serve Pumpkin Erissery hot or warm with some steamed rice or sambar.
Notes
This recipe can also be made with the green skinned pumpkins. 
Both red cowpeas and white cowpeas or black eyed peas work well in the recipe. Depending on the quality and size of the cowpeas, increase or reduce the cooking time. 
Cook the cowpeas until tender and softened. Do not overcook them as they end up become pasty and mushy. 
If out of fresh coconut, use unsweetened desiccated coconut or dried shredded coconut instead. But keep in mind that the taste will be different with desiccated coconut. 
Instead of green chilli, you could also add about ¼ to ½ teaspoon of black peppercorns while making the coconut paste.
You can easily scale up the recipe to make for the Onam feast.
Nutrition Info (Approximate Values)
Nutrition Facts
Mathanga Erissery | Pumpkin Erissery Recipe
Amount Per Serving
Calories 302
Calories from Fat 180
% Daily Value*
Fat 20g31%
Sodium 465mg20%
Potassium 640mg18%
Carbohydrates 27g9%
Protein 8g16%
Vitamin A 5938IU119%
Vitamin B1 (Thiamine) 0.3mg20%
Vitamin B2 (Riboflavin) 0.1mg6%
Vitamin B3 (Niacin) 47mg235%
Vitamin B6 0.2mg10%
Vitamin C 89mg108%
Vitamin E 1mg7%
Vitamin K 3µg3%
Calcium 78mg8%
Vitamin B9 (Folate) 664µg166%
Iron 4mg22%
Magnesium 74mg19%
Phosphorus 182mg18%
Zinc 2mg13%
* Percent Daily Values are based on a 2000 calorie diet.
This Mathanga Erissery recipe post from the archives first published on September 2013 has been republished and updated on November 2022.