This Penne Pasta recipe is my way of making a delicious and comforting saucy pasta dish featuring tangy tomatoes, sweet onions, earthy mushrooms, salty olives and fragrant herbs. The recipe is suitable for both vegans and vegetarians. Make it for a weeknight dinner as a hearty and tasty pasta meal.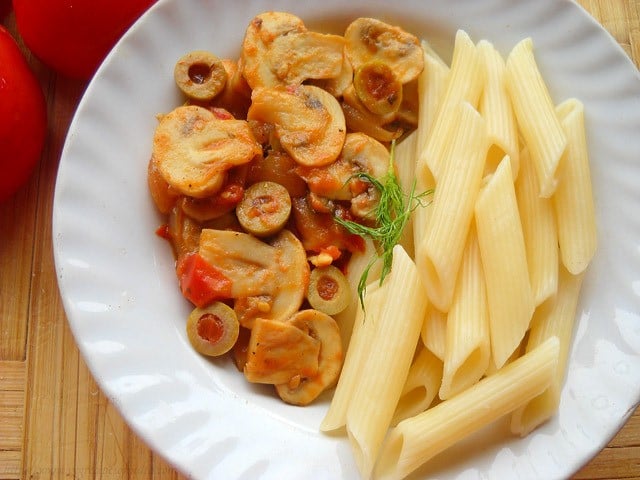 About This Penne Pasta Recipe
Though, spaghetti is the most popular type of pasta consumed worldwide, I guess in India, it is the penne. Why? Because it is quite easy to eat it unlike the spaghetti, which might get messy sometimes.
Personally, I may not be that big a fan of Penne Pasta, or for that matter any type of pasta. But while working on this Penne Pasta recipe, I remembered all my friends who are crazy for this Italian dish.
Also, the preparation may not be similar to an original Italian way of making it, but does touch the heart and satisfies the taste buds.
Here, for this Penne Pasta recipe, I have obviously used the penne variety of pasta. It is a cylindrical shaped pasta, and the best varieties are made with the distinctive durum wheat and eggs. Durum wheat is what keeps the pasta chewy, even if it is slightly overcooked.
Wheat flour and all-purpose flour are other flour choices for pastas. For instance, the Penne Pasta that I have used for this recipe was an eggless, durum wheat semolina variety.
For my recipe, both black and green olives were good. You can skip using any of these, use one of these or capers instead of olives.
This Penne Pasta recipe is vegan friendly as there's no cheese or fresh cream in it. If you are super fond of cheese and cannot imagine pasta dish without it, go ahead and add any soft, creamy cheese or vegetarian parmesan cheese to the tomato mushroom sauce as well as a garnish at the end.
The herbs can also be a mix of fresh and dried, or just one type – the way you like it. For me, the Italian seasoning and dried oregano worked well.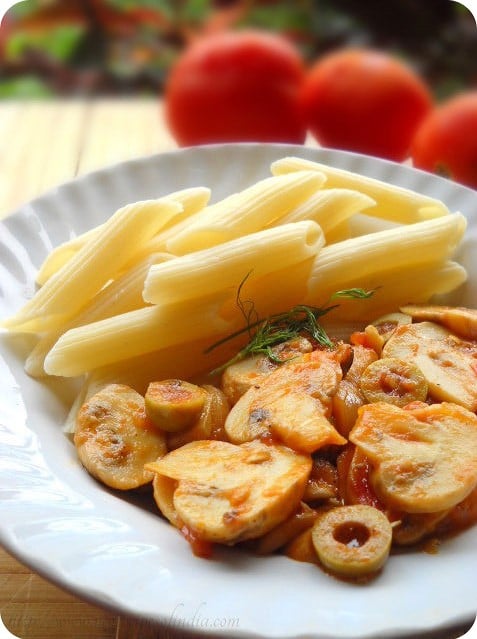 Cook the penne, right
Since this Penne Pasta recipe, and all other pasta preparations must have the pasta cooked to al dente to closely resemble the most original recipes, these are the steps you can refer in order to get a desired result.
Begin by boiling sufficient water with some salt in a pan.
Next, the penne need to be added in the boiling water and cooked on medium to high heat. Generally, all pasta packets mention an approximate time for the pasta to cook. So, go by that.
If not, then it roughly takes somewhere between 10 to 15 minutes for the pasta to reach the al dente stage. Once there, switch off the heat.
If at all you are only used to a softer texture, cook the pasta for some more time.
Strain the pasta and use it for your dish.
Other than this delish Penne Pasta with a tomato mushroom sauce, these are a few more creations that can be done with the penne – an Indo-Italian fusion Masala Pasta and the ubiquitous White Sauce Pasta.
How to make Penne Pasta
Preparation
1. Rinse 6 to 7 ripe medium size tomatoes and chop them. You will need about 3 to 3.5 cups chopped tomatoes.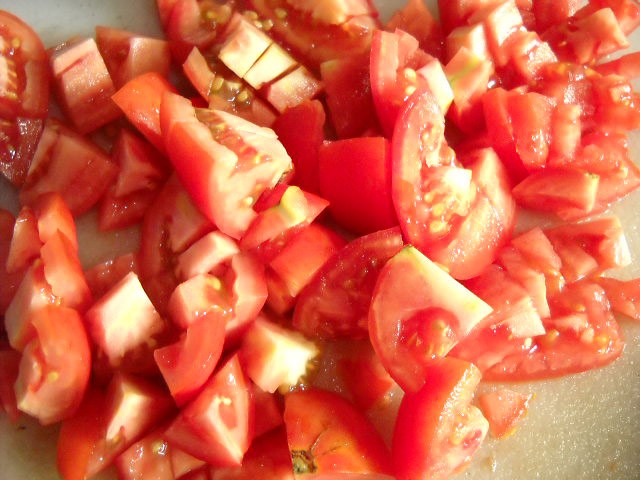 2. Also, rinse 300 grams white button mushrooms. Slice off or trim the part of the base stalk and chop each button mushroom.
Peel, rinse and thinly slice or chop 2 medium-sized onions. You will be needing about 1 cup of sliced onions or chopped onions
Crush 6 to 7 small to medium-sized peeled garlic cloves in a mortar with a pestle. You could also mince them using a garlic press. You will need about 1.5 to 2 teaspoons of crushed garlic.
Set aside the seasonings and herbs you will be using. I have used Italian seasoning, but feel free to add your preferred herbs and seasonings.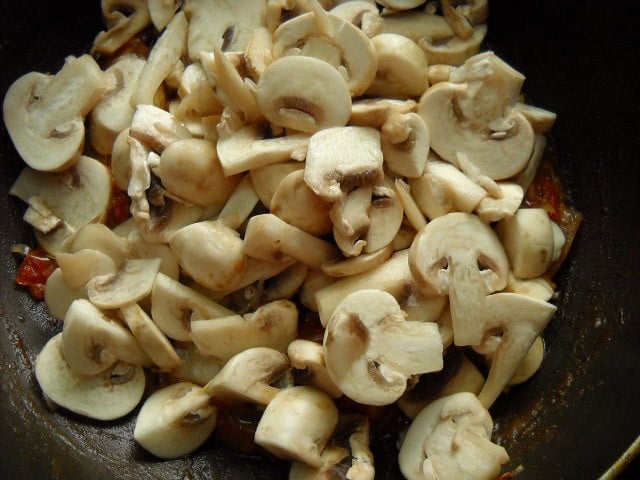 3. Heat sufficient water in pan or pot till it comes to a boil. Add salt as required and 200 to 250 grams of penne pasta.
Cook the pasta till al dente. Drain in a colander or strainer and reserve once done.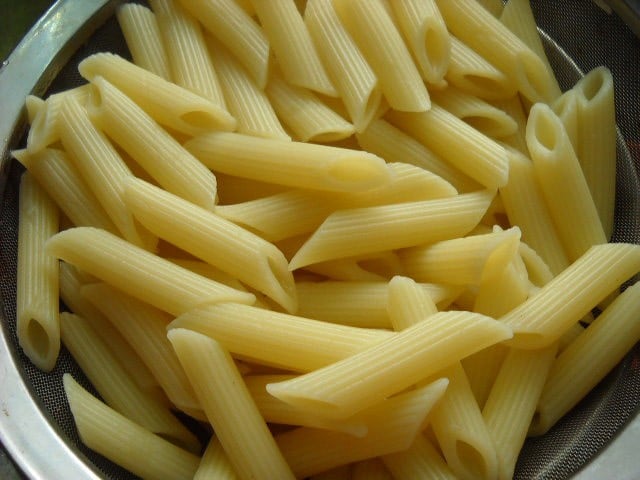 Make Tomato Mushroom Sauce
4. Heat 3 tablespoons olive oil in a pan. Add sliced onions and sauté stirring often till light golden on low to medium-low heat.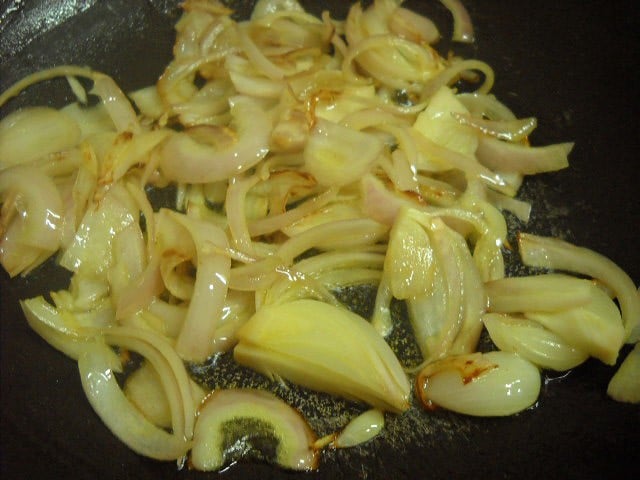 5. Add the crushed garlic.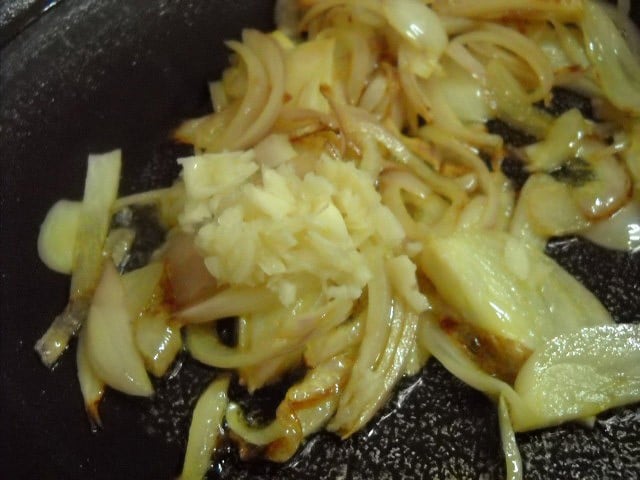 6. Stir to mix the garlic with the onions and sauté for 15 to 20 seconds on low heat.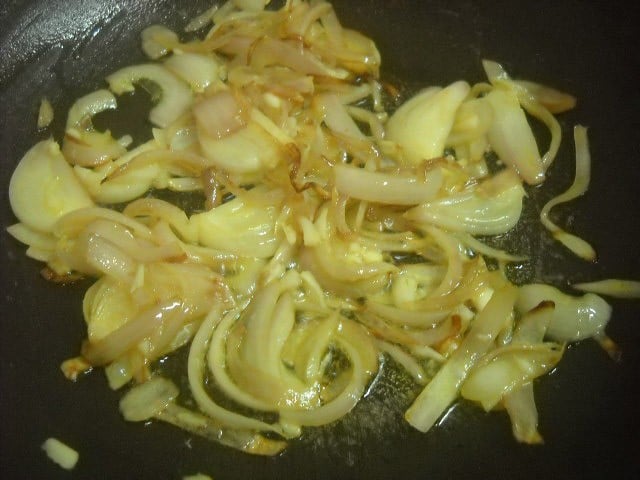 7. Add the chopped tomatoes.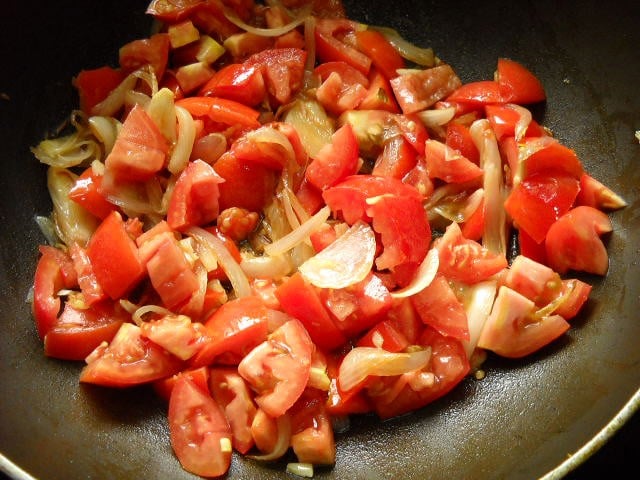 8. Next, add salt to taste and 1 teaspoon ground black pepper to the tomatoes. Opt to add less black pepper if you prefer.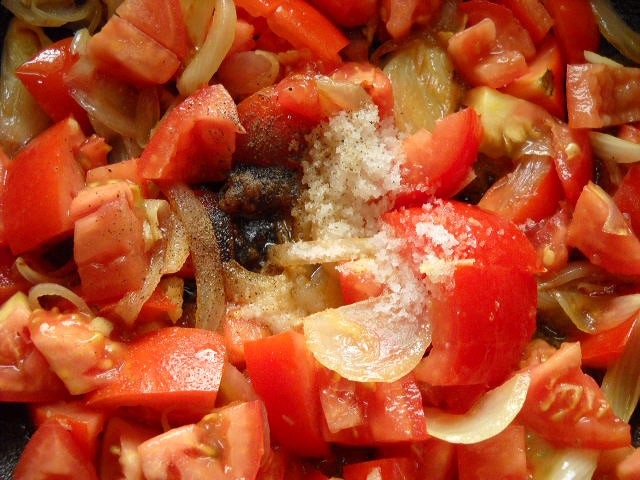 9. Add in 2 teaspoons of Italian seasoning. Like me you can also add 1 teaspoon dried oregano (optional) if you like.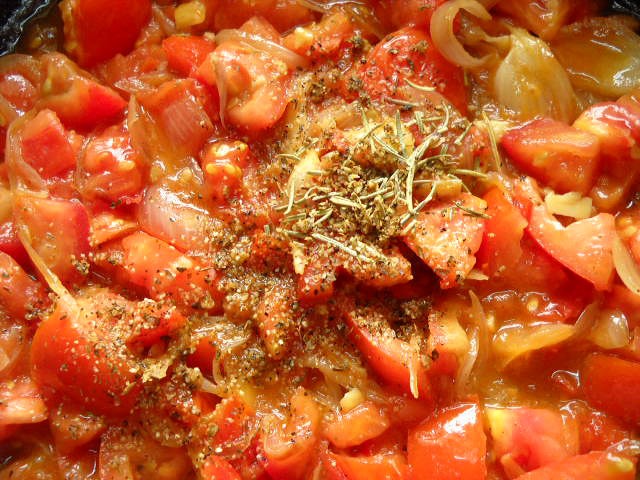 10. Mix well and cook the tomatoes till they become paste like, mushy and saucy on low to medium-low heat as shown in the below photo.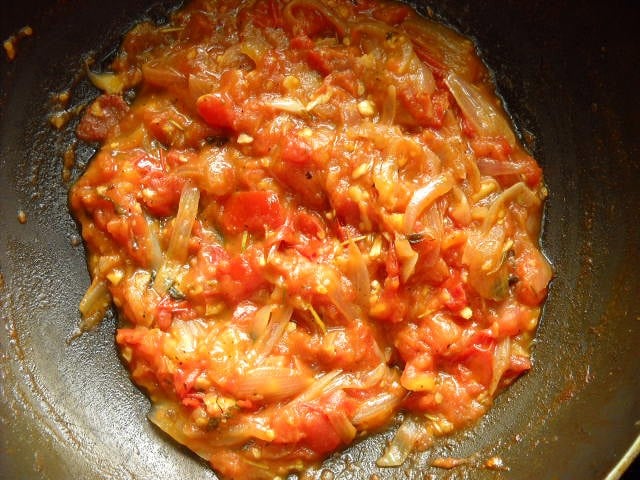 11. Nest, add the chopped mushrooms.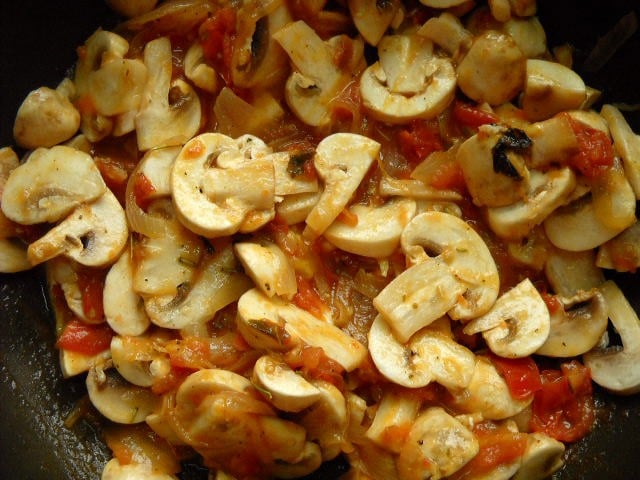 12. Allow the mushrooms to cook in the tomato sauce. They will leave water first and then shrink. Stir often when cooking mushrooms.
Cooking mushrooms will take about 10 to 12 minutes on low to medium-low heat. The mushrooms have to soften and be thoroughly cooked.
The sauce will also look thick and less watery or runny once the mushrooms are cooked through as you can see in the photo below.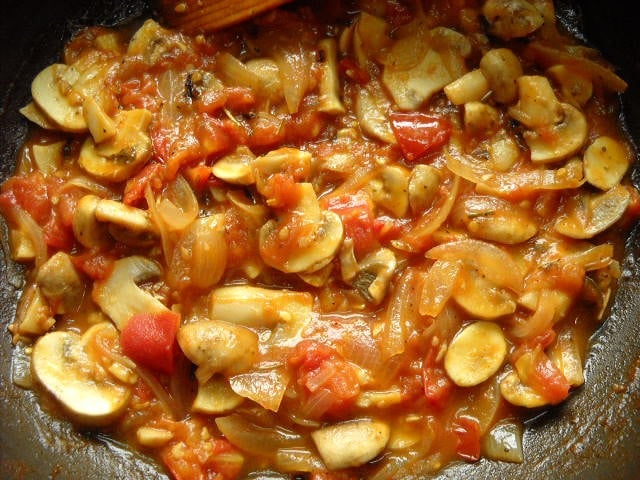 13. Take 4 green and 4 black pitted olives. You can skip adding olives if you do not prefer them.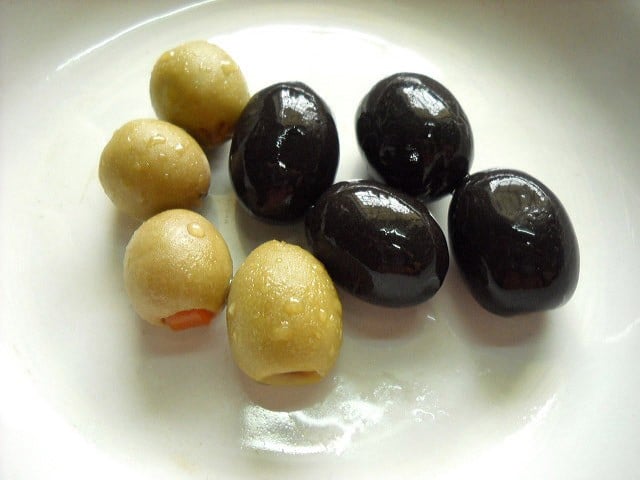 Make Penne Pasta
14. Slice or chop the olives and add to the tomato mushroom sauce once the mushrooms are tender and cooked.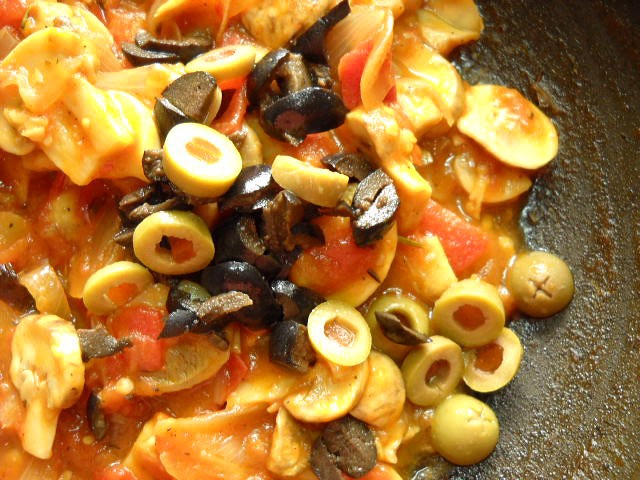 15. Sauté for a few minutes and switch off the heat. Then, you can either add the penne to the tomato mushroom sauce or serve the penne separately with the tomato mushroom olive sauce.
Enjoy the Penne Pasta hot or warm. Optionally garnish with your favorite fresh herb or preferred cheese if you like.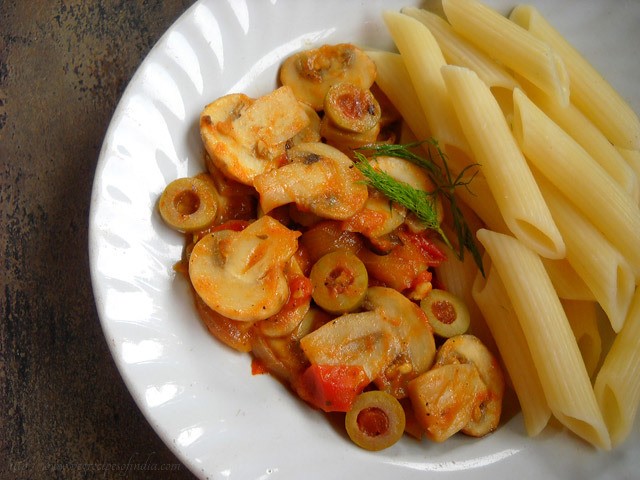 What is Al Dente
Whether you know extensively about Italian food culture or just a foodie who loves the fair share of fusionized and authentic pasta dishes, you must've come across a term called 'al dente' many a times.
So, what exactly does this Italian phrase mean? It basically directly translates to 'to the tooth.' More precisely when used in the culinary field for cooking pastas, it means that the pasta should be cooked till that point where it is still firm when bitten onto.
Personally also, I feel that this Penne Pasta recipe or any other pasta dish tastes better when cooked this way. However, this concept is not very common with many Indians, and most of them still prefer a bit of an overcooked pasta dish.
FAQs
Can I use any other pasta type for this recipe?
Yes, you definitely can use other varieties of pasta like spaghetti, fusilli, macaroni, etc.
What other herb options do I have for this recipe?
You can use fresh or dried basil, thyme, rosemary, etc.
How to cook mushrooms just right for this recipe?
Once you add mushrooms to the tomato sauce, they will first release moisture, then shrink in size and finally get cooked. The approximate time taken for the mushrooms to cook just right will be 15 to 20 minutes.
Can I serve this Penne Pasta with some grilled vegetables?
A big yes to that!
More Pasta Recipes To Try!
Please be sure to rate the recipe in the recipe card or leave a comment below if you have made it. For more vegetarian inspirations, Sign Up for my emails or follow me on Instagram, Youtube, Facebook, Pinterest or Twitter.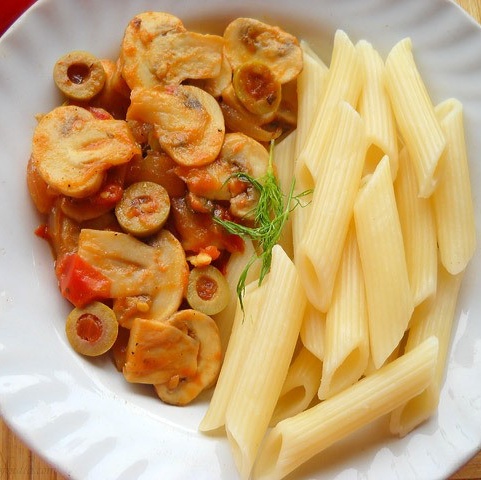 Penne Pasta Recipe (In Tomato Mushroom Sauce)
This Penne Pasta recipe is a vegan and delicious, comforting saucy pasta dish made with tomatoes, onions, mushrooms, olives, herbs and seasonings.
Total Time
1

hour
5

minutes
For cooking penne
200 to 250

grams

penne pasta

4 to 5

cups

water

or add as required

salt

as required
For making tomato mushroom sauce
6 to 7

tomatoes

– medium-sized, chopped or 3 to 3.5 cups chopped tomatoes

2

onions

– medium-sized, thinly sliced or finely chopped or 1 cup, sliced

300

grams

button mushrooms

– chopped or sliced

6 to 7

garlic cloves

small to medium sized, crushed or minced or 1.5 to 2 teaspoons, crushed

1

teaspoon

ground black pepper

2

teaspoons

Italian seasoning

or your preferred dried herbs

1

teaspoon

dried oregano

4

green olives

– pitted

4

black olives

– pitted

3

tablespoons

extra virgin olive oil

salt

as required
Instructions
To cook penne pasta
Boil the water together with salt in a pan or pot on high heat.

When the water begins boiling, add the penne and cook until al dente. The timing will vary with the quality of pasta.

Strain the water and reserve the penne.
To make the tomato mushroom sauce
Heat the olive oil in a pan.

Add the sliced onions and sauté them stirring often till they become light golden on low to medium-low heat.

Add the crushed garlic and sauté for about 15 to 20 seconds.

Add the chopped tomatoes, herbs, salt and pepper. Stir to combine well.

Sauté the tomatoes until they soften, become pulpy and mushy. This will take about 15 to 20 minutes on a low to medium-low heat.

Keep on stirring in after couple of minutes when the tomatoes are getting cooked.

Now add the chopped button mushrooms.

The mushrooms will loose water and then shrunk in size and then get finally cooked. This process will take about 10 to 12 minutes on low to medium-low heat.

The sauce will thicken and appear less runny or watery after the mushrooms have cooked thoroughly and become tender.

Finally add the olives and sauté for 2 to 3 minutes on low heat.

Serve the cooked penne with the tomato mushroom sauce or you can choose to mix the penne pasta with the sauce and serve.

While serving, garnish with your choice of fresh herbs or some cheese if you like.
Nutrition Info (Approximate Values)
Nutrition Facts
Penne Pasta Recipe (In Tomato Mushroom Sauce)
Amount Per Serving
Calories 498
Calories from Fat 162
% Daily Value*
Fat 18g28%
Sodium 608mg26%
Potassium 1220mg35%
Carbohydrates 74g25%
Protein 15g30%
Vitamin A 2131IU43%
Vitamin B1 (Thiamine) 0.3mg20%
Vitamin B2 (Riboflavin) 1mg59%
Vitamin B3 (Niacin) 6mg30%
Vitamin B6 1mg50%
Vitamin B12 0.04µg1%
Vitamin C 43mg52%
Vitamin D 0.2µg1%
Vitamin E 4mg27%
Vitamin K 42µg40%
Calcium 127mg13%
Vitamin B9 (Folate) 85µg21%
Iron 3mg17%
Magnesium 93mg23%
Phosphorus 306mg31%
Zinc 2mg13%
* Percent Daily Values are based on a 2000 calorie diet.
This Penne Pasta recipe from the archives first published in September 2011 has been republished and updated on 4 July 2022.