A fruit juice might just be another beverage with the flavor of the fruits, but it really works wonders for the body and mind during sweltering summers, or otherwise as well. There can be various flavorings added in a fruit juice. Just like this Litchi Juice (or Lychee Juice) recipe, which has the seasonal fruit lychee or litchi in it. Litchi Juice is a quick, refreshing and soul-soothing beverage. A must-try.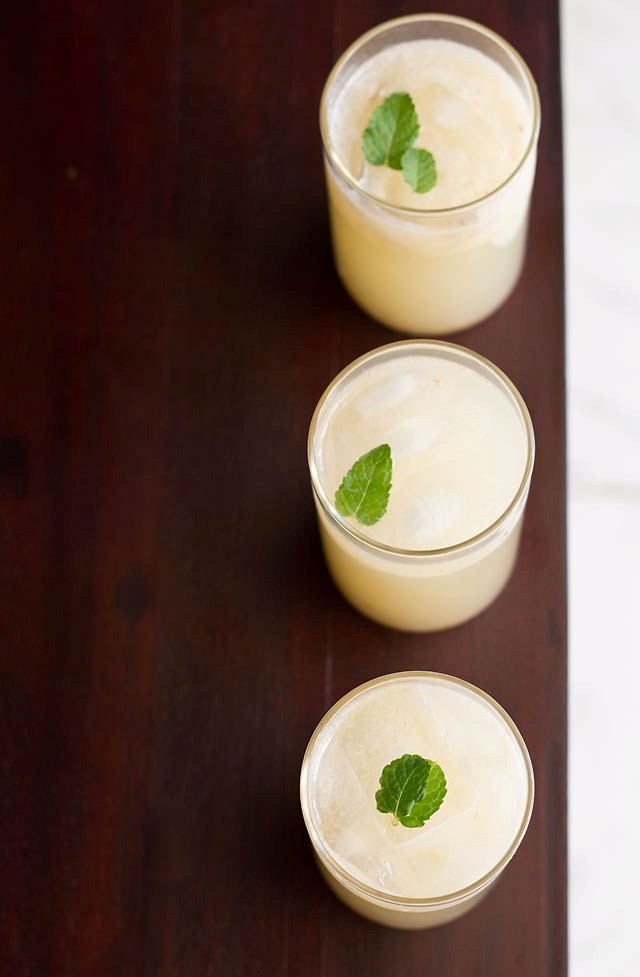 The Lovely Lychee
Just like the 'king of fruits' Mango, India has many takers of the seasonal fruit lychee or litchi too. It is a sweet, fleshy and juicy tropical fruit native to the Fujian, Yunnan and Guangdong provinces of China.
Other major producers of this yummy fruit are India, Madagascar, South Africa and a few more countries in Southeast Asia. Lychee fruit is nutrient dense and is perfect for summers. However, the seed is considered as poisonous.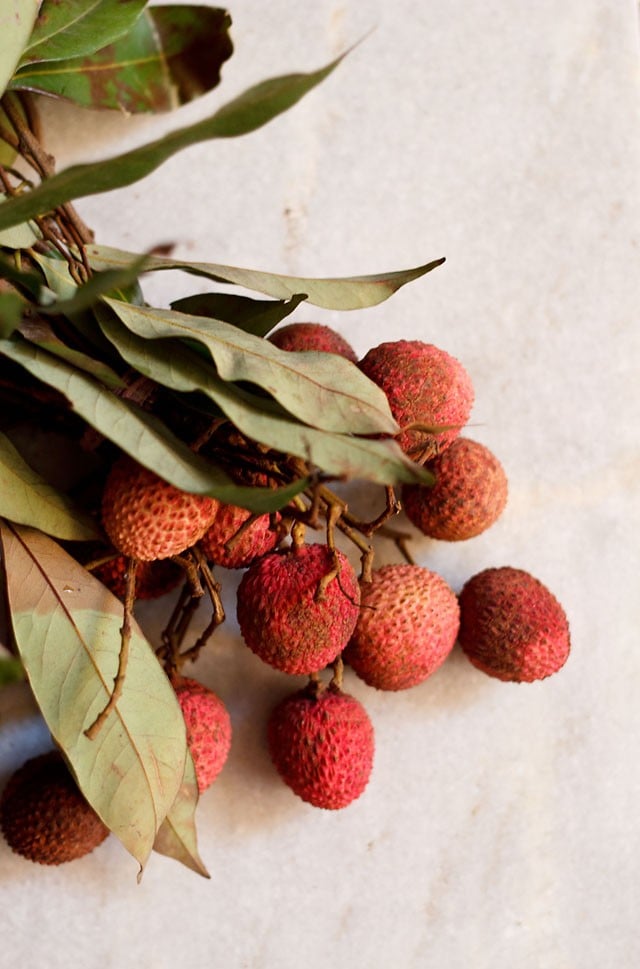 The raw lychee fruit is composed of 69% water, is rich in Vitamin C, minerals and has almost negligible fat content. It also has proteins and carbohydrates and is a great fruit to instantly add to your energy-levels.
This Lychee Juice recipe is one of those beverages which is an absolute favorite at my home, including me. It is super easy to make, requires hardly any ingredients and the ones that are easily available at any home pantry. Get everything together in a jar and stir-up a refreshing drink within seconds.
About Litchi Juice
Come summers, come lychee. Just like any other seasonal summer fruit in India, we also wait for the arrival of juicy lychees. Personally, I love consuming this fruit in its raw form. Like, peeling the skin, discarding the seed and enjoying the sweet pulpy flesh. It is heaven!
But given my affinity towards anything lemony, I also had to create a recipe that involved the litchi fruit. Hence, this cooling Litchi Juice. It has lychee, lemon and mint – a perfect trio and a sure shot winner collaboration to beat the Indian summer heat.
The red colored thin, leathery peel of litchi gives way to a sweet, juicy and a translucent whitish flesh with a taste I really can't describe. As I mentioned earlier, it is the best way to enjoy this fruit. But the Lychee Juice is not far behind.
This beverage has sweet, tangy undertones, basically full of flavors. I have used sugar to enhance the sweetness, but if you wish to skip it, you can do that depending on how sweet the lychees are. You can also use other sweeteners like maple syrup, honey, palm sugar, coconut sugar or jaggery.
The touch of mint in this Lychee Juice not only makes it a really comforting drink, but also brings in a pop of color. Imagine, hints of green on a white background. Its calming at once, plus tasty too. A double bonanza!
Apart from this Litchi Juice, you can also use lychees to make milkshakes, smoothies and ice creams. All of it is just awesome.
This Litchi Juice is ideal for summers or for monsoons, when you want to relish sipping on something fuss-free and yum, accompanied with some nice music or a book in your hand. One more all-time summer favorite is this Indian style lemonade Nimbu Pani, also known as Shikanji.
How is Litchi Juice made
All you've got to do is keep all the ingredients ready and begin with this simple procedure. Peel the lychee fruit, discard the seeds, take the fleshy litchi fruit pulp and put it in a blender jar. Give it a blend to make a smooth and fine puree of the lychee pulp. You can add a few tablespoons of water while blending.
Follow this by putting the lychee puree in a jar. Top it with sugar, water and some lemon juice. Give it a stir till the sugar dissolves well.
Dunk in some ice cubes in serving glasses, pour the Litchi Juice and sip on! You may garnish with some mint leaves or lemon slices too.
Expert Tips
Sometimes, the lychee fruit might have worms if its not fresh. So, make sure to check and pick litchis that are fresh and well ripe.
In place of sugar, you can use other sweeteners like honey, jaggery, maple syrup, palm sugar or coconut sugar.
While blending the litchi fruit pulp, you can add a few tablespoons of water to get the desired consistency.
While preparing the juice, you can add chilled water. In this case, you can skip the ice cubes while serving. You can also refrigerate this drink before serving.
You may or may not add lemon depending upon your taste preferences. You could also some ginger while making the litchi puree in the blender.
Please be sure to rate the recipe in the recipe card or leave a comment below if you have made it. For more vegetarian inspirations, Sign Up for my emails or follow me on Instagram, Youtube, Facebook, Pinterest or Twitter.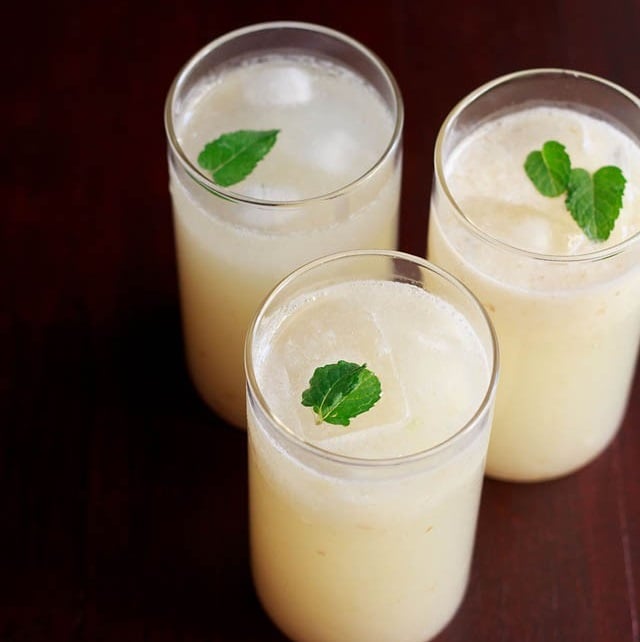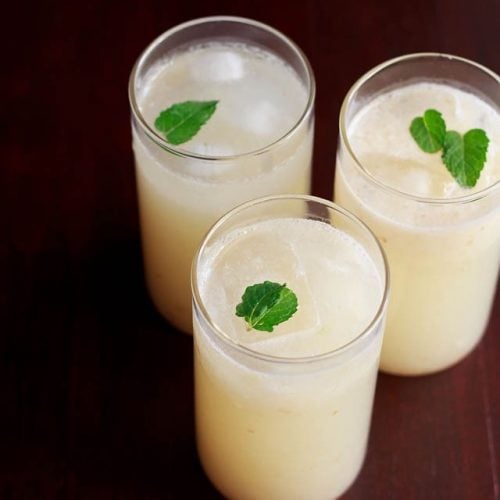 Litchi Juice (Lychee Juice)
This Litchi Juice (Lychee Juice) is a sweet and slightly tangy beverage, full of flavors of the seasonal fruit lychee and lemon.
12 to 15

lychee

(litchi)

3.5

cup

water

at room temperature or cold

1

lemon

– large size or 2 small to medium-size lemons

2 to 3

tablespoons

raw sugar

or white sugar, add as needed

mint leaves

for garnish as required – optional

lemon slices

for garnish, as required – optional

ice cubes

as required – optional
Instructions
Remove the leathery skin of the lychee fruit.

Remove the fleshy pulp with a paring knife or with clean fingers and discard the seeds.

In a blender, put all the lychee fruit pulp and make a smooth and fine puree of without adding any water. If needed, you can add in a few tablespoons of water while blending.

Tiny unblended bits and pieces are alright in the puree.

In a jar, add the lychee puree, water and sugar. Halve the lemon and extract the juice from them directly in the jar using a lemon squeezer or press.

Mix and stir until the sugar dissolves.

Pour litchi juice in glasses topped with some ice cubes if you like.

Serve Lychee Juice immediately.

While serving, you can garnish Litchi Juice with few mint leaves or lemon slices.
Notes
You can use cold water, if you don't want to use ice cubes in the Litchi Juice.
You can also refrigerate the Lychee Juice for a few hours and serve later.
Use fresh juicy and plump litchis to make this refreshing juice.
If you do not prefer a tangy taste, refrain from adding the lemon juice. Adjust the amount of sugar as needed.
Nutrition Info (Approximate Values)
Nutrition Facts
Litchi Juice (Lychee Juice)
Amount Per Serving
Calories 70
Calories from Fat 9
% Daily Value*
Fat 1g2%
Sodium 16mg1%
Potassium 132mg4%
Carbohydrates 18g6%
Protein 1g2%
Vitamin A 93IU2%
Vitamin B1 (Thiamine) 1mg67%
Vitamin B2 (Riboflavin) 1mg59%
Vitamin B3 (Niacin) 1mg5%
Vitamin B6 1mg50%
Vitamin C 48mg58%
Vitamin E 1mg7%
Vitamin K 1µg1%
Calcium 25mg3%
Vitamin B9 (Folate) 12µg3%
Iron 1mg6%
Magnesium 11mg3%
Phosphorus 20mg2%
Zinc 1mg7%
* Percent Daily Values are based on a 2000 calorie diet.
This Litchi Juice post from the blog archives first published in Jun 2013 has been republished and updated on 28 April 2022.