Fruit bread recipe – this is an easy, light and healthy fruit bread recipe. This fruit bread is an eggless bread Made with whole wheat flour in a larger proportion. I have used candied orange peels, tutti frutti, glazed cherries to make this bread.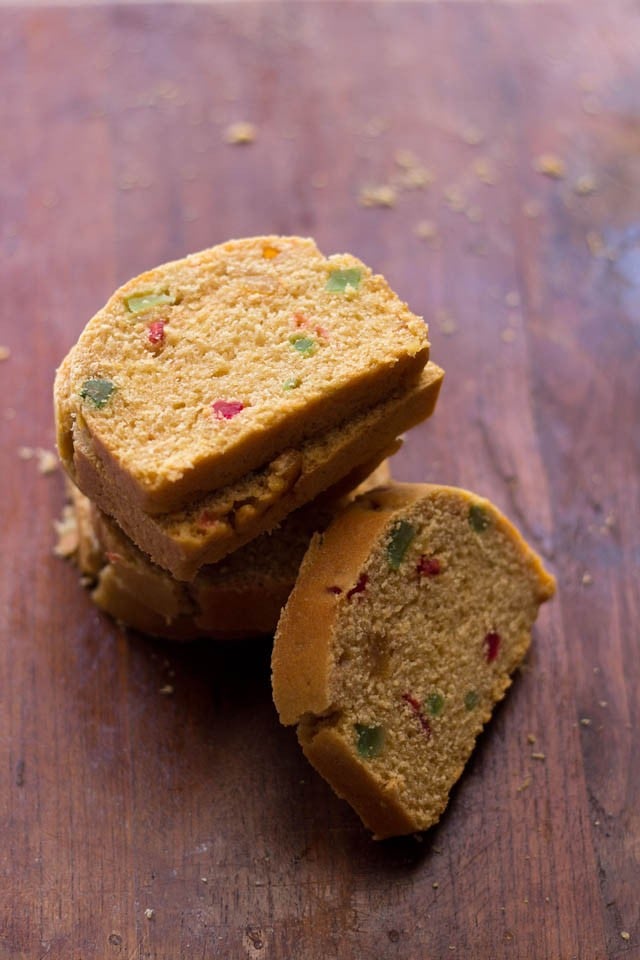 You can make this fruit bread more rich in nutrition by adding chopped dry fruits or nuts or seeds like Sunflower, sesame, pumpkin or even ground flax meal.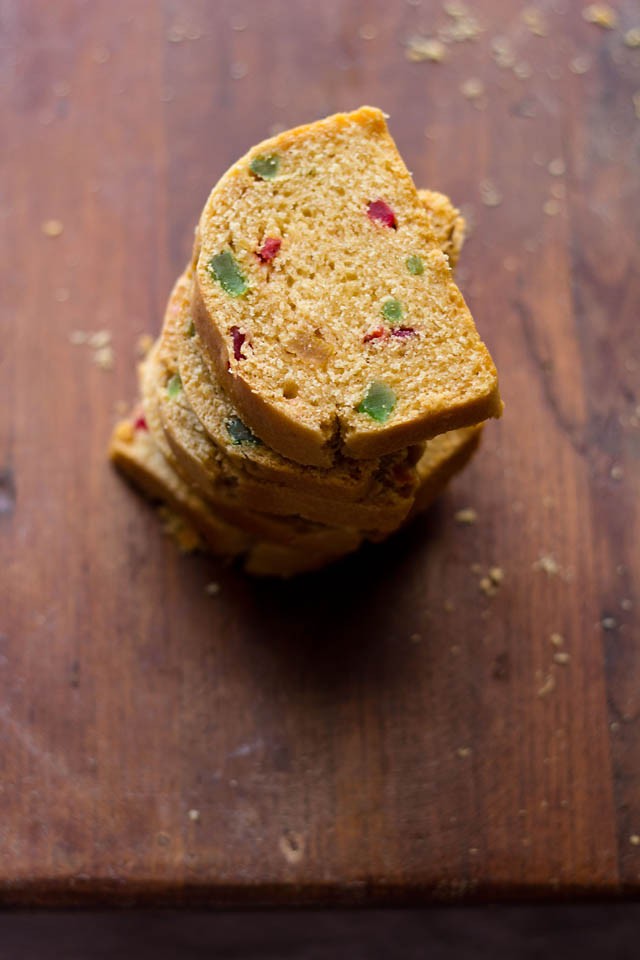 Fruit bread or fruit buns Would be always brought my me when visiting any bakery or super store. I would give a miss to the cakes and cookies, but not fruit bread. Its not only fruit bread I would buy…. I would bring a whole basket of loafs, artisan breads…
So now whenever I go to any super mall or store or bakery, I avoid looking in the bread section. Even though I make breads at home now, I have to pick up some loaf or Focaccia or buns with me 🙂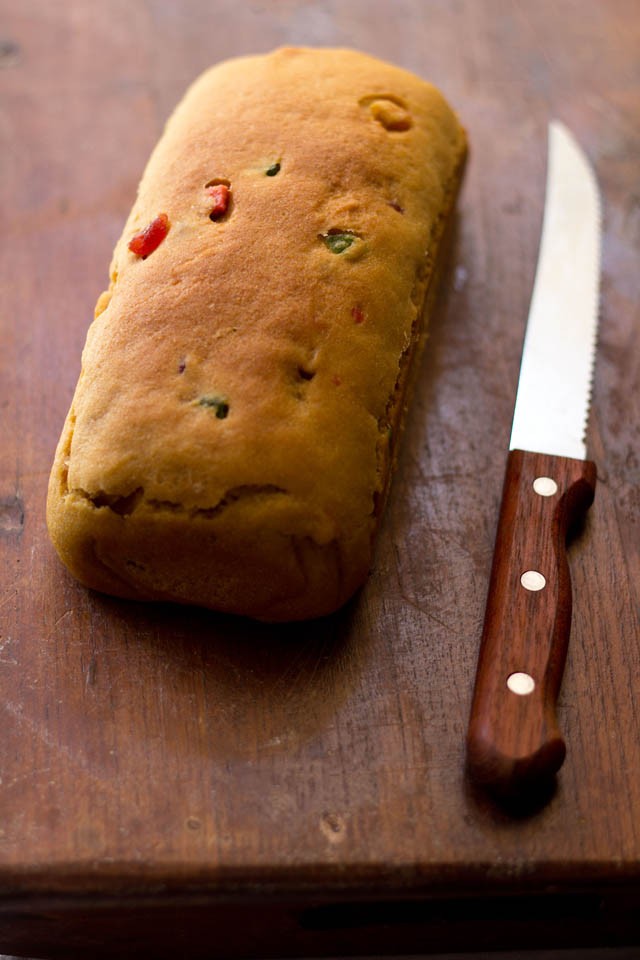 The fruit loaf is easy to make and goes well with tea or coffee. Some butter can also be applied on the bread and they taste great this way. We just have them plain as thats how we like these sweet bread slices.
If you are looking for more Bread recipes then do check:
Please be sure to rate this recipe in the recipe card below if you have made it. For more vegetarian inspirations, Sign Up for my emails or follow me on Instagram, Youtube, Facebook, Pinterest or Twitter.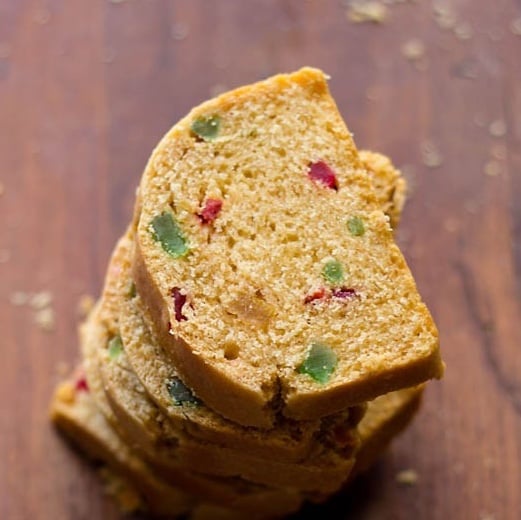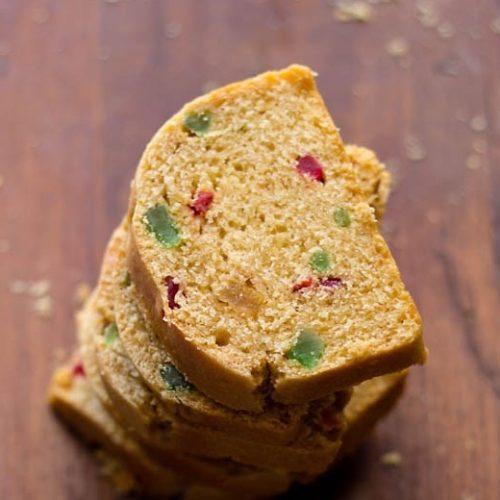 Fruit Bread
This Fruit Bread loaf is eggless, dairy-free, light and healthy recipe.
2.5

cup

whole wheat flour

(atta) or organic whole wheat flour

½

cup

all-purpose flour

(maida) or organic all purpose flour

5

tablespoon

regular sugar

or organic unrefined cane sugar

½

tablespoon

dry active yeast or 1 teaspoon instant yeast

2

tablespoon

custard powder

or cornflour (cornstarch)

1

teaspoon

salt

1

cup

water

2

tablespoon

tutti frutti

2.5

tablespoon

candied orange peels

- chopped

3 to 4

glazed cherries

- chopped

4

tablespoon

vegetable oil

or unsalted butter at room temperature. (I used sunflower oil)
Instructions
Warm the water.

Add a pinch of sugar in the water and stir.

Mix in the dry active yeast.

Keep in warm place for 10 minutes for the yeast to froth.

In another bowl, mix both the flours with salt, sugar, tutti frutti, cherries, candied orange peels and custard powder or cornflour.

Add the yeast mixture, oil and knead to a smooth dough.

Add more water if the dough looks dry.

Grease the whole dough with some oil so that it does not dry out.

Keep in the same bowl.

Cover the bowl with a cling film or kitchen towel and let the dough rise for 2 to 2.5 hours.

Punch the dough and knead lightly after 2 or 2.5 hours.

Grease or line a 9 x 4 inch loaf pan.

Shape the dough into a loaf.

Cover and keep for 35 to 45 minutes or till the loaf has risen again.

Before baking, preheat the oven to 180 degrees C or 356 degrees F.

Bake the loaf for 45 to 50 minutes.

Remove when still hot and keep the loaf on a wired tray or stand.

Serve warm or when cooled.

These Fruit Bread slices go well with tea or coffee. You can even apply some butter (vegan or dairy) and have them.
Nutrition Info
(Approximate values)
Nutrition Facts
Fruit Bread
Amount Per Serving
Calories 2348
Calories from Fat 594
% Daily Value*
Fat 66g102%
Cholesterol 76mg25%
Sodium 2484mg108%
Potassium 1316mg38%
Carbohydrates 411g137%
Protein 49g98%
Vitamin A 64IU1%
Vitamin B1 (Thiamine) 2mg133%
Vitamin B2 (Riboflavin) 1mg59%
Vitamin B3 (Niacin) 19mg95%
Vitamin B6 1mg50%
Vitamin B12 1µg17%
Vitamin E 10mg67%
Vitamin K 39µg37%
Calcium 209mg21%
Vitamin B9 (Folate) 302µg76%
Iron 15mg83%
Magnesium 438mg110%
Phosphorus 1249mg125%
Zinc 9mg60%
* Percent Daily Values are based on a 2000 calorie diet.