A Fruit Bread or Fruit Bun is a sweet bread, roll or cake made with flour, fruit and fruit peels, spices, nuts, seeds and sometimes alcohol too. This Fruit Bread recipe is a vegan, egg-free and non-alcoholic version made with whole wheat flour in a larger proportion along with candied orange peels, tutti frutti and glazed cherries. Together with fruit bread loaf I also cover making Fruit Bun in the notes section of recipe card below.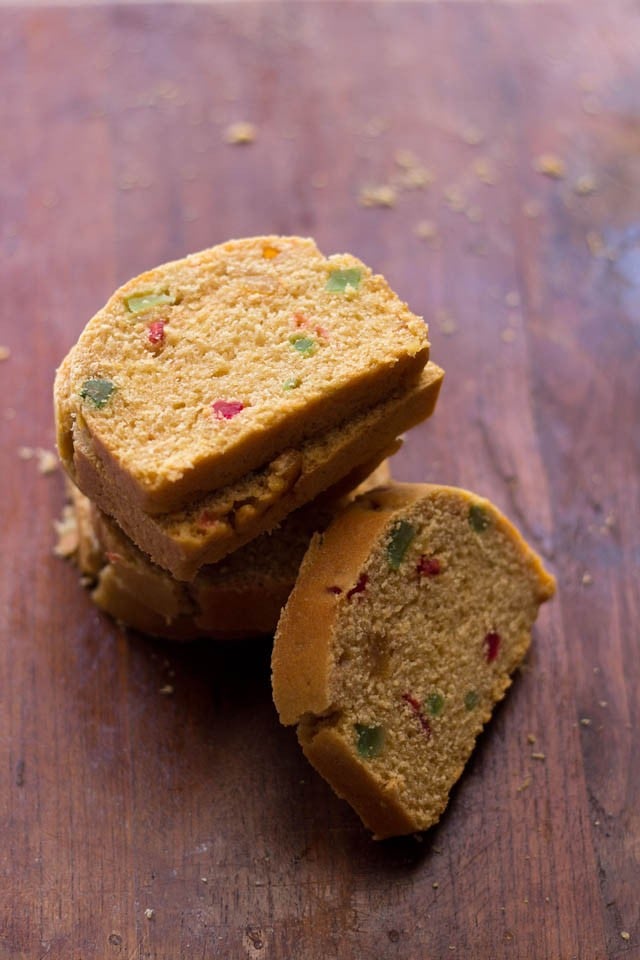 About This Fruit Bread
This Fruit Bread is very easy to make and you can add chopped dry fruits and edible seeds like sunflower, sesame, pumpkin or flax to make it richer in nutrition, taste and texture.
I've been a great fan of Fruit Bread or Fruit Bun for a long time now. I always picked these and other artisan bread loaves over cakes, muffins or cookies in a bakery or super store.
I developed this homemade Fruit Bread recipe, and things changed. Nowadays, I don't even look at the bread section at any store.
I make them all at home and that's the best part. Few other breads that I really like are Focaccia, Pita Bread and the usual White Bread, Whole Wheat Bread and Brown Bread that I make at home.
Whether you make Fruit Bread or Fruit Bun, it pairs really well with tea and coffee. You can spread some butter on the Fruit Bread slices and enjoy it that way too. At home, I prefer having this sweet Fruit Bread just as it is.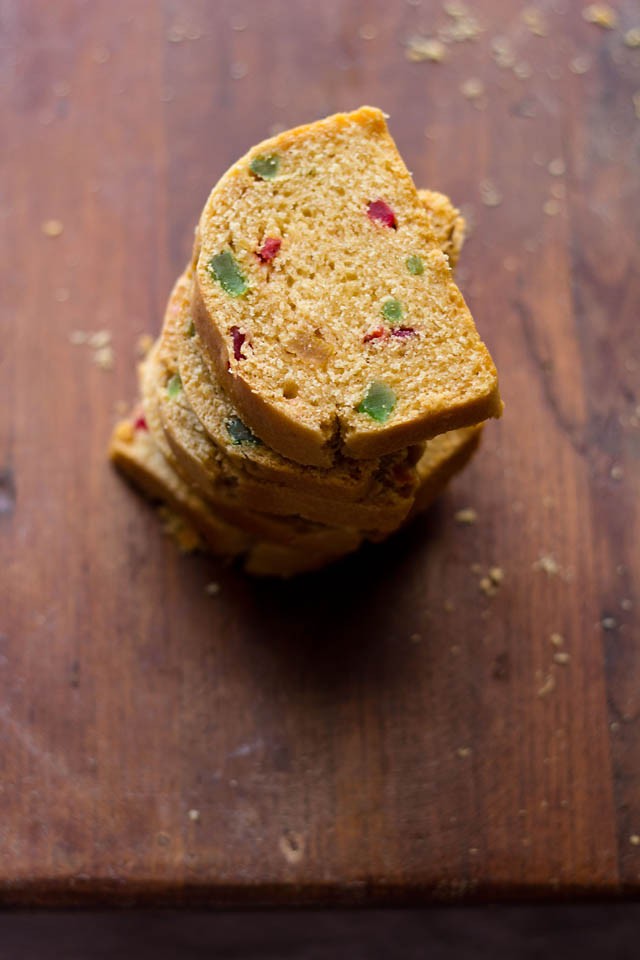 Fruit Bread: Through Ages
Irrespective of the popular belief that the Fruit Bread has its roots in Britain, it is not really where it belongs. The Fruit Bread is 2000 years old and has its origin in ancient Rome. Roman soldiers carried it as a snack to battlefields as it had a good shelf-life.
The Romans had their own Fruit Bread recipe which included barley mash, pine nuts, raisins, pomegranate seeds and honeyed wine. They shaped it as a cake and called it 'satura.'
It reached England around the 16th century with the expansion of the British empire. From there, it traveled to America through British colonists.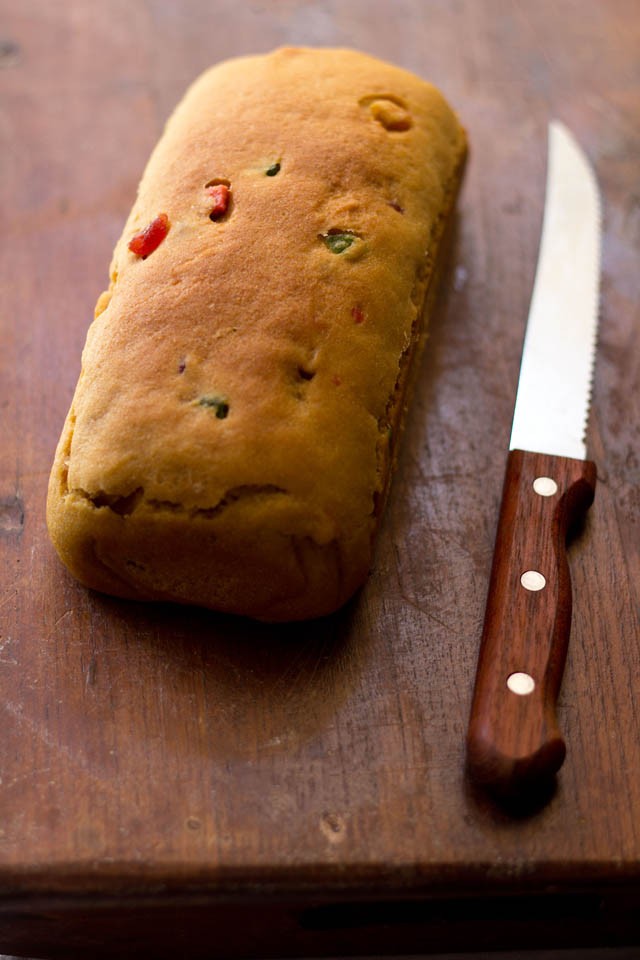 Fun Facts About Fruit Bread
Fruit Bread has many variations in different cultures and cuisines across the world. Here's a list of some more interesting facts about this decadent bread.
The Fruit Bread recipe at the time of Shakespeare had sherry, wine, fruit juices, preserved fruits, sugar and meat!
Fruit Bread was banned in the 18th century as it was made with excess sugar. It was termed as 'sinfully rich.'
A unique tradition in England was that it was essential for unmarried wedding guests to keep a Fruit Bread slice under their pillow at night. This could help them marry the person of their dreams.
Expert Tips
Quality ingredients: Invest in best, premium quality/organic ingredients for a top-class baked bread. Make sure all the ingredients are within the expiry date.
Yeast activation: Dissolve dry active yeast in warm water (43 to 46 degrees C or 110 to 115 degrees F) to properly activate it. Yeast doesn't activate in very cold water. It will cook if the water is too hot. You can substitute the dry active yeast with either instant yeast as well. Follow this conversion: ½ tablespoon dry active yeast = 1 teaspoon instant yeast.
Kneading: Remember to knead your dough well for gluten formation. To check the doneness of the dough, flatten and stretch a small piece of dough into a thin sheet/layer. It should not break or tear. You can add less or more water depending on the quality of flour. The final time taken for the dough to rise may vary from place to place.
Baking: The time taken to bake the Fruit Bread may vary from oven to oven as no two ovens are the same. You can cover the surface of the bread with aluminium foil or parchment paper if you see browning. Check the doneness of the cooked bread by tapping on it. If it sounds hollow, it's done well.
Storing: Best way to store the Fruit Bread is to refrigerate it to keep it good for a longer time.
Be patient as a lot of time goes in resting the dough and baking the bread. Avoid rushing for a great result.
FAQs
My bread dough didn't rise well. What could be the reason?
It could be due to the quality of yeast or the yeast may not have proofed well. Less warm water won't activate the yeast and hot water will destroy it.
Can I bake this Fruit Bread with instant yeast instead of dry active yeast? Can I make it in the microwave?
Yes, you can. Use this conversion: ½ tablespoon dry active yeast = 1 teaspoon instant yeast. You can make this Fruit Bread in the convection mode of a microwave at 170 degrees C.
Can this bread be made by using only whole wheat flour without any all-purpose flour and cornstarch?
Yes, it can be. But with only whole wheat flour, the loaves may turn out dense. So, you will have to add some acidic agent like lemon juice, vinegar, buttermilk or curd, which will help in softening the texture.

You can add 1 tablespoon lemon juice or vinegar when you add oil in this recipe, and then knead. This way you can skip both all-purpose flour and cornstarch.
Which fat can I use instead of sunflower oil?
Opt to add any neutral tasting oil instead of sunflower oil. The oil should not have any flavor or aroma. You can also use unsalted butter instead of sunflower oil.
What is tutti frutti?
Tutti frutti are colored candied fruits.
I have a convection oven. Will the temperature and baking time still be same?
In a convection oven, the baking temperature is usually reduced by 10 to 20 degrees. If you do not reduce the baking temperature, then the time taken for baking will be less.

So, either you reduce the baking temperature or reduce the time. In both these cases, it's better to keep a check on the cake as baking occurs quickly in a convection oven.
Why is custard powder or cornstarch (cornflour) added in this recipe?
Cornstarch is used as an egg substitute in baking. So is custard powder as it is basically flavored cornflour.
Can I replace water with milk in this recipe?
Yes, you can.
The upper crust of the bread came out hard and thus broke while slicing. While the inside was moist. What could be the reason?

There are many reasons that could lead to the hardening of the crust. It could be the inappropriate temperature of the oven or under formation of gluten in the bread dough because of not kneading the dough well.

Check the doneness of the dough by stretching a small portion of the dough. If it doesn't break, it means it is kneaded well.
More Bread Recipes To Try
Please be sure to rate the recipe in the recipe card or leave a comment below if you have made it. For more vegetarian inspirations, Sign Up for my emails or follow me on Instagram, Youtube, Facebook, Pinterest or Twitter.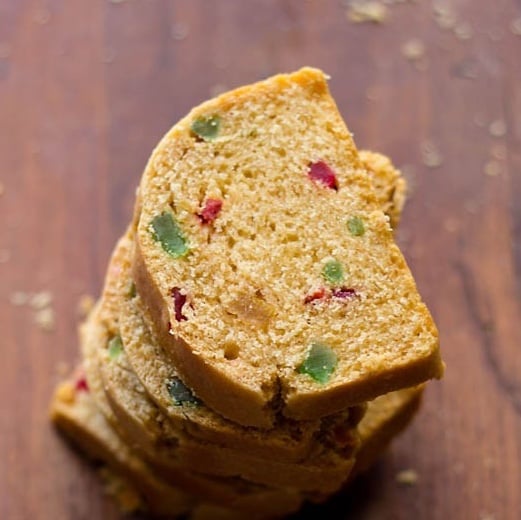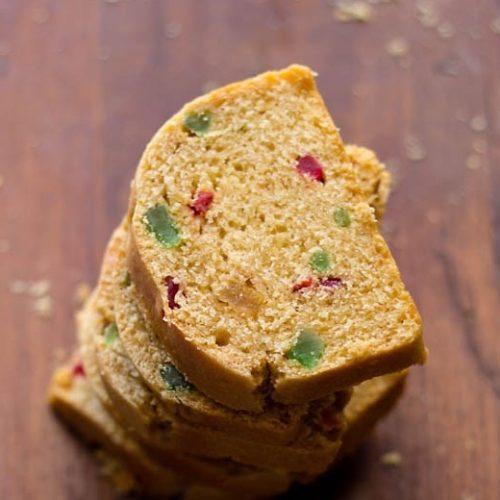 Fruit Bread Recipe | Fruit Bun
This Fruit Bread recipe is a vegan, eggless and non-alcoholic version made with whole wheat flour in a larger proportion along with candied orange peels, tutti frutti and glazed cherries.
Total Time
3

hours
45

minutes
Servings
1
Fruit Bread Loaf
Ingredients
2.5

cups

whole wheat flour

(atta) or organic whole wheat flour

½

cup

all-purpose flour

(maida) or organic all-purpose flour

5

tablespoons

raw sugar

or regular sugar

½

tablespoon

dry active yeast

or 1 teaspoon instant yeast

2

tablespoons

custard powder

or cornstarch

1

teaspoon

salt

or add as required

1

cup

water

or add as required

2

tablespoons

tutti frutti

2.5

tablespoons

candied orange peels

– finely chopped

3 to 4

glazed cherries

or candied cherries – chopped finely

4

tablespoons

sunflower oil

or unsalted butter at room temperature, can also swap sunflower oil with a neutral flavored oil
Instructions
Add a pinch of sugar in the water and stir to mix.

Add in the dry active yeast and stir to combine.

Keep in warm place for 10 minutes for the yeast to activate.

In another bowl, mix both the flours with salt, sugar, tutti frutti, cherries, candied orange peels and custard powder or cornflour.

Add the yeast mixture, oil and knead to a smooth and soft dough.

Add more water if in case the dough looks dry.

Brush the entire dough with some sunflower oil so that it does not dry out.

Keep in the same bowl.

Cover the bowl with a cling film or kitchen towel and let the dough leaven and rise for 2 to 2.5 hours or as needed.

Punch the dough and knead lightly after 2 or 2.5 hours.

Grease or line a 9 x 4 inch loaf pan.

Shape the dough into a loaf.

Cover and keep for 35 to 45 minutes or till the loaf has doubled again.

Before baking, preheat the oven to 180 degrees C or 356 degrees F.

Bake the loaf for 45 to 50 minutes or until the crust looks golden.

To check tap the loaf and it should sound hollow.

Remove loaf from pan after 4 to 5 minutes, while still hot and keep loaf on a wired tray or rack.

Let the fruit bread loaf cool at room temperature.

Cut the bread in equal slices. These Fruit Bread slices go well with tea or coffee. You can even slather some butter (vegan or dairy) or jam and have them.
Notes
How to make Fruit Bun
Prepare the dough as mentioned in the recipe and give it the first rise.
Then make equal portions of the dough depending on the size of buns you want.
Roll them to neat round buns or make any shape you prefer. Place on a greased baking tray.
Cover with a kitchen towel and let them double up in volume for 45 to 50 minutes.
Bake in a preheated oven at the same temperature as mentioned in the recipe for 30 to 40 minutes or as needed until the buns have a golden crust on top.
More Tips
This fruit loaf recipe can also be made entirely with all-purpose flour. You can also use bread flour.
Choose to add your choice of candied fruits, nuts, dry fruits and candied peels.
Add water as needed depending on the texture and quality of flours.
Try to use glazed cherries or candied cherries and not canned maraschino cherries. The maraschino canned cherries are highly processed with preservatives added – so do not add these.
You can add less salt, about ½ to a few pinches if you prefer.
If using instant yeast (rapid rise yeast), the first rise and leavening time will be about 45 minutes to 1 hour (depending on the temperature conditions). The second rise will be for 20 to 30 minutes.
Note that the approximate nutrition info is for the entire loaf of fruit bread made with this recipe.
Nutrition Info (Approximate Values)
Nutrition Facts
Fruit Bread Recipe | Fruit Bun
Amount Per Serving
Calories 2348
Calories from Fat 594
% Daily Value*
Fat 66g102%
Cholesterol 76mg25%
Sodium 2484mg108%
Potassium 1316mg38%
Carbohydrates 411g137%
Protein 49g98%
Vitamin A 64IU1%
Vitamin B1 (Thiamine) 2mg133%
Vitamin B2 (Riboflavin) 1mg59%
Vitamin B3 (Niacin) 19mg95%
Vitamin B6 1mg50%
Vitamin B12 1µg17%
Vitamin E 10mg67%
Vitamin K 39µg37%
Calcium 209mg21%
Vitamin B9 (Folate) 302µg76%
Iron 15mg83%
Magnesium 438mg110%
Phosphorus 1249mg125%
Zinc 9mg60%
* Percent Daily Values are based on a 2000 calorie diet.
This Fruit Bread recipe from the archives first published in March 2013 has been republished and updated on 5 July 2022.