Aloo Tikki Chole or Chole Aloo Tikki is a much-loved chaat dish that can be seen and enjoyed on the streets of North India. The two elements, Aloo Tikki – spiced potato cutlets or patties (sometimes with different fillings) and Chole – the well-known spicy chickpea curry, are quite the match made in heaven. This Aloo Tikki Chole recipe has the addition of yummy chutneys which takes the overall flavor, a notch higher!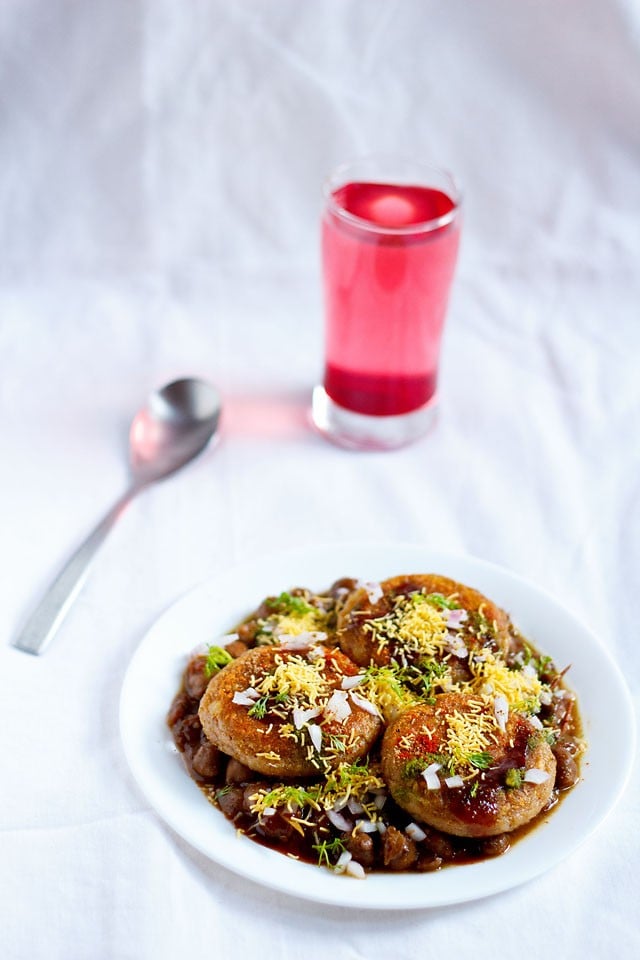 About Aloo Tikki Chole
When it comes to Aloo Tikki Chole or any other chaat for that matter, Delhi and a few other North Indian cities rule the roost. I can say this on the basis of my experience while in Delhi. Each shop has their own stamp of flavor on this much celebrated dish.
On many occasions, I'd try my best to get the recipes out from them, but all in vain. They are very protective about their secret recipes as these are a part of their business lineage of many years, sometime decades and more. Thus, are well-guarded too.
All this led me to create my own Aloo Tikki Chole recipe at home so that I wouldn't have to wait to go out and enjoy it.
Whenever I am making this dish, I always make some extra. Which is equally enjoyed the next day, also as toast sandwiches. A double dose of deliciousness!
The aloo tikki can be served on its own (without the chole) with some chutney or sauce. They can also be stuffed in burgers, pita breads, rolls or sandwiches.
Since the taste of the tikki is Indianised, make sure to use Indian style chutneys, herbs or spice mixes whenever you are using them in these snacks.
I make this Chole Aloo Tikki with this Amritsari Chole. The leftover chole curry can also be had with steamed rice, jeera rice, paratha or naan.
A chickpea sandwich is also a stunner. You must try it. The chutneys too can be homemade – Mint Chutney and Sweet Chutney.
Why This Recipe Works
Aloo Tikki is a popular snack in North India and Chole or Chana Masala is one of those dishes which describes Punjabi cuisine like none other. Combine both these, top with some tangy, sweet, spicy chutneys, crunchy onions and you get a rockstar dish – a chaat with the best of both the worlds!
This duo of the crisp, golden potato patties and hot chickpea curry when served with coriander-mint chutney, date-tamarind chutney, chopped onions, tomatoes, cucumber and sometimes shredded cabbage, beetroot, etc. results in a winner dish.
This Aloo Tikki Chole recipe does wonders on the palate as it brings in every aspect of chaat, viz sweet, sour, salty, spicy, savory and crunchy, in its flavor profile.
What's more? It can be customized according to your preferences too. The more you add, the better and crave-worthy it becomes.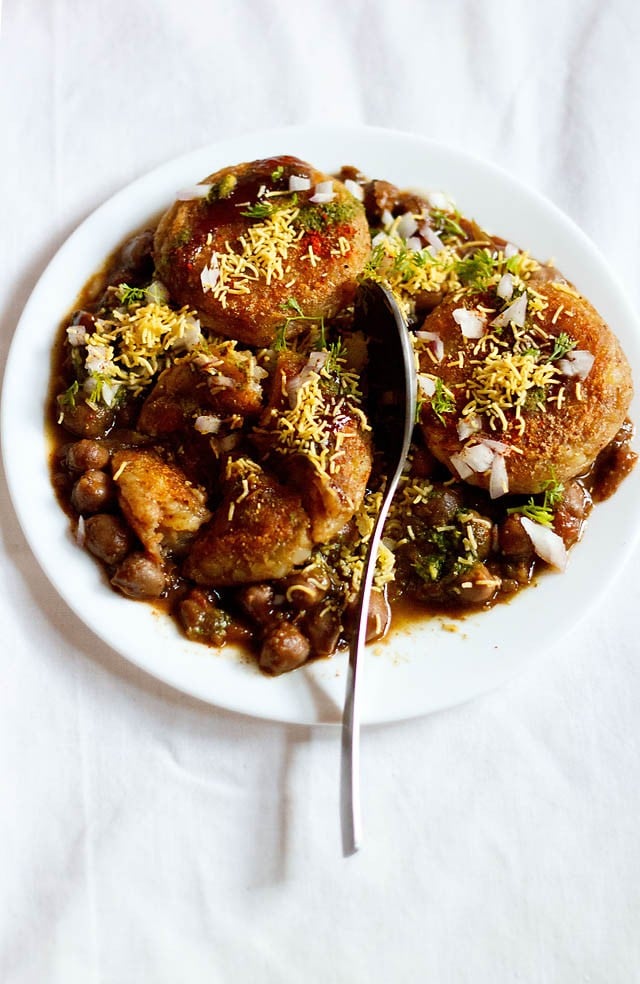 How to make Aloo Tikki Chole
1. First, boil or steam 3 to 4 medium size potatoes till they are cooked well. Peel and chop the potatoes on a plate or bowl while still warm. With a potato masher, mash the potatoes.
Opt to cook the potatoes until fork tender, in a pot or pan, in a stovetop pressure cooker, or in the Instant pot adding water as needed.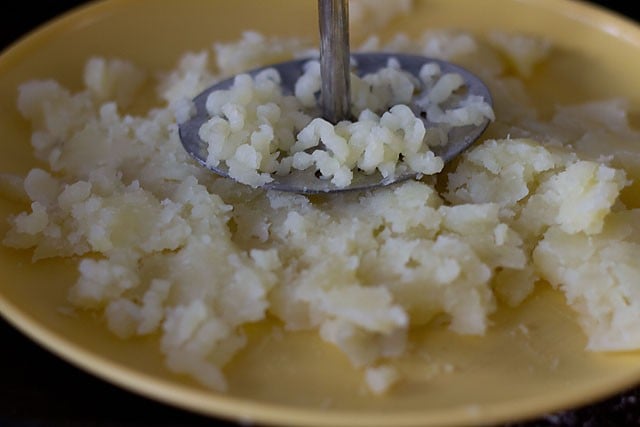 2. Let the mashed potatoes, cool completely. Then, add the following spices:
1 teaspoon cumin powder
1 teaspoon coriander powder
1 teaspoon fennel powder
½ teaspoon red chili powder
1 teaspoon dried mango powder
¼ teaspoon teaspoon dried ginger powder
½ teaspoon chaat masala powder
salt as required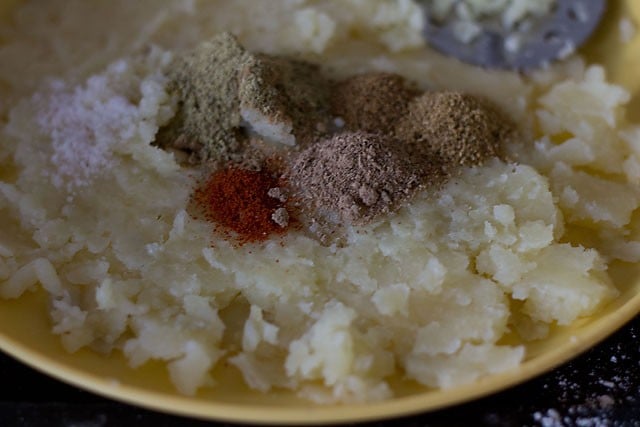 3. Next add 2 to 3 tablespoons cornflour (cornstarch). You could even add rice flour, arrowroot flour and breadcrumbs.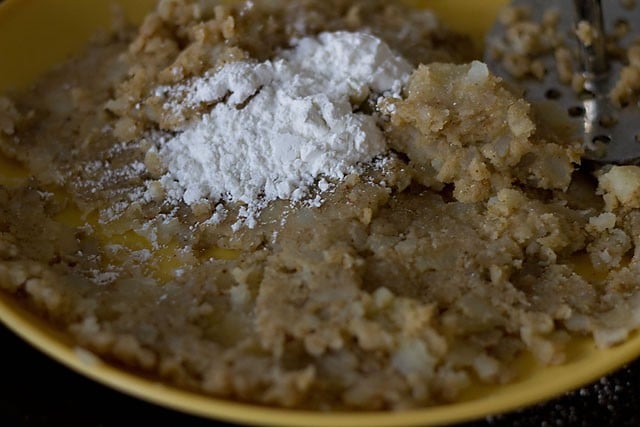 4. Next, mix the whole mixture well.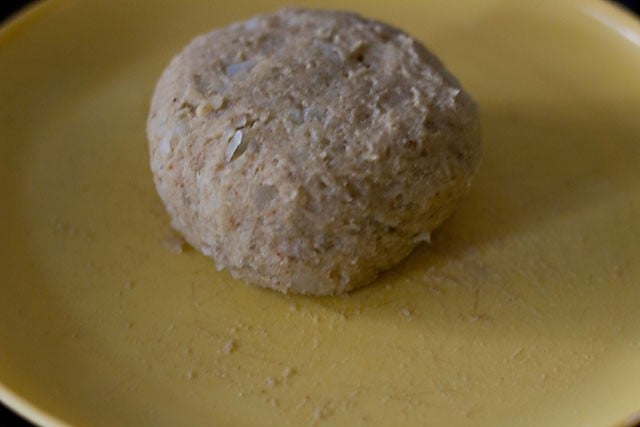 5. Take medium size portions from the potato mixture and flatten into round patties.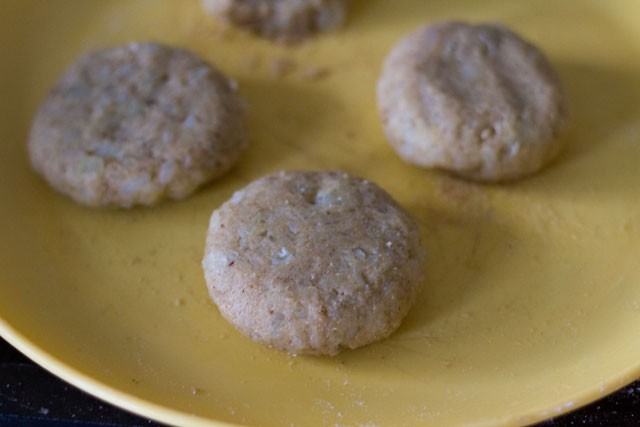 6. In a shallow frying pan or tava or skillet, heat 2 to 3 tablespoons oil. Spread the oil with a spoon. Place the tikkis in the frying pan.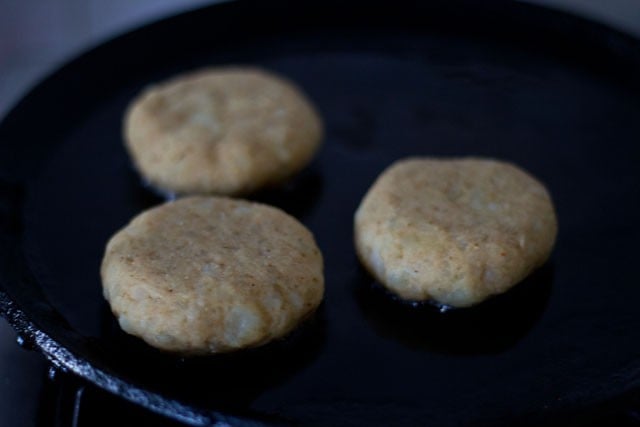 7. Keep turning the tikkis after intervals and fry them till golden brown and crisp.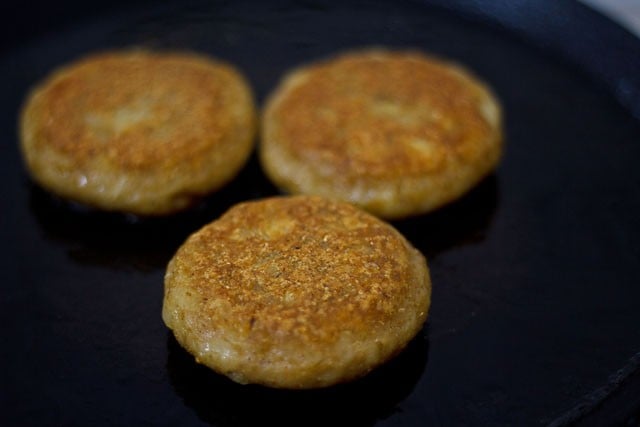 8. On a plate or bowl, take the Amritsari Chole or Punjabi Chana Masala or your favorite chickpea curry.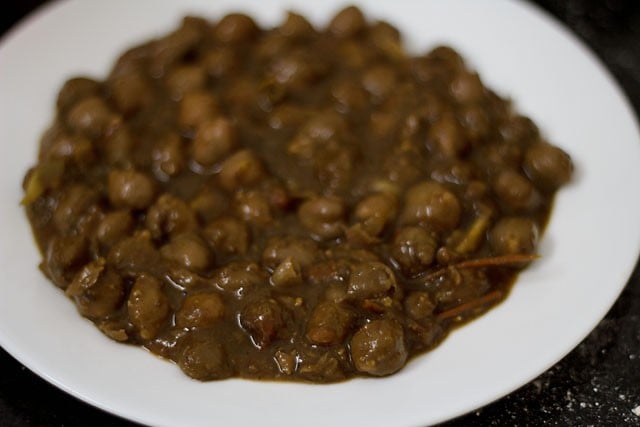 9. Now, place 2 to 3 aloo tikki on the chole curry.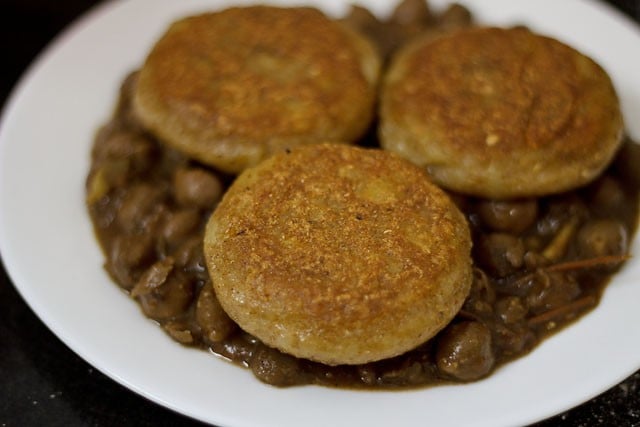 10. Top with some Tamarind Chutney, Mint-Coriander Chutney, chopped onions and chaat masala. Drizzle some lemon juice if you want.
You can also add some red chili powder. Opt to add some beaten curd or yogurt if you like.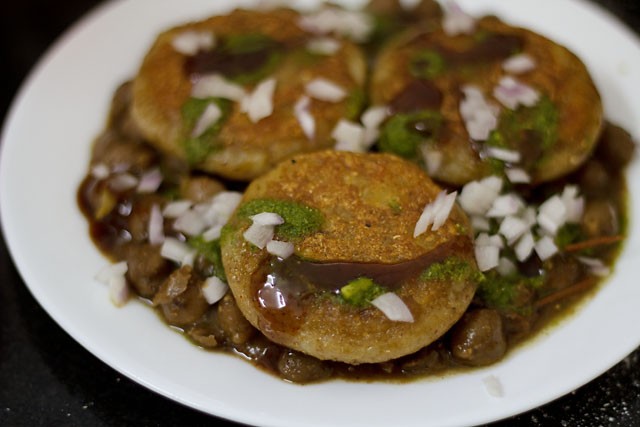 11. Garnish with coriander leaves and sev (fried gram flour vermicelli). Serve Aloo Tikki Chole immediately and enjoy.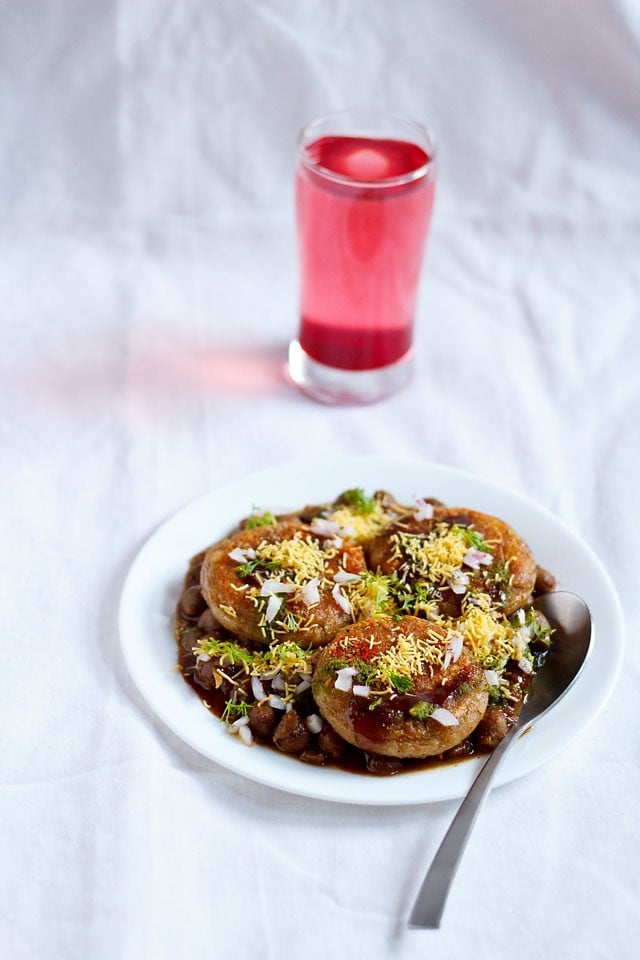 My tete-a-tete with Aloo Tikki Chole
Though primarily a North Indian street food, the first time I tried Chole Tikki Chaat was at Ghasitaram Halwai's shop in Mumbai. Here, they made it with aloo tikkis stuffed with chana dal mixture and fried to a crisp golden. These were then finished with the essential sweet and sour condiments plus onions and chaat masala.
Everything about this plate of Aloo Tikki Chole was perfectly satisfying and filling too. Before this, I was accustomed to the Mumbai style Ragda Patties. But their Aloo Tikki Chole was unbelievable. All the elements and textures resulted in a flavor burst in my mouth.
I was elated as it was so good. Soon, I started loving the Chole Tikki Chaat more than the Ragda Patties and even the Mumbai-based, yet ubiquitous Pani Puri. However, as days passed, they couldn't hold on to the quality. It was no longer like the trademark Delhi style Aloo Tikki Chole.
More Chaat Recipes To Try
Please be sure to rate the recipe in the recipe card or leave a comment below if you have made it. For more vegetarian inspirations, Sign Up for my emails or follow me on Instagram, Youtube, Facebook, Pinterest or Twitter.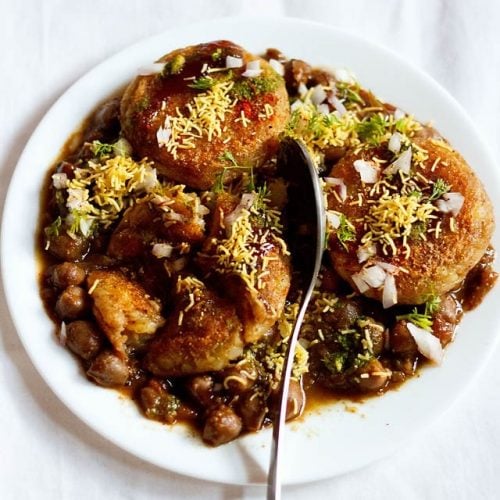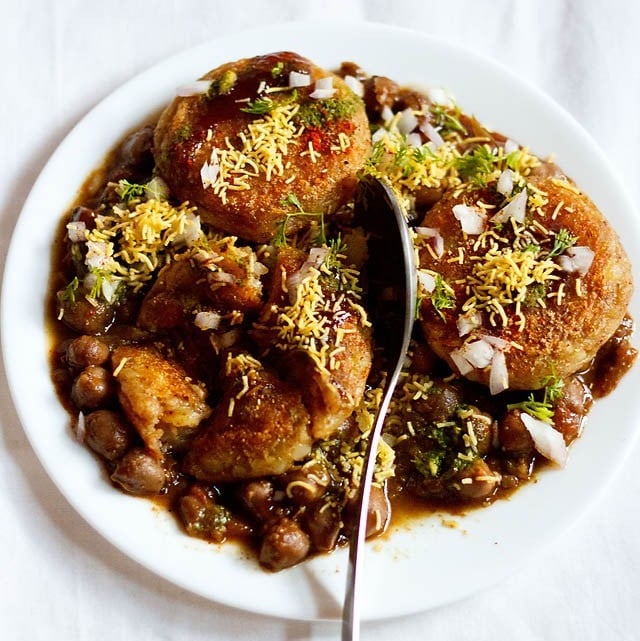 Aloo Tikki Chole
Aloo Tikki Chole are crispy, savory spiced potato patties served with a spicy North Indian chickpea curry topped with some spicy and sweet chutneys, onions and sev.
For aloo tikki
3 or 4

potatoes

– medium-sized

1

teaspoon

cumin powder

(ground cumin)

1

teaspoon

coriander powder

(ground coriander)

1

teaspoon

fennel powder

(ground fennel)

½

teaspoon

red chili powder

or cayenne pepper

1

teaspoon

dried mango powder

(amchur powder)

¼

teaspoon

dried ginger powder

½

teaspoon

chaat masala powder

2 to 3

tablespoons

cornflour

(cornstarch) or breadcrumbs or rice flour or arrowroot flour

2 to 3

tablespoons

oil

or as needed for frying the tikkis

salt

as required
Instructions
First, boil or steam the potatoes till they are cooked and soft.

You could cook the potatoes until fork tender in a pan or pot, in a stovetop pressure cooker or in the Instant Pot adding water as needed.

Peel the potatoes when they are still warm and mash them. Let the mashed potatoes cool.

Add all the ground spice powders listed above including salt.

Add the cornflour, stir and mix thoroughly.

Make medium size patties from the potato mixture.

Heat oil in a frying pan or tawa or skillet. Shallow fry or pan fry patties till crisp and browned.

Serve immediately with Amritsari Chole topped with mint-coriander chutney and tamarind chutney.

Also add some chopped onions, chaat masala and sev.

You can also add some yogurt (curd) if you like.
Notes
You can make your favorite chickpea curry to pair with the potato patties. Or opt to choose from our favorites – Chana Masala or Amritsari Chole.
This recipe makes 7 to 8 medium-sized tikkis.
This Aloo Tikki Chole recipe from the archives first published on December 2012 has been republished and updated on December 2022.