Turmeric Milk or Haldi Doodh in Hindi, has been an important part of traditional Indian food since ages. It is referred to as 'Golden Milk,' because of its sparkling medicinal properties, especially as an immunity boosting drink. The recent corona outbreak also brought this beverage into light, and I'm glad it did. Made with just three ingredients, turmeric, black pepper and milk, this is one healthy drink that you must try.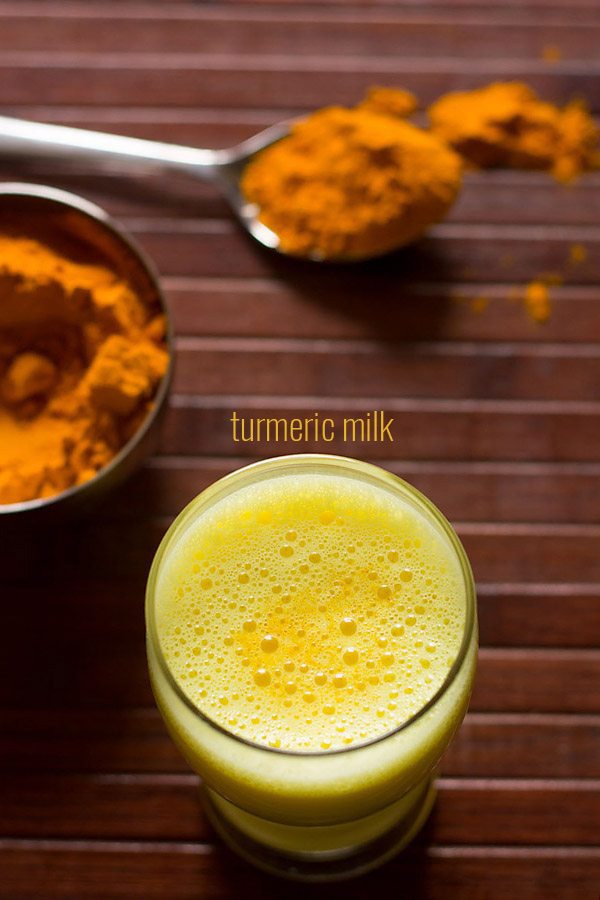 About Turmeric Milk
It is an established fact that turmeric has heaps of health benefits – from boosting immunity to helping our body fight against common sicknesses and more. So, it is really a good practice to include haldi or turmeric in your everyday diet.
Here is my recipe for Turmeric Milk or Haldi Doodh as I like to call it. In Hindi Turmeric is 'Haldi' and Milk is 'Doodh'. Hence the Hindi name of this elixir 'Haldi Doodh'.
I've been making Turmeric Milk for many years now for my family and friends. All I do is stir some organic turmeric powder and a bit of black pepper in hot milk and serve. Sometimes, even ghee is added if it is being used to treat chest congestion.
Turmeric powder is a common spice in many Indian curries, lentils and vegetable preparations. And along with this Turmeric Milk, these are two of the other preparations with turmeric that I absolutely love – Turmeric Tea and fresh Turmeric Pickle.
I am used to having the Haldi Doodh without any sweetness in it. The same goes for my family too. But if you think that you won't be able to handle the taste of milk without a sweetener, go ahead and add some sugar or your preferred sweetener.
Golden Milk can also be made with fresh turmeric roots and is the traditional method of making this elixir. However using a good quality, preferably organic ground turmeric, makes the drink easier and quicker to prepare.
Turmeric Milk Benefits
The traditional recipe of Turmeric Milk is an age-old remedy for cold, cough and fever, and is still consumed widely across homes pan India. I too, have been consuming this milk since my growing up years.
Ayurveda also affirms turmeric as a powerful ingredient known to build immunity and help fight against many illnesses. It is believed that drinking a glass of Haldi Doodh before sleeping in the night can keep all sickness at bay.
Not just in India, this beverage has takers globally, where it is also becoming popular under the sobriquet Turmeric Latte. These are some more reasons for you to make drinking Haldi Doodh, a regular habit.
'Curcumin' in turmeric is known to possess strong antioxidant properties that protects the body from oxidative stress, combats cell damage and lower risks of infections.
The beverage is also effective against diseases like Alzheimer's as it helps to boost brain and memory functions.
It can help lower symptoms of depression and enhance your mood, helps improve digestion.
Due to the anti-inflammatory properties, Turmeric Milk may reduce the risks of cancer, rheumatoid arthritis, osteoarthritis and heart diseases.
Golden Milk has anti-fungal, antiviral and antibacterial properties too. The Vitamin D and calcium from the milk makes bones stronger.
How to make Turmeric Milk
1. Heat 1 cup milk in a saucepan on a low to medium heat.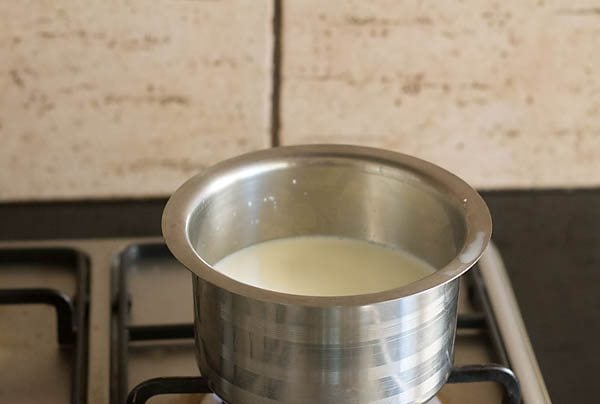 2. Simmer the milk for 2 to 3 minutes or until it boils on low to medium heat. Once the milk begins to boil, turn off the heat.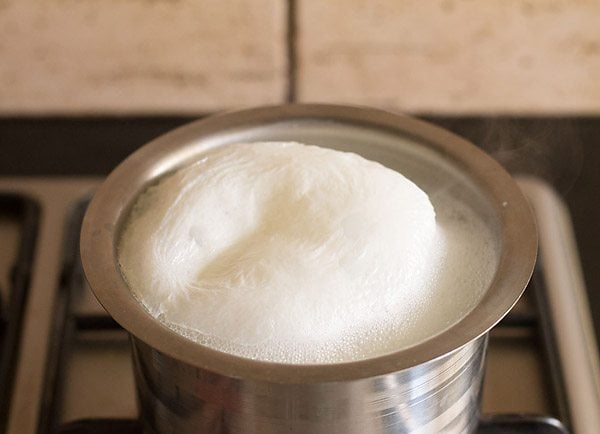 3. Pour the hot milk in a glass or mug.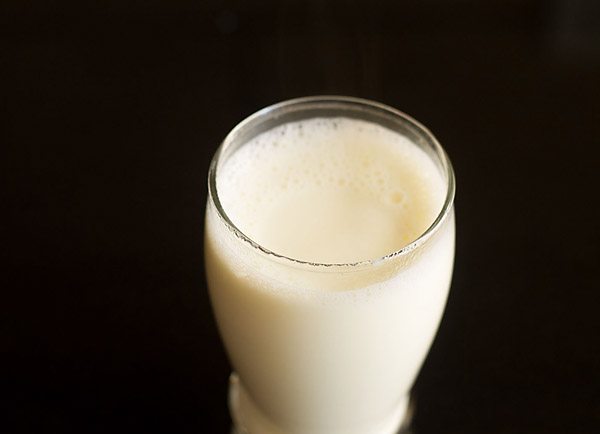 4. Add ¼ teaspoon turmeric powder (haldi) and a pinch of black pepper powder. Black pepper helps in the absorption of curcumin from the ground turmeric.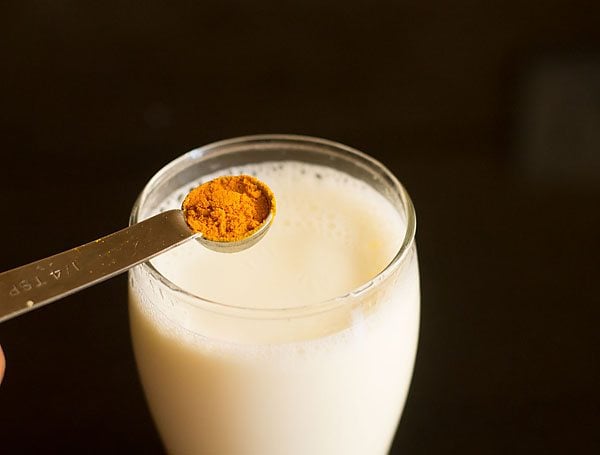 5. Stir well to mix. Serve Turmeric Milk or Golden Milk hot or warm. It is best to drink the milk this way.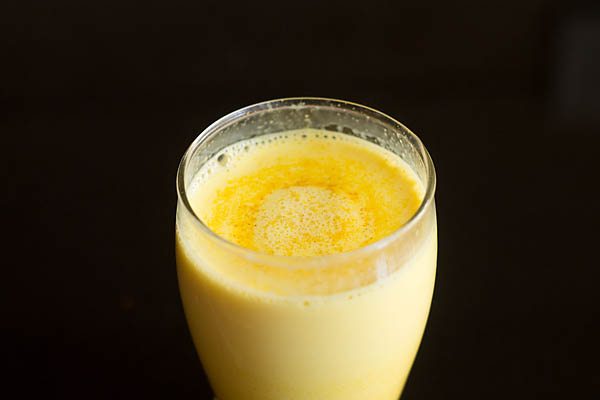 6. Don't let it cool completely, but also no need to burn the tongue. So, drink the Turmeric Milk warm or at whatever temperature suits you.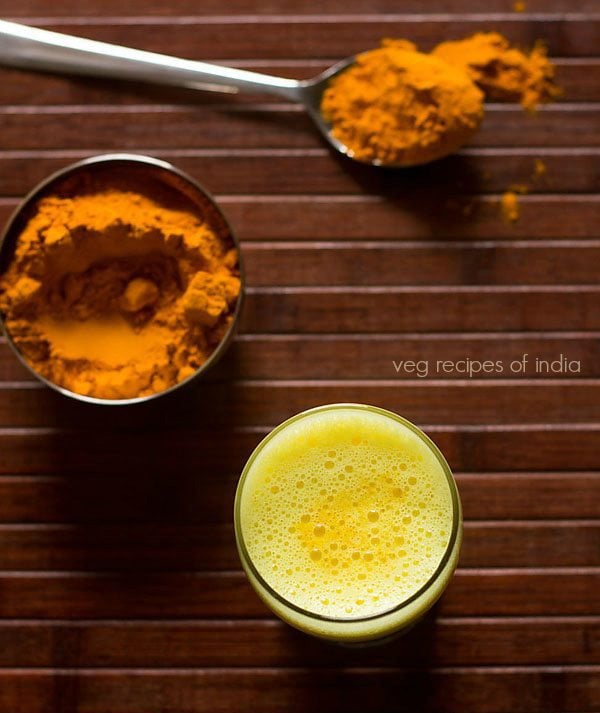 Turmeric Milk vs Turmeric Latte
Did Haldi Doodh (Turmeric Milk) travel to the western countries and turned itself into a Turmeric Latte? Is it actually Turmeric Milk or Turmeric Latte? Are both the same? If these are a few questions that you've been pondering over, ever since the rise of the Turmeric Latte, then you're at the right place.
Turmeric Latte is basically a fancy version of our very Indian Haldi Doodh. It could also be a gimmick adopted by modern day Indian cafes, especially after the Covid outbreak, to increase the sales of the immunity boosting Turmeric Milk.
Whatever it is, a very simple answer to all these speculations is that both can be considered as 'two peas in a pod,' yet different.
While the Indian Haldi Doodh is basic with ingredients like ground turmeric and some black pepper or a sweetener, the Turmeric Latte is rightly the upmarket relative with additions like cinnamon, vanilla, ginger, etc. plus a few more extravagant toppings. More like a loaded coffee frappe.
Eventually, when it boils down to the taste, both are quite similar in that aspect.
Expert Tips
If you can source fresh turmeric roots, use them in place of turmeric powder. Rinse them properly, grate them in the milk and let it cook for some minutes. For about 1 cup of milk, you can add up-to ½ to 1 teaspoon of grated fresh turmeric root. Add the amount as needed depending on your health conditions and taste preferences.
Readymade turmeric powder is usually colored with a toxic chemical dye 'metanil yellow.' So, make sure to buy organic turmeric powder and always check the list of ingredients on the pack.
Too much usage or consumption of turmeric may lead to side effects like diarrhoea, stomach upsets and nausea. So, use wisely and according to your body type and health needs.
Choosing to consume Turmeric Milk every day should be based on your body constitution and health. The drink may or may not suit you. So, I recommend you to consult a certified dietician before you plan to drink it regularly.
FAQs
Can Turmeric Milk be consumed every day?
Yes, definitely. Turmeric Milk has various health benefits, can boost your immunity and fight against many ailments. So, it is a good habit to drink it every day.
Should I boil the Haldi Doodh?
No, if making the milk with turmeric powder. You have to boil the milk first, take it off heat and then mix the turmeric powder in it.
Is it necessary to add a sweetener?
No, it is not necessary to add a sweetener in Turmeric Milk.
Can Golden Milk be consumed in the morning?
Yes.
Reference Links:
https://www.healthline.com/
Please be sure to rate the recipe in the recipe card or leave a comment below if you have made it. For more vegetarian inspirations, Sign Up for my emails or follow me on Instagram, Youtube, Facebook, Pinterest or Twitter.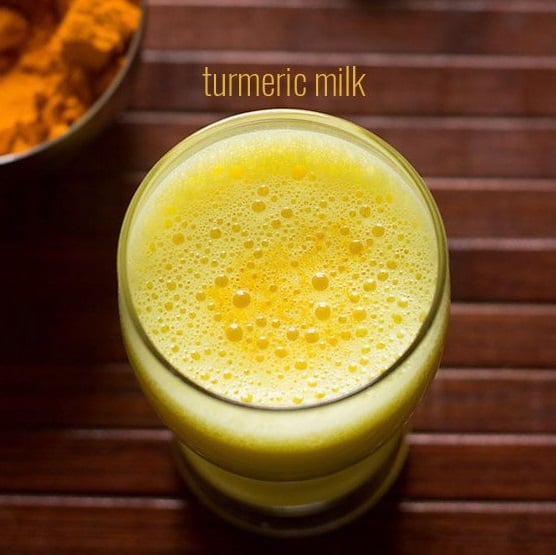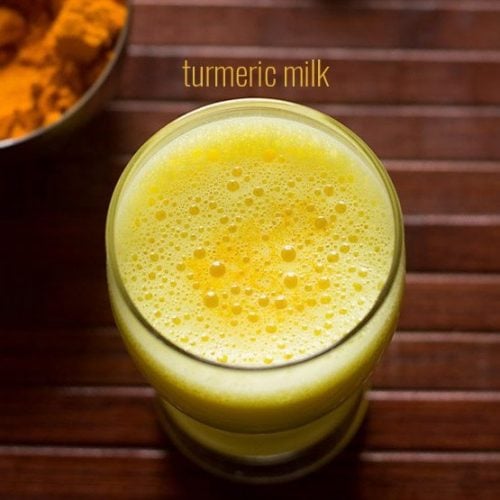 Turmeric Milk | Golden Milk (Haldi Doodh)
Turmeric Milk is a traditional, age old healthy Indian drink made with milk, turmeric powder and a bit of black pepper. It is also referred to as 'Golden Milk,' because of its sparkling medicinal properties, especially as an immunity boosting drink.
1

cup

milk

– whole milk

¼

teaspoon

turmeric powder

(ground turmeric)

1

pinch

black pepper powder

or crushed black pepper
Instructions
Heat milk in a saucepan on a low to medium flame.

Simmer the milk for 2 to 3 minutes or until it boils. Once the milk starts boiling, turn off the heat.

Pour the hot milk in a glass or mug.

Add turmeric powder and black pepper powder.

Serve Turmeric Milk hot or warm.
Notes
If you like the Turmeric Milk to be sweet, then you can add 1 teaspoon sugar or your preferred sweeteners to the milk, but its optional. Kids would like to have it with little bit of sugar.
Optionally, you can also add crushed ginger, ginger juice, ground cinnamon powder, ground green cardamom powder or ground clove powder.
For making turmeric milk with fresh turmeric roots, rinse a small piece of the root first. Peel it and grate it to get about ½ to 1 teaspoon of grated fresh turmeric root. Add this and black pepper to the milk and heat until the milk simmers or boils. Turn off heat. Using a tea strainer, strain the milk in a cup or mug.
You could opt out to leave the straining and enjoy the finely grated turmeric in the milk with a spoon. Also add the fresh turmeric root amount as needed depending on your health conditions and taste preferences.
You can also add honey but add it to warm milk and not to hot milk.
The recipe can easily be doubled or tripled.
Nutrition Info (Approximate Values)
Nutrition Facts
Turmeric Milk | Golden Milk (Haldi Doodh)
Amount Per Serving
Calories 148
Calories from Fat 72
% Daily Value*
Fat 8g12%
Cholesterol 29mg10%
Sodium 93mg4%
Potassium 380mg11%
Carbohydrates 12g4%
Protein 8g16%
Vitamin A 396IU8%
Vitamin B1 (Thiamine) 0.1mg7%
Vitamin B2 (Riboflavin) 0.3mg18%
Vitamin B3 (Niacin) 0.3mg2%
Vitamin B6 0.2mg10%
Vitamin B12 1µg17%
Vitamin C 0.1mg0%
Vitamin D 3µg20%
Vitamin E 0.1mg1%
Vitamin K 1µg1%
Calcium 301mg30%
Vitamin B9 (Folate) 0.2µg0%
Iron 0.2mg1%
Magnesium 30mg8%
Phosphorus 248mg25%
Zinc 1mg7%
* Percent Daily Values are based on a 2000 calorie diet.
This Turmeric Milk recipe from the archives, originally published in August 2016 has been updated and republished on February 2023.