Collection of 15 raw banana recipes. raw banana or plantain or vazhakkai is widely used in Indian cuisine, especially in South Indian states and eastern Indian states. Like coconut and chana dal plant, the entire banana plant is used in various ways. E.g banana leaves are used to serve food and make an eco friendly disposable option. Banana flower and banana stem are also used in making various recipes. Banana fibre is used to make plates, bowls and also fabric.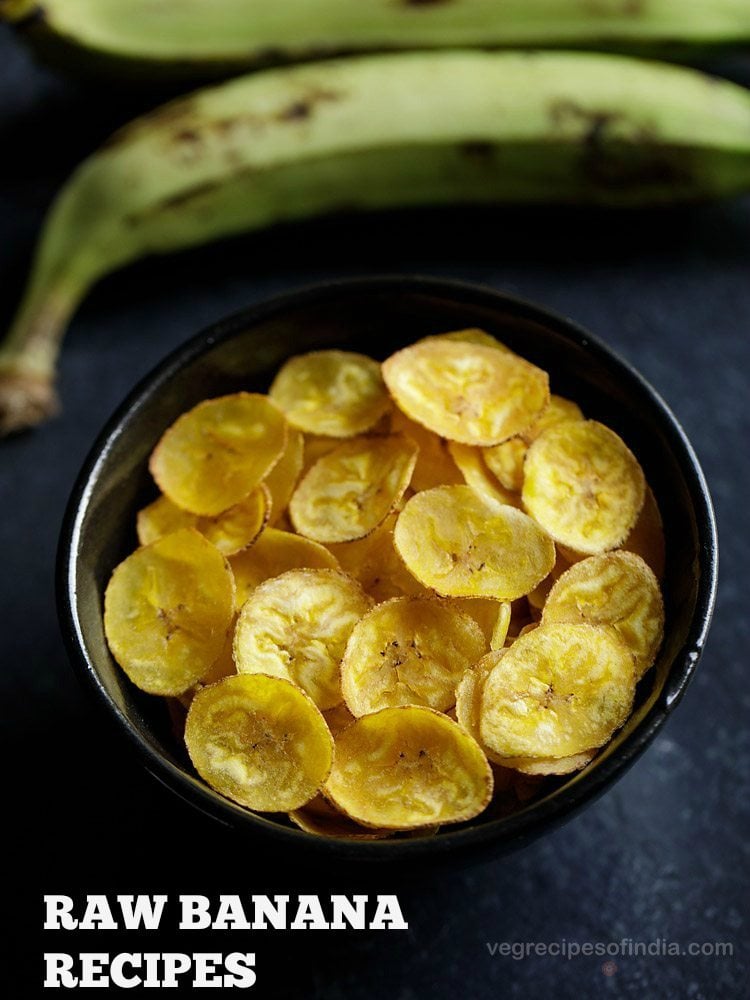 Banana and all its parts which can be consumed are healthy. e.g banana flower is very nutritious and used to make some recipes. E.g Banana flower vada. I have also shared a detailed post on How to clean and cut banana flower.
In fact I also make a few recipes with banana stems, but I have not yet added them on website. With raw unripe bananas or vazhakkai many recipes can be made. Generally the peel is removed from the plantain before adding it to the dish. But with the banana peel also you can make this delicious Banana peel thoran.
In this collection I am sharing Recipes which are exclusively made with raw banana or the recipes where raw banana is one of the ingredient.
In case you are interested in ripe banana recipes then I have also shared a Collection of 21 ripe banana recipes.
Collection of 15 raw banana recipes:
1. Raw banana kofta recipe – crisp, spiced pan fried patties made with raw unripe bananas. These koftas make for a nice brunch or snack.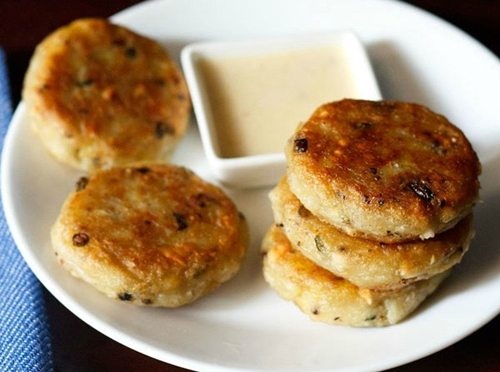 2. Vazhakkai poriyal recipe – easy South Indian sabji or dry curry made with raw unripe bananas. healthy, easy and nutritious dish.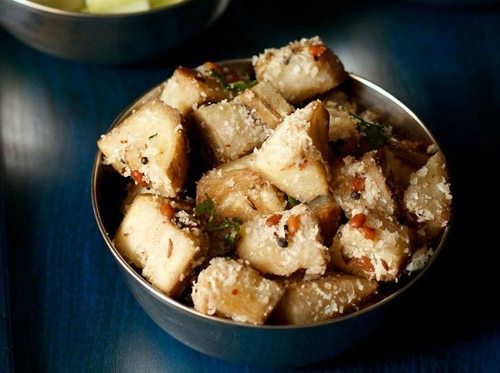 3. Vazhakkai varuval recipe – a spicy and slightly crisp stir fried dish made with raw unripe bananas. Banana varuval goes very well as a side dish with rasam, sambar, kuzhambu and dal.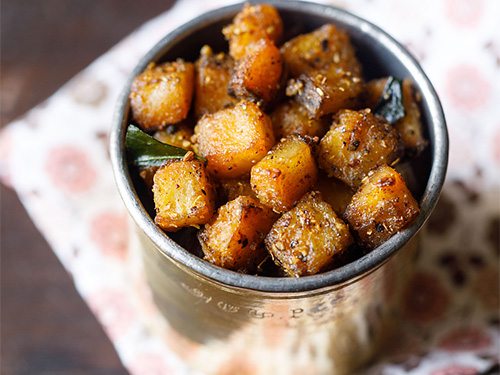 4. Kerala nendran banana chips recipe – Kerala banana chips are crispy and tasty banana chips made with unripe nendran bananas and coconut oil. nendran plantains are not easily available everywhere in India, so you can use other varieties of unripe raw bananas.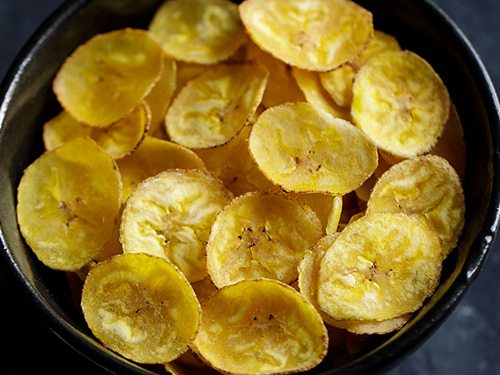 5. Vazhakkai fry recipe – mildly spiced and slightly crisp South Indian style banana fry made with unripe bananas.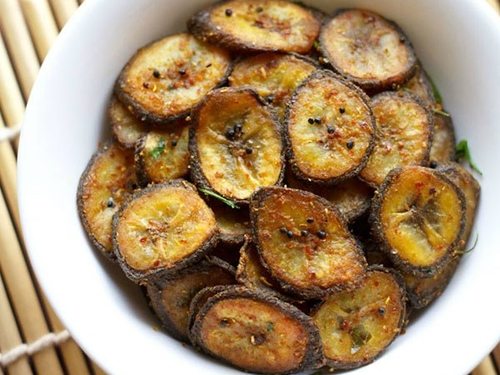 6. Banana bajji recipe – these delicious plantain fritters (vazhakkai bajji or kela bhajiya) are mostly served in South Indian restaurants. A good tea time snack.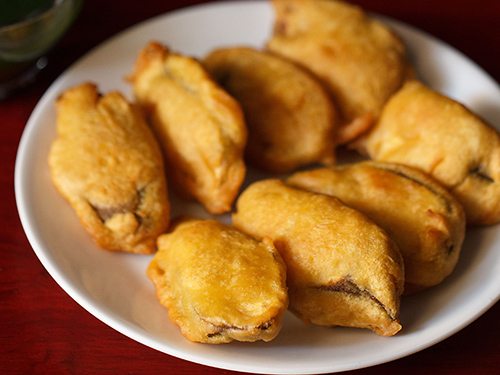 7. Banana chips recipe – fried banana wafers made from raw banana. these banana chips are good tea time snacks or any time snack when you want to munch something.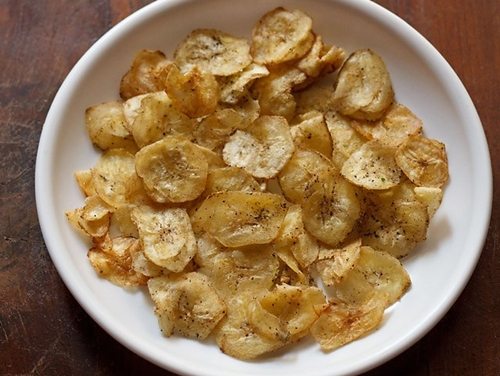 8. Kerala style banana fry – simple homely side dish prepared with raw unripe banana. I have used pearl onions in the recipe. You can use shallots or even regular onions. Coconut oil is an essential ingredient in the recipe. So I would not suggest to skip it.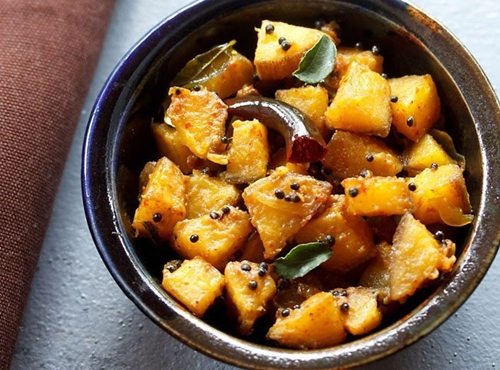 9. Kele phodi recipe – crispy as well as tasty banana fry made with unripe bananas, rice flour and spices. These are also known as kele phodi or kelyache kaap. making this crispy plantain fry is easy and it goes very well as a side dish. Though you can also serve raw banana fry as a snack.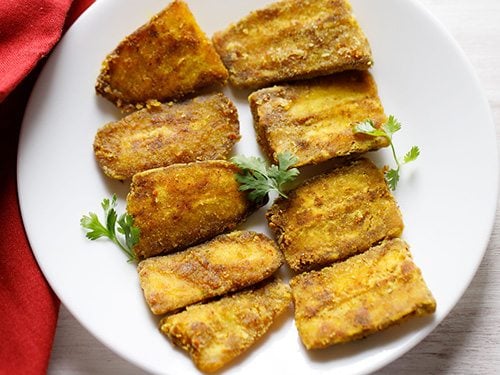 Recipes where unripe raw banana is one of the ingredient:
1. Kootu kari recipe – kootu curry is a thick curry based dish made with a few veggies and legumes. The veggies that are added are yam, ash gourd, carrots, snake gourd, pumpkin or plantains. the legumes added are black chickpeas (kala chana) or bengal gram (chana dal). Kootu curry is best served with rice. You can accompany a thoran by the side along with some papaddums and lemon pickle or mango pickle.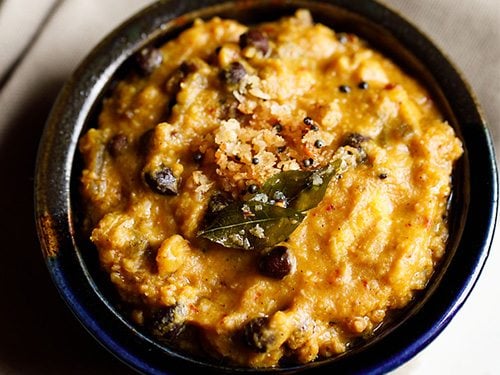 2. Rishi panchami bhaji recipe – rishi panchami is celebrated on the second day of Ganesh Chaturthi. in maharashtra a special dish is cooked on this day – Rishi panchami bhaji. it comprises of a dish containing of mix veggies. Usually seasonal veggies and tubers are used. Rishi panchami Can be served with rice flour bhakris or Rice pooris or phulkas or with steamed rice.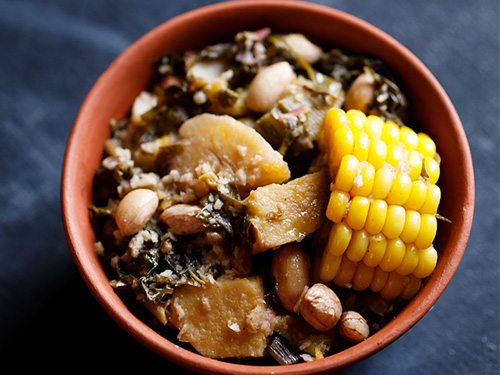 3. Gujarati surti undhiyu recipe – undhiyu is a one pot vegetable casserole dish that is the hallmark of Gujarati vegetarian cuisine. Undhiyu is made during winters in southern Gujarat, as some of the veggies added in it are only available in the winter season.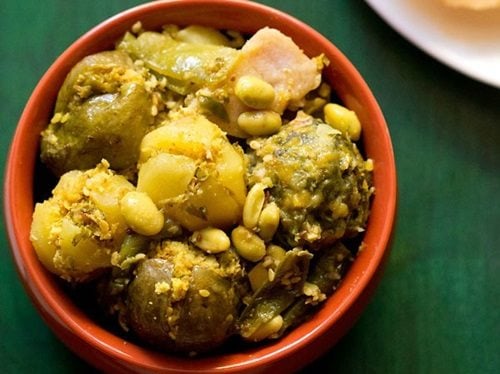 4. Mysore sambar recipe – a delicious variation of sambar is this mysore sambar recipe made with mix vegetables. You can serve mysore sambar With steamed rice or idli or dosa or medu vada or uttapam.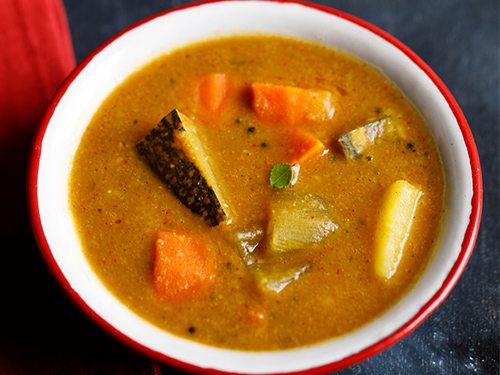 5. Varutharacha sambar recipe – Kerala varutharacha sambar is a delicious variety of sambar made with mix veggies, lentils, roasted spices & coconut. Roasted coconut is one of the highlight of this sambar recipe. Hence varutharacha sambar tastes different than the regular variety of sambar which is made with Sambar powder.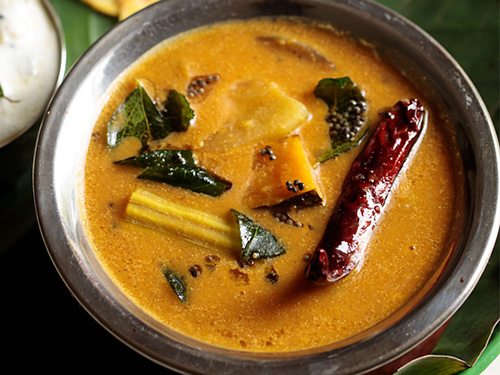 6. Aviyal recipe – avial is a traditional Kerala recipe made from mix vegetables, coconut and curd.