Collection of Raw Banana recipes. Raw Banana or Plantain or Vazhakkai (as it is called in Tamil) is widely used in Indian cuisine, especially in South Indian states and Eastern Indian states. There are many recipes we make with plantains. Get 10 vegetarian recipes that you can make with these unripe green plantains.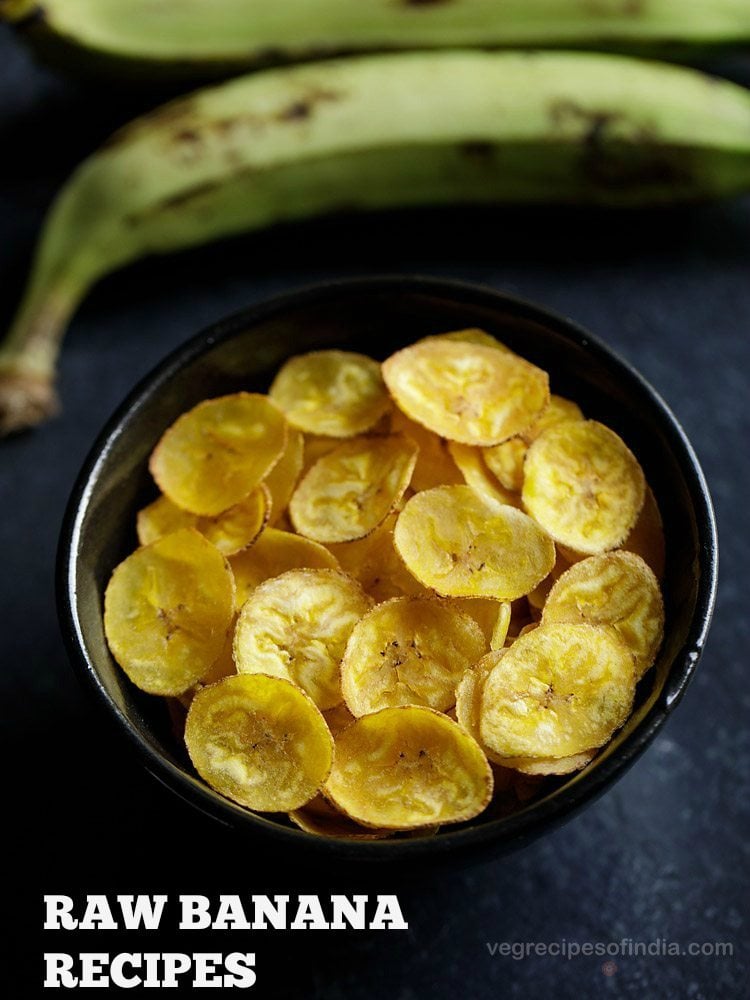 About Raw Banana Recipes
Like coconut and chana dal plant, the entire banana plant is used in various ways. Example, banana leaves are used to serve food and make an eco friendly disposable option.
Banana flower and banana stem are also used in making various recipes. Banana fibre is used to make plates, bowls and also fabric.
Banana and all its parts which can be consumed are healthy. e.g banana flower is very nutritious and used to make some recipes. Example Banana Flower Vada. I have also shared a detailed post on How to clean and cut Banana Flower.
In fact I also make a few recipes with banana stems, but I have not yet added them on website. With raw unripe bananas or vazhakkai many recipes can be made.
In this collection I am sharing recipes which are exclusively made with raw banana and the recipes where raw banana is one of the ingredient.
In case you are interested in sweet and ripe banana recipes then I have also shared a collection or roundup of 21 Ripe Banana Recipes.
When you use unripe green bananas, you have to peel the skins. But do you know that the green skins are edible, nutritious and tasty as well. Instead of trashing them, prepare the Kerala style preparation of thoran with these peels.
Made in coconut oil, with some onions, herbs, spices and a good dose of coconut, Banana Peel Thoran is a dish that you will like. I have shared the recipe below of this lovely dish. You can have a look incase you want to use up the raw banana peels.
Raw Banana Recipes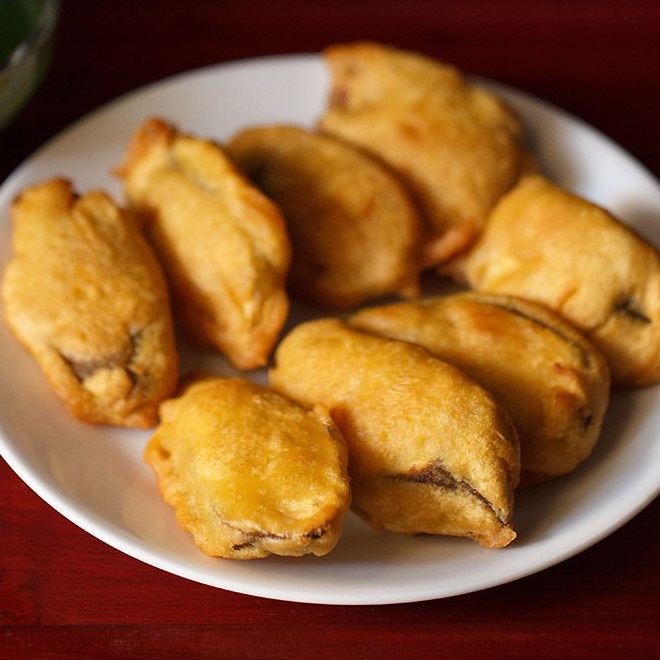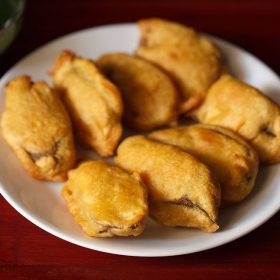 This Raw banana bajji is a crisp and tasty fritters made with raw unripe bananas or plantains and spiced gram flour batter. Make these delicious fritters easily under 30 minutes for your next evening snack.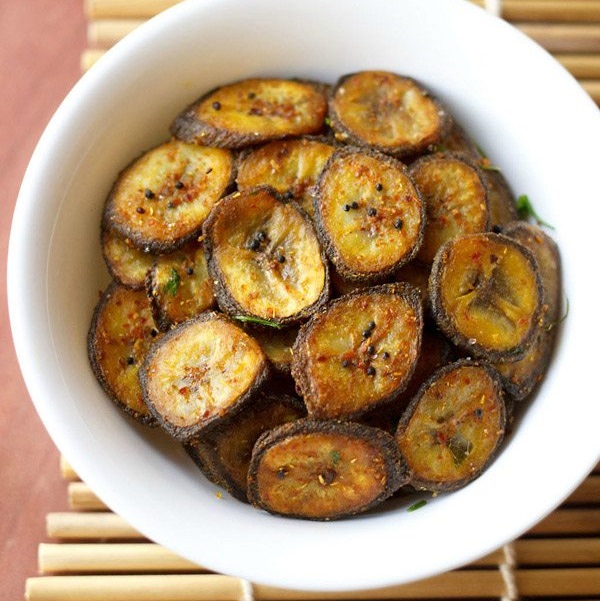 Banana Fry or Aratikaya Fry is a mildly spiced and slightly crispy South Indian style banana preparation made with unripe bananas or plantains, spices and herbs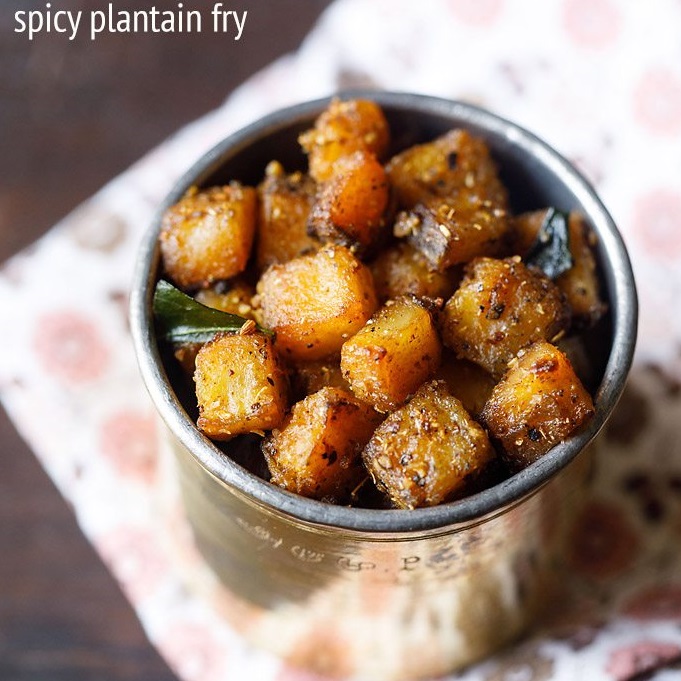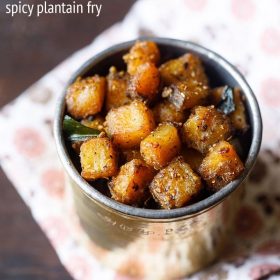 Vazhakkai Varuval or Vazhakkai Fry is a spicy and slightly crisp stir fried dish made with raw unripe green skinned plantains. This South Indian plantain preparation pairs well as a side dish with rasam, sambar, and dal.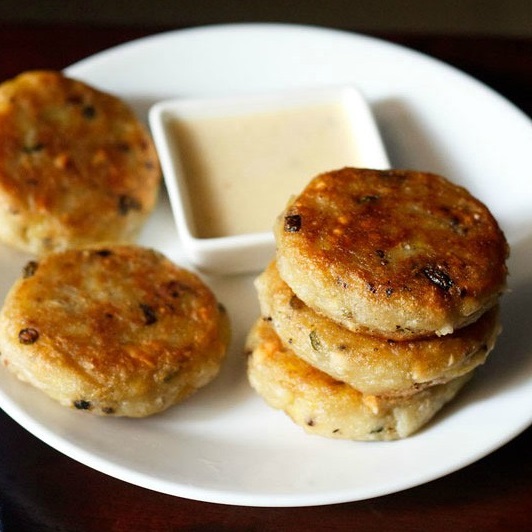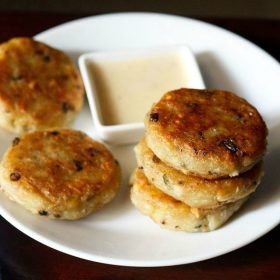 Kele ka Kofta are crispy, spiced pan fried patties made with raw green unripe bananas or plantains, spices, herbs and a binding flour. A special snack that you can make during the Navratri fasting period or on any other regular day.
Recipes with Plantain as one of the ingredient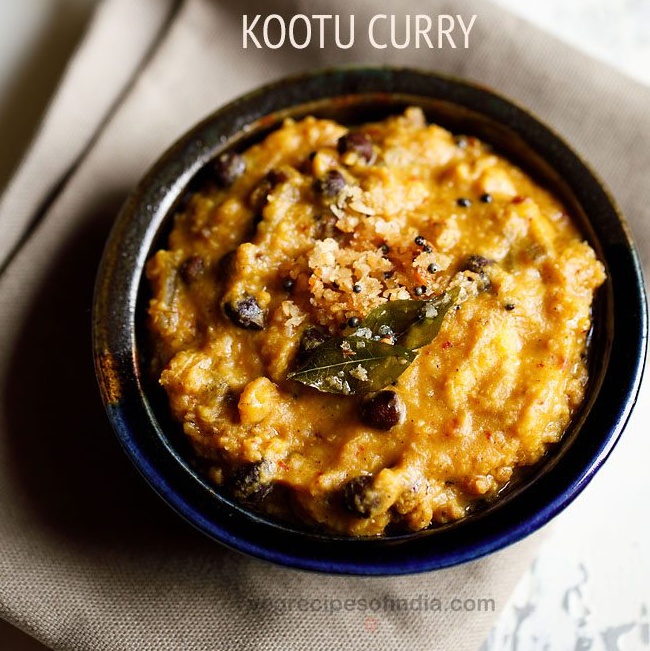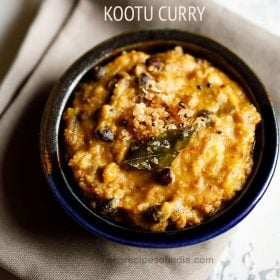 Kootu curry also known as koottukari or kootu kari is a curry based dish with a few veggies and legumes. it is one of the important dishes of onam sadhya.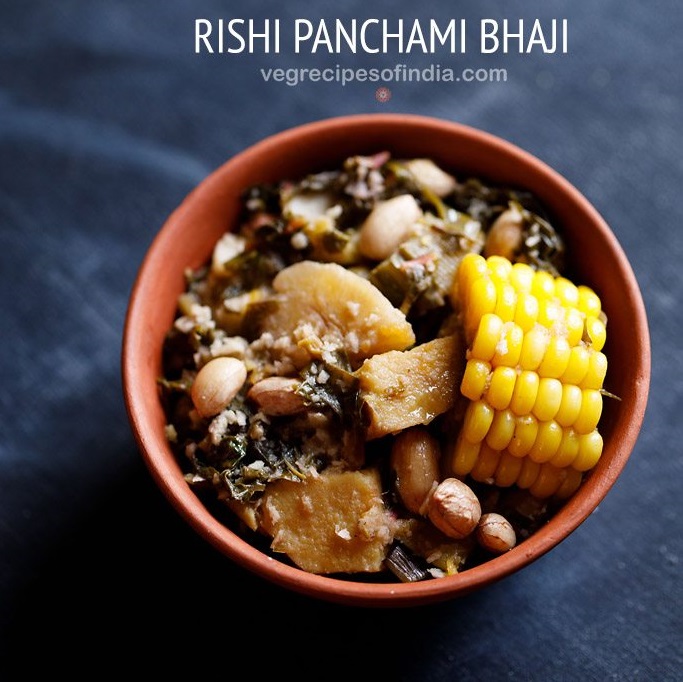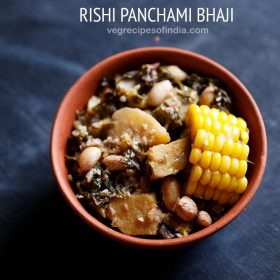 Rushichi Bhaji is a unique mix vegetable preparation that is made during Rishi Panchami which is celebrated on the second day of the Ganesh Chaturthi festival. For this reason, it is also commonly referred to as Rishi Panchami Bhaji. It is one of those delicious veggie recipe that is super healthy, vegan and gluten-free too. Usually seasonal veggies and tubers are used to make this one.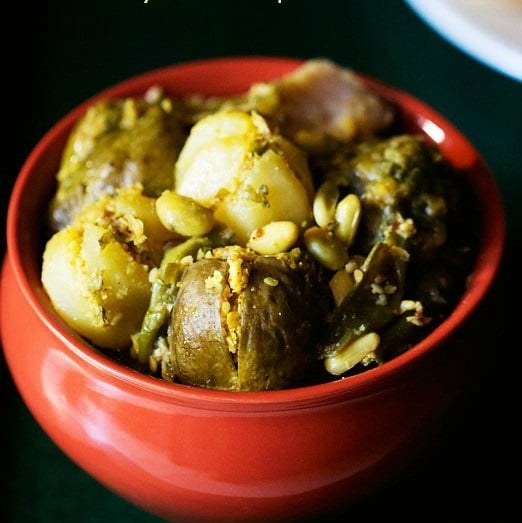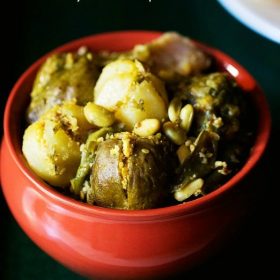 Undhiyu is a one pot vegetable casserole dish that is the hallmark of Gujarati vegetarian cuisine. This is an easy Surti Undhiyu recipe that does not take much time.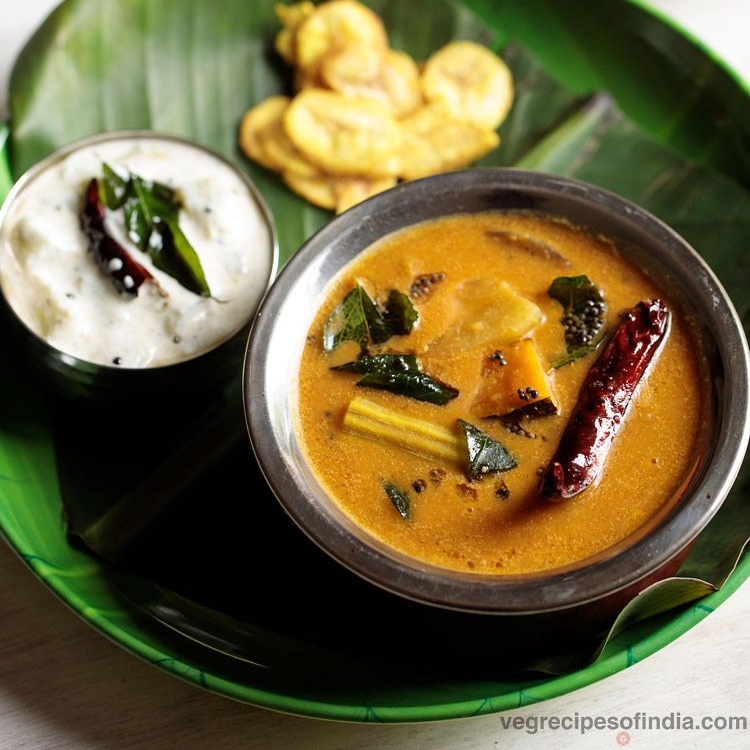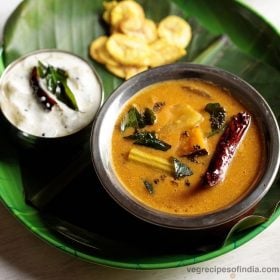 Kerala varutharacha sambar is a delicious variety of sambar made with mix veggies, lentils, roasted spices & coconut. Roasted coconut is one of the highlights of this sambar.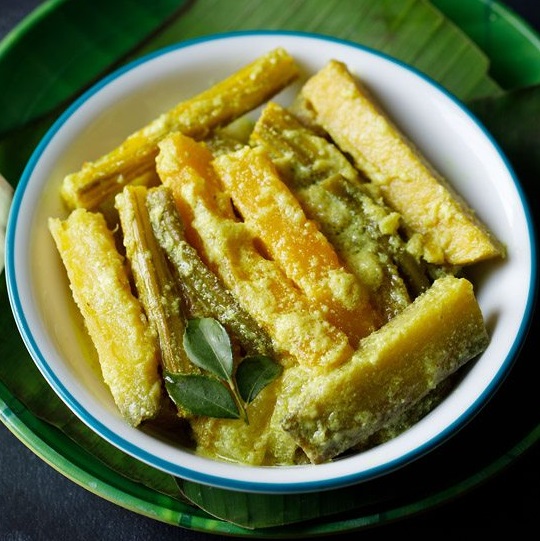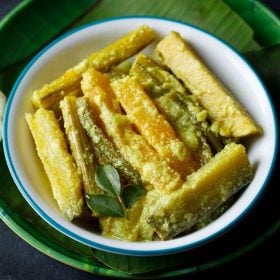 Avial is a healthy, flavorful dish of mix vegetables in a coconut and yogurt sauce with a finishing of coconut oil and curry leaves. It is a popular traditional recipe from the Kerala cuisine.
About Banana Peel Thoran
If you've ever cooked any raw unripe banana recipe, you'll know exactly how the flavors in the Banana Peel Thoran too will be.
Banana peel recipes are as it easy to make, and so is this preparation too. But don't be settled with the simplicity of this recipe, as it packs a punch of tastes and textures in it.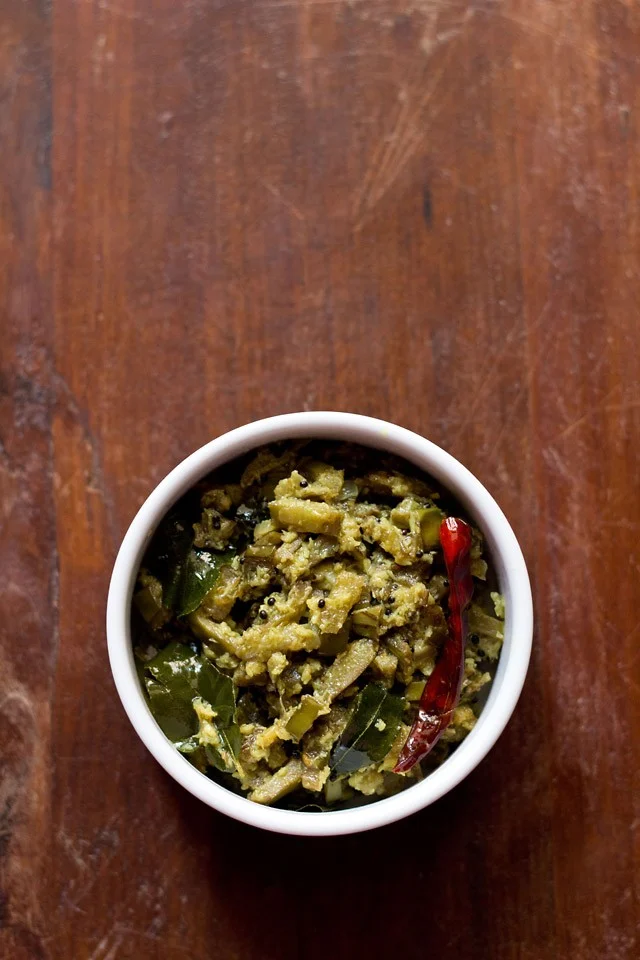 Though I have altered this Banana Peel Thoran recipe a bit, and it is a mix of both traditional and my own version.
Also, the classic recipes have fresh coconut ground coarsely with cumin seeds and green chilies in them. But you could add coconut without grinding. In the absence of fresh coconut, you could even use desiccated coconut.
The recipe is made in coconut oil. You can also cook the dish in any preferred oil, if you are averse to the flavor of coconut oil.
Since I am a huge fan of all things coconut, I paired this Banana Peel Thoran with just some steamed rice without even having anything else as an accompaniment.
It was a satisfying meal for sure. So much that I usually have it like this only. You may serve it with Sambar, Rasam and rice too.
Ingredients
peels removed from 4 medium sized unripe green bananas
1 small onion or 2 to 3 pearl onions – chopped
1 teaspoon black mustard seeds
¼ teaspoon turmeric powder
1 green chili, chopped
1 dry red chili, seeds removed
½ teaspoon cumin powder
3 tablespoons freshly grated coconut or desiccated coconut
10 to 12 curry leaves
1 tablespoon coconut oil or any neutral tasting oil
Method
First rinse the bananas. When removing the peels, soak them in a bowl of water, so that they don't darken.
You can also soak them in water in which about ¼ teaspoon turmeric powder is added.
Slice the black dark spots from the peels if there are any and chop them finely.
Heat coconut oil in a pan. First crackle the mustard seeds on low heat.
Add the chopped onion or shallots. Sauté till the onions are transparent.
Now add the red chili, green chili, cumin powder, asafoetida/hing, and curry leaves.
Sauté for a few seconds. Add the turmeric powder and stir to combine.
Add the banana peels and the coconut. If using fresh coconut, then coarsely ground the grated coconut, green chilies and cumin seeds and add it at this stage.
Sprinkle salt and stir. Add about ¼ or ⅓ cup water. Cover the pan and let the peels cook till they are soft and tender.
Check in between to see the doneness and also to see if the thoran has not dried up whilst cooking.
Add some more water if required if the peels are still not done and cover and cook further.
When the peels are cooked and if there is some moisture or water in the pan, then just dry it on low heat.
Serve the Banana Peel Thoran hot with some steamed rice, accompanied with dal, sambar and rasam.
This Raw Banana Recipes collection from the blog archives, first published in February 2018 has been republished and updated on December 2022.