Enjoy this refreshing Delhi-style tasty fruit chaat with sweet, savory, spicy, and tangy flavors at home! Add seasonal fruits and tubers such as potatoes and sweet potatoes to make the perfect fruit chaat. Prepare in about 30 minutes and serve as a snack.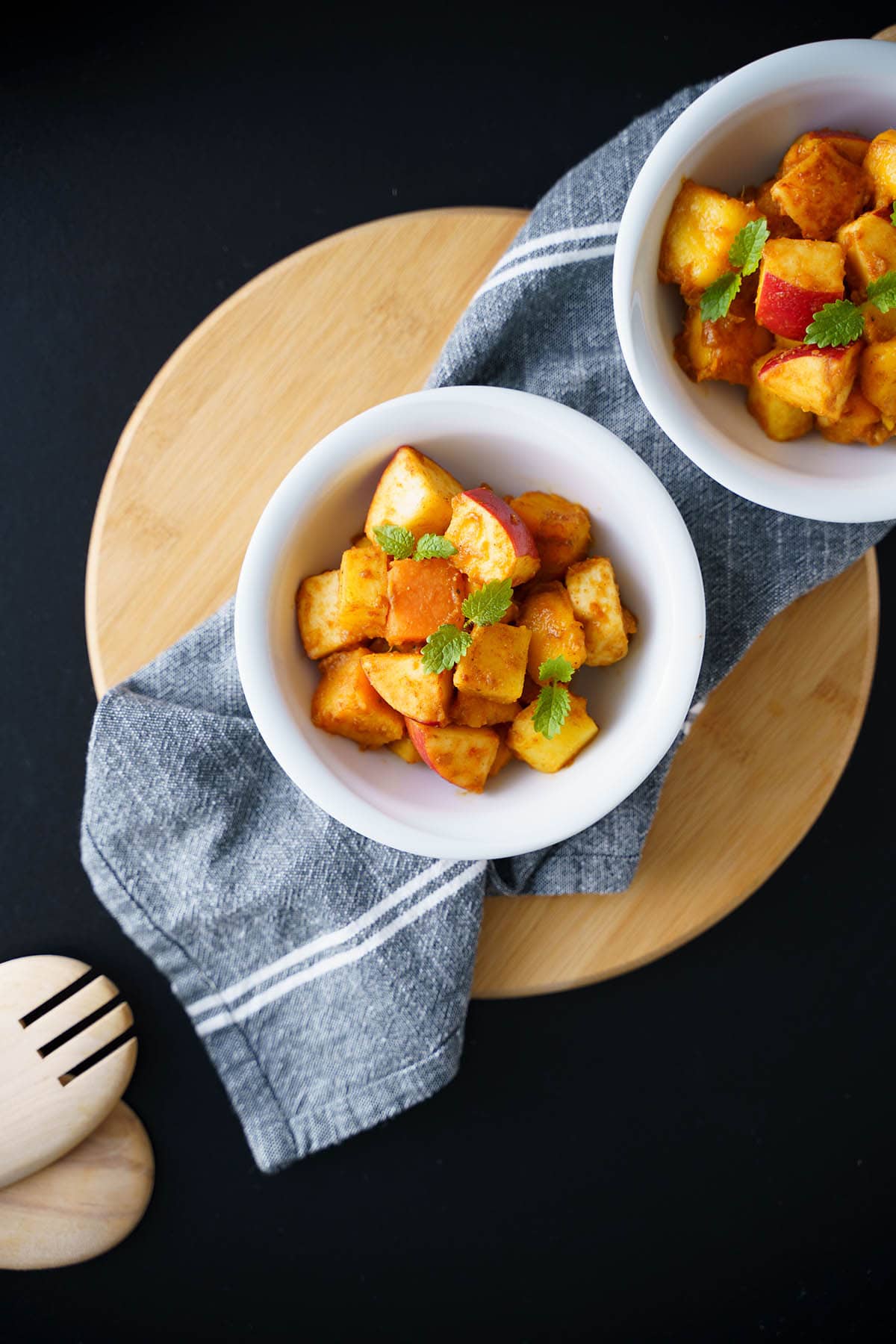 About Fruit Chaat
Fruit chaat is a popular and addictive street food from North India and Pakistan. It is so easy to make and is typically served as a snack. Part of what makes fruit chaat unique is the addition of ground spice powders like, chaat masala, roasted cumin powder, red chili powder and black salt.
My husband grew up in Delhi so I love asking him about street food. According to him, fruit chaat includes papaya, banana, oranges, pomegranates, grapes, apples, pineapples, boiled sweet potatoes and fried potatoes. A blog reader, Huma Ahmed originally from Lahore, Pakistan has mentioned in the comments below that chaat can also be made with seasonal fruits instead.
So is fruit chaat the same as fruit salad? They have some similarities but they are not the same. Fruit salad is sweet and does not include spices or vegetables. Whereas fruit chaat has a spicy zesty punch and includes tangy, sweet and savory flavors.
This Delhi style fruit chaat also has some rich textures from the tubers – sweet potatoes and regular potatoes. I have also had fruit chaat in Mumbai however, it is referred to as fruit salad in Mumbai as only fruits are used and no tubers.
Summer is the best season for fruit chaat. It is also great during fasting and can be served when it is time for breakfast as it is light and refreshing.
So now it is time to head to your kitchen and make this delicious spicy fruit chaat!
How to Make Fruit Chaat
Prep Potatoes and Fruits
Start by cooking the tubers before you mix the fruit to ensure that the fruit chaat ingredients are ready at the same time. Shallow fry the regular potatoes and steam or boil or roast the sweet potatoes.
You can steam the sweet potatoes in a stove-top steamer, Instant pot, pan or stove-top pressure cooker. Steam them until fork tender but take care not to overcook them. Sweet potatoes can be omitted if you want to lessen your time of making the recipe.
In this recipe, I shallow fry the potatoes, chop the fruits and boiled sweet potatoes to 0.5 to 1 cm cubes and slice the bananas.
Rinse the fruits thoroughly and set them aside. Before you assemble the dish, you can peel and chop the fruits. I have used here apples, bananas and mangoes. You can easily include seasonal fruits. Some nice options are pineapple, papaya, pomegranate, guava, sapota, grapes, kiwifruit and strawberries.
If planning to use melons like watermelon or muskmelon then use only them and do not mix them with the other fruits.
Fry Potatoes
1. Peel and chop potatoes into cubes. Then heat ½ a cup of oil or as required and shallow fry in a pan or skillet.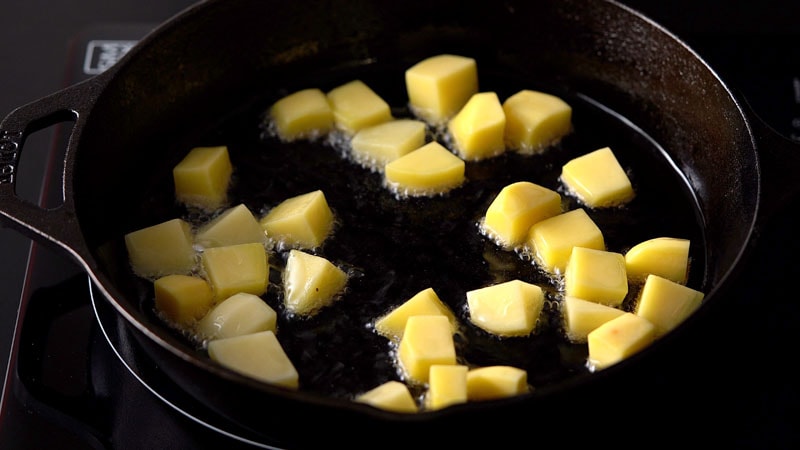 2. Once one side of the potatoes is golden turn it over and fry on the other side. Do this until all of the potato cubes are golden, crispy and cooked evenly. Remove potato cubes with a slotted spoon.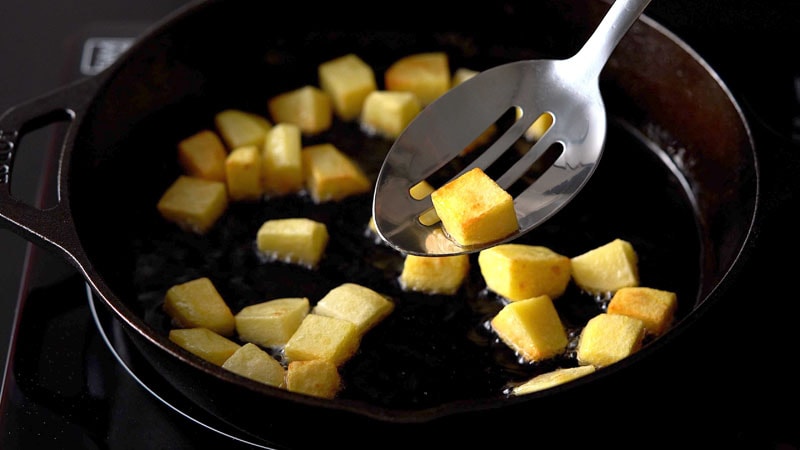 3. Place the fried potato cubes on kitchen paper towels to soak up excess oil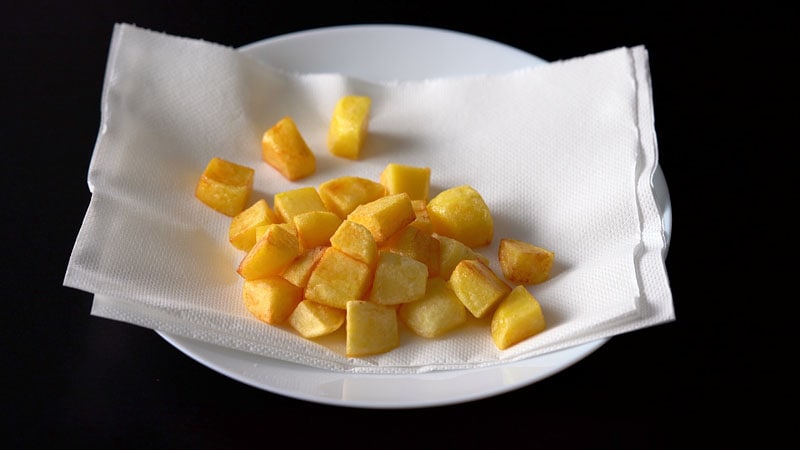 Mix Fruits
4. Add 1 cup of chopped apple cubes to a bowl. You can peel the apple if you prefer.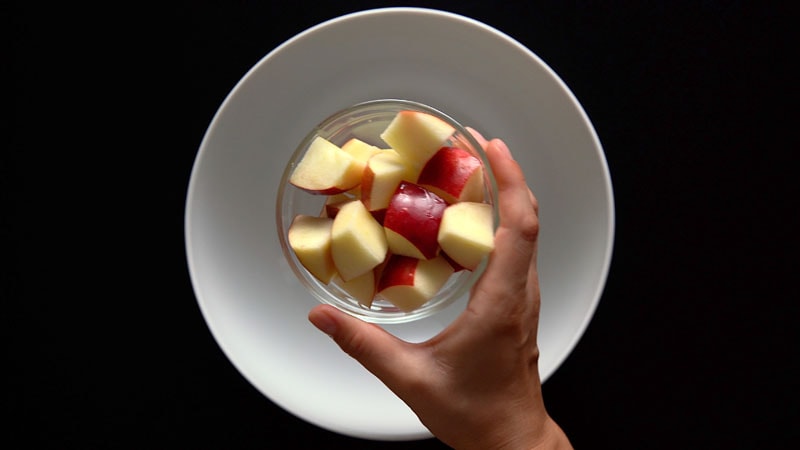 5. Add 1 cup of chopped bananas to the bowl.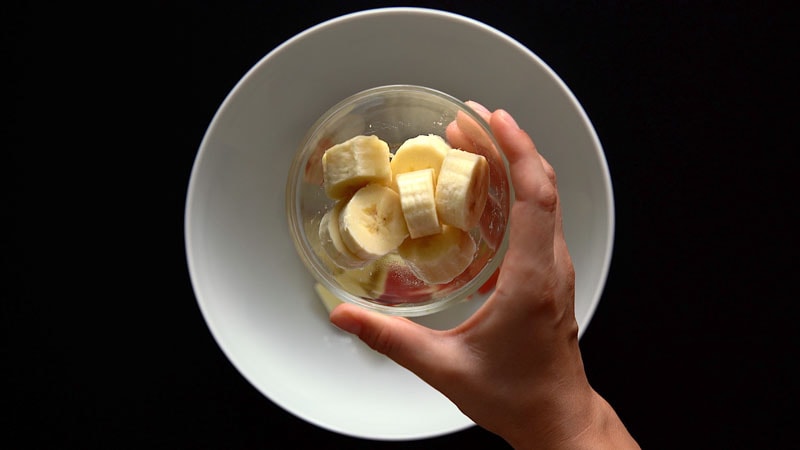 6. Add 1 cup of chopped ripe sweet mangoes.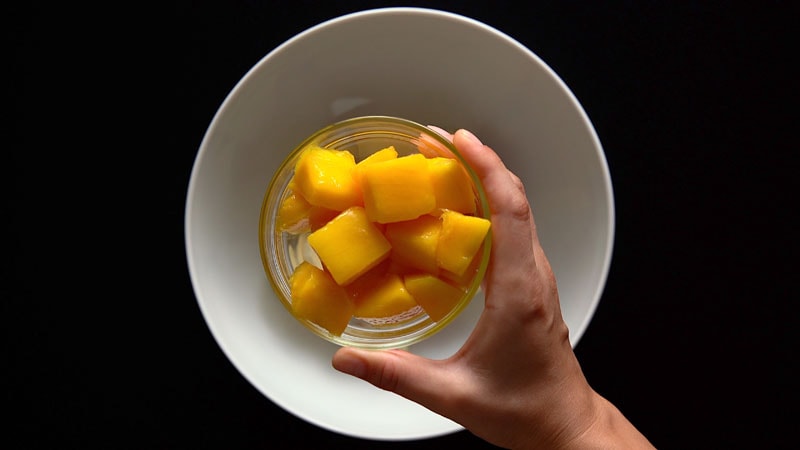 7. Add 1 cup of boiled sweet potatoes.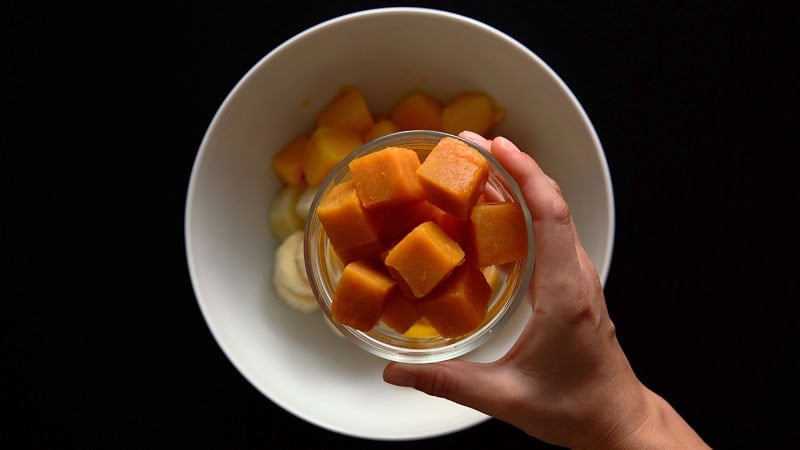 8. Add the fried potato cubes.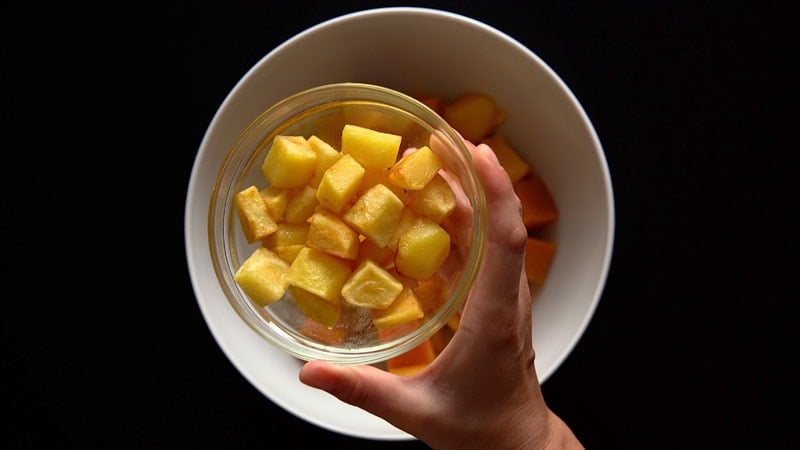 Making Fruit Chaat
9. Add 2 teaspoons of lemon juice. Use fresh lemon juice if possible.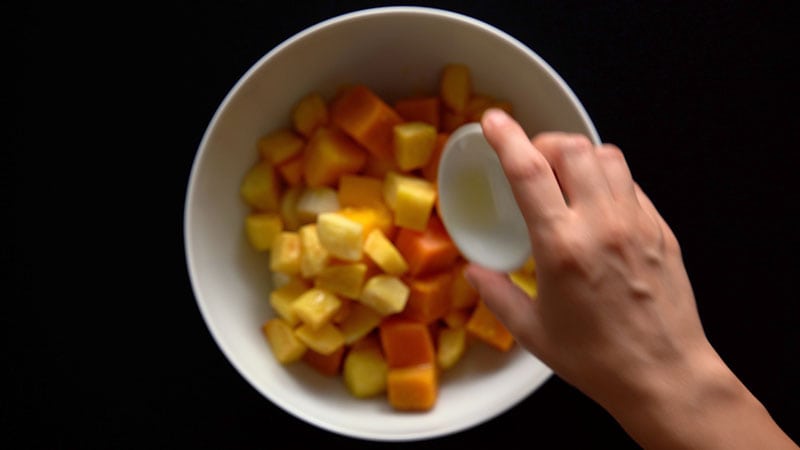 10. Sprinkle the following ground spices on the fruit and tubers:
1 teaspoon of roasted cumin powder
1 teaspoon of chaat masala powder
½ a teaspoon of black salt or regular salt if you do not have black salt on hand
½ teaspoon of red chilli powder or cayenne pepper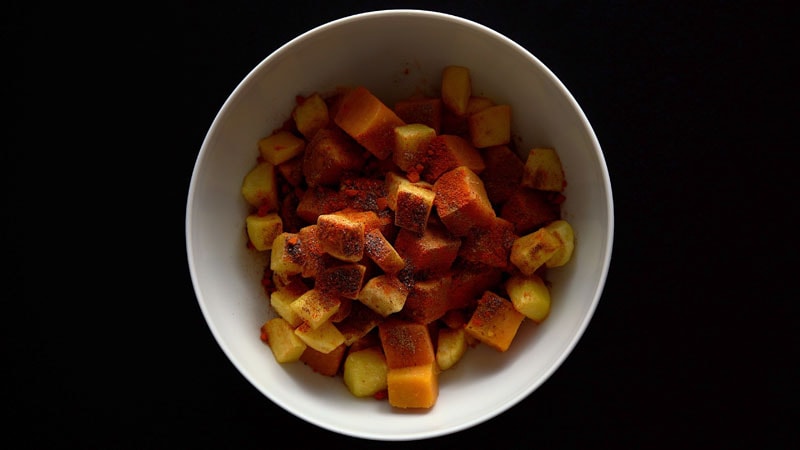 11. Toss and mix well. Check the seasonings and add more salt or lemon juice if necessary.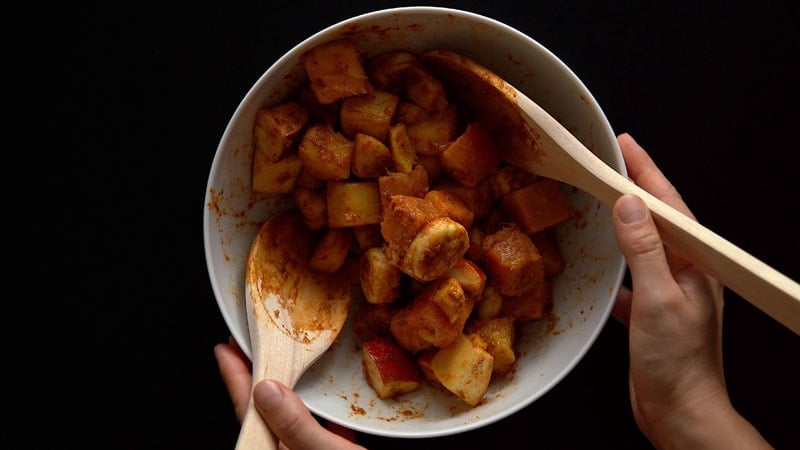 How to Serve
Serve fruit chaat in bowls garnished with a few mint sprigs. Enjoy the fruit chaat as soon as it is made. Do set aside to have it later.
You can make and serve fruit chaat at any time. But according to the principles of Ayurveda, try to eat fruits during the morning or day time. Ayurveda also recommends to have fruits or fruit based dishes at least 30 minutes or more before having a meal. Don't eat fruits after your lunch or meal.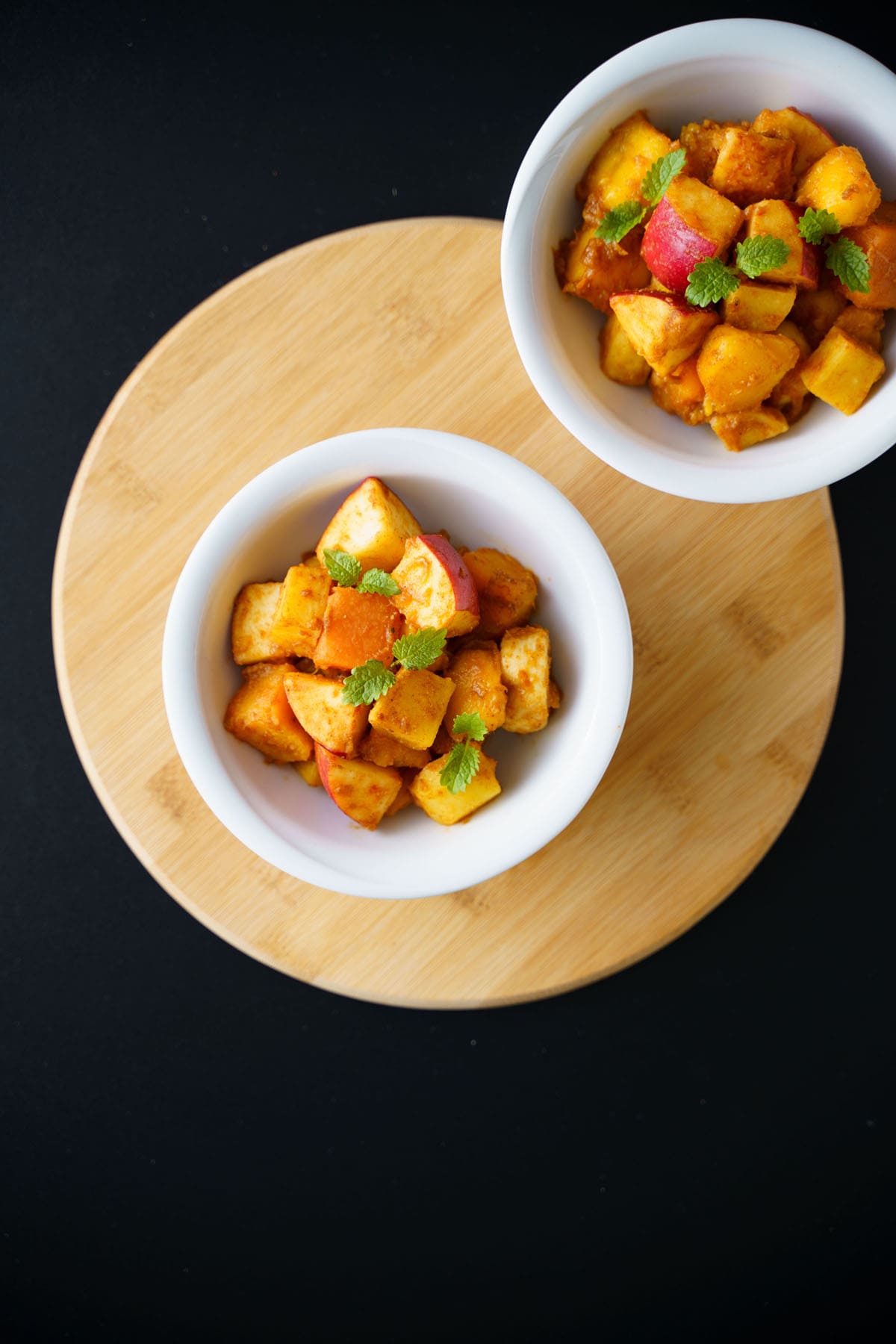 Expert Tips for Fruit Chaat
Fruits: Make use of seasonal fruits or whichever fruits are available in your area. For example, I like to use mangoes as they add a delcious sweet flavor to the chaat. I also add fruits that I have in the kitchen. Some options are mangoes, apples, grapes, bananas, oranges, strawberries, kiwifruit, sapota, peaches, plums, apricots, pomegranate and guavas.
Sweet potatoes: You have a few options when it comes to cooking the sweet potatoes. I like to boil the sweet potatoes but you can also cook them in a stove-top pressure cooker or instant Pot. Alternatively, you can skip the sweet potatoes altogether.
Healthier alternative: If you want to decrease the amount of fat in this recipe then boil or steam the potatoes instead of frying them. Do not overcook the potatoes as you don't want them to be too soft.
Alternatives: Lemon juice typically adds a splash of flavor to fruit chaat however, if it is orange season, then fresh orange juice or ready-made orange juice can be squeezed on the fruits instead.
Chaat Masala: In a fruit chaat one of the most important spice mix that is used is the chaat masala powder. You can buy it in super stores or online. I highly recommend using it in this recipe.
Fasting Snack: This dish is an excellent option to be made for fasting days. If you plan to make it on any Hindu fasting days then add the spices according to the fasting rules followed in your family. I would recommend skipping the red chili powder if you are fasting and optionally add a bit of black pepper powder. You can also use edible rock salt instead of black salt.
More Delicious Snacks Recipes
Please be sure to rate the recipe in the recipe card or leave a comment below if you have made it. For more vegetarian inspirations, Sign Up for my emails or follow me on Instagram, Youtube, Facebook, Pinterest or Twitter.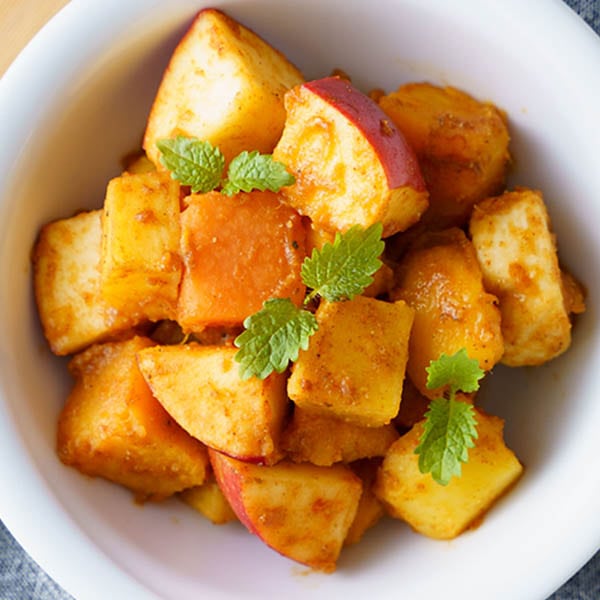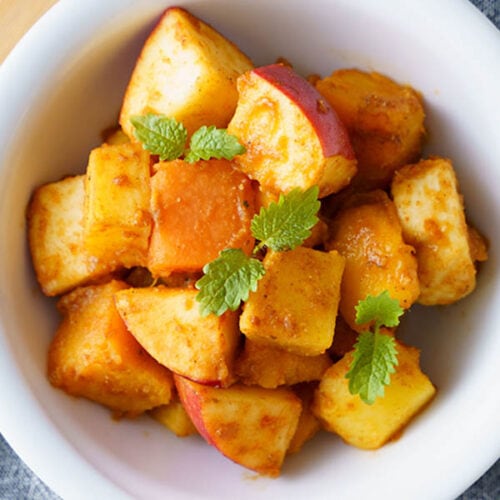 Fruit Chaat
This Delhi style tasty fruit chaat is spiced, savory, sweet and tangy. Fruit chaat is made of a mix of fresh seasonal fruits and tubers like potatoes and sweet potatoes.
½

cup

chopped banana

or 2 medium-sized, chopped in ½ inch rounds

1

cup

chopped mangoes

or 1 medium to large, chopped in ½ to 1 inch cubes

1

cup

chopped apples

or 1 large, chopped in ½ to 1 inch cubes

1

cup

sweet potatoes

– boiled, peeled and chopped in ½ to 1 inch cubes or 2 small sweet potatoes – optional

1

cup

chopped potato

chopped in ½ to 1 inch cubes or 1 large potato – can boil potatoes instead of frying

2

teaspoons

lemon juice

or add as required

1

teaspoon

chaat masala

1

teaspoon

roasted cumin powder

½

teaspoon

red chili powder

or cayenne pepper, add as required

½

teaspoon

black salt

or add as required
Instructions
Before you make the fruit chaat, boil the sweet potatoes and fry the potatoes. You can boil or steam the sweet potatoes in an Instant pot or a steamer or a stovetop pressure cooker adding water as required.

Rinse the potatoes in fresh water. Peel and chop them in ½ to 1 inch cubes. Heat ½ cup of oil or as required for frying the potatoes in a pan.

When the oil becomes medium hot add the potatoes. Fry them until lught golden or golden.

Place the fried potatoes on kitchen paper towels to absorb excess oil.

Chop the fruits. If you want you can rub a bit of lemon juice on the banana slices and apple cubes so that they don't get browned and also gives a sour hint to the fruits.

In a bowl add the chopped fruits one by one. Add the boiled sweet potato cubes and the fried potatoes.

Add lemon juice. For the best taste use fresh lemon juice.

Add all the spice powders and black salt or reqular salt to taste. Toss and mix well so that the ground spices and seasonings coat the fruits and tubers.

Check the seasonings and add more salt or lemon juice if necessary.

Serve fruit chaat garnished with some mint leaves.
Notes
Use seasonal fruits to make this chaat.
You can add fruits like mangoes, apples, grapes, papaya, strawberries, bananas, peaches, oranges, plums, kiwifruit, apricots, pomegranate, pineapple, guava and sapota.
Adjust the red chili powder according to your preferences. For a spicy fruit chaat you can add 1 teaspoon of red chili powder.
Sweet potatoes add a nice soft texture and sweet taste. If you don't have sweet potatoes then you can skip adding them. But do add the regular potatoes. You can choose either to fry them or steam or boil them.
You can make this recipe for Hindu fasting days also. But do choose to add the spices according to the fasting rules your family follows. I would suggest omitting red chili powder if you are fasting and add a bit of black pepper powder instead.
The recipe can be scaled to make a big batch for parties.
Nutrition Info (Approximate Values)
Nutrition Facts
Fruit Chaat
Amount Per Serving
Calories 176
Calories from Fat 9
% Daily Value*
Fat 1g2%
Sodium 424mg18%
Potassium 693mg20%
Carbohydrates 42g14%
Protein 3g6%
Vitamin A 7032IU141%
Vitamin B1 (Thiamine) 1mg67%
Vitamin B2 (Riboflavin) 1mg59%
Vitamin B3 (Niacin) 2mg10%
Vitamin B6 1mg50%
Vitamin C 40mg48%
Vitamin E 1mg7%
Vitamin K 6µg6%
Calcium 39mg4%
Vitamin B9 (Folate) 47µg12%
Iron 2mg11%
Magnesium 45mg11%
Phosphorus 83mg8%
Zinc 1mg7%
* Percent Daily Values are based on a 2000 calorie diet.
This Fruit Chaat post from the blog archives first published in July 2012 has been republished and updated on 9 September 2021.