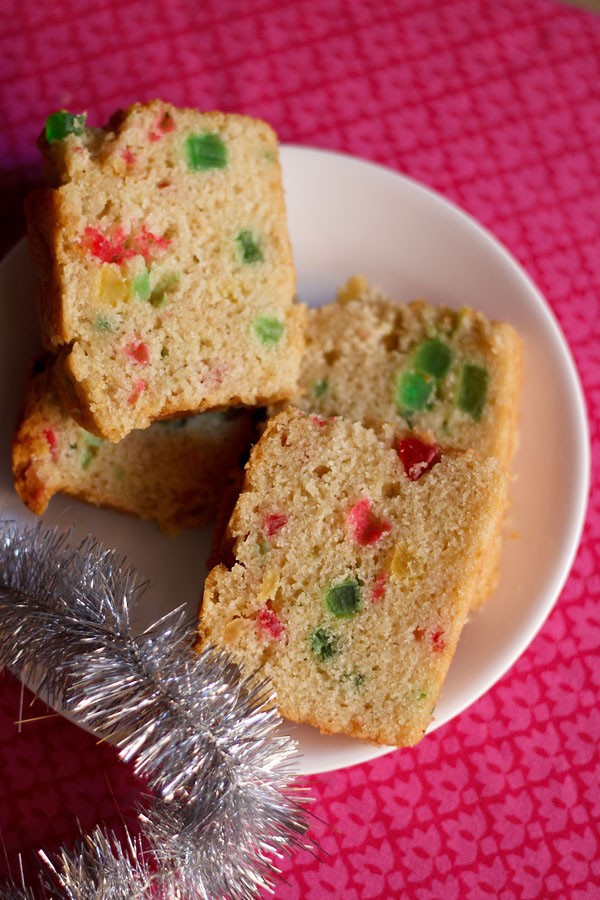 eggless tutti frutti cake recipe – another of those favorite christmas cake recipes which is made without eggs and is moist, soft and light.
to make this tutti frutti cake, i have used my eggless vanilla cake recipe. everything is same, except that i have used oil instead of butter and added tutti frutti.
i baked the cake in the night and had decided to take pics during the day. however, half of the cake was over in the night itself. so just managed to take day pics with a few slices.
tutti frutti is one ingredient that i use, which has artificial colors. i don't have the time and energy to make these candied raw papaya pieces which we call as tutti frutti, at home. so i buy from outside when i have to add them in recipes. few recipes where you can add them are:
i plan to add some more easy cake recipes if time permits for me, to try and test them in my kitchen.
if you are looking for more eggless cakes then do check black forest cake, chocolate cake, eggless mawa cake, pressure cooker cake and chocolate cake in pressure cooker.
eggless tutti frutti cake recipe below: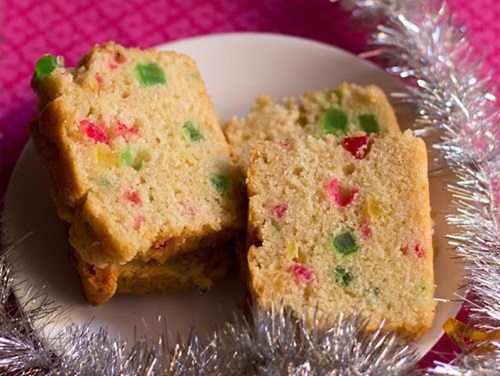 eggless tutti frutti cake recipe
eggless tutti frutti cake - easy recipe to make a soft, moist eggless tutti frutti cake.
ingredients (1 cup = 250 ml)
1.5

cups

all purpose flour

(maida)

5 to 6

tablespoon

tutti frutti

- approx 100 grams of tutti frutti

¼

teaspoon

cinnamon powder

(dalchini powder)

1

teaspoon

baking powder

a pinch of salt

½

cup

water

½

cup

oil

¾

cup

organic unrefined cane sugar

Or regular sugar – add as required. * check notes

3

tablespoon

yogurt (curd or dahi) + 1 tablespoon water

(dairy or vegan)

1

tablespoon

apple cider vinegar

or white vinegar

½

teaspoon

baking soda

1

teaspoon

vanilla extract

or vanilla powder or half of a vanilla bean, scraped
how to make recipe
making tutti frutti cake batter:
first sift the all purposed flour (maida) with the baking powder, cinnamon powder and a pinch of salt in a mixing bowl or pan. then add tutti frutti.

just keep everything ready as you have to be quick enough to mix the batter.

preheat the oven to 180 degrees C. grease a 6 or 7 inches pan with butter or oil.

you can also line the pan with butter paper and then grease the butter paper with oil or butter.

then mix sugar with oil in a measuring cup or bowl and keep aside.

now in a measuring cup or in a small bowl, whisk the 3 tbsp yogurt + 1 tbsp water till smooth.

add 1 tbsp vinegar. then add the baking soda and stir.

pour the oil+sugar mixture, the frothing yogurt+vinegar+baking soda and ½ cup water into the sieved flour.

add vanilla extract. be quick enough to fold and make a lump free and smooth batter.

don't over do the folding. pour the batter in the greased baking pan.
baking tutti frutti cake:
shake and tap the sides of the pan so that air bubbles are released.

place the pan in the preheated oven in the center rack.

keep the heating in both the bottom and top elements of the oven on.

bake tutti frutti cake at 180 degrees C for 40-45 minutes or more or less till a tooth pick inserted in the cake comes out clean.

if the tutti frutti cake browns too quickly on the top, then cover the top with an aluminium foil or butter paper.

once done let the eggless tutti frutti stand at room temperature for 7-8 minutes.

then with the help of oven mitts, gently remove the cake on a wired tray or rack.

once the cake cools, slice and serve the tutti frutti cake slices with tea or coffee.
recipe notes
* to make the tutti frutti cake less sweet, you can add ½ or 2/3 cup of sugar if you prefer.
step by step eggless tutti frutti cake recipe:
1: first sift the flour with salt, baking powder and cinnamon powder. add the tutti frutti.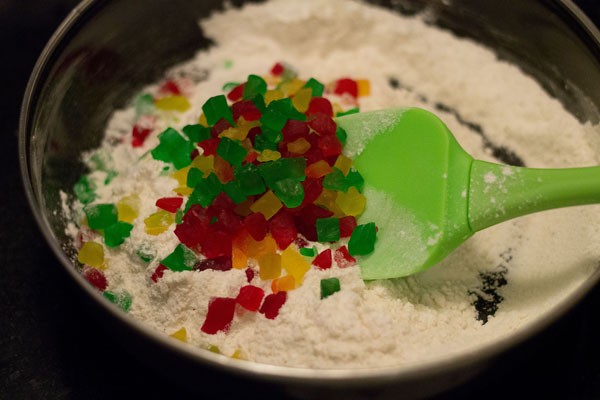 2: just mix the tutti frutti with the flour so that they get coated with the flour.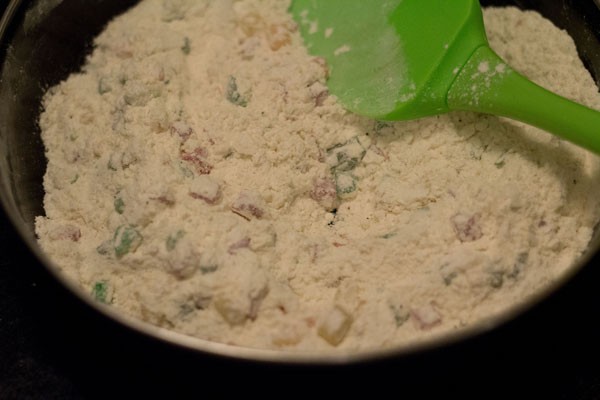 3: then mix sugar with oil in a measuring cup or bowl and keep aside.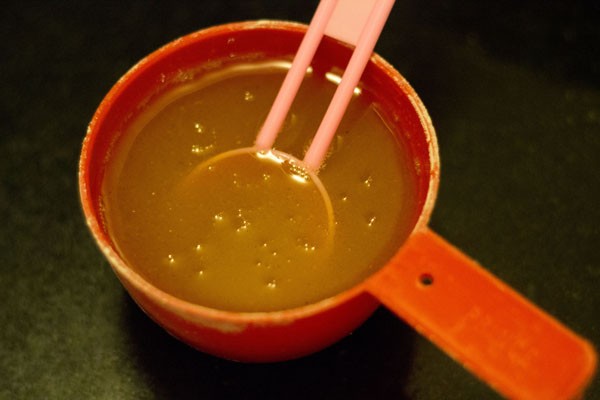 4: in another measuring cup or bowl, first whip yogurt with water till smooth. then add vinegar and baking soda. stir.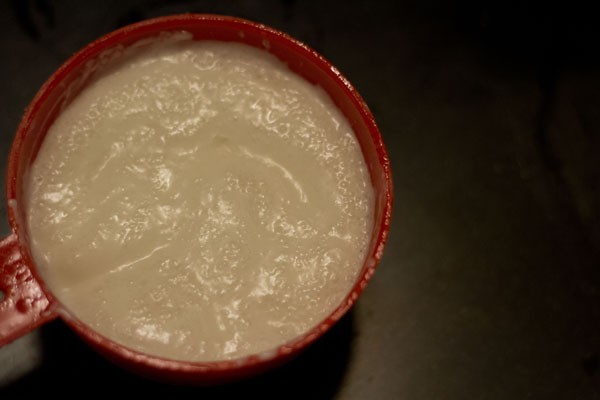 5: pour all the wet ingredients in the dry ingredients – frothing yogurt+vinegar+baking soda mixture, sugar+oil mixture and water. fold the wet ingredients into the dry ingredients till smooth.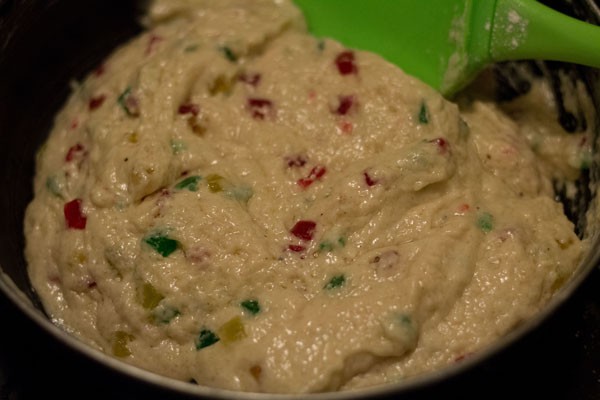 6: pour the batter in a greased or lined cake pan. my calculation of the chosen pan went wrong. thankfully the cake batter did not spill while baking. but did become a bit crusty while baking. so i suggest to use a 6 or 7  inches diameter round cake pan.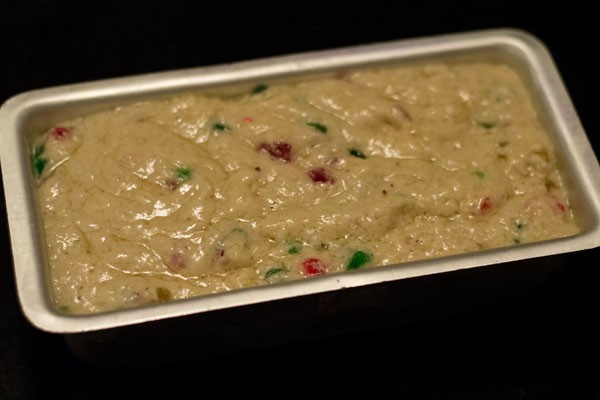 7: bake  tutti frutti cake at 180 degrees C in a pre heated oven for 40-45 mins or more or less if required. depends on the temperature conditions in the oven.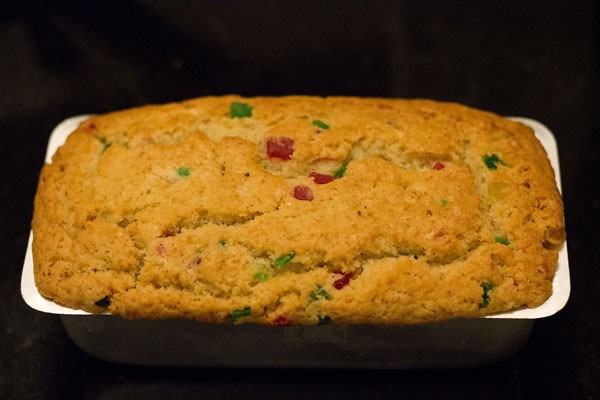 8: when lightly hot or warm, remove the tutti frutti cake from the pan and let it cool on a rack. serve the eggless tutti frutti cake once cooled, plain or with some tea or coffee.