paneer tikka recipe with step by step photos – popular tandoori snack which can be easily made at home. i am sharing step by step recipe to make paneer tikka.
this recipe is for paneer tikka and not paneer tikka masala. paneer tikka is dry whereas paneer tikka masala is a gravied dish. you can also check paneer tikka recipe on stove top, quick paneer tikka and achari paneer tikka recipe.
for newbies to indian food, paneer tikka is marinated paneer/cottage chese cubes, arranged on skewers and grilled or baked in the oven. specifically the recipe is called as tandoori paneer tikka, as the paneer is cooked in the tandoor which lends a subtle smoky charcoal flavor to the paneer. paneer tikka is usually served as a starter. other variations of this popular snack are mushroom tikka, tandoori aloo and tandoori gobi or gobi tikka.
i have made the paneer tikka in the oven and not in a tandoor… hence i am not calling it tandoori paneer tikaa
 even though i made it at home, the recipe was similar to the ones which is served in the restaurants. in fact it was much better than the paneer tikka served in the restaurants. to make this paneer tikka in tava, please check the notes below in the recipe section.
since diwali is just after a day, i thought of sharing this paneer tikka recipe… yes, it one of those recipes that you can make on any special or festive occasion. at my mom's place, biryani or pulao are special recipes that are made on all festive or special occasions. and at my in law's place it is either rajma chawal or chana.
but in both our families paneer tikka is a favorite with everyone. when we go to any restaurant, most of the times we have paneer tikka as a starter dish or we have paneer tikka masala with naan, if we do not have any starters.
the paneer tikka is served with mint chutney. it is the same chutney that is served with all tandoori items. i made the mint chutney late in the evening… will post the recipe soon.
lets begin step by step recipe of making paneer tikka in the oven.
1. take thick curd/yogurt or hung curd in a bowl and smoothen the curd.
2. add ginger garlic paste or crushed ginger garlic to the curd.
3. add all the dry spice powders and black salt to the curd. below you see the following indian spice powders in clock wise order: kashmiri red chili powder, coriander-cumin powder, garam masala powder, turmeric powder and ajwain/carom seeds. in the center is black salt.
4. hmmm. i have not used any red color in the recipe and i feel that the redness is less in the marinade… hence i added some more kashmiri red chili powder to the marinade. kashmiri red chili powder gives a nice red color to the food and its not hot.
5. mix well. can you see some little more redness in the marinade?
6. add lemon juice, mix and keep the marinade aside.
7. dice the veggies.
8. chop the paneer and cube them. best to use homemade paneer.
9. add the veggies and paneer to the marinade.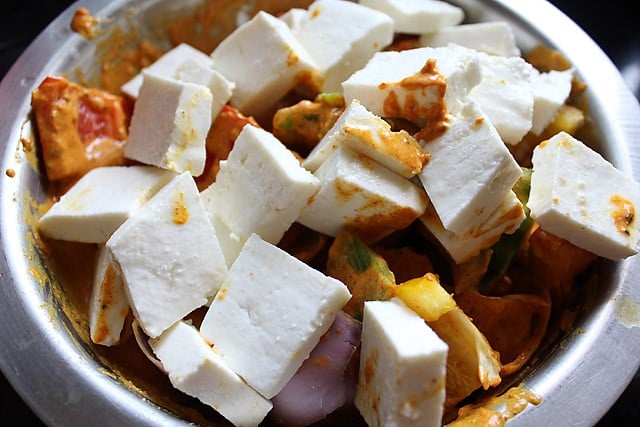 10. and slowly and gently mix them with the marinade. i tasted the marinade with my sis and both of us felt that some thing is missing in the marinade… it was close but not very close… what is it???….  and lo…  i realized that i had forgotten to add chaat masala… so obviously the next step is adding the chaat masala…. no prizes for guessing this step
11. ok… everything is marinated well. cover and keep the marinated paneer and veggies in the refrigerator for 2 hours or more.
12. this is how they look after 2 hours.
13. skewer the veggies and paneer in a skewer or tooth pick.
14. arrange them on a plate or a rack. brush with some oil and keep in the oven. after 10 minutes remove from the oven, turn the skewers, brush some oil and again keep in the oven.
15. remove after 10 or 15 minutes. serve the paneer tikka sprinkled with chaat masala along with mint chutney, onion slices and lemon wedges.
few points for paneer tikka recipe:
you can also grill or barbeque the paneer tikka. if you have a grill option in your oven, you can use it. i baked the paneer tikka for 25 mins in the oven at 180 degree celsius.
best to marinate the paneer cubes for 2 hours or more. you can also keep the marinated paneer overnight in the fridge. since i made the paneer tikka for dinner, i marinated the paneer and veggies for 2 hours in the refrigerator. more marination, the better the flavors gets infused in the paneer and veggies.
the veggies used can be of your choice. i used red, yellow and green bell pepper with onions. you can use baby corn, mushrooms, cauliflower, tomatoes, broccoli etc.
if you do not have oven or grill, then this should not stop you from making paneer tikka at home. on a non stick tava/flat pan heat some oil. keep the skewered paneer on the tava and fry the paneer and veggies till cooked. i have done both the methods and there is not any difference in the taste except the texture… frying makes the veggies and paneer a little crispy than baking or grilling these.
just to ensure that you have a smooth frying experience… add some besan/gram flour to the marinade as it avoids the paneer from sticking to the pan.
whilst grilling or baking the paneer tikka, they become dry. hence oil is applied to the paneer and veggies to avoid them from becoming dry.
don't overcook the paneer as they then become rubbery, dry and hard. the paneer shoud be soft, well cooked and yet succulent. its better to bake the paneer tikka at lower temperatures for some more time than at higher temperatures.
the extra marinade can be applied or brushed on the paneer tikka before baking/grilling them. if you are making paneer tikka masala, you can use the extra marinade in the gravy.
if you are looking for more paneer recipes then do check paneer butter masala, kadai paneer, palak paneer, matar paneer, tawa paneer masala and shahi paneer.
paneer tikka recipe details below:
paneer tikka recipe
paneer tikka - spiced marianted grilled cottage cheese cubes.
SERVES:
10 medium size skewers
INGREDIENTS (measuring cup used, 1 cup = 250 ml)
the main ingredients for paneer tikka:
250 gms paneer/cottage cheese
1 large red bell pepper
1 large yellow bell pepper
1 large green bell pepper/capsicum/shimla mirch
1 medium size onion
for the marinade:
200 gms hung curd/yogurt or thick curd/yogurt
1 tbsp ginger garlic paste or crushed ginger garlic
1 tsp ajwain/carom seeds
1 to 2 tsp kashmiri red chili powder
½ tsp turmeric powder/haldi
1 tsp jeera powder/cumin seeds powder
1 tsp dhania powder/coriander powder
½ tsp garam masala powder
1 tsp dry mango powder/amchur powder
1 tsp chaat masala
½ tsp black pepper powder (optional)
juice of half lemon
1 to 2 tbsp oil or ghee or butter for brushing
rock salt or black salt
INSTRUCTIONS
the veggies and paneer:
chop the paneer in square shaped cubes.
the veggies also should be chopped in square shapes. keep the chopped veggies and paneer aside.
the marinade:
in a large bowl, take the curd and whisk it till it becomes smooth
add ginger garlic paste and all the spice powders plus ajwain, including black salt.
mix the spice powders with the curd.
you could also add oil at this stage if you do not want to brush the paneer tikka with oil later.
add the veggies and paneer to the marinade.
marinate for atleast 2 hours or more in the refrigerator.
remove after 2 hours and bring the marinated paneer and veggies at room temperature.
skewer the veggies and paneer alternately on skewers or tooth picks.
preheat the oven for 3 minutes at 180 degree celsius.
on a rack or a plate arrange the paneer skewers. brush some oil on the veggies and paneer.
bake the paneer tikka for 20-25 minutes at 180 degree celsius.
after 10 remove the skewers, and turn the skewers. brush some more oil.
keep again in the oven and bake for a further 10-15 more.
arrange the panner tikka on a plate. sprinkle some chaat masala on paneer tikka.
serve the yummy panner tikka with mint chutney and onion rings with lemon wedges
NOTES
to make paneer tikka on tava follow this:
1. use a non stick tava so that paneer does not stick while frying.
2. add two tbsp besan in the marination. this will prevent the paneer from sticking to the tava and will give a nice taste.