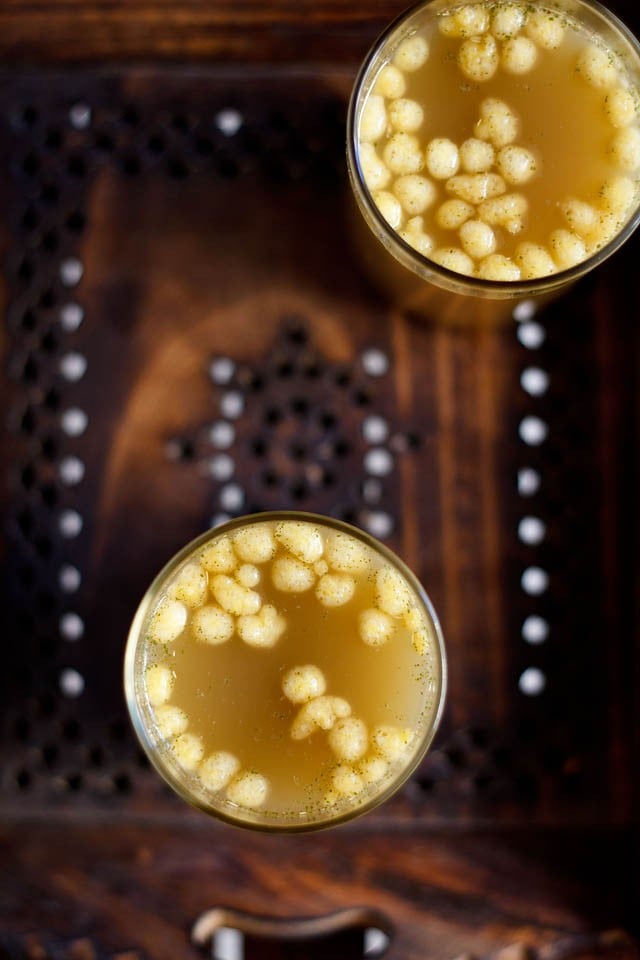 jal jeera recipe – jaljeera is a very popular drink from north india. it is very cooling and is ideal drink for hot indian summers. apart from cooling properties jal jeera is also used as an appetizer because of its digestive properties.
for my english readers jal means water and jeera means cumin. so the literal translation would be cumin water.
however its far from tasting earthy and peppery like cumin water. i have had cumin water many times and i know its taste.
there are some other strong spices and herbs used in jal jeera along with cumin which makes it a tangy, sour, aromatic and spicy drink. they are mint, tamarind, fennel and black pepper.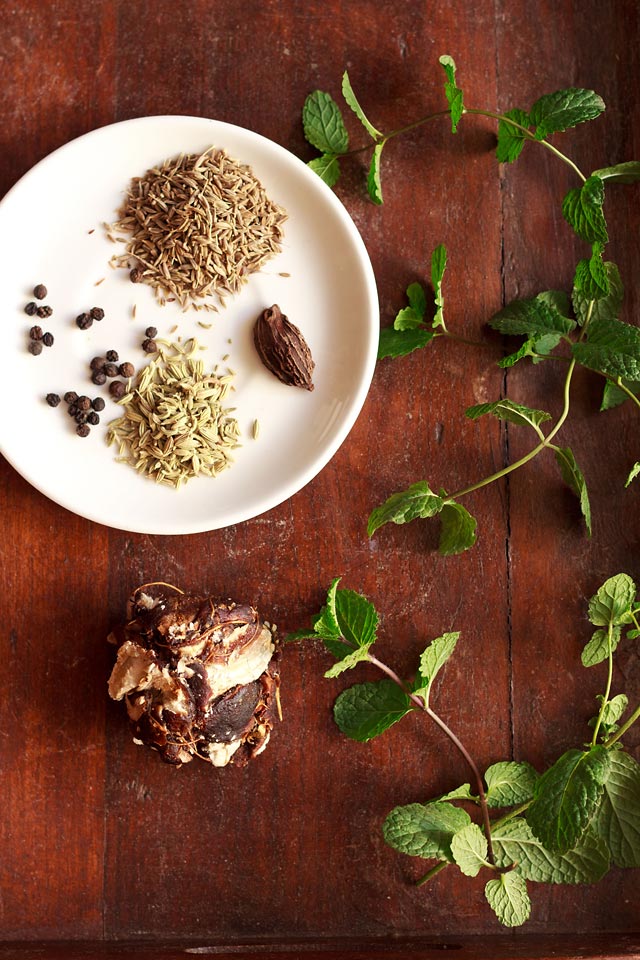 the spices and herbs which goes in making of jal jeera are:
jeera or cumin seeds – peppery flavors & good for digestion.
saunf or fennel seeds – sweet and aromatic. digestive and anti-oxidant.
amchur powder/dry mango powder – tart & adds sourness.
mint leaves – fragrant and sweet. cooling as well as has digestive properties.
black pepper – pungent and spicy. has digestive properties and also add lot of punch to the drink.
black salt – digestive properties and also adds lot of flavor. often used in shikanjvi – indian lemonade and in indian chaat snacks.
ginger – good for digestion. its optional as it also produces heat. i have not used it.
tamarind – good for cooling and also adds sourness.
usually boondi (crisp & fried gram flour tiny balls) are also added in the drink. i assume by this time, you must have realized that this drink is full of flavors and punch and will give you a kick. some people may not like the taste as its a bit spicy and can knock down your taste buds. so be open minded while drinking it first time.
there are many ways of making jaljeera and more or less the above spices & herbs are used. usually the jal jeera is served before the meal as an appetizer and many restaurants who serve full thali meal serve it in the beginning. otherwise you can have it in between the meal also.
in north india, jal jeera is often served in streets by vendors who keep it in matka (large earthen pots) which keeps the drink cool. it can also be served with pani puri or golgappa, another popular street food of india.
if you are looking for more cooling drinks then i suggest you to check watermelon juice, muskmelon juice, thandai, sweet lassi and namkeen sattu recipe.
jaljeera or jal jeera recipe below: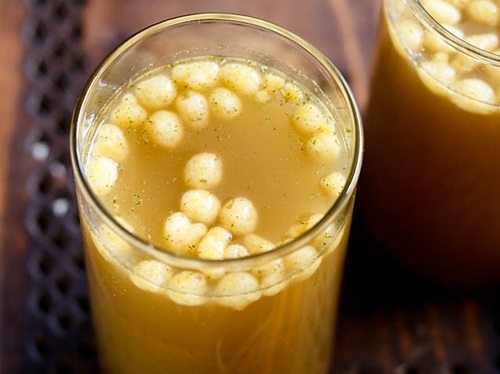 jal jeera or jaljeera recipe
jal jeera recipe - spiced indian cooling drink also used as an appetizer.
course:
beverages & drinks
ingredients (1 cup = 250 ml)
1

tablespoon

seedless tamarind

- for a more pronounced sourness, you can add ½ tablespoon of more tamarind (imli)

¾

cup

mint leaves

(pudina patta)

1 or 1.5

teaspoon

cumin seeds

(jeera)

1

teaspoon

fennel seeds

(saunf)

½

teaspoon

whole black pepper

(sabut mirch powder)

½ or 1

teaspoon

amchur powder

(dry mango powder)

seeds removed from 1 black cardamom

(badi elaichi) - optional

1

pinch

asafoetida

(hing) - optional

1

tablespoon

boondi

½ or 1

teaspoon

chaat masala powder

(optional)

black salt or rock salt as required
how to make recipe
rinse the mint leaves.

also rinse the tamarind ball.

first blend all the ingredients except boondi and chaat masala in 1/2 or 3/4 cup water till smooth.

then strain through a strainer

add 3-4 cups of chilled water to the strained mixture or as required

keep in the fridge or serve chilled jaljeera.

add boondi and a pinch of chaat masala to jaljeera while serving.