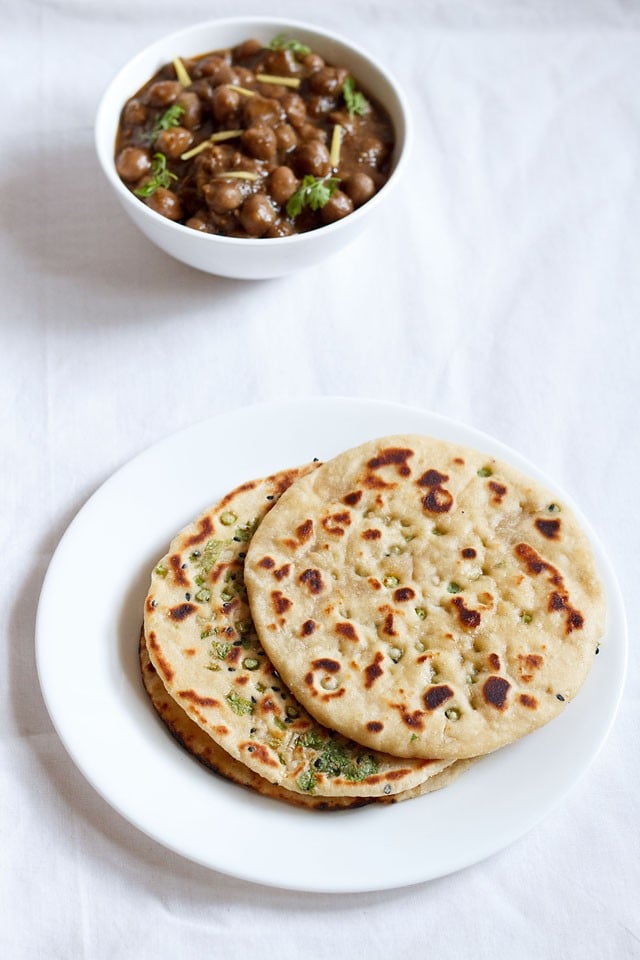 garlic naan recipe on stove top and oven with step by step photos – made the garlic naan some days back.
this recipe of garlic naan on stove top was requested by my dear reader suhani. the garlic naan was so good. it is exactly the way a naan should be. not at all chewy & hard the way we get in restaurants.
the garlic naan is light, soft and the garlic enhances the flavor so much. along with garlic i added some celery too. instead of celery you can use coriander leaves. garlic and celery both blended well in this naan and made it an aromatic and strongly flavored naan and we enjoyed the garlic naan with some amritsari chole.
other naan recipes on the blog are whole wheat naan, naan recipe with yeast, naan without yeast and butter naan recipe.
in this garlic naan recipe, i have used 50:50 of both all purpose flour and whole wheat flour. you can use 100% of either too. also i have used oil to make the naan, but you can use butter or ghee instead. i have adapted the garlic naan recipe from my whole wheat naan recipe post.
if you are looking for similar recipes then do check aloo kulcha, garlic bread, plain kulcha, chole bhature, bajra roti and bhatura recipe.
garlic naan recipe details below:
garlic naan recipe
soft and light garlic naan recipe - a leavened indian bread
course:
Breakfast, brunch, main
ingredients - measuring cup used, 1 cup = 250 ml
1.5

cups

whole wheat flour

(atta)

1.5

cups

all purpose flour

(maida)

2

teaspoon

garlic paste or minced garlic

(lahsun)

2

teaspoon

sugar

1.5

teaspoon

dry active yeast

1.5 or 2

teaspoon

lemon juice

OR 3 to 4 teaspoon curd (yogurt or dahi)

4

tablespoon

oil

or ghee

¾

cup

water

- add more if required

2

tablespoon

finely chopped garlic

(lahsun)

1 to 2

tablespoon

chopped celery

or coriander leaves (optional)

1

teaspoon

nigella seeds

(kalonji)

1 to 1.5

teaspoon

salt

or as required

extra oil or ghee for frying or smearing on the naan

(optional)
how to prepare recipe
proof the yeast in sugar dissolved with 3/4 cup warm water.

after the yeast proofs and rises, add all the flours, garlic paste, lemon juice or yogurt, salt and oil to the yeast mixture.

knead to a smooth dough.

add water if required while kneading.

cover with a moist cloth and keep the dough to leaven for 1:30 to 2 hours.

when the dough doubles up, then make medium sized balls of the dough.

cover and keep aside for 15-20 mins.

in a plate or tray take the chopped garlic, celery leaves and nigella seeds. mix these well.

take each ball on a dusted board and roll into a small disc of 2 inches.

place this disc on the garlic-celery-nigella-seeds mixture.

remove and keep on a dusted board

now roll to a round of about 5 to 6 inches diameter,

heat a tava or frying pan.

place the garlic and celery side of the naan touching the hot tava.

cook this side till browned and done.

now hold the naan with a tong and place the uncooked side directly on fire.

roast this side on the fire till browned and done.

smear some oil or ghee on top of the naan.

cook all the garlic naans this way.

serve garlic naan hot or warm.
SIMILAR RECIPES
lets start step by step garlic naan recipe:
1: in a large bowl or pan take ¾th cup lukewarm water. dissolve 2 tsp sugar in the warm water. then add 1.5 tsp dry active yeast to it and stir.
2: dissolve the yeast and keep the mixture standing for 10 minutes or till the yeast froths up.
3: the yeast has bubbled up.
4: add:
both the flours (1.5 cups whole wheat flour/atta + 1.5 cups all purpose flour/maida),
2 tsp garlic paste (or minced garlic),
4 tbsp oil (or ghee),
1.5 or 2 tsp lemon juice (or 3 to 4 tsp yogurt)
and salt as required to the yeast mixture.
5: add water if required and knead into a smooth and soft dough.
6: cover with a moist cloth and keep aside for 1 hour 30 mins to 2 hours for the dough to leaven and double. the dough after leavening in the below pic.
7: make medium size balls from the dough.
8: cover again with a wet cloth and keep aside for 15-20 minutes. after 15 minutes in the pic below.
9: on a dusted rolling board take a ball and roll it into a small round of 2 inches diameter.
10: place the round disc on to a tray or plate containing:
2 tbsp finely chopped garlic,
1 to 2 tbsp chopped celery (or coriander leaves)
and 1 tsp nigella seeds/kalonji.
all mixed together evenly.
11: remove…
12: now place on a dusted rolling board.
13: now with a rolling pin, roll the dough disc into 4 to 5 inches circle.
14: you can make round shaped or tear shaped garlic naans.
15: place the side with the garlic and celery facing down on a hot tava/griddle or frying pan.
16: when the base is browned and cooked completely, lift the garlic naan with tongs from the pan and place the uncooked side on fire. you can also cook the garlic naan on the tava/griddle itself, like we do for chapatis. you can also add oil or ghee to the tava when cooking the naans as we do for parathas. anyways you cook, they taste delicious. i tried all the methods. the final pics have the garlic naan cooked on tava only.
17: roast the uncooked side of garlic naan on fire till browned and some black spots appear. this is how we love naans at home, a bit charred. keep on a plate and smear with oil or ghee.
18: cook each garlic naan like this one by one. stack them up to be served later in a napkin. cover the naans in the napkin so that they remain warm. you can also serve the naan straight away.
19: serve garlic naan hot or warm. these garlic naan were very soft, so they did not become hard once they got cold. serve garlic naan with your favorite indian dal like dal makhani, rajma masala, restaurent style dal tadka or curry like paneer butter masala, punjabi chole, methi matar malai, kadai paneer.
Install Free iOS App for Veg Recipes of India Recipes
Install Free Android App for Veg Recipes of India Recipes